Easy Roasted Zucchini is the perfect crispy side dish to serve with just about any weeknight dinner. Tossed in olive oil, thyme, and black pepper.
Roasting vegetables on a baking sheet in the oven is such a great way to prepare vegetable Side Dishes. If you love this Roasted Zucchini recipe try Parmesan Roasted Vegetables, Roasted Red Onions, and Roasted Acorn Squash.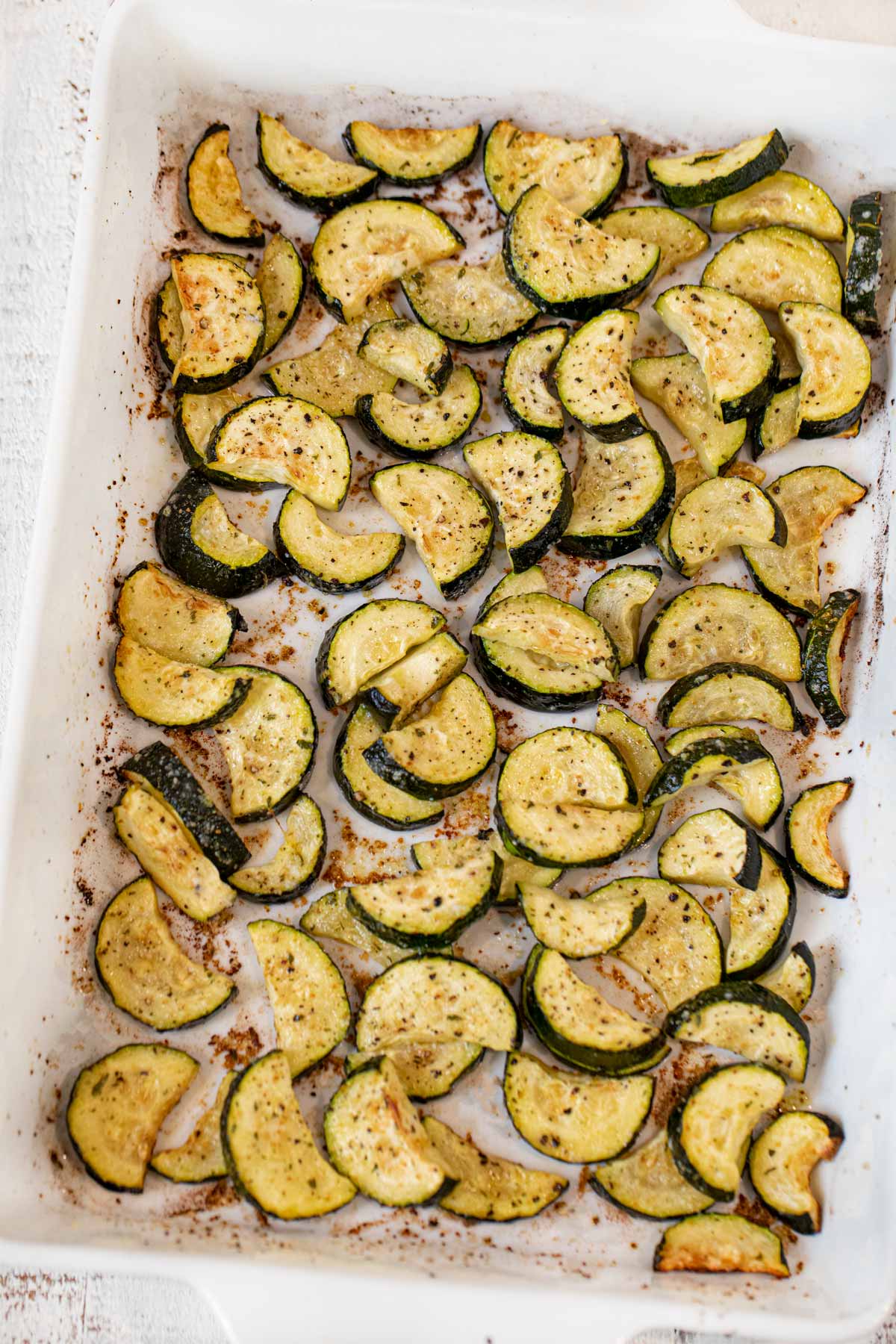 EASY ROASTED ZUCCHINI
Roasted Zucchini is such an easy side dish to pair with a number of weeknight meals. Oven roasting zucchini is a great way to make them crisp and flavorful. They come out of the oven almost like a zucchini chip! Serve this low-carb dish as is or with Parmesan Cheese sprinkled over the top.
When it comes to healthy recipes, it's difficult to find one better than this gluten-free Oven Roasted Zucchini. It works for practically any diet. That's because zucchini is high in antioxidants, low in kcal, low in saturated fat, low in carbohydrates, and rich in many vitamins. Zucchini can also contribute to digestive health and heart health. In fact, zucchini is so healthy it's sometimes referred to as a super food. So why wouldn't you want to add this great recipe for summer squash to your menu?
Along with being a nutritional powerhouse zucchini is also highly versatile. If you enjoy this baked zucchini, be sure to try other new recipes that use zucchini. Some of these great zucchini recipes are Lemon Ricotta Zucchini Noodles or Zucchini Lasagna Roll Ups. Beyond that, you can also use zucchini when you bake. Try out Healthy Zucchini Bread or Healthy Chocolate Zucchini Muffins to see just how much this summer squash can do.
THE EASIEST BAKED ZUCCHINI EVER!
Making this Zucchini recipe could not be easier. To start, slice 4 medium-sized zucchinis width wise. They'll be in small, bite-sized coins like zucchini chips. Toss the cut zucchini with olive oil, thyme, salt, and pepper. At this point feel free to add additional seasoning like garlic, or paprika.
That's all it takes to prep these Baked Zucchini Chips, so all that's left is actually baking the zucchini. Lay out the Zucchini in a single layer on a baking sheet. You don't need to spray the cooking sheet with non-stick spray because the extra-virgin olive oil coating the zucchini will help it not to stick.
Bake the zucchini for 10-12 minutes. You'll know the zucchini is done baking when they start to become browned and crispy. The total time for the zucchini recipe is just 15 minutes.
You can serve them warm or leave them on a cooling rack. Enjoy Oven Roasted Zucchini as a side dish or eat Baked Zucchini Chips as a snack by themselves.
MORE EASY SIDE DISHES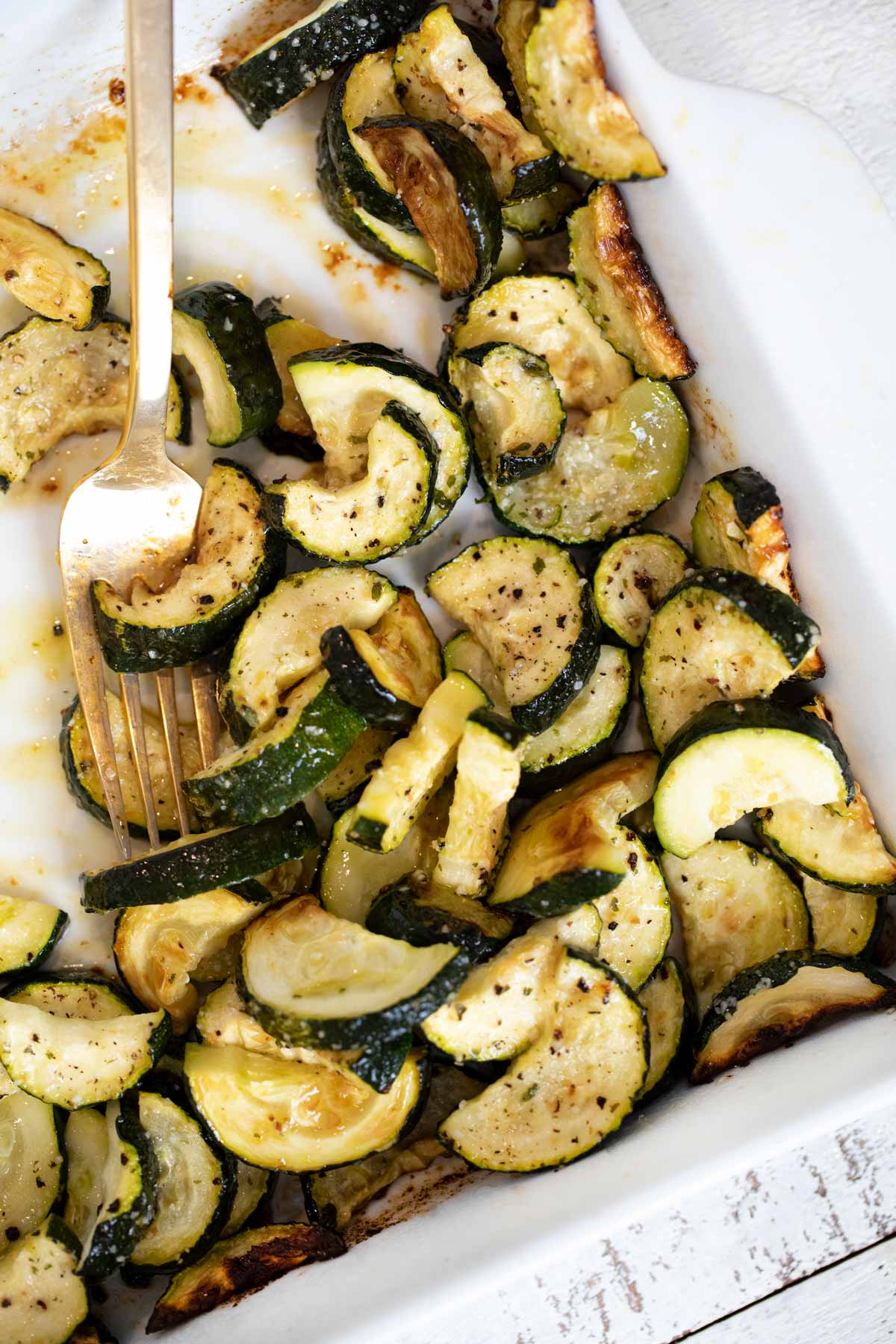 Create a free account to

Save Recipes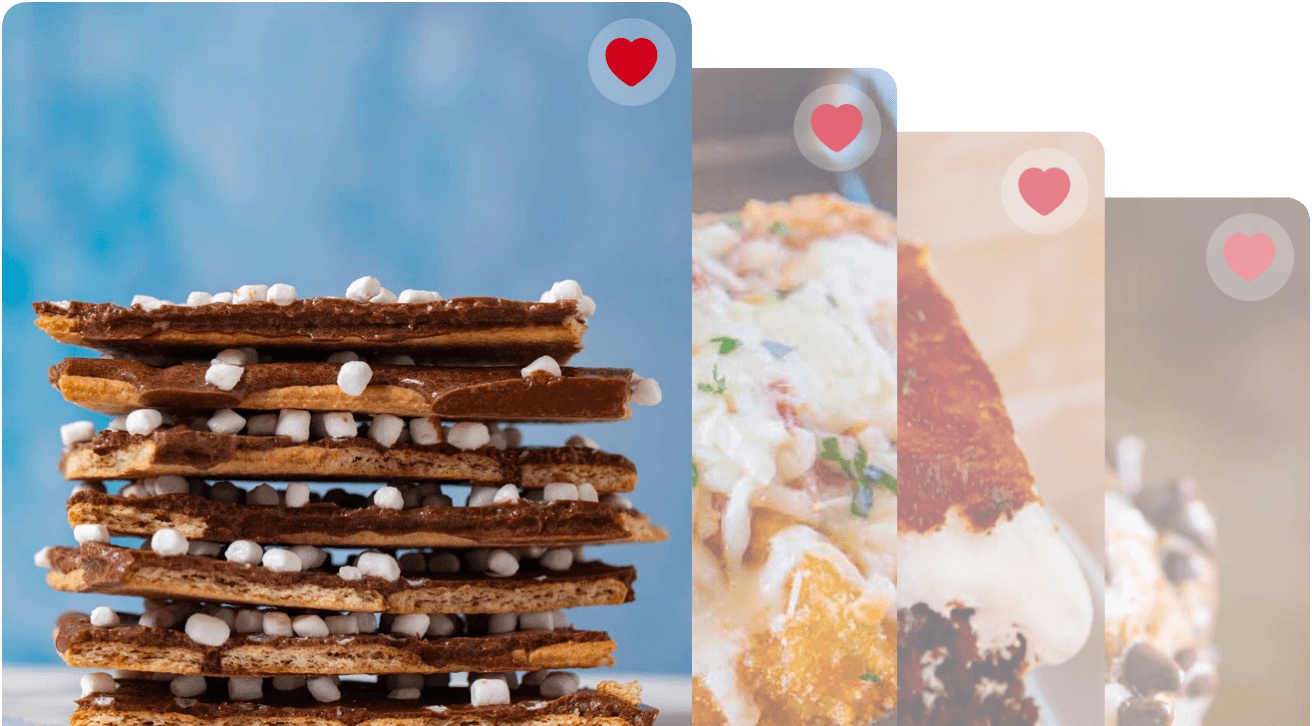 VARIATIONS ON ROASTED ZUCCHINI
Zucchini Fries: Instead of making zucchini into small coins, slice the zucchini lengthwise to make zucchini fries. For the perfect Baked Zucchini Fries coat the sliced zucchini in bread crumbs. Start by dredging the zucchini in ½ up all-purpose flour, and 2 large eggs mixed together. Then coat it in the bread crumbs. To make the bread crumb coating use 1 cup Panko breadcrumbs, ½ cup freshly grated Parmesan Cheese, 1 teaspoon Italian seasoning, Kosher salt and freshly ground black pepper.
Cheese and Roasted Zucchini: Instead of using a breadcrumb coating, and entirely changing the recipe just try adding a little parmesan to the regular recipe. Coat the zucchini recipe with Parmesan Cheese at the same time you add the thyme, salt, and pepper. The cheese will become melty, and browned while it bakes.
Garlic Baked Zucchini: You can slightly change the seasoning of this roasted recipe by adding garlic. Use garlic powder or minced garlic cloves.
More Veggies: Apart from zucchinis, there are plenty of other veggies you can make in the oven. Try chopping some yellow squash, broccoli, carrots, and bell peppers. Put the vegetables on a baking sheet and bake them all together.
WHAT TO SERVE ROASTED ZUCCHINI WITH
HOW TO STORE THIS ZUCCHINI RECIPE
Serve: To keep this zucchini dish nice and crispy, you shouldn't leave it at room temperature for more than a couple hours.
Store: You can store zucchini in the fridge for 3-5 days. Make sure to seal the zucchini in an airtight container to give it the longest shelf life.
Freeze: It's also a great idea to make this dish ahead. You can keep zucchini in the freezer for up to 10 months.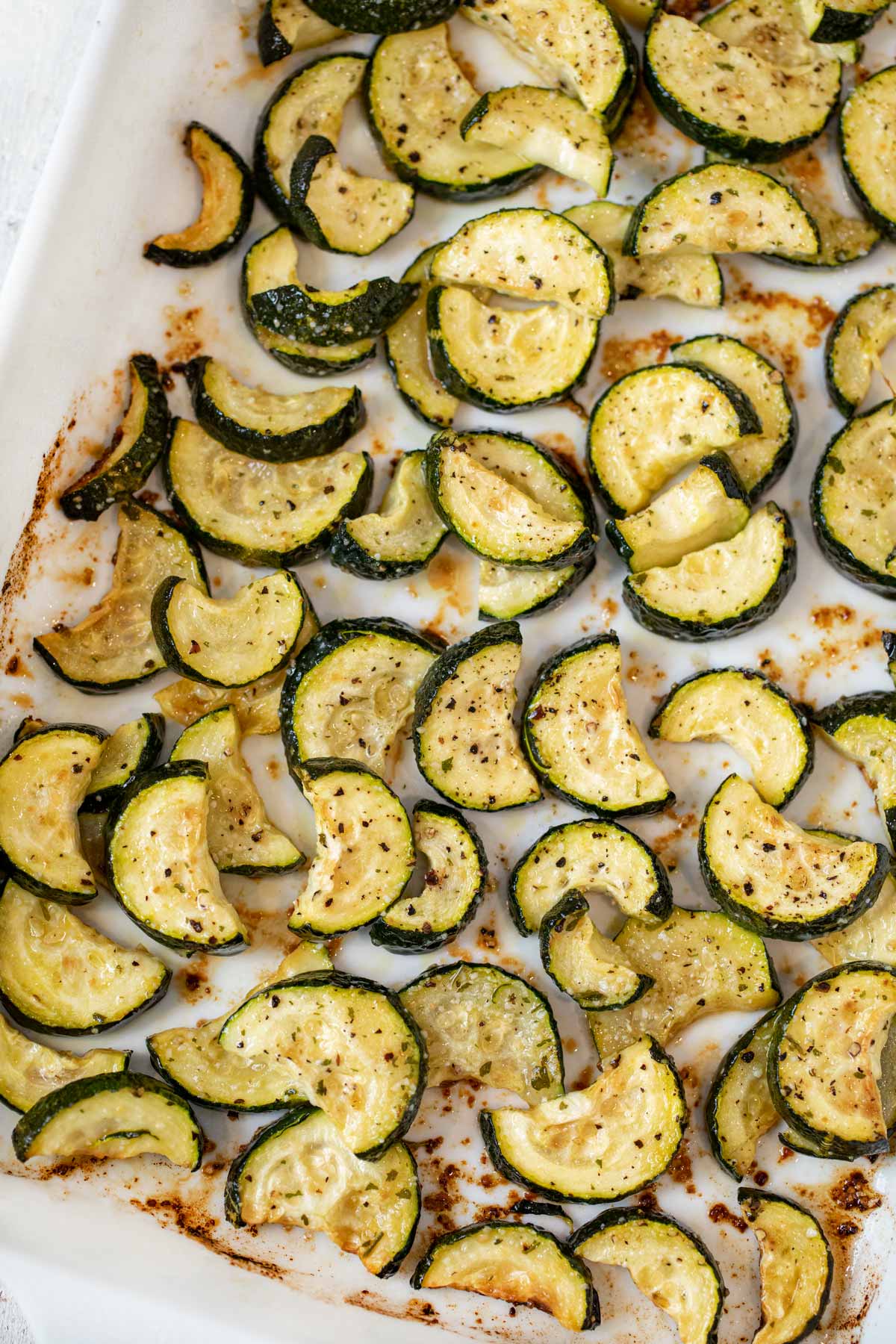 Ingredients
4

medium

zucchini

, unpeeled, cut width-wise into ¼ inch coins

2

tablespoons

olive oil

4

sprigs

fresh thyme

, finely diced

1

teaspoon

Kosher salt

1/2

teaspoon

coarse ground black pepper
Instructions
Preheat oven to 425 degrees.

Lightly toss the zucchini in the olive oil.

Mix the thyme, salt and pepper, then toss the zucchini slices in the thyme mixture to coat evenly.

Place the zucchini on a baking sheet and spread evenly.

Roast in the oven for

10-12 minutes

until edges are lightly browned.
Nutrition
Calories:
97
kcal
|
Carbohydrates:
7
g
|
Protein:
2
g
|
Fat:
8
g
|
Saturated Fat:
1
g
|
Sodium:
597
mg
|
Potassium:
512
mg
|
Fiber:
2
g
|
Sugar:
5
g
|
Vitamin A:
440
IU
|
Vitamin C:
37
mg
|
Calcium:
35
mg
|
Iron:
1
mg