Whole-Wheat Pumpkin Banana Bread is the perfect Fall recipe, wonderfully moist with walnuts and healthier bananas in place of most of the oil.
If you've tried and loved Healthy Banana Cake then you'll love this easy banana Quick Bread Recipe with pumpkin. It's the perfect treat to munch on around Thanksgiving and all Autumn long!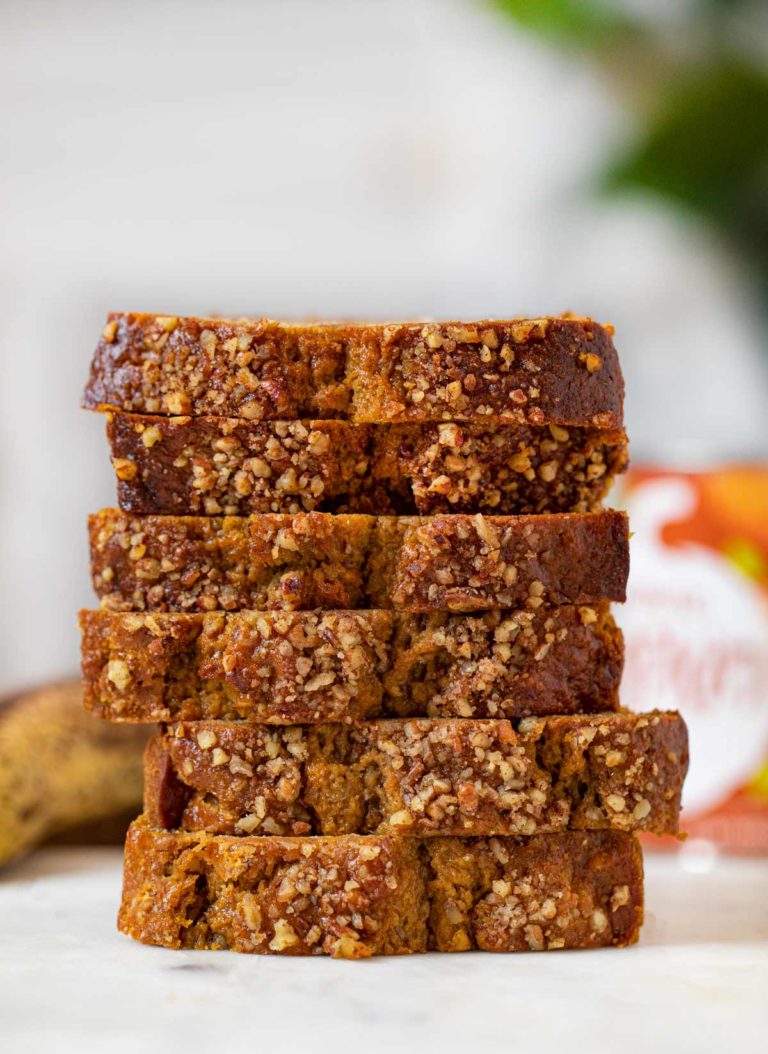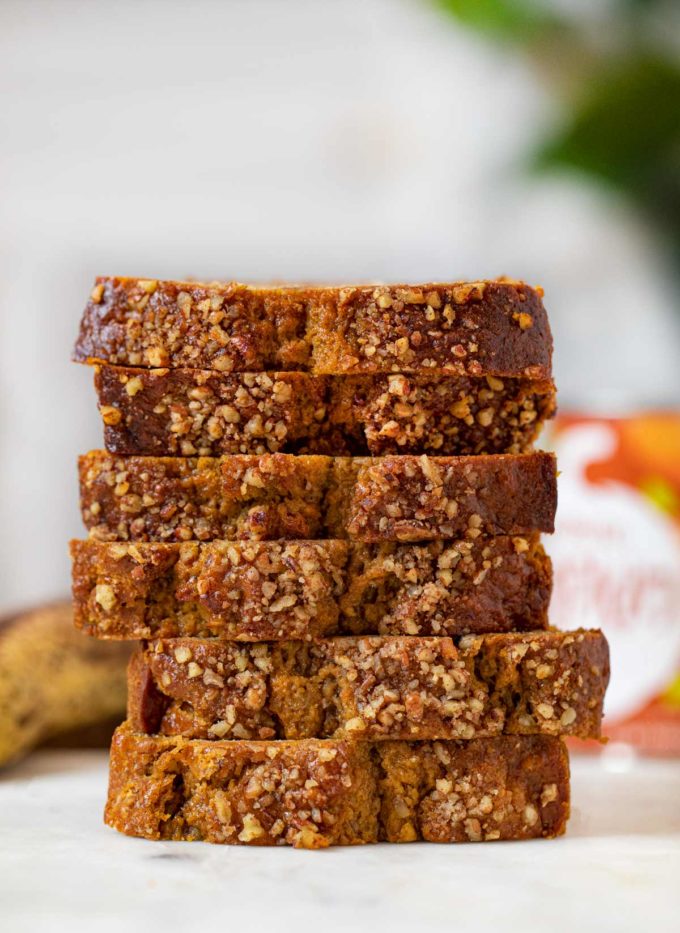 PUMPKIN BANANA BREAD
When it comes to fall baking nothing beats a classic pumpkin bread, except this delicious combination of Banana Bread and Pumpkin Bread. Pumpkin Banana Bread has all the softness and sweet flavors you expect from banana bread, plus the flavors of pumpkin pie spice you get from pumpkin bread. It's truly the best of both worlds. And if you just can't get enough pumpkin recipes, be sure to try Super Skinny Pumpkin Muffins next for a delicious pumpkin pie spice filled breakfast.
Healthy Pumpkin Bread makes an excellent breakfast, dessert, or on-the-go snack. It's sure to be a favorite for you and your whole family. And this Pumpkin Bread recipe is the perfect way to use up overripe bananas and that extra can of pumpkin puree leftover from Thanksgiving. Not to mention, it's super easy so it's sure to become a go-to recipe all year long.
To make this Pumpkin and Banana Bread start by greasing your loaf pan. Mix the butter and brown sugar until well combined. Then add the mashed bananas, pumpkin, honey, and other wet ingredients. Sift together the whole wheat flour, baking soda, spices and other dry ingredients, and slowly add them to the banana bread batter. Careful not to over-mix.
Once you've folded in the walnuts the batter is done. Pour it into the prepared pan, and allow it to rest. Then pop the loaf pan in your preheated oven and bake. An easy trick to know if the Banana and Pumpkin Bread is done is to insert a toothpick in the middle of the loaf. If the toothpick comes out without batter, then you should take the loaf pan out of the oven.
HEALTH BENEFITS OF BANANA AND PUMPKIN BREAD
When you think of banana bread the first word to come to mind probably isn't "healthy," and the same goes for pumpkin bread. As full of delicious flavor as these classic quick breads are, they aren't known for being health food. Fortunately, this great recipe for Banana and Pumpkin Bread is chock full of healthy ingredients that only add to the wonderful flavor!
Firstly this this recipe uses white whole wheat flour, which is much healthier than all-purpose flour. It also gets its moistness from the pumpkin puree, bananas, and Greek Yogurt rather than using any unhealthy oils. And you're able to use less sugar in this bread because it uses honey as one of the sweeteners instead of granulated sugar. (Feel free to use maple syrup if you don't have honey).
And you get ample health benefits from the overripe bananas and pumpkin puree. Bananas are low in calories, full of potassium, pectin, and other nutrients, and they make the bread more sweet and flavorful without processed sugars. Pumpkin is also low in calories, plus it's rich in vitamin A and antioxidants. So the pumpkin puree not only gives this quick bread an Autumn flavor it also adds nutrients your body needs.
When it comes to the pumpkin, you can easily find canned pumpkin puree at the store, and your pumpkin bread will turn out just as good. However, if you'd like to use fresh pumpkin, you can make the pumpkin puree yourself. It's a simple matter of cutting the pumpkin, removing the seeds, and baking at 400 degrees for 50 minutes. Once it's done just scoop out the soft pumpkin and put it through your food processor before adding it to your Banana and Pumpkin Bread recipe.
MORE HEALTHY DESSERTS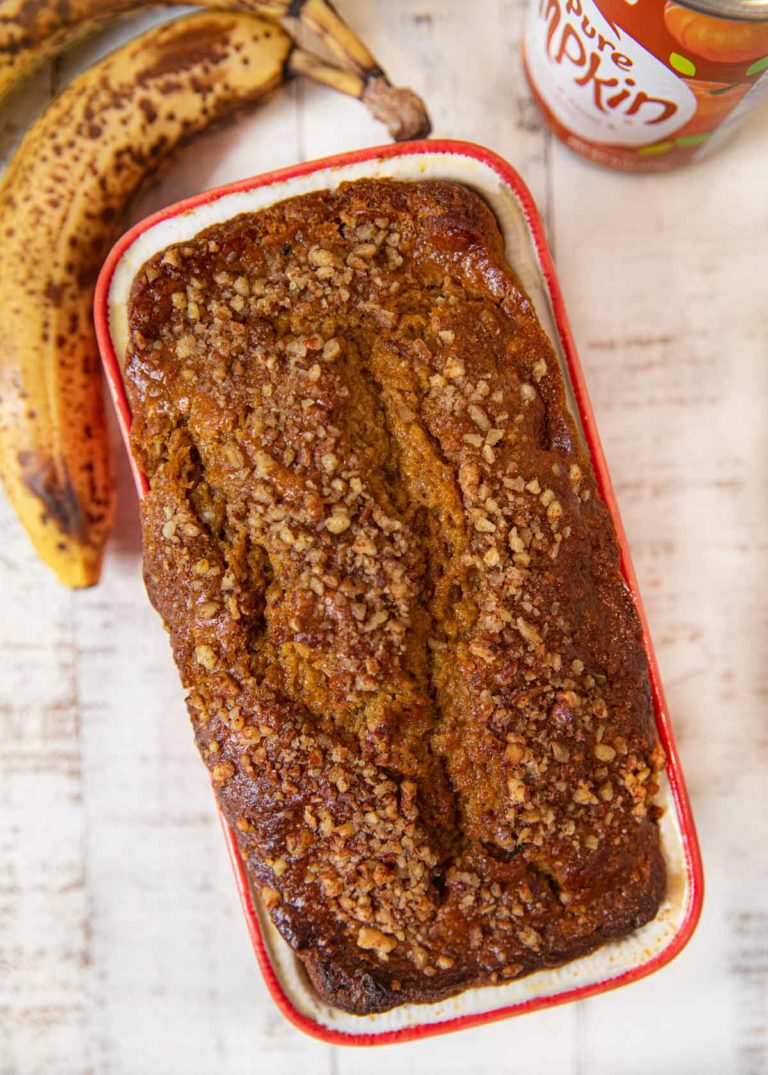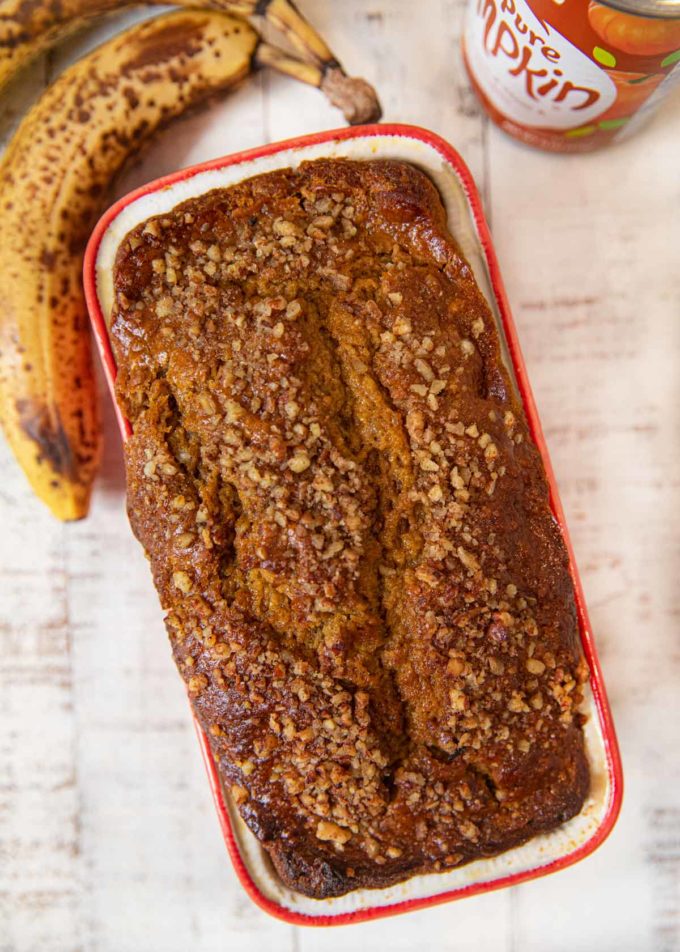 Create a free account to

Save Recipes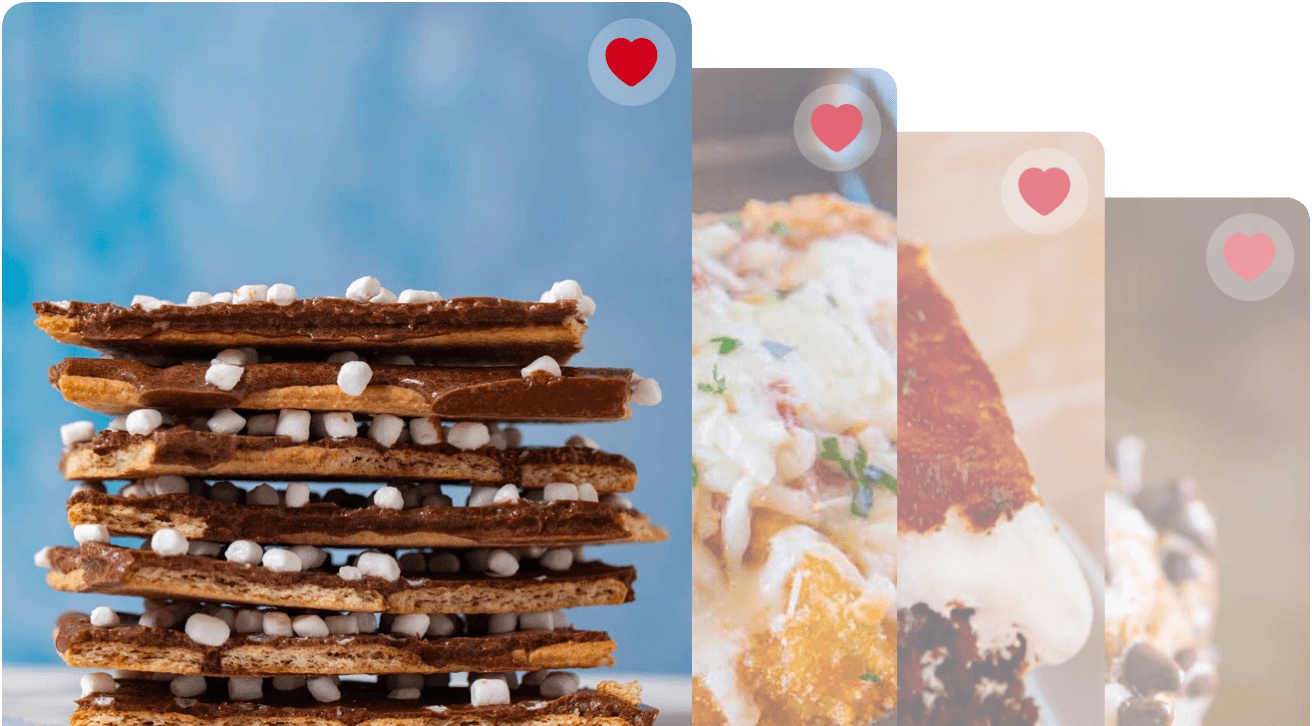 VARIATIONS ON PUMPKIN BANANA BREAD
Add-ins and toppings: There are so many easy changes you can make the next time you bake Healthy Pumpkin Bread. Try adding in toasted almonds or other nuts along with the walnuts. Or add in new flavorful spices like allspice, pumpkin pie spice, or cloves. You can also make a quick streusel topping to go on top of your loaf. You can make the loaf topping with ¾ cup sugar, ¾ cup flour, 1 tablespoon water, 2 teaspoons cinnamon, and ¼ cup butter.
Dietary alterations: If you need your loaf to be gluten-free, simply exchange the wheat flour for oat flour or almond flour. For a dairy-free Healthy Pumpkin bread replace the yogurt with unsweetened applesauce, coconut oil, or a store-bought dairy-free yogurt.
Chocolate Chip Pumpkin Bread: For a chocolate-y Pumpkin Banana Bread recipe whisk chocolate chips into the bread batter. Fresh out of the oven your pumpkin bread will be filled with melty chocolate chip morsels. Feel free to experiment with the kinds of chocolate chips you use. The obvious choice is semisweet chocolate chips, but you can also try white chocolate chips, or milk chocolate chips.
Pumpkin and Banana Muffins: To make this pumpkin bread into an on-the-go breakfast muffin, prepare the batter as you would normally. Then instead of pouring it into a loaf pan distribute the pumpkin bread batter evenly into lined muffin tins. Then bake until the muffin until a toothpick comes out clean.
EASY HEALTHY BREAKFASTS
HOW TO STORE PUMPKIN BANANA BREAD
Serve: This is a great recipe to make ahead for a grab-and-go breakfast. Store the Pumpkin Banana Bread in a sealed bag or airtight container and it will last at room temperature for 3 days.
Store: To keep Banana Pumpkin Bread longer, wait until it's cooled then store it in an airtight container in the fridge for up to a week.
Freeze: Banana Pumpkin Bread is completely freezer-safe and will last up to 3 months. Store the sliced bread loaf in a freezer-bag separated by wax paper so they don't stick together. Take out as many slices of bread as you want at a time and let them defrost in the fridge overnight.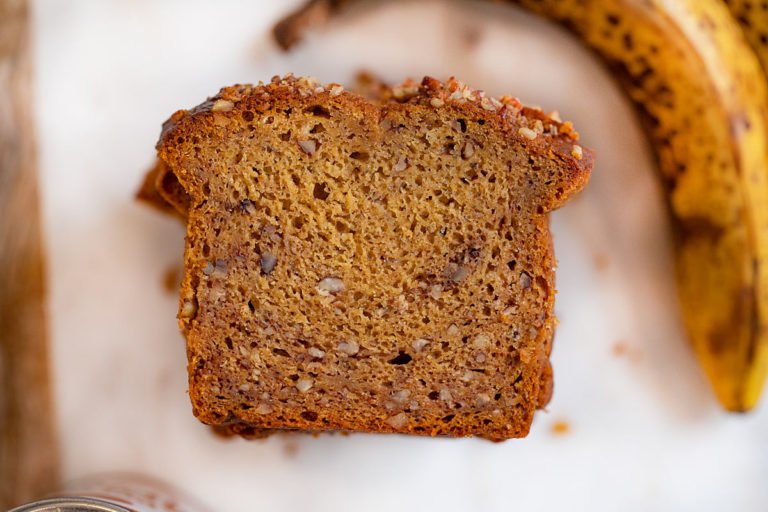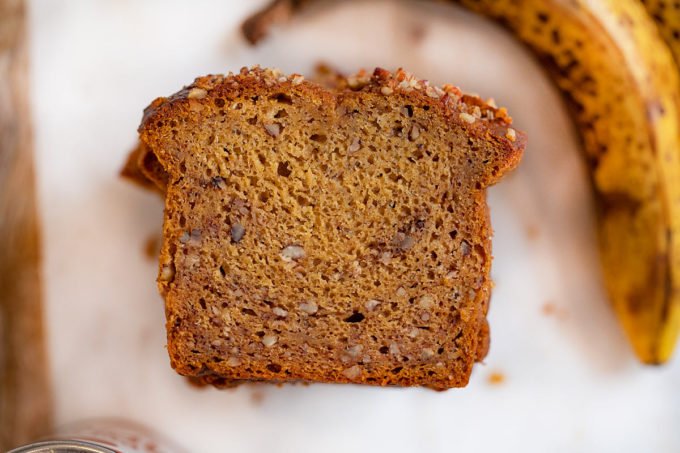 Ingredients
4

tablespoons

unsalted butter

, room temperature

1/4

cup

light brown sugar

2

large

ripe bananas

, mashed (about 1 cup)

1

cup

pumpkin puree

2

tablespoons

nonfat plain Greek yogurt

1/3

cup

honey

2

large

eggs

, room temperature

1

teaspoon

vanilla extract

1 1/2

cups

white whole wheat flour

1

teaspoon

baking soda

1/2

teaspoon

salt

1/4

teaspoon

baking powder

1

teaspoon

ground cinnamon

1/4

teaspoon

ground ginger

1/4

teaspoon

ground nutmeg

1/4

cup

walnuts

, finely chopped
Instructions
Preheat oven to 350 degrees.

Grease an 8 x 4-inch loaf pan with cooking spray.

Mix the butter and brown sugar in a stand mixer until well combined.

Mix in the banana, pumpkin, Greek yogurt, honey, eggs, and vanilla.

Sift together the whole wheat flour, baking soda, salt, baking powder, cinnamon, ginger, and nutmeg. Gradually mix the flour mixture into the batter.

Fold in the walnuts.

Pour the batter into the loaf pan. Allow the batter to rest uncovered for

15 minutes.

Bake in the oven for

55-60 minutes

.

Remove from the oven and allow to cool on a wire rack for

10 minutes

before serving or storing.
Nutrition
Calories:
188
kcal
|
Carbohydrates:
30
g
|
Protein:
4
g
|
Fat:
7
g
|
Saturated Fat:
3
g
|
Cholesterol:
41
mg
|
Sodium:
205
mg
|
Potassium:
181
mg
|
Fiber:
3
g
|
Sugar:
16
g
|
Vitamin A:
3354
IU
|
Vitamin C:
3
mg
|
Calcium:
37
mg
|
Iron:
1
mg