Roasted Cauliflower Rice is an easy low-carb "rice" recipe roasted with olive oil until crispy and toasted. Ready for the oven in 5 minutes!
This roasted version of Cauliflower Rice is a flavorful and healthy Side Dish everyone will love! It's the perfect, easy sheet pan rice for weeknight dinners.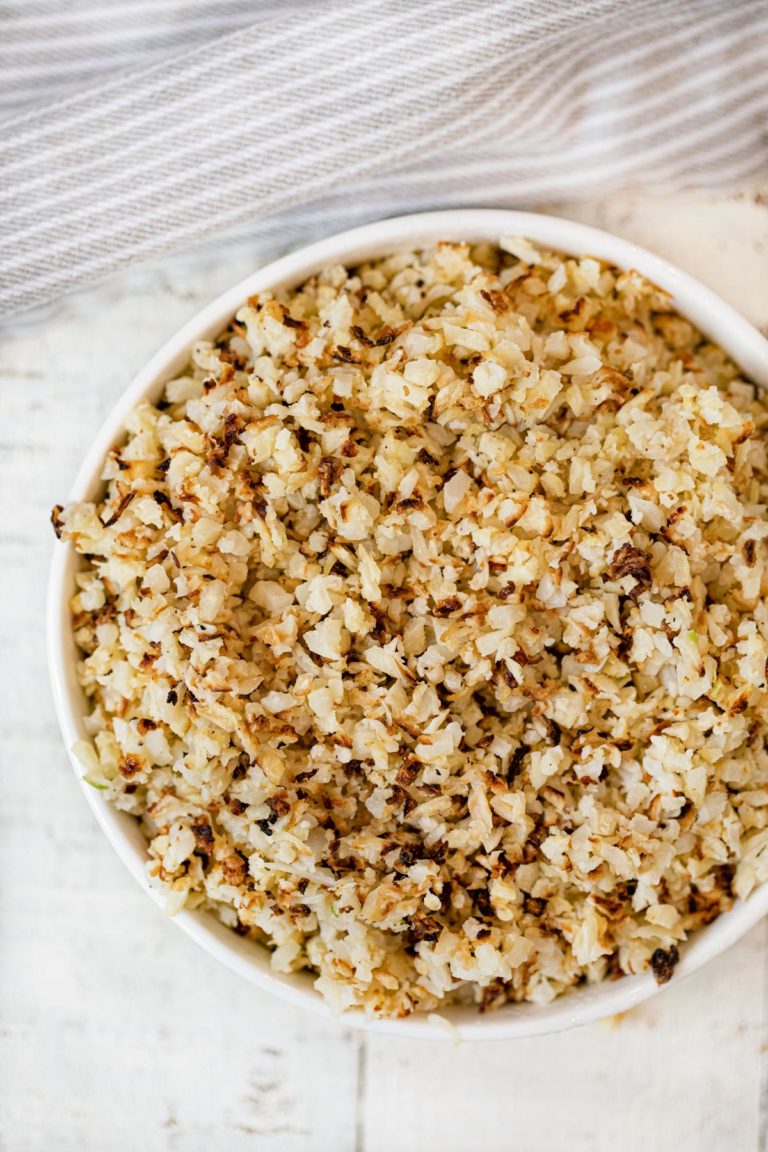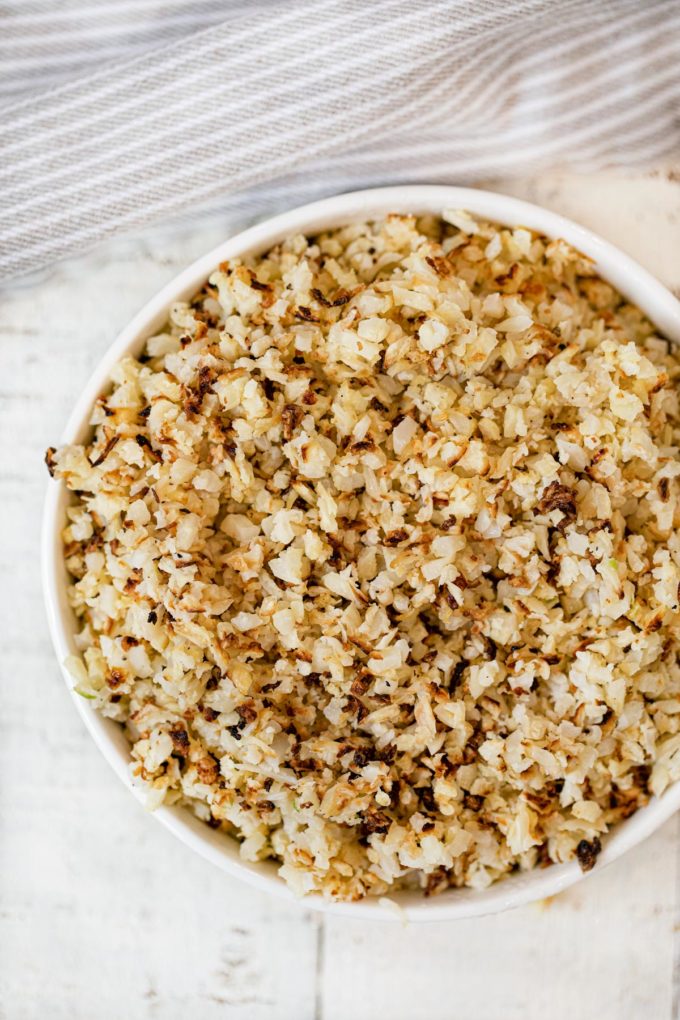 ROASTED CAULIFLOWER RICE
You've probably tried roasted Brussels sprouts, broccoli and other vegetables. But you may not have realized that roasting is an easy and delicious way to prepare cauliflower rice. Just like roasted cauliflower, Roasted Cauliflower Rice has a very light nutty flavor that pairs with almost any dinner. It's sure to become a new go-to side dish to compliment all your favorite meals from roast chicken to Asian stir-fry.
Cauliflower goes with a variety of main dishes because of its mild flavor. If you'd like cauliflower rice with a stronger flavor feel free to add minced garlic, other vegetables, or spices to the cauli-rice.
Cauliflower is also an excellent vegetable to make a low carb side dish. Cauliflower is low carb, gluten-free, Keto-friendly, vegan, and grain-free. So, you can make this dish for just about any group and be confident it will work for most diets and allergies.
This Cauliflower Rice is wonderfully easy to make. Unlike sautéed cauliflower or other vegetable recipes, you don't have to spend your time standing over a stovetop. Instead toss the cauliflower rice together with the other ingredients, and lay it out on a sheet pan for roasting. When it's finished roasting, some of the cauliflower will be ever so slightly browned with a chewy rice-like texture. Don't be put off by the charred little bits and don't try to remove them, they add to the flavor and they're delicious.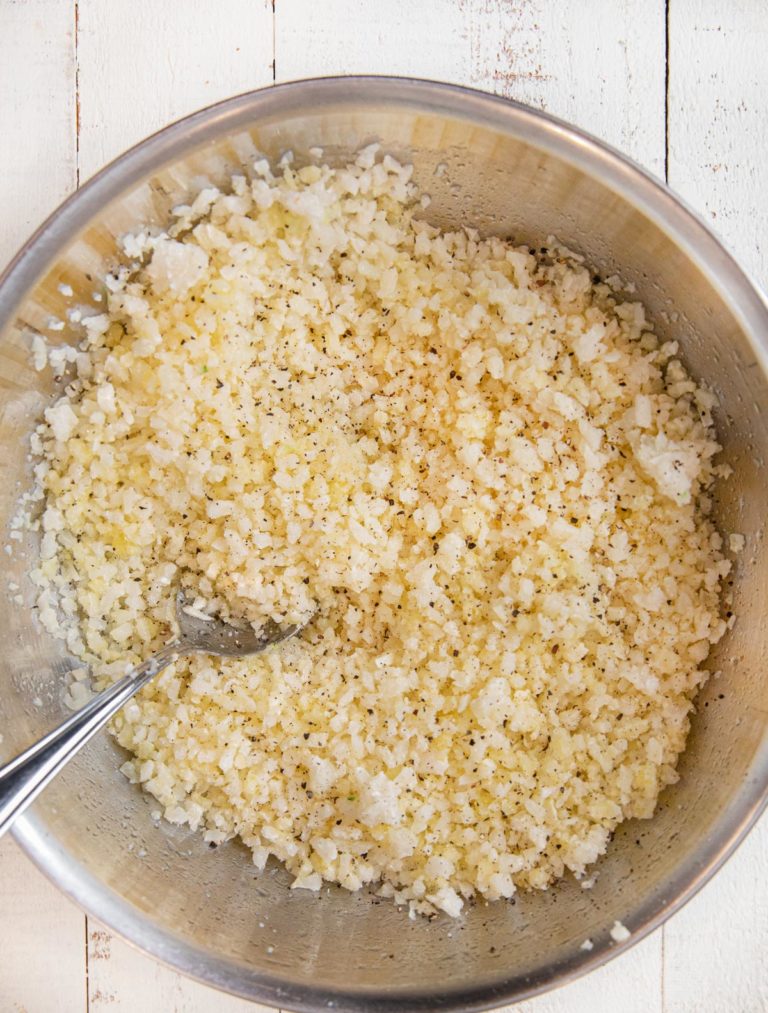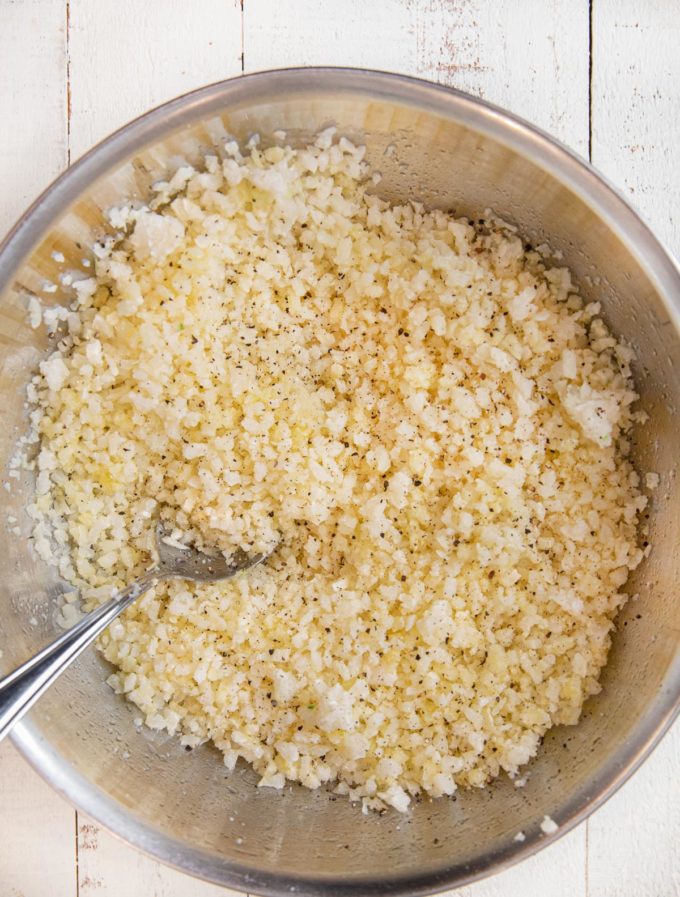 HOW TO MAKE RICED CAULIFLOWER
It's easy to find store-bought cauli-rice. Whether it's Walmart or Trader Joe's most grocery stores stock frozen cauliflower rice that you can use for this recipe. But if you'd rather make fresh cauli-rice from cauliflower florets it's very easy!
Wash and dry the cauliflower. Remove any green from your cauliflower floret.
Cut your cauliflower into 1-2 inch pieces.
Put the cauliflower in your food processor.
You may need to do this in batches, depending on how big your food processor is.
Pulse the food processor until the cauliflower is in small rice-like pieces.
If you don't have a food processor, use a grater, or chop the florets to make rice-sized cauliflower pieces.
MORE HEALTHY SIDES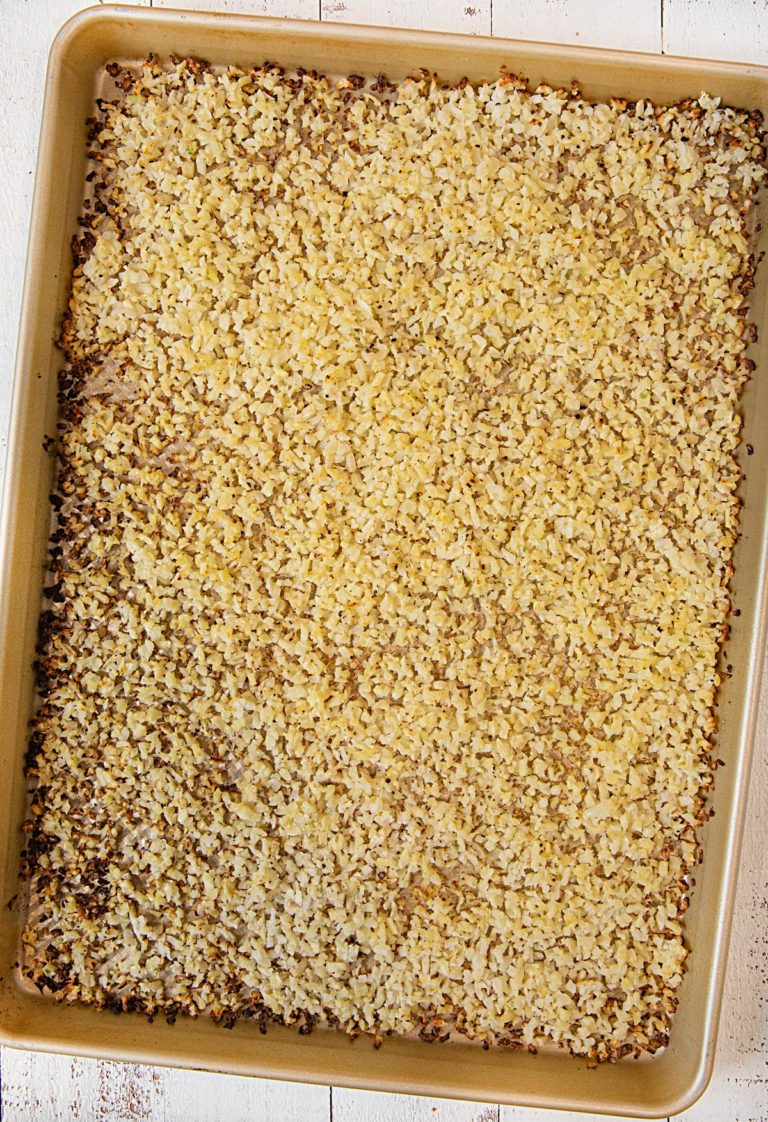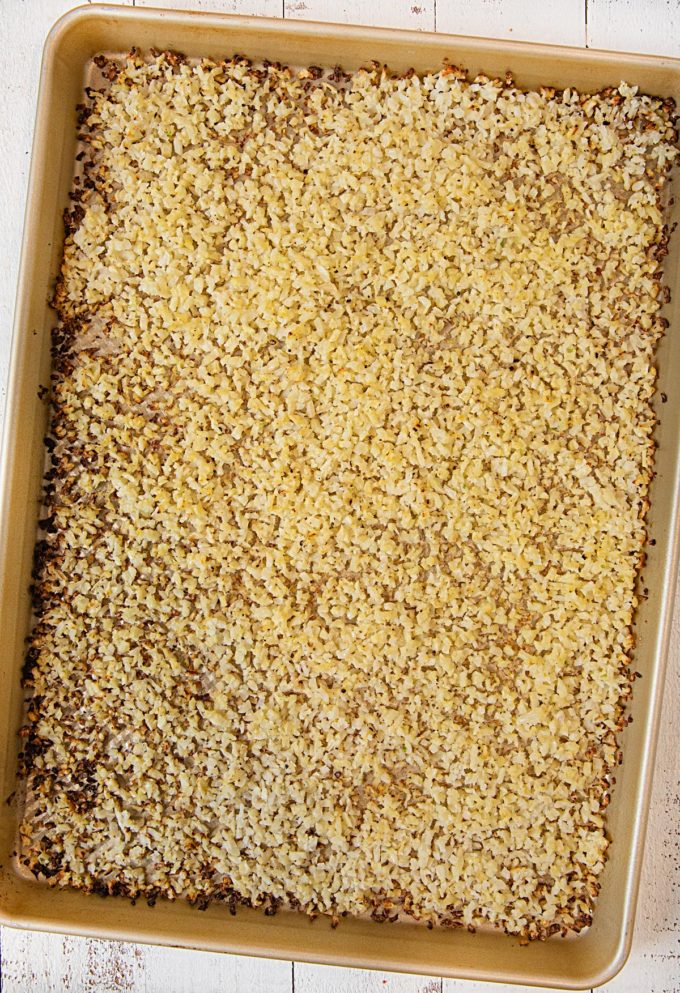 VARIATIONS ON ROASTED CAULIFLOWER RICE
Add-Ins: There are lots of additions you can make to your roasted cauliflower to add flavor and texture. Try adding minced garlic cloves, chopped onion, or other chopped vegetables, cumin, turmeric, or paprika. To add onion, sauté the onion and garlic together until caramelized. Then mix them in with the cooked rice before serving.
Cheesy Roasted Cauliflower Rice: Add a layer of shredded cheddar, Parmesan Cheese, or any other cheese you like to the top of the riced cauliflower side dish when you take it from the oven. You'll love the way the melty cheese tastes with the Cauliflower Rice.
Oil alternatives: This Cauliflower Rice recipe calls for olive oil. But you can replace it with coconut oil, vegetable oil, butter, sunflower oil, and pretty much any other oil option. Though if you choose to use butter, the Cauliflower Rice won't be vegan anymore.
Couscous: Use this Cauliflower Rice recipe to make other rice alternatives like cooked couscous. Before baking the couscous, boil it in salted water for 5 minutes. Once prepared, combine the couscous with other ingredients and any add-ins like garlic or cumin. Put the couscous on a baking dish and bake covered in tinfoil for 25 minutes.
DINNERS TO SERVE WITH ROASTED CAULIFLOWER RICE
HOW TO STORE ROASTED CAULIFLOWER RICE
Serve: Once it's roasted don't leave your rice out for longer than 2 hours.
Fridge: Let the Cauliflower Rice cool before storing it in an airtight container. Stored properly, the rice will last in the fridge for a week.
Freezer: Frozen Cauliflower will stay good for up to six months. To reheat the rice let the cauliflower defrost in the fridge overnight. Then put it in the oven to heat through before serving.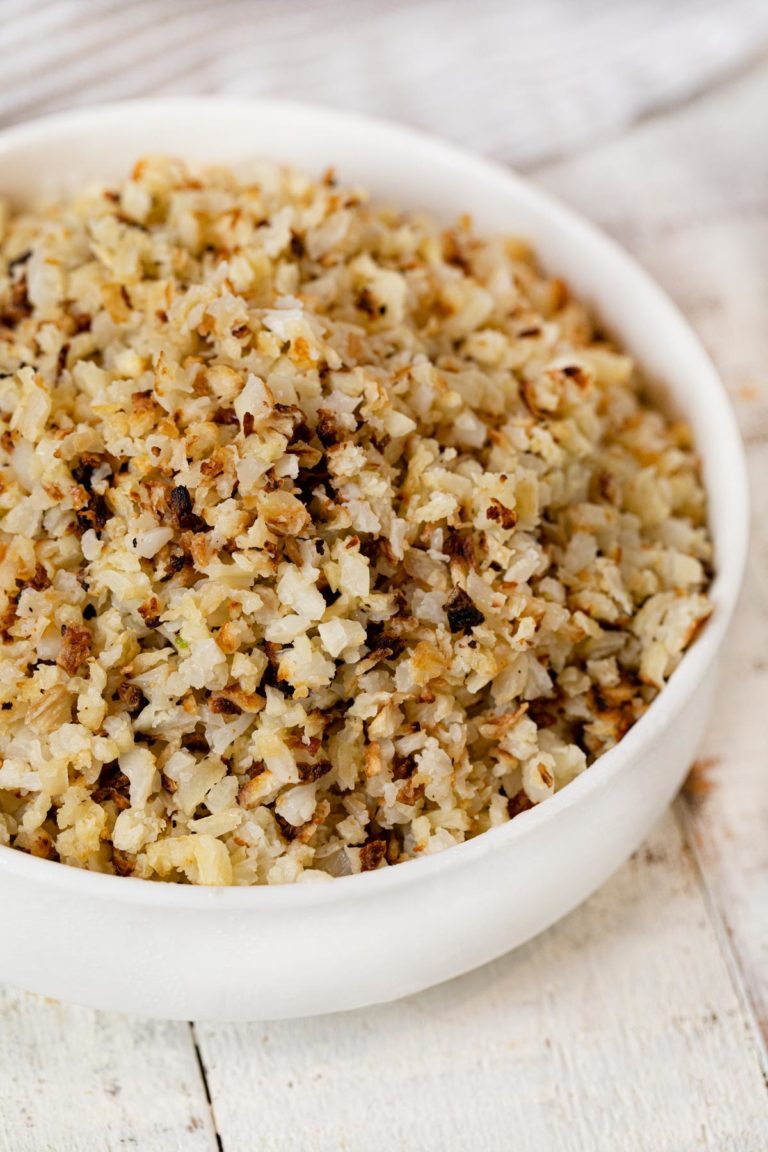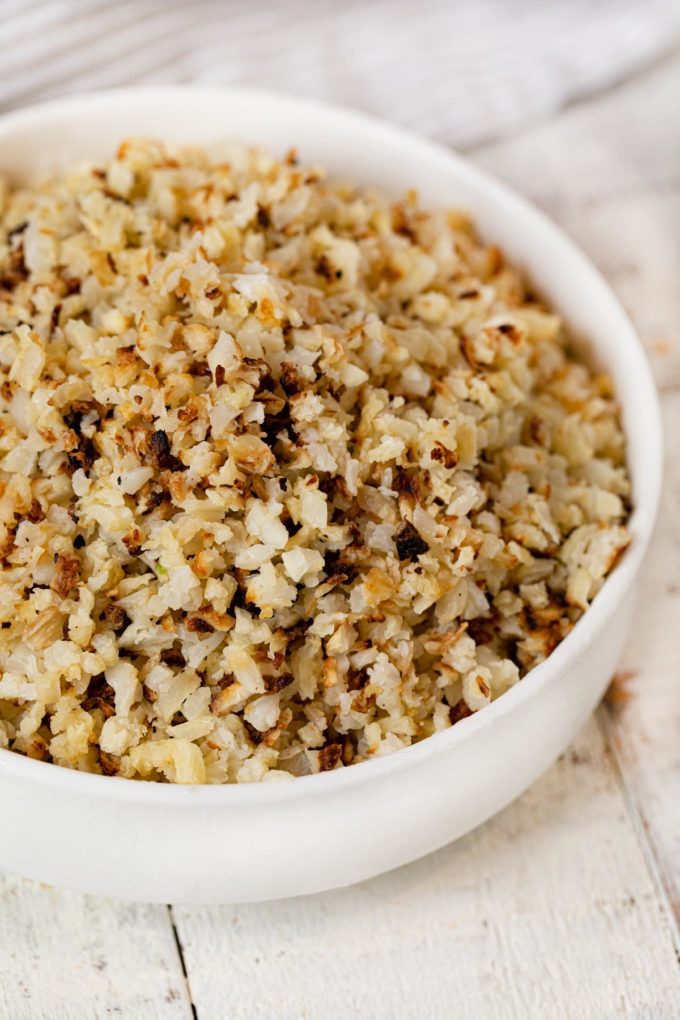 Ingredients
20

ounces

cauliflower rice

2

tablespoons

olive oil

1/2

teaspoon

kosher salt

1/4

teaspoon

coarse ground black pepper
Instructions
Preheat oven to 425 degrees and spray baking sheet with vegetable oil spray.

In a large bowl add the cauliflower rice, olive oil, salt and pepper and toss it together well.

Spread onto baking sheet, roast

25-30 minutes

until browned and toasted.
Nutrition
Calories:
49
kcal
|
Carbohydrates:
4
g
|
Protein:
1
g
|
Fat:
4
g
|
Saturated Fat:
1
g
|
Sodium:
167
mg
|
Potassium:
212
mg
|
Fiber:
1
g
|
Sugar:
1
g
|
Vitamin C:
34
mg
|
Calcium:
16
mg
|
Iron:
1
mg