Lemon Ricotta Zucchini Noodles are a perfect low carb "pasta" option that's a rich yet healthy Italian dinner that's perfect for weeknights. 
If you're looking for a healthy pasta that doesn't take very long, you should definitely try fresh ricotta pasta with zucchini noodles (aka zoodles.) Just like my recipes for Easy Lasagna Soup, Chicken and Mushroom Cream Pasta and Chicken Alfredo Pasta, ricotta pasta proves that you don't have to give up your favorite dishes in order to eat healthy.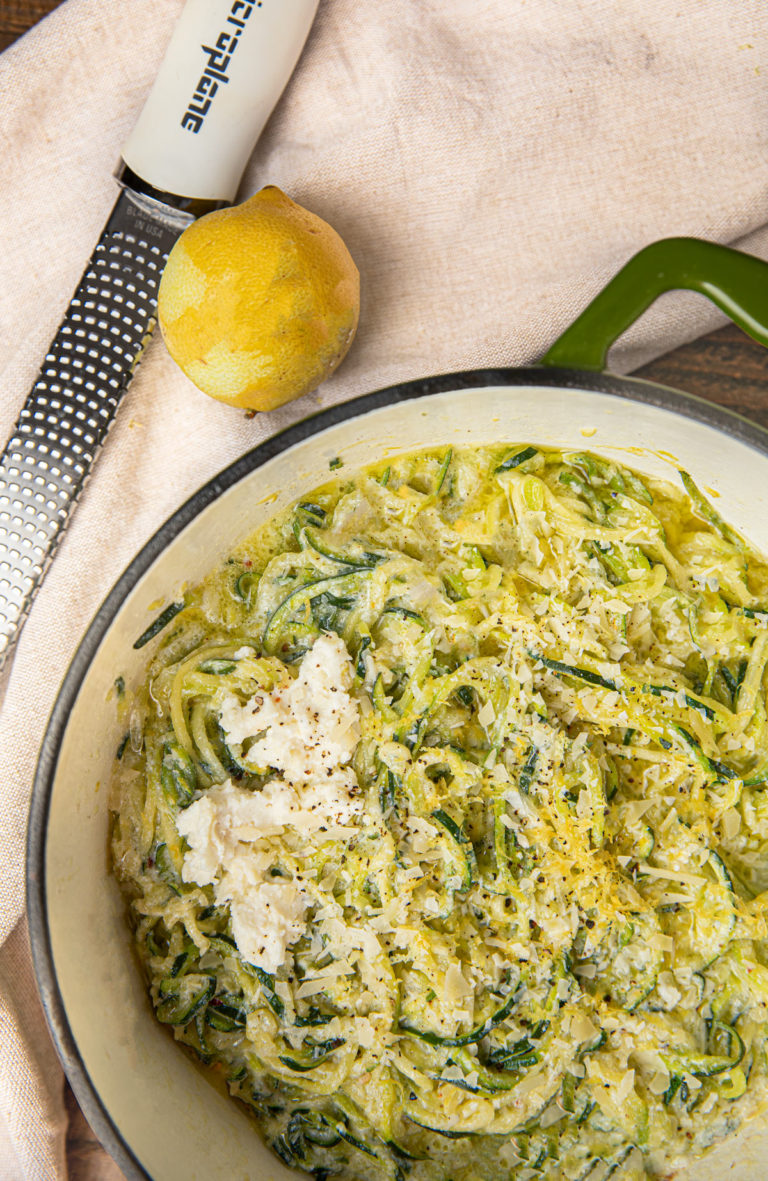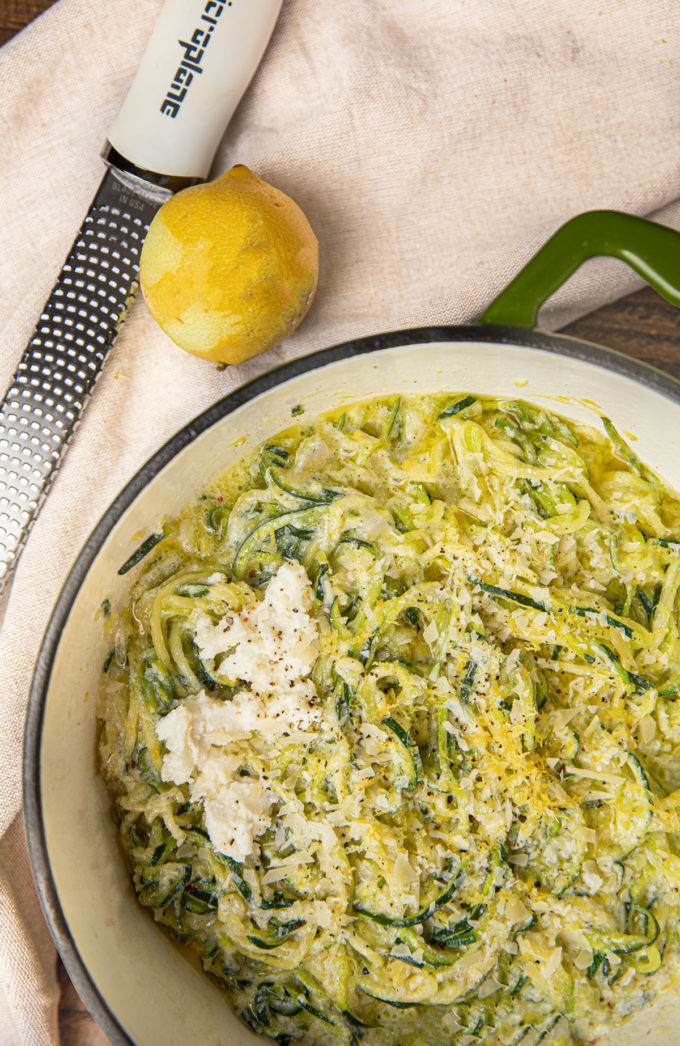 LEMON RICOTTA PASTA WITH ZUCCHINI NOODLES 
One of the hardest parts about making the commitment to eat healthy is giving up your favorite go-to recipes. Luckily, there are so many ways to make the traditional recipes that we love without falling off the healthy band wagon.
Zoodles are a great way to replace traditional pasta with a healthy alternative without sacrificing texture or flavor. Not only is zucchini incredibly good for you, zoodles taste amazing with all sorts of sauces and only take a few minutes to cook.
Ricotta pasta is a traditional Italian favorite because of how creamy and delicious the cheese is without overpowering the other flavors you add to the dish. My recipe uses lemon juice and zest to really bring out the flavors of the cheese and the red pepper flakes. The great thing about lemon ricotta pasta sauce is that it tastes just as good on zucchini noodles as it does on top of your average penne or linguine pasta.
HOW TO MAKE RICOTTA PASTA
Start by mixing together the ricotta cheese, oil, pecorino, lemon juice and zest in a medium bowl. Add salt, black pepper and red pepper flakes to taste.
Sauté zoodles in olive oil on medium heat until they are cooked through but not limp.
Pour the ricotta mixture into the pan with the zoodles and toss them together to thoroughly coat the zucchini. If the sauce is too thick, add a a few tablespoons of water and mix well.
Add some fresh basil, a drizzle of olive oil and some more pecorino to the top and serve it up.
Flavor Variations:
Parmesan cheese: if you aren't a fan of pecorino cheese you can substitute it for a milder tasting parmesan.
Shallot: finely chop up half a shallot and toss it in with the zoodles while they're cooking to give them a bolder, zesty flavor.
Grilled chicken: if you are craving extra protein you can chop up leftover grilled chicken and stir it into the ricotta mix. If you want to make chicken from scratch, cook it before starting the noodles to make sure that the meat gets cooked all the way through and the zoodles don't completely fall apart before you get to eat them.
Garlic: finely dice a garlic clove and sauté it to the zucchini noodles. Garlic goes really well with all sorts of pasta sauces and is high in antioxidants.
HOW TO MAKE YOUR OWN ZOODLES
If you have a stand mixer, you can use the spiralizer attachment to make zoodles or you can find stand alone spiralizers at a variety of different home good stores, like Bed Bath and Beyond or Kohl's.
Some places will tell you that you can use a julienne peeler to make zucchini noodles, but unless you like working really hard for really underwhelming results I'd stay away from using one.
Using a spiralizer makes making zoodles as easy as cranking down the windows of an old car.

Create a free account to

Save Recipes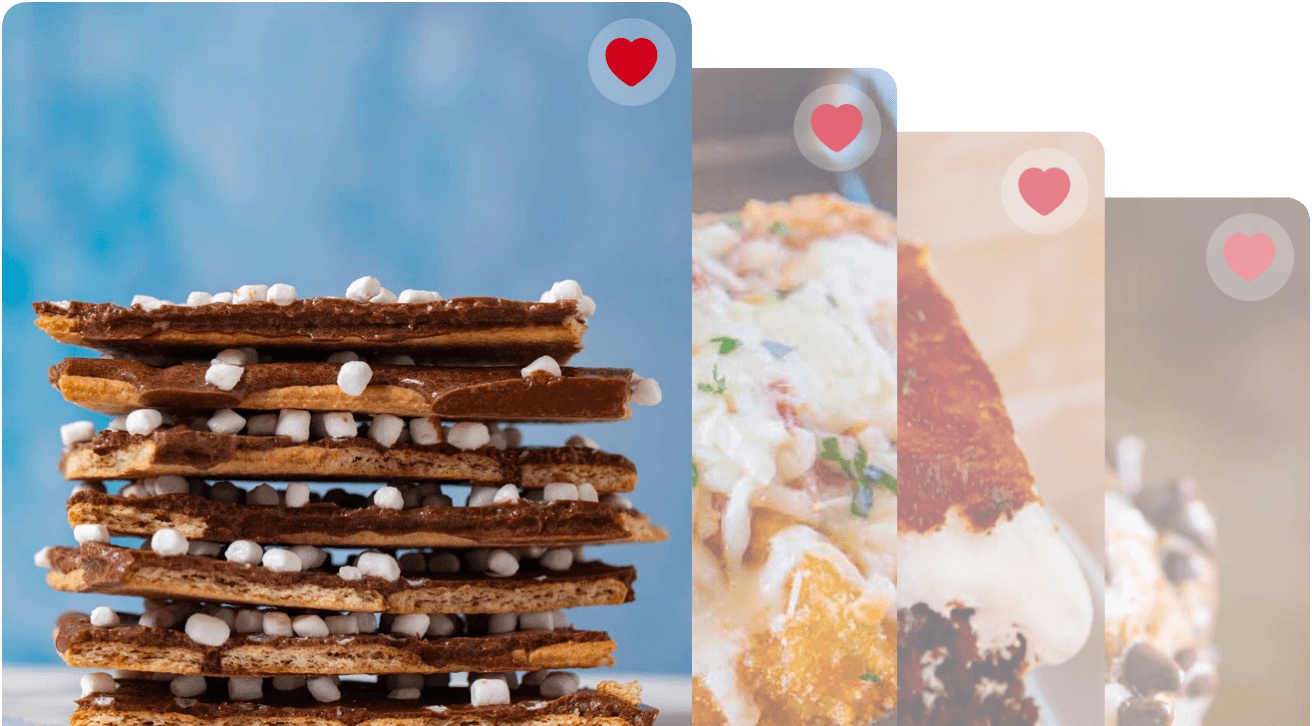 WHY EAT ZUCCHINI NOODLES?
Why eat zucchini noodles instead of traditional noodles? There are quite a few reasons, but from a purely taste and texture angle, they give you that delicious crunch of al dente noodles, have a fast cook time and go with pretty much any pasta sauce you can imagine. If those reasons weren't enough, here are some more:
Zucchini has no fat in it. As in none at all.
Zoodles are high in fiber, riboflavin, potassium, antioxidants and manganese.
They are high in vitamins B6, C and K.
Zucchini can help with weight loss due to the fiber in it and also can give you boosts of energy with B vitamins.
RICOTTA AND YOU
You may be shocked to hear it, but ricotta cheese has a lot of health benefits.
It is high in protein and low in sodium.
Ricotta cheese is high in zinc, which helps you heal faster from injuries.
It is also high in vitamins A and B.
PECORINO: THE GREAT DEBATE
Is pecorino cheese good for you? The answer is a confident "maybe." While pecorino is high in fat, two Italian universities (the University of Sassari and the University of Cagliari) have been researching the benefits for over 2 years and have discovered that pecorino is high in conjugated linoleic acids (CLAs) and omega-6 polyunsaturated fatty acids. So, what does that mean?
It means that in small doses, pecorino is beneficial. You shouldn't go nuts and eat it all the time, or if you do make sure you pick up a package of the reduced fat variety.
How to Store Lemon Ricotta Zucchini Noodles?
Serve: you shouldn't leave it out for longer than 2 hours at room temperature to make sure no bacteria starts to sprout on it.
Store: ricotta pasta is great for leftovers and is good in the fridge for up to 4 days, but be aware that zucchini releases water the longer it sits. This dish will not be as delicious the next day.
Freeze: I honestly do not recommend freezing this dish.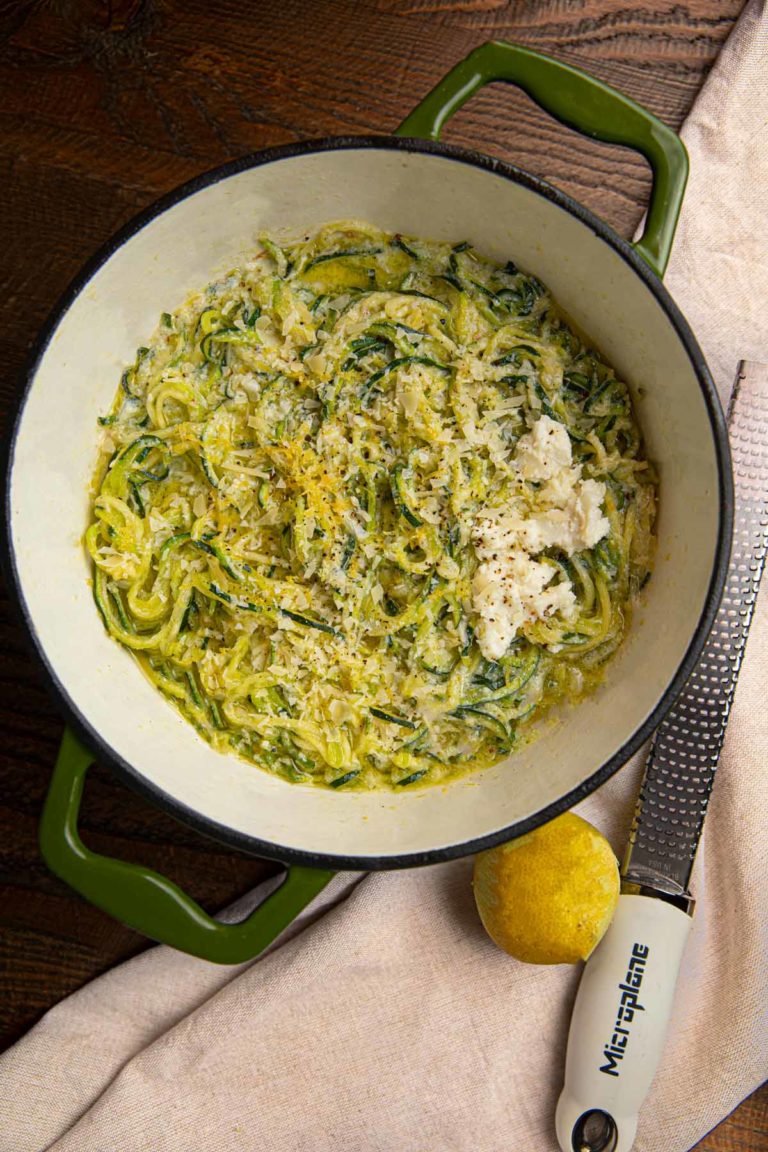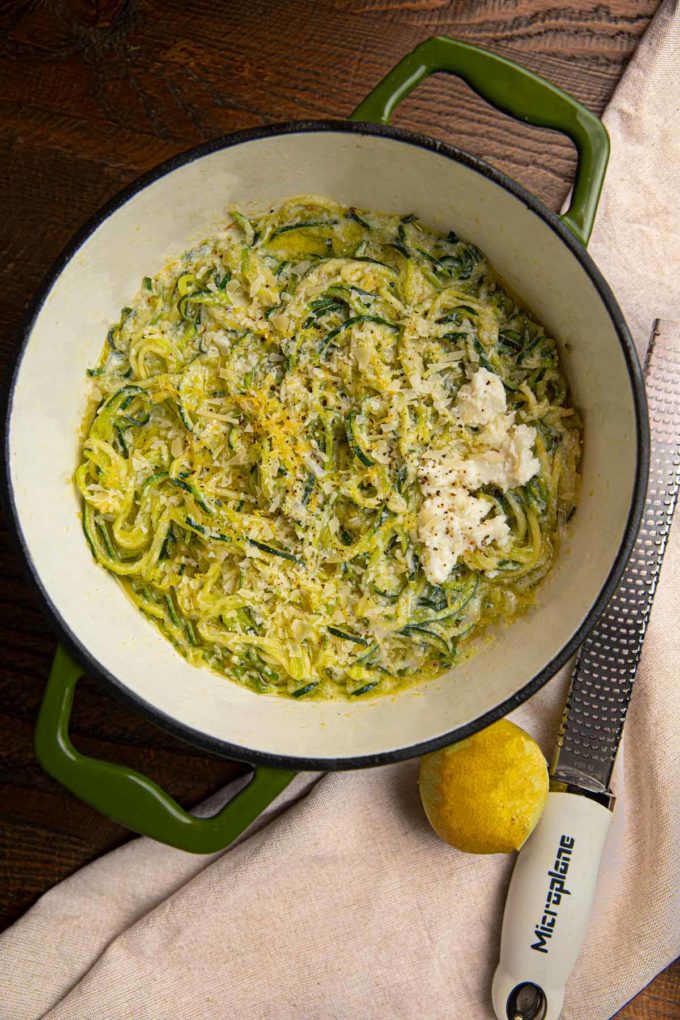 Ingredients
6

zucchini

spiralized

2

tablespoons

extra-virgin olive oil

3/4

cup

part-skim ricotta

1/4

cup

water

1/4

cup

Parmesan Cheese

shaved

1

lemon

juiced and zested

1/2

teaspoon

Kosher salt

1/4

teaspoon

coarse ground black pepper

1/4

teaspoon

red pepper flakes
Instructions
Add the zucchini and olive oil to a large pot and saute on medium high heat for

5-6 minutes

until softened.

Mix together the ricotta, water, Parmesan cheese, lemon juice, lemon zest, salt, pepper and red pepper flakes.

Add the ricotta mixture to the zoodles, stir together and warm through then serve immediately (preferably with additional lemon zest on top).
Nutrition
Calories:
209
kcal
|
Carbohydrates:
14
g
|
Protein:
11
g
|
Fat:
13
g
|
Saturated Fat:
5
g
|
Cholesterol:
19
mg
|
Sodium:
476
mg
|
Potassium:
862
mg
|
Fiber:
4
g
|
Sugar:
8
g
|
Vitamin A:
850
IU
|
Vitamin C:
66.9
mg
|
Calcium:
254
mg
|
Iron:
1.5
mg