Healthy Coleslaw is the same creamy and crunchy side dish you love made with Greek yogurt instead of mayonnaise. With a 5 minute prep time!
This no mayo Coleslaw is the ultimate light Side Dish to bring to your next potluck or Summer cookout that you can serve along with other chilled sides like Quick Korean Pickles.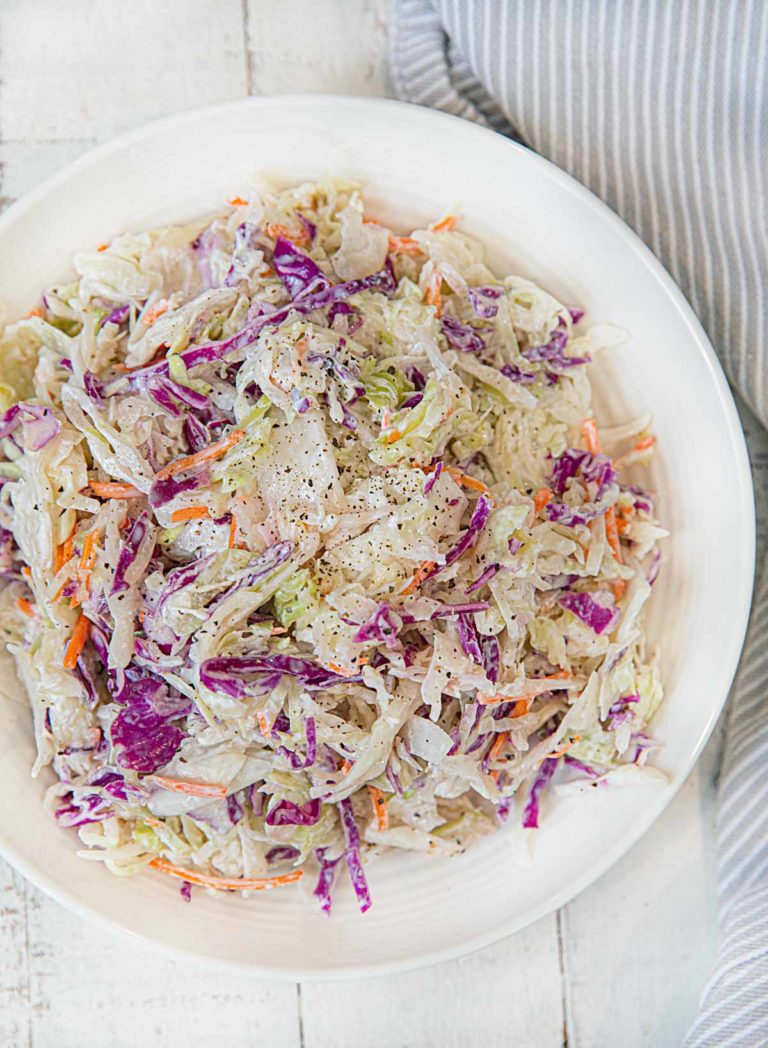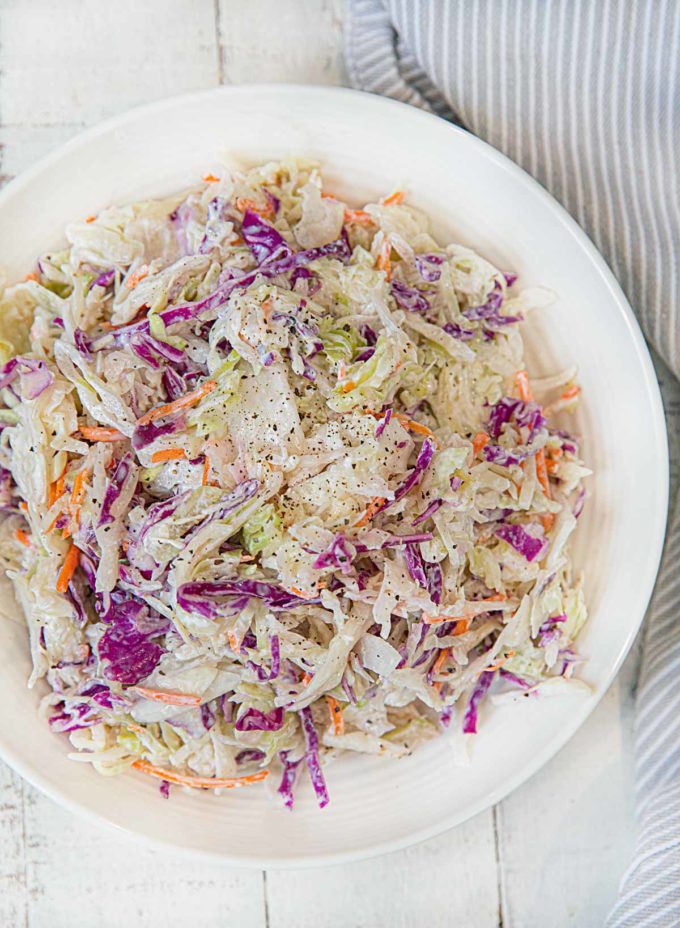 HEALTHY COLESLAW
This easy Coleslaw recipe is full of refreshing tangy flavor. It's sure to become your new go-to Summer side dish! The total time for this recipe is a little over two hours, but most of that is just leaving the coleslaw in the fridge. Simply toss the ready-made, store-bought coleslaw mix in a large bowl with the light vinegar and greek yogurt dressing, and your work is done until you take it out of the fridge to serve!
Unlike many mayo coleslaws, this Healthy Coleslaw recipe is full of creamy goodness without the high calorie count you're used to with coleslaws. Without the mayo, coleslaw is an easy side you can serve with plenty of dinners or over a sandwich without any worries about it being unhealthy!
No mayo coleslaw gives you the health benefits of green and purple cabbage and all the flavor without the mayo. Cabbage is a cruciferous vegetable, just like kale and arugula. These vegetables are usually rich in minerals like folate and vitamin K, and cabbage is no exception. With it's light dressing this coleslaw recipe is just as healthy as any salad.
MORE HEALTHY SIDE DISHES
Want to Add Mayonnaise?
If you are missing the mouth feel of mayonnaise you can sub ¼ cup of the greek yogurt for light mayonnaise. Just that small amount of mayonnaise will add the richness you know and love about classic coleslaw mixed with the acidic tang of vinegar.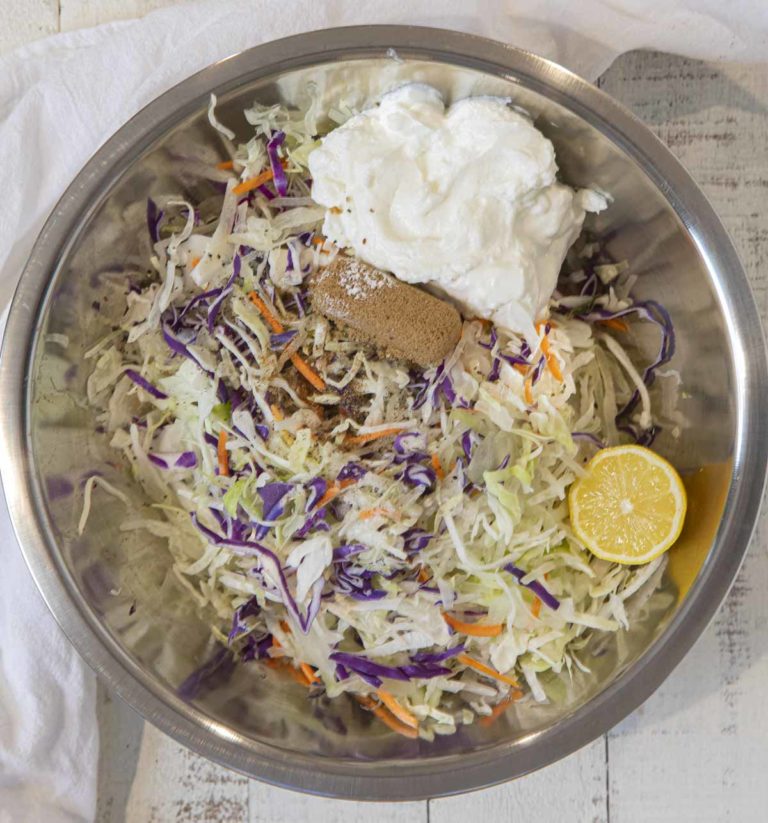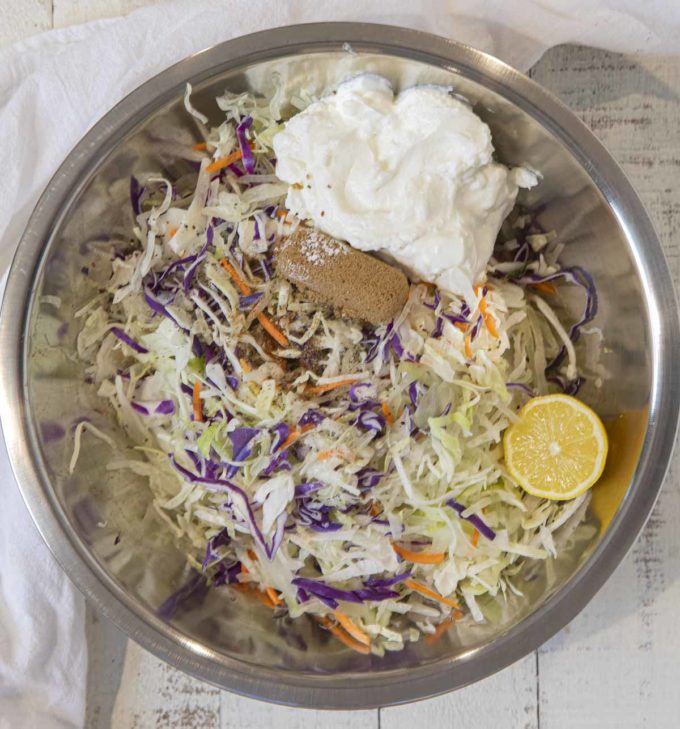 Create a free account to

Save Recipes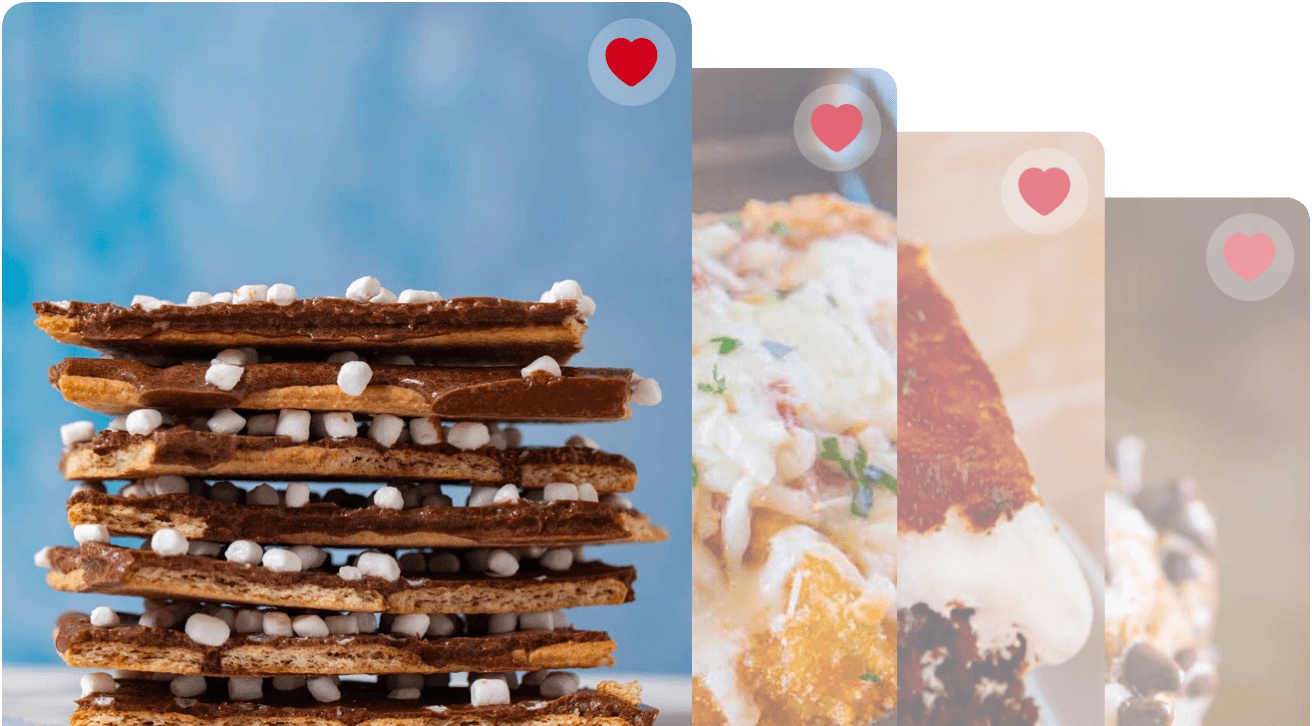 VARIATIONS ON HEALHTY COLESLAW
Fresh Cabbage: Rather than using a pre-shredded coleslaw mix you can make your own with fresh cabbage. Start with a head of green cabbage, red cabbage or a combination of the two. cut and shred the cabbage. You can also add lettuce if you don't have enough red cabbage or green cabbage. Add any other mix-ins like shredded carrots or red onion. Use a food processor to make the shredding easier. This will make a fresher cabbage salad, but the recipe will be a lot more time consuming.
Mexican Coleslaw: Alter this healthy coleslaw recipe to make a mayo-free Mexican Coleslaw. Add some chopped cilantro, minced garlic cloves, ground cumin, oregano, and a dash of hot sauce, for a spicy Mexican-inspired slaw.
Veggies and add-ins: Easily shred and add more veggies to your slaw like green onions, carrots, and celery. You can even add broken up ramen noodles for an extra crunchy topping when you serve the Coleslaw
Dressings: This coleslaw recipe uses apple cider vinegar for its tangy vinegar-based dressing, but you can use other healthy coleslaw dressings for this creamy coleslaw. If you don't have apple cider vinegar, rice vinegar will do nicely. Or instead of making a vinegar coleslaw, mix some olive oil with a bit of mustard for a more sharp flavored coleslaw. You can try a dijon mustard, yellow mustard, or even hot mustard. Be sure to go light! Since the flavor of mustard is quite strong you'll only need a little bit to really taste it.
Dairy-free: Another easy ingredient swap for this recipe is to use a plant-based alternative to Greek yogurt. A good one is Ripple's Greek yogurt alternative. It's completely dairy-free, gluten-free and vegan. Or if you're fine with dairy, but just want to lighten the recipe even more, you can use non-fat Greek yogurt, but it won't make as creamy of a coleslaw.
EASY HEALTHY MAIN DISHES
HOW TO STORE HEALTHY COLESLAW
Serve: Because of the yogurt in the coleslaw, you shouldn't leave it out at room temperature for longer than 2 hours.
Store: Put plastic wrap over the coleslaw or put the slaw in an airtight container to store it in the fridge. Stored properly no-mayo coleslaw will stay good for 3-5 days. When you're ready to eat the leftovers you can serve it as is, or add extra cabbage and toss for a fresh crunch.
Freeze: If you'd like to have this Cole Slaw as a make-ahead recipe to store in the freezer, you'll want to keep the cabbage and other vegetable ingredients separated from the vinegar dressing. Freeze the ingredients in separate airtight containers. When you're ready to enjoy your Cole Slaw salad let the vinegar dressing and vegetables thaw in the fridge, and then whisk together the dressing and add it to the cabbage mixture.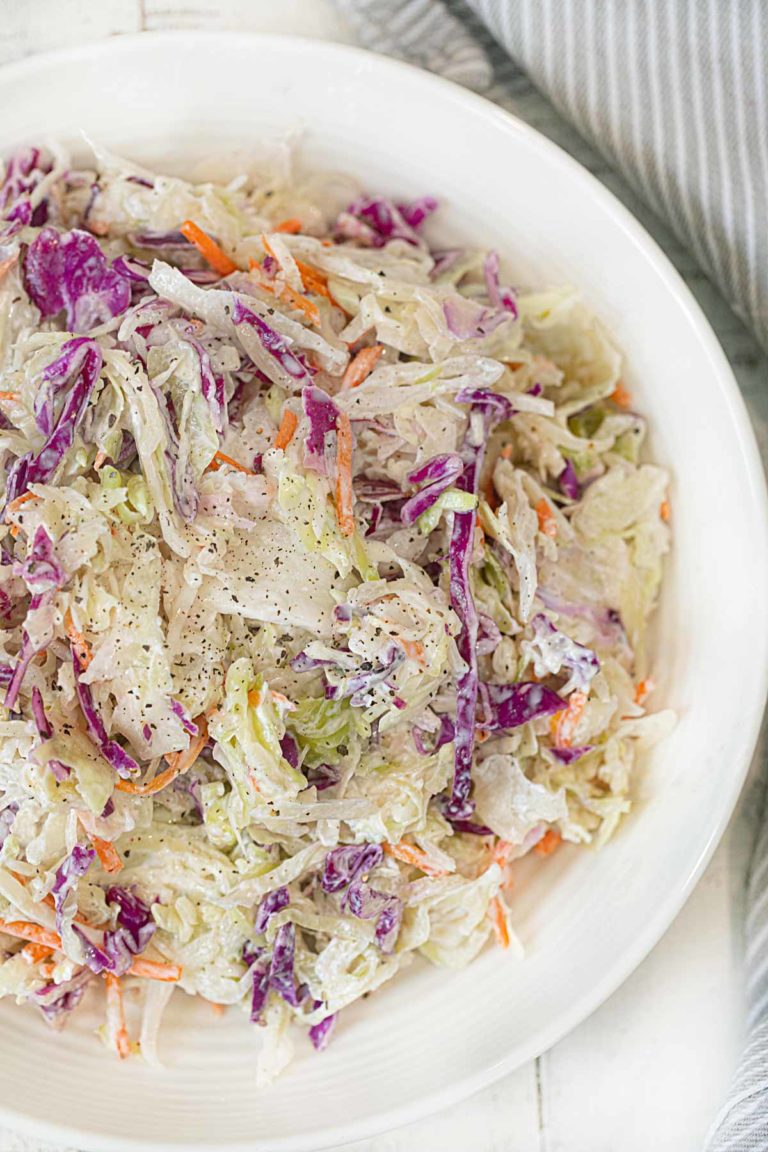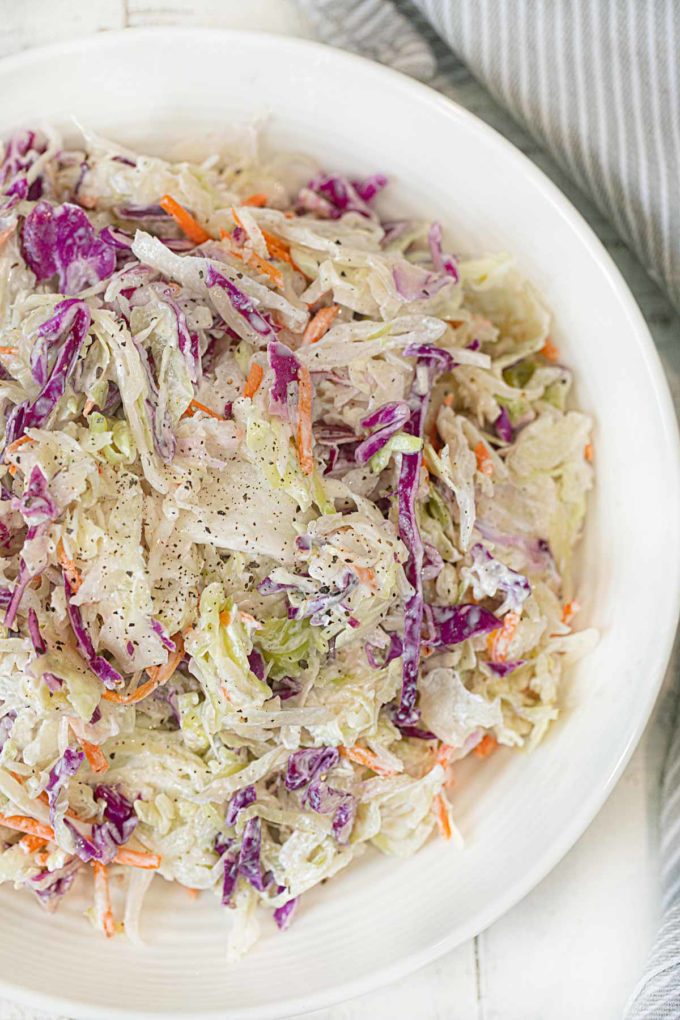 Ingredients
1

cup

2% plain Greek yogurt

2

tablespoon

apple cider vinegar

1

tablespoon

lemon juice

1

tablespoon

brown sugar

1/4

teaspoon

celery seed

1

teaspoon

kosher salt

1/4

teaspoon

coarse ground black pepper

16

ounces

coleslaw lettuce mix

1

cup

red cabbage

, shredded
Instructions
Whisk together greek yogurt, apple cider vinegar, lemon juice, brown sugar, celery seed, salt and pepper until smooth.

Add in the coleslaw mix and cabbage and mix well.

Refrigerate at least

2 hours

but preferably overnight.
Nutrition
Calories:
36
kcal
|
Carbohydrates:
6
g
|
Protein:
3
g
|
Fat:
1
g
|
Saturated Fat:
1
g
|
Cholesterol:
1
mg
|
Sodium:
406
mg
|
Potassium:
116
mg
|
Fiber:
1
g
|
Sugar:
4
g
|
Vitamin A:
45
IU
|
Vitamin C:
18.2
mg
|
Calcium:
46
mg
|
Iron:
0.3
mg