Garlic Braised Chicken with Kale is nutrient rich, Keto-friendly, dairy-free, and so flavorful. It's the perfect family-friendly and healthy weeknight dinner!
If you've tried the recipe for Braised Balsamic Chicken, this wonderfully garlicky Dinner Recipe turns crispy and tender every time. You'll love the rich flavors of onion, lemon, and garlic.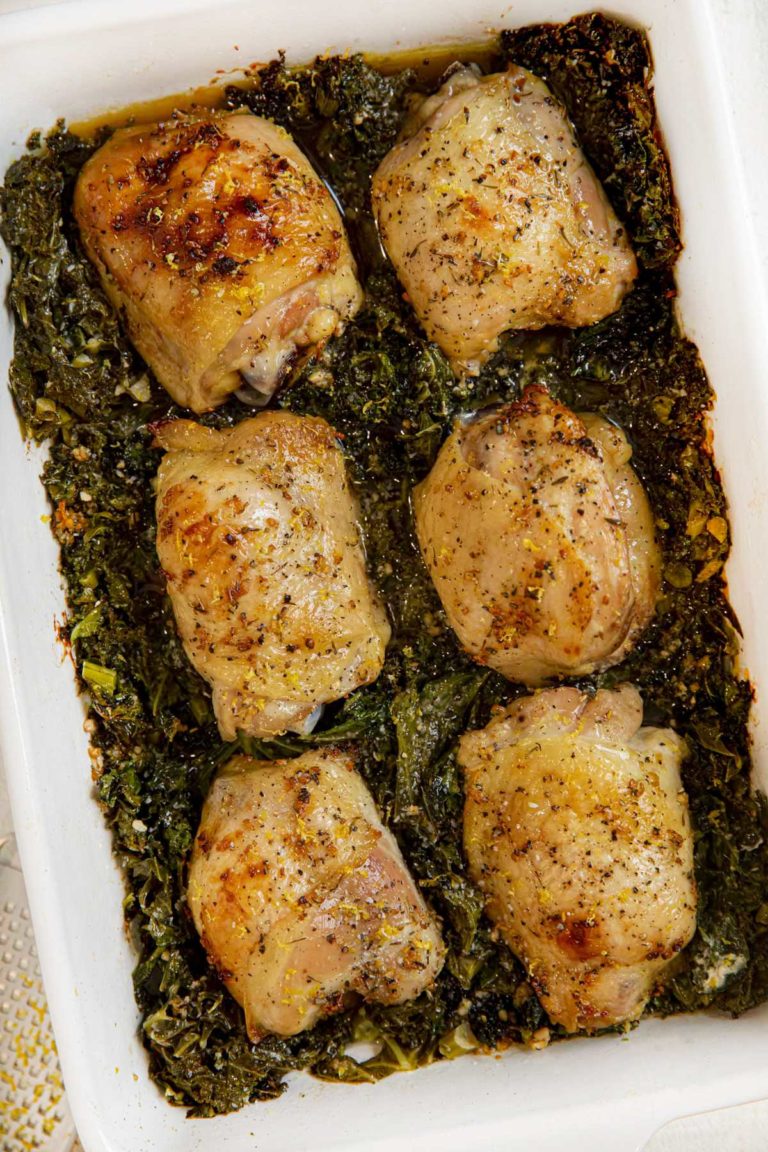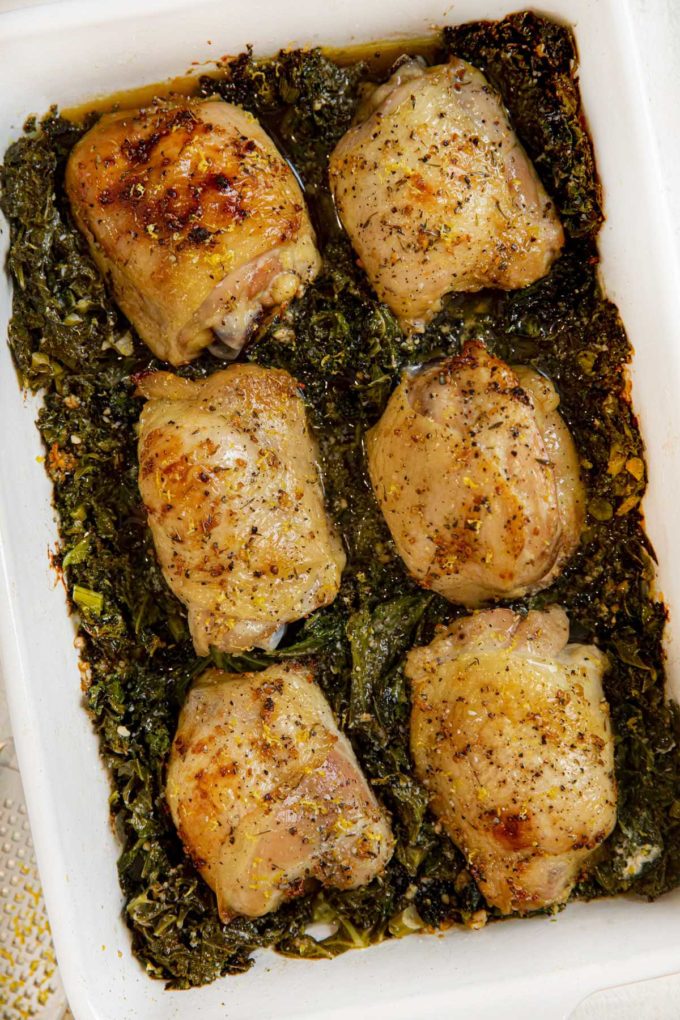 GARLIC BRAISED CHICKEN WITH KALE
This low carb chicken thigh dinner is a great recipe for any day of the week. The total time to make it is just 45 minutes, and it goes well with any number of healthy sides from sweet potatoes to green beans. It's a healthy recipe the whole family will love, and you can easily adjust the ingredients to your taste by adding more seasoning like extra pepper, parsley or red pepper flakes.
Before putting the bone-in chicken thighs in the oven, braise them in a dutch oven or skillet. Braising the chicken thighs tenderizes the meat to make it more juicy. This also helps it to absorb the flavors from the delicious garlic sauce.
If you don't have garlic cloves you can still get the same wonderful sauce. Just add garlic powder to the seasoning, after you sauté the onion.
If you're looking for your next healthy recipe this is the chicken recipe for you. It's low carb, has no heavy cream, or butter and is packed with nutrients from the kale. Kale is one of the most nutrient-dense foods out there. Like many leafy greens, kale is full of antioxidants. Kale is also an excellent source of vitamin C, is heart healthy and can lower cholesterol. Overall, kale is probably one of the best ingredients you can add to any recipe.
Chicken Breasts vs. Chicken Thighs
This baked chicken recipe calls for skin-on chicken thighs. However if you'd prefer to use chicken breasts instead of chicken thighs, that is possible. But you should know, chicken thighs respond wonderfully to this method of braising and then baking.
To use this baked chicken recipe for boneless skinless chicken breasts start by adding olive oil to your pan and searing the skinless chicken breast until lightly cooked on both sides.
Put the chicken breasts to one side, and add the minced garlic and other seasoning according to the Garlic Chicken Recipe instructions.
Put the chicken broth back in your skillet or dutch oven, and add in the sauce.
Once you've pan-fried the chicken, cover the dutch oven and bake the chicken for 50 minutes.
Add the kale to the chicken breasts and cook for another 5 minutes. (This Chicken Breast recipe is for 4 chicken breasts.)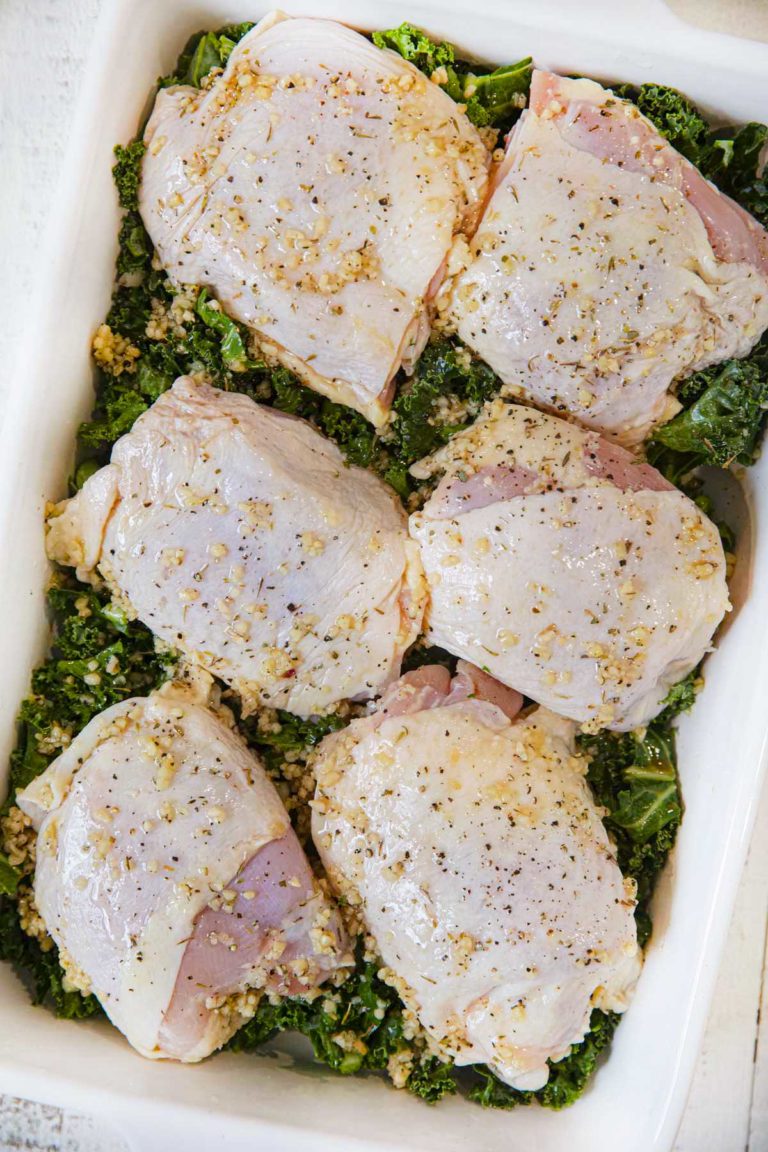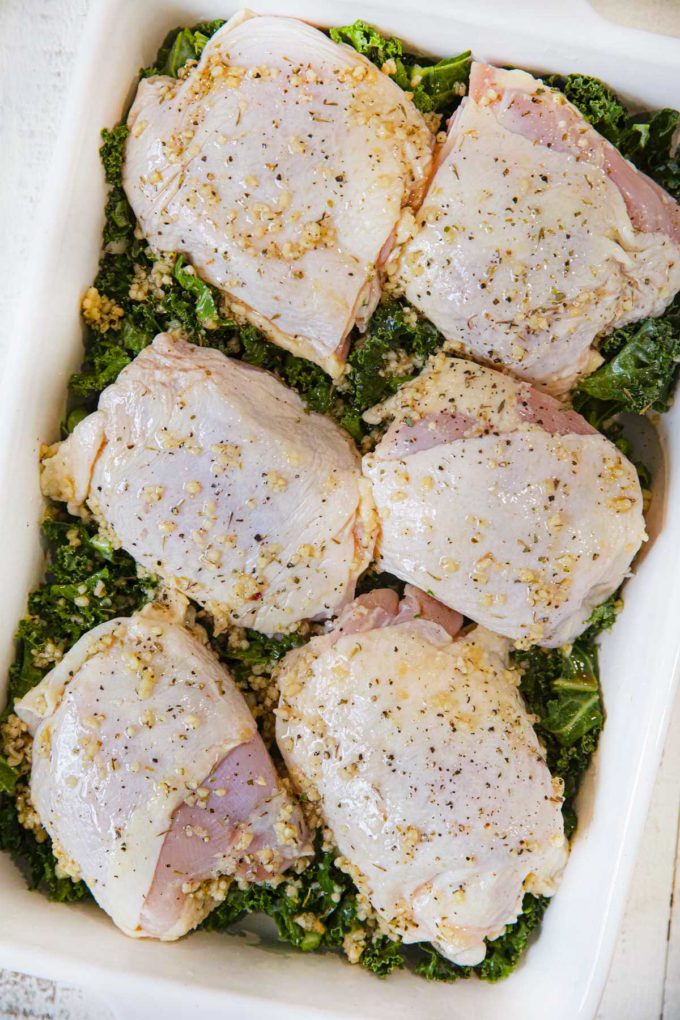 Create a free account to

Save Recipes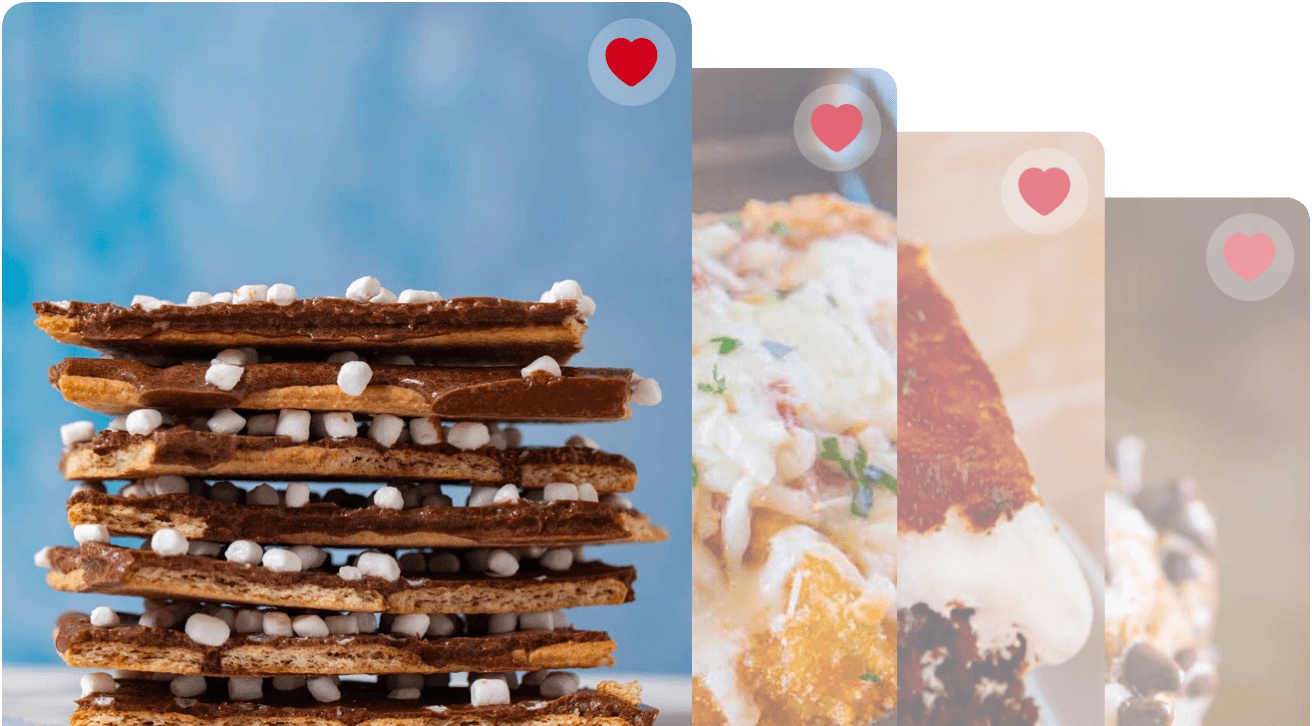 MORE CHICKEN RECIPES
VARIATIONS ON GARLIC BRAISED CHICKEN WITH KALE
Sauce add-ins: There are plenty of variations you can make to the sauce. Try adding soy sauce or extra lemon juice to the garlic sauce. You can also use different varieties of wine from red wine to a dry white wine. If you don't have chicken stock, you can use vegetable broth. If you'd like lemon chicken add more lemon zest and some light cream to the sauce.
Seasonings: Add in pepper flakes for cooked chicken with a little more kick. You could also try Italian seasoning, chopped parley, thyme, or any other seasoning according to taste. You can even add a tablespoon or so of brown sugar for a slightly sweeter chicken recipe.
Creamy Garlic Chicken Recipe: To make this recipe into Creamy Garlic Chicken you'll need to add some kind of butter or cream to the sauce. You can add heavy whipping cream to the sauce. Or for a lighter Creamy Garlic Chicken use some plain yogurt to the sauce. If you'd like to keep the recipe as it is, you can serve the cooked chicken with garlic butter that people can add or not as they choose.
HEALTHY SIDE DISHES FOR GARLIC CHICKEN
HOW TO STORE GARLIC BRAISED CHICKEN WITH KALE
Serve: Don't leave Garlic Chicken at room temperature for more than two hours.
Store: Once the chicken has cooled store it in an airtight container, and put it in the fridge. Garlic Chicken should stay good in the fridge for 5 to 7 days.
Freeze: Stored properly this Garlic Chicken recipe will stay good in the freezer for up to 4 months. When you're ready to reheat it, let the Garlic Chicken defrost in the fridge overnight. Then reheat the recipe in a skillet, before serving.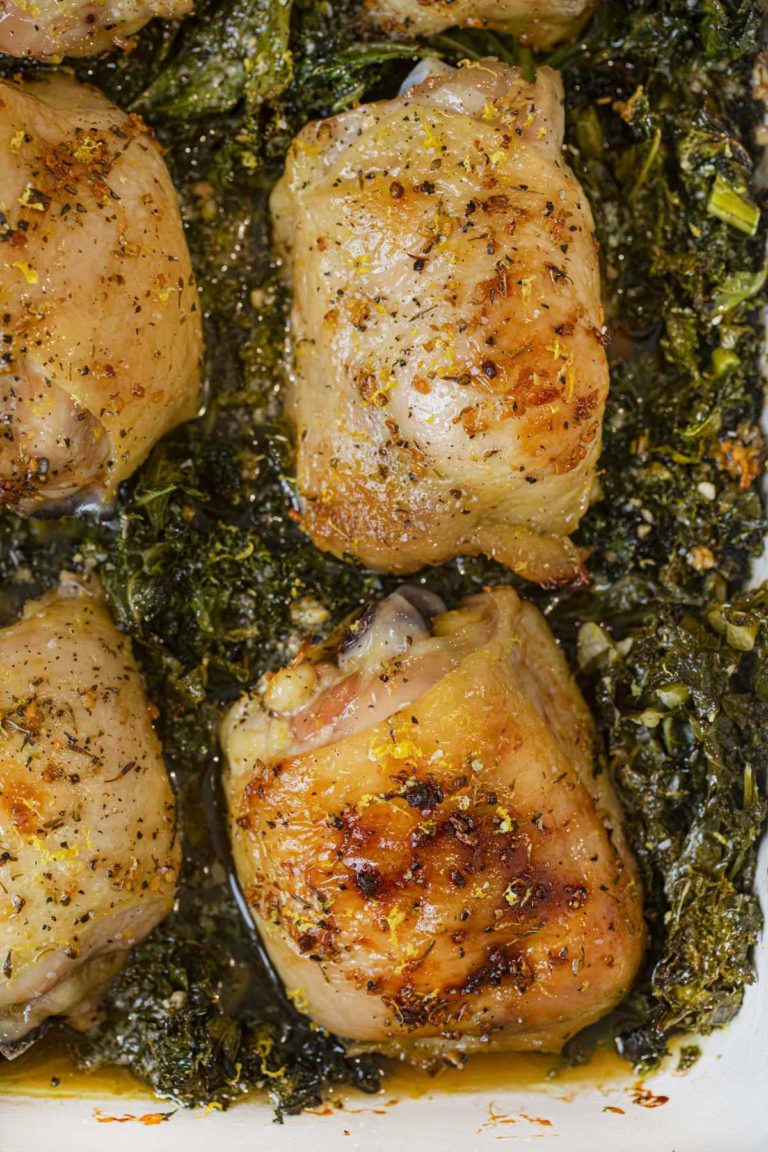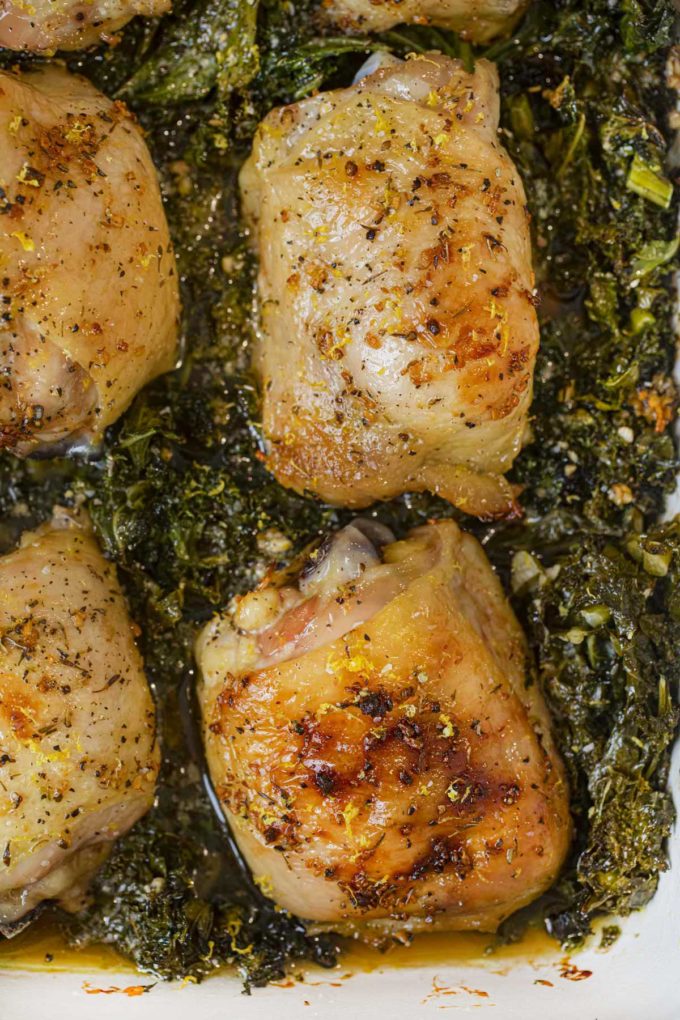 Ingredients
6

chicken thighs

, bone in and skin on

1

tablespoon

vegetable oil

1

large

yellow onion

, diced

6

cloves

garlic

, minced

2

cups

low-sodium chicken broth

1

cup

white wine

1

lemon

, zested and juiced

1

bunch

curly kale

, chopped

1

teaspoon

Kosher salt

1/2

teaspoon

fresh ground black pepper
Instructions
Preheat oven to 425 degrees.

Heat the oil in a large dutch oven on medium-high heat.

Season the chicken with salt and pepper and place them skin-side down in the dutch oven.

Cook the chicken for

5-6 minutes

, then flip the chicken over and cook for an additional

2-3 minutes

.

Remove the chicken from the heat and set aside.

Reduce to medium heat, then add the onion and cook for

5-6 minutes

until translucent.

Add the garlic and cook for an additional minute.

Place the chicken back in the dutch oven, skin-side up.

Add the chicken broth, wine, lemon juice, and lemon zest to the dutch oven.

Cover the dutch oven and place it in the oven. Cook for

20-25

minutes.

Add the kale leaves to the dutch oven and stir. Cover the dutch oven again and cook in the oven for an additional

5-6 minutes

.
Nutrition
Calories:
344
kcal
|
Carbohydrates:
9
g
|
Protein:
22
g
|
Fat:
22
g
|
Saturated Fat:
7
g
|
Cholesterol:
111
mg
|
Sodium:
510
mg
|
Potassium:
507
mg
|
Fiber:
1
g
|
Sugar:
2
g
|
Vitamin A:
2253
IU
|
Vitamin C:
38
mg
|
Calcium:
64
mg
|
Iron:
2
mg