Zucchini Lasagna Roll-Ups made from fresh zucchini, ricotta cheese and parmesan cheese are a healthy Italian classic. 
Lasagna is a delicious comfort food that you don't have to give up in order to eat healthier. You can make recipes like my Easy Lasagna Soup, Healthy Eggplant Lasagna and these delicious, hearty lasagna roll ups.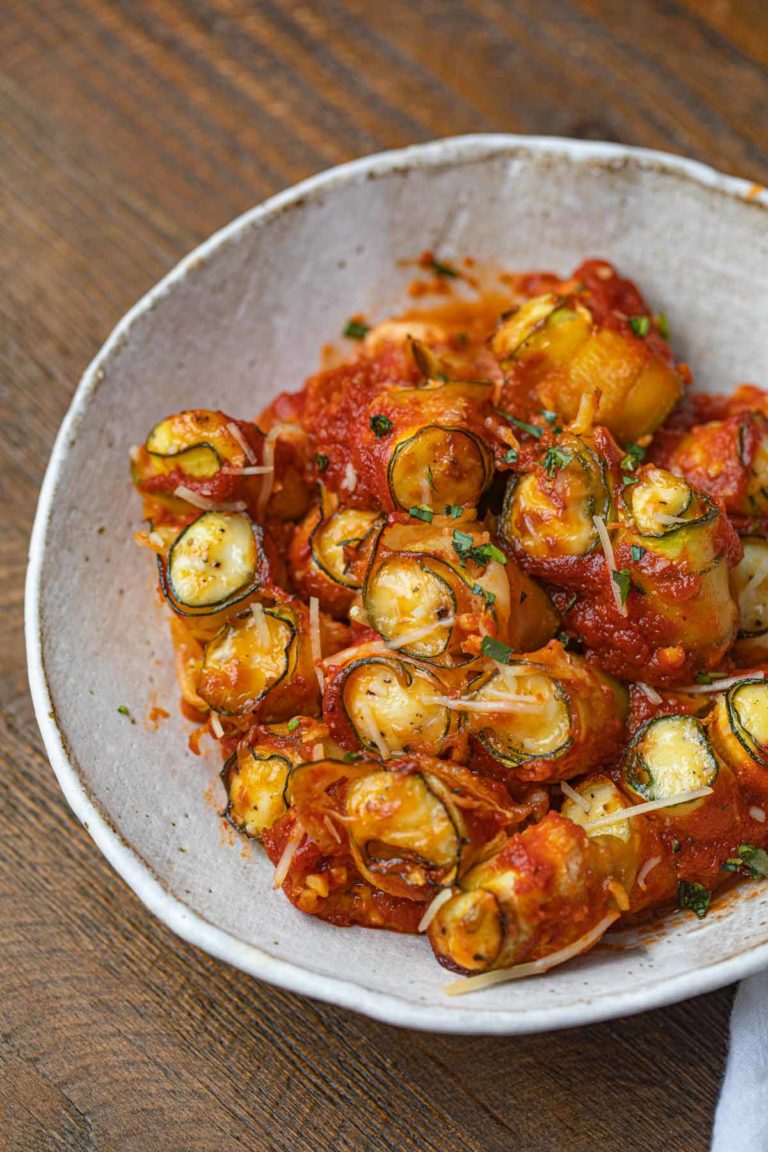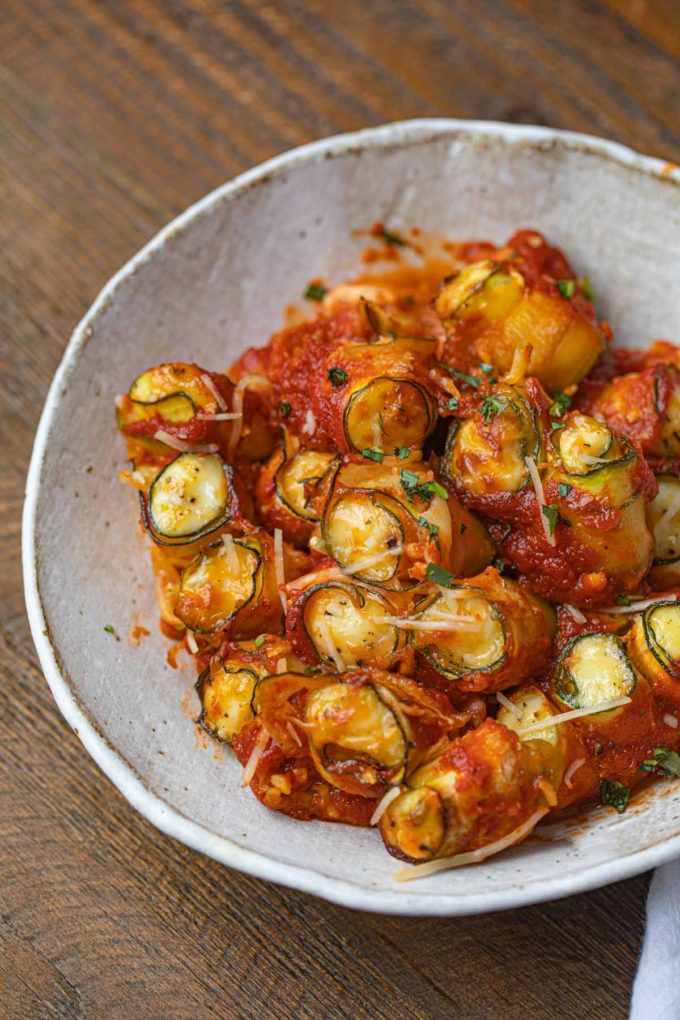 ZUCCHINI LASAGNA ROLL-UPS
Traditional lasagna is tasty but pretty heavy. In my recipe for lasagna roll ups, I replace the lasagna noodles with lower carb, healthier zucchini strips and I break away from the traditional casserole layout. Instead, each of the zucchini strips are curled up to create a personal lasagna roll that are great for outdoor dining and dinner parties.
Lasagna roll ups use marinara sauce, the pasta sauce that pretty much everyone thinks about when someone says lasagna, as well as parmesan, mozzarella and ricotta cheese just like the traditional recipe. The only things that are different are the much lower cook time and the fact that you don't have to wrestle with a large pot of boiling water to make the noodles al dente before you bake them.
If this is your first time making lasagna without the classic noodles, this is a great new recipe to try out.
HOW TO MAKE ZUCCHINI LASAGNA ROLL UPS
Start by preheating the oven and slicing up the zucchini lengthwise. Put the cut zucchini strips on a paper towel to dry and set aside.
Combine the ricotta cheese, most of the parmesan, the eggs and garlic powder together in a small bowl. Add salt and black pepper to taste.
Take the slices of zucchini and spread a layer of sauce onto each one.
Then, put a layer of ricotta mixture on top and sprinkle it with mozzarella cheese.
Roll the zucchini strips tightly enough for them to stay closed.
Get out a baking dish and spread a thin layer of marinara sauce on the bottom.
Then place the zucchini rolls in a single layer in the dish. You will want to pack them pretty tightly to help keep them from unrolling.
Sprinkle the rest of the Parmesan Cheese on top and put it in the oven. You want to bake it until the cheese mixture has melted and the zucchini is tender but not mushy.
Take the lasagna out of the oven and set the pan onto a cookie sheet or wire rack too cool. Drizzle any remaining sauce over the top.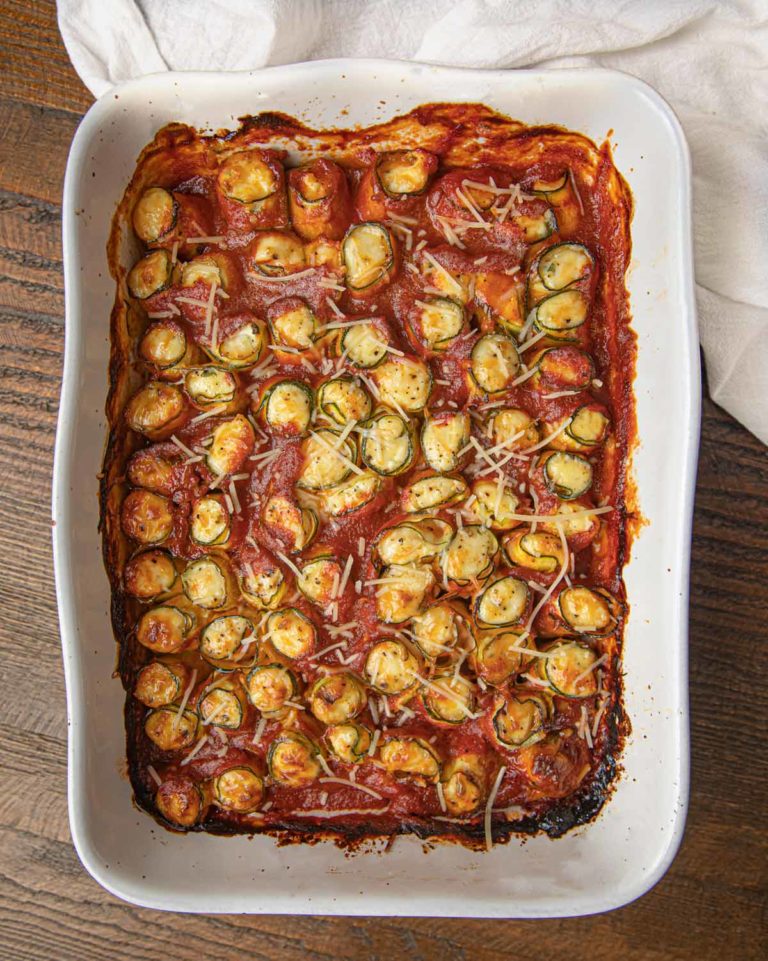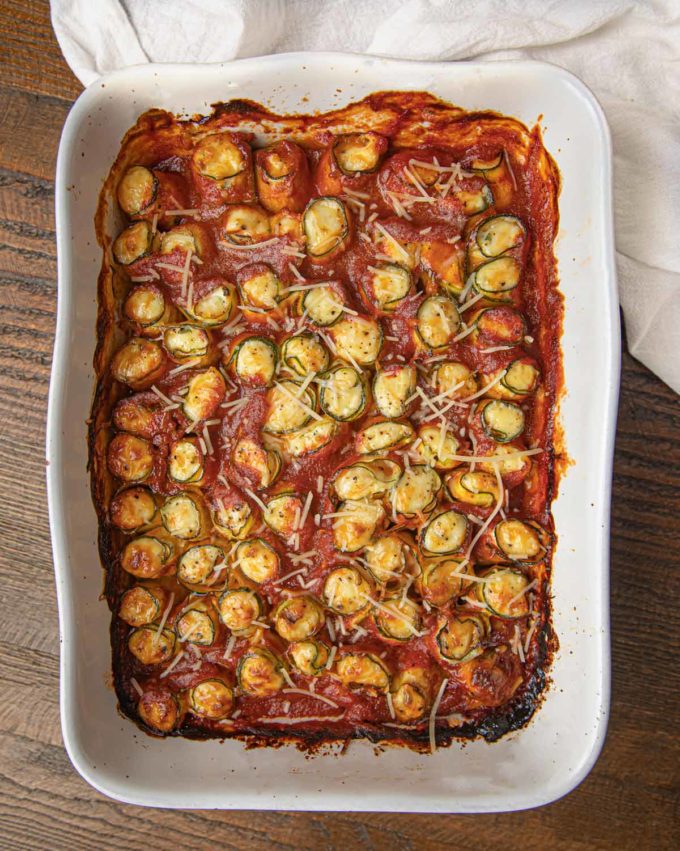 Create a free account to

Save Recipes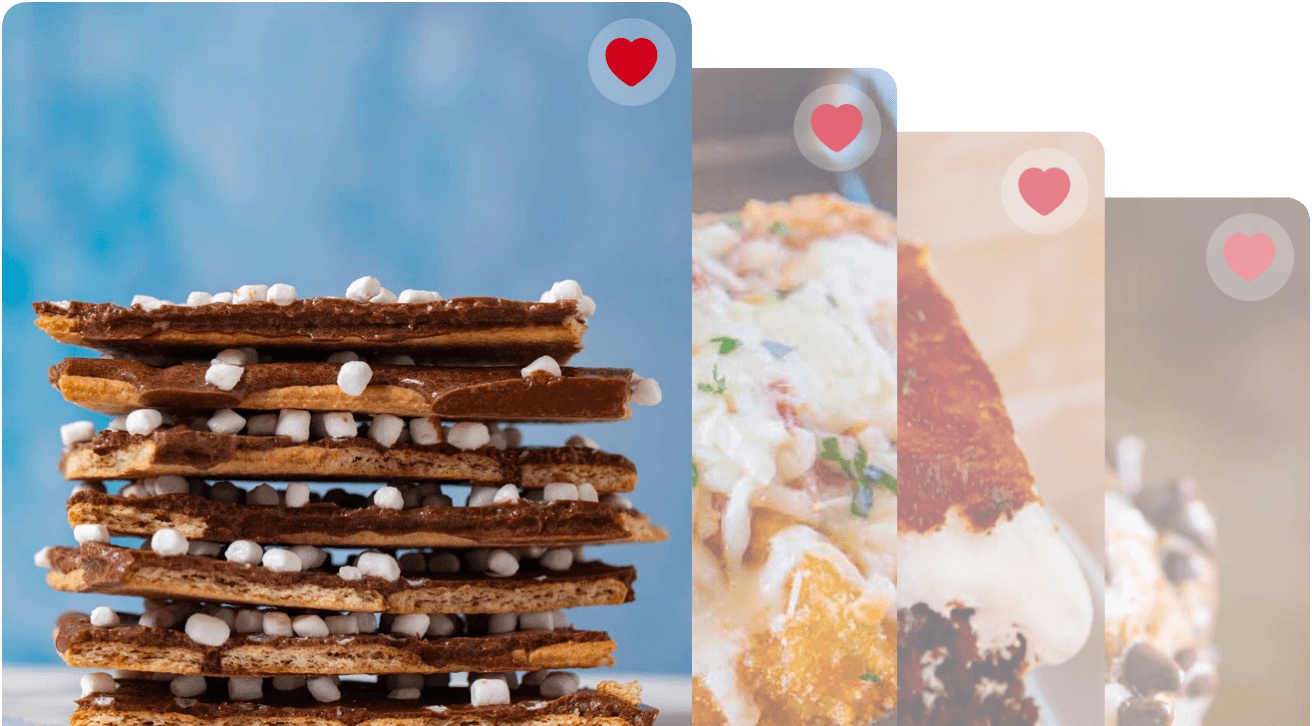 VARIATIONS
Meat sauce: if you are craving protein, cook up some ground turkey and mix it into the marinara sauce. Turkey is much leaner than ground beef and is just as delicious. Meat sauce is a delicious treat to eat occasionally and is high in protein.
Fresh basil: garnish the top with sprigs of fresh basil or chop it up and sprinkle it over the tops for a classic Italian flavor.
Spinach lasagna: you can add baby spinach to the lasagna roll ups to get some greens in. Spinach lasagna is becoming more and more popular due to how well the naturally earthy vegetable goes with the rich marinara sauce.
Parsley: add fresh parsley to the tops as a garnish or sprinkle dried parsley into the marinara sauce before baking.
Oregano: this is one of those spices that makes almost everyone think about Italian cooking as soon as they smell it. Sprinkle a little over the lasagna rolls to add a zesty flavor.
LASAGNA FACTS
July 29th is National Lasagna Day. Celebrate appropriately with a bunch of friends and lasagna roll ups.
One of the first mentions of lasagna in an actual cook book comes from the "Liber de Coquina," a medieval Italian cookbook that was written in the 1300s.
"Lasagne" is the plural of lasagna. So the next time some one asks you to cook some lasagnas, you can smugly correct them.
Lasagna was around for at least a century before tomatoes made it from the New World to Italy, which makes you wonder what the original pasta sauce for traditional lasagna tasted like.
How to Store Zucchini Lasagna Roll-Ups?
Serve: Do not leave this dish out for more than 2 hours at room temperature.
Store: Lasagna roll ups are good in the fridge for about 4 days. Be careful to completely drain the zucchini before you store them though, as zucchini naturally contains a lot of moisture and your lasagna roll ups can get pretty soupy.
Freeze: You can freeze zucchini lasagna roll ups for up to 3 months.


Ingredients
6

large zucchini

1

16-oz. container low fat ricotta

1/2

cup

grated Parmesan

1

cup

lite Mozzarella cheese

Trader Joes brand recommended

2

large eggs

2

tablespoons

parsley

minced

3

garlic cloves

minced

1/2

teaspoon

kosher salt

1/4

teaspoon

coarse ground black pepper

3

cups

marinara sauce
Instructions
Preheat the oven to 350 degrees.

Slice the zucchini into strips with a vegetable peeler and place on paper towels to allow moisture to be absorbed.

Mix ricotta, Parmesan, mozzarella, eggs, parsley, garlic, salt and pepper into a large bowl.

Pour half the marinara sauce in the bottom of a 9x13 baking dish.

Spoon half a tablespoon of the cheese mixture onto a piece of zucchini and roll.

Place the zucchini bundles standing up into the marinara sauce.

Pour the remaining sauce around and in between the zucchini bundles, cover and bake for

20-25 minutes

.

Uncover and bake for an additional

10 minutes

.
Nutrition
Calories:
171
kcal
|
Carbohydrates:
14
g
|
Protein:
14
g
|
Fat:
8
g
|
Saturated Fat:
4
g
|
Cholesterol:
74
mg
|
Sodium:
1117
mg
|
Potassium:
977
mg
|
Fiber:
4
g
|
Sugar:
10
g
|
Vitamin A:
1275
IU
|
Vitamin C:
45.9
mg
|
Calcium:
300
mg
|
Iron:
2.4
mg