Pretzel Crusted Chicken looks and tastes like fried chicken with a crispy and slightly salty crust. Healthier than the fried version, just as delicious!
We've done plenty of chicken recipes in the past, like our Ginger Chicken Stir Fry, Skinny Teriyaki Chicken, and our Balsamic Bruschetta Chicken, but sometimes you just get a craving for something fried. You can stay on your diet with this recipe while snacking on something crunchy.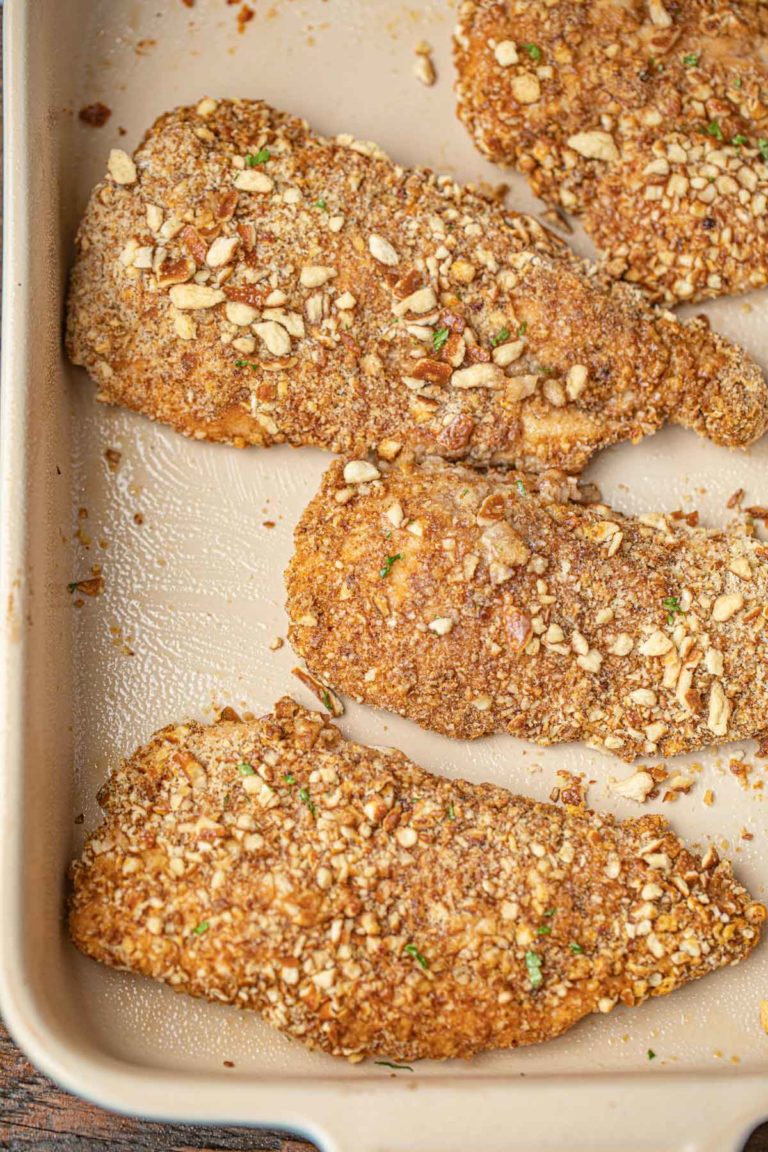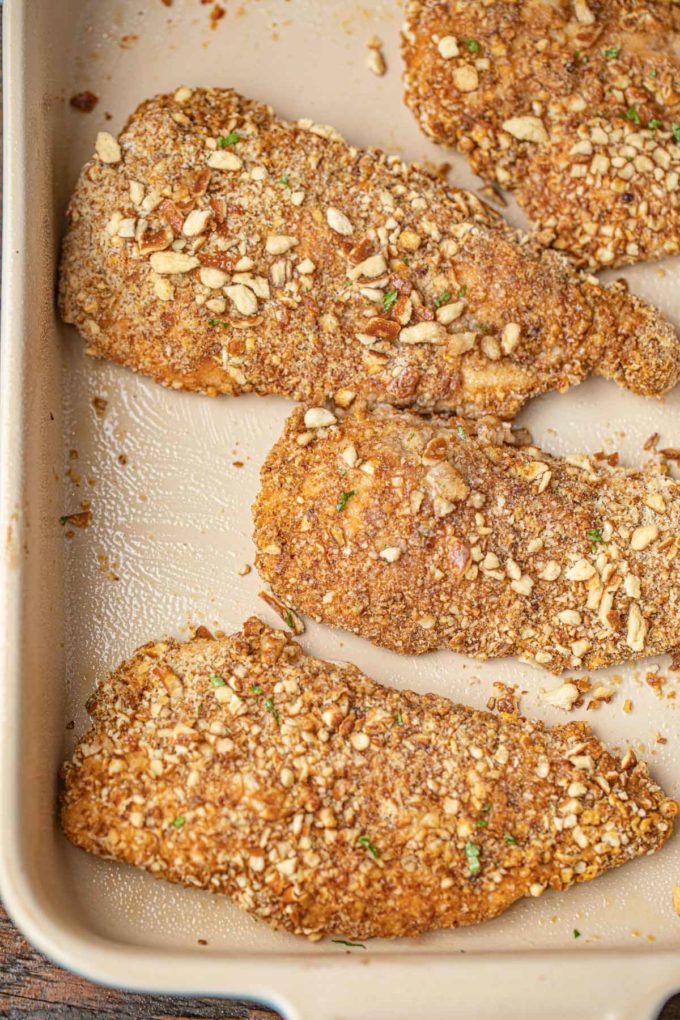 PRETZEL CRUSTED FRIED CHICKEN
If you're trying to get the whole family to eat healthier, it can be rough to find something that everyone will eat. Fried chicken is a classic, but there's no way to eat it while one a diet, right? Wrong!
Our pretzel crusted chicken is way healthier than traditional fried chicken, because we only use a small amount of vegetable oil spray and, instead using breadcrumbs, we use crushed pretzels for a tasty, crispy coating. The nice thing about this recipe is that you can serve them for dinner, or as appetizers at a party. If you're craving fried strips, use chicken tenders with this same recipe, or chop down chicken breast halves to make nuggets. They're shareable, tasty and so easy to make that you can whip them up for a weeknight dinner in a pinch.
How to Make Pretzel Crusted Chicken
Start off by getting a shallow bowl and mixing all purpose flour, garlic salt, and black pepper together.
Then, in a second bowl, crack open your egg and beat it until it is thoroughly mixed and, in a third bowl, crush some pretzels into crumbs (use a food processor to spare your hands.)
Slice skinless chicken breasts into thin cutlets and then set each piece in the flour mixture, making sure to thoroughly coat each side.
Once they're covered, dredge the cutlets in the egg, and then into the pretzel crumbs.
Make sure that all of the chicken is covered with the crumbs, or else you'll just be eating a big bite of baked flour.
Put your cutlets into a dish or on a baking sheet and spray them with vegetable oil (coat the pan with cooking spray as well to keep the meat from sticking.)
Put them in the oven to bake for 25 to 30 minutes, then dig in (make sure to let them cool first.)
Did you enjoy this recipe and want another one like it? Next time, you should try our Parmesan Chicken, or our Baked Bang Bang Chicken.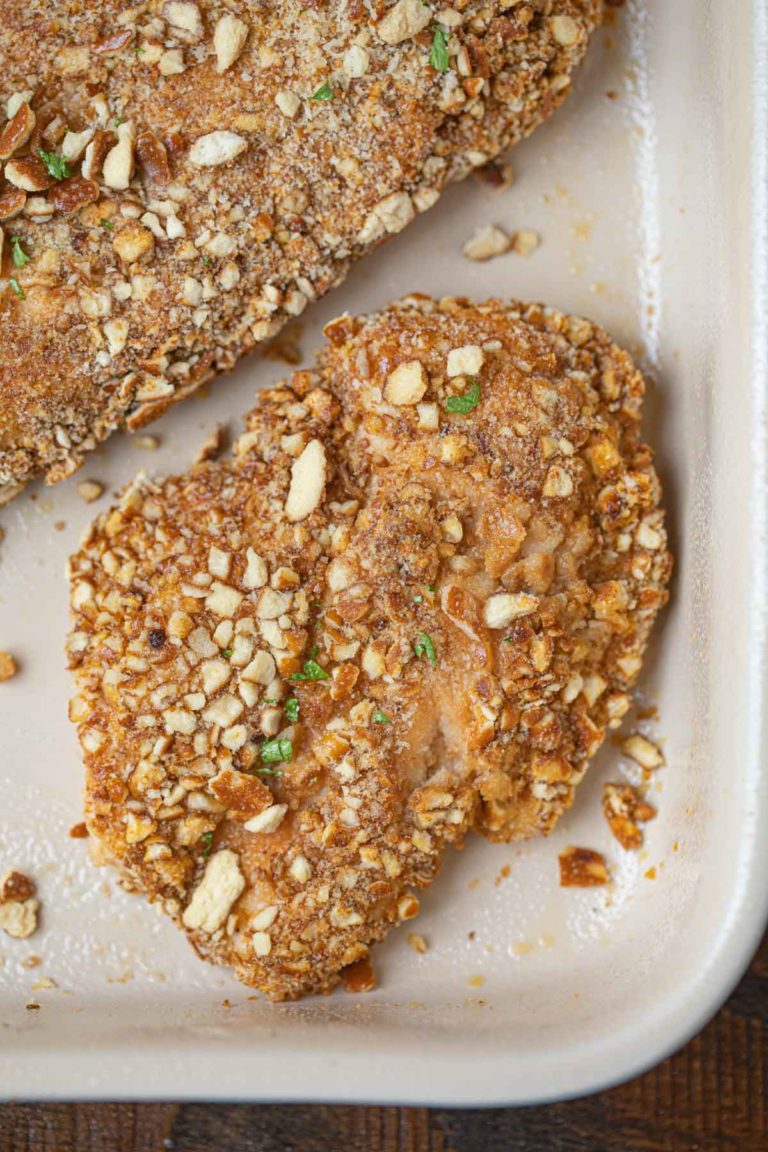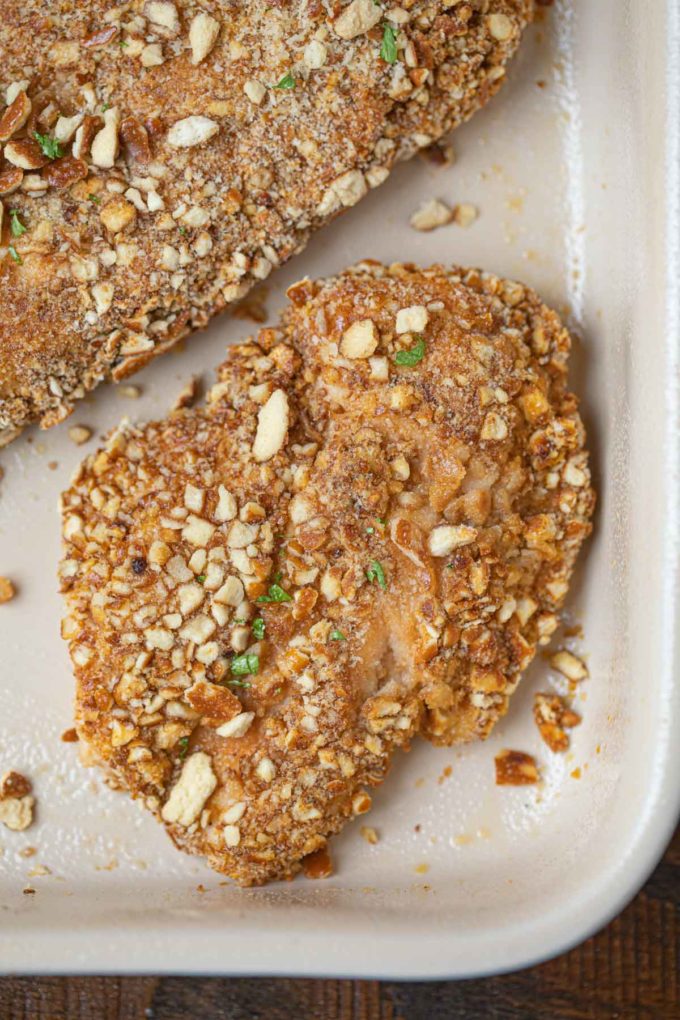 Create a free account to

Save Recipes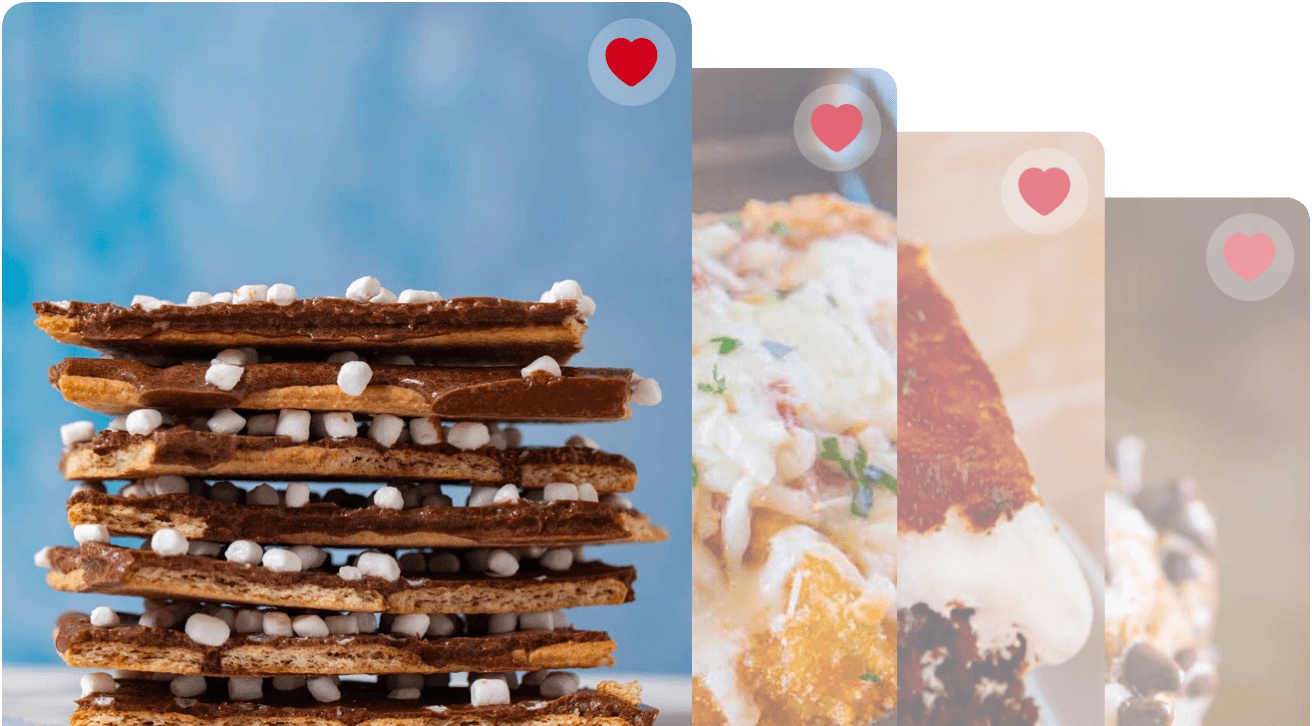 DIPPING SAUCES
Dijon or honey mustard: fried chicken is delicious with some tangy mustard, and our version is no exception. You can also try making a honey mustard sauce to drizzle over the top.
BBQ sauce: rich and flavorful, BBQ sauce is a fun, simple way to dress up your chicken to get an entirely different taste. Fun for your cheat day, BBQ sauce does have a lot of sugar in it, so don't eat it on the regular.
Good ol' ketchup: there's nothing wrong with enjoying your chicken dunked in ketchup, and your kids will love it.
What to Serve With Pretzel Crusted Chicken: 
Tropical Quinoa Salad: I wouldn't steer you towards a boring salad! Quinoa mixed with pineapple, mango, edamame and almonds topped off with a delicious honey-lime vinaigrette makes for a crunchy, delicious side dish.
Mashed Cauliflower: face it, we all love KFC. If you want a classic mashed potato/fried chicken combo, try making mashed cauliflower with pretzel crusted chicken. The cauliflower is just as creamy and thick as potato, and you can enjoy it with so many different main dishes.
Parmesan Roasted Vegetables: these vegetables are crunchy, savory and covered in cheese. What's not to love?
WHY IS FRIED FOOD BAD?
We all know that fried chicken is (sadly) not great for us, but do we really understand why?
The short answer is because the oil that's used to fry chicken is packed with calories and fat. The long answer is that that while normal fat is okay for us occasionally (your body doesn't work very well without any fat), oil goes through a chemical change when it's super heated and created trans-unsaturated fatty acids (dreaded trans fat). Trans fats are pretty bad for you because there are very few of them that are out there in the natural world, so our bodies have a hard time figuring out what to do with them.
A little bit of fried food once and a while is fine, since our body does need fat to survive, but eating alternatives will help you feel better and stay healthy longer. Just remember the old saying: everything in moderation (including moderation!)
WHY IS BAKING BETTER?
You can create "fried" food in the oven, because the temperature gets really high so it can crips your food using only a tiny bit of oil, if any. Ovens also distribute heat all around your food and make it cook more evenly, which is always a plus.
Food Safety Cooking Temperatures
According to the USDA's website, your pretzel crushed chicken is ready to eat when the internal temperature reaches 165 degrees F (73.9 degrees C). In order to keep yourself from having a rough night, make sure to check the temperature at the thickest part of the chicken breast with a probe thermometer.
HOW LONG DOES IT KEEP?
Serve: don't leave your chicken at room temperature for longer than 2 hours.
Store: you can keep pretzel fried chicken in the fridge for up to 3 days.
Freeze: if you keep them in an airtight container, pretzel fried chicken can stay good for up to 6 months.


Ingredients
2

chicken breasts

, boneless skinless

1/4

cup

flour

1

teaspoon

paprika

1

teaspoon

garlic salt

1/4

teaspoon

coarse ground black pepper

1

cups

pretzel crumbs

, (3 cups whole pretzels)

1

large egg
Instructions
Preheat oven to 375 degrees.

Mix the flour, paprika, garlic salt and black pepper.

Keep the beaten egg in a second bowl.

Keep the pretzel crumbs in a third bowl.

Cut the chicken into thin cutlets and coat in flour mixture then dredge in eggs and press into pretzel crumbs.

Spray with vegetable oil and bake for

25-30 minutes

or until cooked through to 165 degrees.
Nutrition
Calories:
174
kcal
|
Carbohydrates:
6
g
|
Protein:
26
g
|
Fat:
4
g
|
Saturated Fat:
1
g
|
Cholesterol:
113
mg
|
Sodium:
728
mg
|
Potassium:
444
mg
|
Vitamin A:
340
IU
|
Vitamin C:
1.3
mg
|
Calcium:
12
mg
|
Iron:
1.1
mg