Pecan Crusted Chicken has the same deliciously crispy coating and juicy meat as fried chicken, but made healthy with pecans. Ready in just 30 minutes!
Just like our Pretzel Crusted Fried Chicken, Baked Chicken Parmesan, and our Baked Bang Bang Chicken, Pecan Crusted Chicken is a crispy, healthy alternative to traditional breaded chicken recipes. You get all the flavor and texture without the unhealthy drawbacks. This Dinner Recipe is easy enough to make for weeknight meals, or you can dress it up with garnishes and Side Dishes for a special occasion.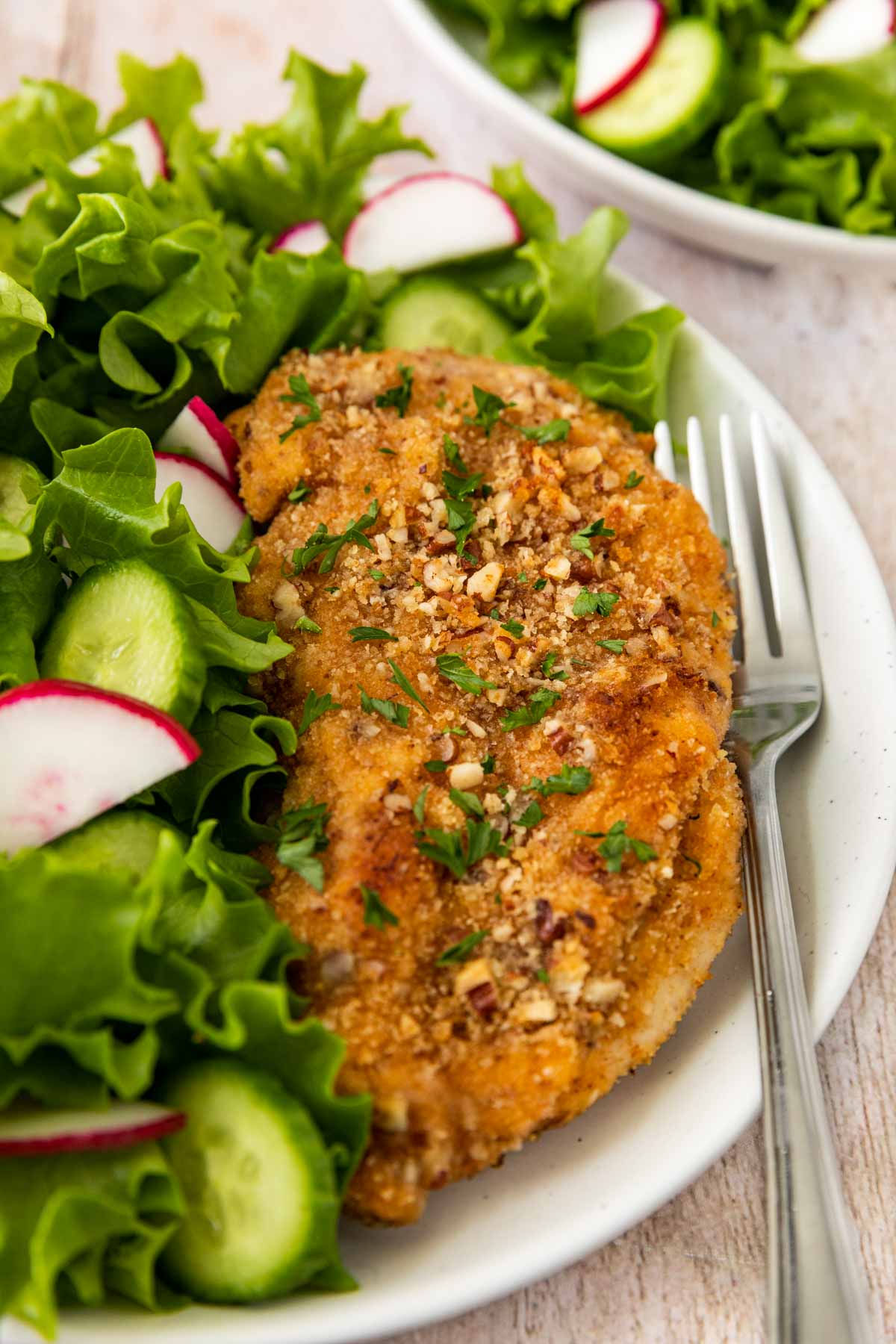 PECAN CRUSTED CHICKEN
Fried chicken is a favorite comfort food for many of us. The combination of crispy breading and tender meat is just pure perfection. Just because you're trying to eat healthy doesn't mean you have to give up that taste, you just need to change some of the ingredients.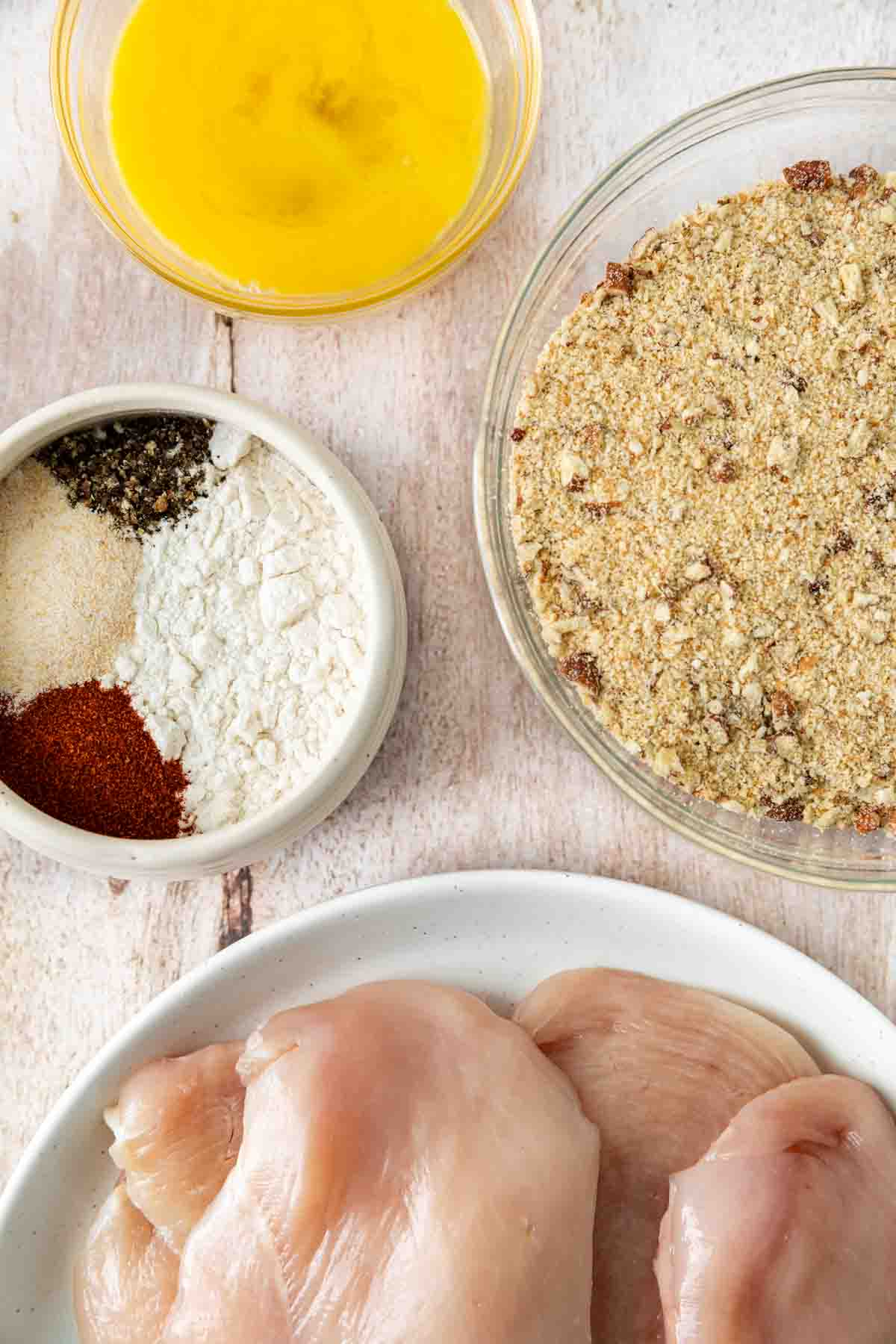 To make a healthy version of crispy chicken that's just as delicious, we've switched from frying to baking in the oven. Baking instead of frying gets rid of the trans fats from oil. It's also much easier to do in your own kitchen. To get the crispy coating without the breading, we've used pecan crumbs to coat each piece of chicken instead of bread crumbs. The nuts add a slightly earthy flavor and give just the right amount of crunch. The crunchy pecan chicken is sure to satisfy your cravings for fried chicken.
Once it's baked serve the Pecan-Crusted Chicken recipe with your favorite dipping sauces, just like you would regular fried chicken. Dip chicken in honey mustard, ranch, dijon mustard, or BBQ sauce for a classic taste.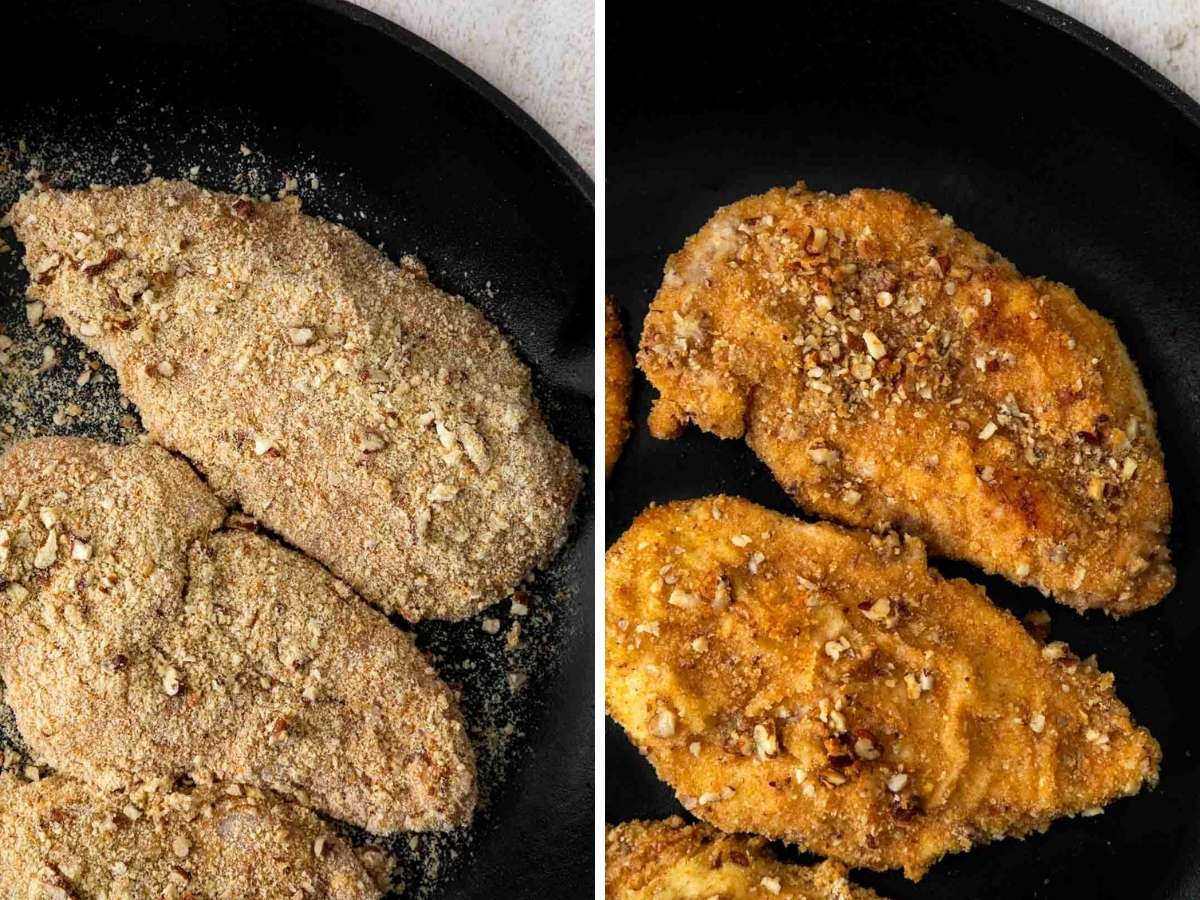 You can also serve the Pecan Chicken with your favorite BBQ sides for a healthy twist on a Southern fried chicken meal. Healthy Macaroni Salad, Baked Beans, or Coleslaw would all taste amazing with the chicken pieces. 
If you have any leftovers, you can use them to make a pecan chicken salad. Just slice the tender chicken breasts into bite-sized pieces and toss them with your favorite greens and dressing for a simple dish. It's a great way to re-imagine the pecan chicken recipe into a new recipe instead of just reheating the same meal. 
MORE HEALTHY CHICKEN RECIPES
TIPS FOR MAKING PECAN CRUSTED CHICKEN
Prep: Make sure you give the boneless, skinless chicken breasts time to thaw in the fridge before you start the recipe. Once they're defrosted and you're ready to start the recipe, slice chicken breasts into thin cutlets. Then to make the pecan crumbs, add the nuts to your food processor and pulse until they're broken into coarse crumbs. You could also chop them with a sharp knife, or break them with a rolling pin.
Coating: Add the all-purpose flour, paprika, garlic salt, and black pepper to a shallow dish. Then crack an egg into a separate bowl and beat until it's a light yellow color. In a third bowl, combine the pecans and breadcrumbs. Coat the chicken breasts in flour, then dredge them in the egg mixture, and finish with the ground pecan mixture. Make sure each chicken piece is completely coated.
Cooking time: Place the chicken in a nonstick baking dish. Then spray them with vegetable oil for about 2 seconds. The spray will help make the pecan coating extra crispy as if the chicken was fried. Bake for 18-20 minutes. It'll be done when the chicken is baked to a delicious golden brown color and the internal temperature has reached 165 degrees.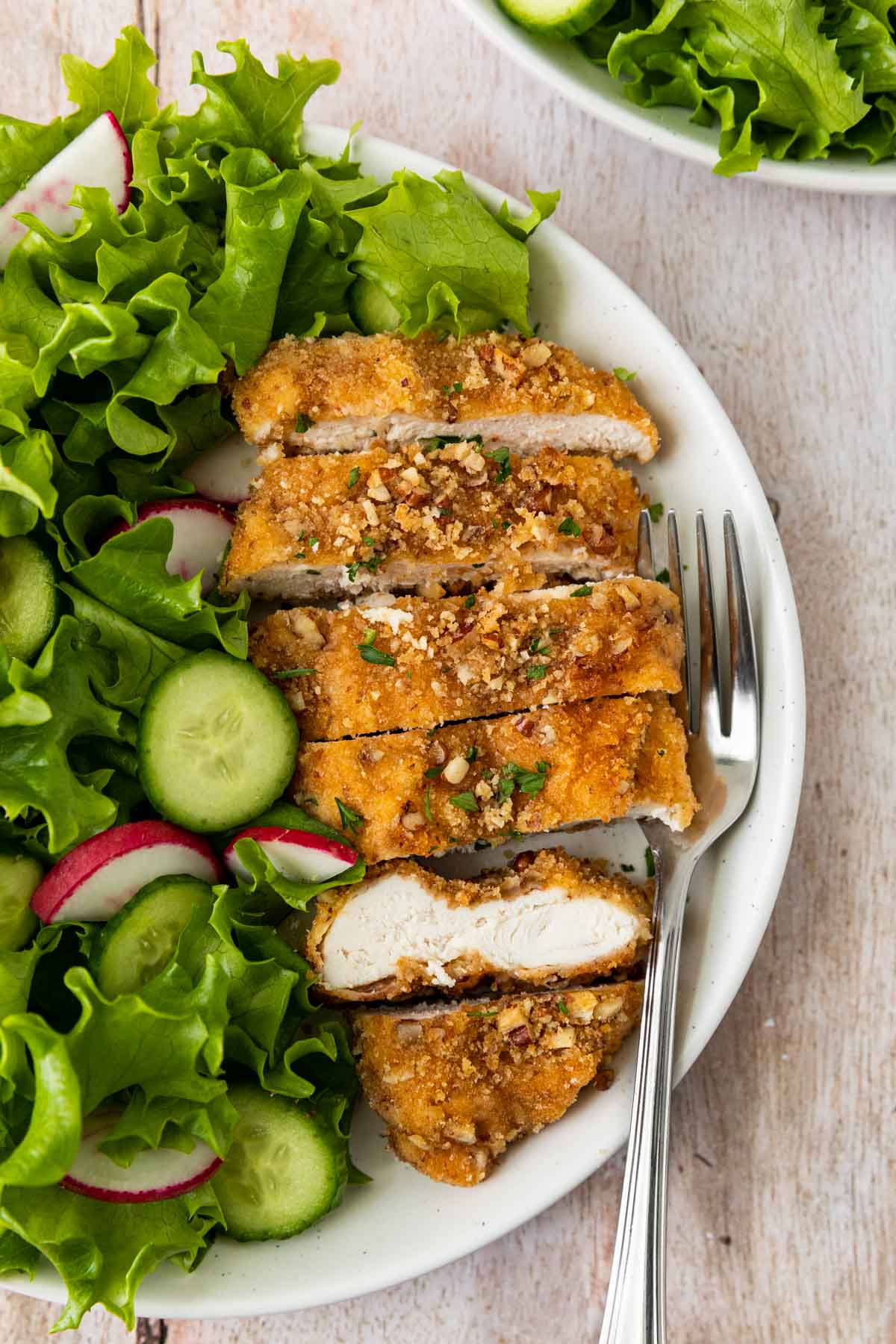 Create a free account to

Save Recipes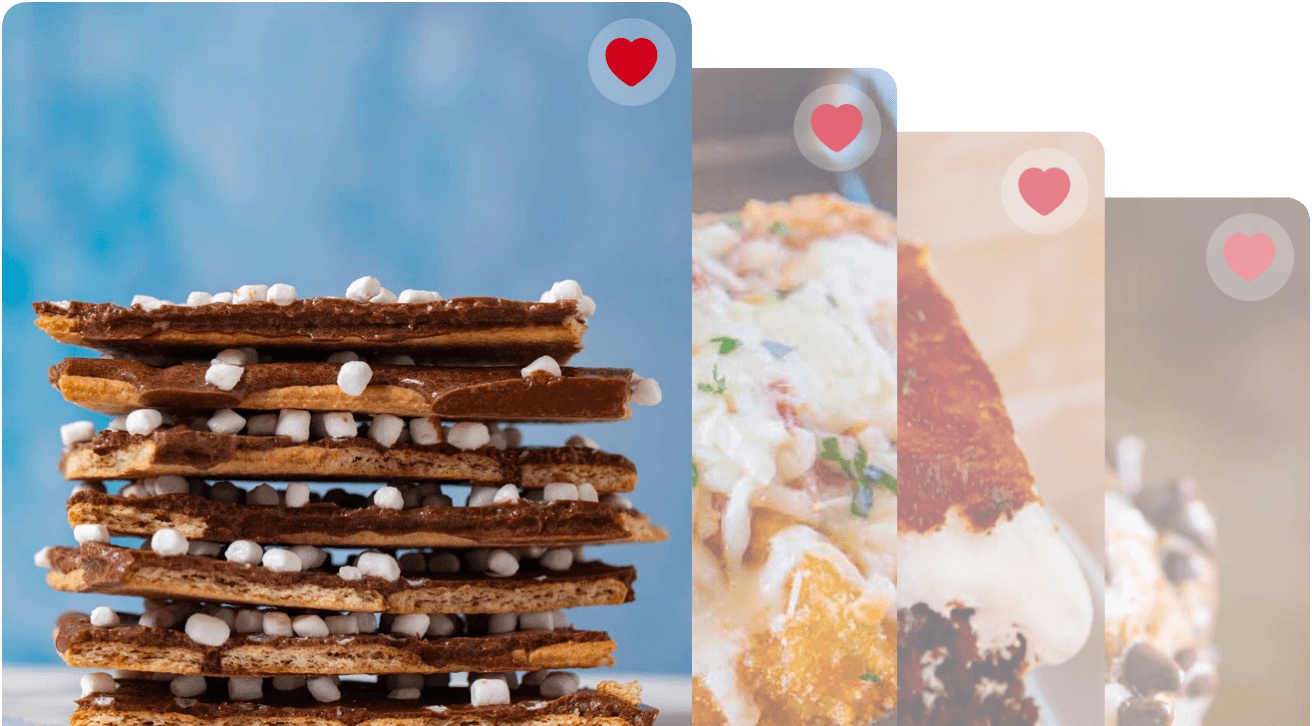 VARIATIONS ON PECAN CRUSTED CHICKEN
Seasonings: To add some extra flavor whisk your favorite herbs and spices into the flour mixture. Fresh parsley, paprika, onion powder, rosemary, oregano, or thyme would all taste amazing. If you want to add a more spicy kick, try adding a dash of cayenne pepper or red pepper flakes. Only add a little bit to make sure the heat doesn't overwhelm the other delicious ingredients. 
Nut mixture: Pecan Crusted Chicken tastes amazing, but you can also try out different kinds of nuts to make the coating. Almond or walnut crumbs make just as tasty of a breading replacement.
Honey Mustard Pecan-Crusted Chicken: For chicken with a delicious honey mustard flavor you can make a sauce to drizzle over the top of the baked chicken. While the chicken is in the oven, combine 1 ½ dijon mustard, 1 ½ tablespoons mayonnaise, and 1 ½ tablespoons honey. Take the chicken from the oven and drizzle the honey mustard mixture over the top right before serving.
SERVE PECAN CRUSTED CHICKEN WITH
HOW TO STORE PECAN CRUSTED CHICKEN
Serve: Don't leave your baked chicken out at room temperature for longer than 2 hours. 
Store: If you have any leftover chicken, let it cool down before putting it away. Kept in an airtight container or plastic wrap, cooked chicken is good in the fridge for up to 3 days.
Freeze: Cooked Pecan Crusted Chicken could also be kept frozen for up to 6 months. When you're ready to reheat it, let it first defrost in the fridge, and then place it back on a baking tray to heat in the oven.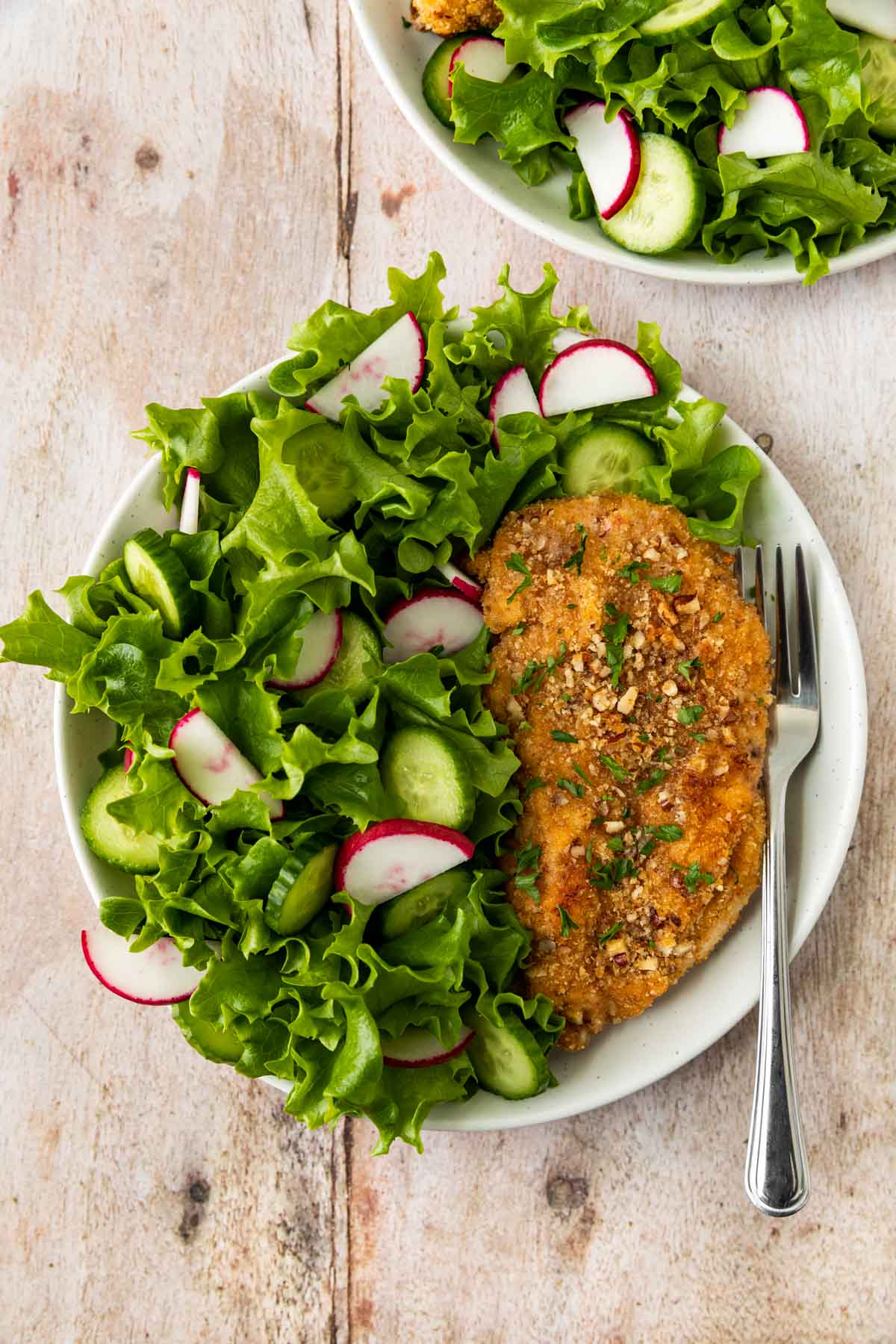 Ingredients
2

chicken breasts

, boneless skinless

1/4

cup

flour

1

teaspoon

paprika

1

teaspoon

garlic salt

1/4

teaspoon

coarse ground black pepper

1

large

egg

, beaten

1/2

cup

pecans

, chopped finely

1

cup

breadcrumbs
Instructions
Preheat oven to 375 degrees.

Mix the flour, paprika, garlic salt, and black pepper.

Beat an egg in a second bowl.

Mix pecans and breadcrumbs in a third bowl.

Cut the chicken into thin cutlets.

Press into mixture of pecans and breadcrumbs.

Spray with vegetable oil.

Bake for

25-30 minutes

or until cooked through to 165 degrees.
Nutrition
Calories:
369
kcal
|
Carbohydrates:
28
g
|
Protein:
31
g
|
Fat:
15
g
|
Saturated Fat:
2
g
|
Trans Fat:
1
g
|
Cholesterol:
119
mg
|
Sodium:
928
mg
|
Potassium:
561
mg
|
Fiber:
3
g
|
Sugar:
2
g
|
Vitamin A:
355
IU
|
Vitamin C:
1
mg
|
Calcium:
74
mg
|
Iron:
3
mg