Parmesan Roasted Vegetables are an easy way to make a side dish that tastes indulgent without breaking your diet! Made with broccoli and carrots, they're crispy, tender, salty and rich from the Parmesan cheese.
 Parmesan Roasted Vegetables
Parmesan Roasted Vegetables may seem like a silly recipe to be including on the site, mostly because they seem like a no brainer. But I can assure you, diet life changed for me when I started roasting these bad boys and adding the cheese on top.
Why roast vegetables?
Roasting vegetable is a great option for a few reasons. First, it enhances the natural sweetness of the vegetable. Carrots for example can taste as sweet as sweet potatoes when roasted properly. Second it adds texture. The crunch of the broccoli when roasted provides a great crunchy addition to dishes since we tend to shy away from breading on my diet.
I actually love roasting broccoli (without Parmesan) and chopping up the crispy bits to add as toppings to dishes like creamy Asian curries or even over creamy macaroni and cheese.
Best Vegetables for Roasting:
Carrots, these are my absolute favorite – I could eat them with every meal. I never use baby carrots though as the roasted texture would be different.
Broccoli and Cauliflower – for the crispy bits 😉
Bell Peppers – They're so flavorful, like candy!
Red Onions – okay I lied about the carrots, roasted red onion wedges are my favorites. I put them in everything, I actually often roast sheet pans of them for the week.
Cabbage – I know people are all about the Brussels Sprouts nowadays, but let me tell you, a delicious roasted cabbage wedge is enough to convert any cabbage hater. I LOVE THEM and roast them often to go on the side of Asian dishes.
Recipe
Save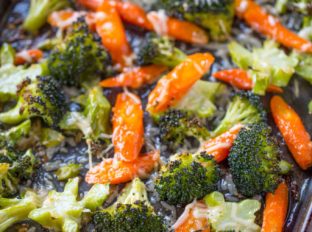 Parmesan Roasted Vegetables
Yield:

4

servings

Prep Time:

5

minutes

Cook Time:

30

minutes

Total Time:

35

minutes

Author: Sabrina
Parmesan Roasted Vegetables are an easy way to make an indulgent side dish with just a couple of points! Made with broccoli and carrots, they're crispy, tender, salty and rich from the Parmesan cheese.
Ingredients
1

head broccoli

1

pound

carrots

1

tablespoon

olive oil

1/2

teaspoon

Kosher salt

1/8

teaspoon

coarse ground black pepper

1/4

cup

Parmesan Cheese
Instructions
Note: click on times in the instructions to start a kitchen timer while cooking.
Preheat the oven to 400 degrees.

Cut the broccoli into bite sized florets.

Peel the carrots and cut them into 1/2-3/4 inch thick coins.

In a large bowl toss veggies with the oil, Kosher salt and black pepper.

Add to sheet pan and roast for 25 minutes.

Add Parmesan cheese over the food and roast an additional five minutes.
Nutrition Information
Yield: 4 servings, Amount per serving: 128 calories, Serving Size: 1 /4 recipe, Calories: 128g, Carbohydrates: 17.4g, Protein: 5.4g, Fat: 5.2g, Saturated Fat: 1.4g, Cholesterol: 4mg, Sodium: 484mg, Fiber: 5.2g, Sugar: 7.1g
All images and text © for Cooking Made Healthy.
Save