Roasted Acorn Squash is the perfect, fall side dish recipe (perfect for the holidays!) with 3 ingredients and easy step-by-step directions.
Baked Acorn Squash is the perfect Side Dish to pair with a simple weeknight meal, or serve along with your Thanksgiving Turkey. If you've tried Brown Sugar Acorn Squash, this squash recipe is a savory version that goes wonderfully with just about any meal.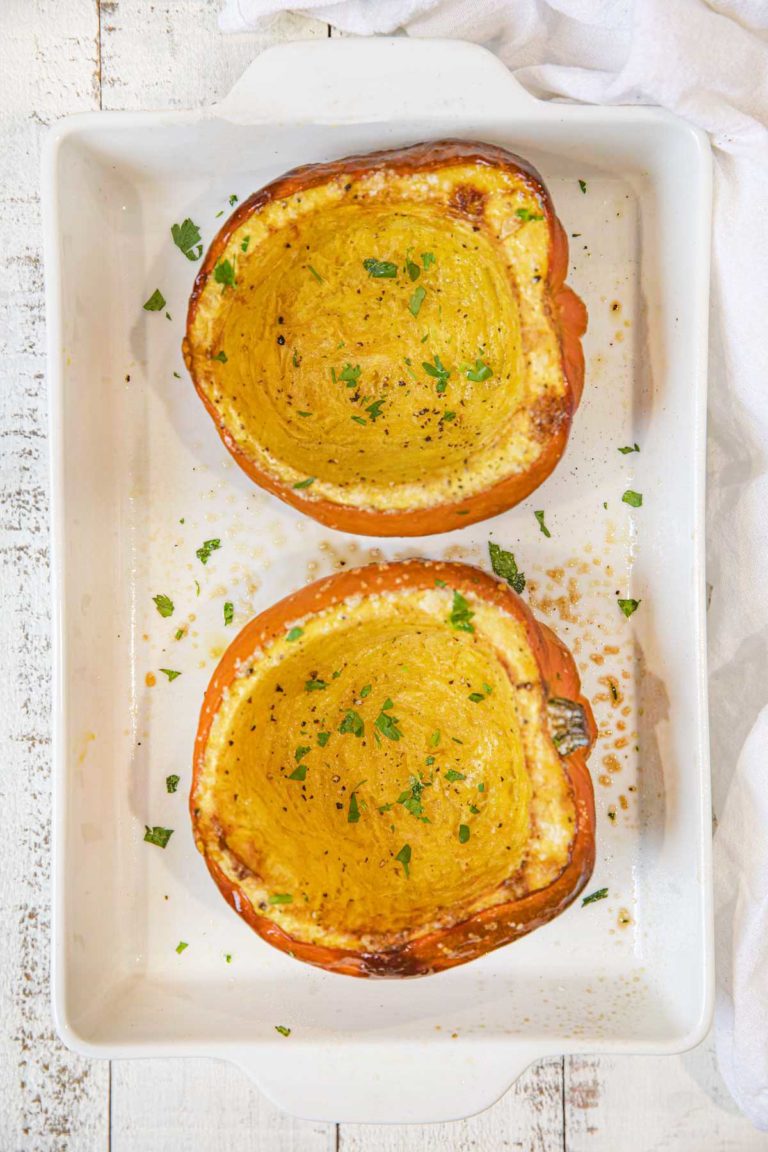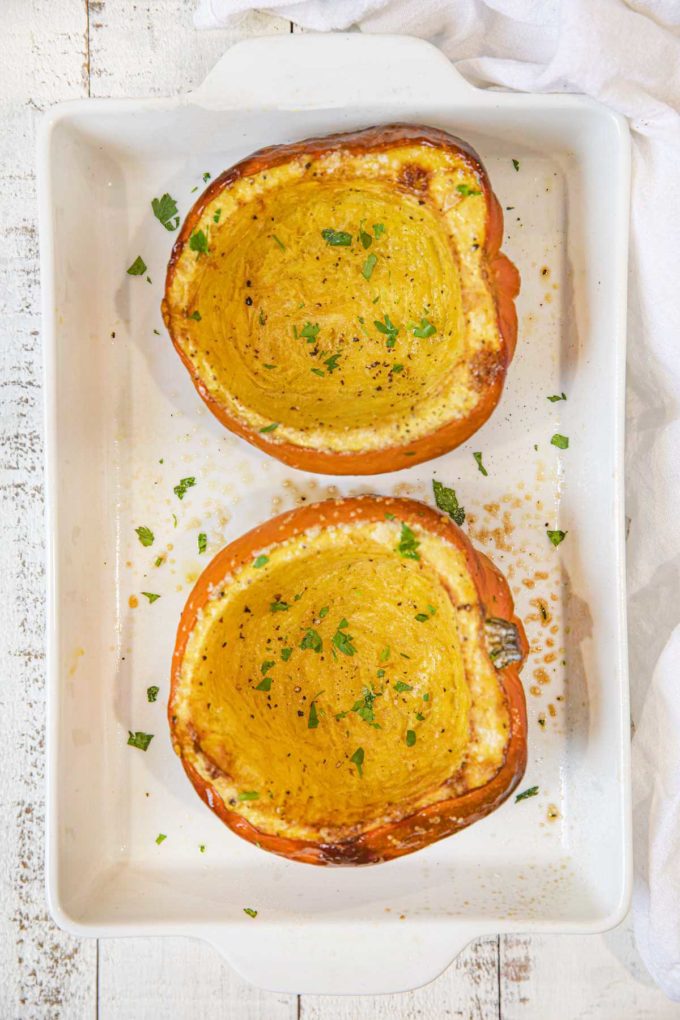 ROASTED ACORN SQUASH
Autumn is the perfect time to keep out of the cold, and start experimenting with new recipes. Learning how to bake some delicious fork-tender winter squash, is the perfect place to start. Preparing acorn squash in the oven makes a wonderfully flavorful and buttery side dish you're whole family will love! It'll become your new go-to comforting dish for cold nights.
Trying out different kinds of squashes is a fun, hands-on cooking experience. Whether it's acorn, butternut squash, delicata, or spaghetti squash, these winter squashes are the perfect addition to your menu. And this Roasted Acorn Squash recipe is a surprisingly easy place to start. There are just a few easy steps between you enjoying this easy squash recipe with dinner.
First, preheat oven and prepare a foil-lined baking pan. Halve the acorn squash lengthwise with a sharp knife, and use a spoon to remove the seeds and stringy parts. Sprinkle on extra-virgin olive oil, salt and pepper. Put the sliced squashes cut-side-down in a single layer on the baking sheet. Put them in the oven to roast for 45 minutes to an hour.
When it's finished roasting you can enjoy amazing Roast Acorn Squash! The total time for the recipe is just over an hour, which is even easier than it sounds because the hands on work is all during the short prep time. You shouldn't have to do anything at all during the cooking time. The hardest part is staying patient while the squash bakes and fills your house with delicious smells.
This recipe will only make 2 servings of squash. If you'd like to bake more (which you probably will) feel free to, but don't have the Baked Acorn Squash overlapping on the baking sheet.
MORE HEALTHY SIDE DISHES
LET'S TALK SQUASH!
Acorn squash is a type of Cucurbita, or to put it more simply, squash. Squashes are wonderfully sweet and colorful plants that are great for baking and have many healthy benefits.
Acorn squash is packed with nutrients, antioxidants and is good for your digestive health. It's full of potassium, fiber, and vitamin C. Squash is the ultimate gluten-free carb without saturated fat. Plus, it has a buttery texture, without having to add butter.
Here are some easy tips to help you pick out the right squash to bake:
Look for a squash that's on the heavy side for its size – higher density acorn squashes are higher quality. Finding a heavy squash is a good way to tell it's not dried out.
Find an acorn squash with smooth dull skin and no soft spots. If an acorn squash's skin is too shiny that means it was picked before it fully matured.
Find and acorn squash with a balance of green and orange coloring. Fully ripened acorn squash is dark green.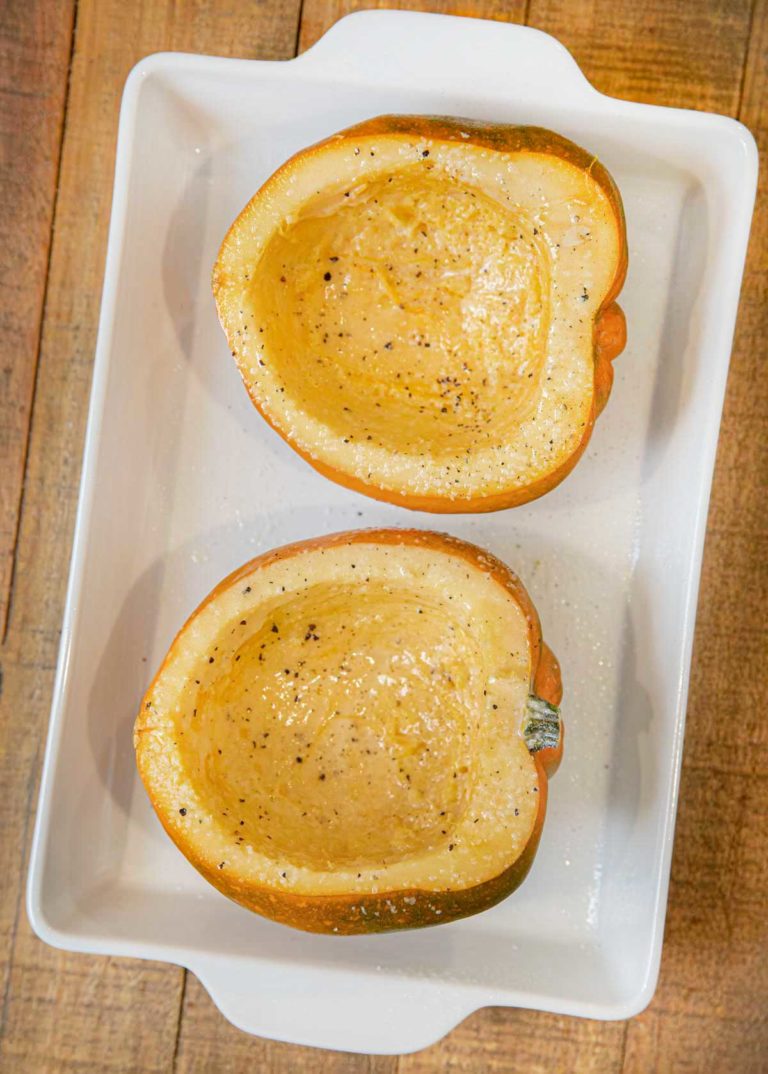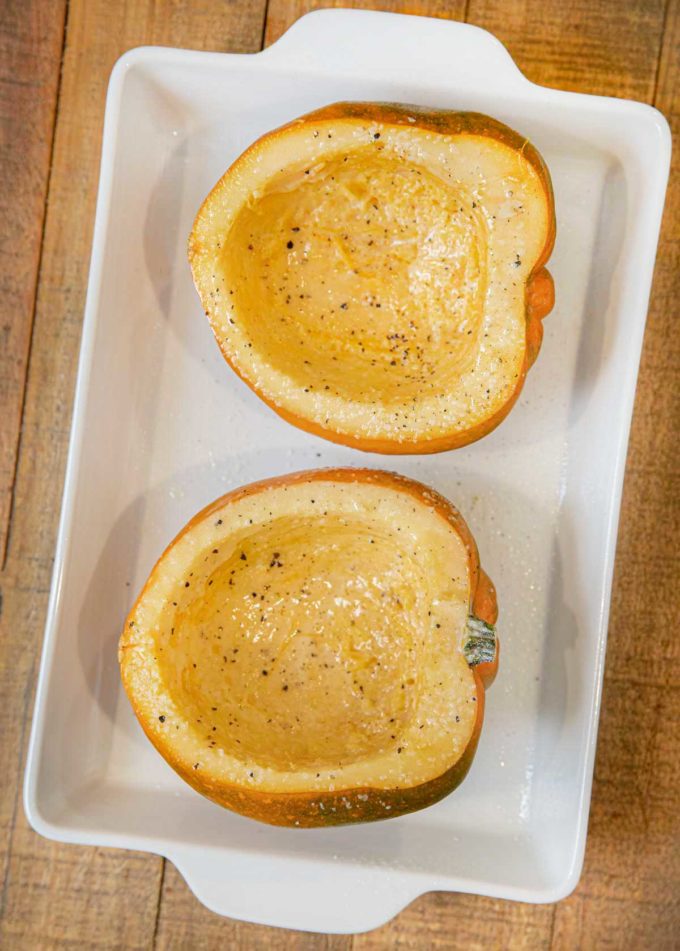 Create a free account to

Save Recipes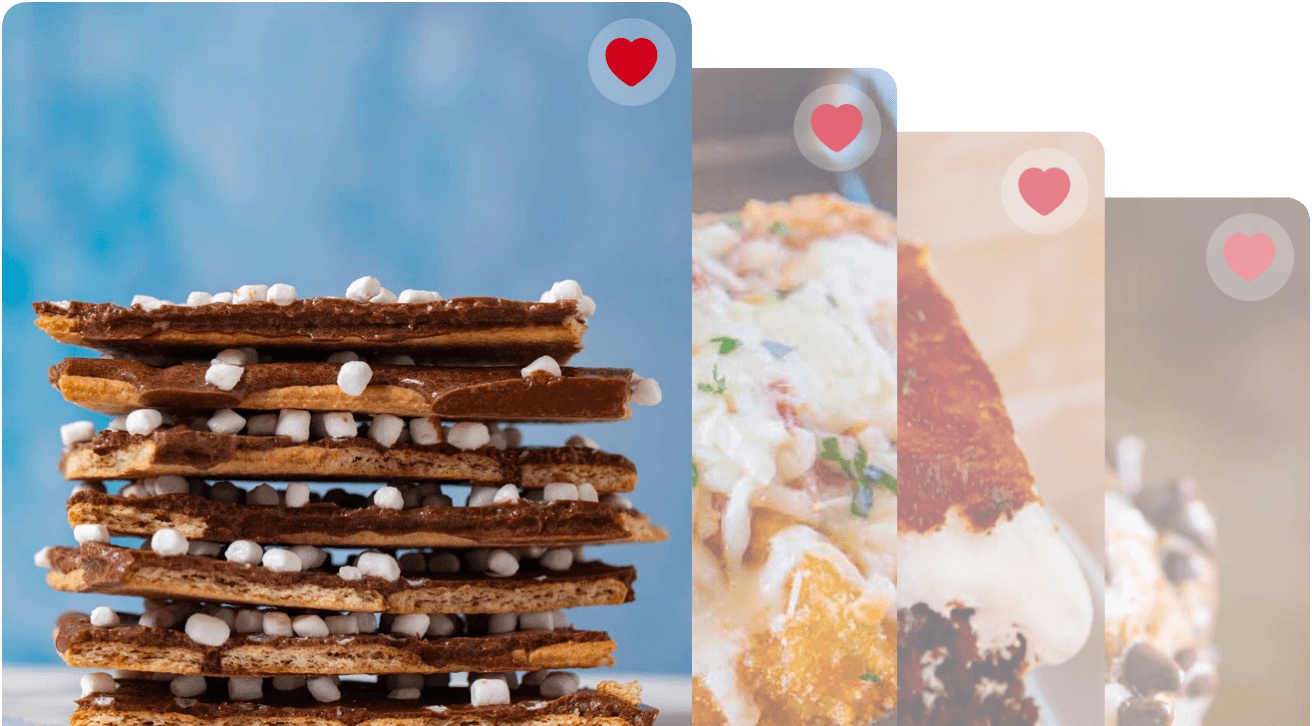 VARIATIONS ON ROASTED ACORN SQUASH
Brown Sugar Acorn Squash: To make a sweet brown sugar squash prepare the baking sheet and halve the squash as normal. Then season the cut side with 1 tablespoon unsalted melted butter, salt, pepper, and 3 tablespoons brown sugar sprinkled over the top.
Maple Syrup: Instead of using brown sugar, you can drizzle maple syrup or honey over your acorn squash. After you slice the squash and scoop out the seeds add melted butter, salt and maple syrup. The maple syrup will caramelize while you bake the squash leaving a wonderful sugary layer. You could also add some maple syrup to the brown sugar for extra sweetness.
Parmesan Acorn Squash: To add some more flavor to your acorn squash while still keeping it savory toss the acorn squash with parmesan, and fresh thyme once you've sliced it. You can sprinkle some extra parmesan cheese to melt over the top after roasting it.
WHAT GOES WITH ROASTED ACORN SQUASH?
HOW TO STORE ROASTED ACORN SQUASH
Serve: Baked Acorn Squash should be eaten within 2 hours of it being taken out of the oven. Don't leave it at room temperature for longer than 2 hours.
Store: Store any leftover acorn squash in a sealed container or wrapped in plastic wrap in the fridge. Stored properly, squash can last 3-5 days.
Freeze: You can freeze roasted acorn squash by either leaving it in chunks or mashing it. Put the squash slices or mashed squash in a freezer-safe bag or airtight container. You may want to separate layers of squash slices with parchment paper, so they don't stick together. Freeze for 10 to 12 months.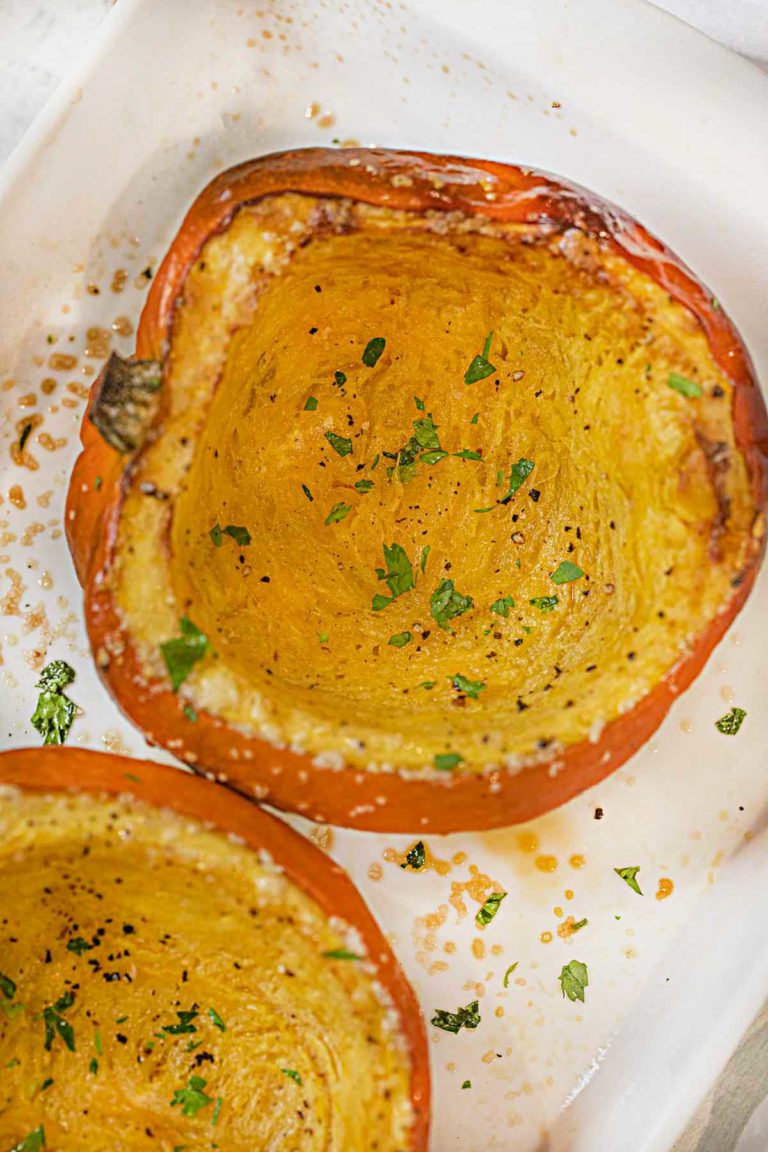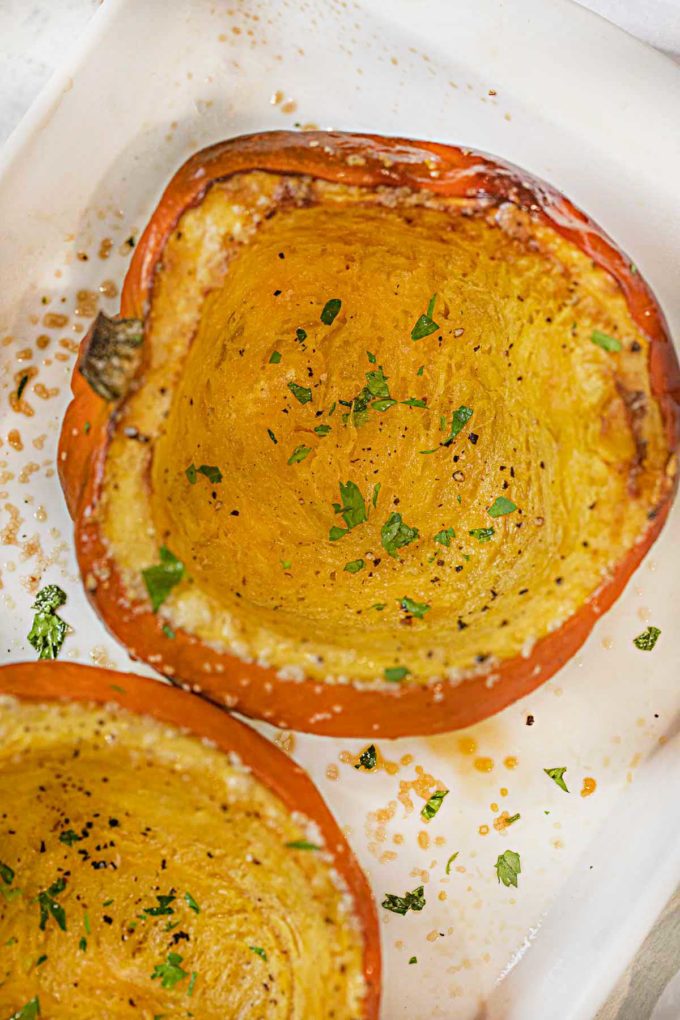 Ingredients
1

medium

acorn squash

1

tablespoon

olive oil

1/2

teaspoon

Kosher salt

1/4

teaspoon

freshly ground black pepper
Instructions
Preheat oven to 400 degrees.

Cut acorn squash in half and scoop out the seeds and threads.

Season with olive oil, salt and pepper.

Place the squash halves baking sheet, cut side facing up.

Roast for

45 minutes to 1 hour

, until tender.
Nutrition
Calories:
149
kcal
|
Carbohydrates:
23
g
|
Protein:
2
g
|
Fat:
7
g
|
Saturated Fat:
1
g
|
Sodium:
588
mg
|
Potassium:
748
mg
|
Fiber:
3
g
|
Vitamin A:
791
IU
|
Vitamin C:
24
mg
|
Calcium:
71
mg
|
Iron:
2
mg