Wild Rice Salad is a delicious blend of vegetables and grains in a homemade vinaigrette that is filling and so easy to make.
If you want to bring something healthy to the potluck, or if you've enjoyed Tropical Quinoa Salad, Thai Green Papaya Salad, or Tabouli Salad and want to try something new, try Wild Rice Salad. It is light, dairy-free and great for summer get-togethers or tomorrow's bag lunch for work.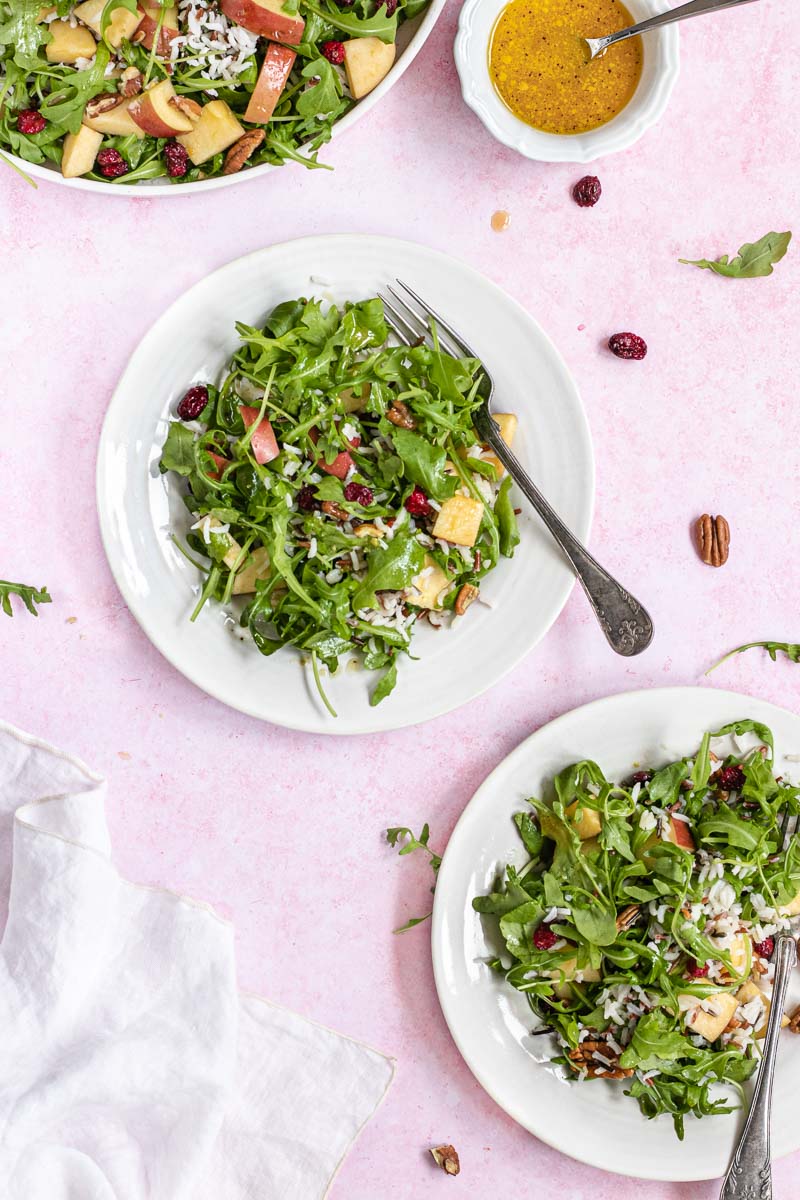 WILD RICE SALAD
Salad is a classic health food because of how many healthy veggies you can pack into it. This wild rice salad recipe is hearty enough to be enjoyed as a main course or as a side, and livens up traditional salad ingredients with a homemade vinaigrette. You can add as many toppings as you'd like, but the flavorful salad already packs enough of a punch that it doesn't really need anything.
Wild rice is full of protein, fiber, folate, magnesium, antioxidants, and has about 30 percent fewer calories than white rice. On top of that, the dressing for this salad is low in fat but is still rich and flavorful. You can eat it on quiet nights in or package it up for your next potluck dinner or summer BBQ.
If you liked this recipe and want some more salad inspiration, try out Beet Salad, Greek Chickpea Salad, or if you like the summer BBQ theme, Deviled Egg Potato Salad.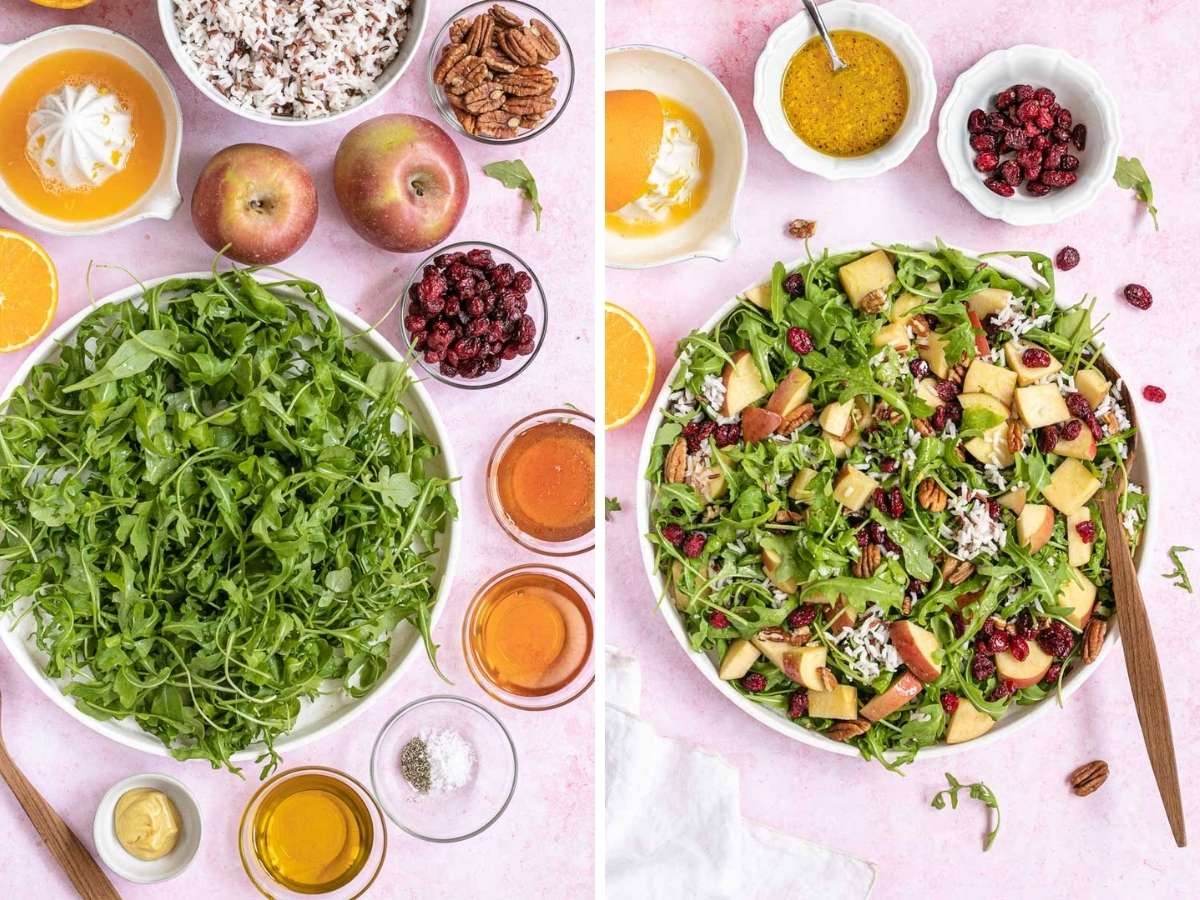 MORE SALAD DISHES
HOW TO MAKE WILD RICE SALAD
Start off by cooking wild rice using your favorite method. A great choice is to try baking it, but you can also steam it or make it in a rice cooker.
Whisk the orange juice, zest, olive oil, vinegar, honey, dijon mustard, salt, and pepper together in a mixing bowl. The ingredients should be thoroughly blended together to make a vinaigrette sauce. If you aren't ready to make the rest of the salad just yet, you can always save the dressing in the fridge for later.
Layer the arugula, wild rice, pecans, cranberries, and apples in a large bowl and pour the dressing over the top of the rice mixture. Stir the salad ingredients together so that they are coated in the dressing and serve with your favorite salad toppings.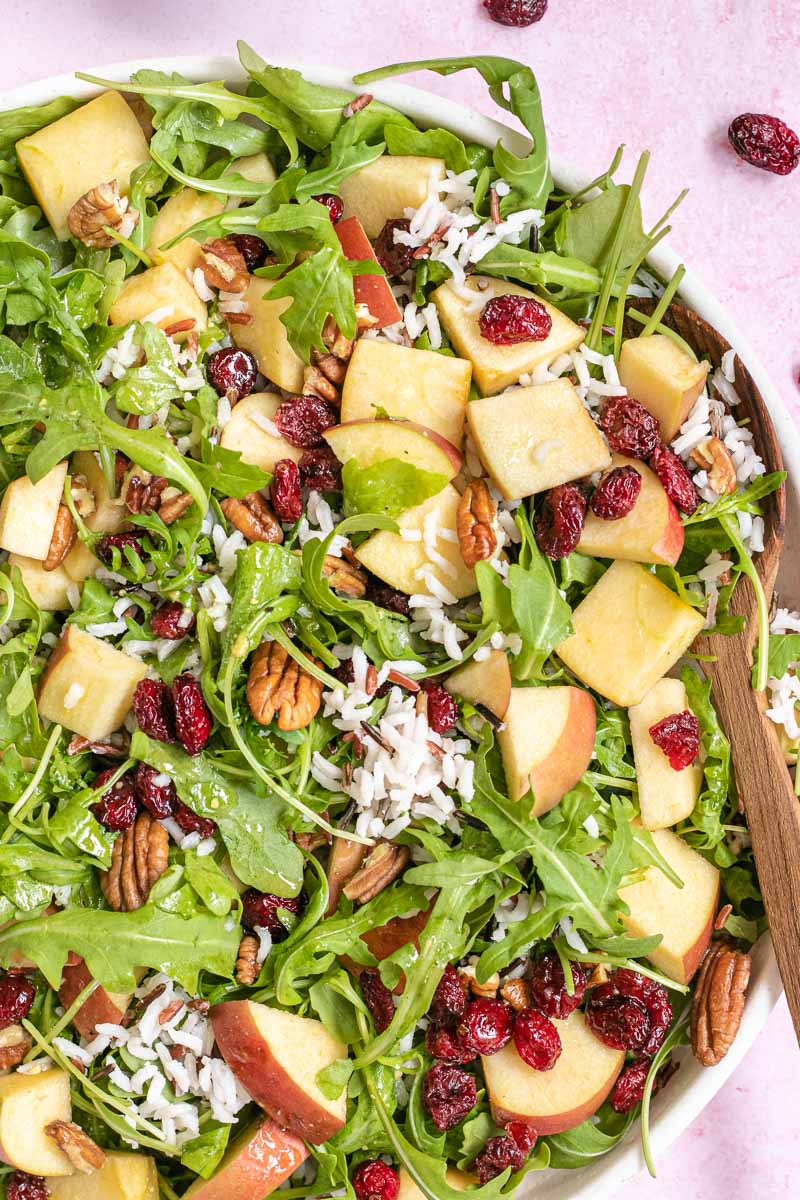 Create a free account to

Save Recipes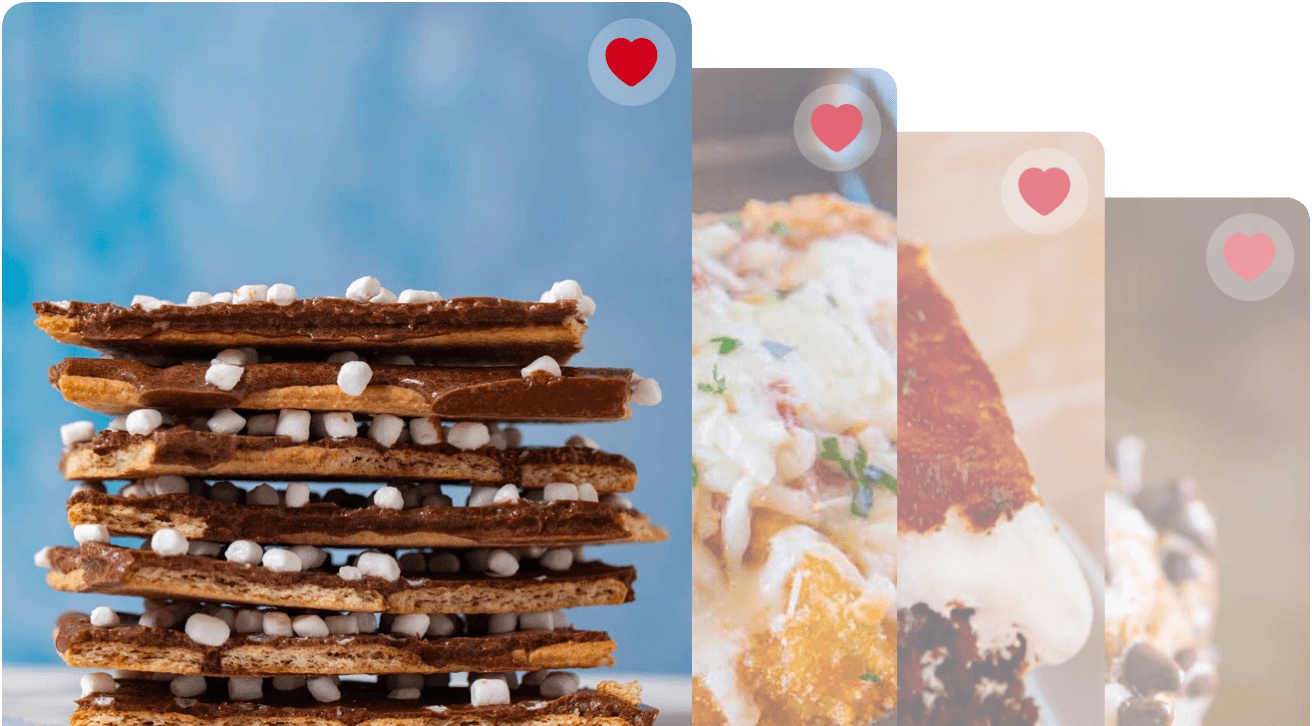 VARIATIONS AND TOPPINGS FOR WILD RICE SALAD
Speaking of salad toppings, here are some fun, healthy additions and changes you can make. The great thing about salads is that if you don't like one veggie, you can swap it out for another. You can personalize the flavor without having to start from scratch, which is awesome because who has the time? Keep in mind that you can always swap out the dressing for balsamic vinegar or Italian dressing as well.
Vegan: To make a vegan version of wild rice salad, just remove the honey. You can also use a drizzle of lemon juice to enhance the flavor with a bit of tartness.
Onion: Finely chop a red onion or a scallion and mix it in with your greens to give the salad a powerful burst of flavor. Chopped green onions scattered over the top of the salad make for a tasty garnish.
Pomegranate: Pomegranate seeds are the perfect salad topper. They're colorful and sweet, which makes them great for when you're trying to eat healthy but are craving natural sugar.
Kale: Add in chopped kale or replace the arugula if that flavor isn't your thing. Kale has a pleasant crunch and is great for you.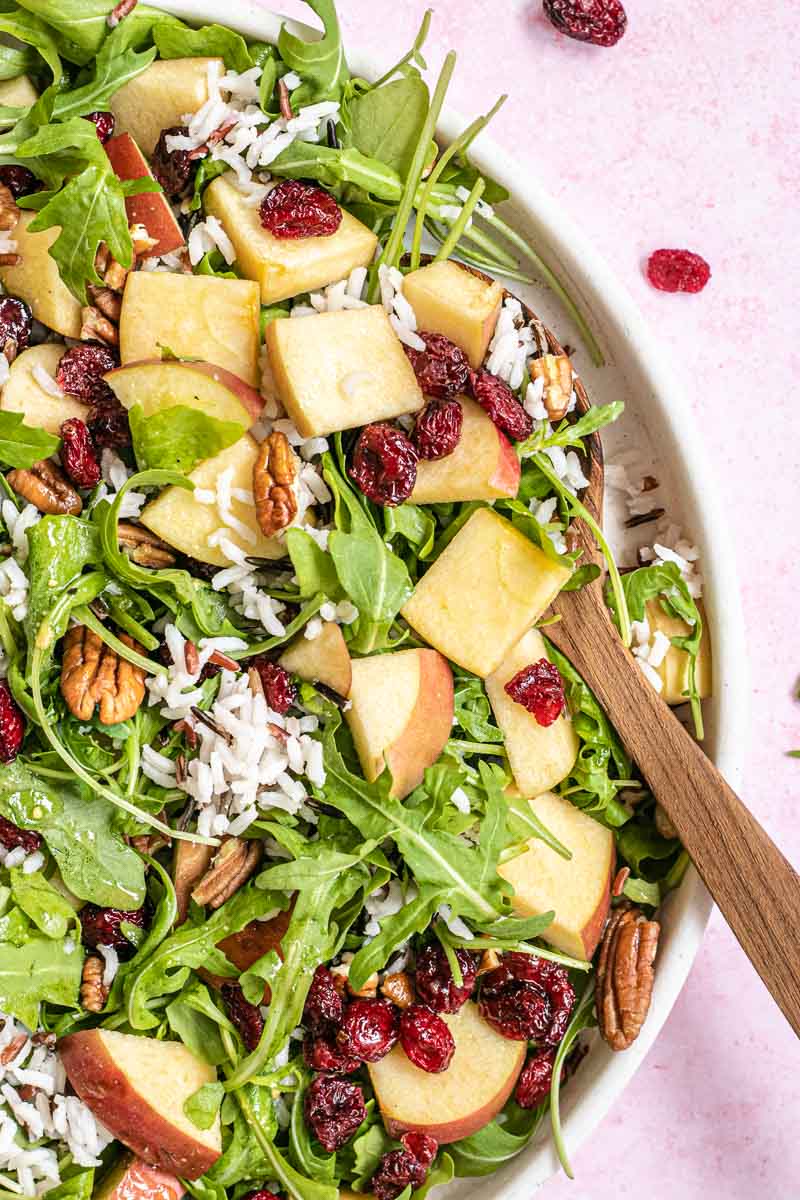 Chickpeas: Chickpeas are an awesome topping, especially if you are looking to add some texture. They are tasty and a great source of protein.
Feta: Crumble a little feta over the top for a creamy texture and amazing flavor.
Avocado: Seriously, who doesn't love avocado? Slice it thin and set it on top as a tasty garnish or chop it up and mix it in to make the salad creamier.
Lentils: If you're fresh out of wild rice and don't have time to run to the store, you can replace it with lentils. Lentils are healthy and full of flavor, with a unique texture that you'll love.
DISHES YOU CAN PAIR WITH WILD RICE SALAD
HOW TO STORE WILD RICE SALAD
Serve: Do't leave Wild Rice Salad out at room temperature for longer than 2 hours.
Store: Leftovers will be good for 2 days in the refrigerator. Let the wild rice cool to room temperature before you put it in the fridge.
Freeze: Cooked wild rice is good for up to 6 months in the freezer. Freeze the vegetables and sauce separately or make the vinaigrette fresh the day you thaw it.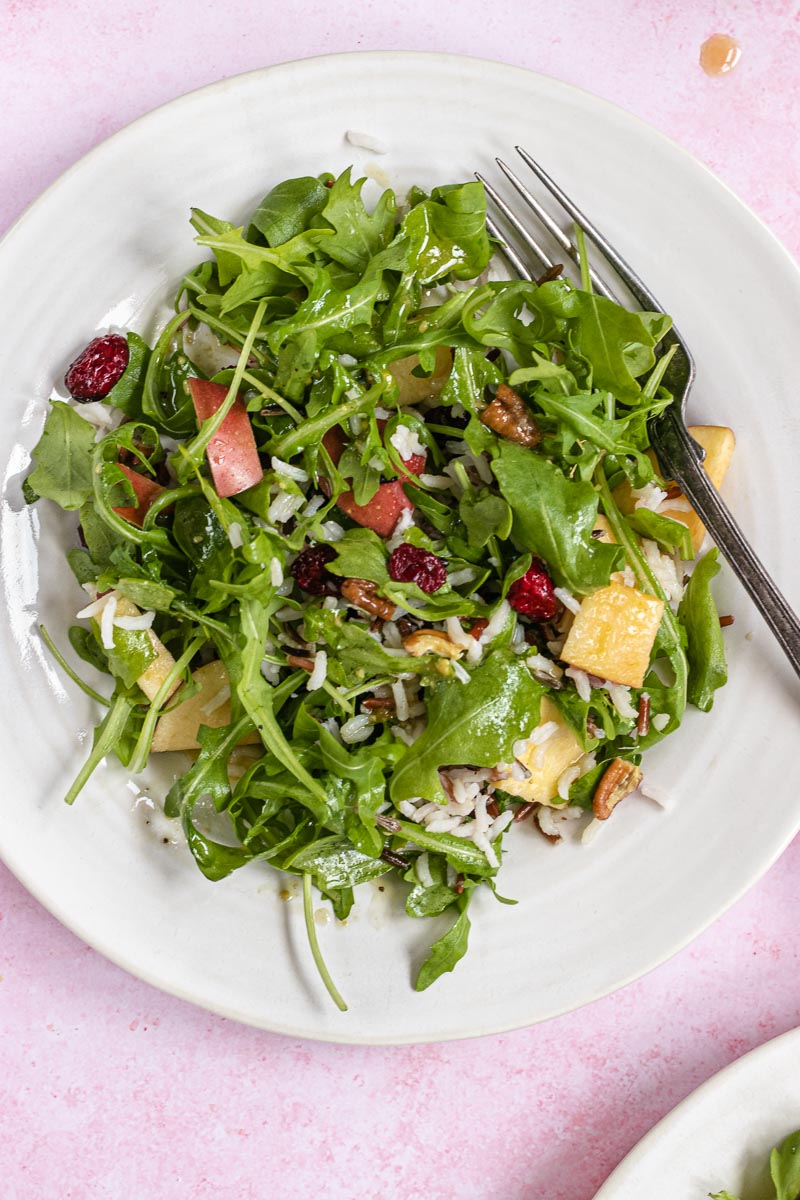 Ingredients
2

oranges

, juiced and zested

3

tablespoons

olive oil

1/4

cup

apple cider vinegar

3

tablespoons

honey

1

tablespoon

dijon mustard

1/2

teaspoon

kosher salt

1/4

teaspoon

coarse ground black pepper

5

cups

arugula

2

cups

cooked wild rice

1/2

cup

pecans

, chopped

3/4

cup

dried cranberries

2

fuji apples

, cored and chopped
Instructions
Whisk together the orange juice, zest, olive oil, vinegar, honey, dijon mustard, salt, and pepper in a small bowl.

In a large bowl layer in the arugula, wild rice, pecans, cranberries, and apples then pour the dressing over the bowl and mix gently before serving.
Nutrition
Calories:
156
kcal
|
Carbohydrates:
24
g
|
Protein:
2
g
|
Fat:
7
g
|
Saturated Fat:
1
g
|
Polyunsaturated Fat:
1
g
|
Monounsaturated Fat:
4
g
|
Sodium:
115
mg
|
Potassium:
159
mg
|
Fiber:
3
g
|
Sugar:
15
g
|
Vitamin A:
268
IU
|
Vitamin C:
14
mg
|
Calcium:
30
mg
|
Iron:
1
mg