Kale Salad is quick and easy to toss together in just a few minutes . It is made with fresh lemon juice, sunflower seeds, tomato, cranberries, and kale.
Salads are a great choice when it comes to quick and healthy meals. If you love this Kale Salad and are looking for new salads using kale, you've also got to try Cashew Kale Salad, Greek Kale Quinoa Salad, and Chickpea Sweet Potato Kale Salad. Each one is so flavorful and won't leave you hungry. They make great lunches or Side Dishes for your weeknight dinner.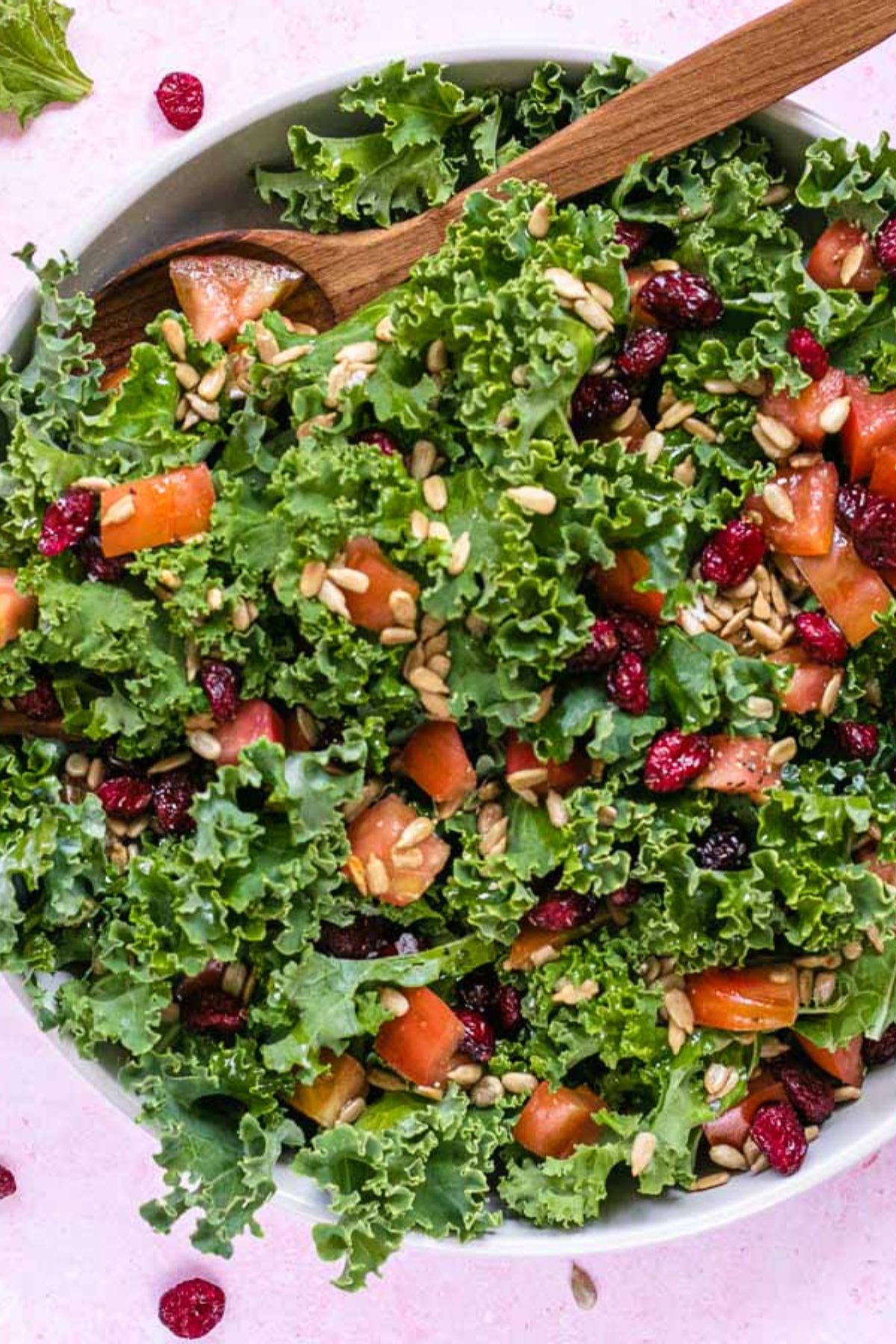 KALE SALAD
When changing to a healthier diet, salads are probably the first thing you think of adding. Whether you're eating it as a side salad or the main course, they're a great way to get your vegetable and/or fruit servings in for the day. Plus, they satisfy your appetite with a low amount of calories. Having a few easy salads on hand and ready to throw together can get you out of the "what's for dinner?" rut using ingredients you might already have in your kitchen.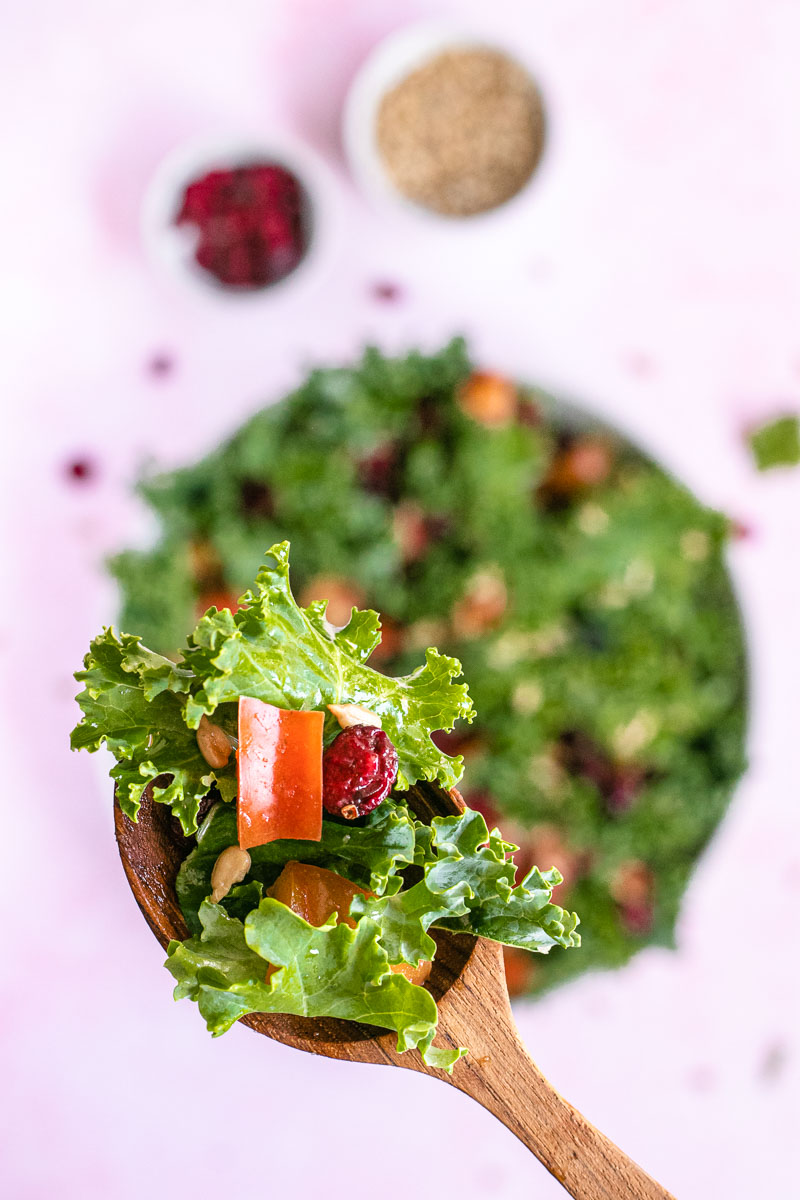 There are a lot of choices when it comes to which greens to use for your salads, but kale should be at the top of your list. It's one of the most nutrient-dense foods on the planet and is an excellent source of vitamin k. It is also high in antioxidants and a good source of minerals that are hard to get enough of, like magnesium, calcium, iron, and potassium. For more ways to incorporate kale into your diet, besides kale salad recipes, try White bean Kale Soup or Kale Chips.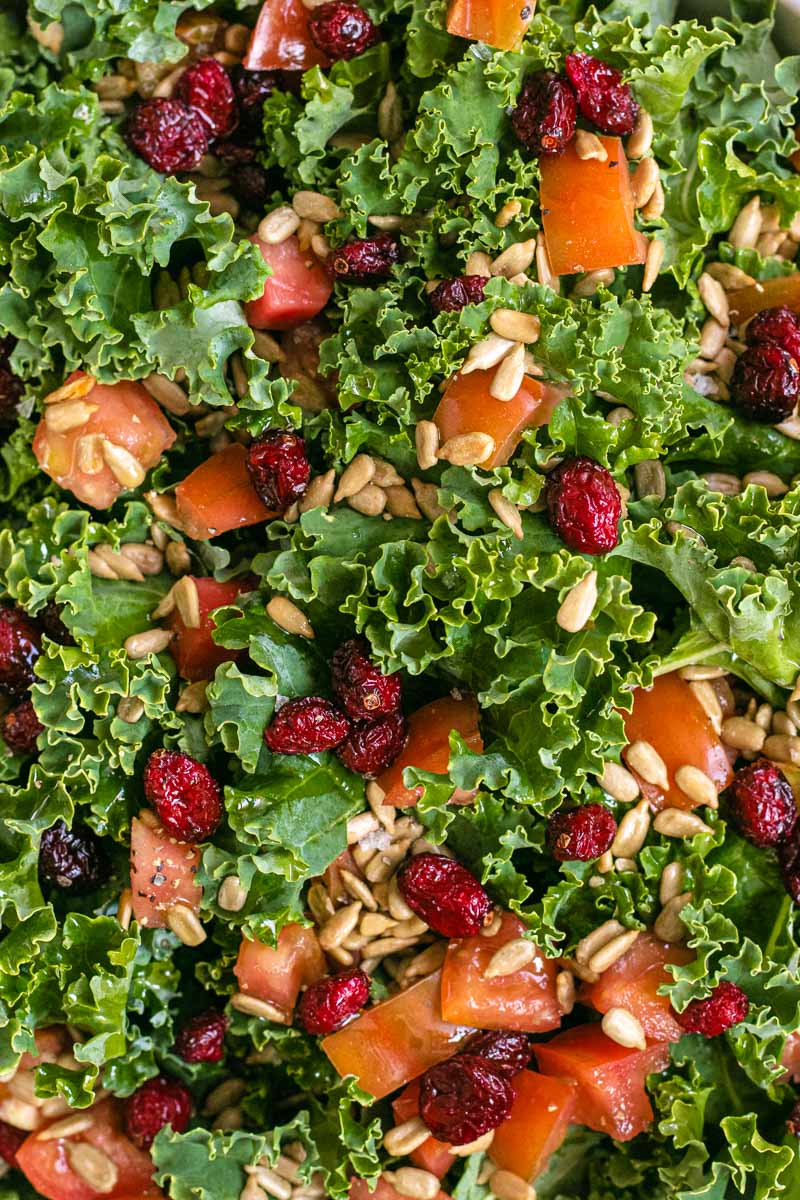 This Green Kale Salad is also gluten-free, low in carbohydrates, and made with a light dressing. The easy dressing is flavored with zesty lemons, salt, and pepper. The fresh lemons add a nice tangy flavor to the whole salad bowl.
All you have to do is whisk together the fresh lemon juice, oil, sugar, and seasonings. Then, pour the mixture over the kale, tomatoes, cranberries, sunflower seeds, and toss. With just those simple directions, your salad will be ready to enjoy with easy, healthy ingredients that are bursting with flavor.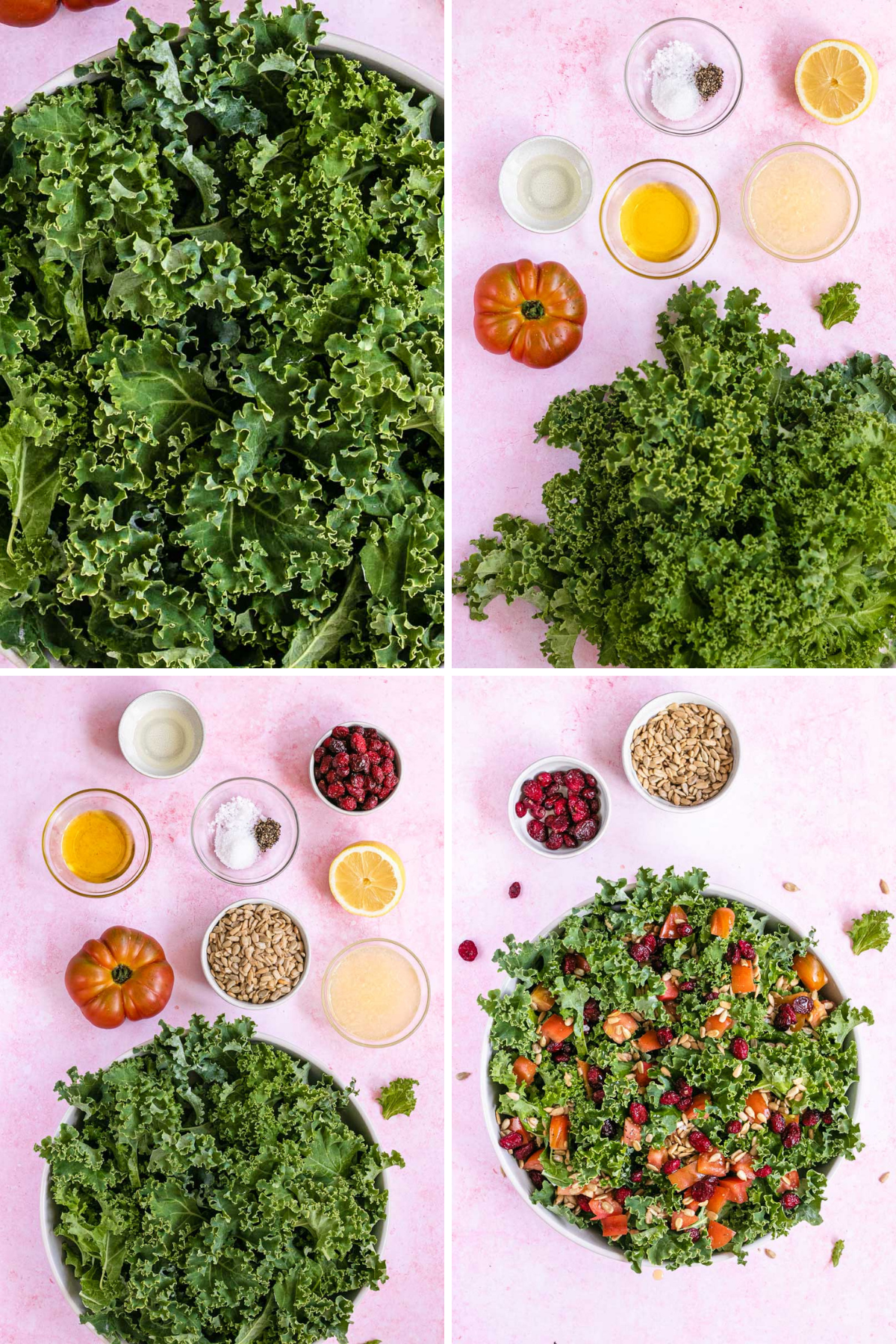 MORE HEALTHY SALADS
PREPPING KALE
If this is your first time making a salad with kale, it's time for a massage. We could all use one, right? But unfortunately, I don't mean for us this time…it's for the kale leaves. One bite into a fresh kale salad that hasn't been massaged and you'll know why this step is so important. By tearing off the leaves from the stem and massaging (like kneading bread dough) for 2-5 minutes, you'll break down the tough kale to give it a slightly softer, but still crisp, texture.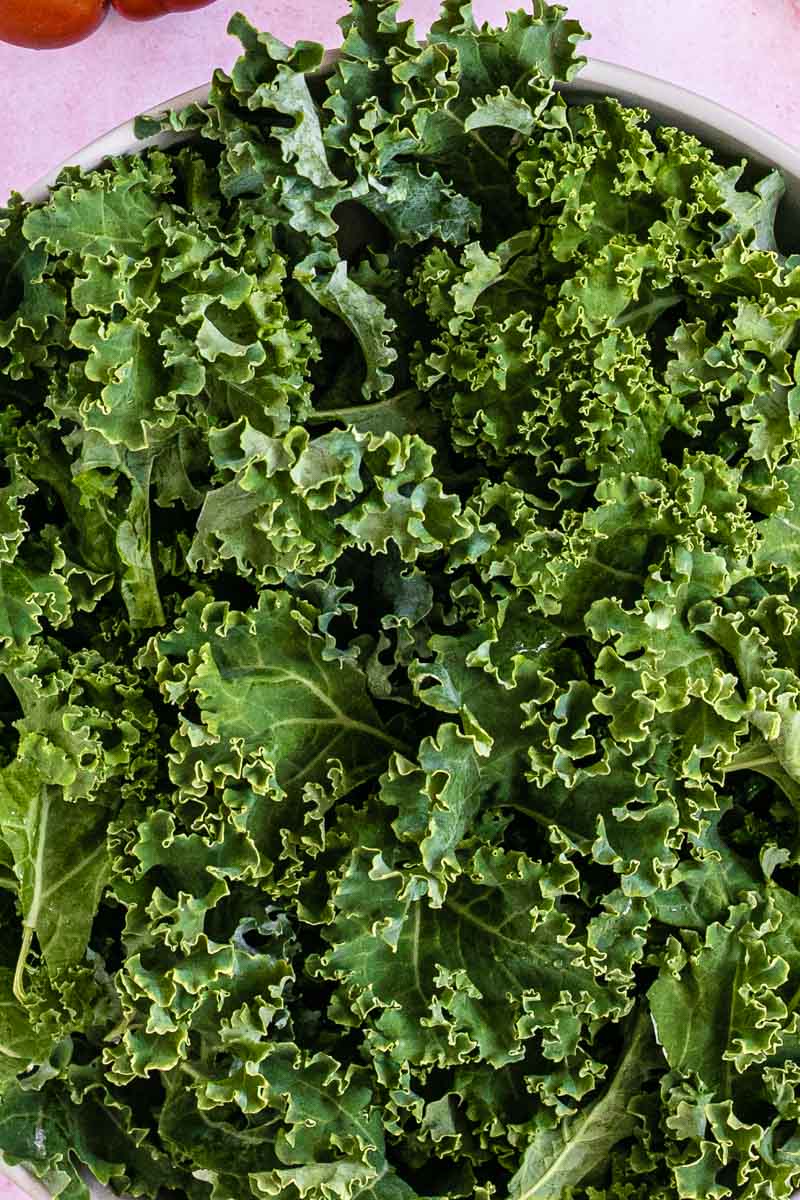 Not only does it make it easier to digest, but some even notice the flavor being more gentle and less bitter after massaging the leaves.
If massaging with your hands seems like a hassle, you can also toss the kale leaves in olive oil and let them sit overnight in the refrigerator to allow them to soften naturally. Either way, your kale will be ready to toss in the salad bowl.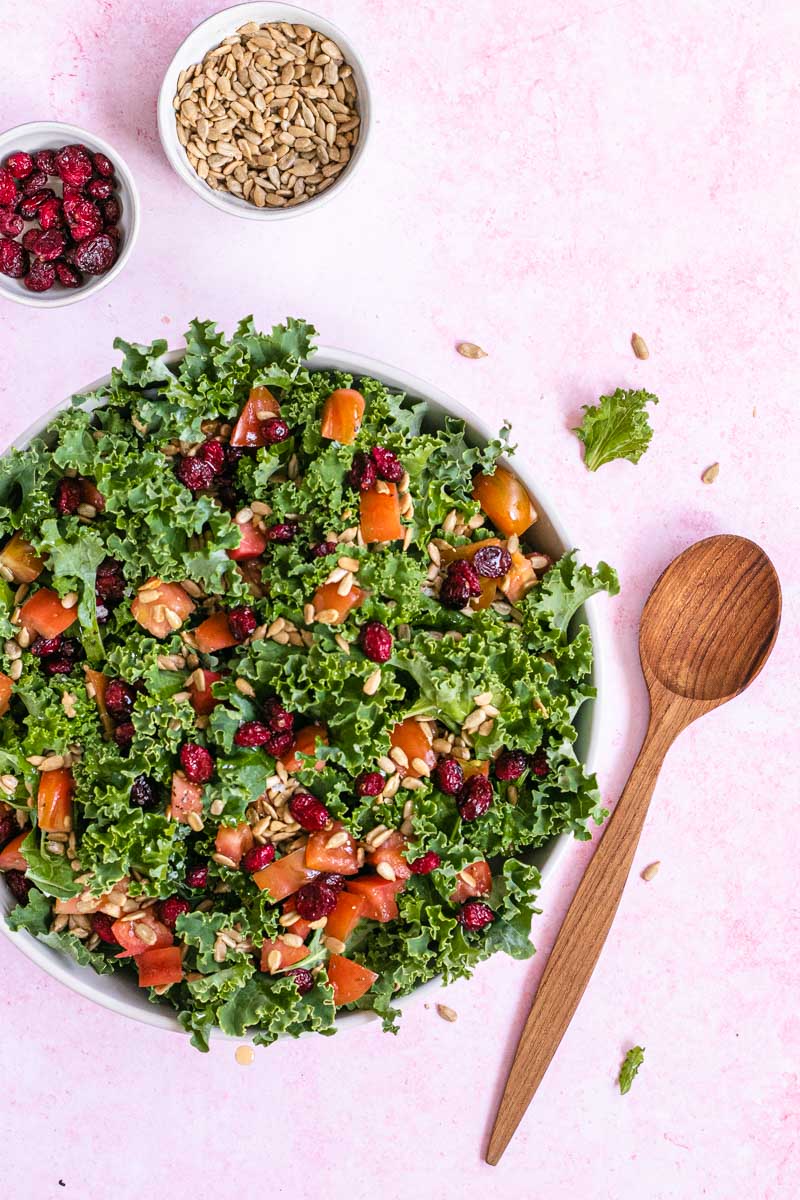 Create a free account to

Save Recipes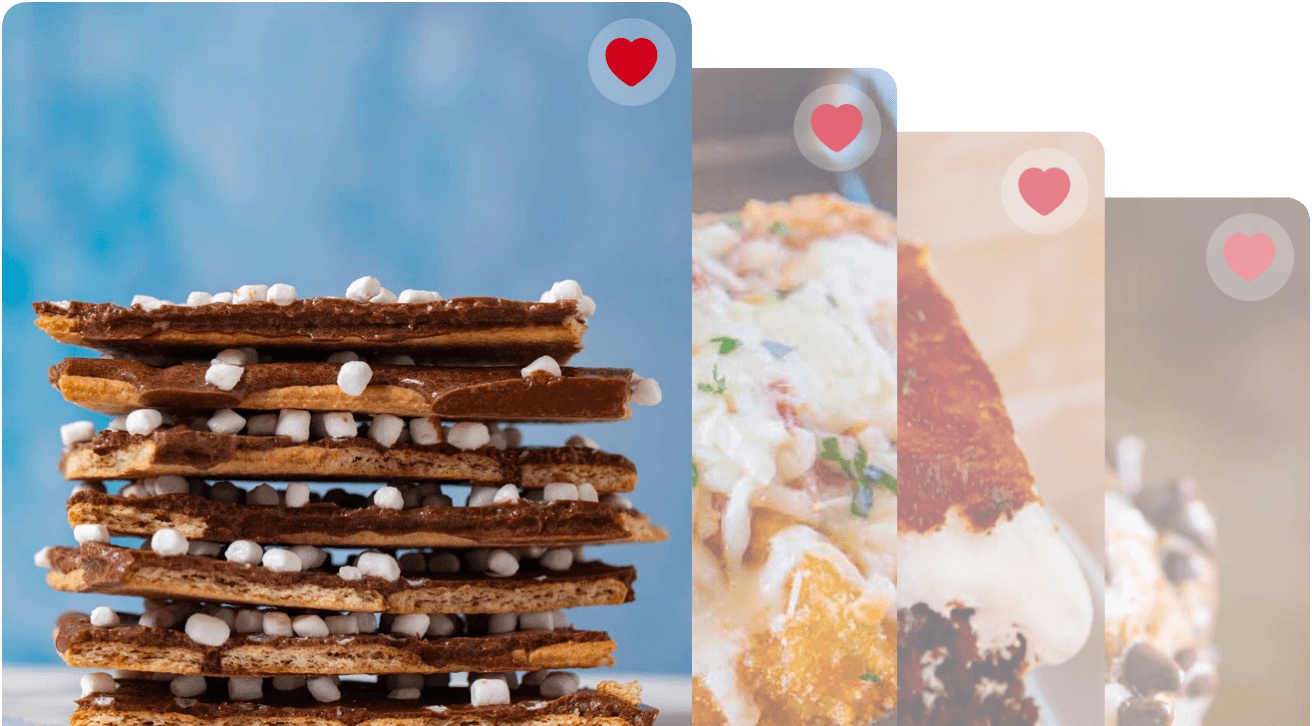 VARIATIONS ON KALE SALAD
Veggies: This recipe uses a pretty simple salad base, so there are lots of options for different add-ons. For some more veggies, try tossing in roasted yams, butternut squash, red onions, spinach, carrots, or broccoli.
Fruits: You could also add some extra flavor and color with fruits like grapes, cherries, avocado, apple, strawberry, pomegranate, or raisins.
Filling ingredients: If you're serving the salad as a main dish and want to make it more filling, try adding cooked whole grains such as farro and quinoa. You could also add nuts like walnuts, pecans, or almonds. Or, if you have leftover cooked meat from last night's dinner slice it up to toss in the salad.
Cheese: Change up the flavors in your salad by experimenting with different cheeses. Try sprinkling on a bit of feta cheese, parmesan, cheddar cheese, pecorino, or goat cheese.
Dressings: An easy way to keep your salads from falling into the same routine is by switching up your dressing. Try a drizzle of cranberry vinaigrette dressing, Italian dressing, or use a thousand island dressing for a more creamy salad.
Herbs: Fresh herbs offer a lot of flavor without extra work. Try adding thyme, cilantro, basil, or dill to your salad.
WHAT GOES WITH KALE SALAD
HOW TO STORE KALE SALAD
Serve: Kale Salad is best served fresh. It'll stay good at room temperature for up to 2 hours.
Store: After that, it's best to cover the leftover Kale Salad and store it in the fridge. Kale Salad Recipes can stay good in the fridge for 2-3 days.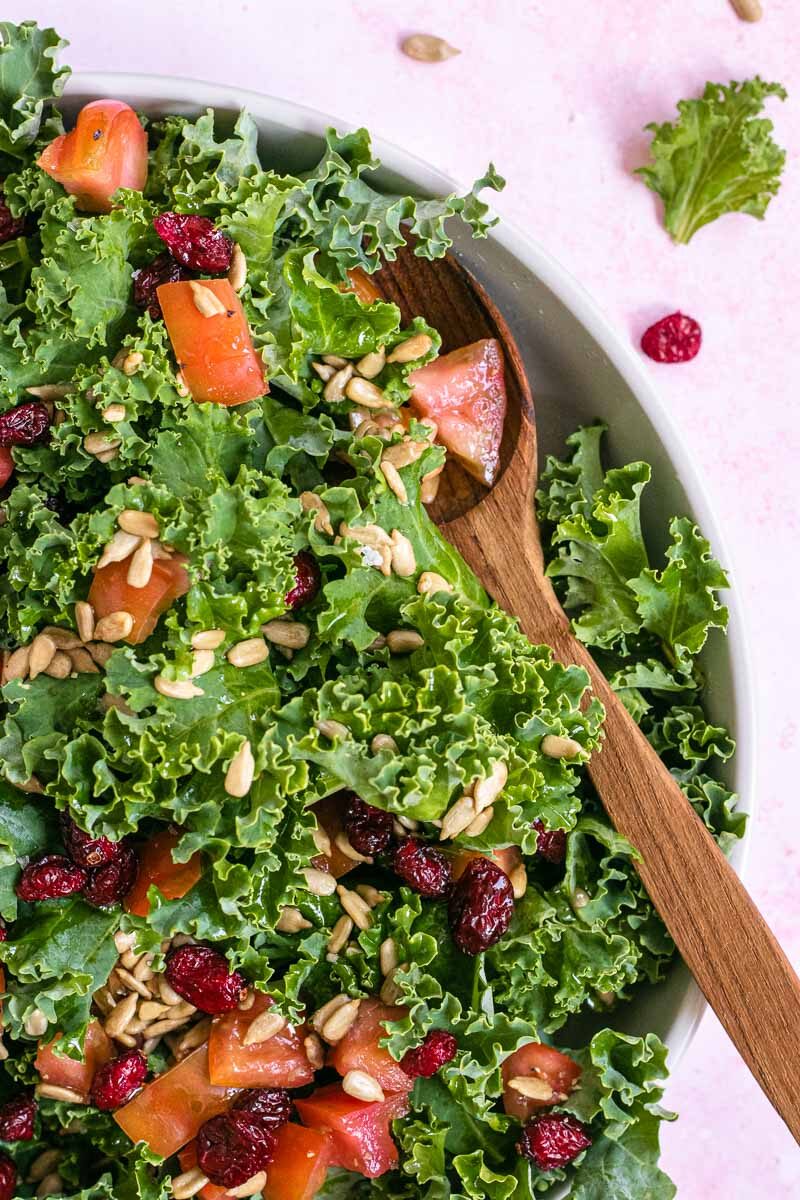 Ingredients
1/2

cup

lemon juice

1

tablespoon

canola oil

1

tablespoon

olive oil

1

teaspoon

white sugar

1/2

teaspoon

salt

1/4

teaspoon

coarse ground black pepper

1

bunch

kale

, cut into bite-size pieces

1

large

tomato

, seeded and diced

1/2

cup

roasted sunflower seeds

1/2

cup

dried cranberries
Instructions
Whisk lemon juice, canola oil, olive oil, sugar, salt, and black pepper in a large bowl.

Add kale, tomato, sunflower seeds, and cranberries; toss to combine.
Nutrition
Calories:
243
kcal
|
Carbohydrates:
24
g
|
Protein:
5
g
|
Fat:
16
g
|
Saturated Fat:
2
g
|
Trans Fat:
1
g
|
Sodium:
430
mg
|
Potassium:
388
mg
|
Fiber:
3
g
|
Sugar:
13
g
|
Vitamin A:
3630
IU
|
Vitamin C:
57
mg
|
Calcium:
72
mg
|
Iron:
1
mg