Chili Lime Chicken is tender oven-baked chicken, with an easy spice rub and no marinade needed. Flavored with chili powder, cumin, lime juice, and cilantro.
If you loved Braised Chicken with Kale this is another wonderfully Healthy Chicken Dinner, but it's even easier to make. Instead, of making pan-seared chicken in a skillet, and then putting it in the oven, Chili Lime Chicken is oven-baked from start to finish. No skillet, or browning required!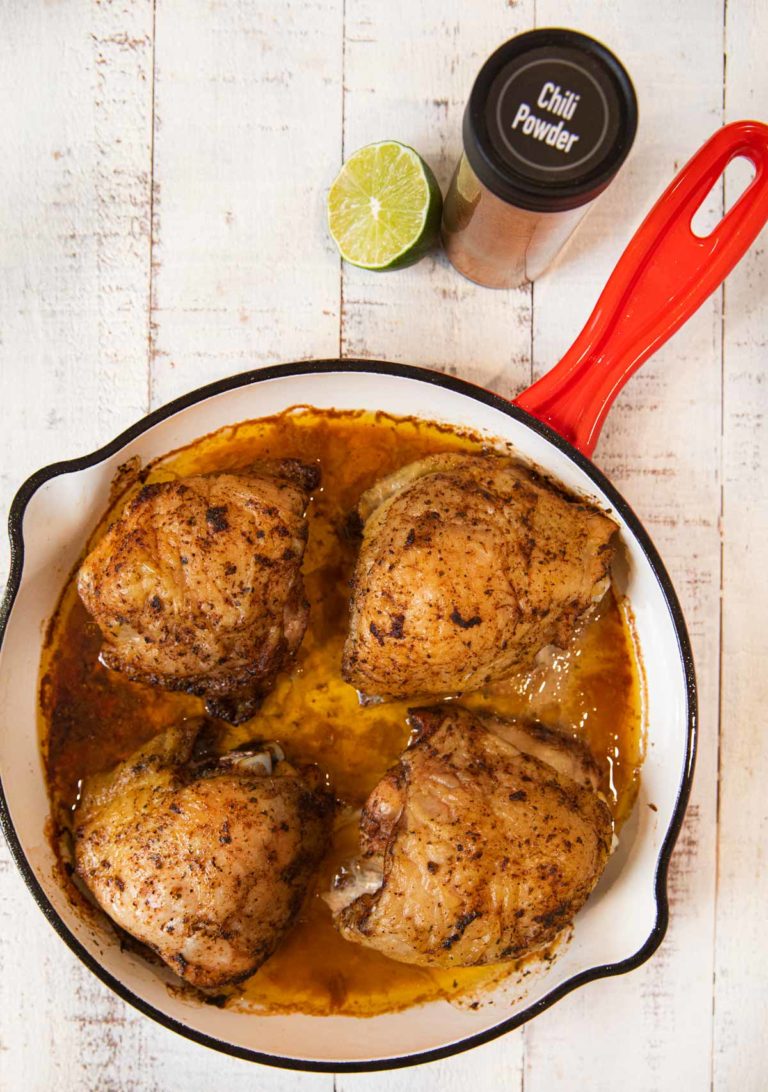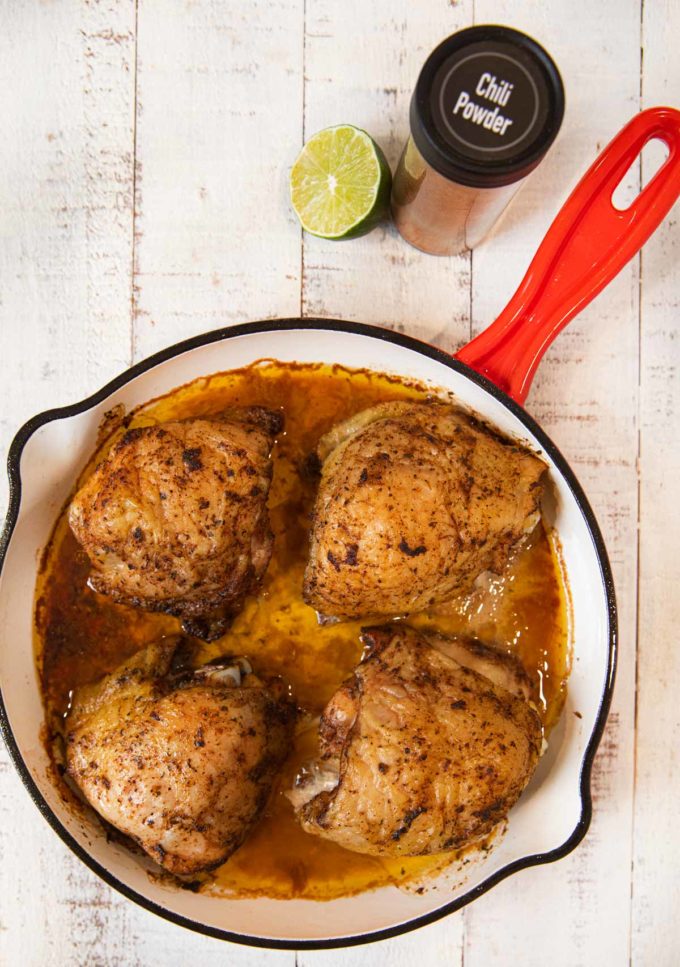 CHILI LIME CHICKEN
This Chili and Cilantro Lime Chicken recipe is the perfect easy weeknight dinner. Once you've prepped the chicken with the seasoning all you have to do is pop it in the oven for 30 minutes. There's no need for marinade or other extra steps, and chicken comes out wonderfully flavorful every time! Not to mention, it's gluten-free and low in saturated fats.
Easy Cilantro and Lime Chicken is such a great recipe that you can serve in so many ways. Serve it with any number of side dishes and sauces. You can shred the chicken and use it as filling for tacos. Serve with black beans, avocado salsa, and Cauliflower Rice for a flavorful and healthy Mexican dish. This is one of the reasons it's so important not to use bone-in chicken, because it's boneless it's easier to shred for a taco dish.
You can also use leftovers from this chicken recipe in a salad. Cut up the Cilantro Lime Chicken into bite-sized pieces to toss with a leafy green salad. Top the chicken salad with an easy vinaigrette dressing. Make the dressing with ¼ cup vegetable oil, 2 tablespoons soy sauce, 2 tablespoons red wine vinegar, 1 clove minced garlic, 1 tablespoon brown sugar, and 1 tablespoon mustard sauce, and a dash of tobacco sauce. Whisk together the sauce and top your easy salad with it, some lime juice, and fresh cilantro.
MARINADE VS. SPICE RUB
Instead of making a Chili Lime Chicken Marinade, this Cilantro Lime Chicken uses an easy dry rub. With a dry rub all you have to do is whisk together the seasoning and press it into the cilantro lime chicken. Applying a dry rub makes the Chili and Cilantro Lime Chicken just as flavorful as a marinade would. But it has some distinct advantages, the main one being time.
Because you don't have to wait hours for the chicken to marinate, that's all the quicker you get to cook the Chili and Cilantro Lime Chicken, and the quicker you get to enjoy it! And because you don't marinate the chicken it actually cooks faster. When you leave the chicken in a marinade there's a layer of liquid that has to get cooked through before the meat starts cooking. So, without the marinade your Chili and Cilantro Lime Chicken is ready way quicker. So the total time is just 35 minutes!
SLOW COOKER
Put the boneless, skinless chicken thighs at the bottom of your slow cooker.
Whisk together the spices with ⅓ cup of lime juice.
Pour the sauce over the chicken thighs.
Cook on high for 3-4 hours or until the chicken is tender enough to pull apart with a fork. Chicken is done cooking when the internal temperature reaches 165 degrees F.
MORE HEALTHY CHICKEN DINNERS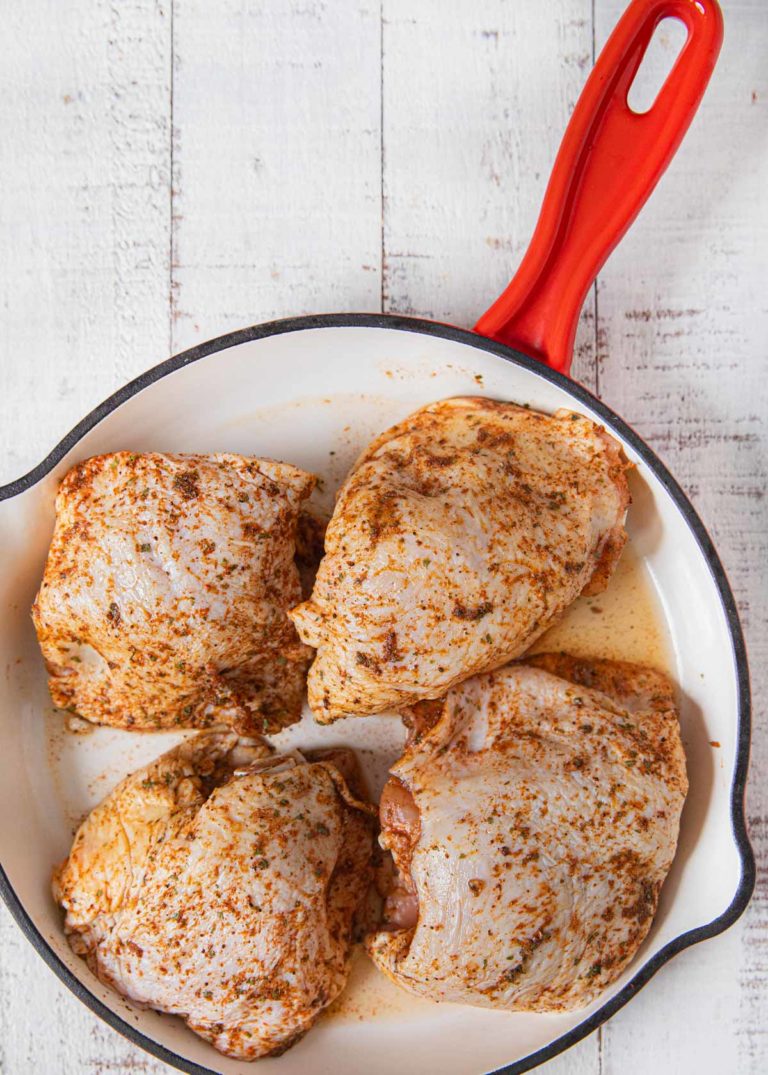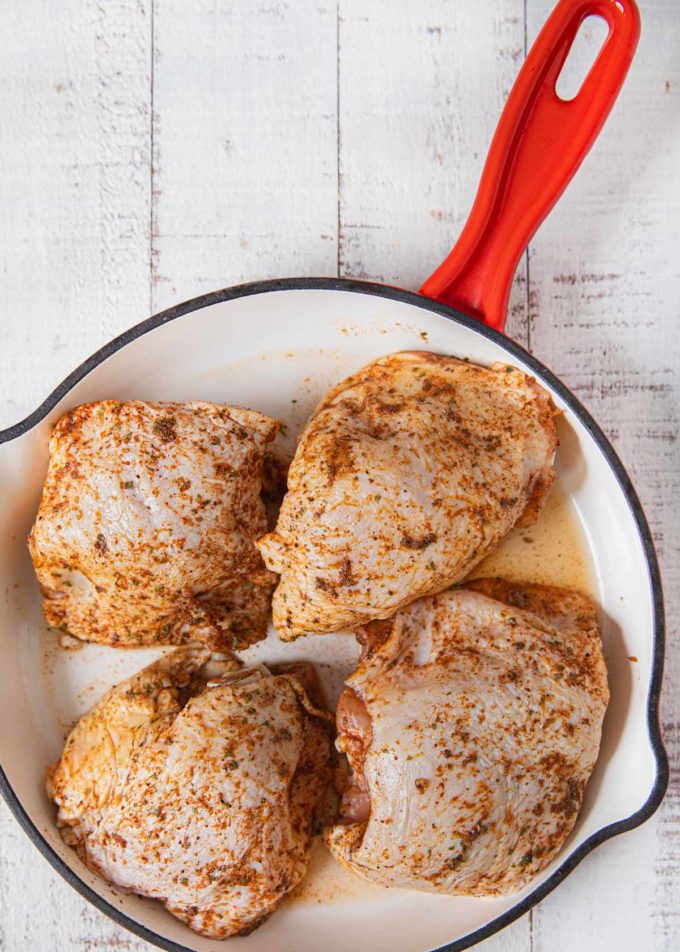 Create a free account to

Save Recipes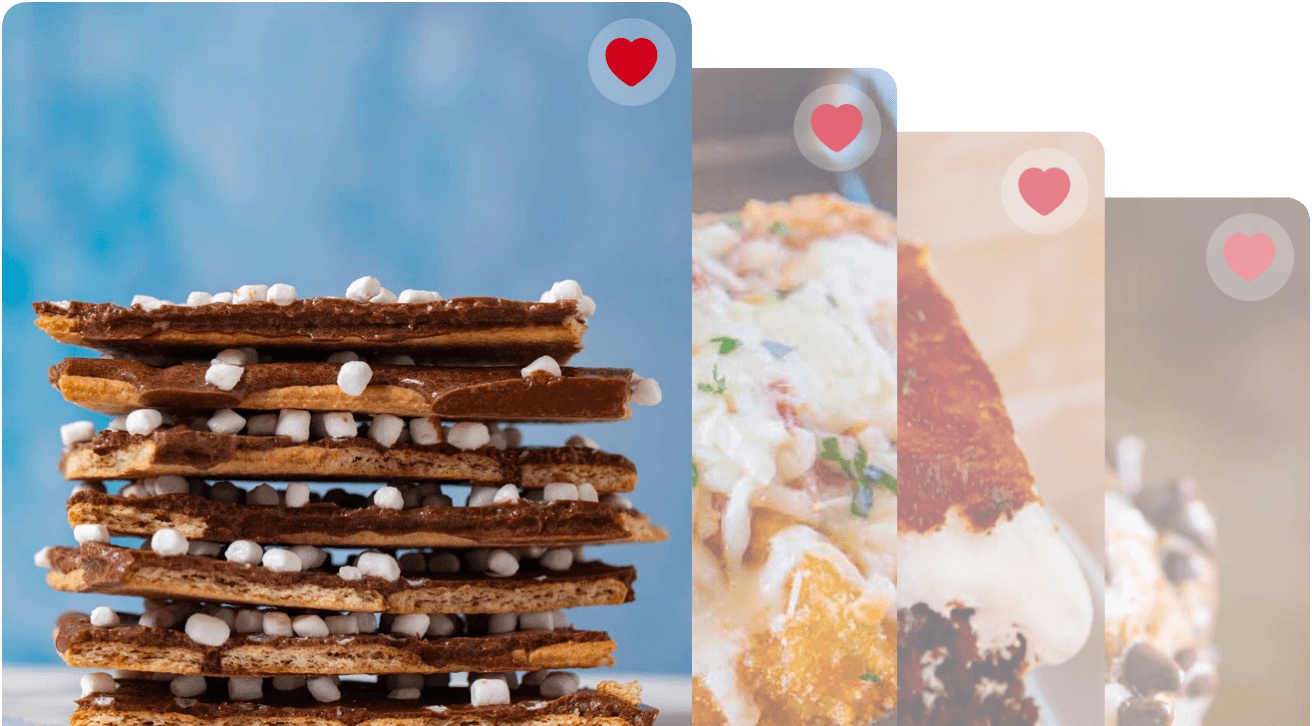 INSTANT POT
If you prepare this chicken recipe in an instant pot, use boneless chicken breasts instead of chicken thighs.
Spray the instant pot with non-stick spray.
Put the chicken breasts in the pot. (Chop the chicken breasts in half if they're more than an inch thick.)
Put two limes worth of lime juice and the seasoning over the chicken breasts.
Seal the instant pot and pressure cook for 6 minutes. Let sit for 5 minutes then release the steam. Check the temperature of the chicken and if it's done toss it with the sauce before shredding and serving.
VARIATIONS ON CHILI LIME CHICKEN
Add-ins: There are plenty of easy flavor additions you can make to this chicken recipe. Add some garlic powder to the other spices, or sprinkle minced garlic over the top before serving. You can also add black pepper, parsley or thyme.
Chili Lime Grilled Chicken: If you'd prefer to make Grilled Chili Lime chicken, first use chicken broth to turn the spice rub into an easy marinate. Leave the boneless chicken to marinate for at least 4 hours, longer if you can. Instead of cooking the Chili Lime Chicken in the oven, grill them on an outside grill, or inside in a grill pan or skillet until cooked through. Top the grilled chicken with lime juice or lime zest and a cilantro garnish.
Honey Lime Chicken: To make Honey Lime Chicken simply add a tablespoon of honey to to the seasoning blend you add to the chicken.
WHAT TO SERVE WITH CHILI LIME CHICKEN
HOW TO STORE CHILI LIME CHICKEN
Serve: Don't leave Chili Chicken at room temperature for more than two hours.
Store: Once the chicken has cooled store it in an airtight container, and put it in the fridge. Chili Lime Chicken should stay good in the fridge for 5 to 7 days.
Freeze: Stored properly this Chili Lime Chicken will stay good in the freezer for up to 4 months. When you're ready to reheat it, let the chicken defrost in the fridge overnight before reheating.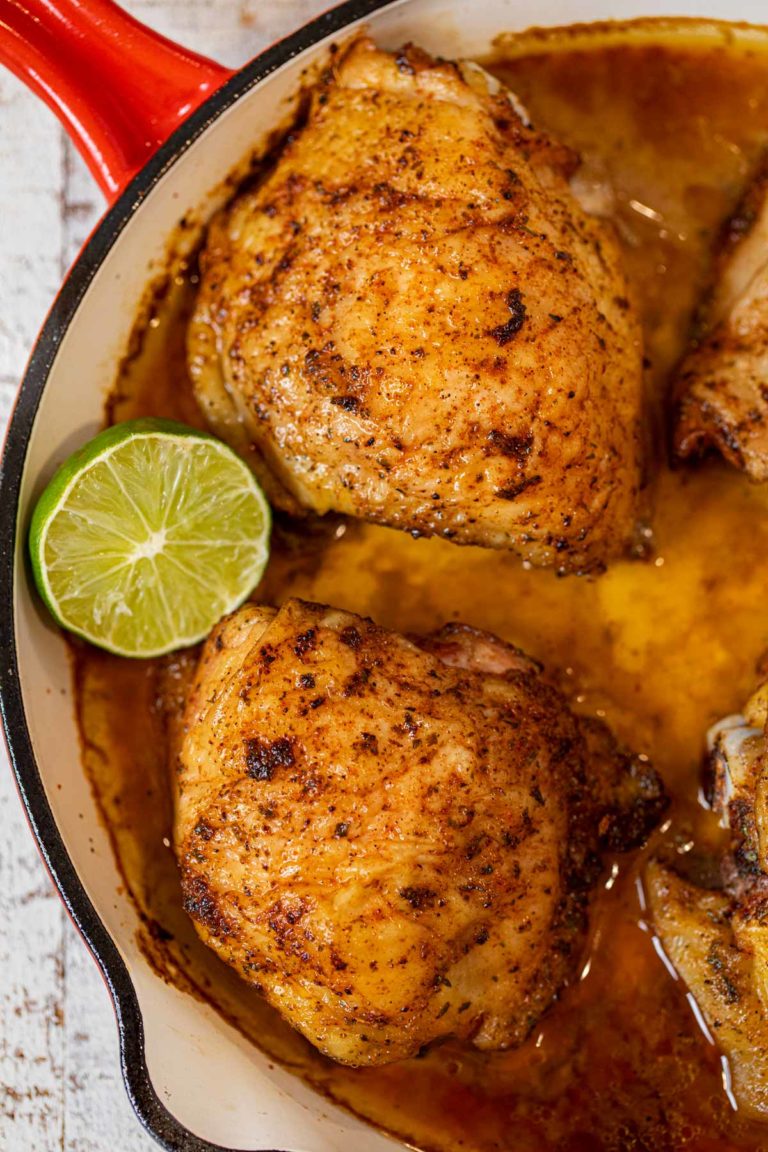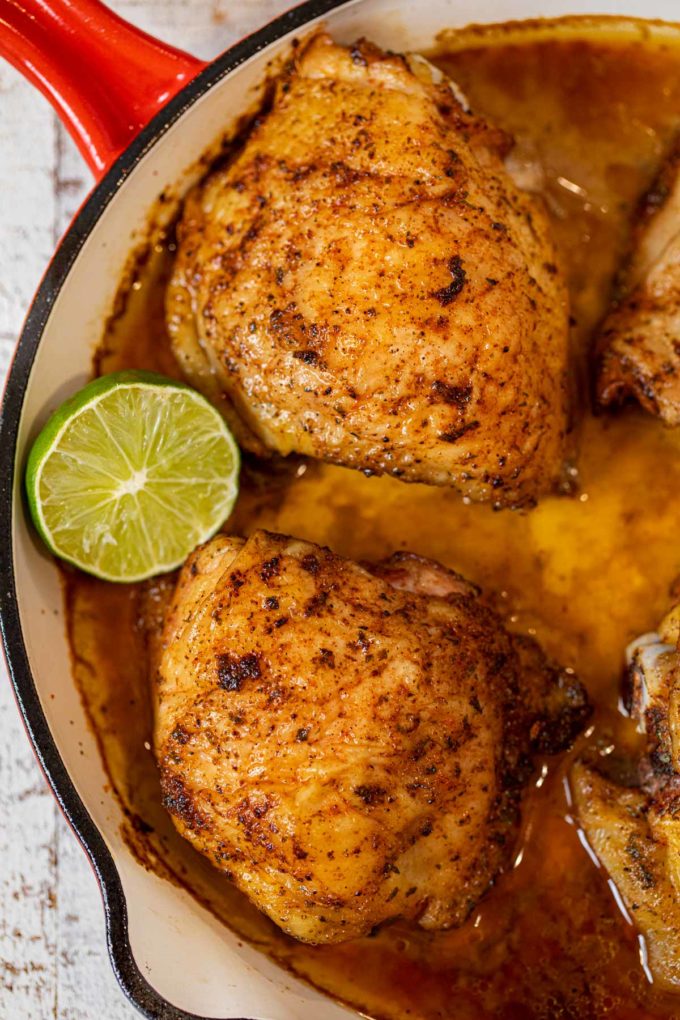 Ingredients
1

tablespoon

chili powder

2

teaspoons

ground cumin

1/2

teaspoon

kosher salt

1/4

teaspoon

ground cinnamon

1

tablespoon

olive oil

6

chicken thighs

, boneless skinless

1

lime

, cut into wedges

2

tablespoons

cilantro

, chopped
Instructions
Pre-heat oven to 400 degrees.

Mix together chili powder, cumin, salt and cinnamon.

Season chicken with spices and the olive oil, rubbing it into chicken until the spices don't look dry anymore.

Place chicken in baking pan and roast for

30 minutes

.

When serving, squeeze fresh lime juice over the chicken and garnish with cilantro.
Nutrition
Calories:
278
kcal
|
Carbohydrates:
2
g
|
Protein:
19
g
|
Fat:
21
g
|
Saturated Fat:
5
g
|
Cholesterol:
111
mg
|
Sodium:
304
mg
|
Potassium:
281
mg
|
Fiber:
1
g
|
Sugar:
1
g
|
Vitamin A:
501
IU
|
Vitamin C:
3
mg
|
Calcium:
23
mg
|
Iron:
1
mg