Three Bean Salad is a gluten-free recipe perfect for a cookout or potluck. With Kidney, Garbanzo, and cannellini beans in vinegar dressing.
Just like Greek Chickpea Salad or Chickpea Sweet Potato Kale Salad, Three Bean Salad is another protein-packed Side Dish that you can toss together in minutes.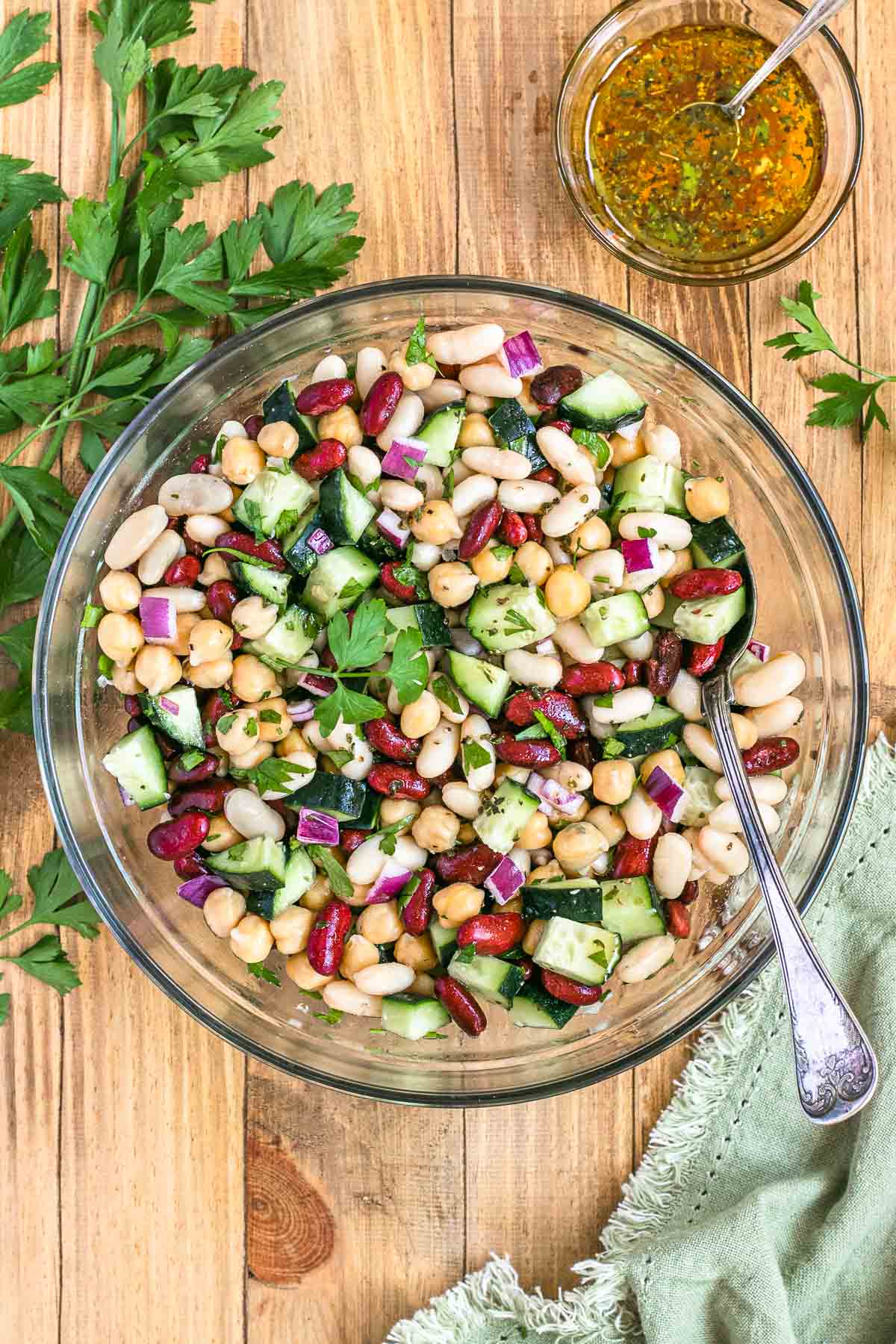 THREE BEAN SALAD
Easy Three Bean Salad is the ultimate Summer side dish. You'll love how well the flavors blend together, and how easily the recipe is made with canned ingredients. It's a classic American dish that you can make in a snap with simple ingredients from your pantry. To put it together just add beans and some chopped veggies to a serving bowl, and pour the dressing over the top. The total time to make the recipe is just 10 minutes.
Enjoy this Bean Salad recipe at your next BBQ with healthy main dishes like BBQ Chicken Breasts or Lemon Greek Chicken Skewers. Bean Salad makes an excellent addition to practically any meal. It's easy ingredients make a richly flavored recipe, that's not overpowering.
The beans in this salad have a mild, earthy taste, but the dressing adds a little bit more punch. To make the dressing just whisk together extra virgin olive oil, red wine vinegar, oregano, salt, and pepper. The vinegar, and pepper add a much bolder and robust taste to the otherwise mild Bean Salad recipe.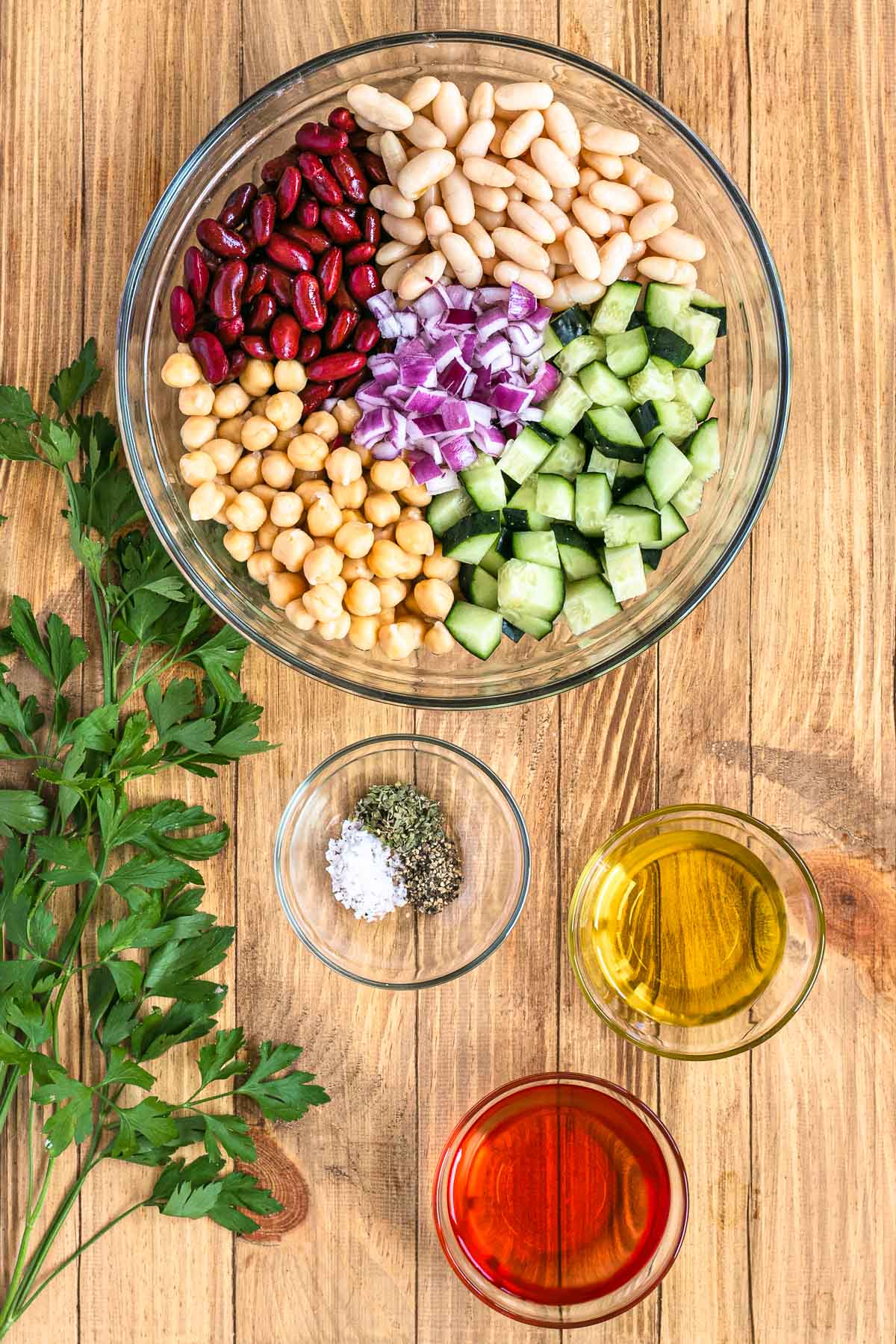 THE THREE BEANS OF BEAN SALAD
Beans are such a great source of protein and nutrients. Which is why this is a great recipe to add to your go-to side dishes. Here are some of the many health benefits you'll gain from the beans in this recipe.
Garbanzo Beans: Chickpeas are a great source of protein. They're also rich in fiber, potassium, B vitamins, iron, and magnesium. These elements make them great for your heart health.
Kidney Beans: Red kidney beans are also rich in fibers and proteins. Eating kidney beans can help with weight loss and regulating blood sugar.
Cannellini Beans: These beans carry the same benefits of protein and fiber as the other two. They also contain essentially no fat, and have some folate.
MORE EASY SIDE DISHES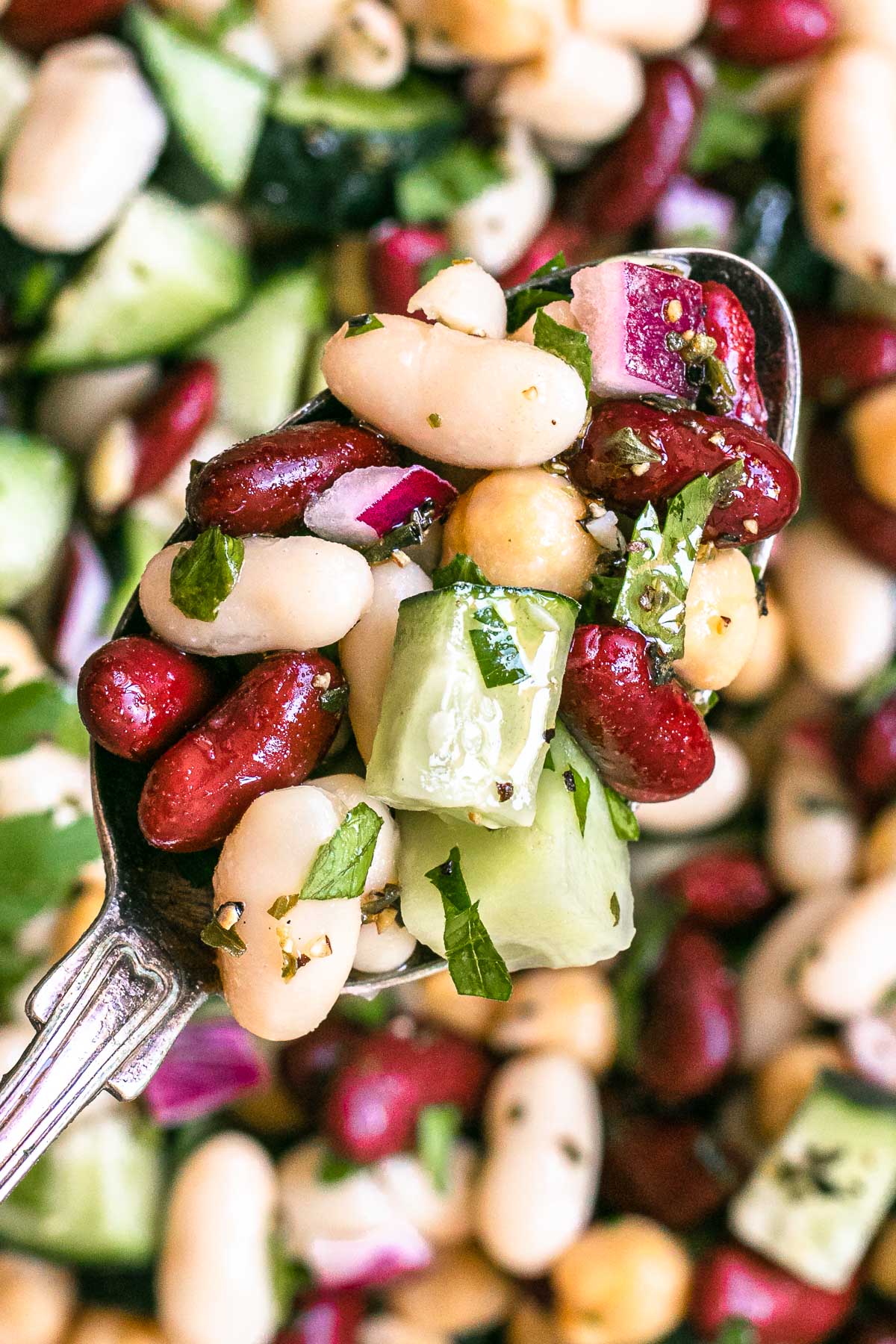 Create a free account to

Save Recipes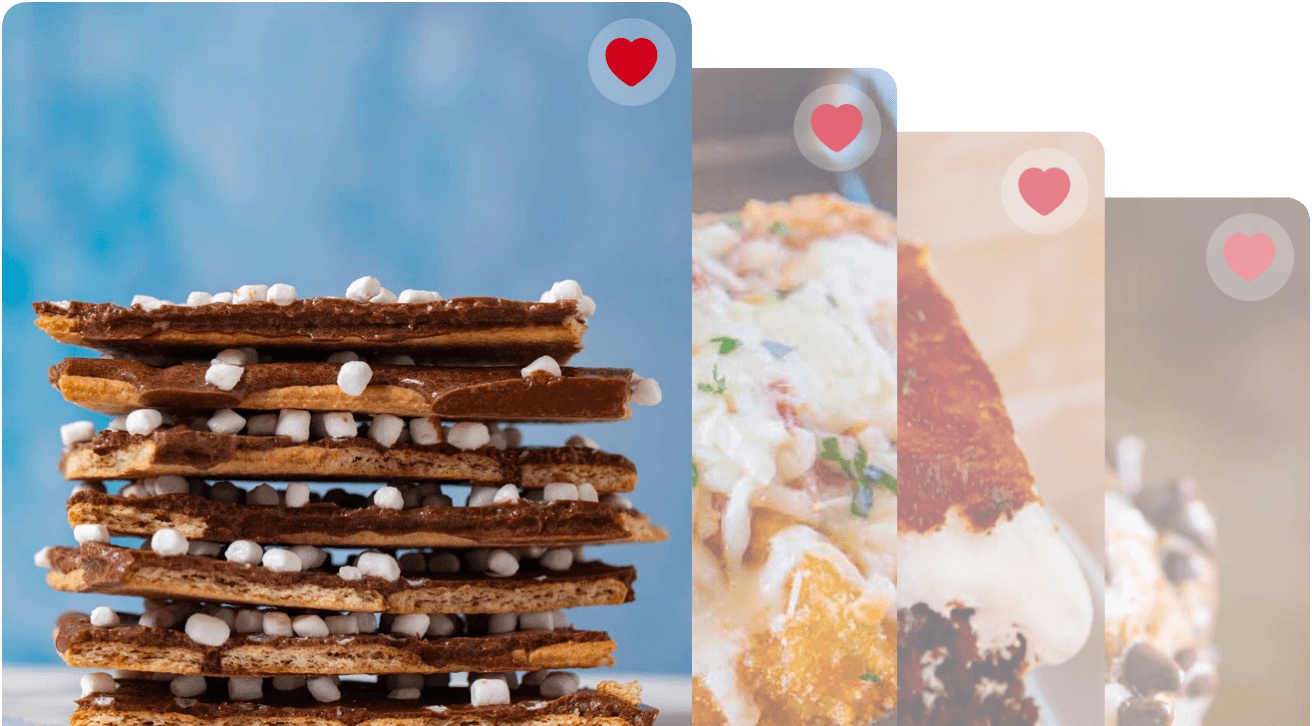 VARIATIONS ON THREE BEAN SALAD
Green Beans: A classic addition to Bean Salad is fresh green beans. Some people even consider green beans one of the beans in three bean salad. To add green beans to this recipe just add a drained, canned green beans at the same time as the original beans. If you like the fresh taste green beans bring to Bean Salad, consider adding wax beans too. Wax Beans are a yellow snap bean that taste similar to green beans.
More Beans: There are a variety of other canned beans you can add to your salad. Try black beans, black eyed peas, or Navy Beans (white bean). You can also use any of these if you don't have a can of one of the beans the recipe calls for.
Vinaigrette changes: Easily whisk in a bit of extra flavor to the wine vinegar based marinate. Try adding a little lemon juice or lime juice for a bit of citrus. You can also mix in some spices like onion powder, coriander, or cumin.
Easy salad add-ins: One of the great things about this salad recipe is that you can easily change it up by adding some extra veggies. Chop some bell peppers, celery, or yellow onion. Mix in the chopped celery, bell peppers, and onion at the same time you add the beans, before putting on the dressing.
WHAT TO SERVE THREE BEAN SALAD WITH
HOW TO STORE THREE BEAN SALAD
Serve: This salad is best kept cool. Don't leave it at room temperature for more than a few hours.
Store: If you have leftovers or want to make the recipe ahead, store the salad in the fridge for 3-5 days. Keep the bowl covered in plastic wrap or seal the salad in an airtight container.
Freeze: After properly sealing, this salad can be kept in the freezer for 2-3 months.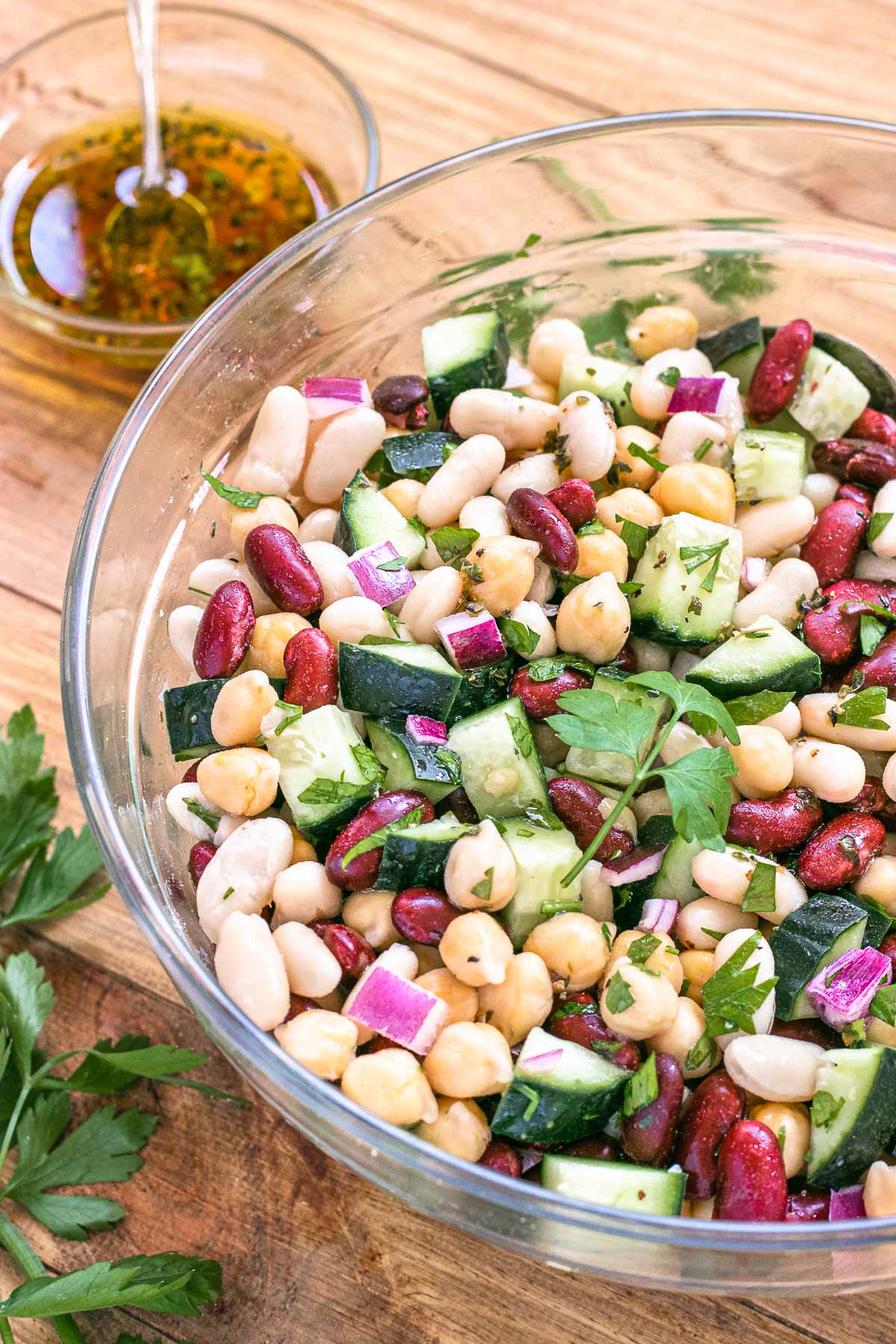 Ingredients
15

ounces (1 can)

chickpeas

, drained and rinsed

15

ounces (1 can)

kidney beans

, drained and rinsed

15

ounces (1 can)

cannellini beans

, drained and rinsed

1/2

red onion

, diced

1/2

large

cucumber

, diced

1/4

cup

fresh parsley

, diced

2

tablespoons

olive oil

1/4

cup

red wine vinegar

1/2

teaspoon

dried oregano

1/2

teaspoon

Kosher salt

1/4

teaspoon

coarse ground black pepper
Instructions
In a large bowl, add chickpeas, kidney beans, cannelini beans, red onion, cucumber, and parsley.

In a separate small bowl, mix the olive oil, red wine vinegar, oregano, salt, and pepper until well combined.

Add the dressing to the large serving bowl and mix until well combined.
Nutrition
Calories:
222
kcal
|
Carbohydrates:
33
g
|
Protein:
11
g
|
Fat:
6
g
|
Saturated Fat:
1
g
|
Sodium:
728
mg
|
Potassium:
345
mg
|
Fiber:
11
g
|
Sugar:
2
g
|
Vitamin A:
238
IU
|
Vitamin C:
5
mg
|
Calcium:
99
mg
|
Iron:
4
mg