Pea Salad is a crisp and crunchy Summer side that's perfect for picnics and potlucks. With frozen peas, a lightened dressing, cheese, and turkey bacon bits.
If you've tried our recipe for Healthy Coleslaw then you know how delicious and creamy a lightened up version of a classic Side Dish can be. This Pea Salad is another great example of making a few easy healthy changes to a recipe while keeping the overall taste.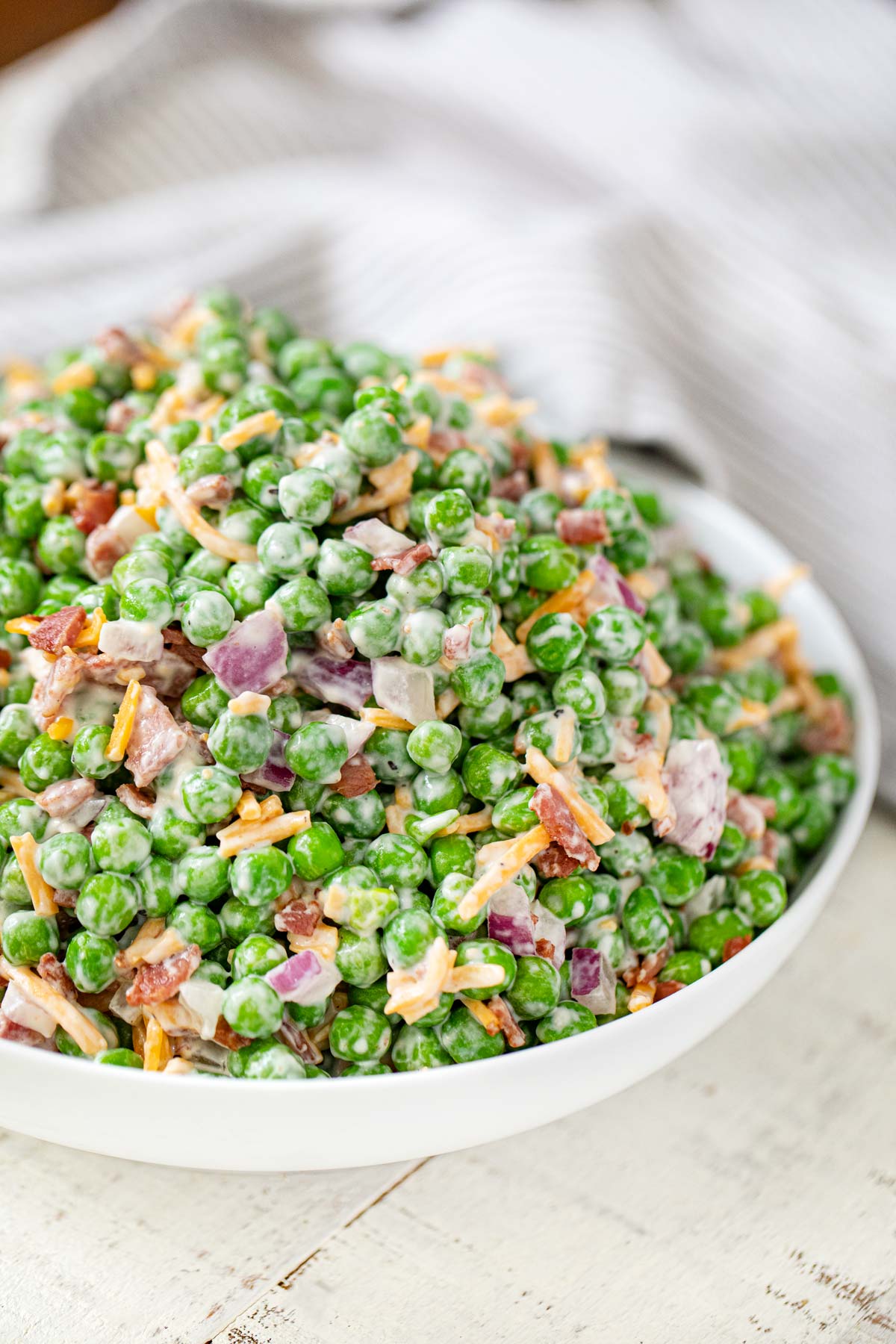 PEA SALAD
This Green Pea Salad recipe is sure to become a go-to side dish for the summer. It's easy to make and perfect for barbecues and family get togethers. Just mix delicious, crisp peas with onion, cheese, bacon, and a lightened creamy dressing for the perfect salad. This easy pea dish goes great with most your favorite BBQ dishes, and it's bright green color makes a beautiful addition to any table.
Just like our recipes for Healthy Potato Salad and Healthy Macaroni Salad, this lightened Pea and Bacon Salad is perfect to enjoy while on a diet. The creamy dressing coating the peas, bacon, and cheese tastes indulgent, but is surprisingly healthy. Plus, it's easy to make and wonderfully flavorful.
MORE HEALTHY SIDE DISHES
HEALTHY EXCHANGES
Classic Pea Salad is made with a lot of heavy and high calorie ingredients. The dressing often includes sour cream, and lots of full-fat mayonnaise or miracle whip. This salad is able to stay just as creamy, but steer clear of the high fat and calories. To do this the dressing is made from one part low-fat mayonnaise and one part low-fat Greek Yogurt. Greek Yogurt is still creamy, but much healthier than mayonnaise or sour cream.
Another change made to the salad is decreasing the amount of sugar. While most Creamy Pea Salad recipes call for 2 tablespoons or more of sugar, this one only asks for a teaspoon of sugar and a teaspoon of apple cider vinegar. Plus you'll use turkey bacon, instead of regular bacon. Turkey bacon is just as flavorful, but lower in unhealthy fats.
These few healthy changes make it possible to enjoy Creamy Pea Salad, without worrying about eating unhealthy. It's just as delicious and refreshing, but so much better for you!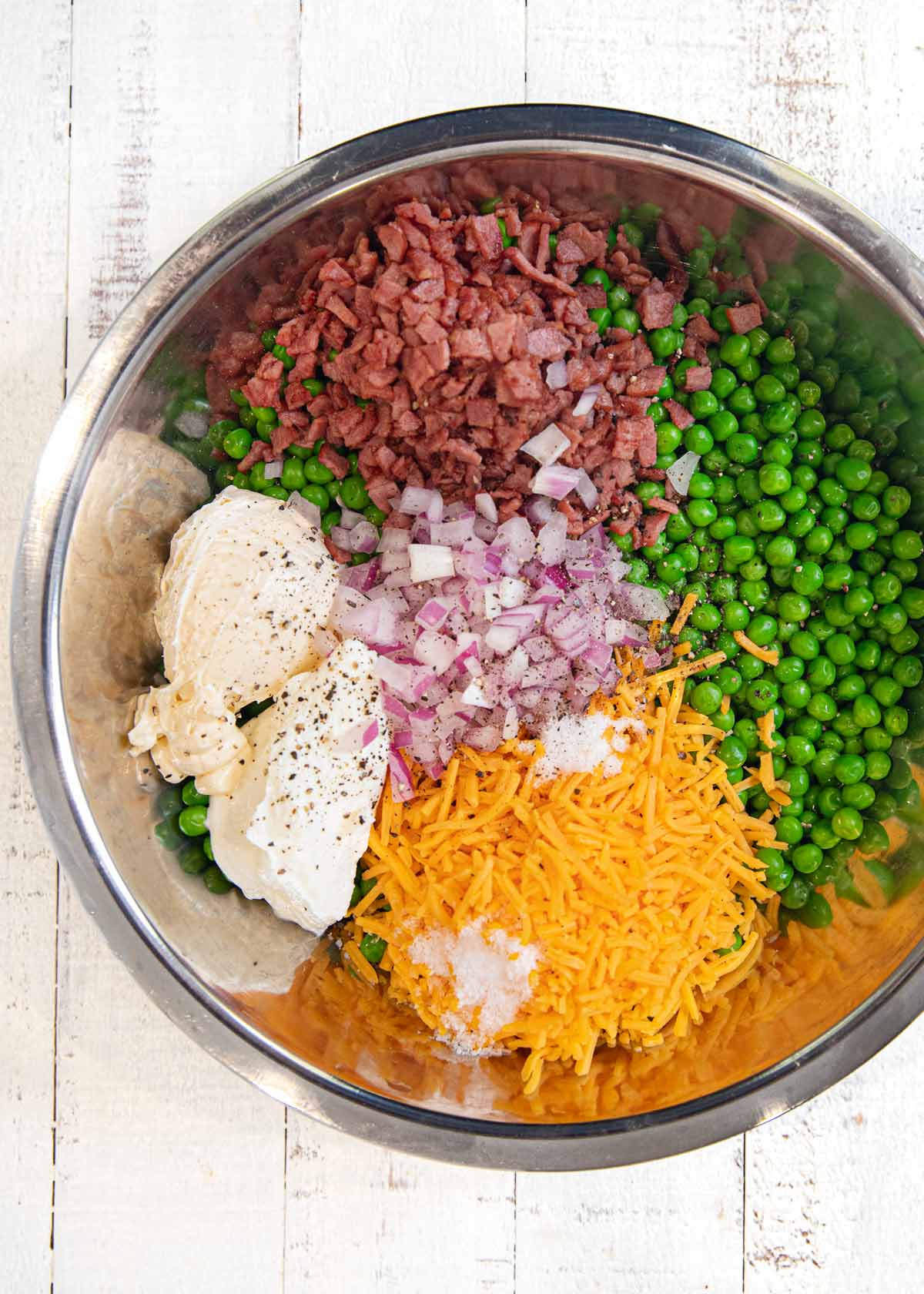 Create a free account to

Save Recipes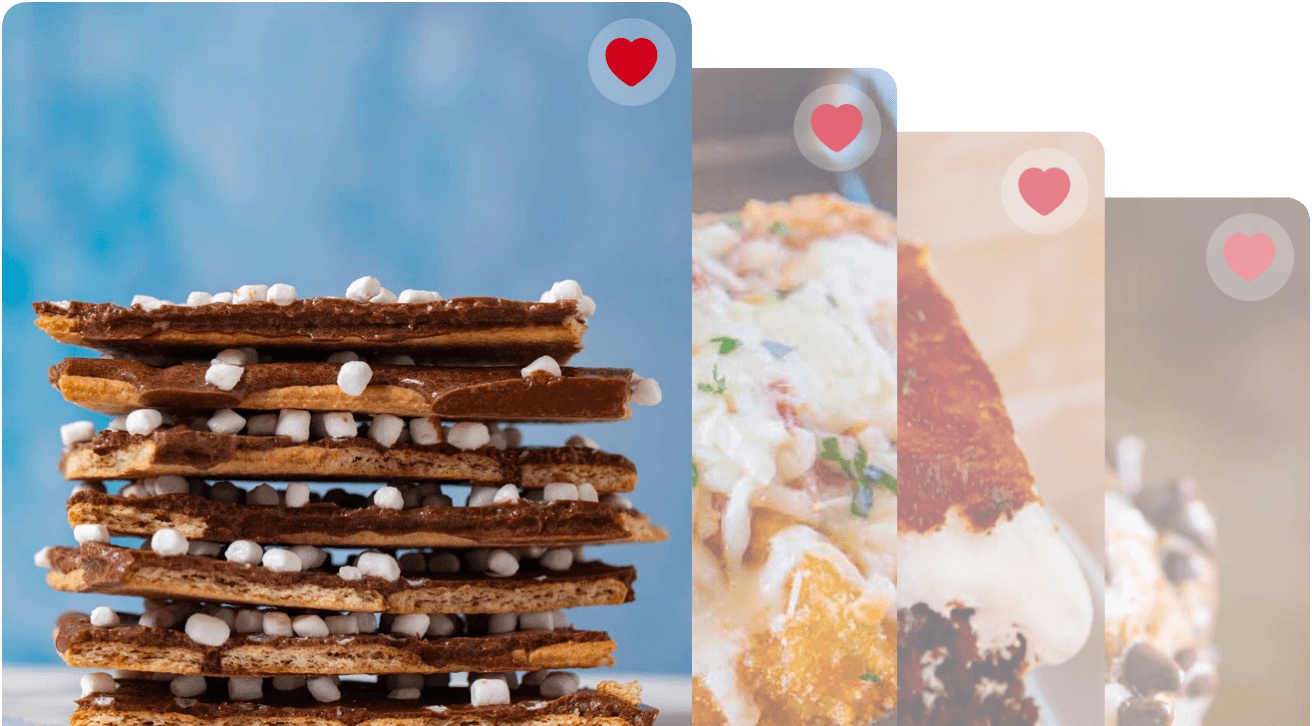 VARIATIONS ON PEA SALAD
Add-ins: There are so many fun ways to change up Bacon Pea Salad. Chop some yellow onion or white onion to add along with the red onion. For some more color chop up some red or yellow peppers to toss in. You could even add Chile pepper for some spice. Another simple and delicious add-in are water chestnuts. Don't be afraid to get creative and experiment the next time you make this salad.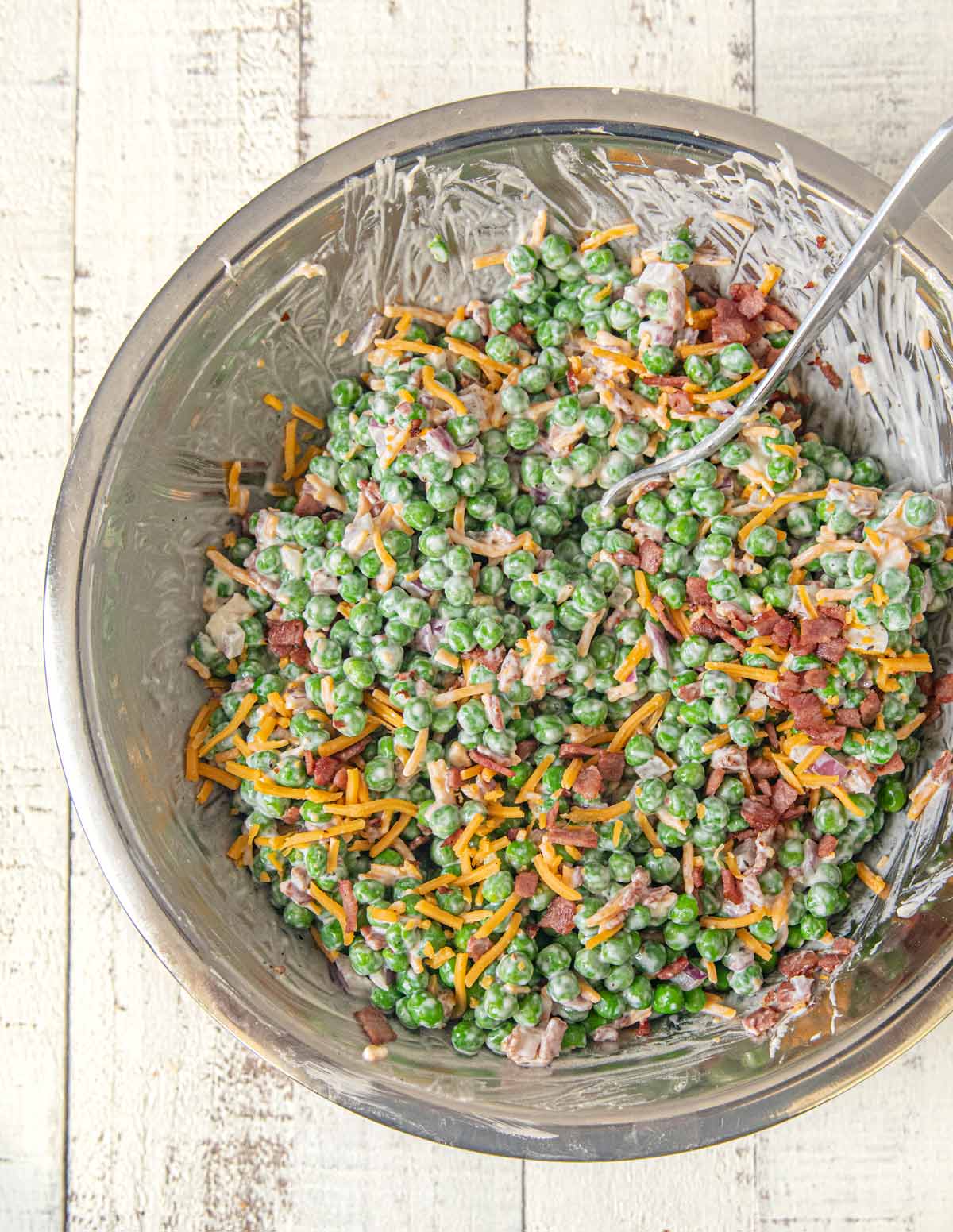 More Proteins: This salad already has cheddar cheese, bacon, and Greek Yogurt for healthy protein. But if your serving this salad as your main dish for lunch and want it more filling, here are some other additions. Try adding a hard boiled egg or two. You can slice the cooked egg or chop it into cubes to mix in the salad. There's also cheese you can try besides cheddar. Shred some Swiss or provolone cheese, or crumble some feta over your salad.
Fresh Pea Salad: If you have fresh peas you can use them in your salad instead of frozen peas. Start by putting the sweet peas in a colander and rinsing them off. After rinsing, you can pour the peas onto paper towels, or a cloth kitchen towel to dry. Mix the peas with your other salad ingredients just like you would with frozen green peas.
WHAT TO SERVE PEA SALAD WITH
HOW TO STORE PEA SALAD
Serve: Because of the bacon and dairy in this Green Pea Salad, you shouldn't leave it out for more than 2 hours.
Store: To store Pea Salad, cover the large bowl in plastic wrap or put it in an airtight container. Refrigerate for 1-2 days. If you want this Pea Salad Recipe, as a make-ahead dish wait to add the bacon until right before you serve it. It can last fairly well in the fridge for up to 5 days without the bacon, but if you add the bacon the dressing will make it less crispy.
Freeze: Freeze Green Pea Salad for up to 2 months. You just may want to add some of the ingredients like bacon and cheddar cheese later, to keep them fresh. Let the frozen salad defrost in the fridge. Once it's thawed mix the dressing again, as it may have separated in the freezer.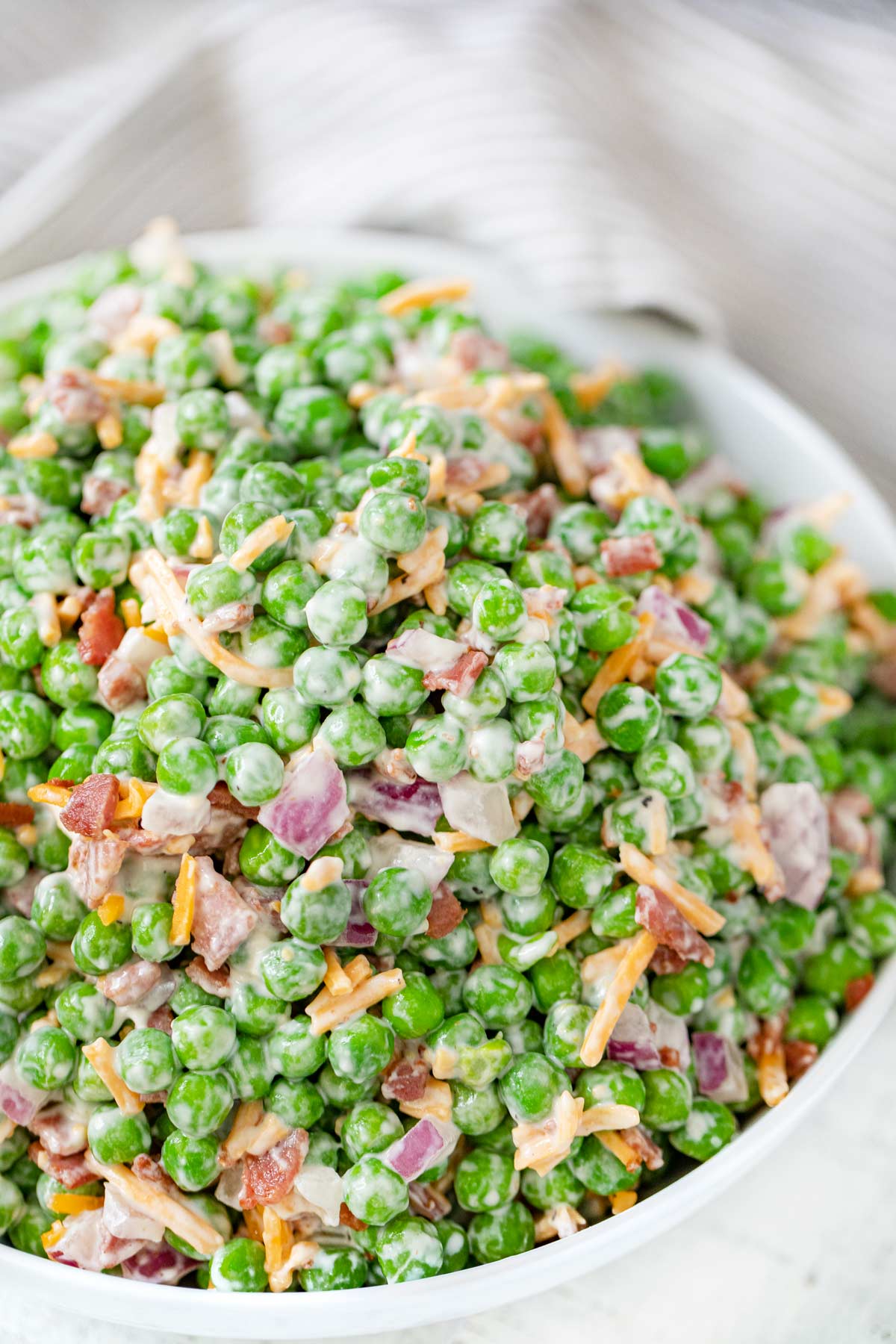 Ingredients
1/4

cup

light mayonnaise

1/4

cup

low-fat plain Greek yogurt

1

teaspoon

apple cider vinegar

1

teaspoon

sugar

1/2

cup

cheddar cheese

, shredded

1/2

teaspoon

Kosher salt

1/4

teaspoon

coarse ground black pepper

4

cups

frozen peas

, thawed

1/4

cup

red onion

, minced

1

cup

celery

, chopped

1/4

cup

turkey bacon

, cooked and minced
Instructions
To make the dressing, in a small mixing bowl, add the mayonnaise, Greek yogurt, vinegar, sugar, salt and pepper and mix until well combined.

In a large serving bowl, add the peas, celery, red onions, bacon and cheese. Top with dressing and mix until well coated.
Nutrition
Calories:
120
kcal
|
Carbohydrates:
13
g
|
Protein:
7
g
|
Fat:
5
g
|
Saturated Fat:
2
g
|
Cholesterol:
11
mg
|
Sodium:
314
mg
|
Potassium:
234
mg
|
Fiber:
4
g
|
Sugar:
5
g
|
Vitamin A:
682
IU
|
Vitamin C:
30
mg
|
Calcium:
74
mg
|
Iron:
1
mg