Roasted Butternut Squash is a simple side dish made in just 30 minutes. It's perfect for Thanksgiving, but easy enough for any weeknight dinner.
When it comes to making healthy vegetables crisp and flavorful, roasting them in the oven is always my favorite way to go. We've done it with Zucchini, Bell Peppers, and even Tomatoes. The result is delicious every time! Now, butternut squash isn't technically a vegetable, but the same cooking method works great for the ultimate baked Side Dish.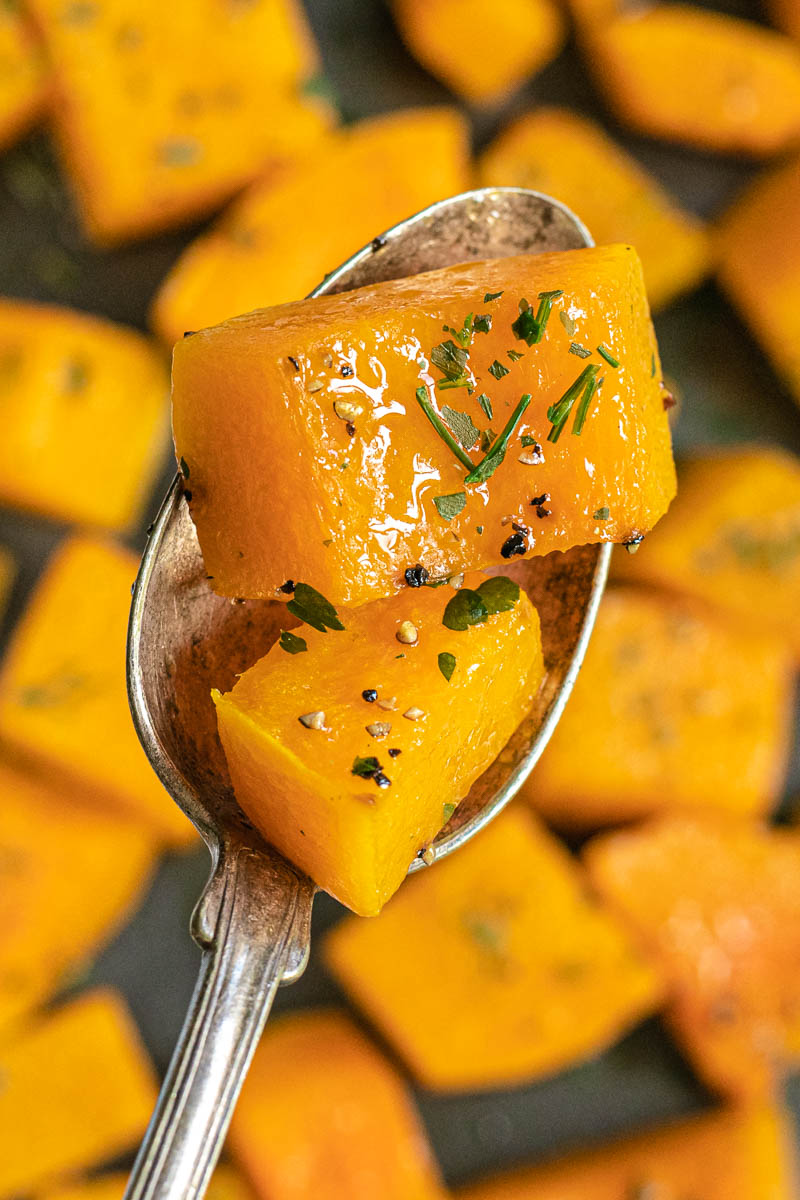 ROASTED BUTTERNUT SQUASH
This Butternut Squash recipe is the perfect healthy side dish to go with any main dish. The earthy, nutty, and slightly buttery flavor make it the perfect complement to spicy and savory dinners. Try roasting butternut squash for a quick and easy side the next time you make comforting family meals like Turkey Chili or Meatloaf.
Butternut Squash is typically enjoyed during the fall and winter months. It's a hearty ingredient that's easy to flavor with your favorite warm spices for a filling and soothing dish like butternut squash soups. This roasted squash recipe is an easy way to get those same comforting flavors in a simpler recipe.
Roasting the butternut squash only takes 30 minutes. All you have to do is toss the butternut squash cubes with oil, then season with salt and pepper. After seasoning, lay the squash in a single layer on a rimmed baking sheet. For easier cleanup, you can line the sheet with parchment paper or foil before adding the squash. Pop the dish in the oven for 22-25 minutes until squash is fork-tender. They'll be slightly crisp on the outside with tender insides and a delicious roasted flavor.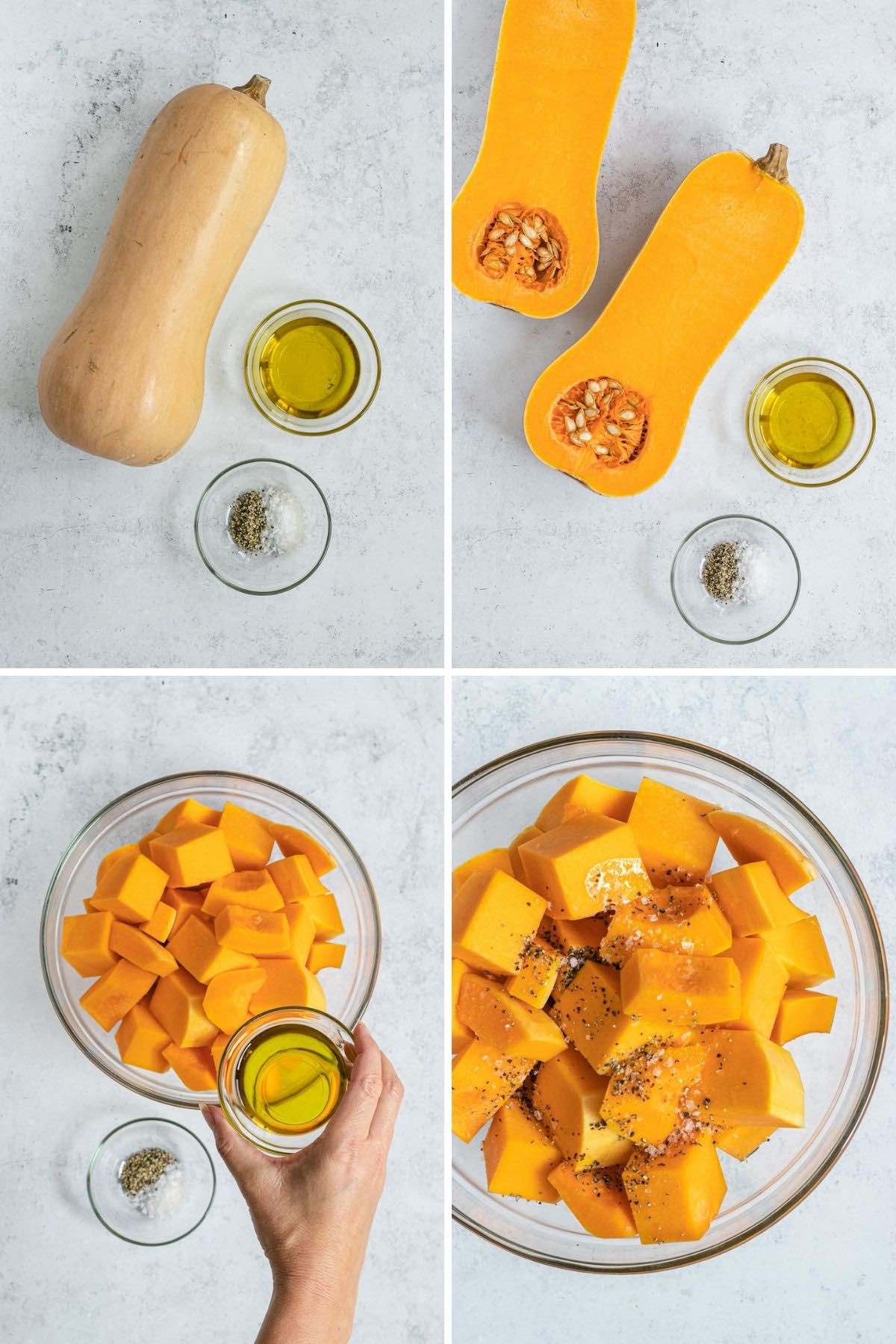 HEALTH BENEFITS OF BUTTERNUT SQUASH
Butternut squash belongs to the winter squash family along with acorn squash, spaghetti squash, and pumpkins. The delicious winter squash makes a great addition to a healthy diet. It's rich in vitamins A, C, E, and B, and is packed with a good amount of fiber. The yellow squash also provides important minerals like calcium, magnesium, and zinc.
The high amount of antioxidants in the squash helps fight diseases. Meanwhile, the high fiber, satisfying taste, and low-calorie count make Roast Butternut Squash a great recipe to aid in weight loss.
MORE EASY VEGGIE RECIPES
HOW TO CUT BUTTERNUT SQUASH
Place the butternut squash on a cutting board, and use a sharp knife to cut the top off. Then slice off the bottom. Discard the stem and the bottom part.
Use a sharp vegetable peeler to remove all the skin. If you prefer squash with skin, you can skip this step.
Slice down the center of squash width-wise, so you have two large butternut squash halves. Then place the squash halves cut-side down on your cutting board and slice each of them vertically.
Use a spoon or ice cream scoop to scoop out any seeds and pulp. Discard the butternut squash seeds.
Now, it's time to cut the delicious squash into cubes. Put the squash pieces flat-side-down on the cutting board. Slice horizontally and then vertically into 1-inch cubes to prepare the squash for roasting.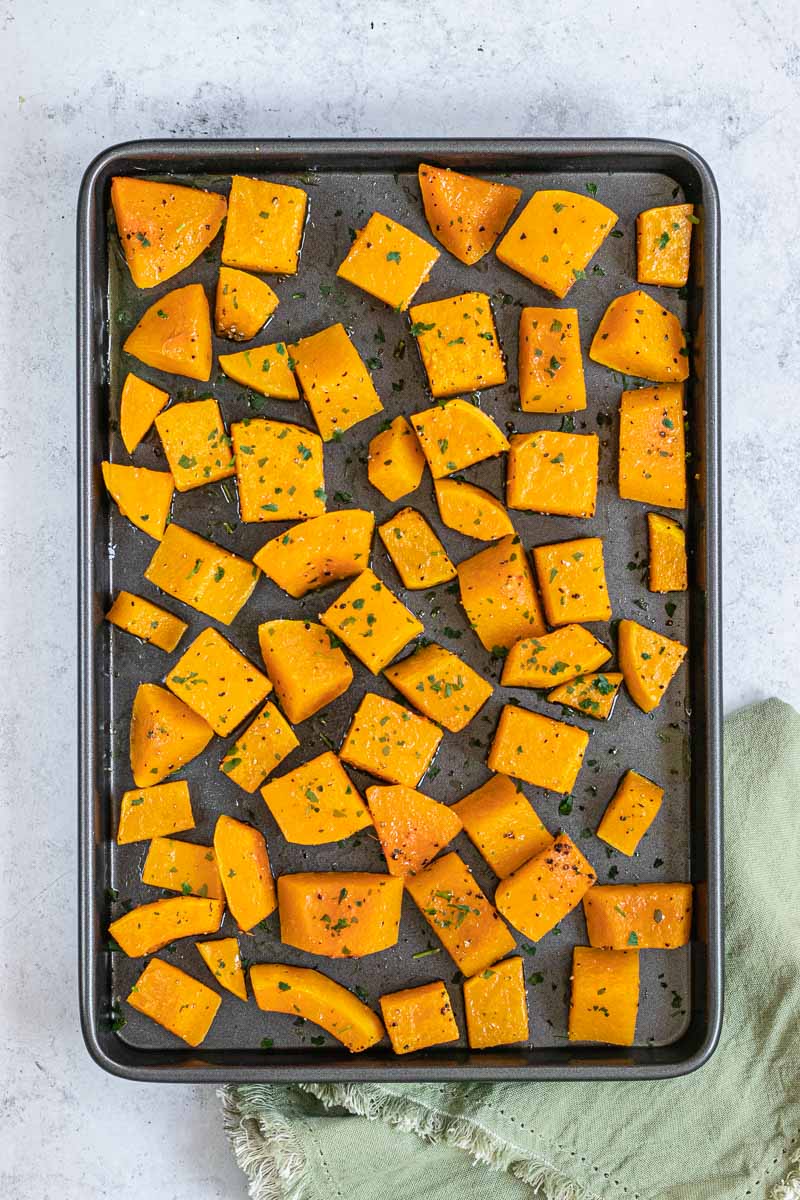 Create a free account to

Save Recipes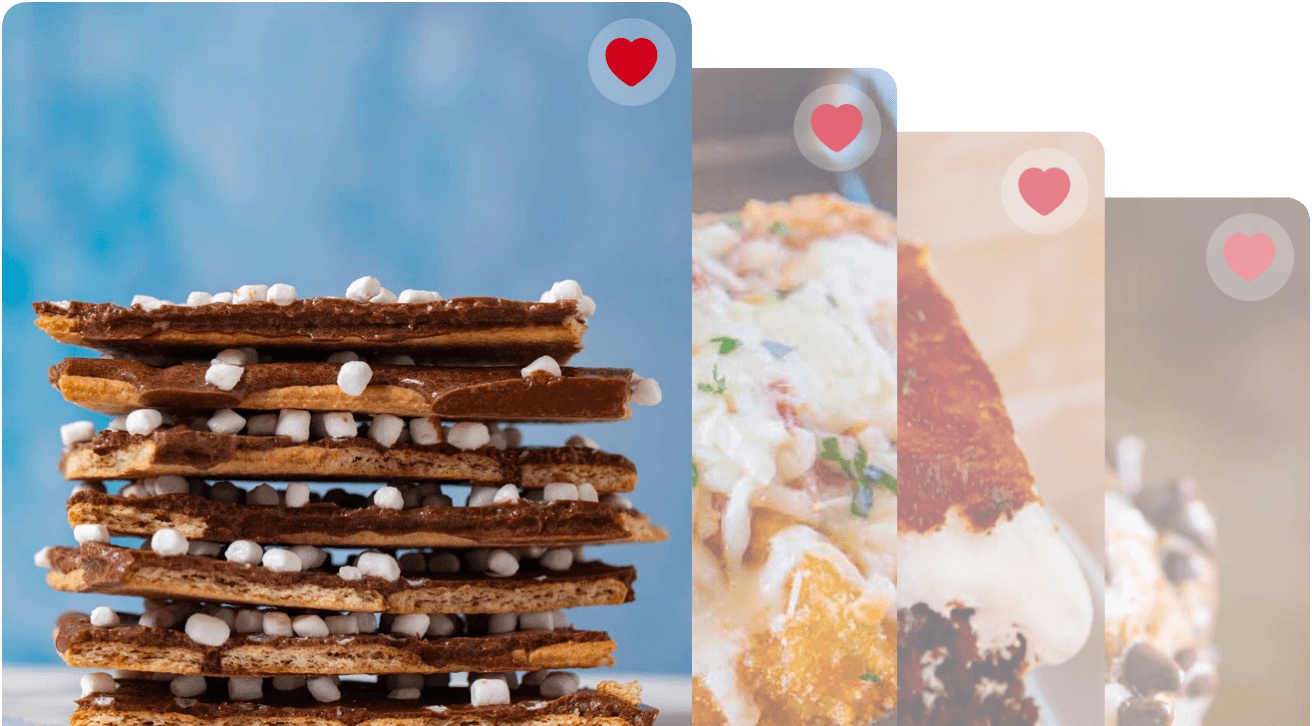 VARIATIONS ON ROASTED BUTTERNUT SQUASH
Sweet Roasted Squash: You can coat the savory squash in maple syrup. The sugar will caramelize while it bakes for a rich, smoky, sweet flavor. Along with the maple syrup, try tossing the squash with cinnamon for a warm, winter spiced taste. Just remember, that a little bit of cinnamon adds a strong cinnamon flavor. ½ teaspoon should be plenty.
Cheese: A different way to add some extra flavor is to sprinkle shredded cheese over the cubed squash. Parmesan, mozzarella, cheddar, or feta would all add lots of delicious flavors.
Seasonings: One more way to add extra layers of flavor is with different seasonings. We've only used salt and pepper in this recipe, but you can try lots of other herbs and spices. For a bold garlic taste, toss minced cloves garlic with the squash or sprinkle garlic powder over the coated squash. Some other seasonings that would taste great are paprika, ginger, rosemary, nutmeg, parsley, oregano, or red pepper flakes.
Veggies: Although, squash is technically a fruit it's prepared as a vegetable dish. So, if you want to add some more variety you can roast other vegetables along with the squash. Try adding sweet potatoes, cauliflower, carrots, or onion to the sheet pan.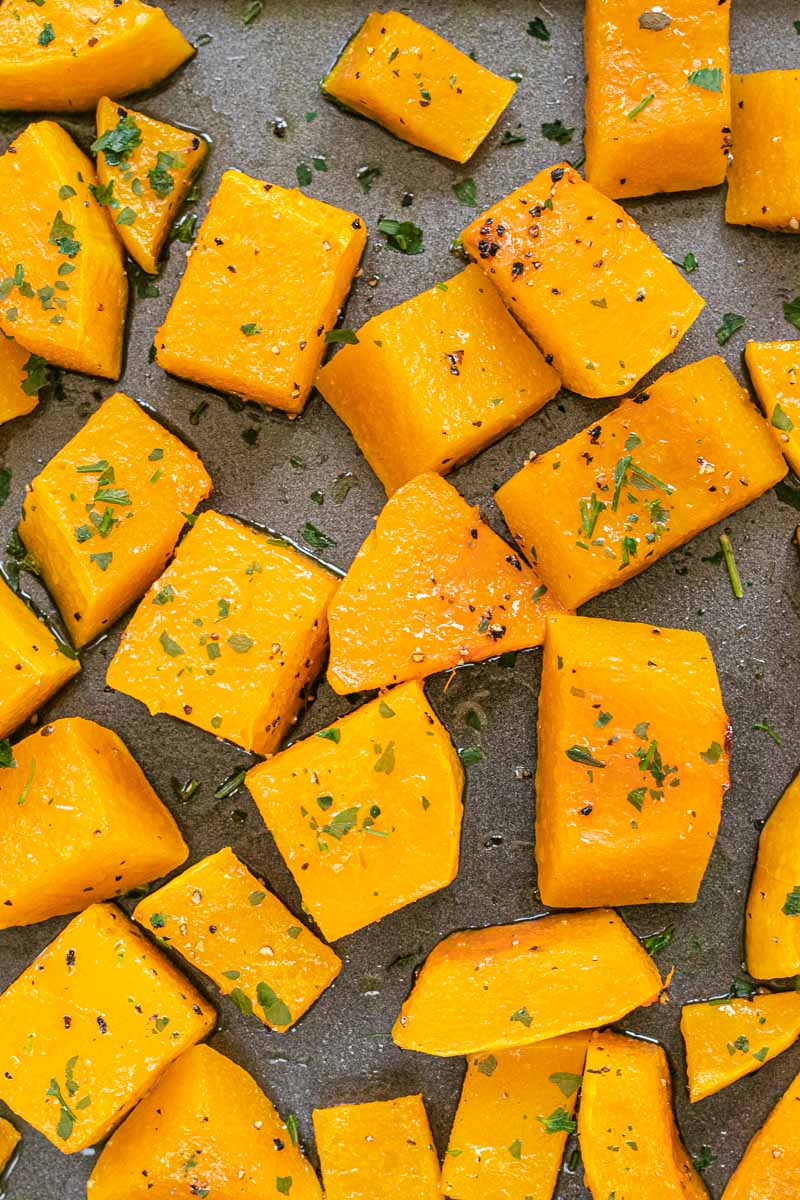 MORE HEALTHY SIDE DISHES
HOW TO STORE ROASTED BUTTERNUT SQUASH
Serve: To make sure it stays fresh, don't leave the squash out for more than 2 hours after the roasting time.
Store: Let the cooked butternut squash cool down completely before you transfer it to an airtight container. It'll stay good in the fridge for 3-4 days.
Freeze: You can also seal the squash to store in the freezer. Frozen squash can stay good for 3 months.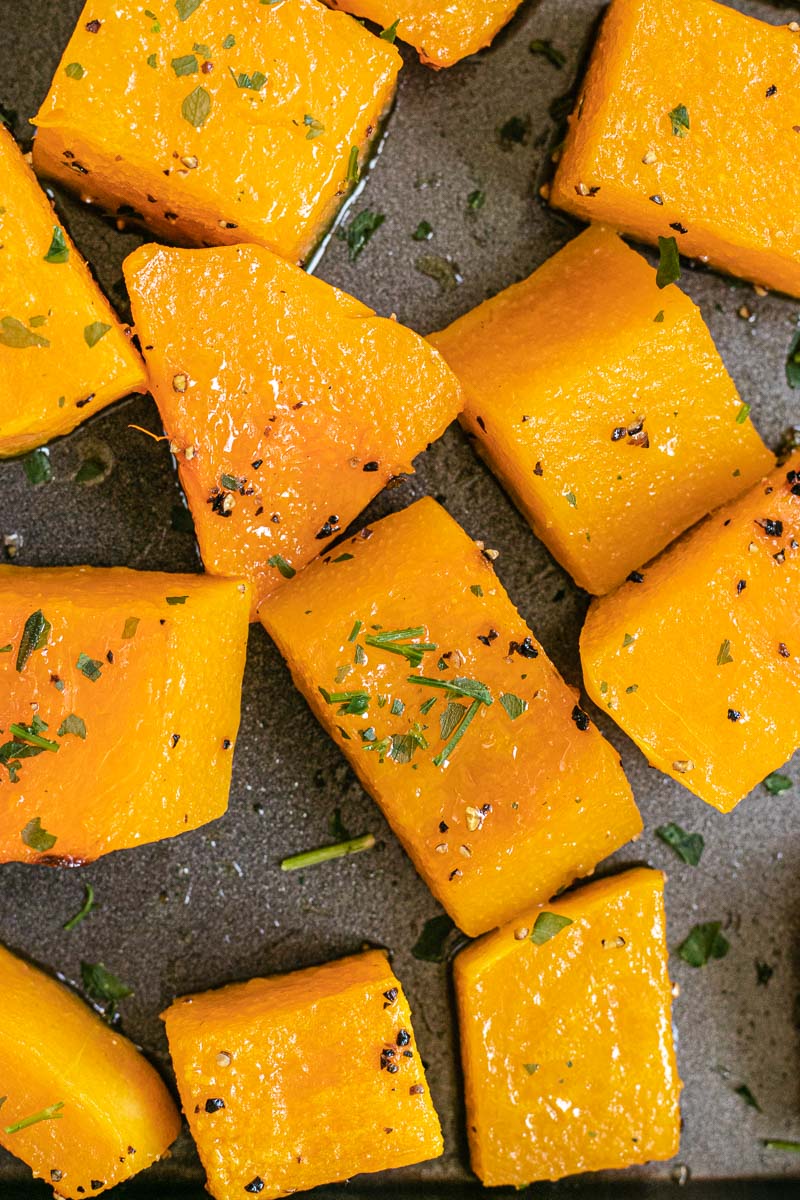 Ingredients
1

butternut squash

, cut into 1" cubes

2

tablespoons

olive oil

1

teaspoon

kosher salt

½

teaspoon

coarse ground black pepper
Instructions
Preheat oven to 400 degrees and spray a baking sheet with vegetable oil spray.

In a large bowl, toss squash with olive oil, kosher salt, and black pepper.

Spread the squash out in an even layer on a baking sheet.

Bake for

25 to 30 minutes

or until fork-tender.
Nutrition
Calories:
98
kcal
|
Carbohydrates:
15
g
|
Protein:
1
g
|
Fat:
5
g
|
Saturated Fat:
1
g
|
Polyunsaturated Fat:
1
g
|
Monounsaturated Fat:
3
g
|
Sodium:
393
mg
|
Potassium:
442
mg
|
Fiber:
3
g
|
Sugar:
3
g
|
Vitamin A:
13288
IU
|
Vitamin C:
26
mg
|
Calcium:
61
mg
|
Iron:
1
mg