Hummus Slaw is a creamy, healthy, protein filled crunchy coleslaw that you make in 5 minutes that's the perfect unique summer side dish!
Light Summer Side Dish Recipes like this coleslaw are perfect for cookouts and picnics. This hummus slaw is the a flavorful twist on classic Healthy Coleslaw that you and all your guests will love!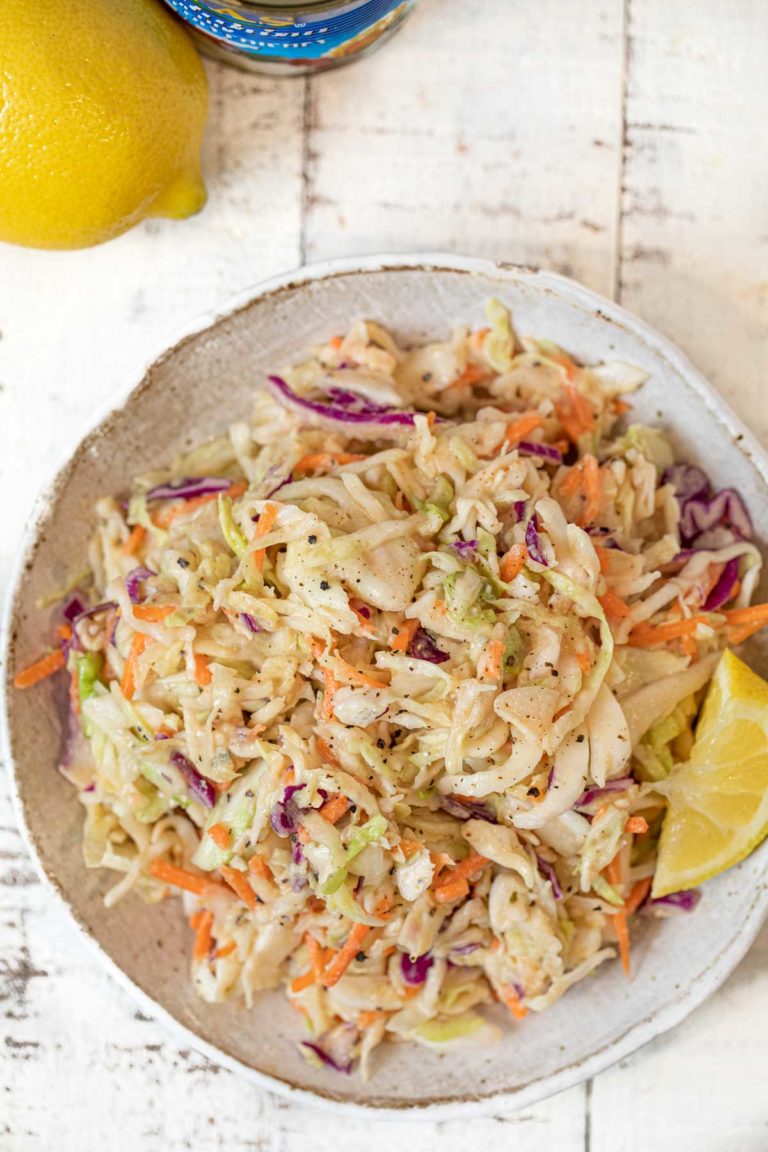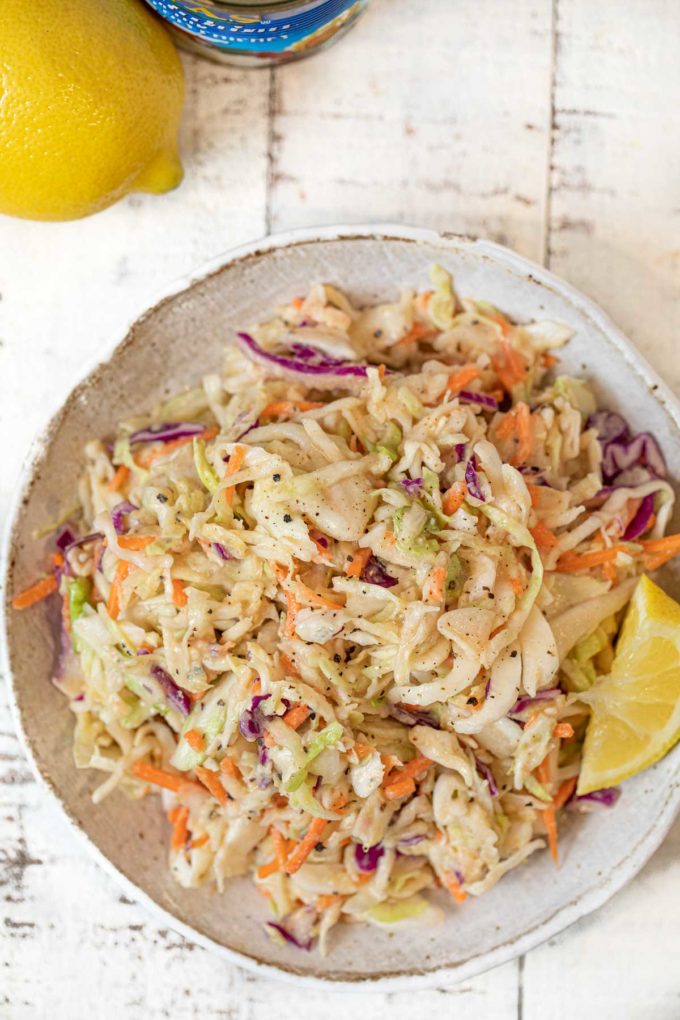 HUMMUS SLAW
This creamy Hummus Coleslaw is so easy to make it's sure to become a favorite side dish for when you don't have time to cook. Just throw the ingredients together in a matter of minutes then leave it in the fridge until dinner. It's perfect to top a Greek Salad or serve with Falafel Crusted Chicken.
Hummus instead of Mayo
If you love coleslaw, but feel like it's too unhealthy of a recipe to indulge in then this light Hummus Slaw is the recipe for you. Instead of using mayonnaise like many Cole Slaw recipes do, this one uses hummus. The hummus in the recipe creates a similar creamy texture to mayonnaise, but with new and nutritious flavors.
Hummus is made of chickpeas, which gives the recipe a wonderful nutty and garlicky flavor. Hummus is also a rich source of vitamins and fiber.
When it comes to the coleslaw mix, you can find plenty of store-bought mixes. But if you have fresh cabbage and would like to make your own fresh mix it's very easy. Just shred a mix of red cabbage and green cabbage. Be sure to remove the outer leaves first. Add some thinly sliced celery and carrots and toss together.
MORE HEALTHY SIDE DISHES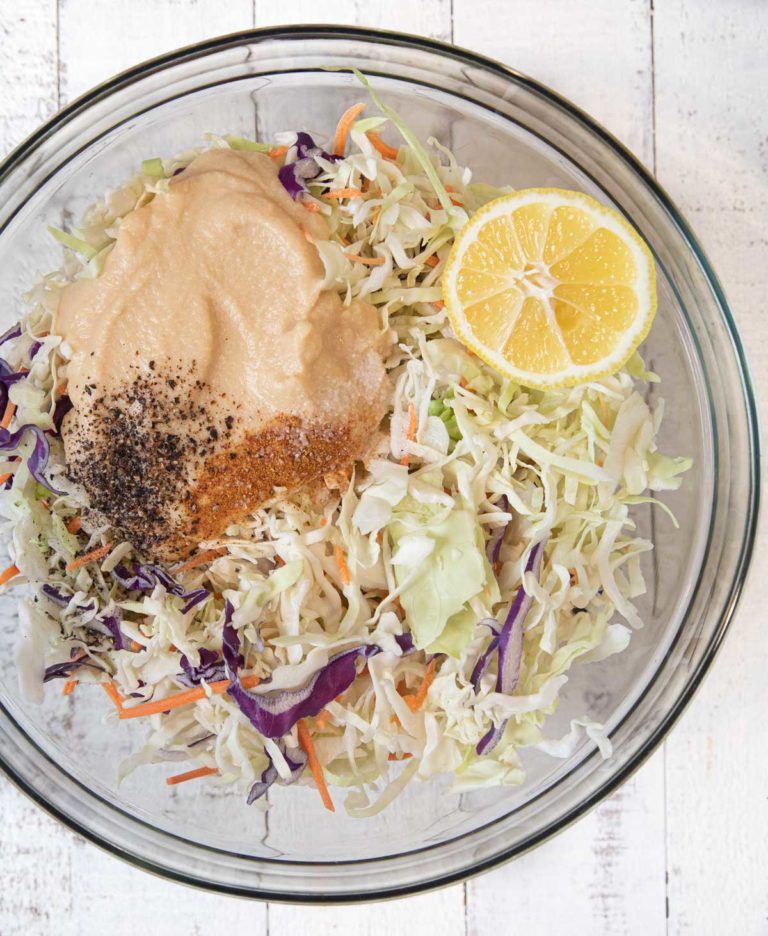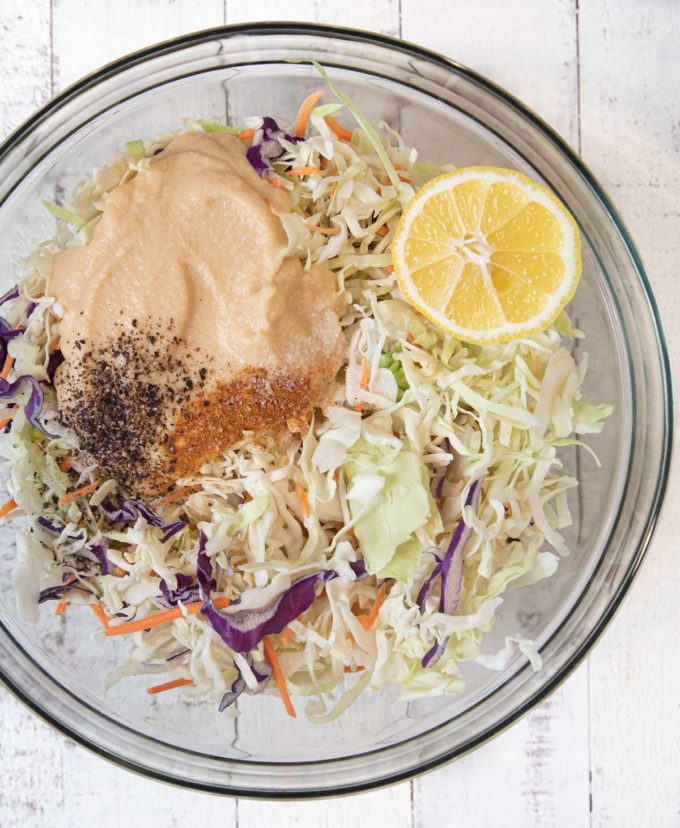 Create a free account to

Save Recipes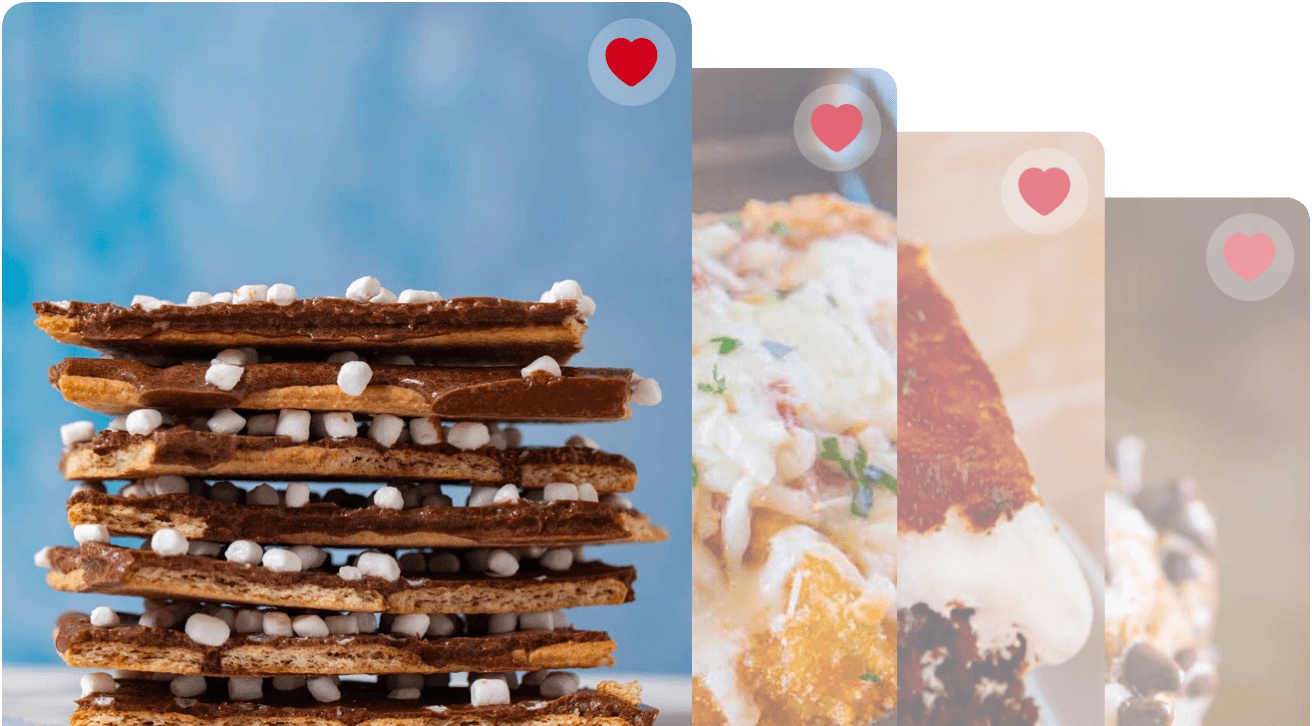 VARIATIONS ON HUMMUS SLAW
Add-ins: There are so many veggies, spices and other additions you can make to this recipe. Try adding some minced garlic cloves, thinly sliced red onions, coarsely chopped celery, or pepperoncini. Add a teaspoon of oregano or black pepper. If you'd like a cheese topping crumble some feta cheese on top before serving.
Greek Yogurt slaw: To make the coleslaw recipe even more rich and creamy you can add Greek Yogurt. Try mixing half the hummus the recipe calls for with half Greek Yogurt for the dressing.
Greek Coleslaw: Easily turn this recipe into a delicious Greek Coleslaw with classic flavors and ingredients from Greece. Add ⅓ cup sliced red onions, ½ cup feta, replace the water with extra virgin olive oil, and add 3 tablespoons red wine vinegar. Add spices like garlic, oregano, thyme, and rosemary to taste, and stir the dressing with the coleslaw mix. Add in kalamata olives if desired and crumble extra feta cheese over it before serving.
WHAT TO SERVE HUMMUS SLAW WITH
HOW TO STORE HUMMUS SLAW
Serve: You shouldn't leave your Hummus Coleslaw out at room temperature for more than two hours, or the cabbage will begin to wilt.
Store: Put plastic wrap over the coleslaw or put it in an airtight container to store it in the fridge. Coleslaw will stay good for 3-5 days. When you're ready to eat the leftovers you can serve it as is, or add extra shredded cabbage and veggies for a fresh crunch.
Freeze: To freeze coleslaw keep the vegetables separate from the hummus dressing. Seal in airtight containers and freeze for up to 4 months. When you're ready to enjoy the coleslaw salad let the dressing and vegetables defrost in the fridge and mix before eating.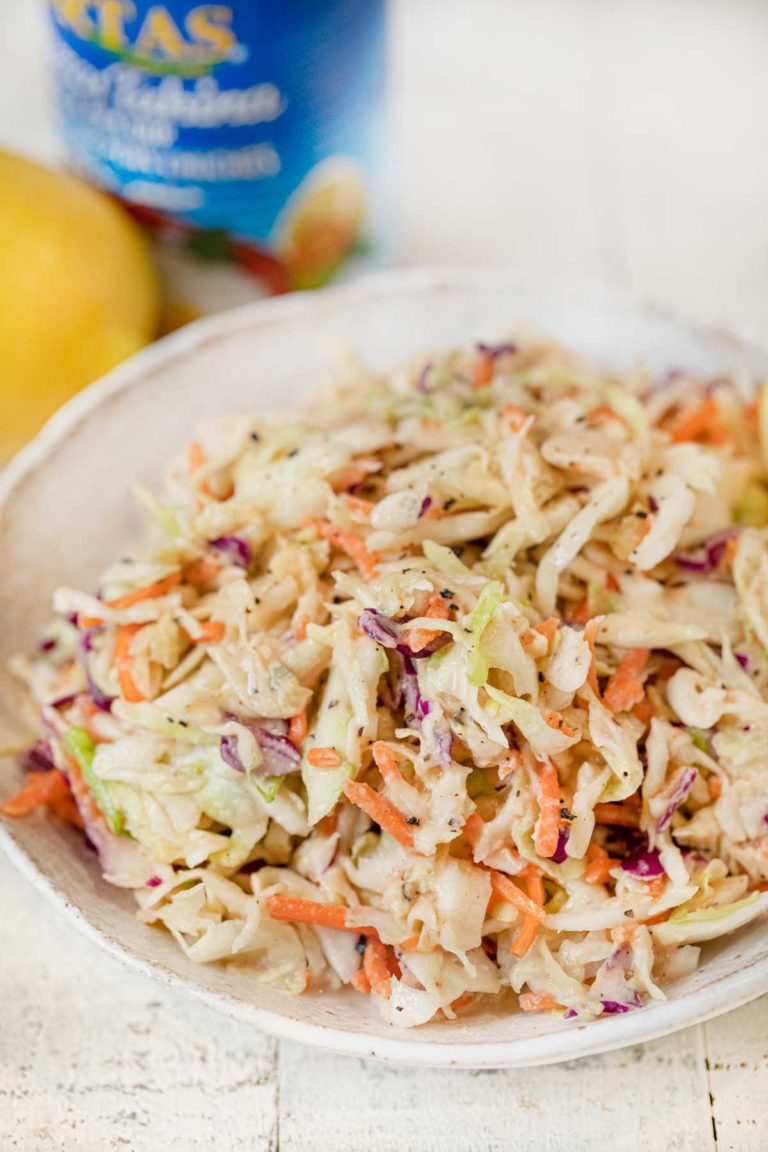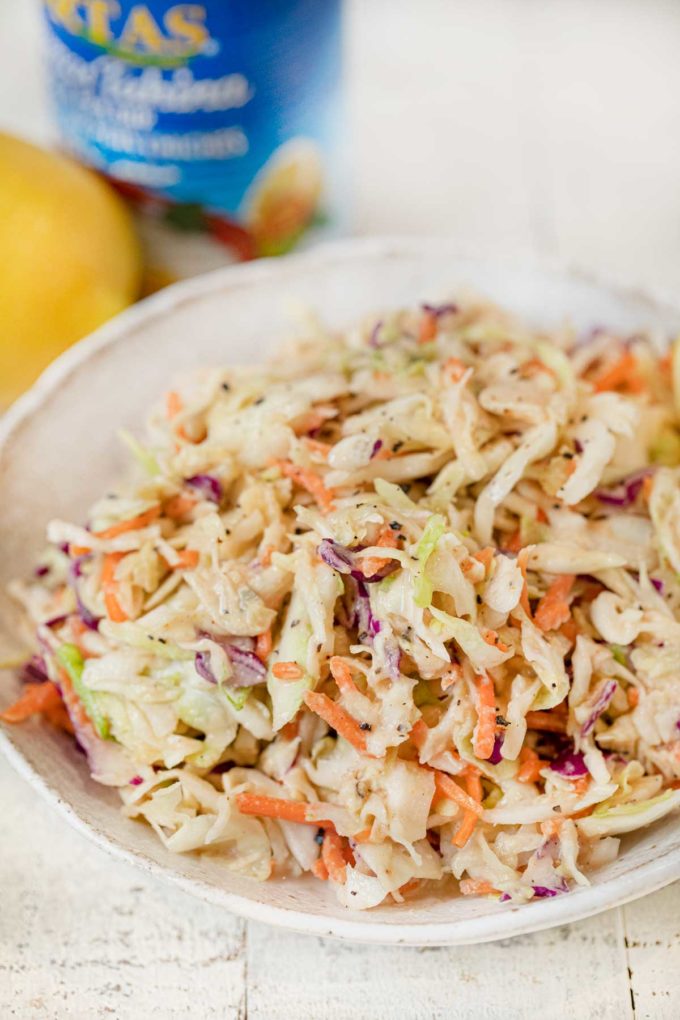 Ingredients
1/3

cup

hummus

2

tablespoons

water

2

tablespoons

lemon juice

1/4

teaspoon

kosher salt

1/4

teaspoon

cayenne

1/4

cup

parsley

, chopped

16

ounces

Coleslaw mix
Instructions
In a large bowl whisk together hummus, water, lemon juice, salt and cayenne pepper until smooth.

Add in the parsley and cabbage mix and toss well to combine.

Refrigerate for at least

2 hours

to soften the cabbage.
Nutrition
Calories:
44
kcal
|
Carbohydrates:
7
g
|
Protein:
2
g
|
Fat:
1
g
|
Saturated Fat:
1
g
|
Sodium:
164
mg
|
Potassium:
174
mg
|
Fiber:
3
g
|
Sugar:
3
g
|
Vitamin A:
319
IU
|
Vitamin C:
33
mg
|
Calcium:
39
mg
|
Iron:
1
mg