Roasted Tomatoes are an easy healthy side dish bursting with flavor. Roma tomatoes with olive oil, basil and oregano then roasted quickly in the oven!
Roasting vegetables is a great way to make them crisp, and flavorful. If you love this baked Side Dish, be sure to look at other roasted veggies like Roasted Red Onions and Parmesan Roasted Vegetables next.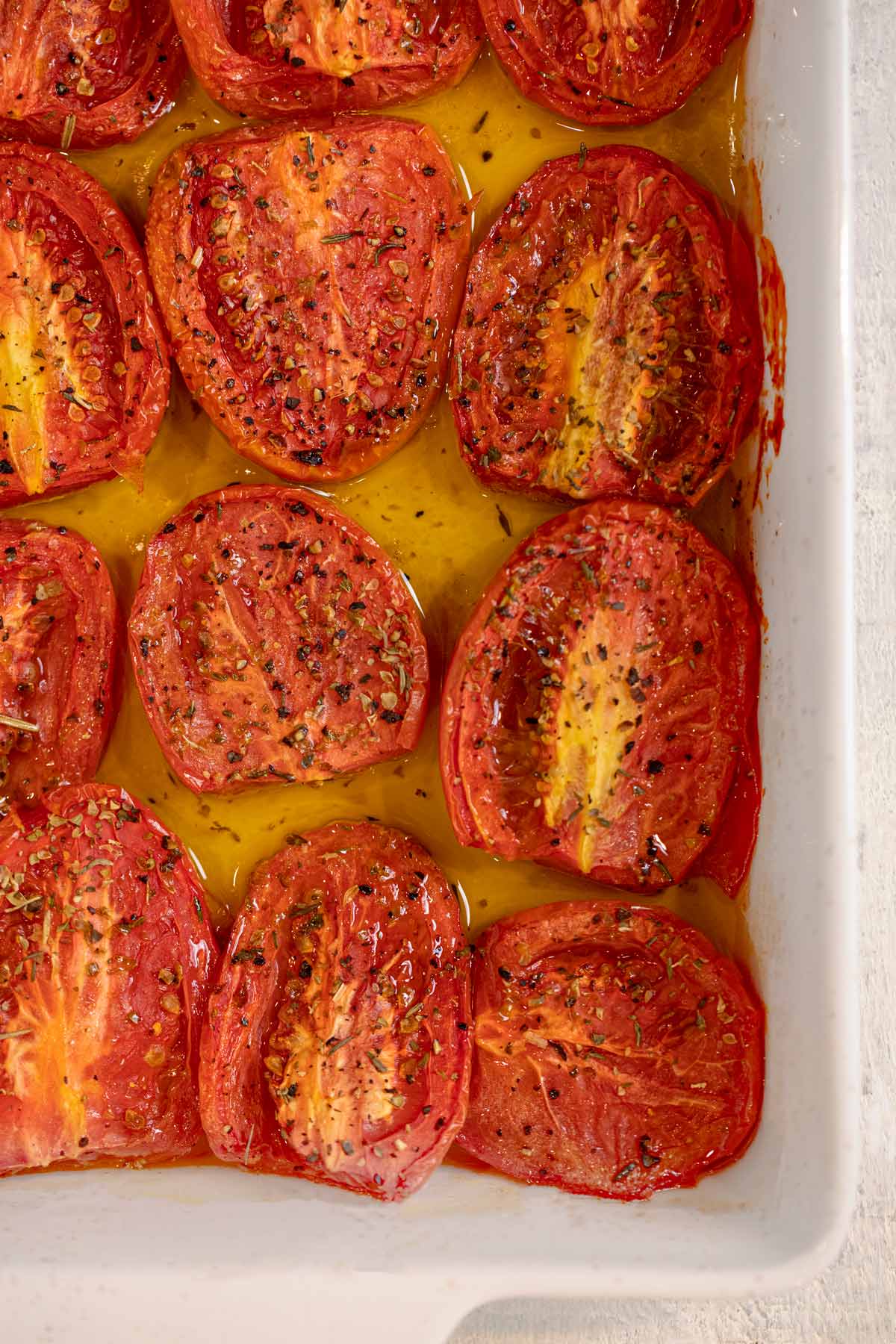 ROASTED TOMATOES
Baking tomatoes is a refreshing and delicious way to serve a classic side. Roasted tomatoes have a different texture to fresh tomatoes that is more crisp. Once you bake them in the oven the tomatoes become slightly caramelized and absolutely irresistible. Baking the tomatoes also helps them to absorb the flavors of basil, oregano, pepper, and other seasonings. It's a simple recipe with a taste that makes a perfect compliment to dinners like Balsamic Chicken or Spicy Garlic Salmon and Tomatoes.
Along with the taste Roast Tomatoes are also gluten-free, and a great source of vitamins and antioxidants. Plus, the cheese over the top of the tomatoes adds a little bit of protein to the dish.
WAYS TO SERVE ROASTED TOMATOES
There are so many ways to serve this tomato recipe. Baked Tomatoes are an excellent appetizer on their own, but they make a delicious compliment to other recipes. One of the most obvious and delicious ways of serving Roasted Tomatoes is over pasta. Mix the Baked Tomatoes into the sauce, or place them over top of the pasta before serving. It's an excellent pairing with the dish and has a similar texture to sun-dried tomatoes.
Another way to enjoy Roasted Tomatoes is over toast. Place the tomatoes over a crisp piece of toast with fresh herbs and eat it like bruschetta. This is a perfectly healthy mid-afternoon snack or appetizer.
Some other options are enjoying these tomatoes over a low-carb salad, in salsa, tomato sauce, or even using them to add texture to a creamy tomato soup.
MORE SIDE DISHES
QUICK TIPS FOR ROASTING TOMATOES
Oven Roasted Tomatoes are easy and quick to make. Many tomatoe recipes are for slow-roasted tomatoes. To make them slow-roasted the tomatoes are usually baked for over an hour. This recipe gets the same results, and the total time is 20 minutes! Here are just a few tips to make the process even more smooth:
Slice the fresh tomatoes in half lengthwise and remove the seeds. The easiest way to seed tomatoes is to use a very small spoon (¼ of a teaspoon works best) and simply scoop out the seeds.
Once the tomatoes are seeded toss them with the extra virgin olive oil and seasoning. Make sure the tomatoes are evenly coated.
When you lay the tomatoes out on the sheet pan do it in a single layer with the cut side facing up.
To make cleanup easier use a foil-lined baking sheet.
Use the tomato juice/olive oil mixture left over to toss with pasta or make into a salad dressing.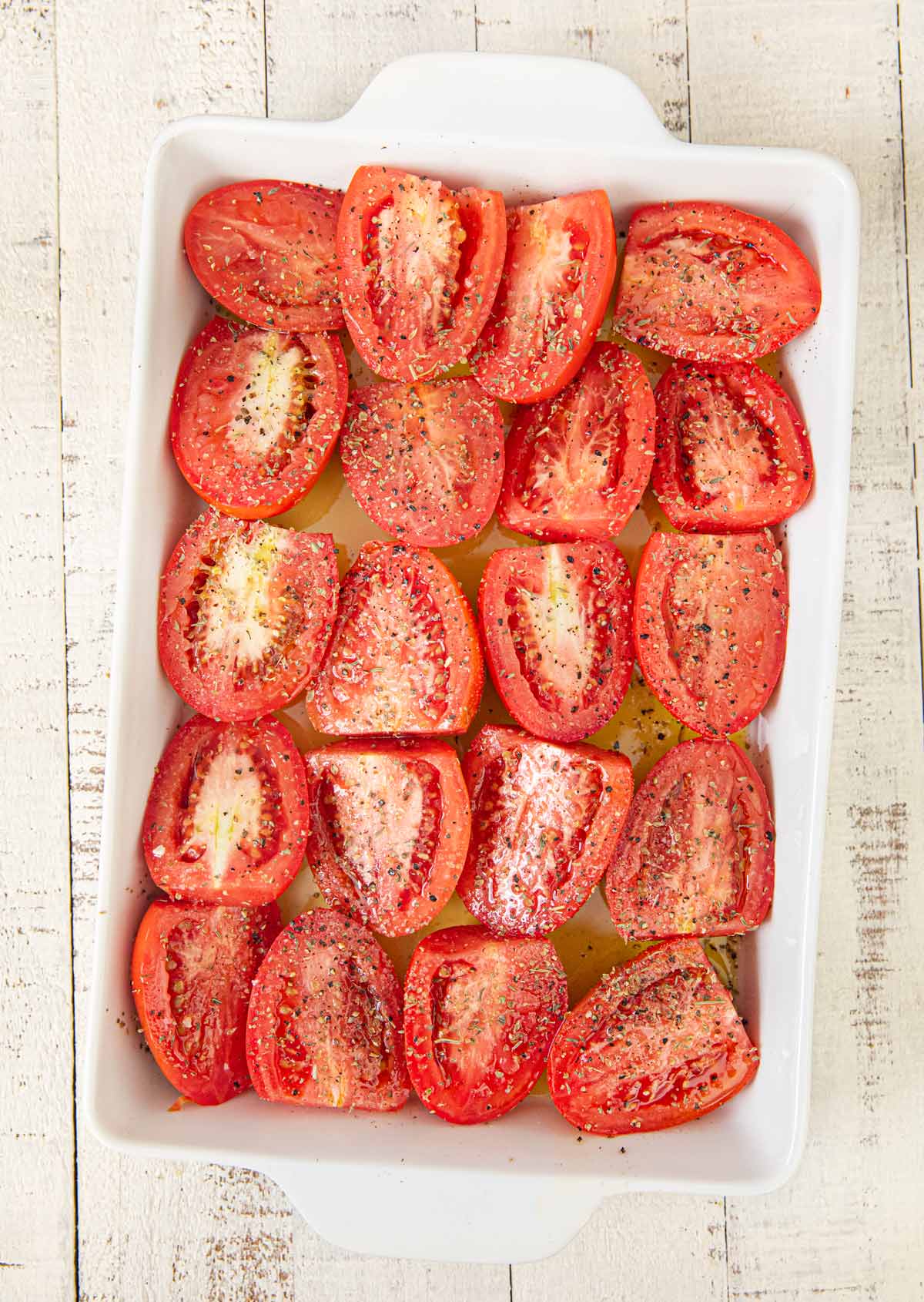 Create a free account to

Save Recipes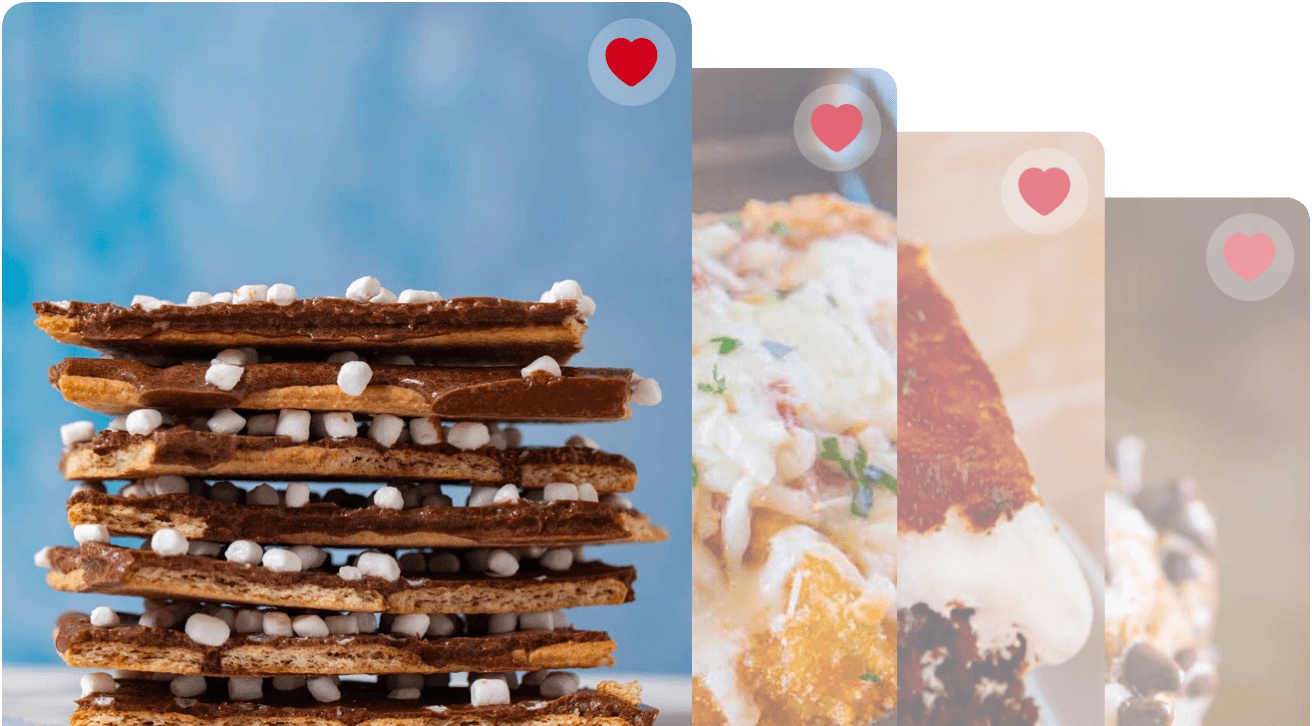 VARIATIONS ON ROASTED TOMATOES
Roasted Cherry Tomatoes: Most fresh tomatoes will work fine for baked tomatoes. An easy exchange for Roma tomatoes is using cherry tomatoes. Prepare and bake the cherry tomatoes exactly the same as you would Roma. Grape tomatoes also make an easy swap.
Dairy-Free: To make Oven Roasted Tomatoes dairy-free, the only change you have to make is removing the feta cheese. If you'd like there to be more flavor without the dairy try adding bread crumbs. Sprinkle panko breadcrumbs over the tomatoes the same way you would feta. They'll become browned and crispy in the oven.
Baked Parmesan Tomatoes: Feel free to swap the feta in this Roasted Tomatoes recipe for parmesan. Freshly grated Parmesan Cheese will taste best, but any will do nicely. You can also try other kinds of cheese like mozzarella or combine a few cheeses.
More flavoring: There are so many flavors you can add the next time you make this recipe. Try tossing the tomatoes with fresh thyme, or red pepper flakes. You can also add a tablespoon of balsamic vinegar to the olive oil mixture.
MORE HEALTHY ITALIAN DISHES
HOW TO STORE ROASTED TOMATOES
Serve: After you bake this tomato recipe, don't leave it out for more than a few hours.
Store: Storing Oven Roasted Tomatoes in the fridge will help them keep their texture longer. Stored in an airtight container, they'll last 3-5 days. Make sure they are cooled to room temperature before you store them in the fridge.
Freeze: To keep Oven Roasted Tomatoes longer, store them in the freezer for up to 10 months. Put them in a freezer bag in layers separated by parchment paper so they don't stick together.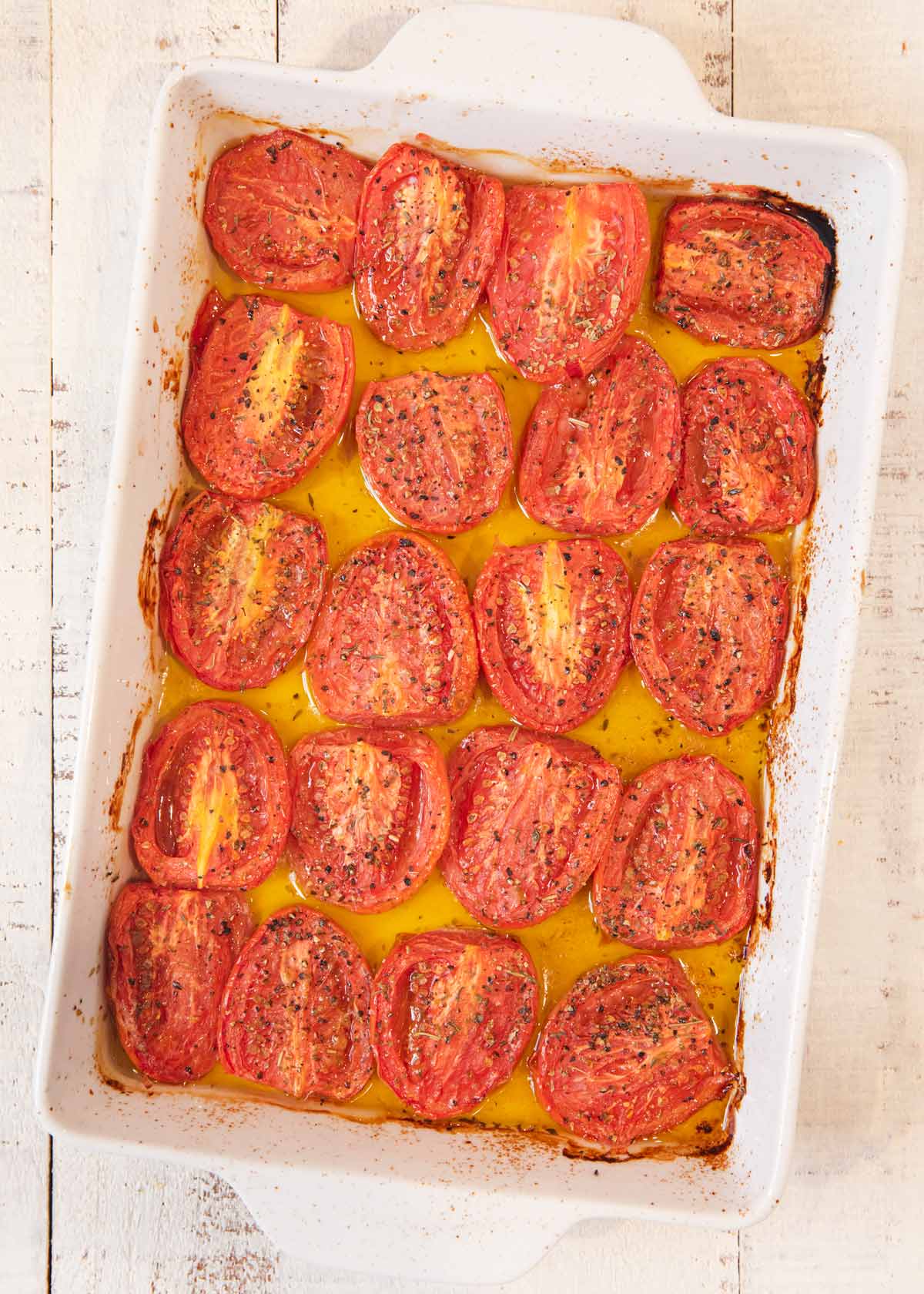 Ingredients
8

roma tomatoes

, cut in half

2

tablespoons

extra-virgin olive oil

1

teaspoon

dried basil

1

teaspoon

dried oregano

1

teaspoon

Kosher salt

1/2

teaspoon

coarse ground black pepper
Instructions
Preheat oven to 375 degrees.

Toss together the tomatoes, olive oil, basil, oregano, salt and pepper in a large bowl gently.

Put the tomatoes cut side up in a 9x13 baking dish.

Roast tomatoes in the oven for

15-20 minutes

until they're slightly wrinkled and dry on top.
Nutrition
Calories:
71
kcal
|
Carbohydrates:
4
g
|
Protein:
2
g
|
Fat:
6
g
|
Saturated Fat:
2
g
|
Cholesterol:
8
mg
|
Sodium:
399
mg
|
Potassium:
161
mg
|
Fiber:
1
g
|
Sugar:
2
g
|
Vitamin A:
556
IU
|
Vitamin C:
9
mg
|
Calcium:
60
mg
|
Iron:
1
mg