Chickpea Salad is a refreshing healthy side dish with chickpeas, onion, bell pepper, red pepper flakes, and light vinaigrette dressing.
Chickpeas or garbanzo beans are a key ingredient in so many excellent Salad Recipes. If you love this Garbanzo Bean Salad try others like Greek Chickpea Salad or Chickpea Sweet Potato Kale Salad.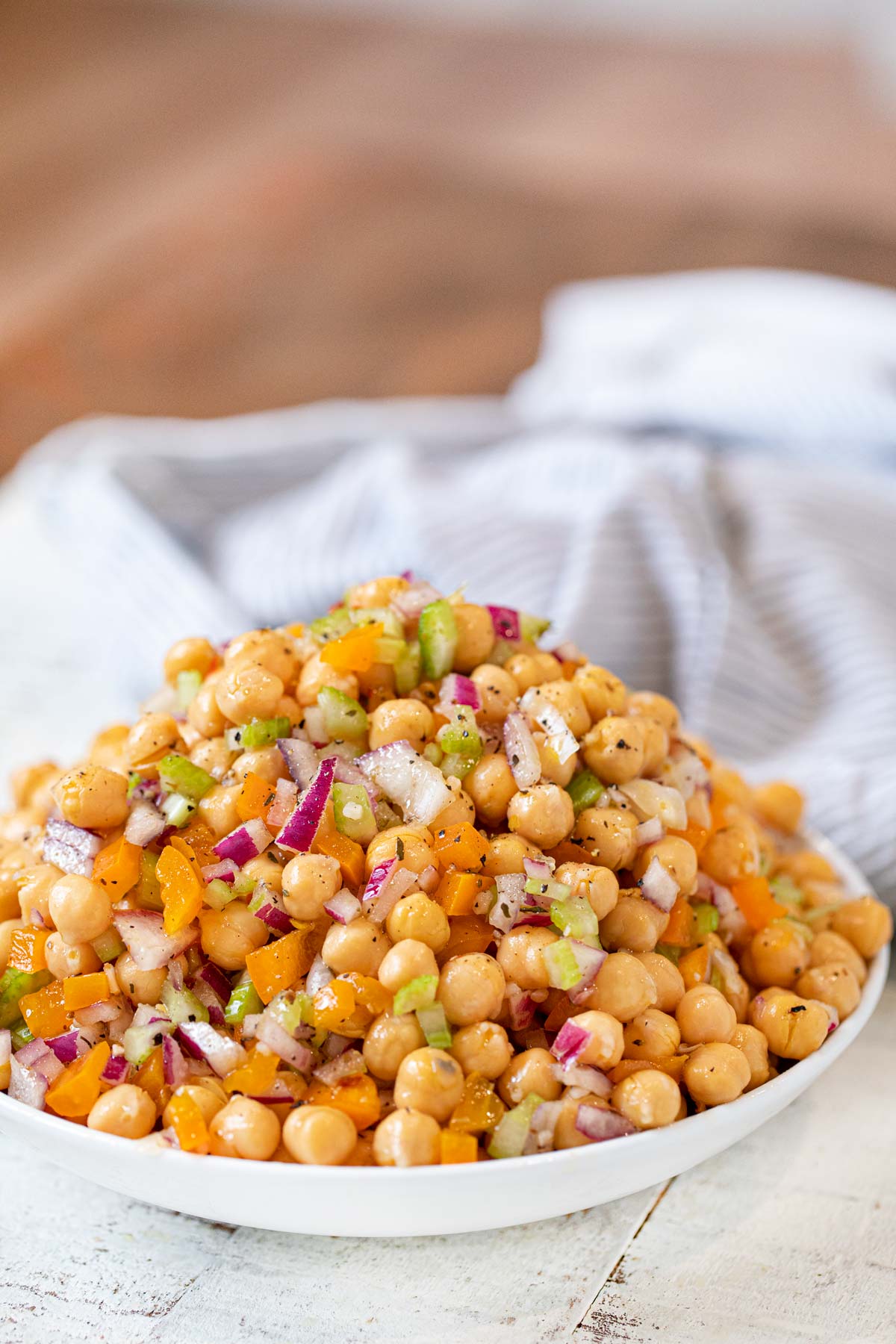 CHICKPEA SALAD
Chickpea Salad makes an easy, light lunch, or side dish for your next BBQ. Just like Healthy Coleslaw or Skinny Deviled Egg Potato Salad, this is a cool dish that you can store in the fridge, and bring out as a delicious side. Easy Chickpea Salad also makes a great main dish for anyone on a vegetarian or vegan diet. The chickpeas provide lots of protein that you need in your diet.
Make Chickpea Salad one of your go-to recipes for packed lunches. It's easy to make-ahead. It's a filling meal that you don't have to heat up. Cover and store the Chickpea Salad in the fridge for a few days. Before heading out the door put some of the salad into a serving-sized container and take it on the go.
This delicious and crisp salad can be ready in minutes. It's a simple matter of whisking together the dressing. The red pepper flakes make the simple dressing wonderfully spicy, which goes perfectly with the other fresh ingredients. Once the dressing is prepped all you have to do is chop the veggies and mix them together with the chickpeas. Add the spicy dressing over the salad and toss it all together.
MORE CHICKPEA RECIPES
HEALTH BENEFITS OF CHICKPEAS
This unbelievably flavorful Chickpea Salad is gluten-free, dairy-free, and low-fat. It's also very filling because the garbanzo beans pack it with protein. Because they're so filling and healthy chickpeas also assist with weight loss. They're a rich source of vitamins, minerals and fiber. The fiber in the chickpeas make them great for digestion.
Along with the health benefits of the beans the other ingredients in this recipe are light and healthy. The bell pepper and celery are low in calories and bring extra vitamins and flavor to the garbanzo beans. To top it all off the dressing for this light bean salad is a dairy-free vinaigrette with an olive oil base.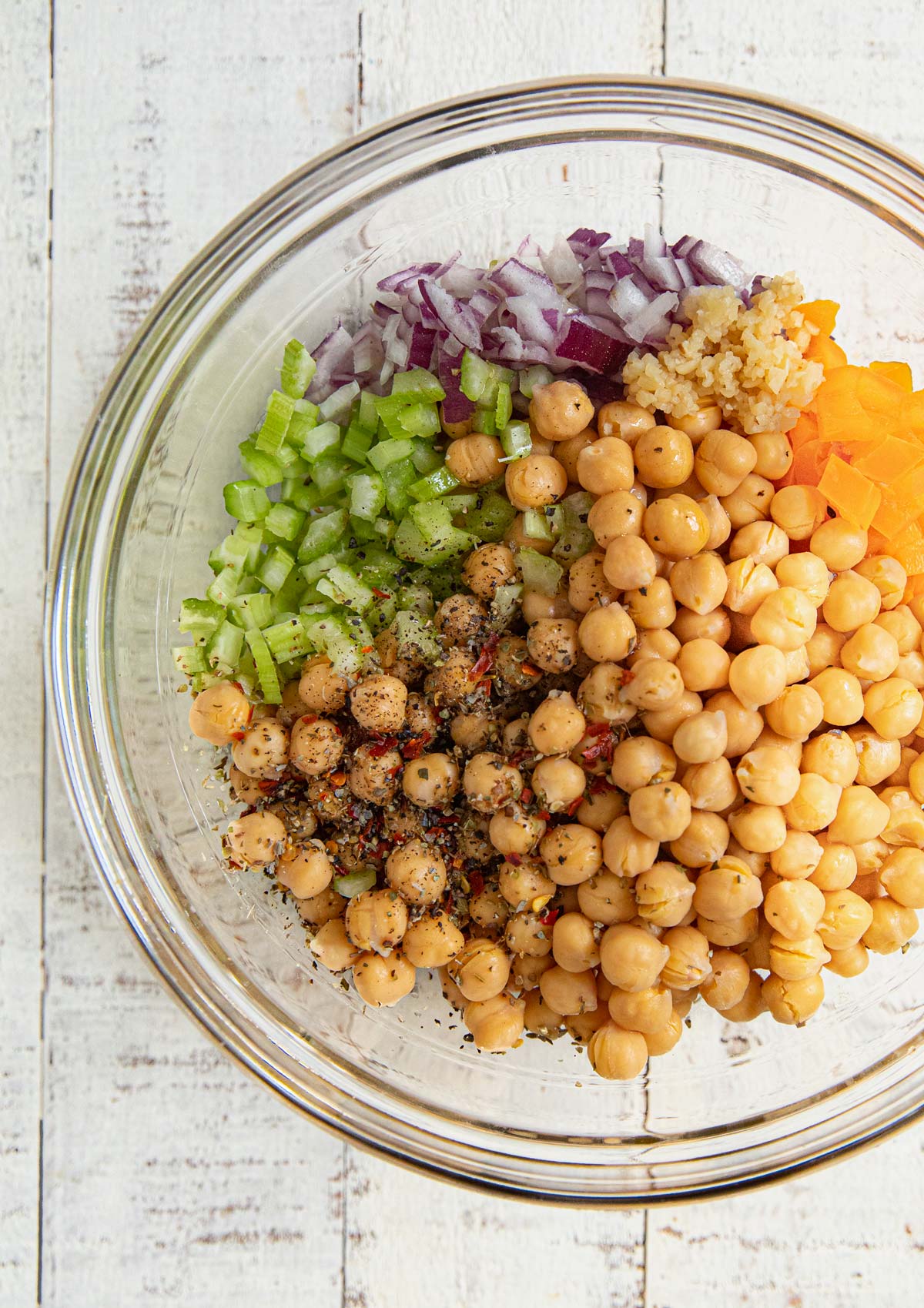 Create a free account to

Save Recipes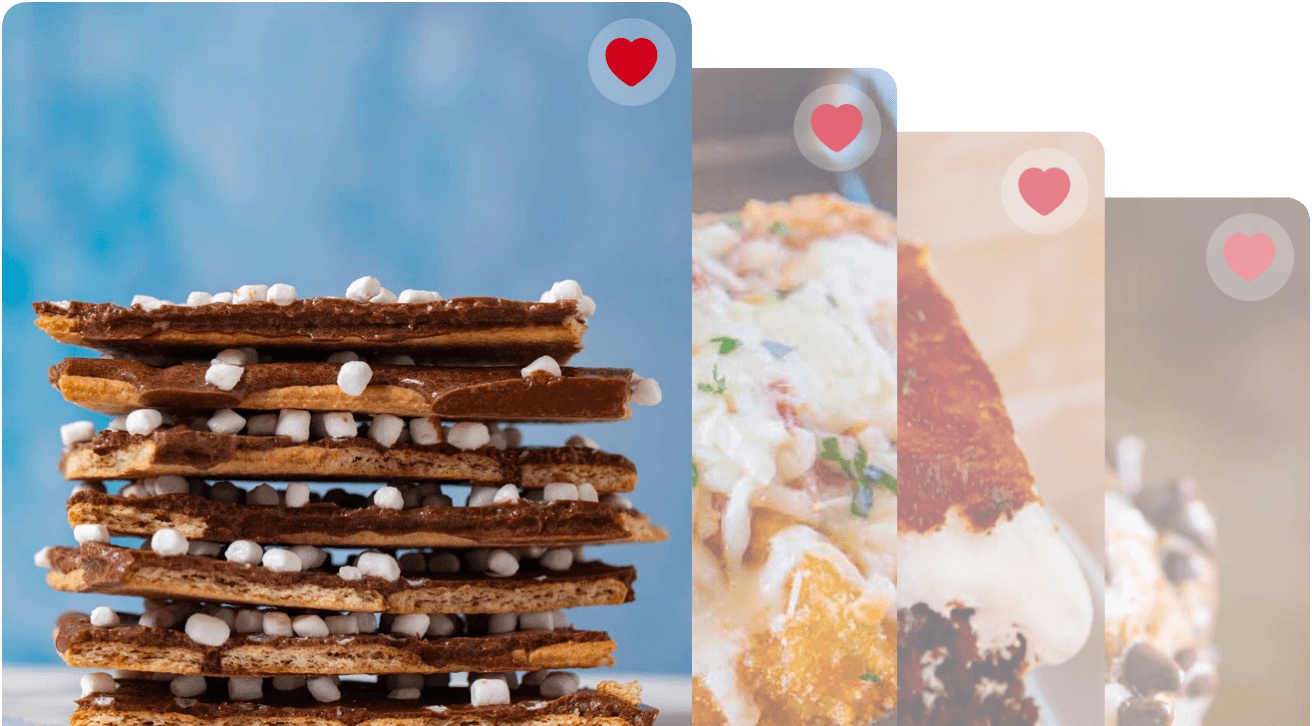 VARIATIONS ON CHICKPEA SALAD
Add-ins: One of the great things about this easy Chickpea Salad is how many other ingredients you can add to it. The next time you make it try experimenting with the ingredients by adding more veggies, or other toppings. Some good ones are chopped cucumber, grape tomatoes, or olives. You can also add some cheese like crumbled feta to the top of the salad. Another fun addition is to slice some avocado and place it over the top. This will make a delicious and creamy addition to the recipe.
Lemon Dressing: There are plenty of delicious flavors you can add to the dressing, but one that goes great with the flavors of this salad is lemon. Make a dressing with a slight taste of lemon by adding the juice from half of a lemon to vinegar, oil, garlic, crushed red pepper, salt and pepper mixture. If you'd prefer to emphasize the lemon juice more, you can remove the more overpowering flavors from the garlic and red pepper, or decrease the amount of them.
Seasoning: Add seasoning to further flavor the salad at the same time you toss the ingredients with the dressing. Try adding some parsley, cumin, or basil.
DINNER RECIPES TO SERVE CHICKPEA SALAD WITH
HOW TO STORE CHICKPEA SALAD
Serve: To keep all the ingredients fresh and crisp, don't leave Garbanzo Bean Salad at room temperature for more than a couple hours.
Store: Cover the Garbanzo Bean Salad in plastic wrap or store it in an airtight container to keep it in the fridge for 3-4 days.
Freeze: Chickpeas can be frozen for 1-2 months. It will freeze better without the dressing over the salad. When you're ready to eat the salad defrost it in the fridge and then combine it with the dressing before serving.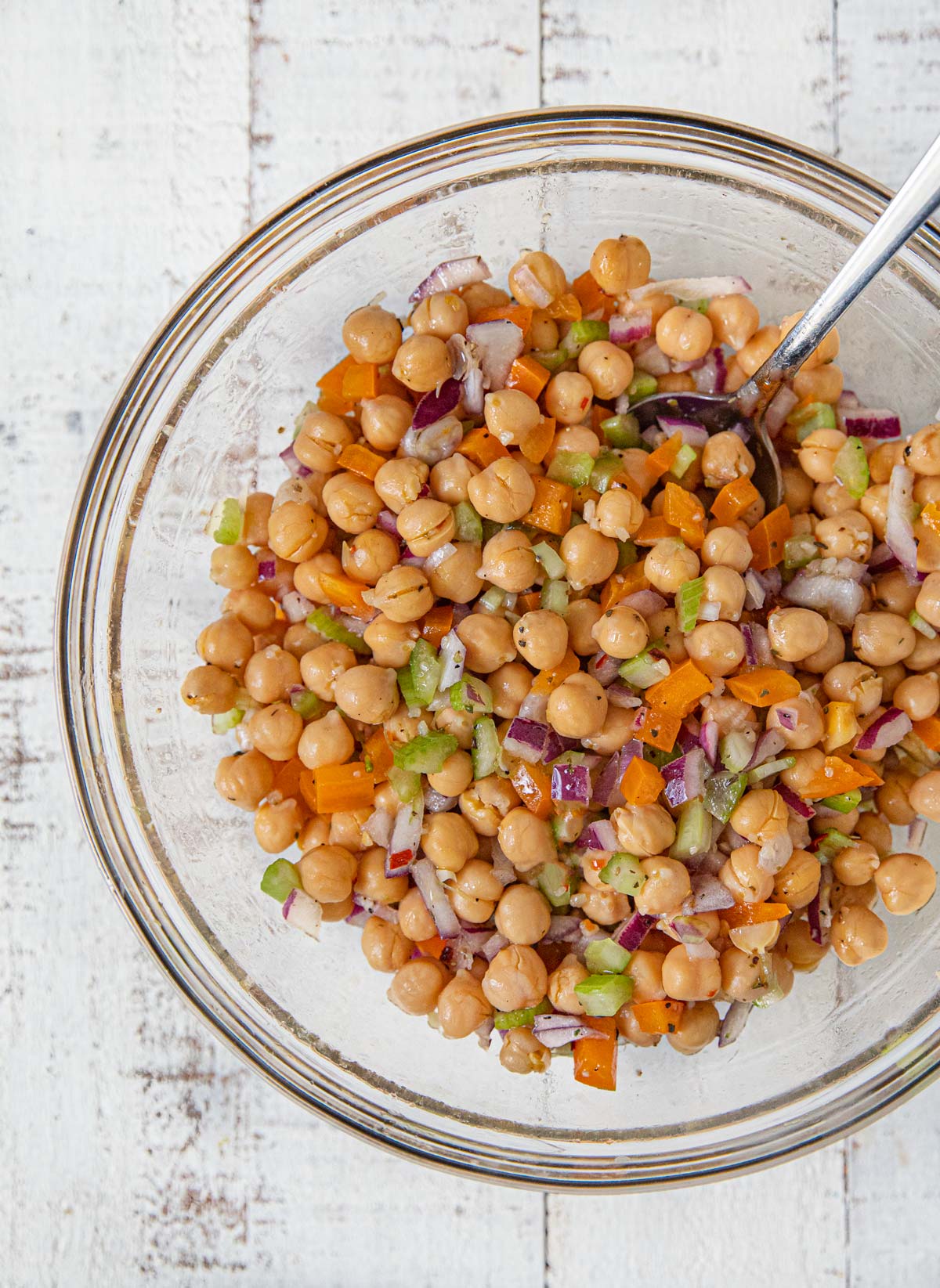 Ingredients
Vinaigrette Dressing
2

tablespoons

red wine vinegar

2

tablespoons

olive oil

1

clove

garlic

, minced

1/2

teaspoon

crushed red pepper flakes

1

teaspoon

Kosher salt

1/2

teaspoon

coarse ground black pepper
Salad Ingredients
30

ounces

chickpeas

, rinsed and drained

1/4

large

red onion

, diced

1

orange bell pepper

, diced

3

stalks

celery

, chopped
Instructions
In a small bowl whisk together the vinegar, oil, garlic, crushed red pepper, kosher salt and black pepper.

Add the chickpeas, red onion, bell pepper, and celery to a large mixing bowl and toss with the dressing.

Refrigerate until serving.
Nutrition
Calories:
217
kcal
|
Carbohydrates:
31
g
|
Protein:
10
g
|
Fat:
6
g
|
Saturated Fat:
1
g
|
Sodium:
314
mg
|
Potassium:
390
mg
|
Fiber:
9
g
|
Sugar:
6
g
|
Vitamin A:
599
IU
|
Vitamin C:
21
mg
|
Calcium:
60
mg
|
Iron:
3
mg