jump to recipe
Easy Healthy Meatloaf
This post may contain affiliate links. Read my disclosure policy here.
Easy Healthy Meatloaf that is weight watchers friendly, made with hidden vegetables. All the classic flavors your whole family loves about meatloaf!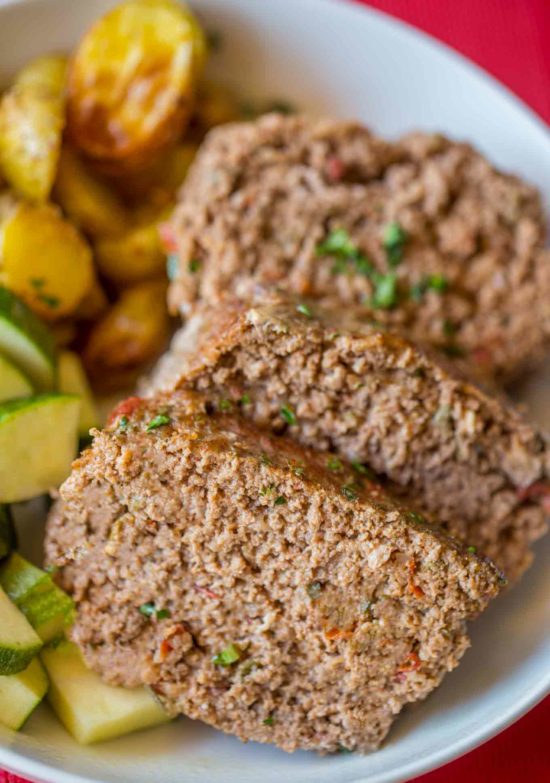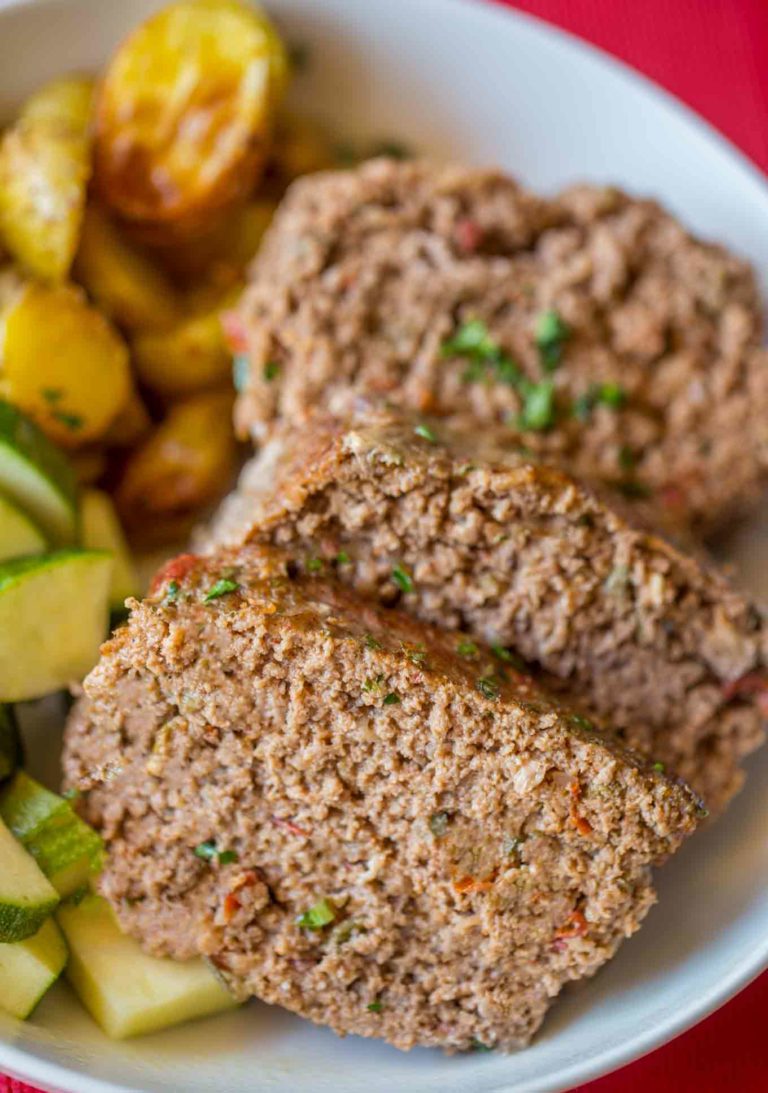 Easy Healthy Meatloaf with zucchini and bell pepper mixed in, with all the same flavors of your favorite diner meatloaf.
Most meatloaves have toppings on them when baked but on this one I actually don't include a sauce because we serve it with ketchup on the side. You can also top with some point free pasta sauce before baking if you'd like.
I use breadcrumbs in the dish but we've also successfully experimented with using slices of 40-calorie bread soaked in the milk.
You can also make this meatloaf ahead of time, slice it then brown it in a skillet to make an amazing meatloaf sandwich.
I love to top my meatloaf sandwiches with oven roasted tomatoes instead of ketchup too, but that's just when I'm feeling fancy. 😂
Some more flavor options for this Healthy Meatloaf:
Dried thyme or dried rosemary would certainly work in the meatloaf.
Add some tomato/fresh marinara sauce to the top in the last fifteen minutes to brown.
You can also add ketchup or even a ketchup and brown sugar mixture.
Make a fresh basil pesto to top the meat loaf or sandwiches.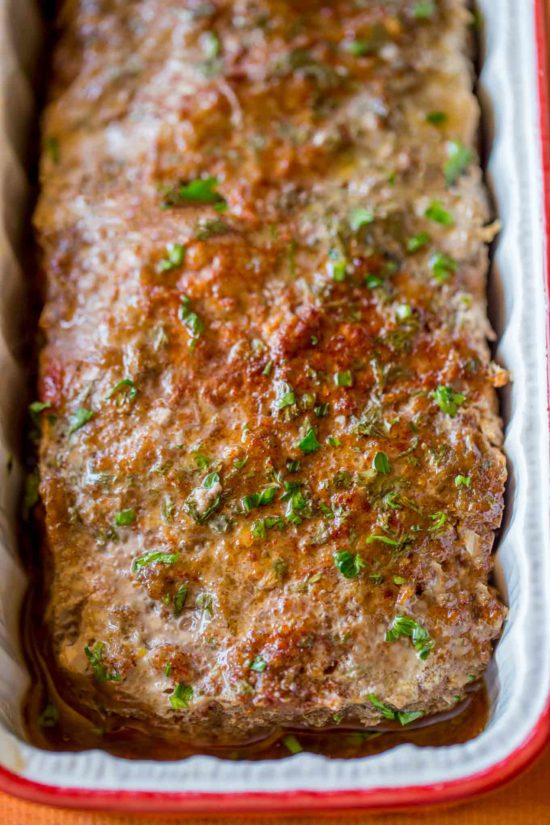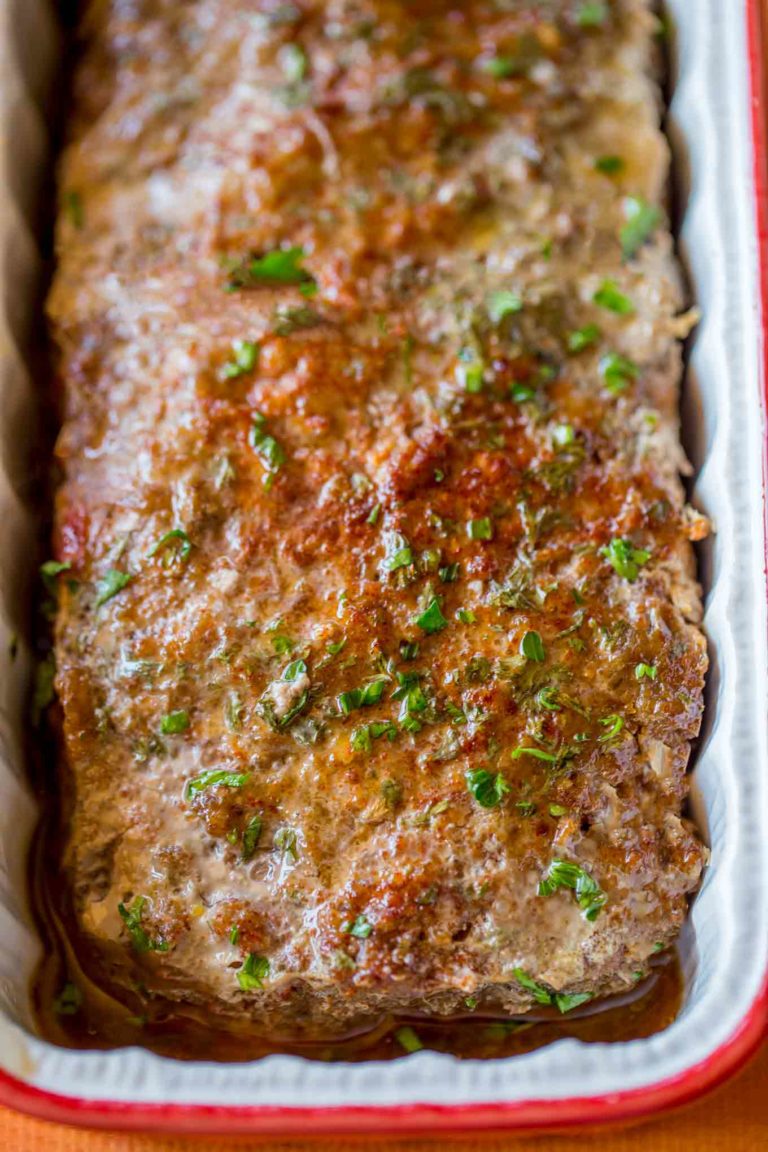 Tools used in the making of this Easy Healthy Meatloaf:
Loaf Pan: Mine was available a few years ago from Crate and Barrel but this one is just as cute!
Meat Thermometer: Super inexpensive, makes cooking to the right temperature a breeze.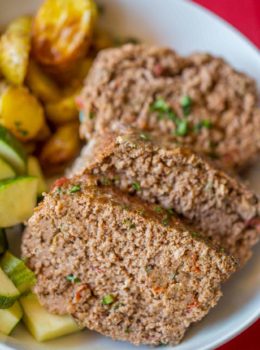 Easy Healthy Meatloaf
Easy Healthy Meatloaf that is weight watchers friendly, made with hidden vegetables you won't even taste but all the tender and classic flavors your whole family loves about meatloaf!
Ingredients:
1 teaspoon olive oil
1/2 yellow onion, chopped
1 zucchini, grated
1/2 red bell, grated
1 clove garlic, minced
1 pound ground beef (93/7 beef)
1/2 cup bread crumbs
1/4 cup 2% milk
1 tablespoon Worcestershire sauce
1 large egg
1/2 teaspoon Kosher salt
1/4 teaspoon coarse ground black pepper
1/8 teaspoon paprika, just a couple shakes over the formed meatloaf
parsley, optional
Directions:
Preheat the oven to 350 degrees.
In a large cast iron skillet add the olive oil on high heat.
Add in the onion and garlic to the pan and start cooking while finishing preparing the zucchini.
Add the zucchini and bell pepper to some paper towels folded in half, close the edges together to form a pouch and squeeze out as much liquid from them as you can.
Add the zucchini to the pan and stir.
Continue cooking for 8-10 minutes until they're tender and reduced in size.
In a large bowl add the beef, bread crumbs, milk, Worcestershire sauce, egg, salt, black pepper and the cooked vegetables.
Mix the ingredients well then add them to a loaf pan.
Shake some paprika over the meatloaf.
Cook for 60-65 minutes or until cooked through to 160 degrees.
Let stand for at least 10 minutes before slicing and serving.
Nutrition Information
Yield: 6 servings, Serving Size: 1/6th recipe
Amount Per Serving:
Calories: 212 Calories
Total Fat: 7.1g
Saturated Fat: 2.4g
Cholesterol: 99mg
Sodium: 360mg
Carbohydrates: 9.7g
Fiber: 1g
Sugar: 2.6g
Protein: 26g
All images and text ©
Made this recipe?
Show me what you made on Instagram or Facebook and tag me at @Cookingwithpoints or hashtag it at #cookingwithpoints.
Cooking with Points owns the copyright on all images and text and does not allow for its original recipes and pictures to be reproduced anywhere other than at this site unless authorization is given. If you enjoyed the recipe and would like to publish it on your own site, please re-write it in your own words, and link back to my site and recipe page. Read my disclosure and copyright policy. This post may contain affiliate links.