Healthy Baked BBQ Chicken Breasts are prepared with a homemade BBQ sauce that's finger-licking delicious! Ready in 45 minutes, a great weeknight dinner.
Baking chicken in the oven is a wonderful and easy way to make Healthy Dinners your whole family will love. Just like Baked Chicken Parmesan, this recipe makes a crispy and tender roasted chicken meal every time.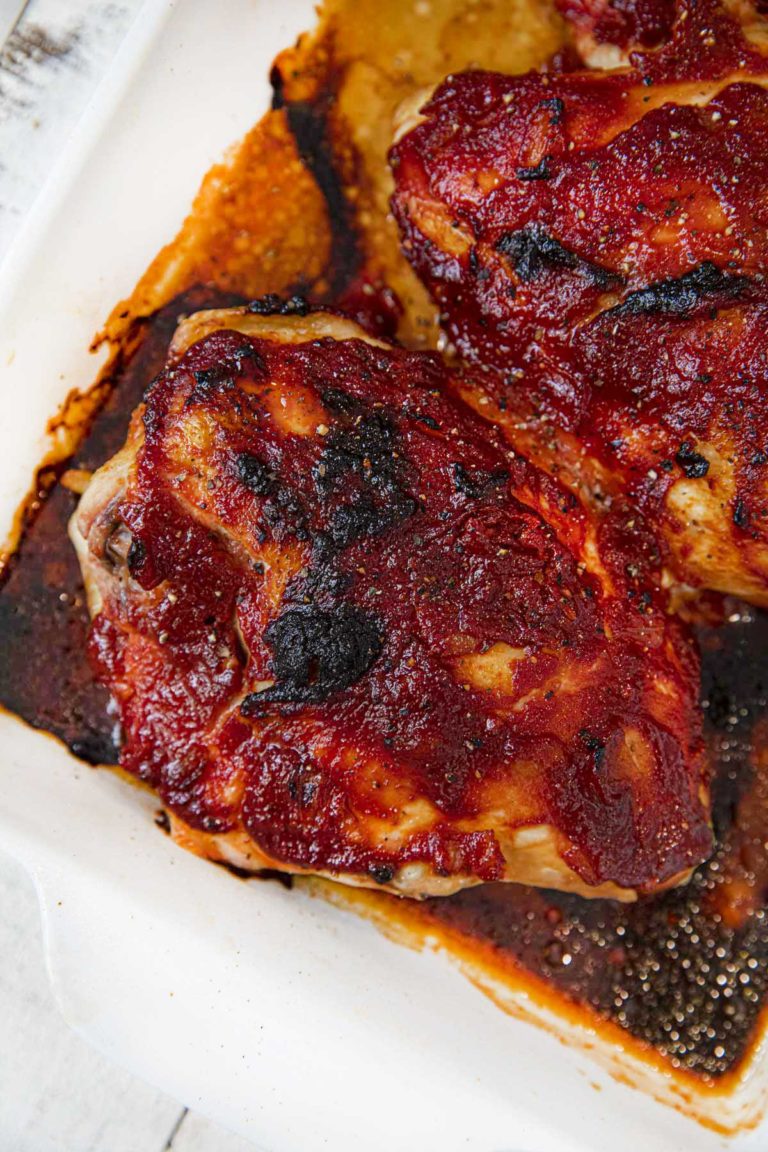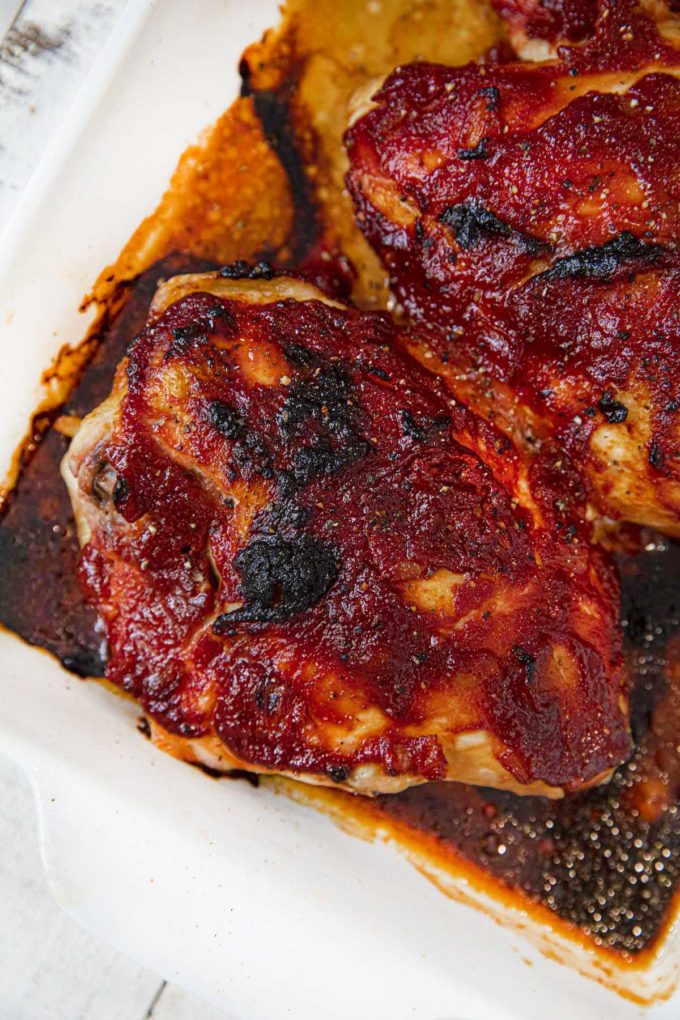 HEALTHY BAKED BBQ CHICKEN BREASTS
This easy Oven Chicken, is sure to become one of your favorite chicken recipes. It's perfect for an easy weeknight meal or Summer BBQ. Make this chicken recipe in just a few steps, in one baking dish, with minimal clean-up.
After you've cooked it, enjoy wonderfully tasty, sticky-sweet chicken! You can serve it as the main dish, with a variety of Summer side dishes. You can also chop leftover Oven Baked BBQ Chicken into bite-sized chicken pieces to serve in a salad. Or shred the chicken to go in tacos.
Baked Chicken is a wonderful source of protein that is relatively low in calories. This Oven Baked BBQ Chicken also uses a lighter sauce. You can either find a store-bought healthy BBQ sauce, or use this easy Homemade BBQ Sauce recipe that comes together in minutes.
This healthy sauce recipe is made with a little bit of brown sugar, garlic, vinegar, and tomatoes. It's lower in sodium and carbohydrates than other BBQ sauces. And it has less processed, artificial sweetener than most store-bought healthy sauce options.
SLOW COOKER BBQ CHICKEN
Instead of cooking this BBQ Chicken recipe in the oven, you can make it in a slow cooker. Crockpot BBQ Chicken is a great option to meal prep in the morning on busy days. To make this BBQ Chicken recipe in a slow cooker use boneless skinless chicken breasts.
Cut the skinless chicken breasts in half, and put them in the slow cooker.
Add about 2 tablespoons extra balsamic vinegar to the BBQ sauce, and whisk the sauce together into a marinate.
Pour the sauce over the chicken.
Cook on low for 4-6 hours.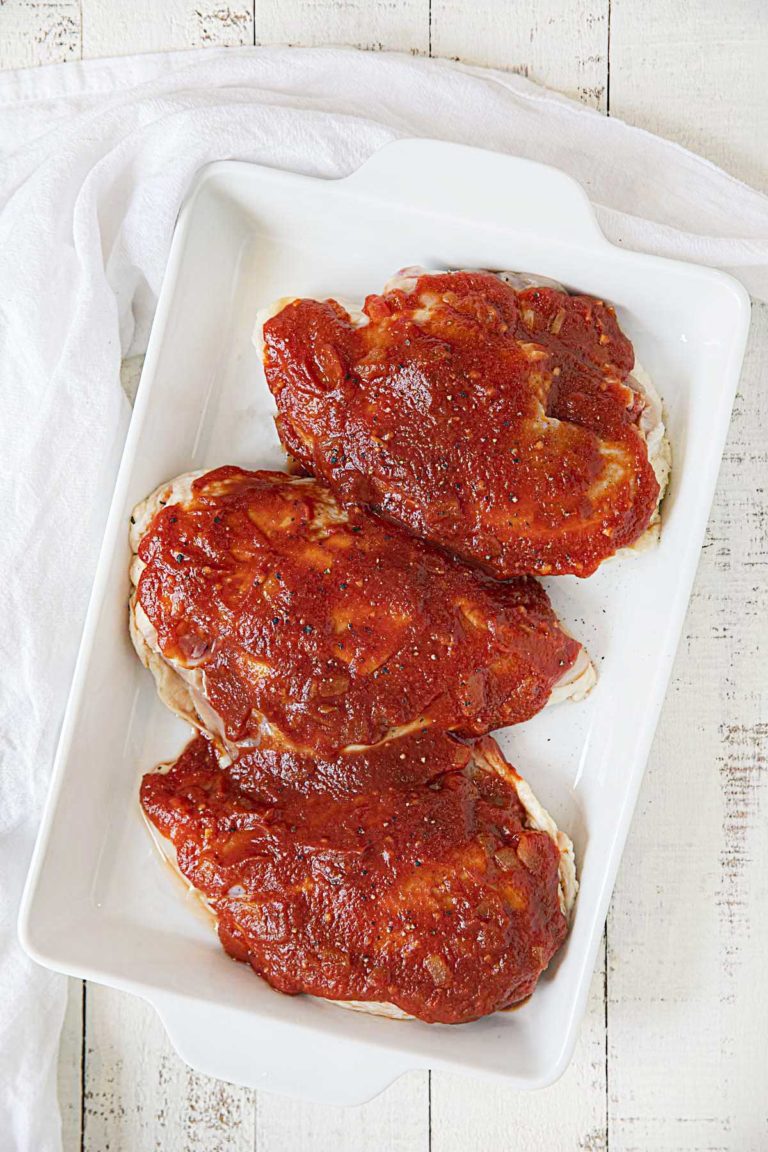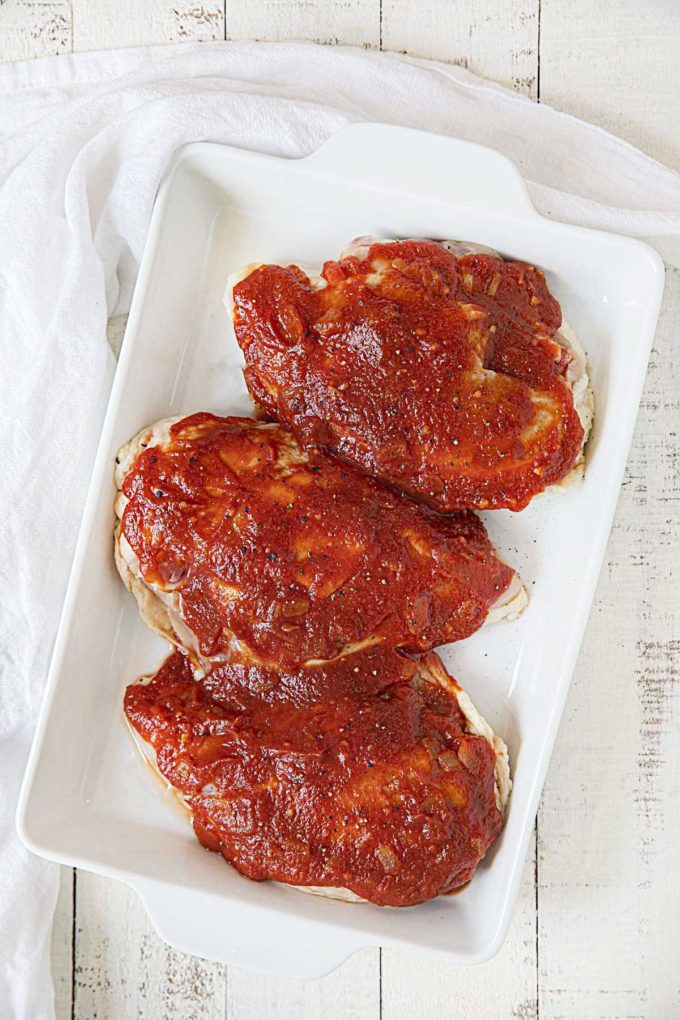 Create a free account to

Save Recipes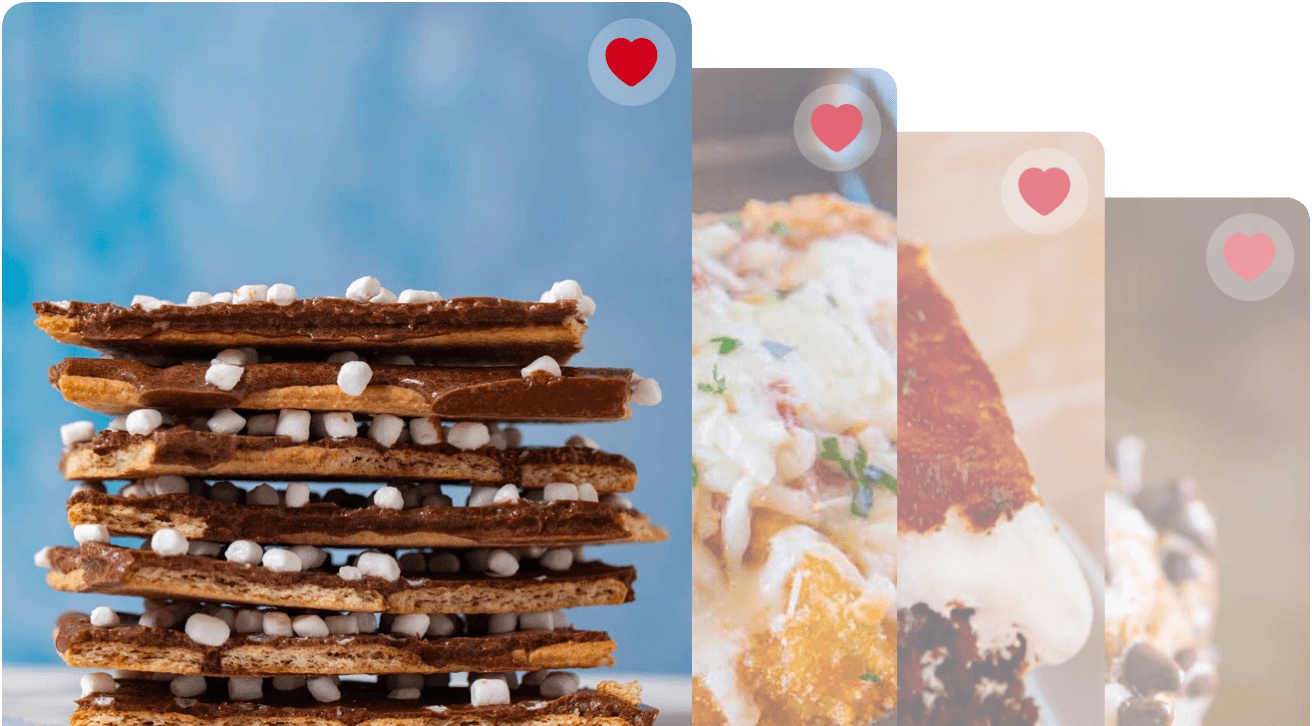 MORE CHICKEN RECIPES
VARIATIONS ON HEALTHY BAKED BBQ CHICKEN BREASTS
Chicken Thighs: If you have chicken legs, you can prepare them in the same healthy barbecue sauce. Use bone-in, skin-on chicken thighs. They will take longer to bake than chicken breasts. Start by coating the chicken legs in olive oil. Then put them on the baking dish skin side down. Cook in a 400 degree oven for 20 minutes. Remove them from the oven and baste with the sauce. Then cook them in 7 minute increments, basting again at the end of each increment until cooked through. Chicken is done when the internal temperature reaches 165 degrees Fahrenheit.
Grilled Chicken: If you'd prefer to grill, prepare the BBQ Chicken Breasts with barbecue sauce the same way. Then instead of cooking them in the oven place them on the grill. When one side is finished grilling flip the chicken over and grill the other side. If you don't have a meat thermometer, you can cut the chicken at the thickest part to check if it's done grilling. Brush the grilled chicken with some extra sauce before serving the meal.
Spicy BBQ Chicken Breasts: If you'd like Oven BBQ Chicken with a little more kick, try adding some hot sauce to the barbecue sauce before you put it on the chicken. Be sure to add small amounts at a time, and taste test to see how hot it is. It's better to take your time, than end up with way too hot chicken!
Flavor add-ins: There are plenty of easy flavor additions you can make to your Oven Baked BBQ Chicken. Try adding some garlic powder, caramelized onion, paprika, or lemon juice to the chicken marinade.
BBQ SIDE DISHES
HOW TO STORE HEALTHY BAKED BBQ CHICKEN BREASTS
Serve: Don't leave Oven Barbecued Chicken out at room temperature for more than 2 hours.
Store: Let your Healthy Barbecue Chicken cool to room temperature before storing it. Cover the baking dish or put the chicken breasts in an airtight container to store in the fridge. They'll stay good 3-4 days.
Freeze: If you want to meal prep Oven BBQ Chicken, it lasts well in the freezer for up to 4 months. To reheat the homemade BBQ Chicken, let it defrost in the fridge overnight. Then place the chicken breasts on a foil-lined baking rack, and reheat them in the oven.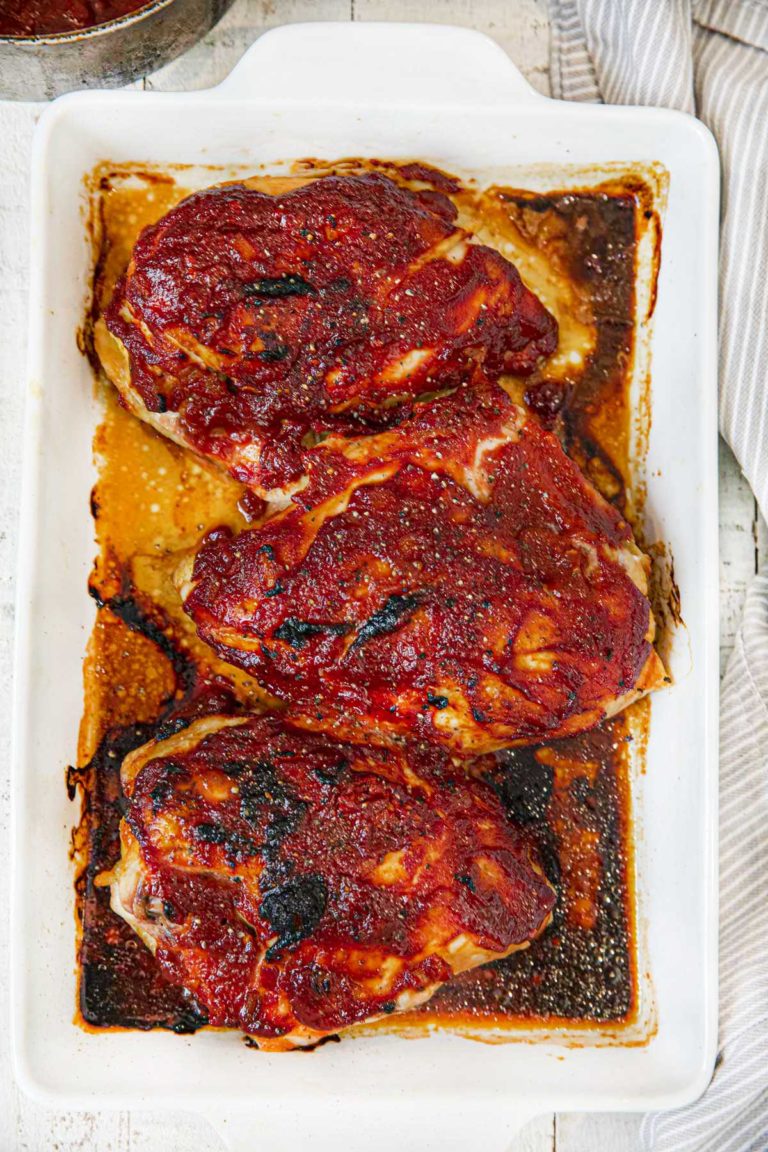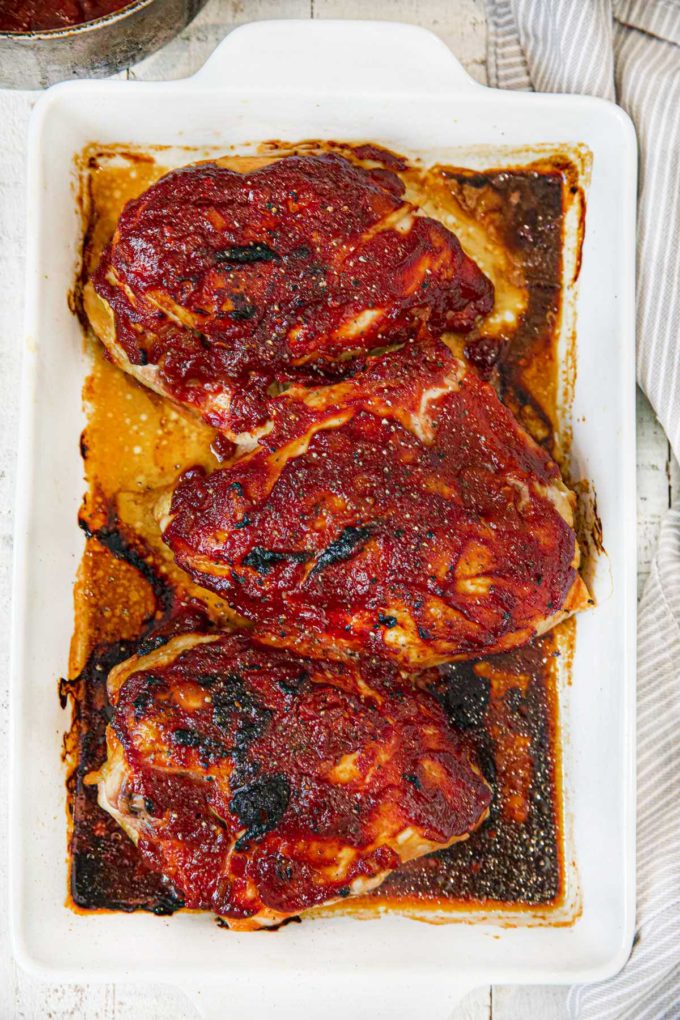 Ingredients
3

bone-in chicken breasts

, skin removed

2/3

cup

Healthy BBQ Sauce

, (recipe)

1/2

teaspoon

Kosher salt

1/4

teaspoon

fresh ground black pepper
Instructions
Preheat oven to 375 degrees.

Place the chicken breasts in a roasting pan, then brush on the healthy BBQ sauce evenly. Sprinkle the salt and pepper over the chicken breasts.

Roast, uncovered, for

35-40 minutes

.
Nutrition
Calories:
421
kcal
|
Carbohydrates:
26
g
|
Protein:
38
g
|
Fat:
17
g
|
Saturated Fat:
5
g
|
Cholesterol:
116
mg
|
Sodium:
1154
mg
|
Potassium:
545
mg
|
Fiber:
1
g
|
Sugar:
21
g
|
Vitamin A:
292
IU
|
Vitamin C:
1
mg
|
Calcium:
41
mg
|
Iron:
2
mg