Healthy BBQ Sauce has all the rich, smoky, and tangy flavors you love with less sugar and no ketchup! Made with tomato, paprika, garlic, and brown sugar.
Healthy BBQ Sauce is the perfect low carb sauce to serve with Healthy Summer Sides, like Baked French Fries. The sauce's tangy and sweet flavors, and easy recipe are sure to make it one of your new go-to condiments.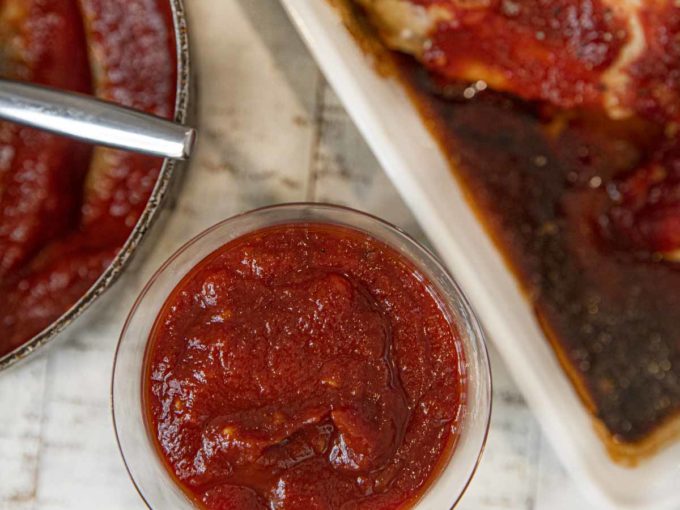 HEALTHY BBQ SAUCE
Low Carb BBQ Sauce is a great recipe to serve at your next barbecue and with a variety of main dishes. Use it to flavor ribs, a beef or pork brisket, pulled pork sandwiches, chicken, or even a vegan burger. There's no end to the delicious meals this easy sauce can make even better!
This homemade BBQ sauce is made in one pan on your stovetop. The total time is just under 40 minutes
Barbecue sauce is as well loved as it is heavily debated. There are plenty of variations on the classic condiment and strong opinions on which way is best. There's Texas-Style, Kansas-City Style and plenty more. So, feel free to consider this Low Carb BBQ Sauce a healthy jumping off point that you can make tweaks to depending on your favorite barbecue flavors.
While this isn't an entirely sugar-free BBQ sauce it does have much less sugar and less net carbs than most store-bought barbecue sauce and other homemade barbecue sauce recipes, without losing the tangy and sweet taste. This BBQ Sauce relies heavily on plant-based ingredients like tomato, onion and garlic for most of its flavor. It also has less sugar, which means a lower calorie and carb count overall.
HEALTHY SIDES TO PAIR WITH BBQ SAUCE
The small amount of brown sugar used in this barbecue sauce is much better for you than many sweeteners you'll find in store bought brands that often use high fructose corn syrup. Even the low carb BBQ Sauce you can buy, often use highly processed sugar alternatives.
Although using less sugar makes it low carb, this BBQ sauce still isn't Keto. Later in the post you'll find some changes you can make to have completely Keto BBQ Sauce.
This barbecue sauce also uses tomato paste and sauce, and no ketchup. Which means low-sodium and decreases the amount of sweetener.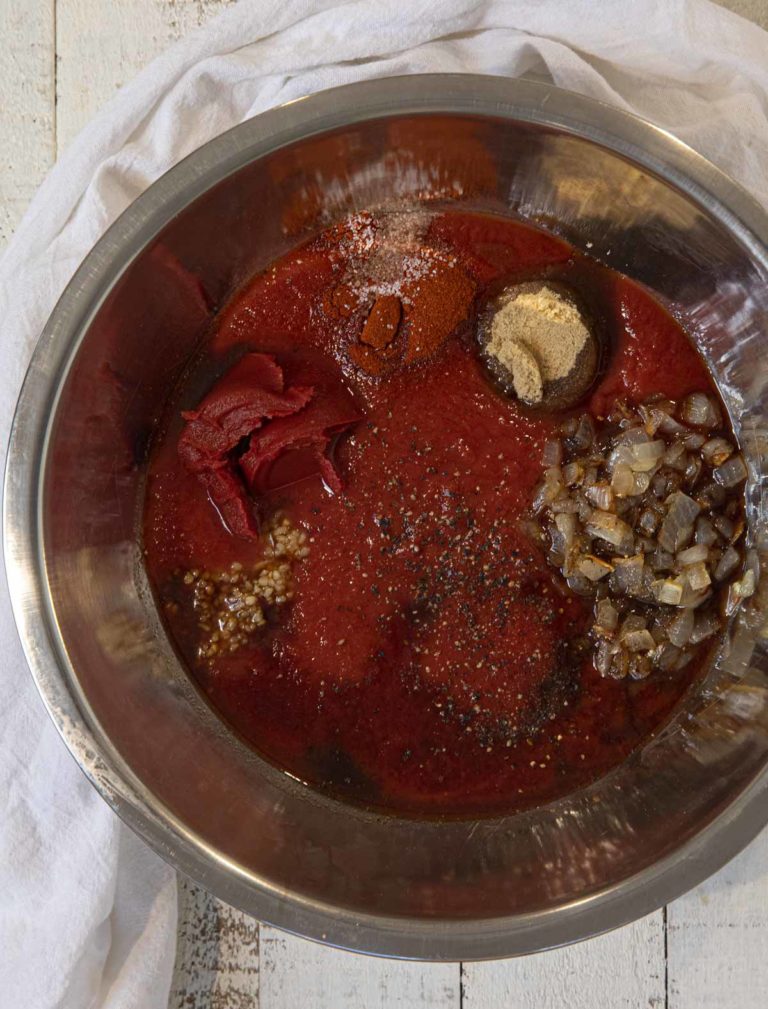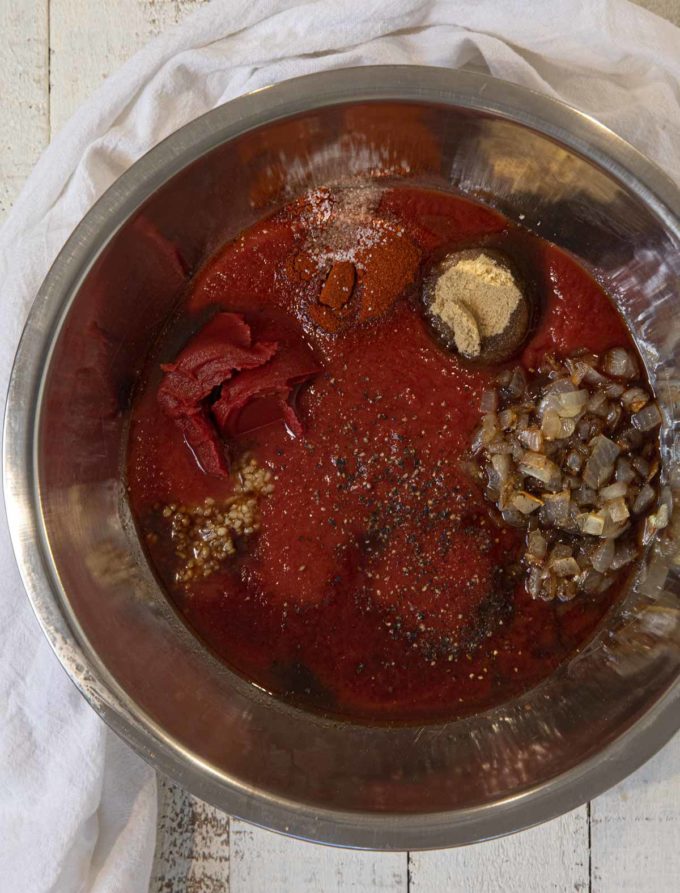 Create a free account to

Save Recipes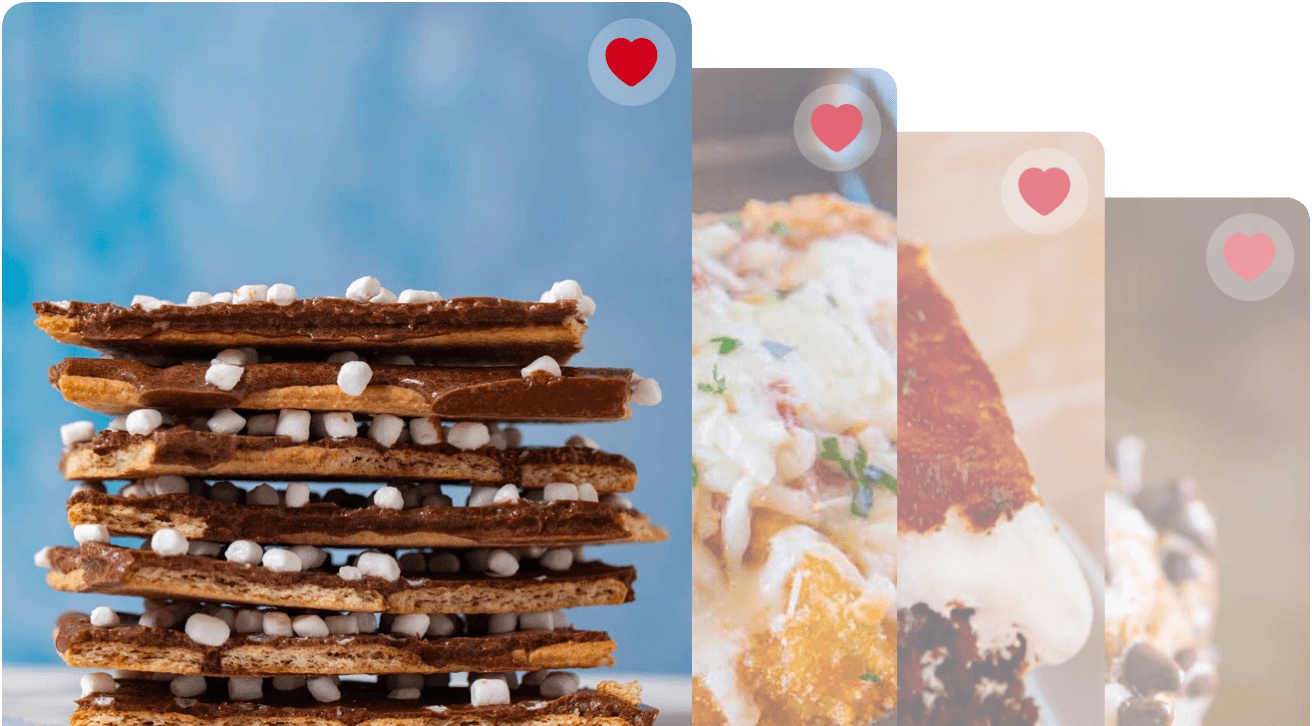 VARIATIONS ON HEALTHY BBQ SAUCE
Maple Syrup BBQ Sauce: One of many popular ways to prepare BBQ Sauce is with maple syrup as one of the sweeteners. Instead of using the brown sugar in this recipe you can use 2 tablespoons maple syrup and 2 tablespoons molasses to give a rich and sweet flavor.
Sugar Free/ Keto BBQ Sauce: While this BBQ sauce already has low-sugar, you can make a completely sugar free BBQ sauce recipe that's Keto-friendly. Remove the brown sugar from the recipe. You can use a variety of sugar substitutes like Splenda, Lakanto or Sucralose, but Sukrin All-Natural Brown Sugar Alternative is probably the closest you'll get in taste. It's made primarily of erythritol and has a similar deep taste to the regular sugar, so you can get an authentic taste for your sugar-free BBQ sauce. To be completely Keto, you'll also need to remove the Worcestershire sauce because it has 1.7 g sugar per tablespoon making it non-keto. Finally, you'll need to replace the balsamic vinegar for a sugar-free vinegar.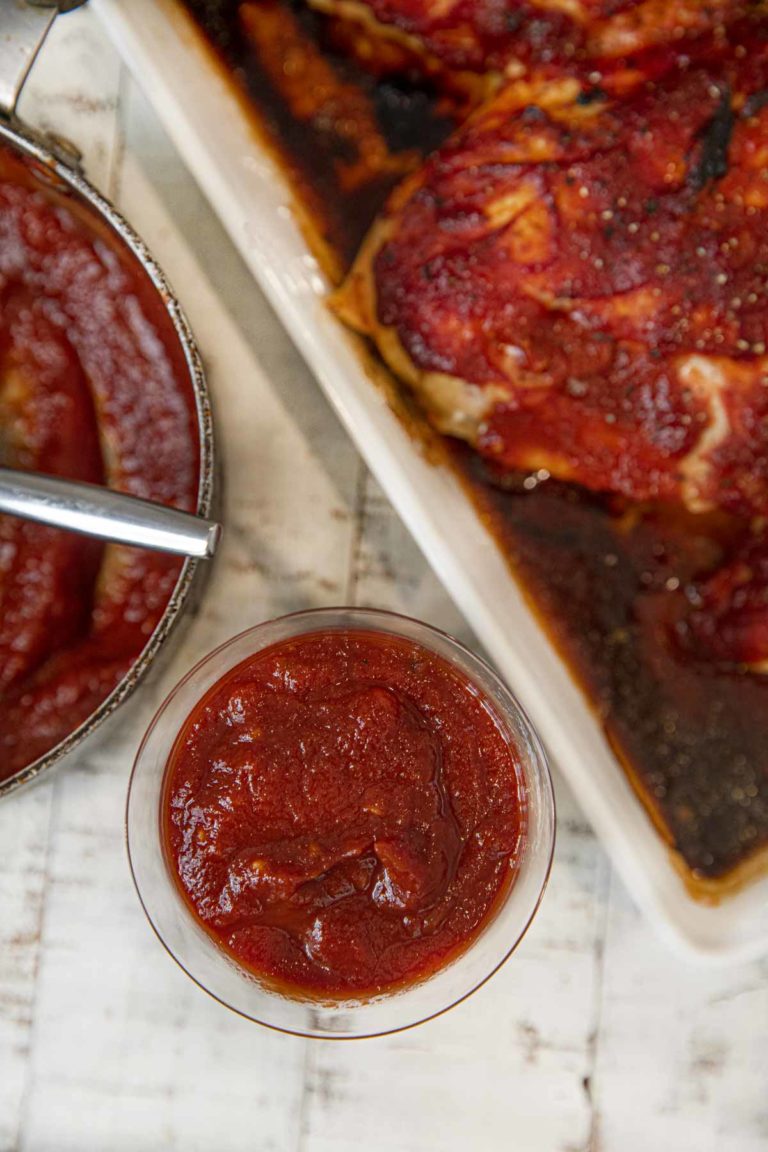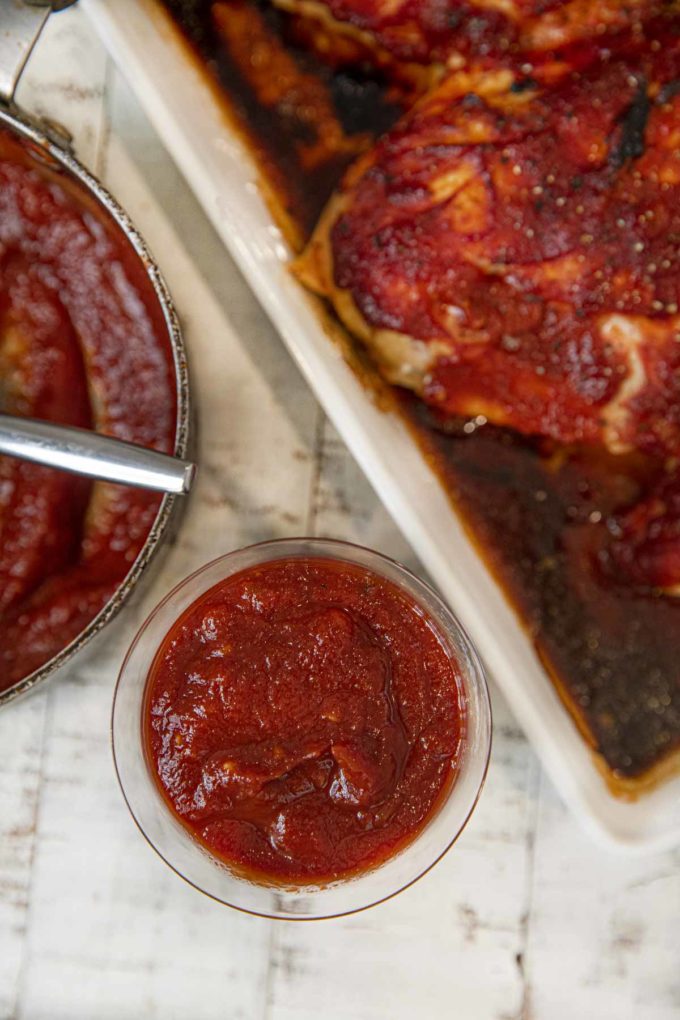 Gluten-Free: The only thing on the ingredient list for this Healthy BBQ Sauce recipe that will be a problem on a gluten-free diet is the Worcestershire sauce. You can find some gluten-free options. Lea and Perrins Original is one of the most popular brands and can be found in many grocery stores.
Soy Sauce: Many people enjoy the taste of soy sauce in there Bar-B-Que sauce. You can swap the Worcestershire sauce in this recipe for soy sauce. You can also combine one part soy sauce with one part ketchup to replace the sauce. Just remember, that soy sauce and ketchup are both high in sodium and will add carbs to the barbecue sauce recipe. For less sugar and more spice, you can use soy sauce and apple cider vinegar, and a bit of chili powder. Though, it won't give you the familiar ketchup flavor. If you are looking for a gluten free option for the soy sauce, use tamari.
Liquid Smoke: Depending on how you like BBQ Sauce, liquid smoke might be one of the first ingredient to come to mind when you think of it. Liquid smoke is often used in sauce to give it rich smoky flavor. It tastes like the meal has been cooked over a fire. Easily add a tablespoon or so to this Healthy Barbecue Sauce if you desire.
MORE HEALTHY MAINS TO SERVE WITH BBQ SAUCE
HOW TO STORE HEALTHY BBQ SAUCE
Serve: Your low-carb BBQ sauce will be good at room temperature for up to 4 hours.
Store: If you have leftover sauce, you can store it in a sealed container in the fridge for up to a week.
Freeze: You can make extra barbecue sauce to store in the freezer. This BBQ sauce recipe should last up to 6 months. When you're ready to eat the sauce, let it defrost in the refrigerator overnight, and reheat it in a saucepan before serving.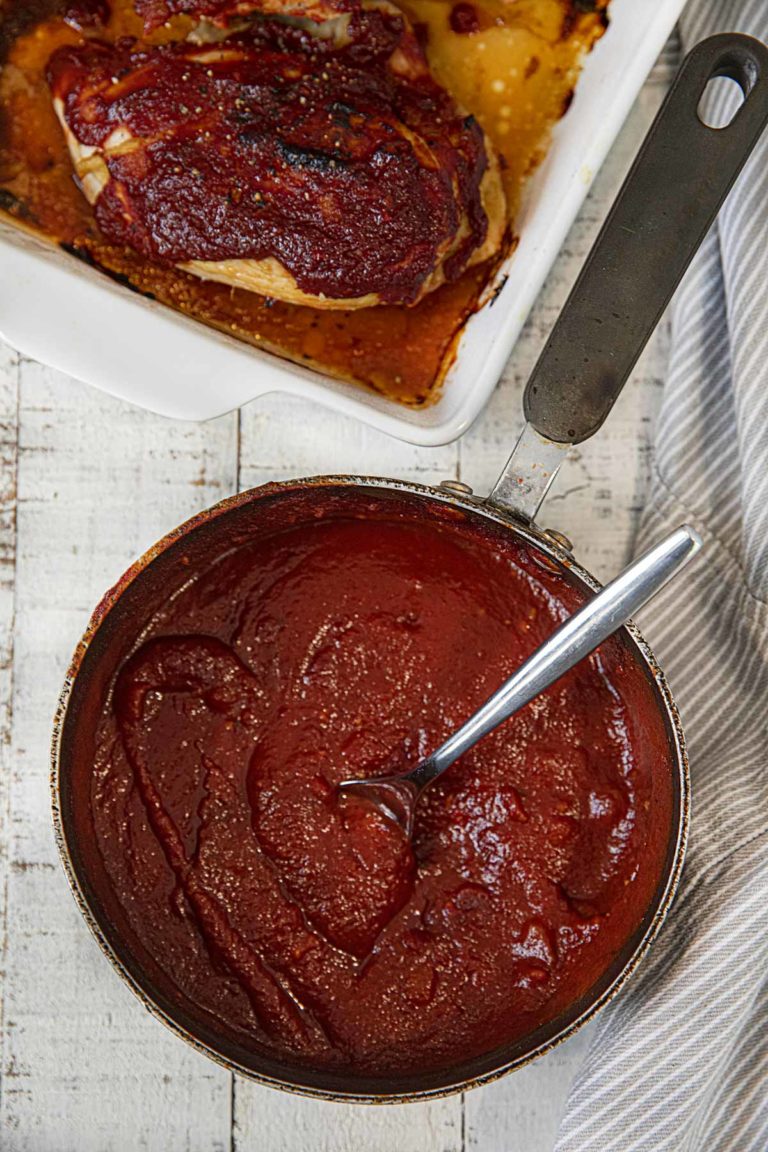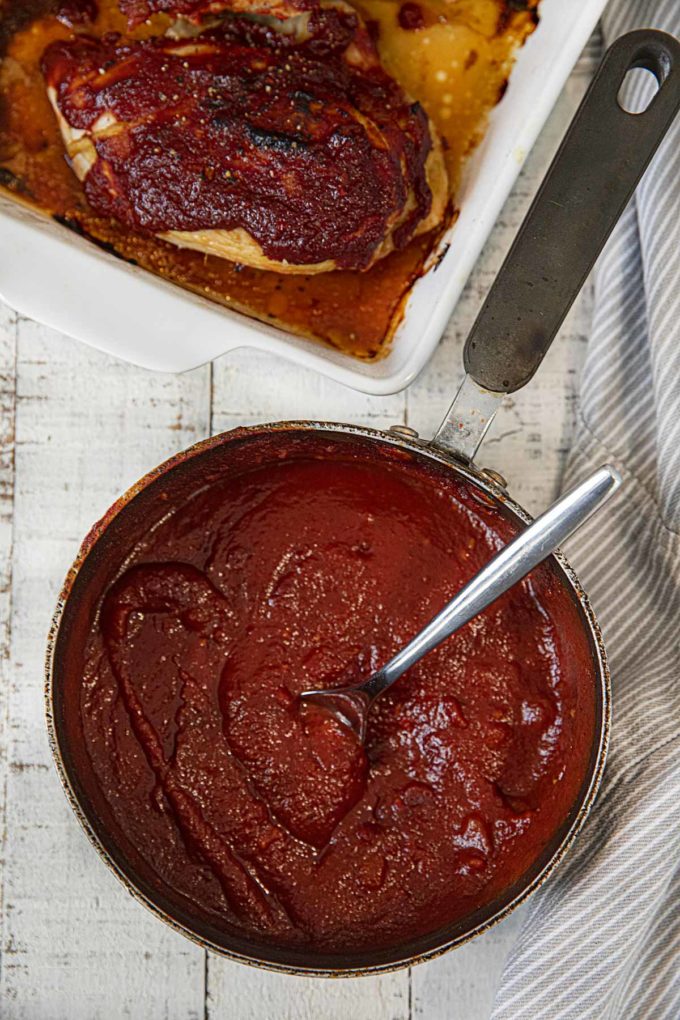 Ingredients
2

teaspoons

olive oil

1/2

yellow onion

, minced

2

cloves

garlic

, minced

29

ounces

tomato sauce

1/3

cup

tomato paste

1/4

cup

Balsamic vinegar

1

tablespoon

Worcestershire sauce

1/4

cup

brown sugar

1

tablespoon

Paprika

1/4

teaspoon

kosher salt

1/4

teaspoon

coarse ground black pepper
Instructions
Add onions and cook for

5-6 minutes

until translucent then stir in the garlic and cook one additional minute until fragrant.

Add in tomato sauce, tomato paste, balsamic vinegar, Worcestershire sauce, brown sugar, paprika, salt and pepper and stir well.

Bring to a boil, reduce to a simmer and cook for

30 minutes

until thickened.

Let cool then put into food processor and puree until smooth.
Nutrition
Calories:
56
kcal
|
Carbohydrates:
12
g
|
Protein:
1
g
|
Fat:
1
g
|
Saturated Fat:
1
g
|
Sodium:
482
mg
|
Potassium:
344
mg
|
Fiber:
2
g
|
Sugar:
9
g
|
Vitamin A:
695
IU
|
Vitamin C:
7.1
mg
|
Calcium:
22
mg
|
Iron:
1.2
mg