Falafel Crusted Chicken is tender chicken cutlets baked on one pan with a crunchy falafel coating with chickpea flour and homemade falafel seasonings.
Easy Chicken Recipes make the perfect filling and healthy weeknight dinners. Just like Baked Chicken Parmesan, Baked Falafel Chicken is made with a delicious and healthy crust that adds tons of flavor and crunch.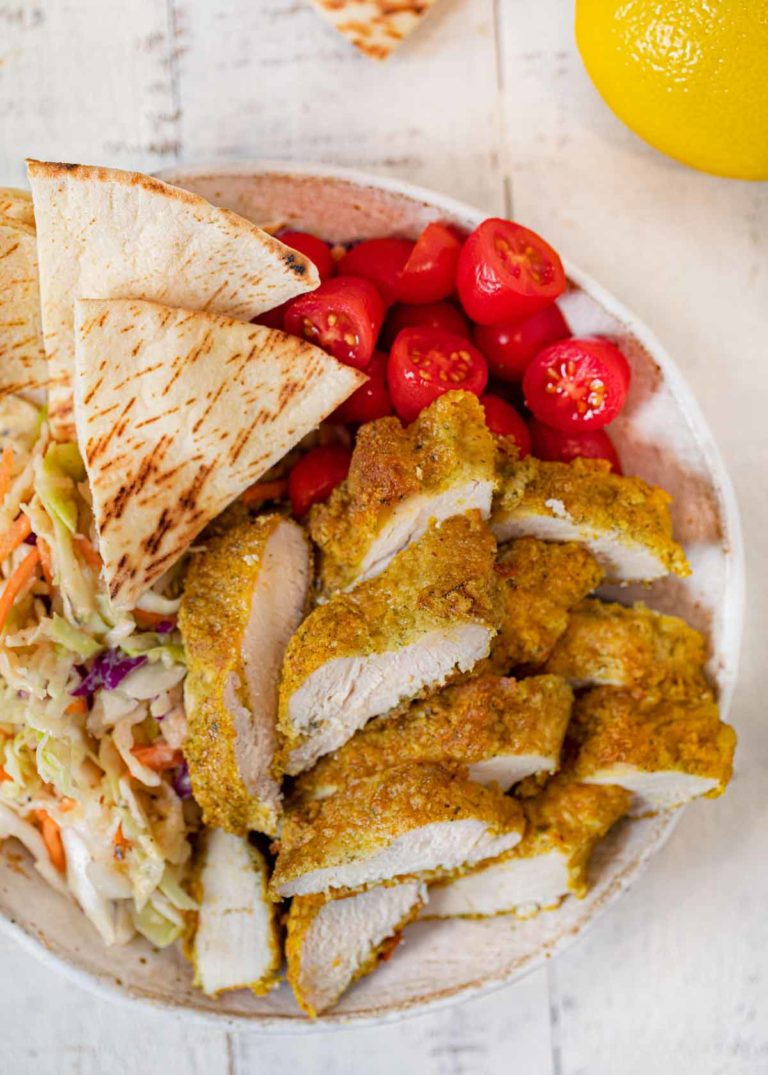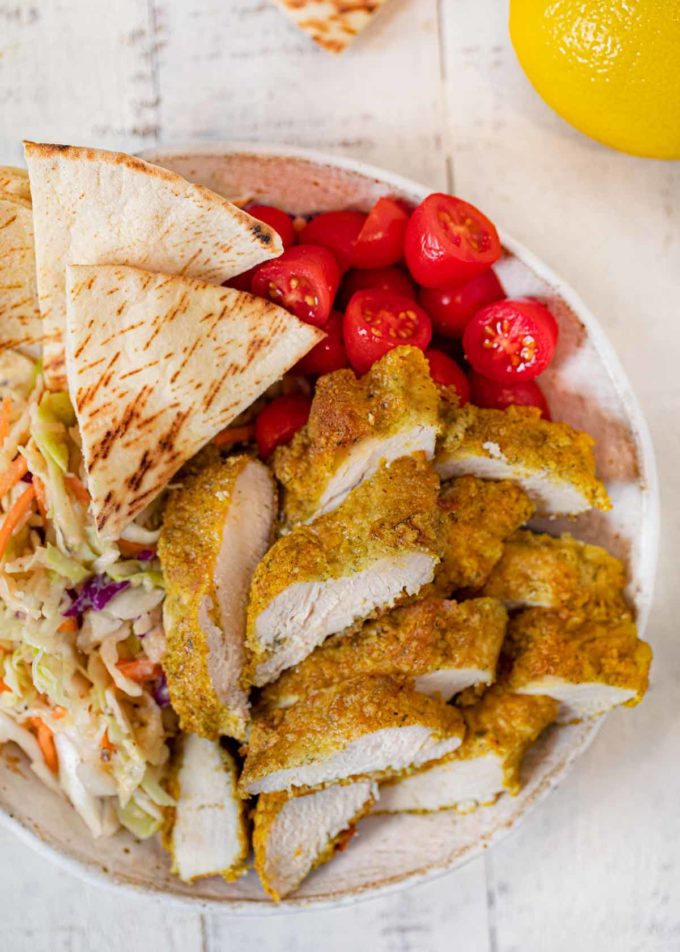 FALAFEL CRUSTED CHICKEN
Whether it's Pretzel Crusted Fried Chicken, or Balsamic Chicken there's just nothing better than crispy and tender healthy baked chicken. And this Roasted Falafel Chicken recipe is just might be the best chicken you ever bake. This great recipe is one your whole family is guaranteed to love. With crispy falafel and wonderful seasoning it's sure to be a new favorite.
If you haven't had falafel before it's a classic Middle Eastern Dish made using chickpeas. To coat the skinless chicken breasts in chickpeas this chicken recipe uses an egg wash and chickpea flour. The resulting coating on the baked chicken breast has a similar texture to the coating on chicken Parmesan. But because the recipe uses chickpeas instead of panko breadcrumbs, or anything else you usually bread chicken breasts with, it remains completely gluten-free, low in saturated fat, and low-carb!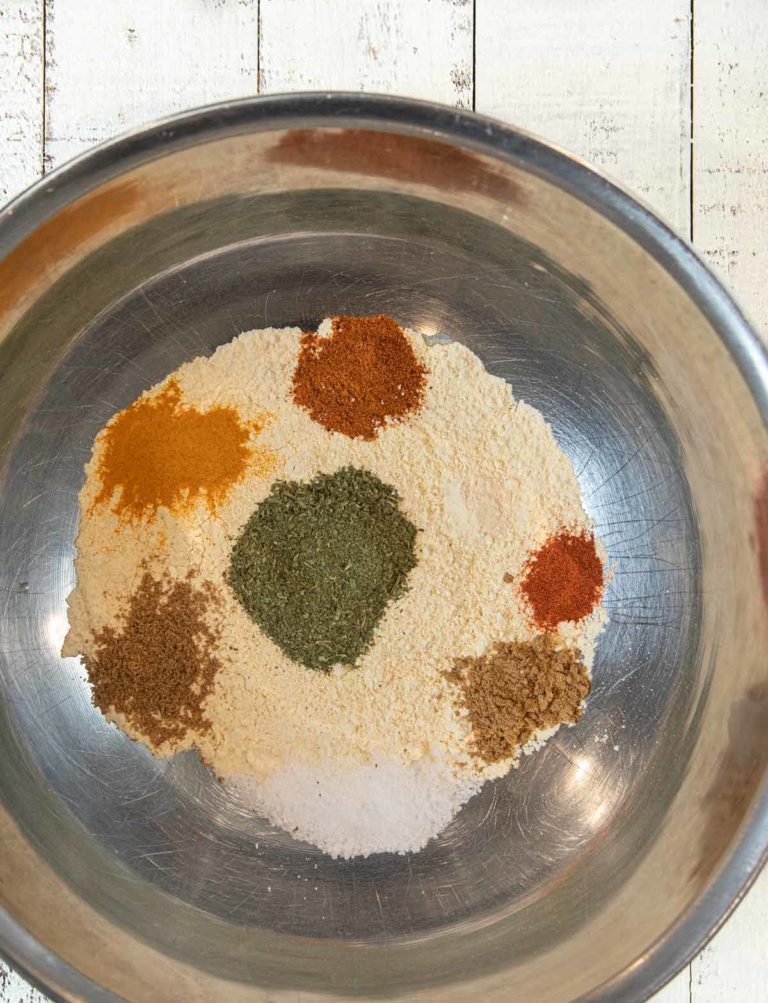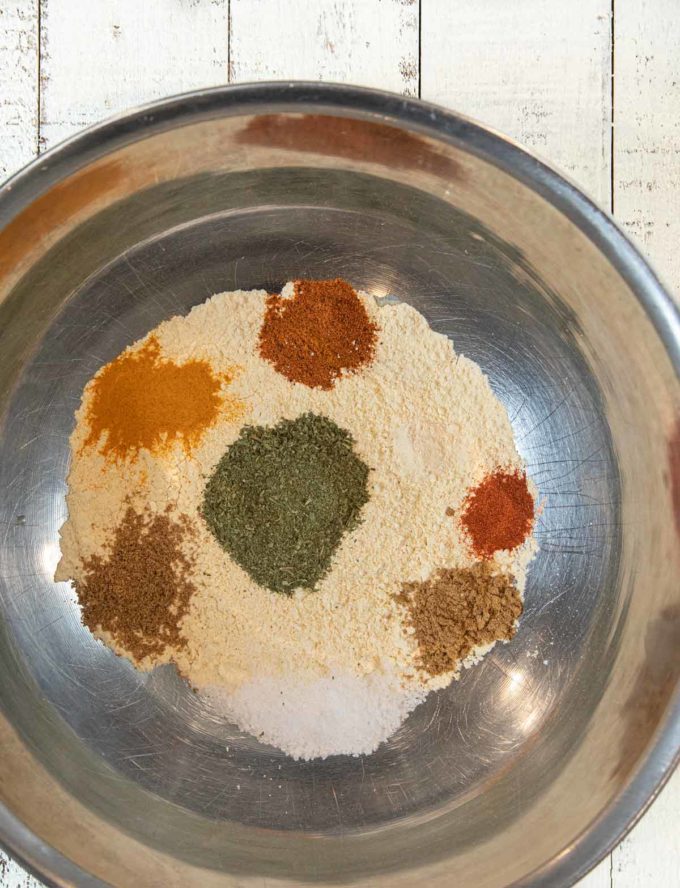 SUPER EASY BAKED CHICKEN!
These kid-friendly healthy baked chicken are sure to become a go to for weeknight dinner. Not only are they are Falafel Chicken Breast a great main dish on their own, but you can also toss them in a salad with lots of fresh greens or in a casserole. Trying baking this chicken in Cauliflower Rice for a delicious and healthy chicken casserole.
Along with being family-friendly this Healthy Chicken Breast recipe is also time-friendly. In other words, it's the perfect baked chicken breasts for a rushed evening. The Prep time is only ten minutes. Once you've placed the chicken breasts on the baking sheet and popped them in the oven, they only take 18 minutes to cook. So, the total time for this whole flavorful dish is under a half hour.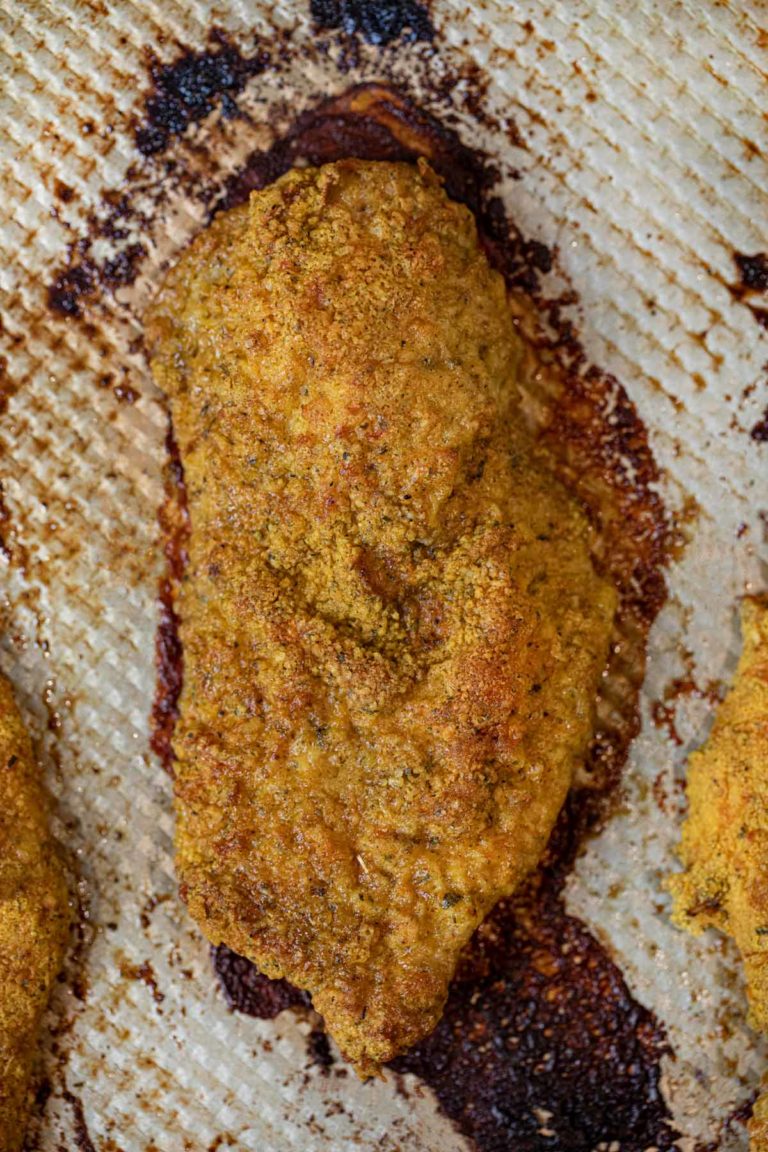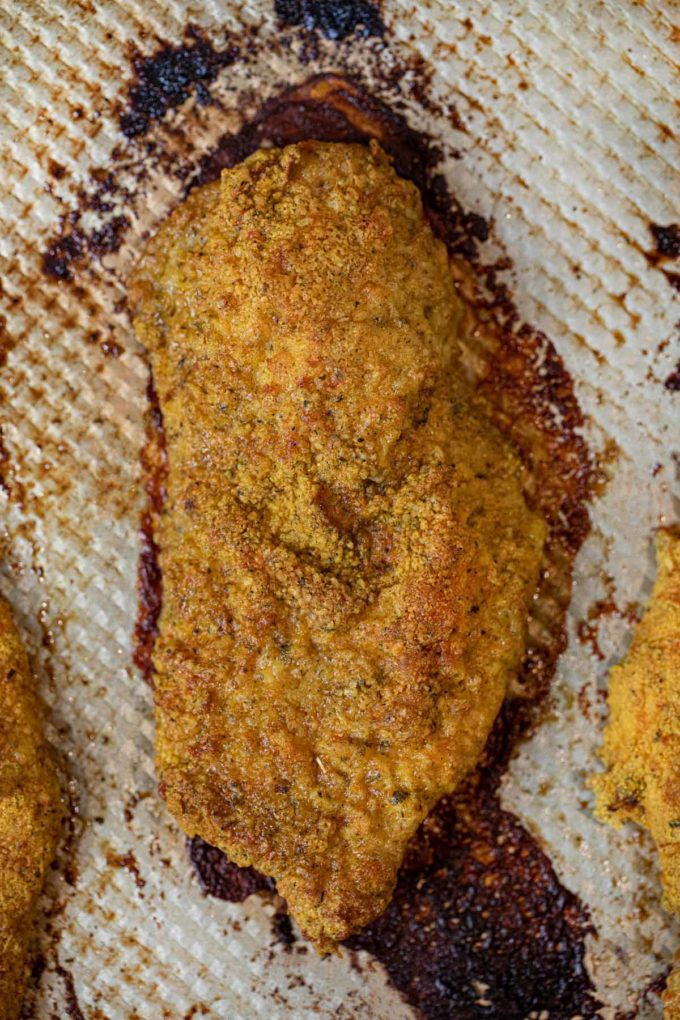 TIPS FOR MAKING FALAFEL CRUSTED CHICKEN BREASTS
Make sure to purchase boneless, skinless chicken breasts. You won't be Able to cut bone-in chicken into the thin fillets this recipe calls for.
Find a medium-sized somewhat shallow bowl to whisk together the chickpea flour and seasonings. Using a shallow bowl will make it easier to coat the chicken breasts in the mixture.
Use olive oil spray or any other non-stick spray to coat the baking sheet and the chicken breasts before roasting them. Spraying the chicken breasts for a whole 3 seconds helps the breadcrumb like coating to become crispy in the oven.
Check the internal temperature of the chicken to make sure it's cooked through. Use an instant-read thermometer at the thickest part of the chicken breasts. The Chicken breasts are baked when they've reached an internal temperature of 165 degrees Fahrenheit. Checking the temperature also insures you don't overcook the baked chicken breasts.
MORE HEALTHY CHICKEN RECIPES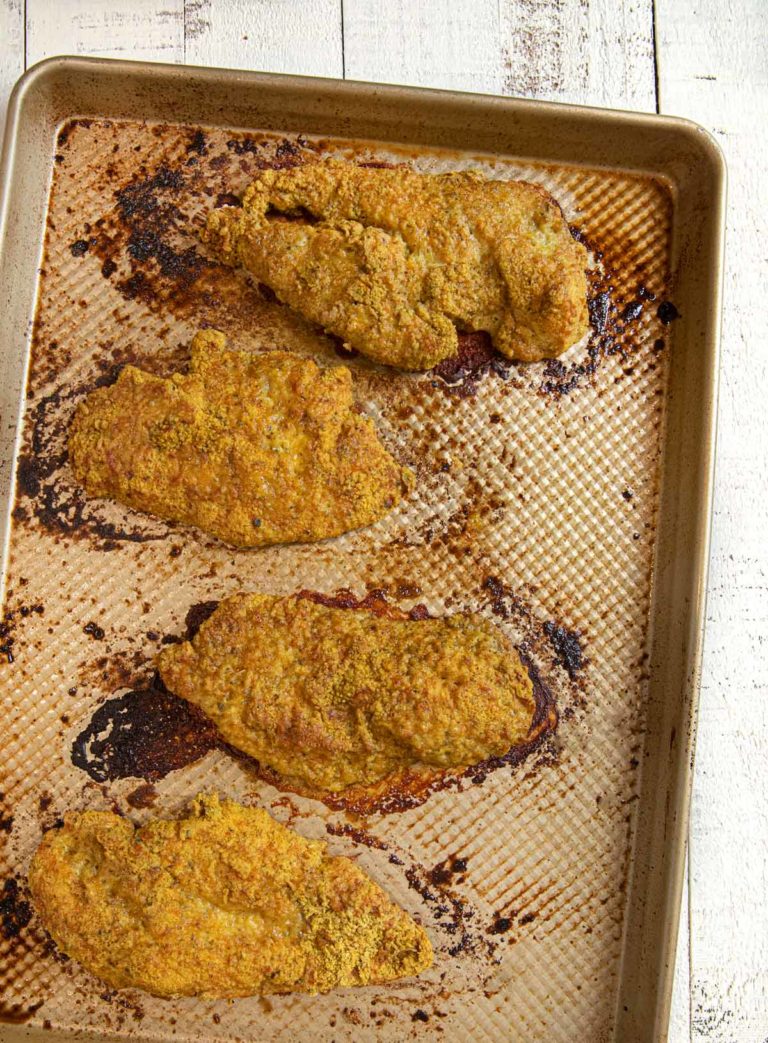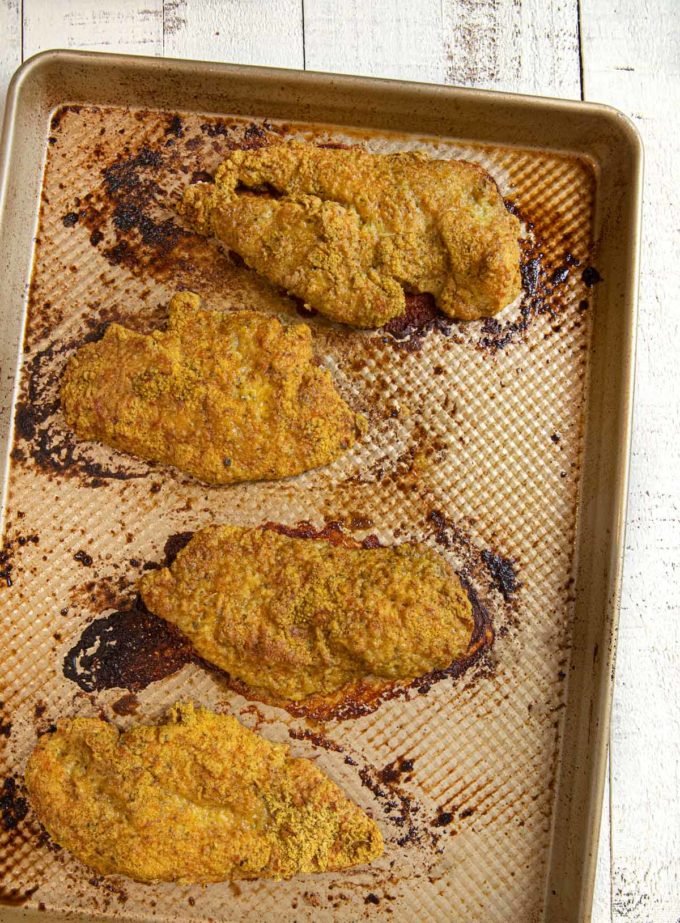 Create a free account to

Save Recipes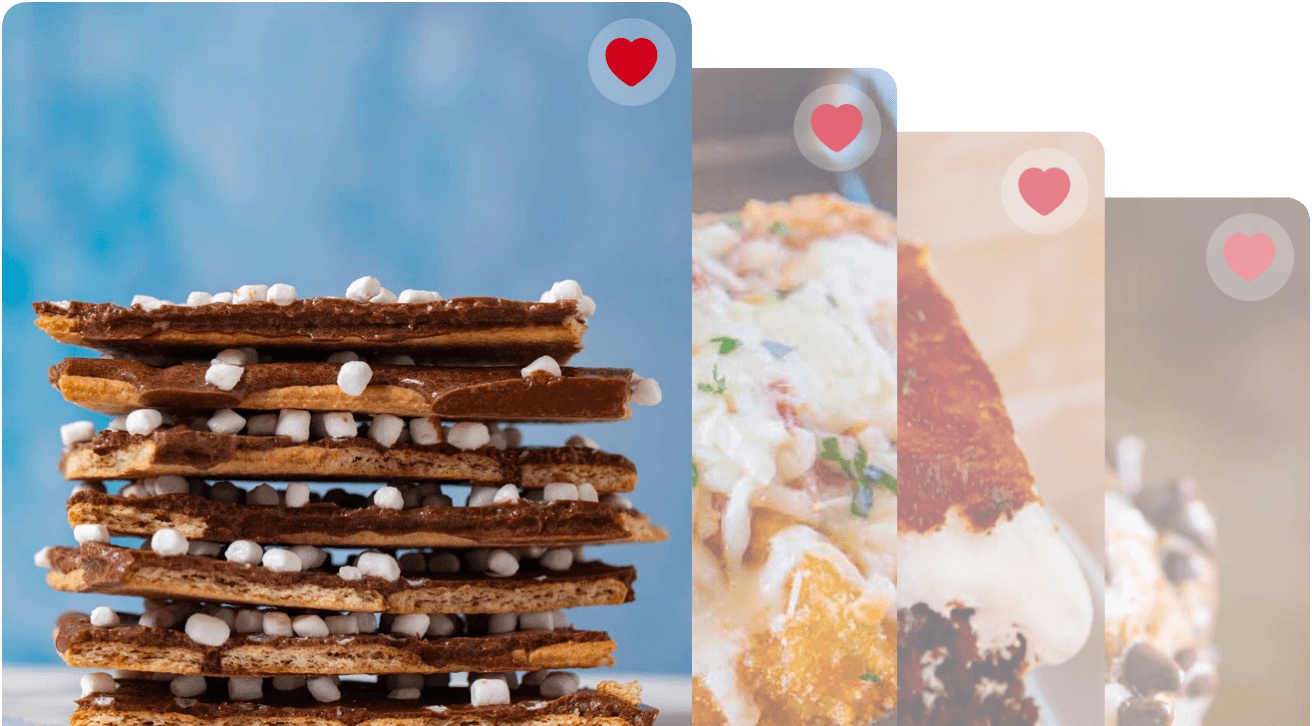 VARIATIONS ON FALAFEL CRUSTED CHICKEN
Dips: This dish already gets plenty of flavor from it's wonderful seasonings, but you can serve your baked chicken along with cool and creamy dips. Try a maple mustard or cheese dip. And instead of finding a store-bought dip you can make your own simple dipping sauce using light mayonnaise a dash of lemon juice and a bit of garlic powder.
Marinade: If you'd like your baked chicken recipe to be even more juicy and flavorful let it marinate in this simple sauce. Soak the chicken in a marinade made from ¾ cup coconut mil, 2 tablespoons olive oil, and 2 tablespoons tandoori seasoning. Let it sit for at least 4 hours and up to overnight in the fridge, before you coat it in the falafel and bake the chicken. Once roasted, this baked chicken is the most unbelievably flavorful chicken dish ever.
Parmesan Crusted Chicken: If you'd like to make a parmesan crusted chicken but don't want to use breadcrumbs for the parmesan crust, change this chicken breast recipe a little bit to make an easy, healthy chicken parmesan. The falafel in this recipe will act as a substitute for the panko bread crumbs. Just add the cheese to the breading mixture before coating it on the chicken breasts. Then grate more Parmesan Cheese over the top of the chicken breasts before putting it in the oven. You'll also want to replace the cumin and other spices with Italian seasoning. Just like that you'll have an easy parmesan chicken that's healthier than using panko.
WHAT TO SERVE WITH FALAFEL CRUSTED CHICKEN
HOW STORE FALAFEL CRUSTED CHICKEN
Serve: Don't leave Baked Chicken Breasts out at room temperature for more than 2 hours.
Store: Baked Chicken Breasts will be good in the fridge for 3-4 days, if stored in an airtight container. Reheat the chicken breasts on a baking sheet in the oven for a few minutes to get them crispy again.
Freeze: These Baked Chicken Breasts are also a great recipe for meal prep. Once the chicken breasts have cooled to room temperature store them in a freezer bag separated by parchment paper. When you're ready to serve the dish, let the chicken defrost in the fridge overnight. Spray the chicken with a little more olive oil and bake for a few minutes. The pre-made baked chicken breast recipe comes out crispy, flavorful and fresh like you just made them.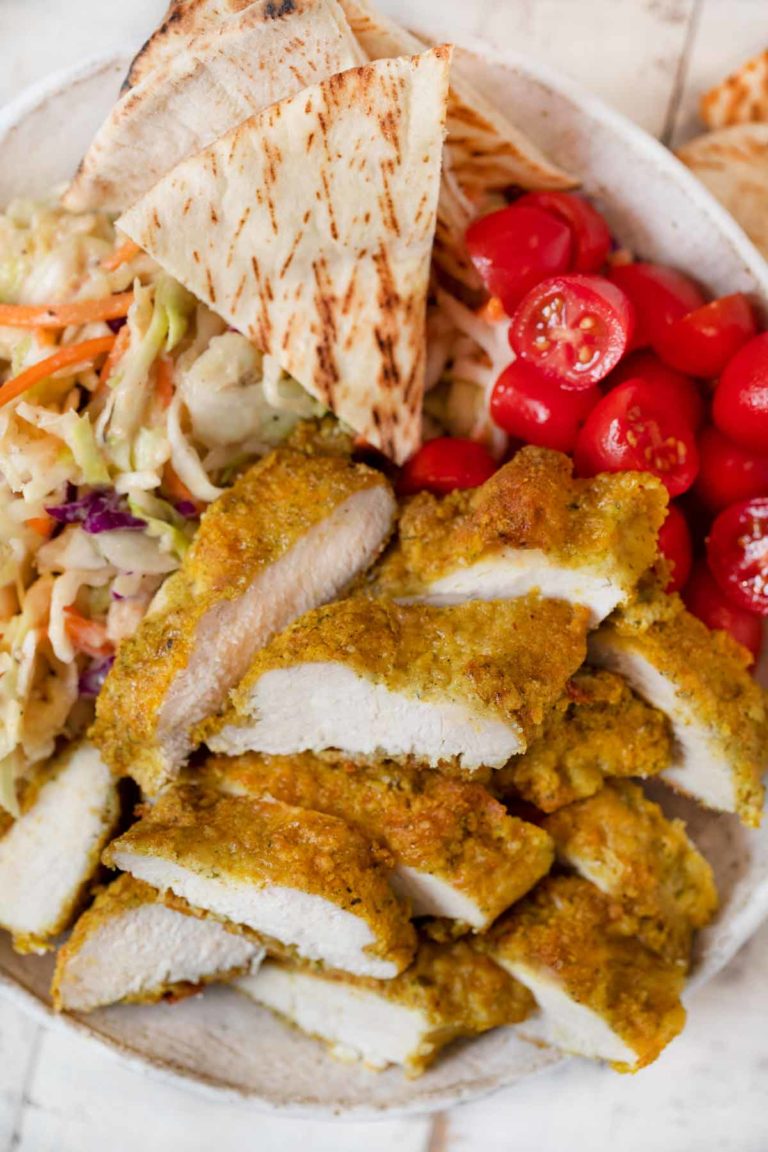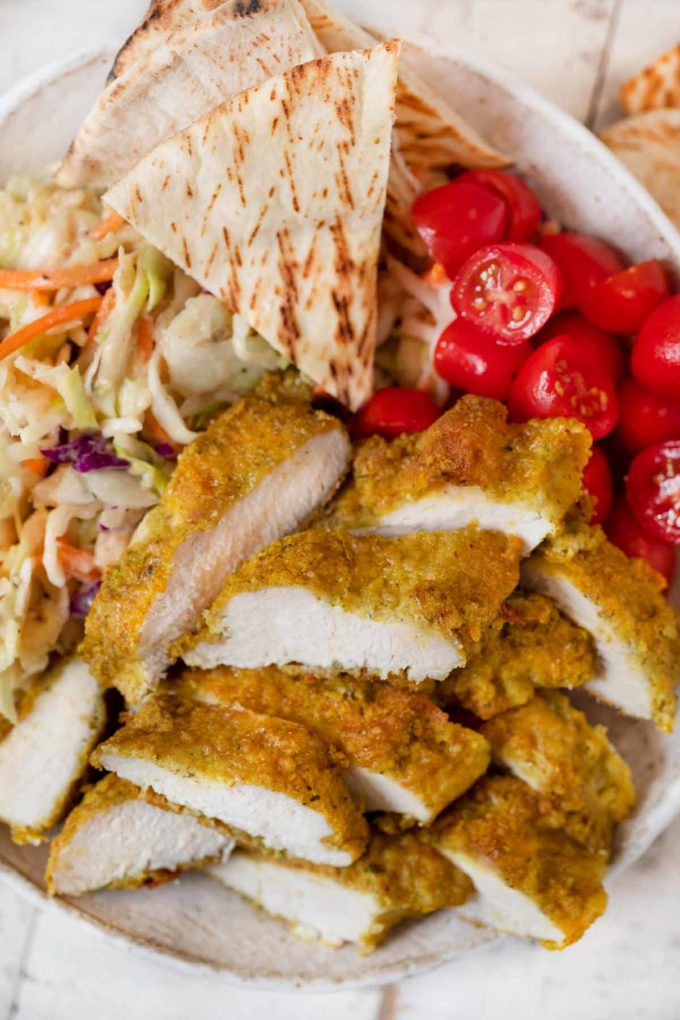 Ingredients
2

skinless

, boneless chicken breasts

1

large

egg

2

tablespoons

water

1

cup

garbanzo bean flour

, chickpea flour

1

teaspoon

kosher salt

2

tablespoons

dried parsley flakes

, rub between fingers to crush

1/2

teaspoon

ground coriander

1/2

teaspoon

turmeric powder

1/2

teaspoon

chili powder

1/2

teaspoon

ground cumin

1/4

teaspoon

garlic powder

1/4

teaspoon

paprika

olive oil cooking spray

, (about 4 seconds)
Instructions
Preheat oven to 400 degrees.

Cut the chicken breasts in half, into thin cutlets.

Beat egg and water together in a small bowl.

Whisk the rest of the ingredients, except the oil spray, in another bowl.

Dip the chicken into the egg mixture then dredge in the chickpea flour mixture.

Spray a baking pan quickly with olive oil spray (1 second).

Add chicken to baking pan and spray the top for 3 seconds (this seems like a long time but will make a nice crispy crust).
Nutrition
Calories:
208
kcal
|
Carbohydrates:
19
g
|
Protein:
20
g
|
Fat:
6
g
|
Saturated Fat:
1
g
|
Cholesterol:
100
mg
|
Sodium:
678
mg
|
Potassium:
436
mg
|
Fiber:
4
g
|
Sugar:
3
g
|
Vitamin A:
236
IU
|
Vitamin C:
1
mg
|
Calcium:
37
mg
|
Iron:
3
mg