Healthy Baked Beans are an easy summer bbq side dish cooked in a light yet rich sauce made with Southern flavors including bacon, brown sugar and mustard.
Just like Oven Baked Sweet Potato Fries, Baked Beans are the perfect Side Dish for your next get-together! Make a big batch for your next cookout, or serve it as an easy side at dinner. Either way they're sure to be a new favorite.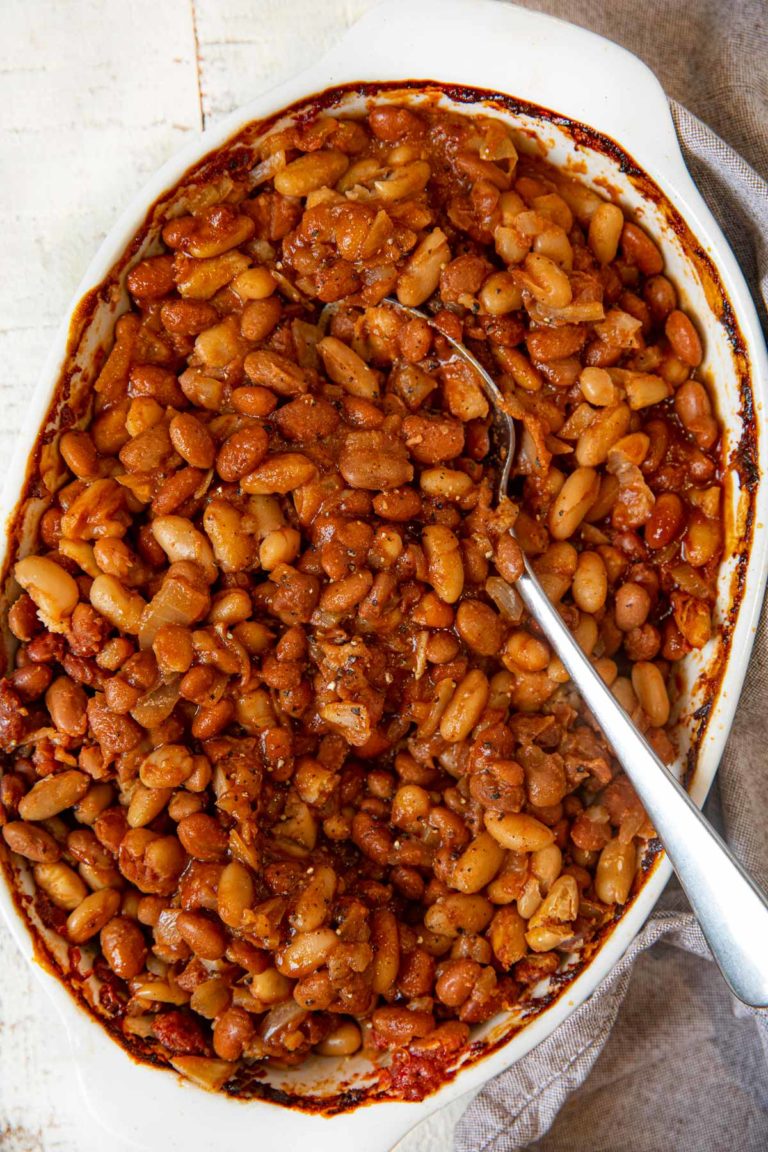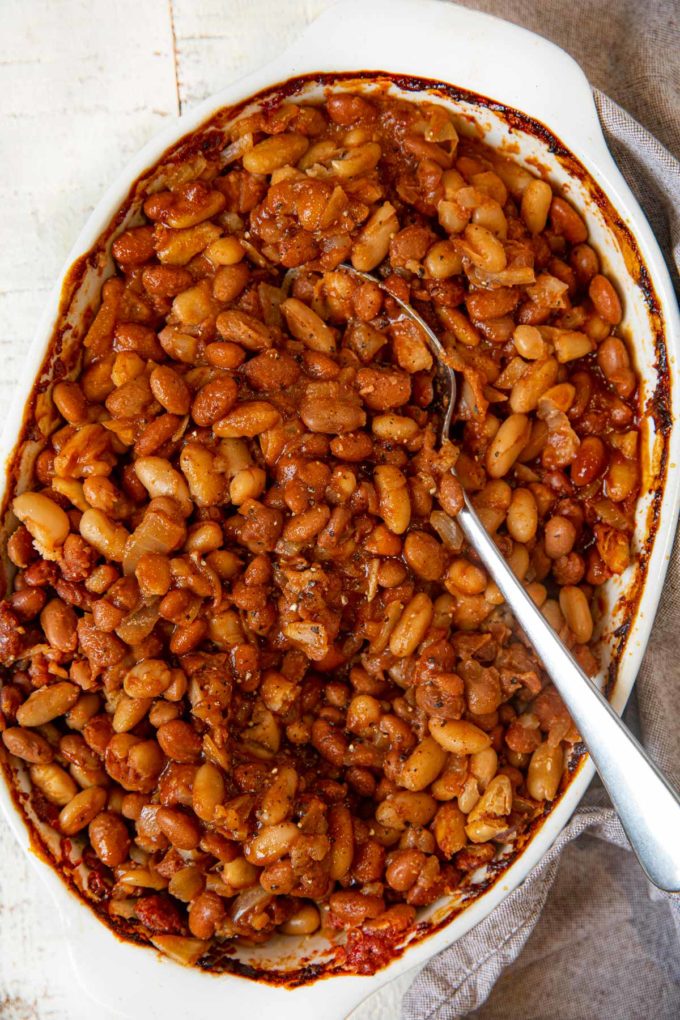 HEALTHY BAKED BEANS
Homemade Baked Beans have a much fresher and authentic taste than any store-bought canned baked beans, and they're also surprisingly easy to make. The total time to cook homemade Baked Beans is about an hour, and it's all done on the stovetop.
One of the best parts about making homemade baked beans, instead of just heating up canned beans (apart from the taste), is that you know exactly what ingredients you put in. This Baked Beans recipe has all the Southern flavors of classic baked beans with less sugar, sodium, carbohydrates and calories.
Ditch the Ketchup!
Some of the more healthy ingredients in this recipe are using tomato sauce, instead of ketchup. And while these baked beans aren't completely sugar-free, this recipe uses less brown sugar than most and doesn't call for any additional sweeteners.
This baked bean recipe also only calls for one slice of bacon, to create the bacon grease and add a natural smoky flavor instead of using liquid smoke, much less than most baked bean recipes. If you'd prefer not to use bacon at all, you can use vegetable oil. If you do exchange the pork for vegetable oil this recipe will be completely plant-based and vegan friendly.
Making your own baked beans also means you can use a variety of beans in the ingredients. This recipe calls for navy beans, pinto beans, and northern beans. Buy the beans canned, then rinse and drain them. Beans are all filling, and full of protein without too many calories. They are also heart healthy, which make them an excellent healthy option.
MORE HEALTHY SIDE DISH RECIPES
OTHER COOKING OPTIONS
Oven: Instead of making baked beans on your stovetop you can also bake them in the oven. Preheat your oven to 375 degrees. Cook the bacon in a large skillet. Remove the pork then simmer the onion in the skillet until translucent. Then, mix all ingredients in a large bowl. Pour in a baking dish and cook for an hour covered in tin foil.
Slow Cooker: Altering this Baked Bean recipe for the slow Cooker is also fairly easy. For the slow cooker version, prepare the ingredients the same way you would for the oven. Then add them to the slow cooker, and cook on high for 6-8 hours.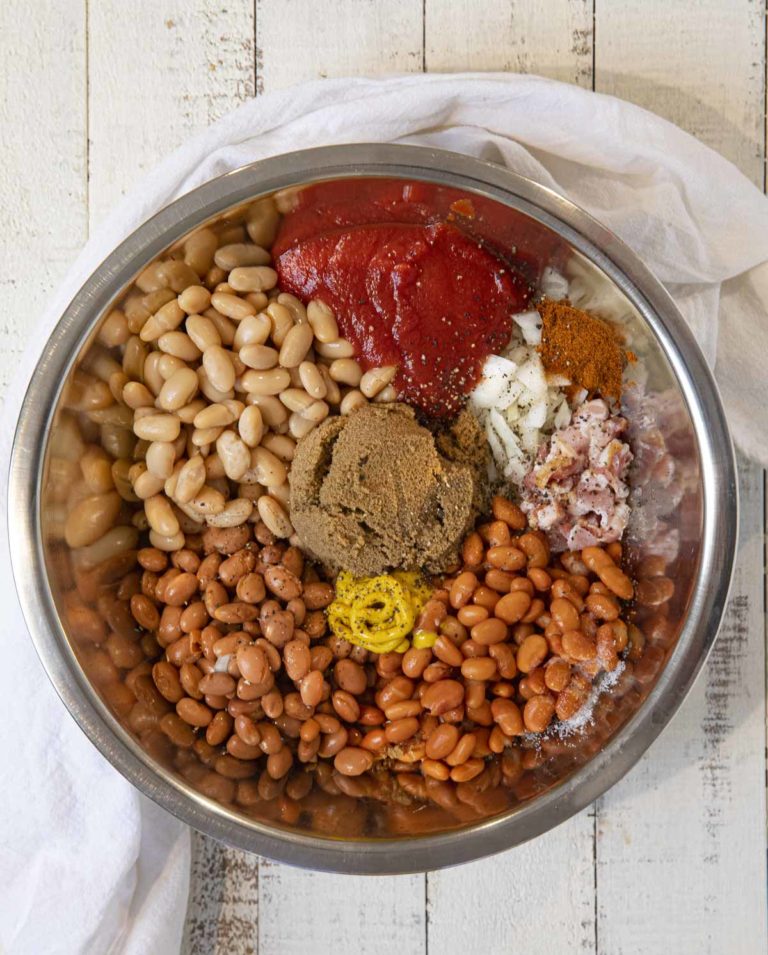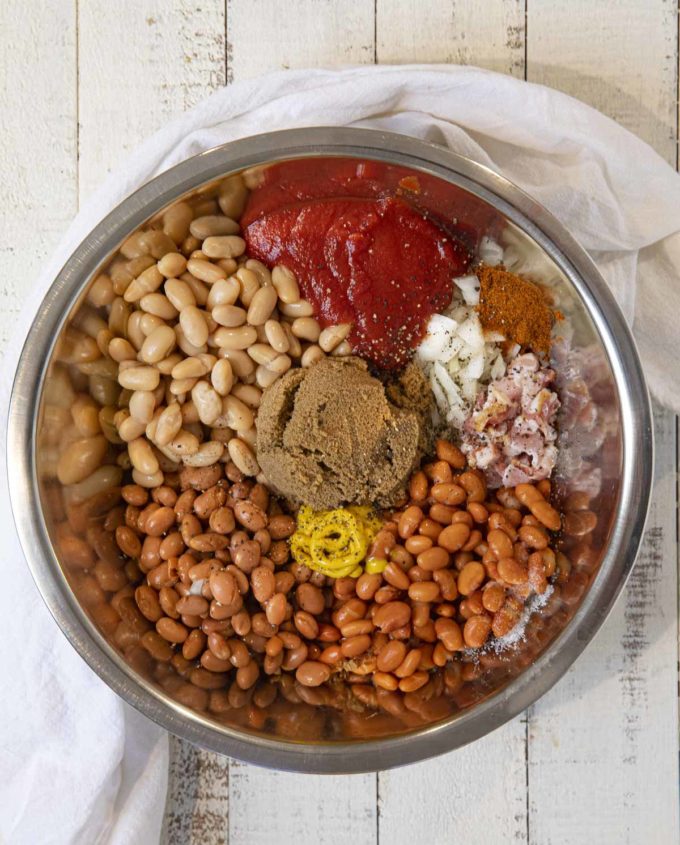 Create a free account to

Save Recipes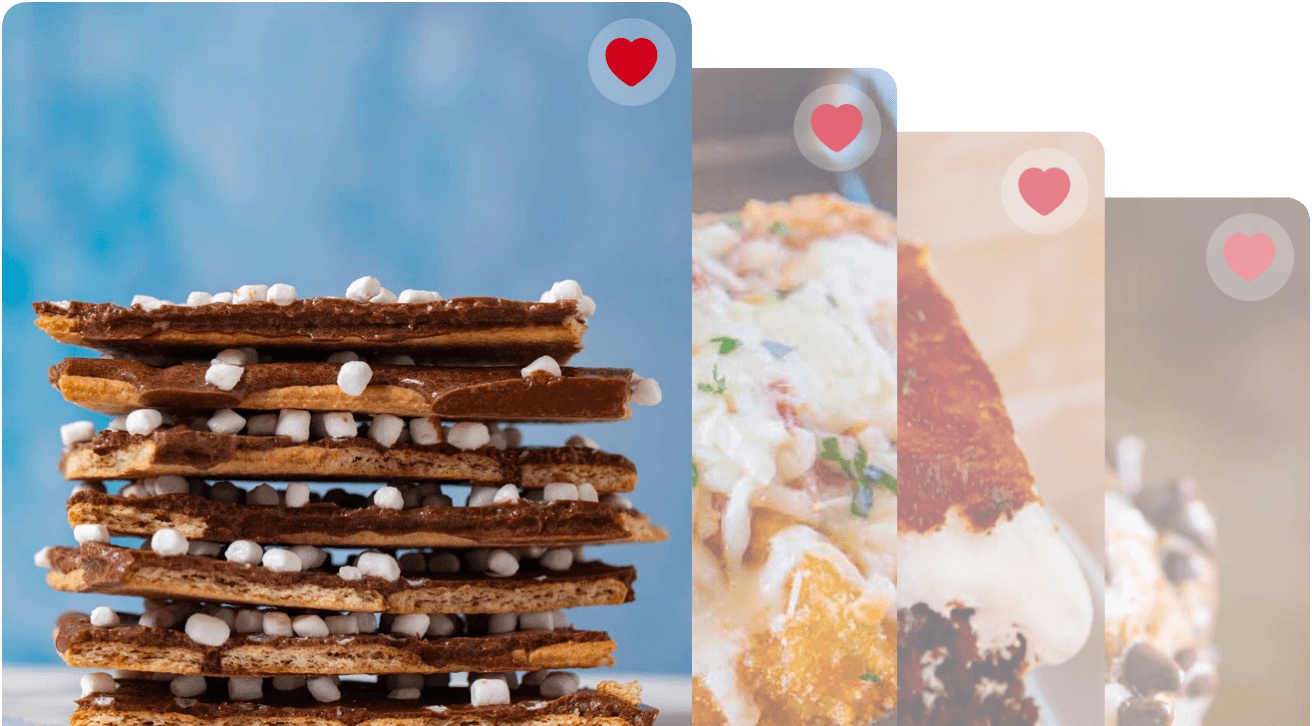 VARIATIONS ON HEALTHY BAKED BEANS
Barbecue Baked Beans: For an even deeper flavor use BBQ sauce in your baked beans. You can replace the tomato sauce this recipe calls for with ¾ cup BBQ sauce.
Sweeteners: These Baked Beans only have brown sugar for sweetener, which makes them less sugary than many other baked bean recipes that call for more brown sugar and some molasses. However, if you enjoy the warm flavor of molasses, you can always add it and brown sugar to your baked beans. Add about 3 tablespoons molasses, or less depending on your taste, to your Baked Beans. Alternatively, if you don't have molasses but still want some extra sweetness, you can add maple syrup or honey. 3 tablespoons of either should be plenty.
Ketchup: This Baked Beans recipe uses tomato sauce, however another classic way to prepare beans is with ketchup in the sauce. It still provides a tomato flavor to the sauce, but has a smoother texture and is saltier. If you prefer you can use ¾ cup ketchup for the ½ cup tomato sauce. Just remember, this will add more sodium to the recipe.
Pepper: Add some extra flavor to the baked beans by adding some green pepper. Chop half a green pepper and add it along with the onion. You can also add in some minced garlic to the sauce.
Other Bean Options: There are plenty of beans you can use for this recipe. It just depends on your preferences and what you have in your cupboard. You can try kidney beans, canned baked beans, or butter beans.
HEALTHY DINNER OPTIONS
HOW TO STORE HEALTHY BAKED BEANS
Serve: Once they've cooked you can leave the beans at room temperature for up to two hours.
Store: After they've cooled, you should store the beans in an airtight container. The beans will be good in the fridge for 3-4 days.
Freeze: If you have a lot of leftovers or made extra so you could pre-cook and store for later, your beans will last in a sealed container in the freezer for about 2 months. When you're ready to eat the baked beans let them defrost in the fridge overnight. The next day you can reheat them on medium-high heat on the stove.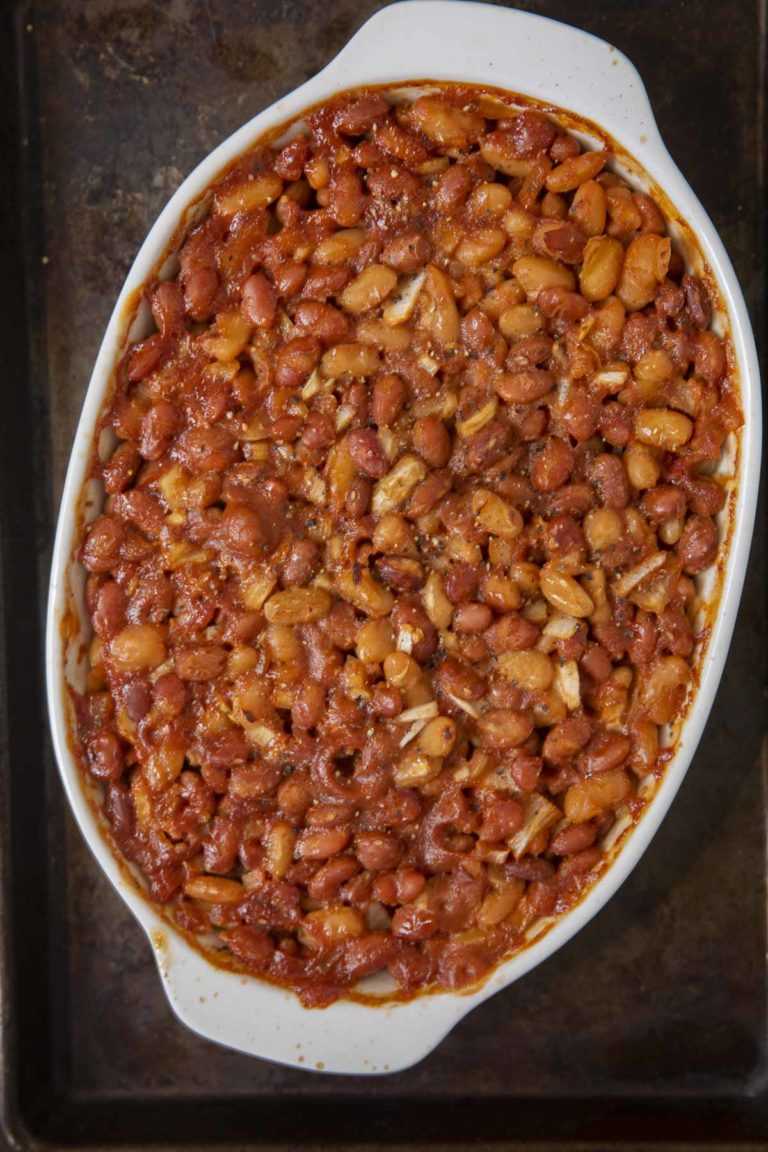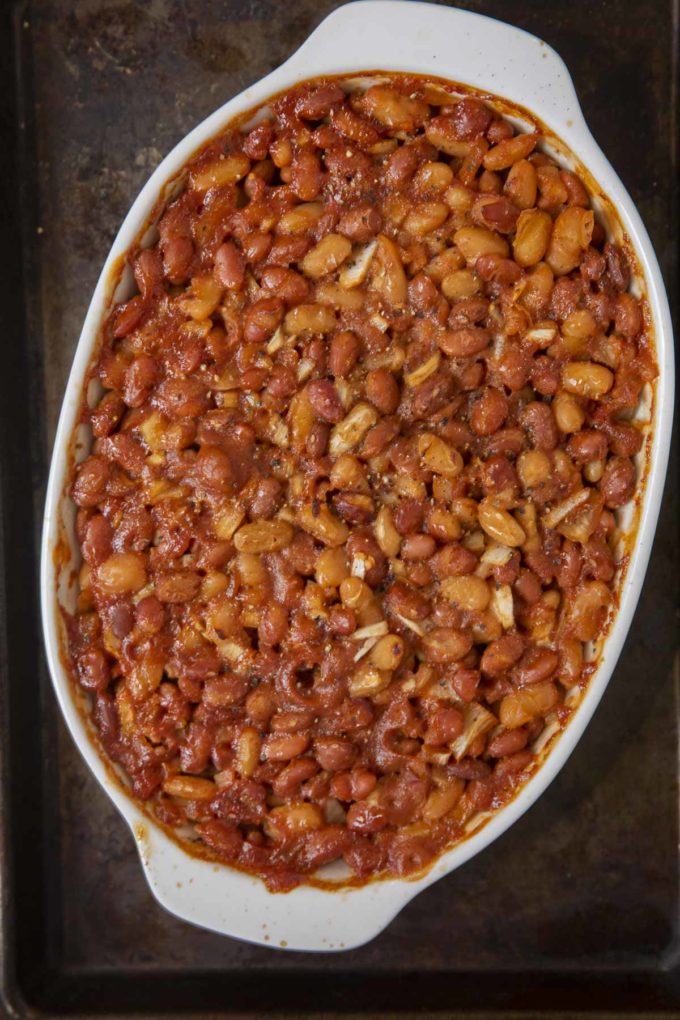 Ingredients
1

slice

bacon

, chopped (optional, or use 1 teaspoon vegetable oil)

1

yellow onion

, finely diced

15.5

ounce

can navy beans

, rinsed and drained (roughy 1 ¾ cups)

15.5

ounce

can pinto beans

, rinsed and drained (roughy 1 ¾ cups)

15.5

ounce

can northern beans

, rinsed and drained (roughy 1 ¾ cups)

1/2

cup

tomato sauce

1 1/2

cups

water

1/2

cup

dark brown sugar

, unpacked

1

tablespoon

yellow mustard

1

teaspoon

chili powder

1

teaspoon

kosher salt

1/4

teaspoon

coarse ground black pepper
Instructions
In a large dutch oven add the bacon on medium heat.

Cook until fat has rendered and bacon is crispy but still chewy, about

1 minute

.

Remove bacon.

Add in onions and cook until translucent, about

5-6 minutes,

stirring occasionally.

Add in navy, pinto and northern beans and stir.

Add in tomato sauce, water, dark brown sugar, yellow mustard, chili powder, salt and pepper and stir.

Bring to a boil then reduce to a simmer.

Cook for

45-60 minutes

until thickened.
Nutrition
Calories:
163
kcal
|
Carbohydrates:
31
g
|
Protein:
8
g
|
Fat:
1
g
|
Saturated Fat:
1
g
|
Cholesterol:
1
mg
|
Sodium:
544
mg
|
Potassium:
401
mg
|
Fiber:
6
g
|
Sugar:
10
g
|
Vitamin A:
95
IU
|
Vitamin C:
2.4
mg
|
Calcium:
66
mg
|
Iron:
2
mg