Baked Chinese Honey Chicken is the perfect alternative to takeout. Sweet, crispy chicken coated in breadcrumbs and flavored with real honey.
If you liked Skinny Chinese Orange Shrimp, Skinny Sesame Chicken, and Skinny Teriyaki Chicken and want some more delicious Asian-inspired Weeknight Meals, this is the perfect dish to try next! Baked Chinese Honey Chicken is a great mix of sweet and savory, is easy to reheat for later dinners, and is great served with veggies and brown rice.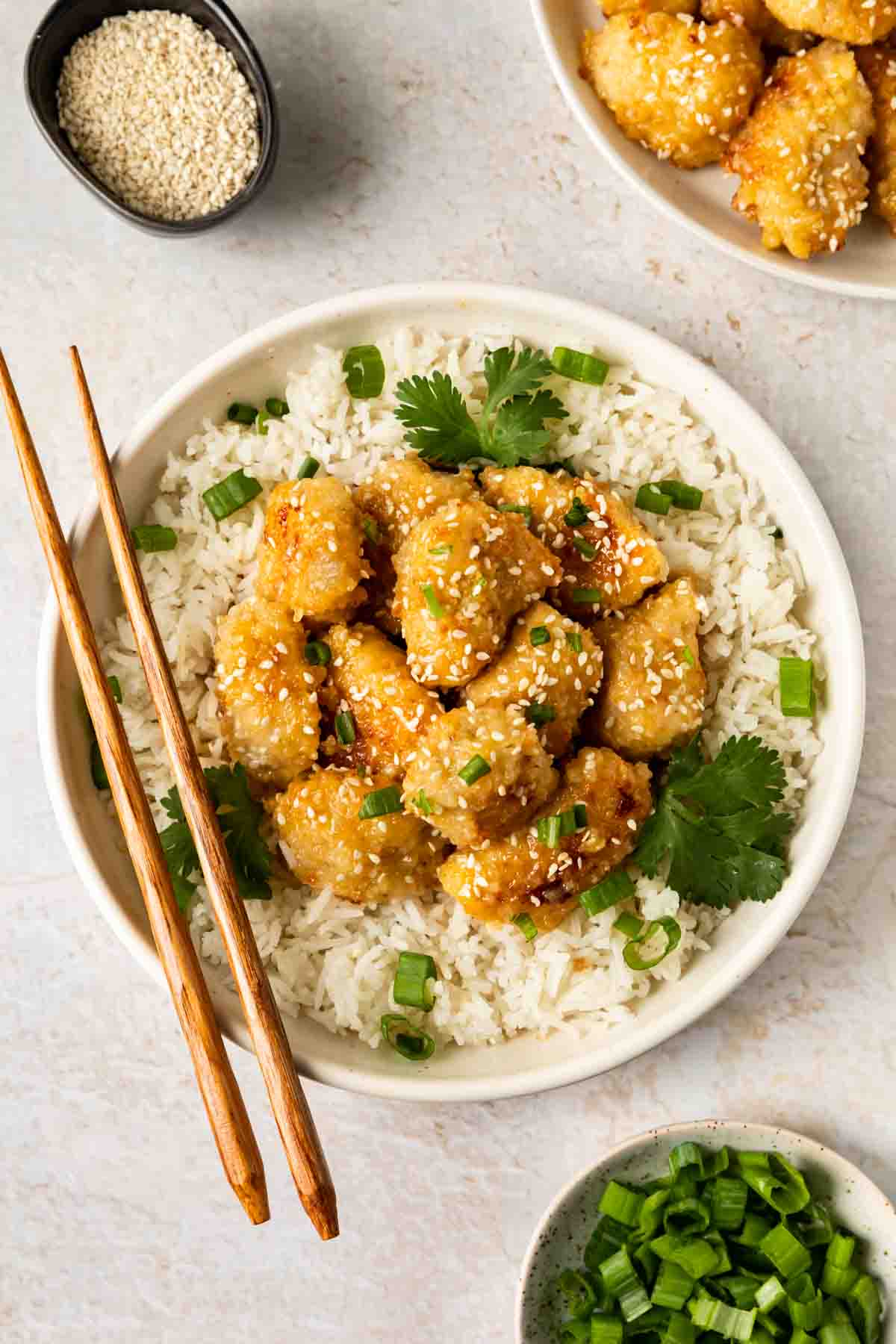 If you're looking for a yummy, savory main course but don't want to get take out or go to a Chinese restaurant you should make Baked Chinese Honey Chicken. It's just as delicious as anything from your favorite restaurant but made with healthier ingredients that you can enjoy completely guilt-free.
Honey Sesame Chicken is coated in a savory garlic and bread crumb mixture, baked to golden brown perfection, and then tossed in a sticky honey and mayo sauce and sprinkled with sesame before serving. You may think that you can't have breading if you're eating healthy, but this recipe gives you a crispy coating without deep frying. Instead, the bite-sized chicken breasts are baked in the oven. The coating turns out nice and crisp while the meat inside remains juicy and tender.
Baked Chinese Honey Chicken easy to make in just a half-hour. It's the perfect recipe for beginning cooks to try out, and it's so delicious everyone will be wanting second helpings.
To finish the meal, serve up Honey Sesame Chicken over a bowl of white rice, brown rice, Cauliflower Rice, or Wild Rice, or for more flavor enjoy it over Fried Rice. You can also serve up your favorite veggie sides like Skinny Chinese Green Beans and Roasted Vegetables.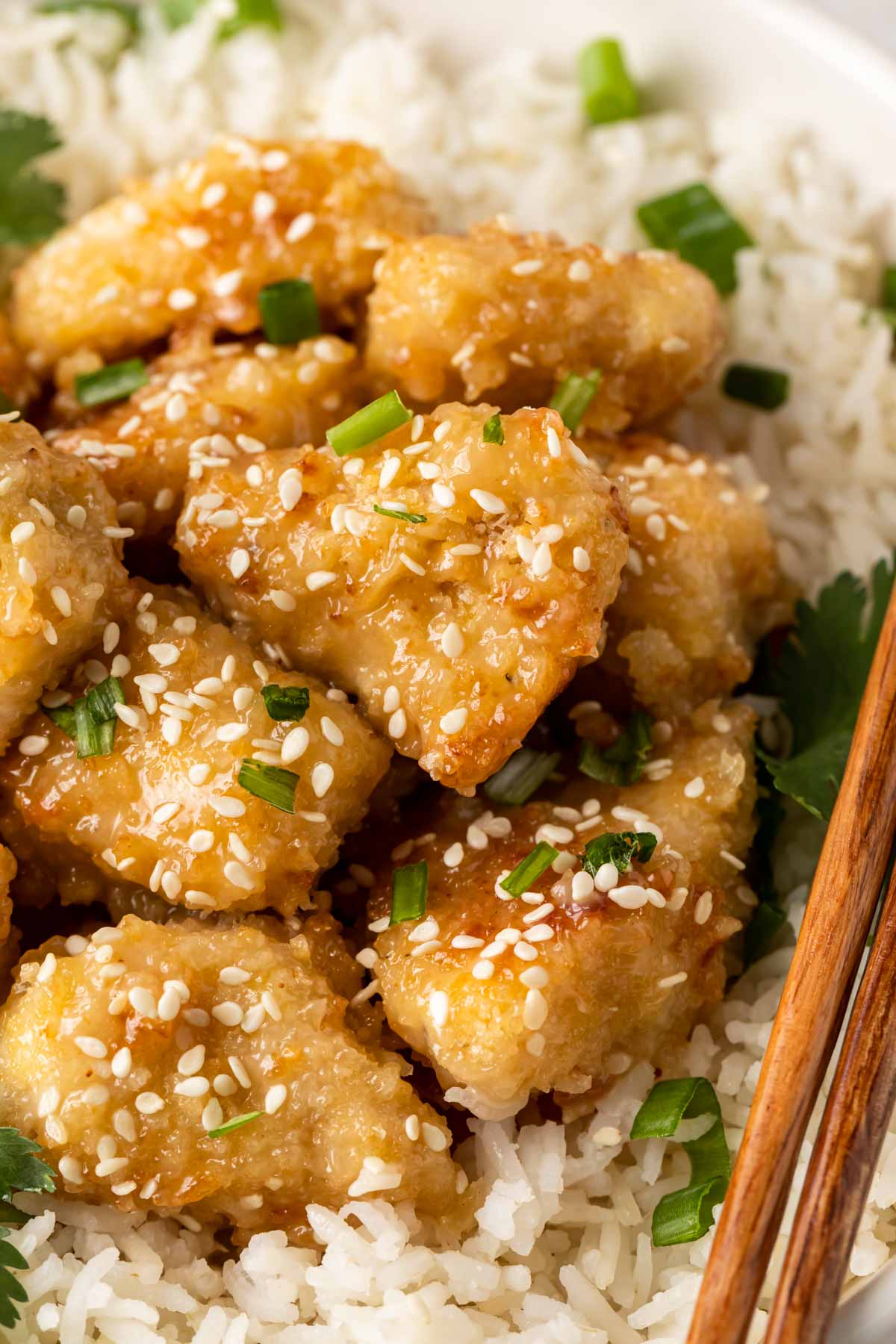 More Asian Food Recipes
Tips For Making Baked Chinese Honey Chicken
Prep: Take out your defrosted boneless skinless chicken breasts. Slice the chicken into bite-sized pieces. Then preheat the oven to 375 degrees and you'll be ready to start the recipe.
Coatings: There are several coatings that need to be complete with the Baked Chinese Honey Chicken. Start with the sauce by whisking together the mayonnaise, honey, and condensed milk. Set that mixture to the side and whisk together the eggs, salt, and pepper in a separate bowl. Put the flour in a third bowl. Then get a fourth bowl and mix the breadcrumbs, onion powder, and garlic together. Dredge the chicken pieces in the flour, then the egg mixture, and panko breadcrumbs,
Baking time: Place the chicken in the baking dish and spray it with vegetable oil for 2 seconds. The vegetable oil will help mimic the crisp coating you'd have on fried chicken. Pop the dish in the oven and bake for 22-25 minutes until the chicken is golden brown and crispy.
Finish: Take the dish out of the oven and pour the honey sauce over chicken. Toss together until the chicken is well coated, then sprinkle sesame seeds on top before serving.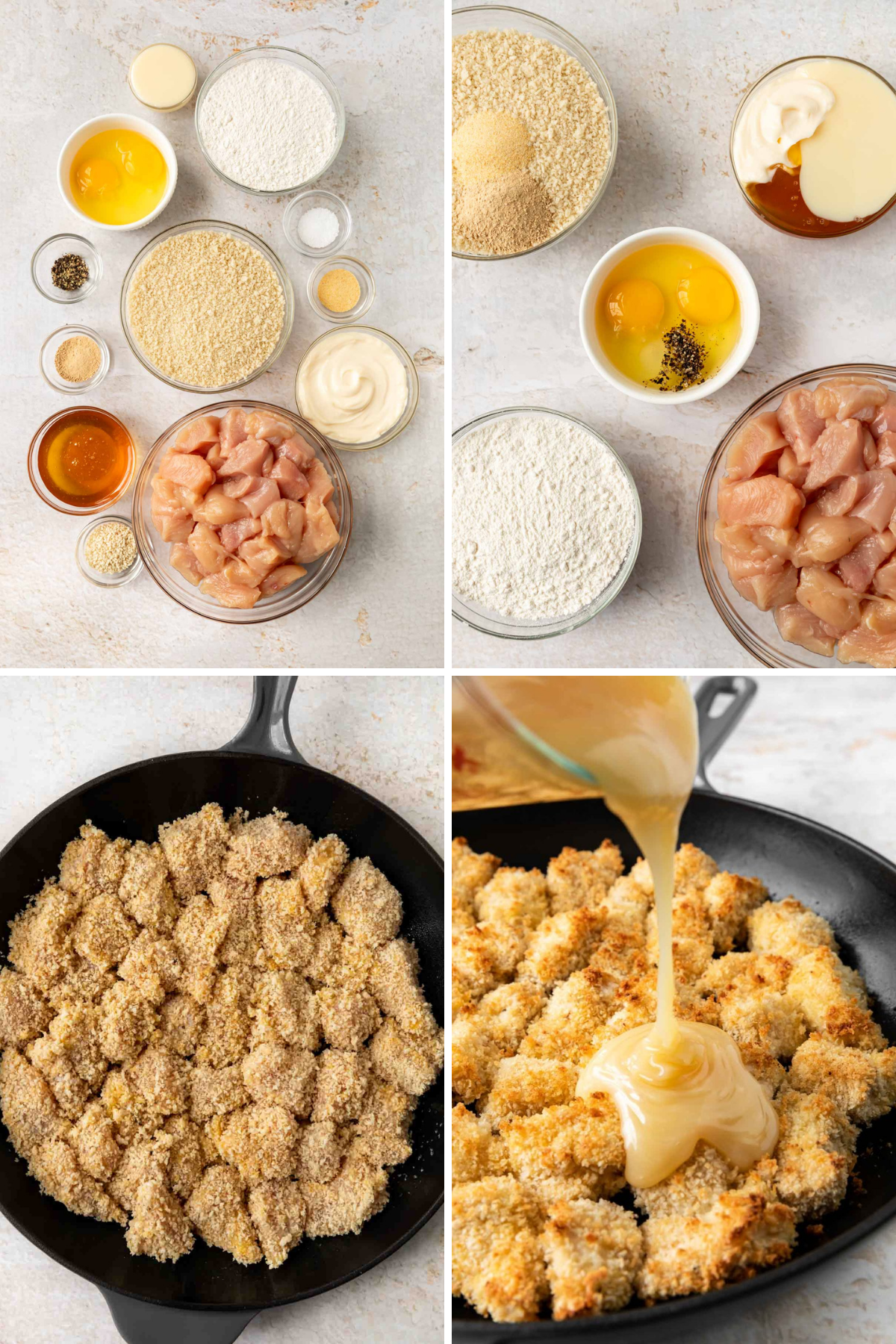 Create a free account to

Save Recipes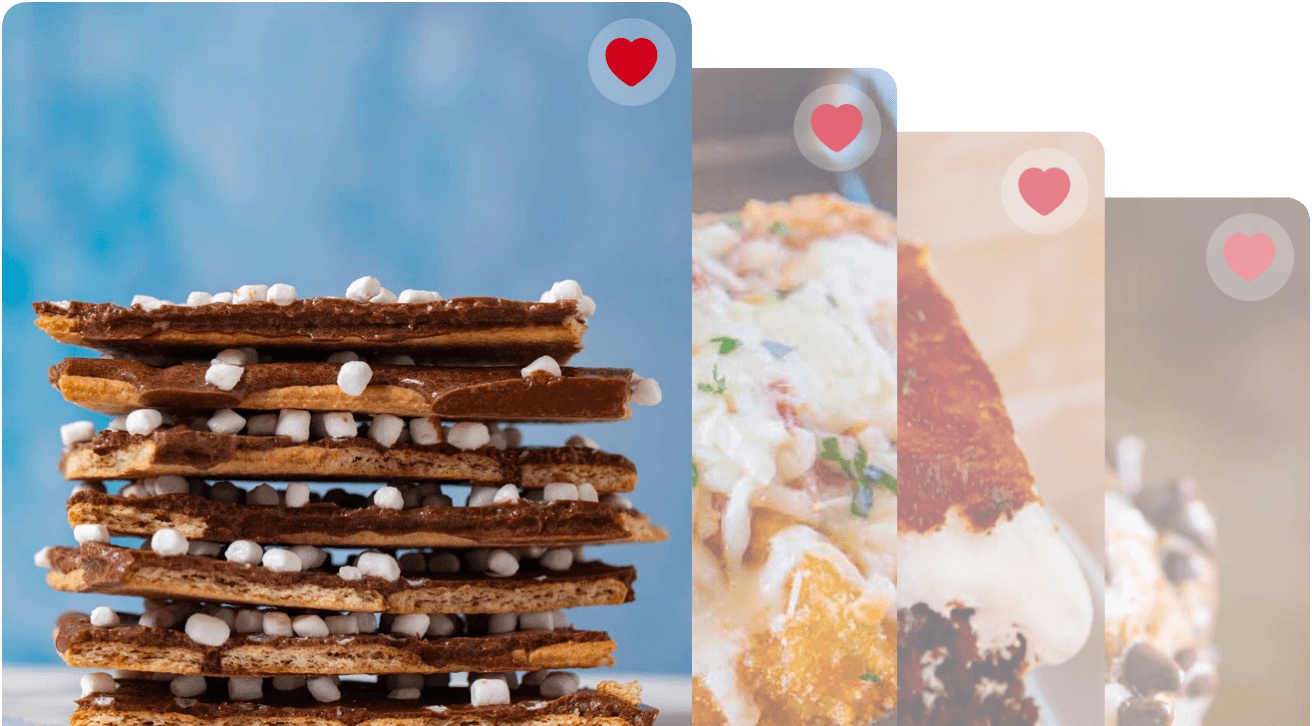 Variations On Baked Chinese Honey Chicken
Veggies: Finely chop green onions, bok choy, bell peppers, or carrots and add them to the baking dish to roast with the chicken. They'll add a pleasant crunch and some extra flavor. However, the green onions are best served sprinkled over the top of the finished chicken just before serving for them to be crisp and flavorful.
Gluten-free: To make this recipe gluten-free, switch out the all-purpose flour for almond or buckwheat flour. You'll also need to find gluten-free breadcrumbs, or make your own crumbs out of gluten-free bread or crackers. You will still get that delicious Chinese takeout flavor without aggravating your gluten intolerance.
Honey Garlic Chicken: To get a stronger, savory flavor try replacing the garlic powder with a few cloves of freshly minced garlic. Toss in 2-3 minced garlic cloves, depending on your taste, to make Honey Garlic Chicken.
Seasonings: You can also add some extra spices to the ingredients. A teaspoon of ginger, cloves, cardamom, or coriander would add lots of rich flavor.
Sauces: Try mixing in a tiny bit of soy sauce or sesame oil to give the Baked Chinese Honey Chicken a bolder, more savory taste. You can also use rice wine vinegar as part of the sauce for a more tangy flavor.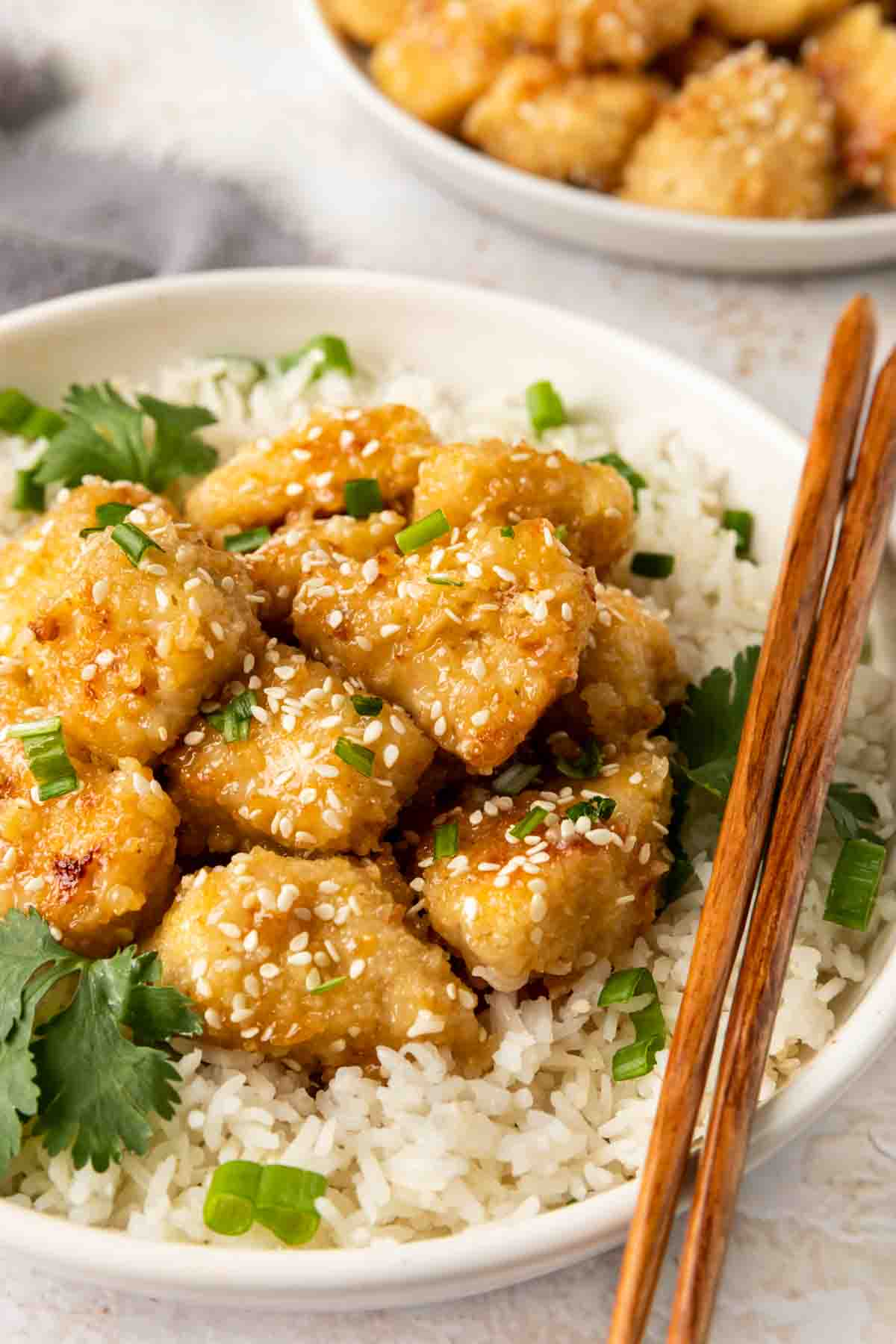 More Healthy Chicken Recipes
How Long Is Baked Chinese Honey Chicken Good?
Serve: Don't leave Baked Chinese Honey Chicken out at room temperature for longer than 2 hours.
Store: Allow the chicken to completely cool down to room temperature, then wrap it in plastic wrap or seal it into an airtight container and put it in the fridge. Your leftovers will stay good for up to 3 days. You can reheat the chicken in the microwave or oven for a few minutes to enjoy the leftovers.
Freeze: For more long-term storage, seal the chicken to store in the freezer for up to 6 months.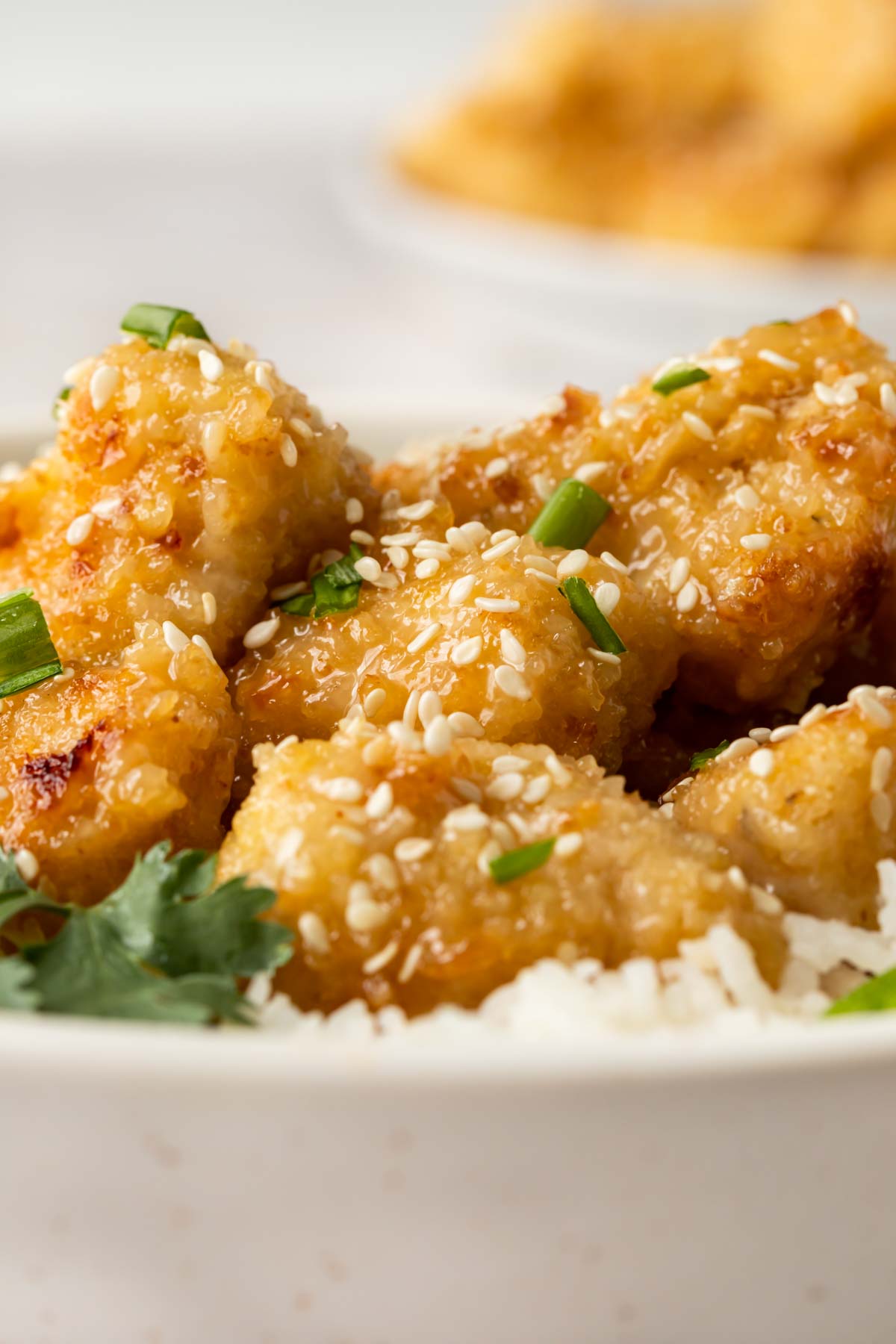 Ingredients
1/2

cup

light mayonnaise

1/4

cup

honey

2

tablespoons

sweetened condensed milk

2

large

eggs

1/2

teaspoon

kosher salt

1/4

teaspoon

coarse ground black pepper

4

chicken breasts

, boneless skinless

1

cup

flour

2

cups

panko breadcrumbs

1

teaspoon

onion powder

1

teaspoon

garlic powder

1

teaspoon

sesame seeds
Instructions
Whisk together the mayonnaise, honey and condensed milk

Whisk the eggs, salt and pepper in a shallow bowl.

Cut the chicken breasts into 1" chunks.

Place the flour into a shallow bowl.

Mix the breadcrumbs, onion powder and garlic powder together in a shallow bowl.

Preheat the oven to 375 degrees.

Coat the chicken with the flour.

Dredge in the egg mixture, then into the panko mixture.

Add to a large baking dish.

Spray with vegetable oil spray for

2 seconds

.

Bake for

22-25 minutes

or until golden brown.

While still hot, toss with the honey mayonnaise mixture.

Garnish with sesame seeds.
Nutrition
Calories:
348
kcal
|
Carbohydrates:
36
g
|
Protein:
30
g
|
Fat:
9
g
|
Saturated Fat:
2
g
|
Trans Fat:
1
g
|
Cholesterol:
123
mg
|
Sodium:
516
mg
|
Potassium:
519
mg
|
Fiber:
1
g
|
Sugar:
13
g
|
Vitamin A:
125
IU
|
Vitamin C:
2
mg
|
Calcium:
62
mg
|
Iron:
2
mg