Baked wild rice has a rich, nutty flavor, is a great holiday side dish and is an easy recipe to follow, especially if this is your first time baking rice and not steaming it.  
Cutting white rice out of your diet is a good way to be healthier and feel better. I've made a few delicious white rice alternatives, like Carrot Rice and Cauliflower Rice, and baked wild rice is another one that may be one of your new favorite recipes.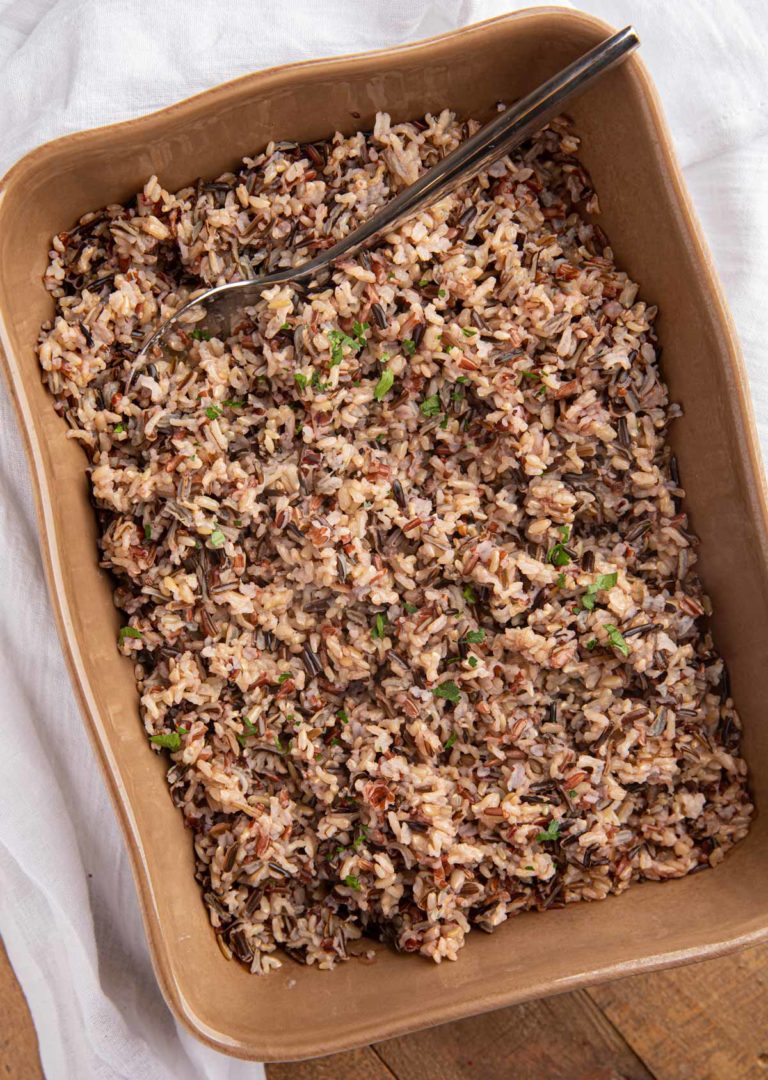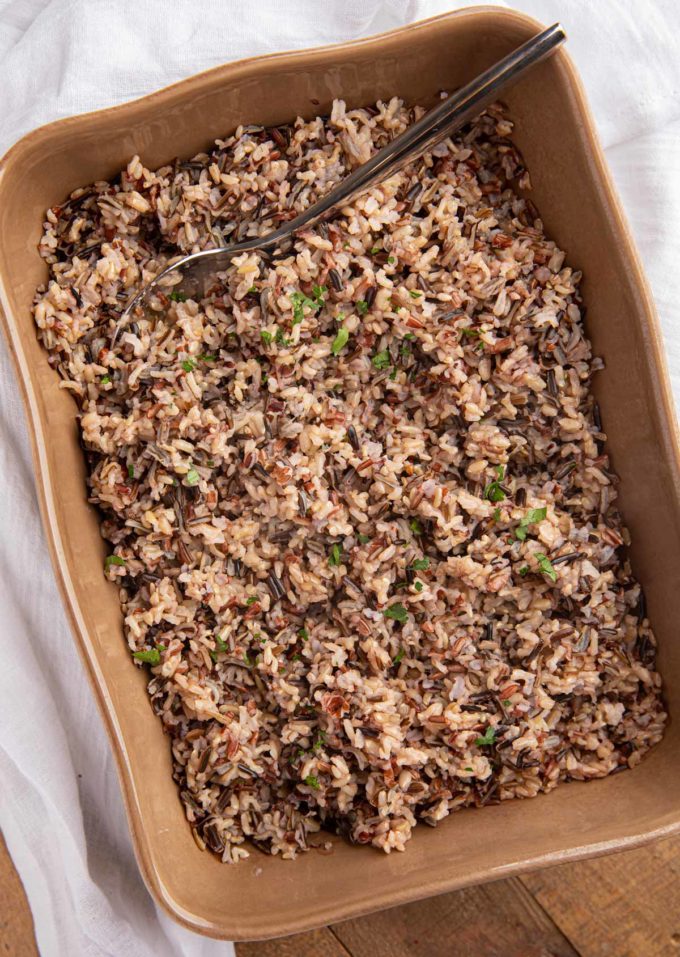 BAKED WILD RICE
Wild rice isn't a rice at all. It's actually multiple species of grass seed that is often mixed with long grain rice (it's closest cousins are corn and bamboo. Go figure.) It is delicious in everything from chicken soup to wild rice casserole. It has a longer cook time than other rice, but it has a richer, nuttier flavor and is packed with nutrients. Wild rice is a lower calorie, higher protein alternative to white rice and is rich in dietary fiber and vitamins as well. Wild rice is also the state grain of Minnesota, which is quite an endorsement.
HOW TO BAKE WILD RICE
Rinse the wild rice well and boil water, and preheat oven.
Pour the boiling water and rice into a baking dish and add salt and black pepper to taste.
Cover the baking dish and put it in the oven for an hour.
Once the hour is up, stir the rice thoroughly and put it back in the oven for another 30 minutes.
Once it's done, fluff the wild rice with a fork and serve it up.
VARIATIONS
Veggies: can chop up vegetables, like leeks or zucchini, and sauté them until they are browned on the edges and crisp, and then stir them into the rice before you serve it.
Fresh mushrooms: just like the veggies, you can sauté button mushrooms in olive oil and stir them in. The mushrooms are rich and have a meaty texture to them that makes wild rice even more hearty.
What to serve with Baked Wild Rice:
Wild rice is an amazing side dish, so here are some main dishes to try with it.
Greek Chicken Skewers: full of flavor but not calories, these are fun for nights in or to serve at parties. The rich flavors go great with savory baked wild rice.
Lemon Dill Salmon: light and flaky with a mild but complex flavor, salmon is great for you and doesn't take all day to cook.
Balsamic Bruschetta Chicken: if you want to impress but don't want to work yourself to death, bruschetta chicken looks fancy, tastes amazing and is ready to eat in 15 minutes.
Okay, so now you've got a main and a grain. Here are some more side dishes and salads to round out the meal.
Parmesan Roasted Vegetables: all you have to do is slice them up and bake them. The veggies stay crisp and the layer of parmesan on the top adds a ton of flavor.
Cashew Kale Salad: salads are the poster child of healthy eating, and this particular salad is crunchy, hearty and delicious.
Chickpea Sweet Potato Kale Salad: if you've never had sweet potatoes in a salad before, it's going to be hard to go back after you try this.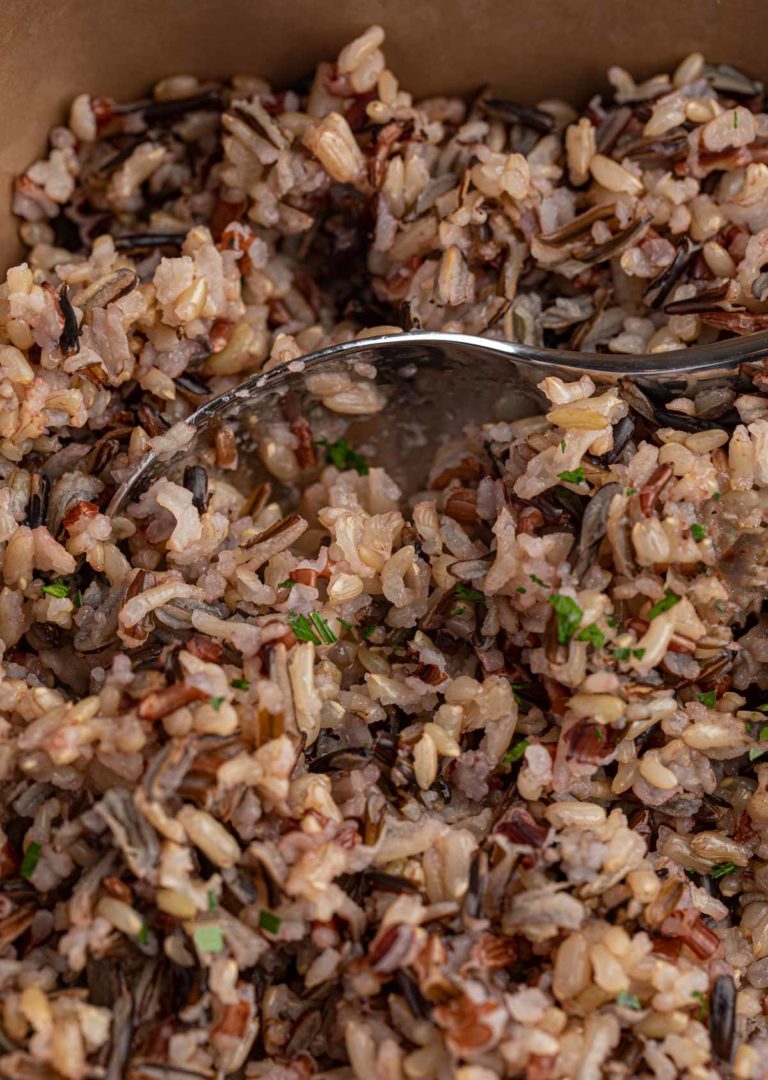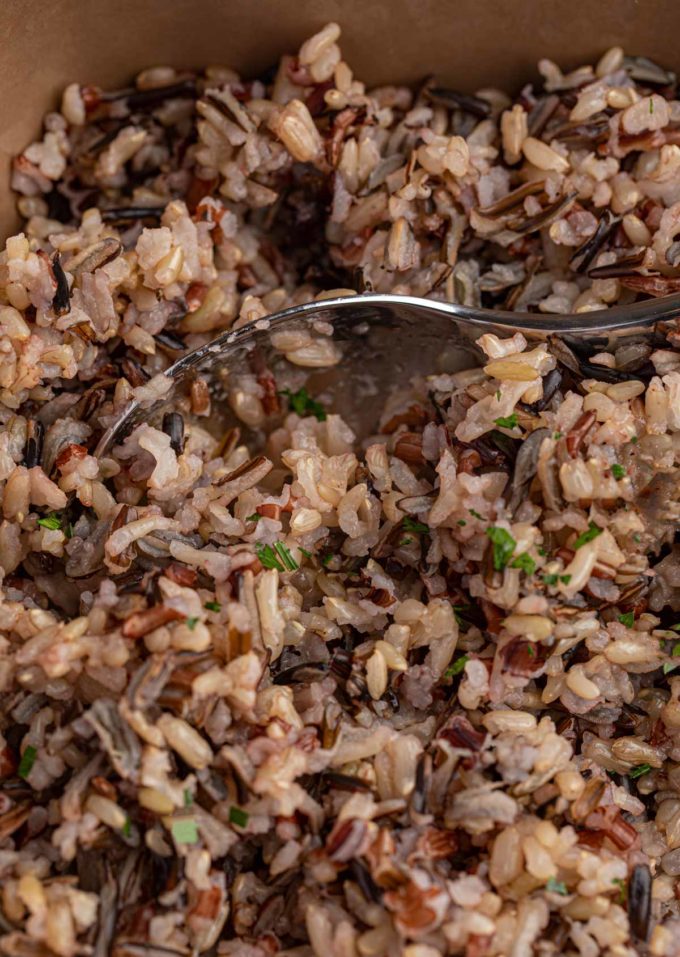 Create a free account to

Save Recipes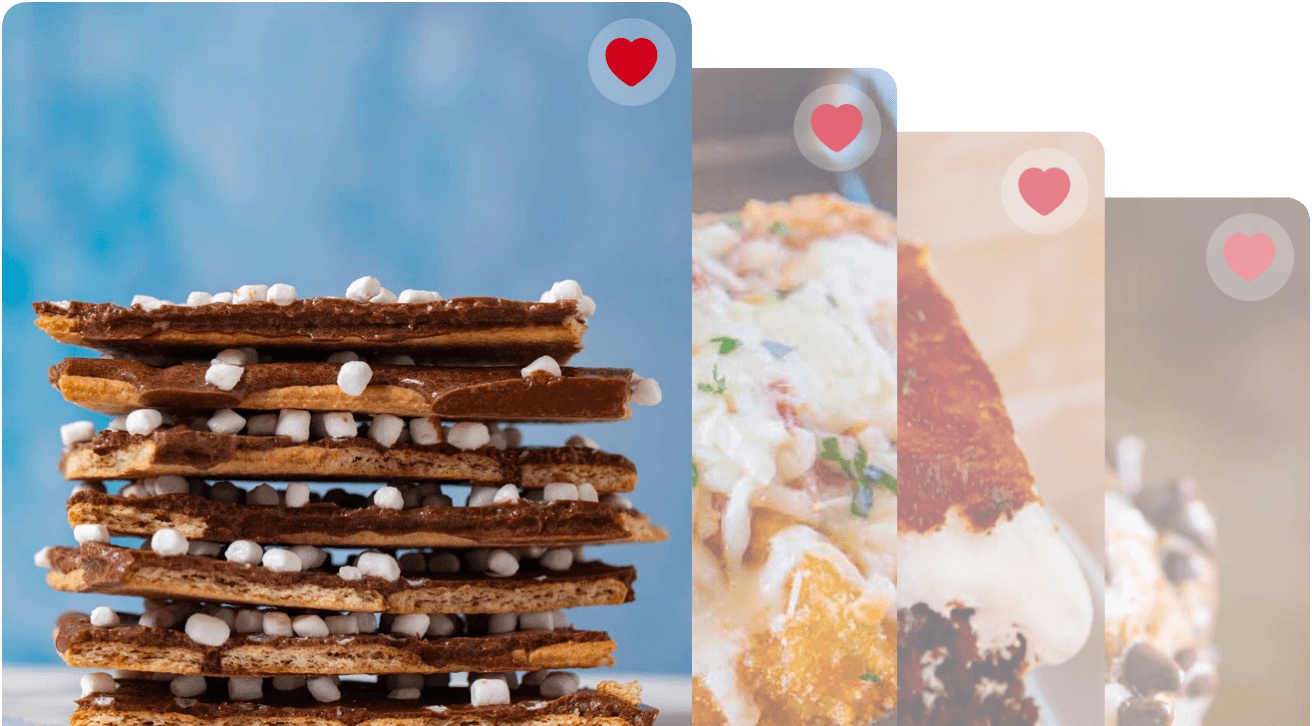 OFFICIAL HARVESTING METHOD
Wild rice has been harvested and cultivated by humans since prehistory. Native American tribes, such as the Chippewa, Ojibwe, Ojibwa and Sioux in the Minnesota area used it as a staple food for generations, and despite the fact that modern wild rice is cultivated, it still grows wild along many waterways across the US and Canada. Because fo its long tradition, there's an official method of harvesting wild rice.
Two people use a canoe to paddle out to the rice.
The person in the back, or the "poler," sits in the back and guides the boat. This may sound simple, but if you think about all the reeds and plants the canoe can get stuck in, this is no easy feat.
The person in the front of the canoe, or the "knocker," stands up and uses a long pole to bend wild rice plants over the middle of the canoe and knock the seeds off into the bottom of the boat. The rice can get up to 10 feet tall, so the knocker has to be strong and have good balance so that the canoe doesn't tip over.
Since wild rice grows in swampy areas, the water can be treacherous and it takes two very talented people working very hard to harvest the grain.
This method has been used for centuries and, somewhat surprisingly, some smaller manufacturers still do this. It's hard work, but worth it.
OTHER WAYS TO ENJOY WILD RICE
You don't just have to eat wild rice in the conventional way. Here are some fun, unusual alternatives.
Wild rice grows up to 10 feet tall and has a thick stem. That stem can be chopped down and steamed like a vegetable, which is a delicacy in certain Chinese recipes.
With oil, heat and a lot of shaking, you can pop wild rice like popcorn.
HOW LONG IS IT GOOD?
Uncooked wild rice is good for up to 7 years in a dry, airtight container, which is a huge plus for your budget.
Serve: you shouldn't leave your cooked rice out for longer than about 2 hours at room temperature.
Store: the leftovers are good in the fridge for about 1 week.
Freeze: you can freeze this recipe for up to six months.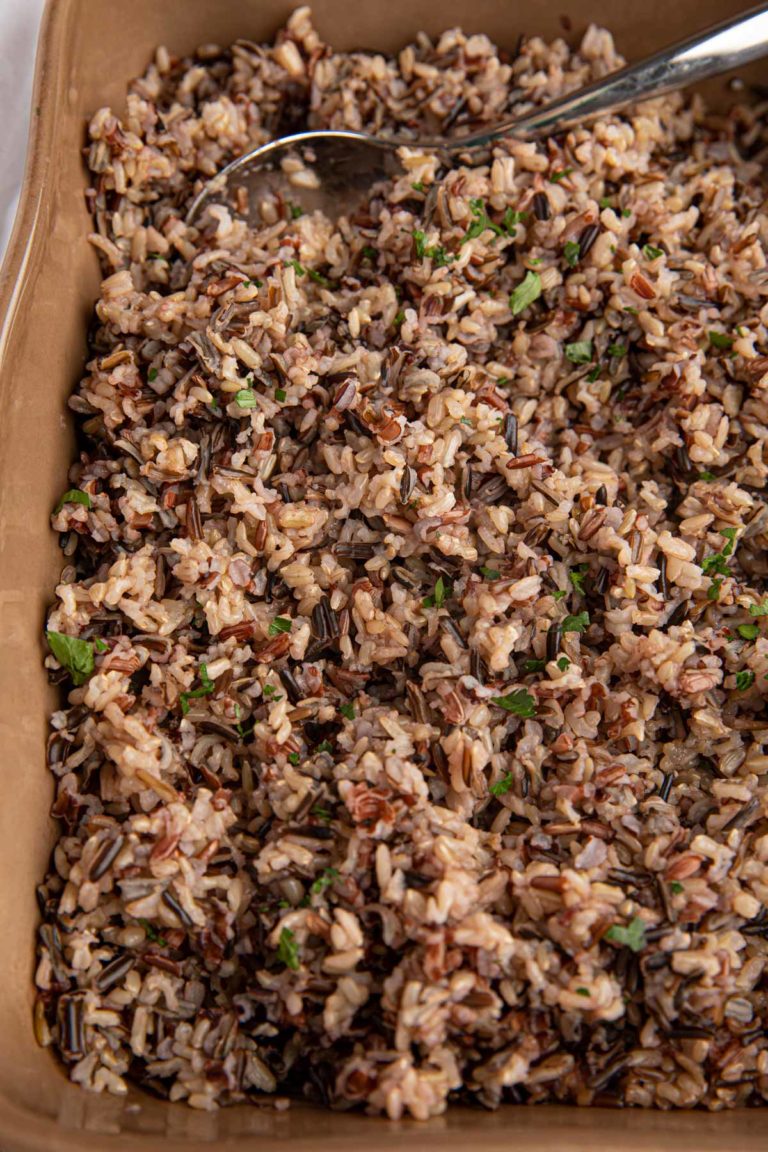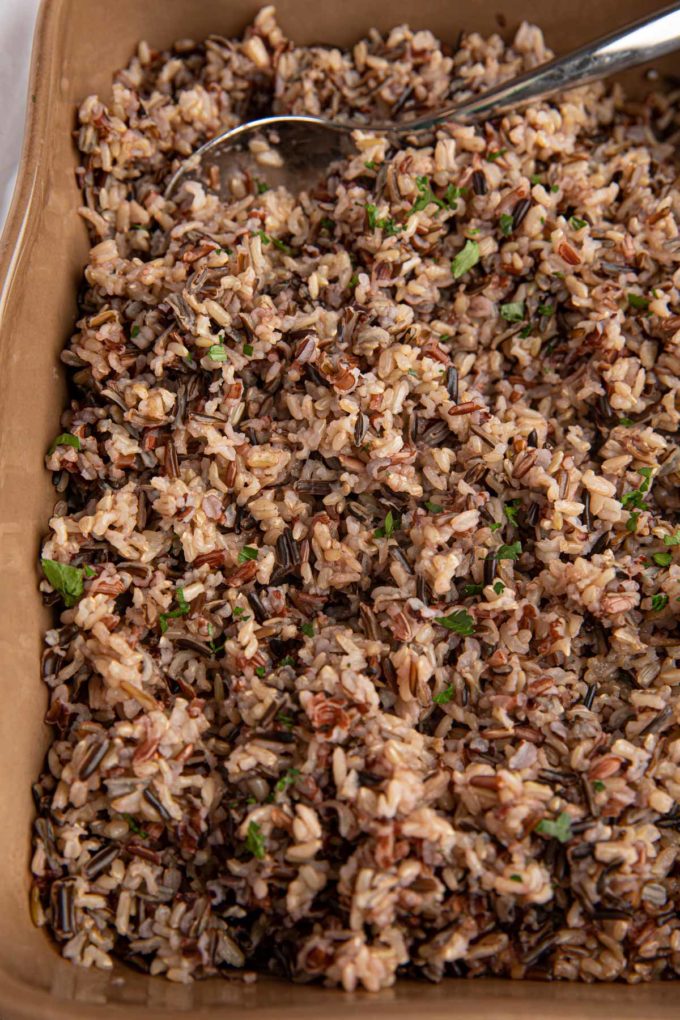 Ingredients
1

cups

wild rice

1/2

teaspoon

kosher salt

2

cups

water

boiling
Instructions
Rinse the wild rice well, then add it to a baking dish with boiling water and salt.

Cover well and bake at 350 degrees for

1 hour

, stir and bake for an additional

30 minutes

.
Nutrition
Calories:
71
kcal
|
Carbohydrates:
14
g
|
Protein:
2
g
|
Sodium:
149
mg
|
Potassium:
85
mg
|
Fiber:
1
g
|
Calcium:
6
mg
|
Iron:
0.4
mg