Cauliflower Fried Rice is a healthy low carb option as good as the take-out alternative, with eggs, corn, peas and carrots in a soy, sesame, oyster sauce.
If you've already tried Cauliflower Rice, this fried rice version is the natural next step. Using cauliflower rice, with classic fried rice flavors, makes a mouthwatering and healthy Side Dish.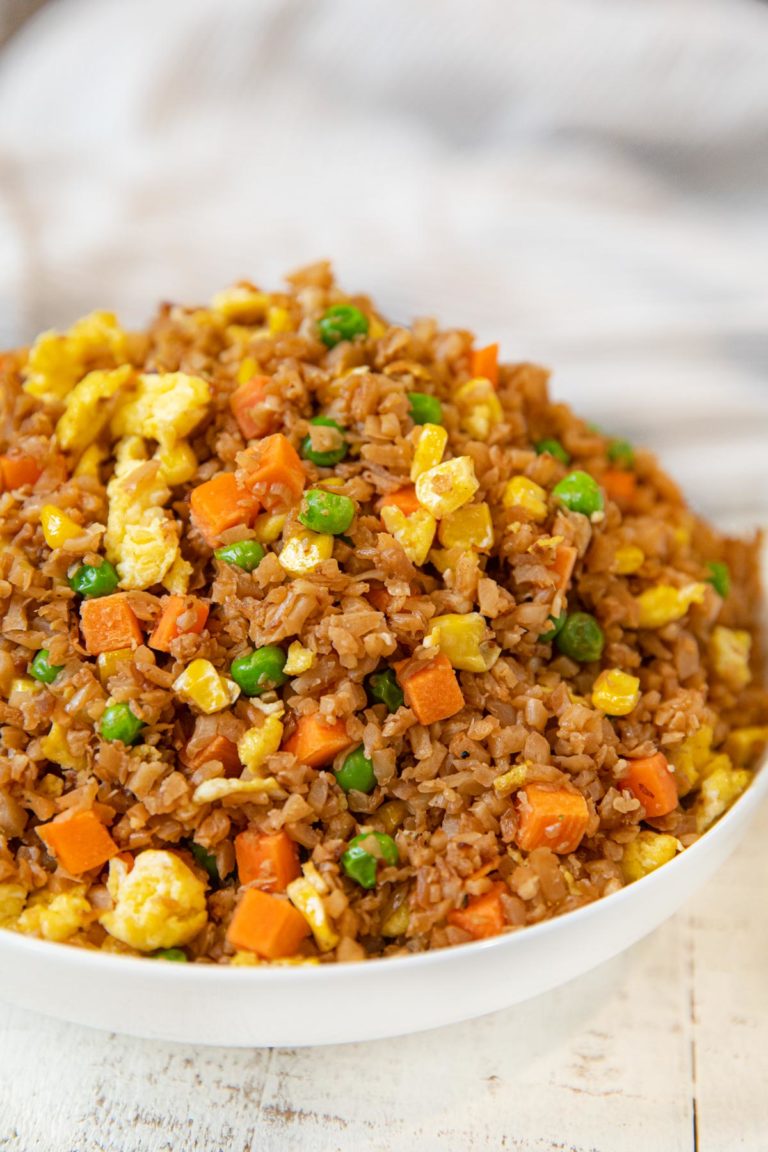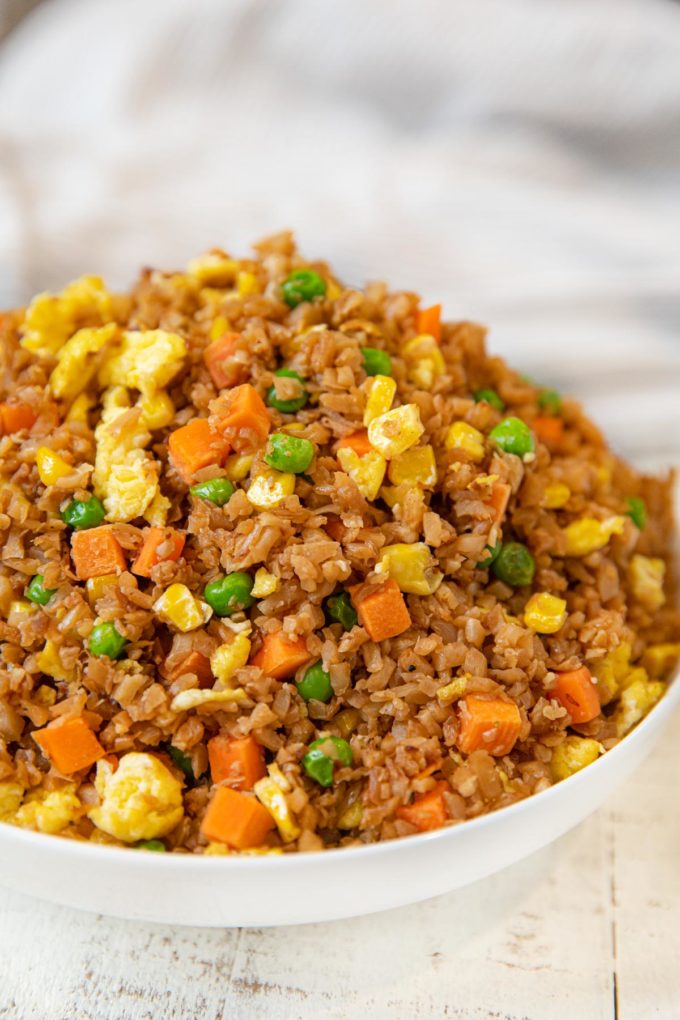 Cauliflower Fried Rice
This plant-based alternative to fried rice is the perfect dish for a low carb diet. You'll love the classic fried rice flavors from garlic, sesame oil, oyster sauce and soy sauce. Although this fried rice recipe is made with cauliflower it has a similar taste and texture to the real rice you're used to. It's just as addicting as your favorite Chinese restaurant!
As a trained chef you'd expect people would request fancy recipes. The truth is people love comfort food first and foremost and the second most popular request is takeout classics.
Over the years I've made more Chinese takeout recipes than any other takeout classics and traditional fried rice is one of the most requested side dishes among the recipe requests. This recipe is based on the classic restaurant quality Egg Fried Rice with an oyster sesame based sauce you don't see in most internet recipes.
The flavors in this recipe will surprise you because THEY ARE THAT GOOD. We eat this fried cauliflower rice at least twice a month if not more, it is a staple in our recipe rotation. We even have clients who request this recipe in every week's menu. Try it, you'll love it. Then leave a review of your thoughts below.
Rice vs. Cauliflower Rice
We use all cauliflower rice in this recipe but you could also do half rice, half cauliflower rice if you want something more filling. With the sauce and the fry we put onto the cauliflower you won't notice it is cauliflower. It is a very hearty dish. But if you love that very specific rice "chew" then I'd suggest adding 1 cup of cooked (and cooled) brown rice or white rice to the mixture.
Cauliflower Rice is also so simple to make. Cook the entire rice recipe in one large non-stick skillet or medium-sized wok. (A wok is a type of round bottomed cooking pan.) You'll love how quickly and easily all the ingredients come together! The total time is just 15 minutes to make delicious fried rice. It's the perfect side dish for a busy weeknight dinner.
Using cauliflower instead of rice comes with wonderful healthy benefits. Cauliflower is low in calories, high in fiber, and full of vitamins. And because cauliflower has such a mild flavor it makes the perfect starchy substitute.
Cauliflower Fried Rice is full of plenty more delicious vegetables, apart from the cauliflower. There are green onions, carrots and peas. And you can add other vegetables like scallions or sugar snap peas.
Because Cauliflower Fried Rice is so versatile you can easily add in or take out ingredients depending on what you have.
It also pairs wonderfully with a variety of meals. Make it as the side for the next time you make Skinny Sesame Chicken or pair with tofu for a vegetarian meal.
HOW TO MAKE RICED CAULIFLOWER
You can easily get store-bought riced cauliflower. Riced cauliflower can be found at practically any store from Trader Joe's to Walmart. Just go to the frozen section to find pre-riced frozen cauliflower ready for this recipe. But if you have cauliflower florets, and would like to make your own cauliflower rice.
Wash and dry the cauliflower. Remove any green from your cauliflower floret.
Cut the cauliflower into 1-2 inch pieces.
Put the cauliflower in your food processor.
You may need to do this in batches, depending on how big your food processor is.
Pulse the food processor until the cauliflower is in small rice-like pieces.
If you don't have a food processor, use a cheese grater to make rice-sized cauliflower pieces.
MORE TAKEOUT FAVORITES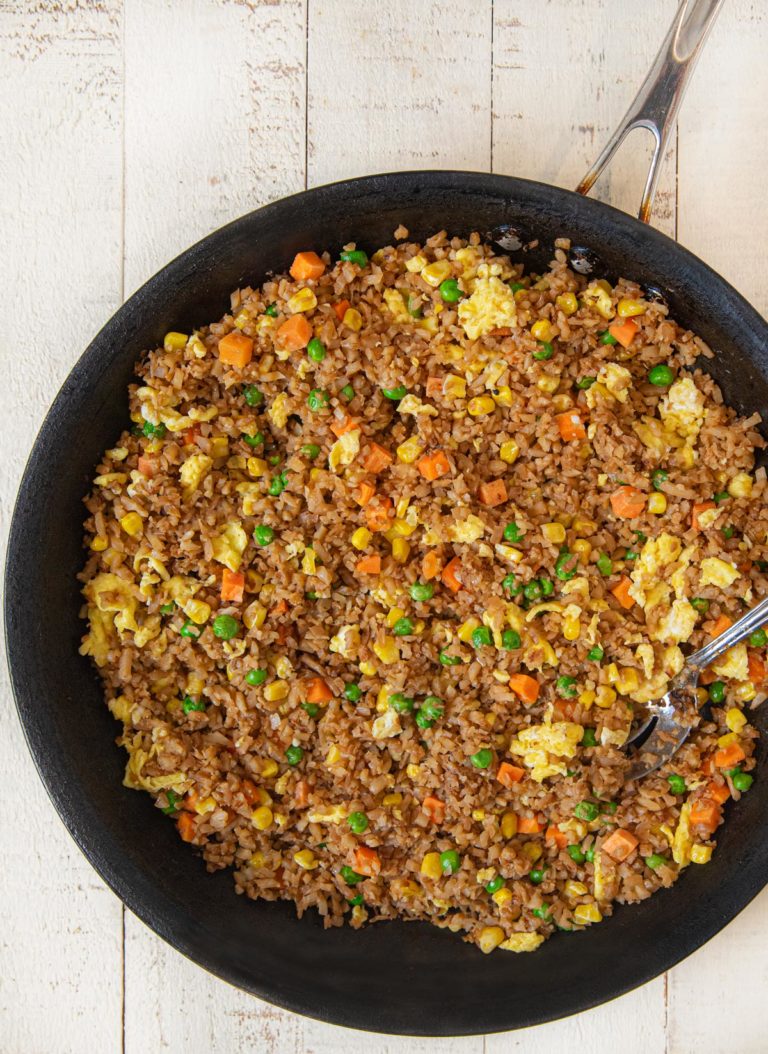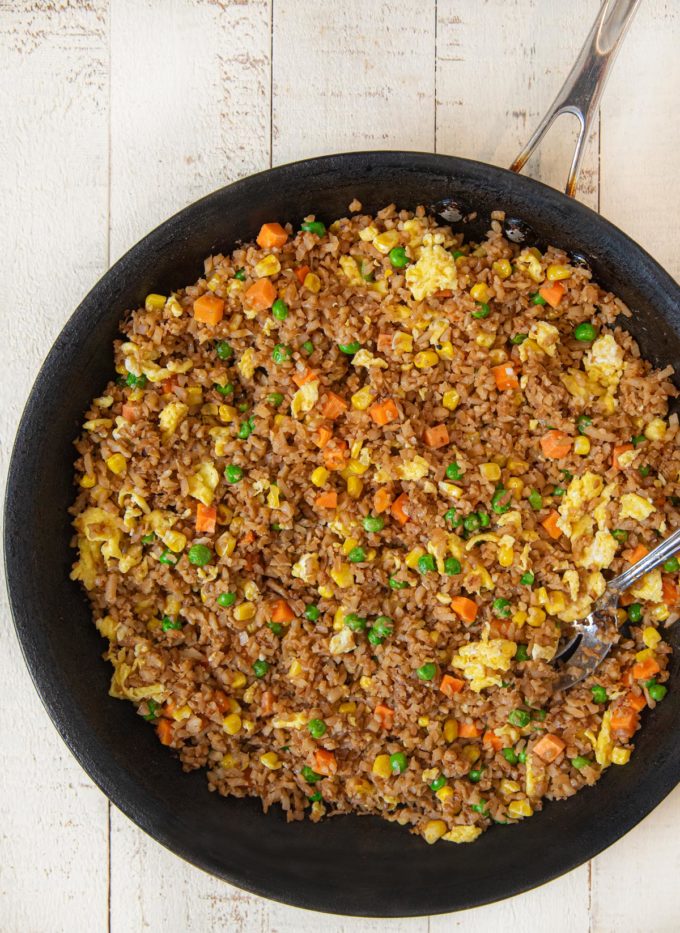 VARIATIONS ON CAULIFLOWER FRIED RICE
Add-Ins: Make easy additions to your Fried Cauliflower Rice to change up the flavor and add variety. Add red pepper flakes for Cauliflower Rice with a bit of spice, or add extra vegetables. Along with the peas and onions already in the recipe you can add corn, scallions, broccoli or snap peas.
Proteins: You can add meats or other proteins to this cauliflower fried dish to make it a meal on its own. Throw in some grilled chicken, or pork in the skillet. If you're vegetarian you can add tofu or chickpeas to Cauliflower Fried Rice. Add the meat or tofu early on with so it can cook up in the sesame oil.
Vegan: The simple ingredients in this great recipe are already dairy-free! The only thing that keeps Cauliflower Rice from being 100% vegan is the eggs and the oyster sauce. Simply skip adding the eggs for an easy vegan side dish and buy a mushroom based oyster sauce. If you can't source the mushroom version, sub hoisin sauce for your oyster sauce.
Gluten-free: Many of the ingredients in this rice recipe are already gluten-free. However, oyster sauce and soy sauce both typically contain gluten. You can find varieties of gluten-free oyster sauce. Just be sure to check the label. Try replacing the soy sauce in the Cauliflower Rice with coconut aminos. Like soy sauce, coconut aminos is a salty and savory sauce. It's naturally gluten-free and makes a great substitute. You can also use Tamari sauce. Tamari is another kind of soy sauce, and you can find gluten-free versions of it.
DINNERS TO SERVE WITH FRIED RICE
HOW TO STORE CAULIFLOWER FRIED RICE
Serve: Because of the eggs in the recipe, you shouldn't leave your cauliflower stir-fry out longer than 2 hours.
Store: Let the cauliflower cool before storing it in an airtight container. It will last in the fridge for about a week.
Freezer: Cauliflower Fried Rice will stay good in the freezer for up to six months.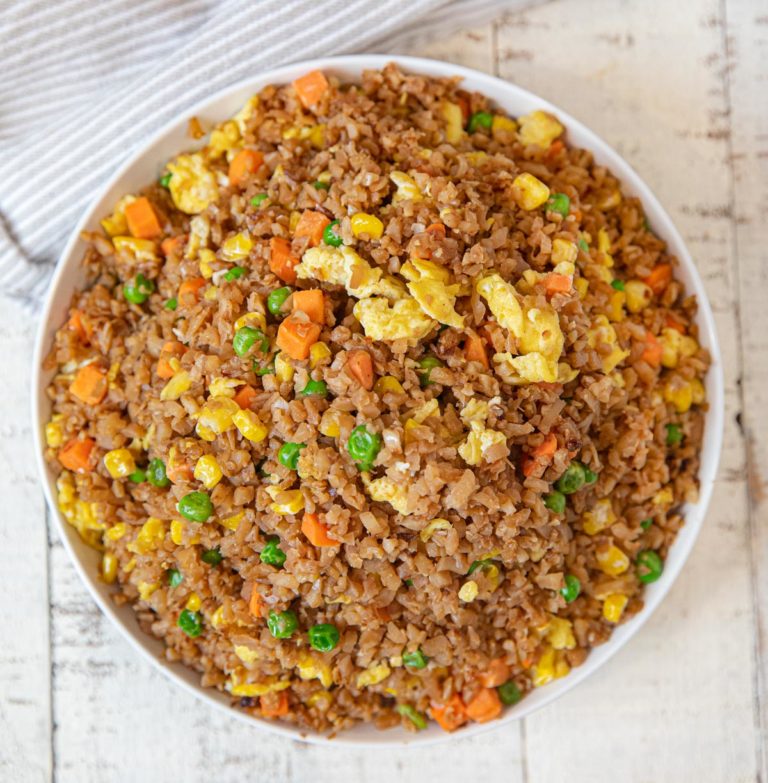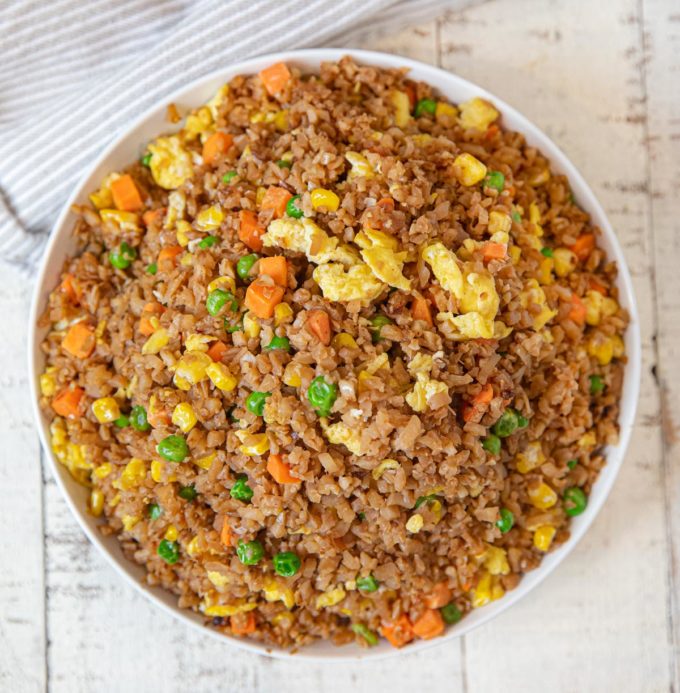 Ingredients
2

large

eggs

, beaten

1

tablespoon

sesame oil

1

tablespoon

vegetable oil

20

ounces

cauliflower rice

1/3

cup

low sodium soy sauce

1/4

cup

oyster sauce

1/2

cup

frozen carrots

, cubed

1/2

cup

frozen corn

1/2

cup

frozen peas
Instructions
Spray a large skillet with vegetable oil spray on medium high heat and add the beat eggs to the skillet.

Let eggs cook undisturbed until it makes a thin pancake, about

1 minute

, then use a spatula to chop the egg into small chunks and remove the egg from the skillet.

Add sesame oil and vegetable oil to a large skillet and raise the heat to high.

Add the cauliflower rice and cook for

4-5 minutes

, stirring occasionally until it starts to crisp.

Add the soy sauce and oyster sauce and mix well until the rice is evenly, well coated, then cook for 3-4 minutes until the sauce has cooked off leaving the rice mostly dry and crisp.

Add the carrots, corn, and peas, cooking

2 minutes

until they're warmed through.

Stir the eggs back into the mixture and serve.
Nutrition
Calories:
96
kcal
|
Carbohydrates:
10
g
|
Protein:
4
g
|
Fat:
5
g
|
Saturated Fat:
2
g
|
Cholesterol:
47
mg
|
Sodium:
598
mg
|
Potassium:
326
mg
|
Fiber:
2
g
|
Sugar:
2
g
|
Vitamin A:
1473
IU
|
Vitamin C:
39
mg
|
Calcium:
32
mg
|
Iron:
1
mg