jump to recipe
Chinese Black Bean Chicken
This post may contain affiliate links. Read my disclosure policy here.
Chinese Black Bean Chicken is a lightened version of the classic Cantonese recipe made with easy stir fry ingredients in less than 30 minutes!
We are loving all the Chinese takeout recipes on the blog including our favorites; Skinny Sesame Chicken and Skinny Kung Pao Chicken.
 Chinese Black Bean Chicken
Black Bean Chicken has long been one of the go to dishes for those watching their points in Chinese restaurants. The stir fry is infinitely healthier than most Chinese food options that are fried. Second the dish is FULL of great vegetables that add a ton of bulk to the dish with no added points.
Chinese Black Bean Chicken Stir-Fry:
Chinese Black Pepper chicken is a quick and easy Asian Chicken stir-fry with vegetables made with sesame oil and fresh garlic and garlic along with a punch of fermented black beans. While it may look like a complicated sauce, the hardest part is slicing the steak and vegetables before cooking.

MY LATEST VIDEOS
As with any stir fry I suggest having everything prepared before you start heating up your skillet/wok as the cooking process goes quickly and to preserve the fresh and tender vegetables you can't let them cook too long.
Can you use black bean sauce instead of fermented black beans?
Yes you can substitute black bean sauce for fermented black beans, but if you do also cut back on the garlic by half. You don't want the garlic flavor to be too prevalent.
What to serve with Chinese Black Bean Chicken:
Serve it over your favorite steamed vegetables or even cauliflower rice.
Serve over zucchini noodles that get tossed in the sauce from the dish.
Serve over brown rice or (we did this once and loved it) hollow out an eggplant (salt and drain it, then spray cooking spray on it and cook it in the oven for 30 minutes at 350 degrees. Serve this chicken stir-fry in the eggplant half like a bowl.
Can you meal prep this Chinese Black Bean Chicken?
You can certainly cook the meal ahead of time and re-heat throughout the week. I suggest cooking the vegetables one minute shy of the instructions so it can maintain some crunch in reheating. To reheat use a microwave at half power for 1-2 minutes to prevent overcooking the chicken or the bell peppers.
How to cut chicken thinly:
This dish is customarily made with chicken thighs but for our purposes we are using chicken breast meat. The trick to making it look like it came from the restaurant is to freeze  the chicken for about one hour. When it is partially frozen you can easily slice the chicken very thinly against the grain. Don't worry about the chicken being frozen, since the slices are so thin they will thaw back out in just a couple of minutes.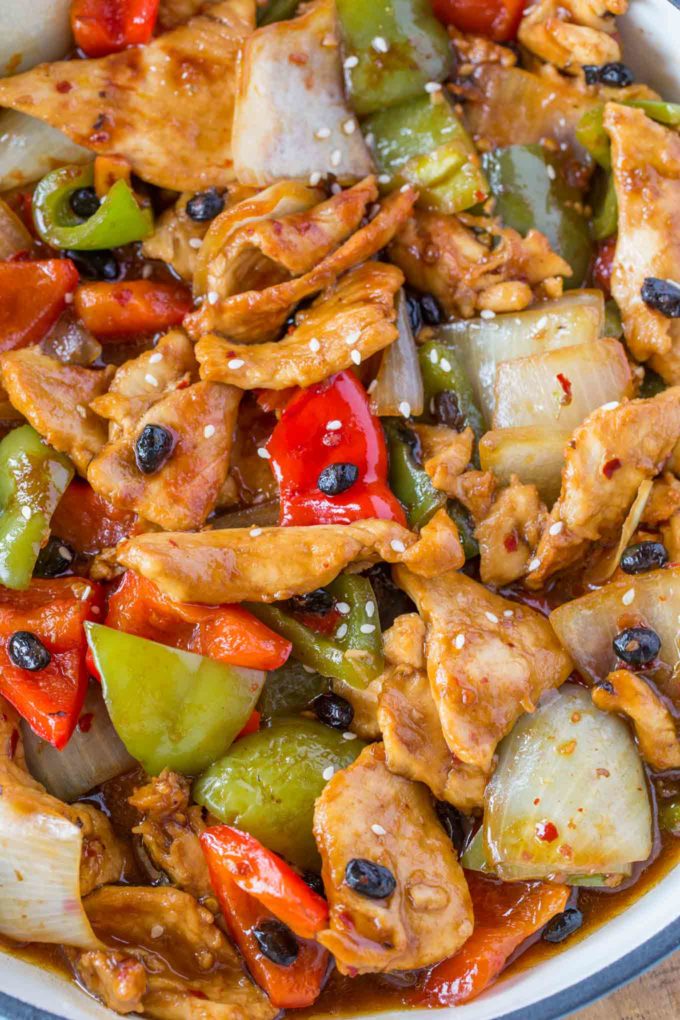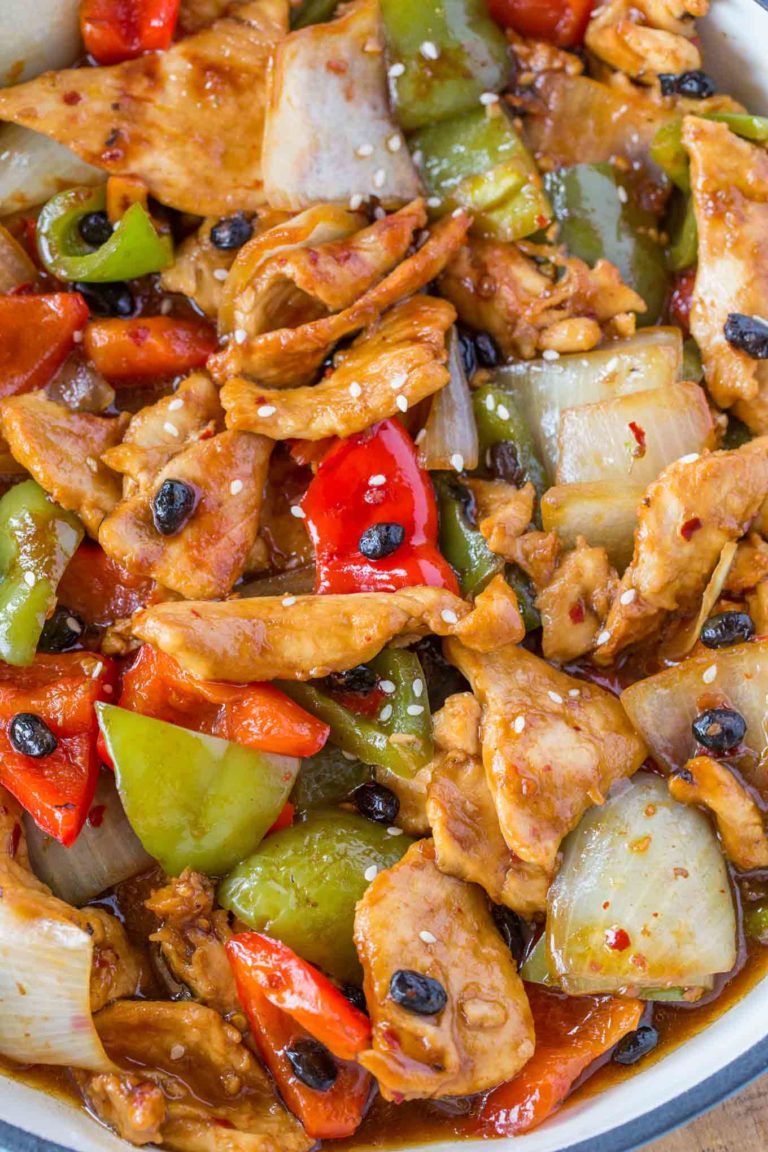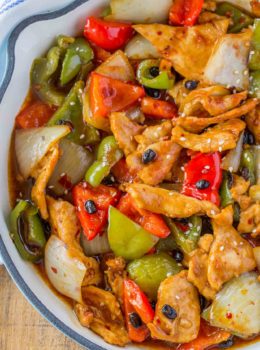 Chinese Black Bean Chicken
Chinese Black Bean Chicken is a lightened version of the classic Cantonese recipe made with easy stir fry ingredients in less than 30 minutes!
Ingredients:
1 pound chicken breasts, boneless skinless
1 tablespoon low sodium soy sauce
1 tablespoon canola oil
1 teaspoon sesame oil
2 cloves garlic, minced
1 red bell pepper, cut into 1″ chunks
1 green bell pepper, cut into 1″ chunks
1 yellow onion, cut into 1″ chunks
4 tablespoons fermented black beans, rinsed
1 tablespoon rice wine
1 teaspoon red pepper flakes
2 teaspoons rice vinegar
sesame seeds for garnish, optional
Directions:
Cut the chicken into paper thin slices and mix with the soy sauce.
Add the canola oil and sesame oil to the pan on medium-high heat.
Add the chicken and cook quickly, about 2-3 minutes per side.
Remove the chicken to a plate and add in the garlic, bell peppers and onion to the pan and cook for 1-2 minutes, stirring frequently.
Add the black beans to the pan along with the rice wine, red pepper flakes and rice vinegar to the pan.
Add the chicken and stir all the ingredients together until everything is well combined.
Nutrition Information
Yield: 4 servings, Serving Size: 1/4th recipe
Amount Per Serving:
Calories: 335 Calories
Total Fat: 13.4g
Saturated Fat: 2.8g
Cholesterol: 101mg
Sodium: 293mg
Carbohydrates: 15.9g
Fiber: 3.6g
Sugar: 4.3g
Protein: 36.6g
All images and text ©
Made this recipe?
Show me what you made on Instagram or Facebook and tag me at @Cookingwithpoints or hashtag it at #cookingwithpoints.
Cooking with Points owns the copyright on all images and text and does not allow for its original recipes and pictures to be reproduced anywhere other than at this site unless authorization is given. If you enjoyed the recipe and would like to publish it on your own site, please re-write it in your own words, and link back to my site and recipe page. Read my disclosure and copyright policy. This post may contain affiliate links.