Watermelon Cucumber Feta Salad is a healthy and fresh summer salad option that's refreshing, sweet and salty with just 10 minutes of prep, the perfect summer side dish.
If you like this recipe and want more tasty summer salads, try my Corn and Avocado Salad, Beet Salad with Goat Cheese and Dill Cucumber Salad.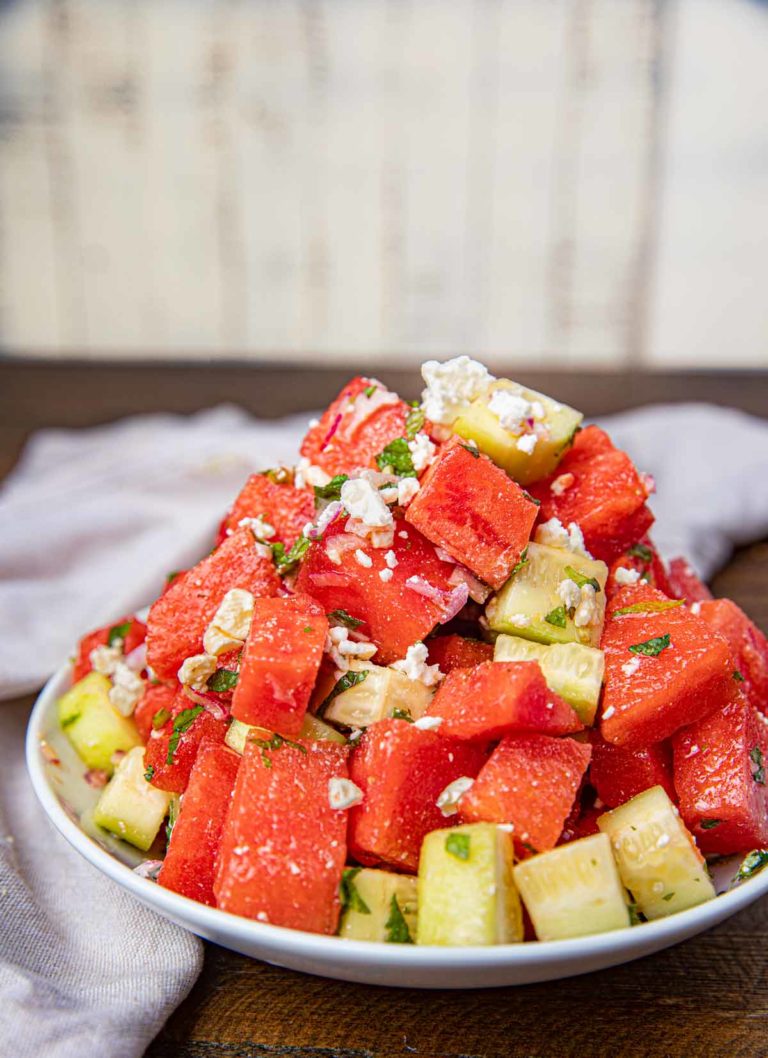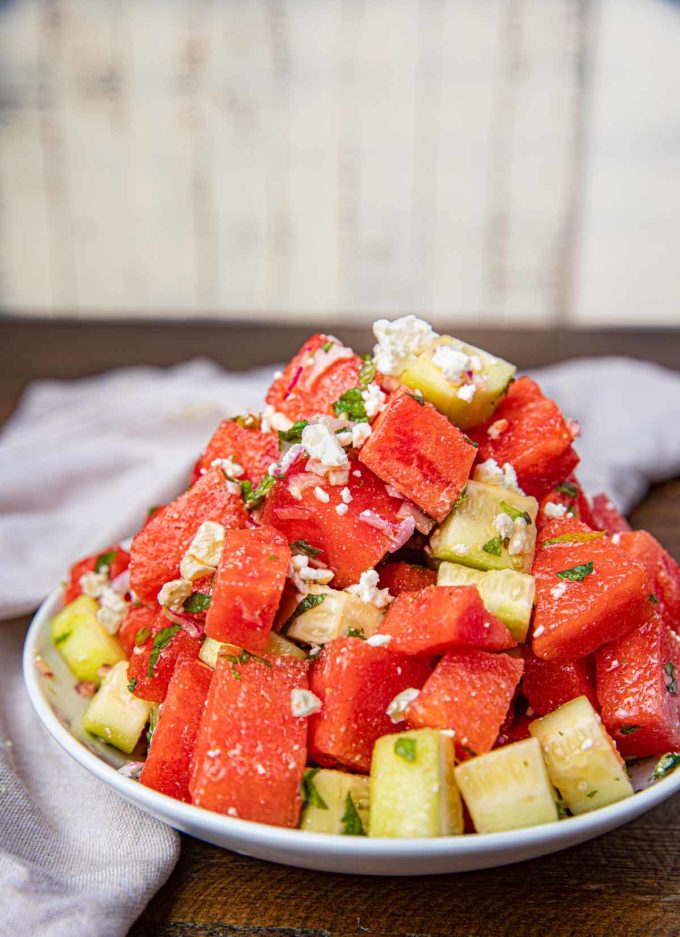 WATERMELON CUCUMBER FETA SALAD
If you want a refreshing watermelon salad recipe to serve this summer, this is the one for you. The savory feta cheese and the sweet watermelon go perfectly together to create a fun, light dish that doesn't take all day to make.
If you're out with your friends grilling and you want an easy side that is delicious but doesn't overpower the flavors from your BBQ, bring a large bowl of watermelon salad. It's a delicious, light summer salad that is cool and refreshing, due to the fresh mint and juicy watermelon. The great thing about it is how healthy it is without being bland or boring.
Watermelon salad goes great with a whole lot of different main dishes because of how well the different flavors blend together. The vinaigrette brings out the natural flavors in the cheese and melon and the mint adds a kick that will get your attention.
HOW TO MAKE WATERMELON SALAD
Whisk the olive oil, red wine vinegar, and salt together in a small bowl.
Chop up the watermelon, onion, and cucumber, and then mix them together with the feta and mint leaves in a large bowl.
Pour the dressing over the mixture and toss it well to thoroughly coat everything.
Add a little more mint and sea salt as a garnish.
VARIATIONS
Citrus: try a spritz of lemon or lime juice. The citrus in lime and lemon juice keeps the other ingredients from oxidizing or wilting and adds a tart, zesty flavor.
Watermelon Balls: instead of cutting the watermelon into cubes, you can use a melon baller to make little globes. If you want to be really fancy, you can hollow out half of a watermelon, make the salad and serve it up inside the rind.
Olives: chop up some kalamata olives and mix them into the salad to give it a delicious Old World flavor.
SERVE WITH
For a delicious summer dinner, try serving up watermelon salad as a side dish with some of these delicious recipes.
Appetizers:
Buffalo Cauliflower: all of the flavor and crunch of buffalo chicken with the benefit of also being really good for you. Buffalo cauliflower is easy to make and so delicious that it may turn out to be one of your new favorites.
Chili Honey Lime Shrimp: these shrimp are crisp, yummy and perfect for sharing. They're also really easy to make so if you forgot about the BBQ and need something last minute that doesn't taste like it's last minute, this is the recipe for you.
Chicken Meatballs in Marinara Sauce: these are lighter, healthier and tastier than your average meatball. Try them out for yourself if you don't believe me.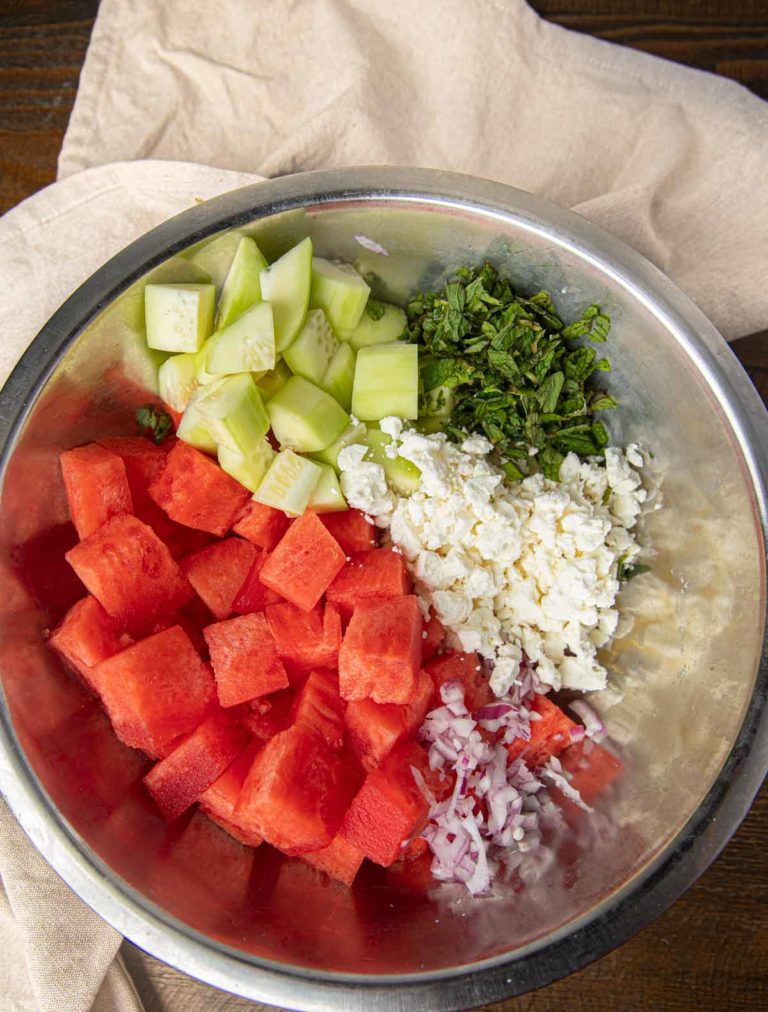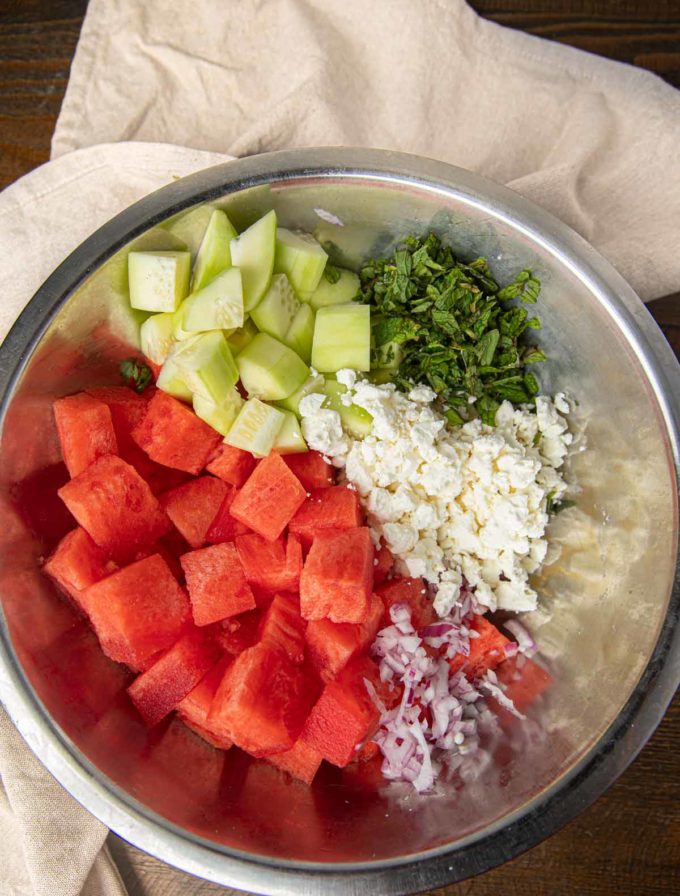 Create a free account to

Save Recipes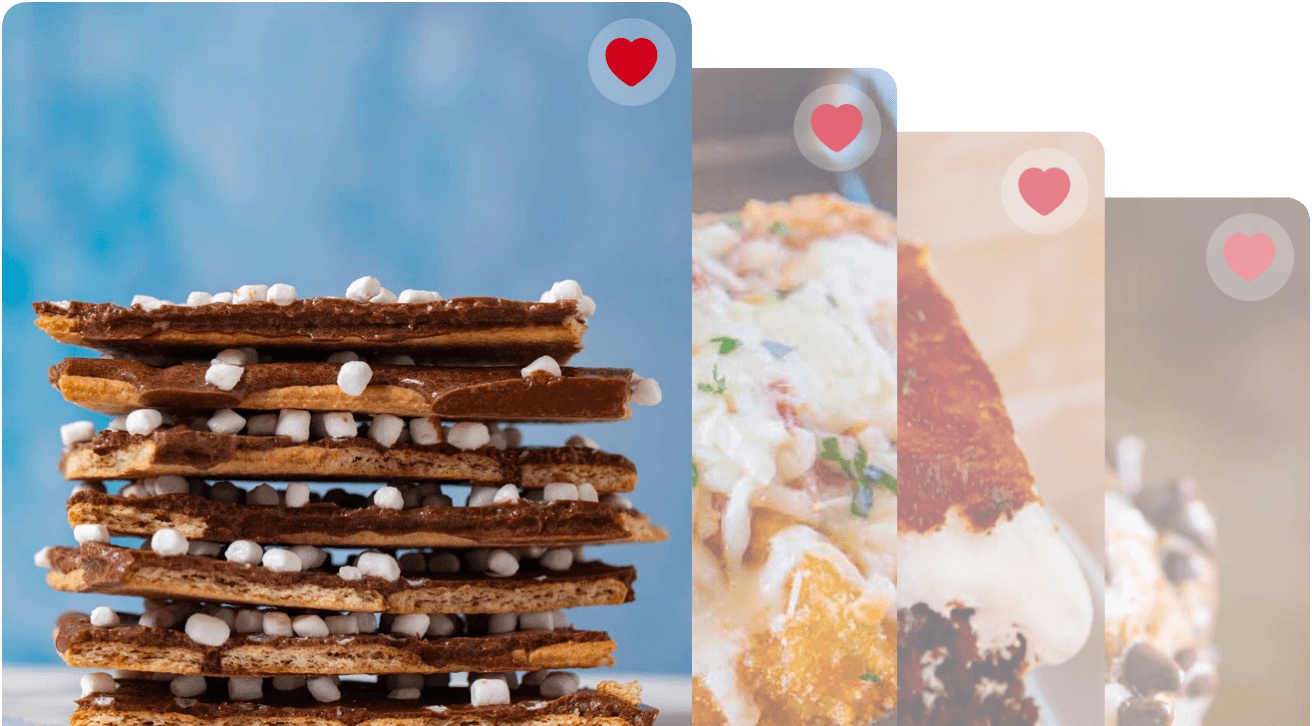 Great Main Dish Pairings:
Mini Meatloaf Muffins: yes, you can eat meatloaf and still be eating healthy. These mini meatloaves are delicious and also perfect for portion control.
Greek Grilled Chicken Skewers: delicious mediterranean flavored chicken that is really quick to make and a perfect food for sharing with guests.
Lemon Dill Salmon: salmon is great for you and there's nothing that goes better with its natural flavor than lemon and dill. This salmon recipe is great for summer nights because it keeps you the right amount of full without overdoing it.
WHY EAT WATERMELON?
Watermelon is a summer favorite because of how sweet and juicy it is, but it is also good for you.
Theres only about 46 calories per cup, with is extremely low.
It's high in vitamin A, B1, B5, B6 and C.
Watermelon helps to keep you hydrated since it is 92% water.
Watermelon is also high in fiber, potassium, magnesium and lycopene.
THE FACTS ABOUT FETA
The very first mention of Feta cheese comes from Ancient Greek manuscripts dating back to the 8th century BCE (it's also mentioned in Homer's "the Odyssey") and it's been a huge part of recipes around the world ever since. Why? Well, because it tastes amazing and it's also one of the better cheeses for you.
Feta is lower in calories than other cheeses.
It's also high in riboflavin, calcium and zinc as well as vitamins B6 and B12.
How to Store Watermelon Feta Salad:
Serve: because of the feta cheese, you shouldn't leave watermelon salad out at room temperature for more than 2 hours.
Store: you can keep your leftovers in the first for about 4 days before the salad turns into a soupy mess.
Freeze: you can keep watermelon salad in the freezer for about 2 months before you should make a new one.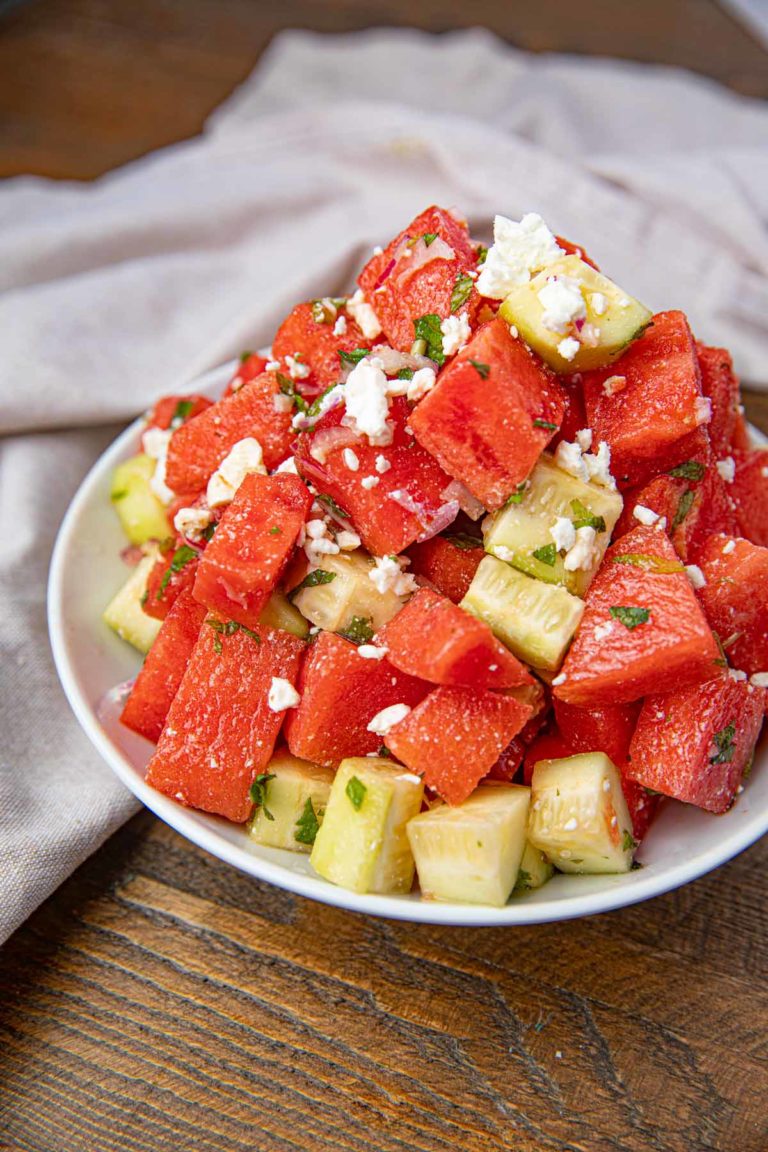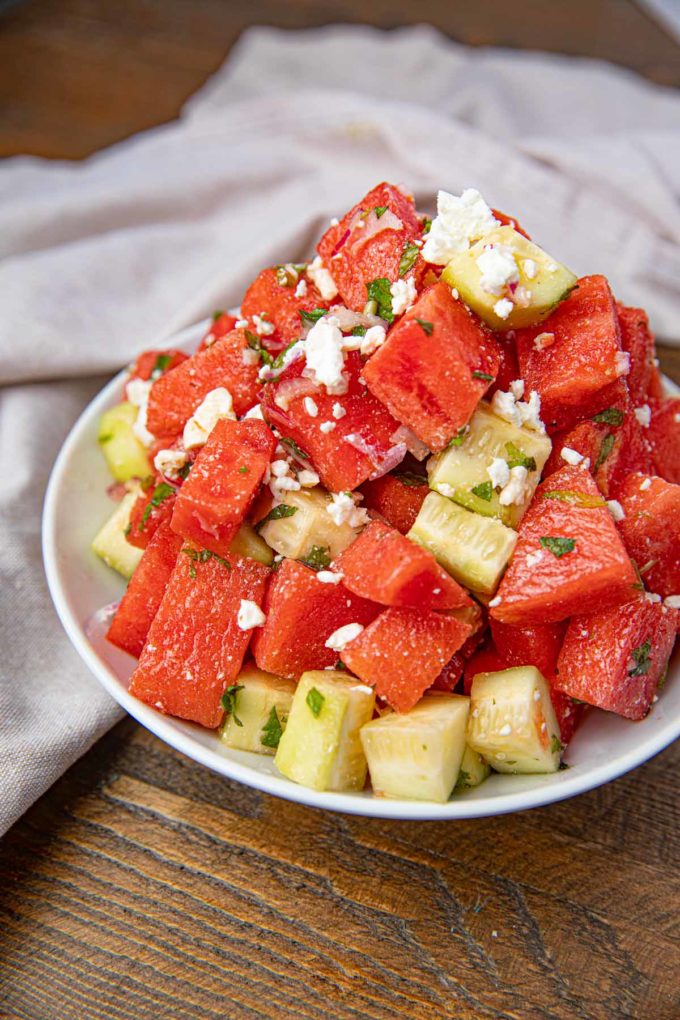 Ingredients
3

tablespoons

extra-virgin olive oil

2

tablespoons

red wine vinegar

1/2

teaspoon

kosher salt

5

cups

watermelon

cut into 1" chunks

2

cucumbers

peeled and cut into 1" chunks

1/4

cup

red onion

minced

2

tablespoons

mint

chopped

1/2

cup

feta cheese

crumbled
Instructions
Add the olive oil, red wine vinegar and salt to a large bowl and whisk it together well.

Add in the watermelon, cucumber, onion and mint and carefully toss together.

Add the feta, toss gently to mix in the feta just slightly and serve.
Nutrition
Calories:
112
kcal
|
Carbohydrates:
10
g
|
Protein:
2
g
|
Fat:
8
g
|
Saturated Fat:
2
g
|
Cholesterol:
8
mg
|
Sodium:
253
mg
|
Potassium:
229
mg
|
Fiber:
1
g
|
Sugar:
8
g
|
Vitamin A:
685
IU
|
Vitamin C:
10.9
mg
|
Calcium:
66
mg
|
Iron:
0.5
mg