Roasted Cauliflower is an amazing crisp and tender vegetable side. Seasoned with just a little bit of salt and pepper, it's perfect to go with any dinner.
Roasting vegetables in the oven is an easy way to get the crispy texture and savory flavor you want. You can try a variety of roasted veggie Side Dishes, including Roasted Red Peppers, Zucchini, and Red Onions. Try this technique with all your favorite vegetables for wonderfully flavorful results.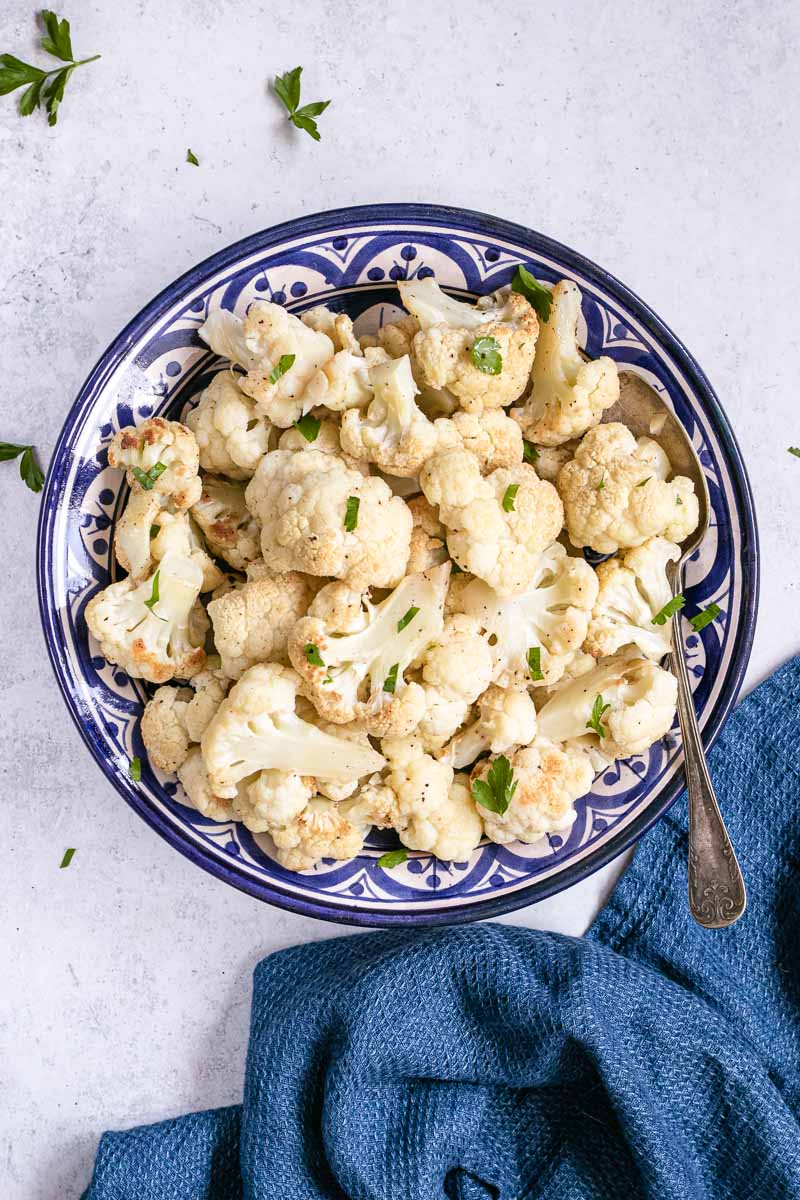 ROASTED CAULIFLOWER
This is sure to become one of your favorite methods for making cauliflower. Roasting veggies in the oven gives them the perfect tender and crisp texture. If you're tired of steamed cauliflower, then this recipe is perfect for you! After baking, the edges will be slightly brown and crispy while the rest of the cauliflower remains soft.
You can make this Roasted Cauliflower recipe in just 30 minutes with a few easy steps. All you have to do is cut the head of cauliflower into bite-sized pieces. Next, toss the florets with oil and season with salt and pepper. Then, lay them out in a single layer on a rimmed baking sheet. For easy cleanup, you can line the sheet with foil before adding the cauliflower. Lastly, pop them in the oven heated to 400 degrees for 25 minutes. Easy as that, you'll have a delicious side dish to go with any weeknight dinner!
This recipe only uses incredibly simple ingredients. However, what's great about cauliflower is the mild flavor pairs well with your favorite seasonings and sauces. That's why cauliflower makes a good low-carb replacement in Cauliflower Rice or Cauliflower Mash. Experiment with different seasonings for more flavor, or just enjoy the easy but amazing taste from salt and pepper.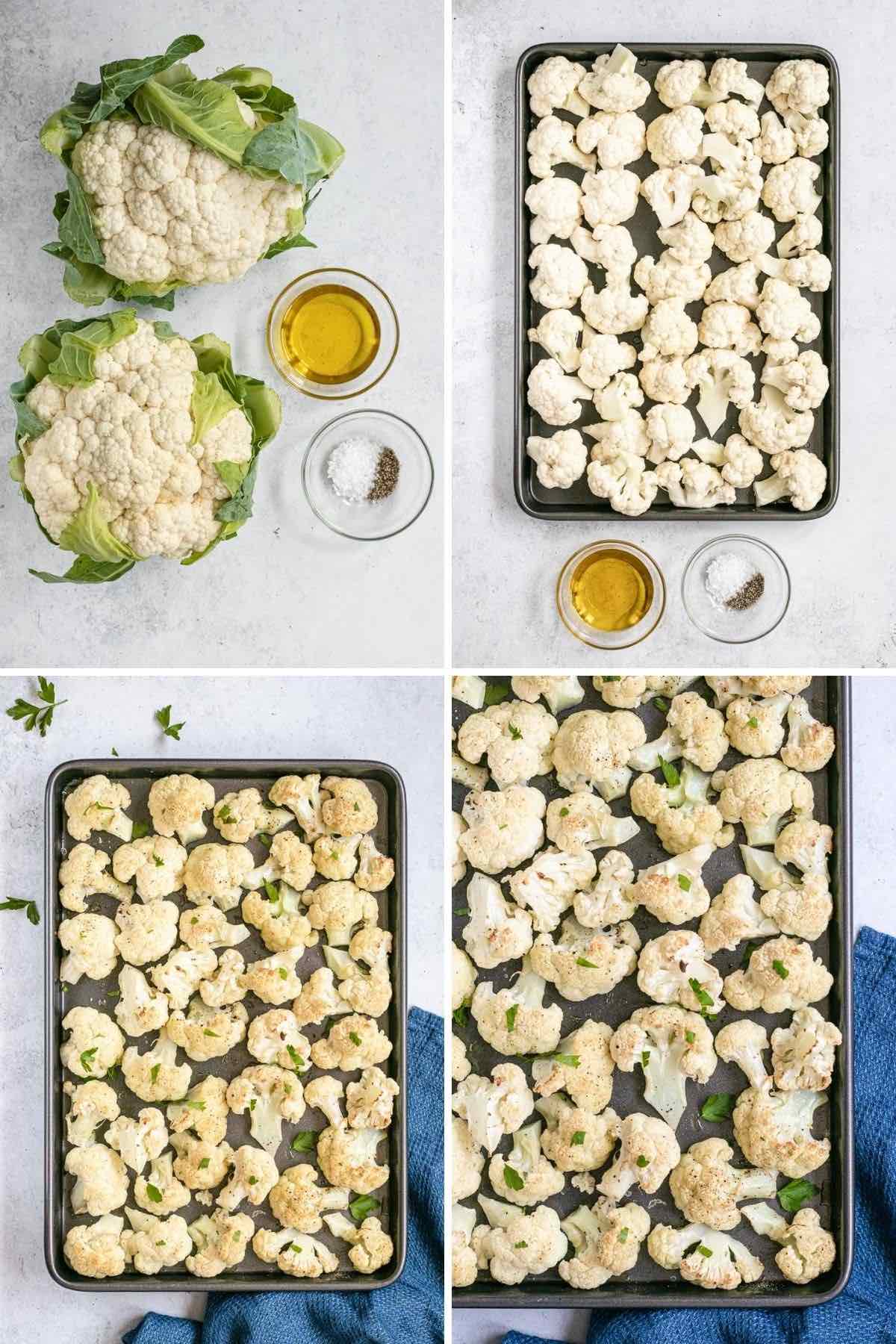 MORE EASY VEGGIE RECIPES
HEALTH BENEFITS OF CAULIFLOWER
White cauliflower is a great vegetable to start incorporating into your meals. It's easy to make and has a simple nutty flavor to easily pair with your favorite dinner recipes. On top of that, cauliflower packs essential nutrients and minerals that are great for your family's diet. 
Fresh cauliflower is low in fat and calories. Additionally, it's high in nutrients like vitamin C, vitamin K, folate, and potassium. A cup of cauliflower gives you 10% of your recommended fiber intake for the day. That really makes them great for your digestive health. Cauliflower also has lots of antioxidants to protect against chronic diseases and reduce inflammation.
Overall, it's a low-calorie vegetable with lots of health benefits that's easy to include in your diet. There just isn't a downside!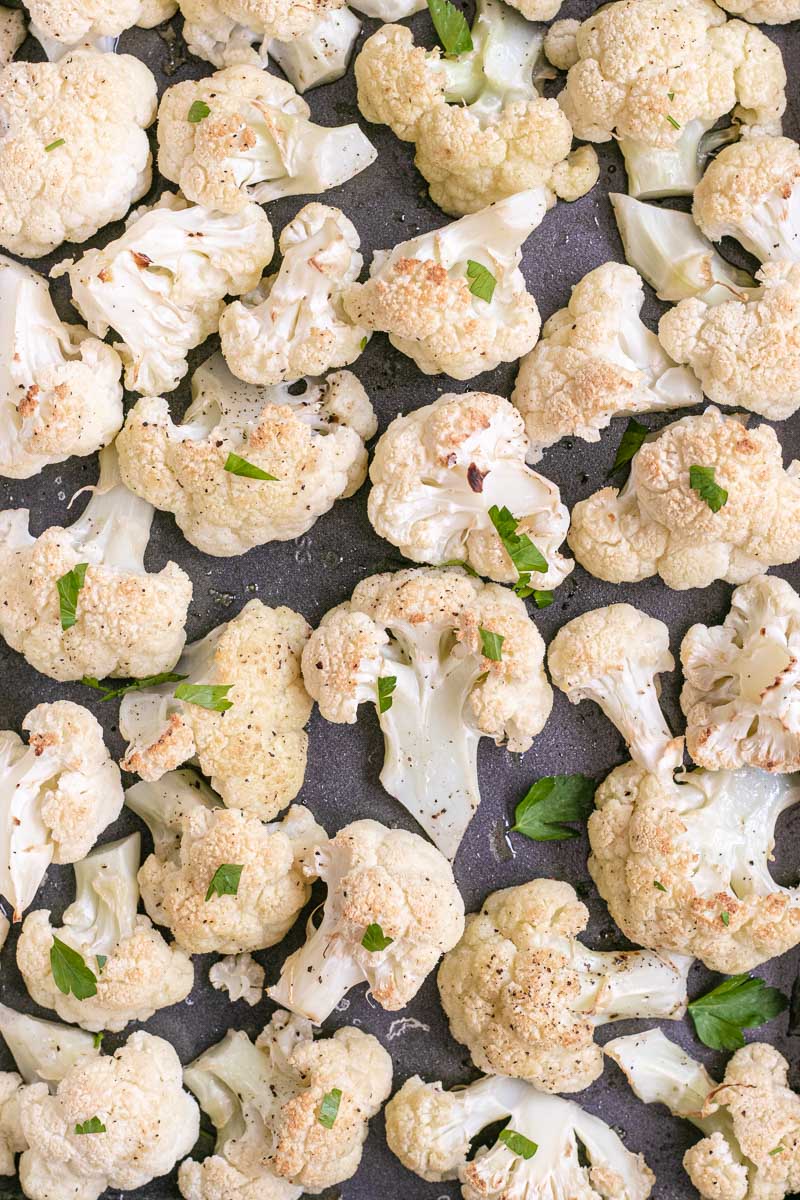 Create a free account to

Save Recipes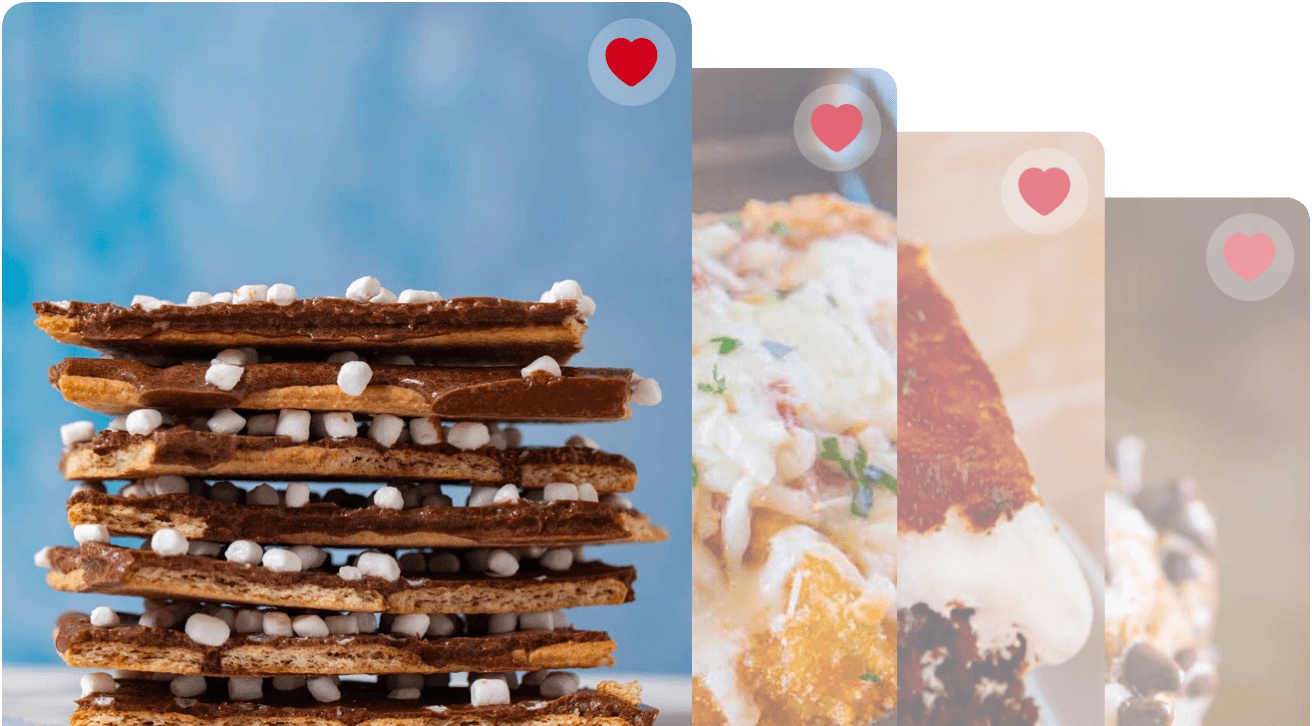 VARIATIONS ON ROASTED CAULIFLOWER
Parmesan cauliflower: For a flavorful topping, sprinkle some shredded parmesan cheese over the cauliflower before serving. It'll melt over the roasted veggies and give them a nice savory taste. 
Garlic cauliflower: Sprinkle on some garlic powder, or toss the Cauliflower florets with minced garlic for bold flavor. 
Seasonings: Try adding your favorite seasonings when you toss the cauliflower with salt and pepper. Red pepper flakes, onion powder, parsley, oregano, rosemary, paprika, cumin, or cajun spice would taste amazing. 
Lemon juice: A different way to add a unique taste to this recipe is with a fresh squeeze of lemon. Toss the florets with 1-2 tablespoons lemon juice for a refreshing tangy taste. 
Veggies: You can cook the cauliflower along with your favorite vegetables. A mix of broccoli, zucchini, and carrots would all roast well together. Just chop them, toss them in oil, and lay them on the baking sheet with the cauliflower. 
MORE CAULIFLOWER RECIPES
HOW TO STORE ROASTED CAULIFLOWER
Serve: To keep the cauliflower nice and crisp, don't leave them out at room temperature for more than 2 hours.
Store: Wait for the veggies to cool down. Then transfer the leftovers to an airtight container to store in the fridge for 3-5 days. 
Freeze: You could also store the recipe in the freezer for up to 6 months.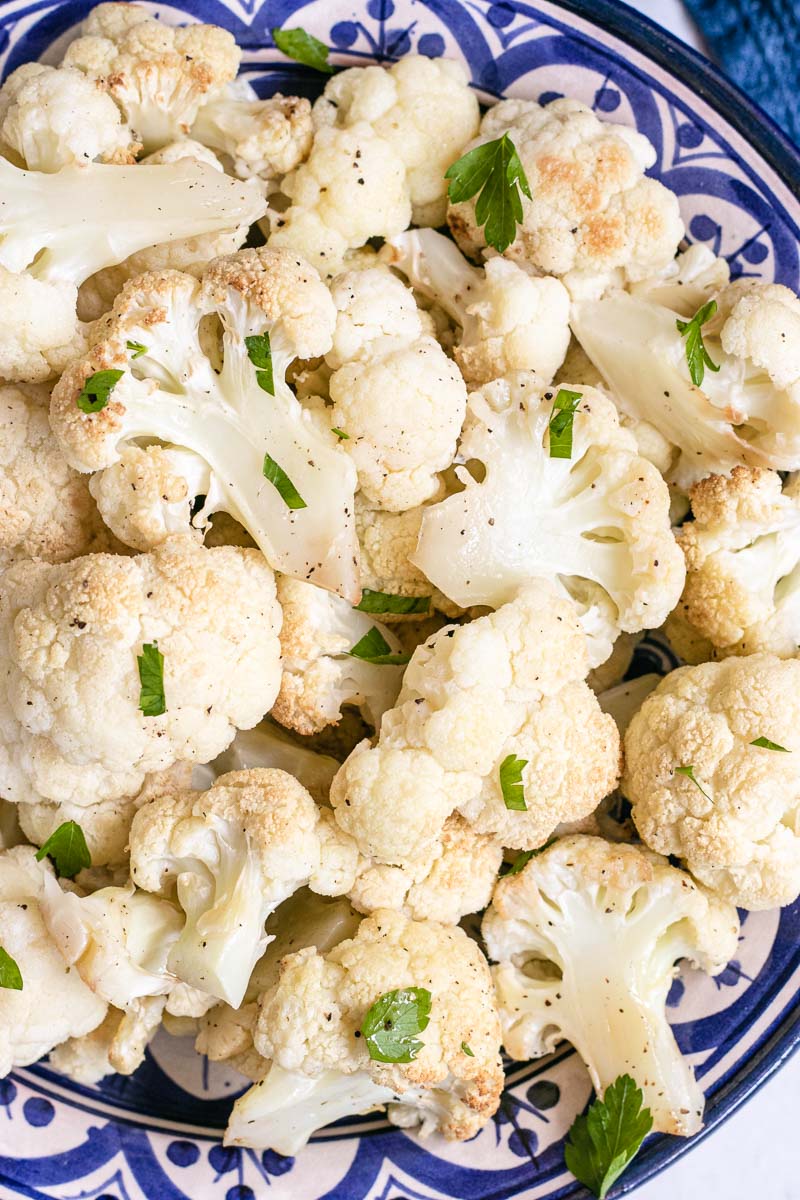 Ingredients
2

heads

cauliflower

, separated into florets

2

tablespoons

extra virgin olive oil

1

teaspoon

kosher salt

1/2

teaspoon

coarse ground black pepper
Instructions
Preheat the oven to 400 degrees and spray a baking sheet with vegetable oil spray.

In a large bowl, toss cauliflower with olive oil, kosher salt, and black pepper.

Spread the cauliflower out in an even layer on a baking sheet.

Bake for

25 to 30 minutes

or until fork-tender.
Nutrition
Calories:
90
kcal
|
Carbohydrates:
10
g
|
Protein:
4
g
|
Fat:
5
g
|
Saturated Fat:
1
g
|
Polyunsaturated Fat:
1
g
|
Monounsaturated Fat:
3
g
|
Sodium:
445
mg
|
Potassium:
575
mg
|
Fiber:
4
g
|
Sugar:
4
g
|
Vitamin A:
1
IU
|
Vitamin C:
92
mg
|
Calcium:
43
mg
|
Iron:
1
mg