Cauliflower Rice Chicken Biryani takes all the delicious flavors of Classic Chicken Biryani and lightens the recipe up with cauliflower rice and chicken breasts.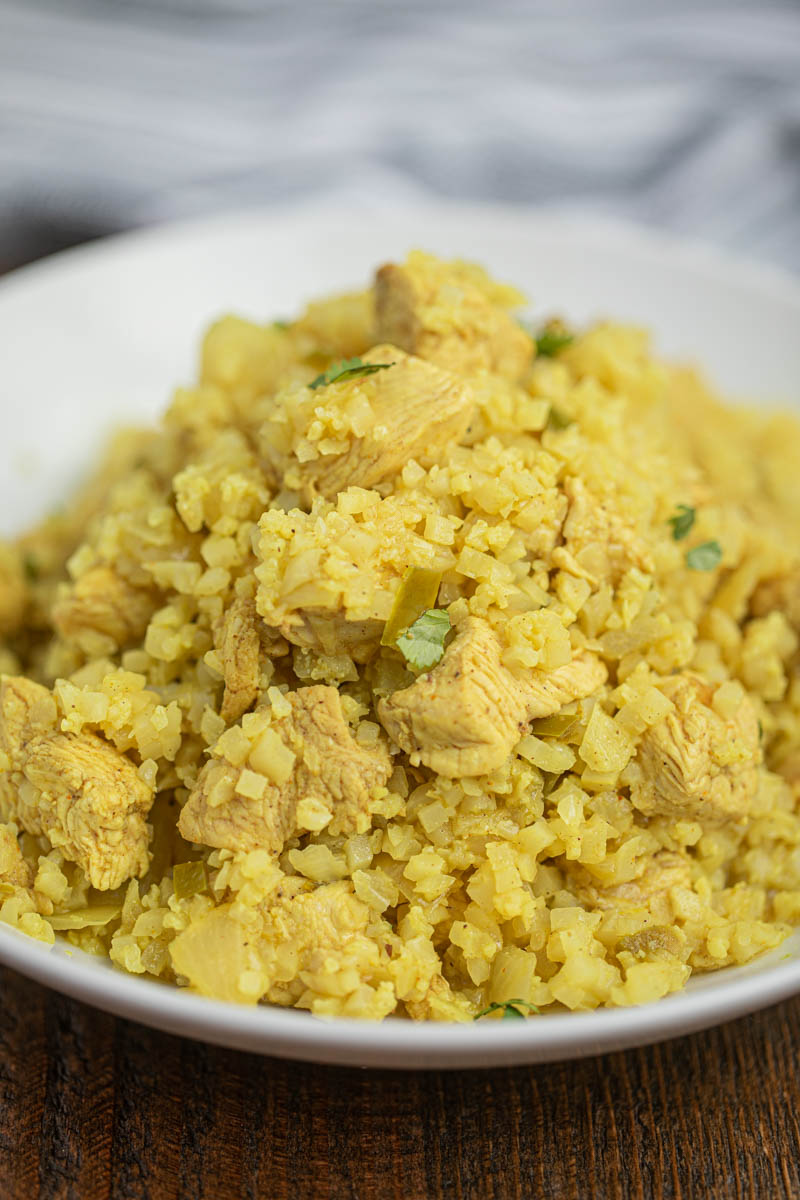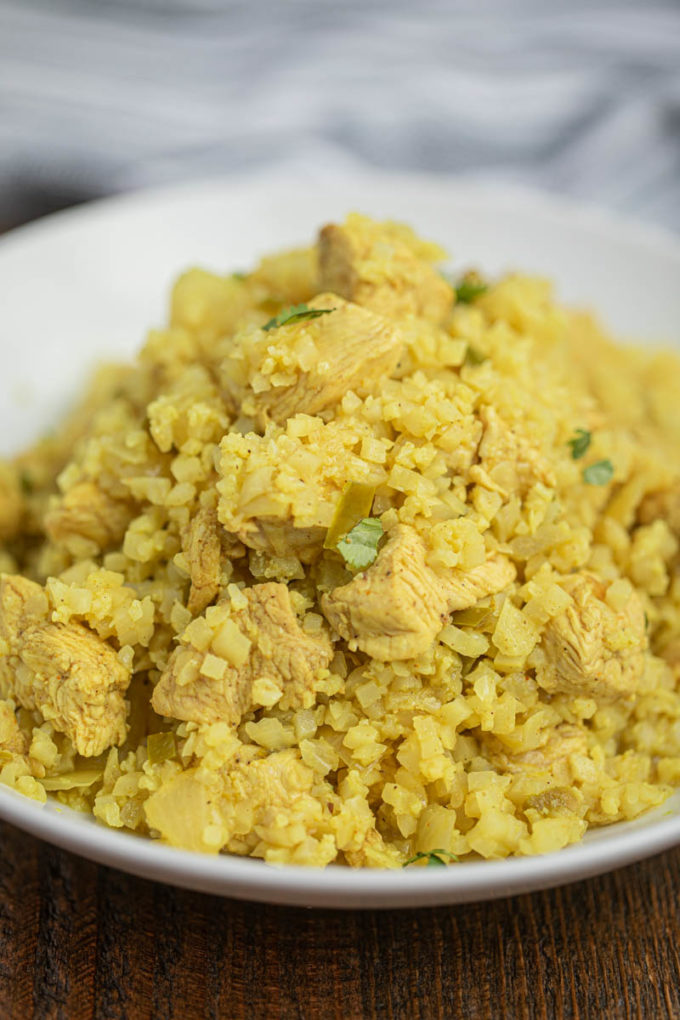 CAULIFLOWER RICE CHICKEN BIRYANI
Ethnic restaurants don't usually have nutritional facts listed so it makes it difficult for those of us who are trying to keep track of what we are eating. This usually means we end up eating at more mainstream chain restaurants where they list caloric information.
Problem for me is I LOVE Indian food. I love it so much that Dinner, then Dessert is full of classic Indian recipes including a classic Chicken Biryani. But when you want to cut back on the rice and want to cut back on dark meat and how much ghee you are cooking with you need to make some adjustments.
So here we are with a delicious Cauliflower Rice (View my recipe for Cauliflower Rice to learn how to make your own) version of the classic Chicken Biryani. And I can assure you, it is delicious. If you feel like you need the mouth feel of rice you can add in 1/4 cup of the normal amount of rice listed in my normal Biryani recipe just for the chew.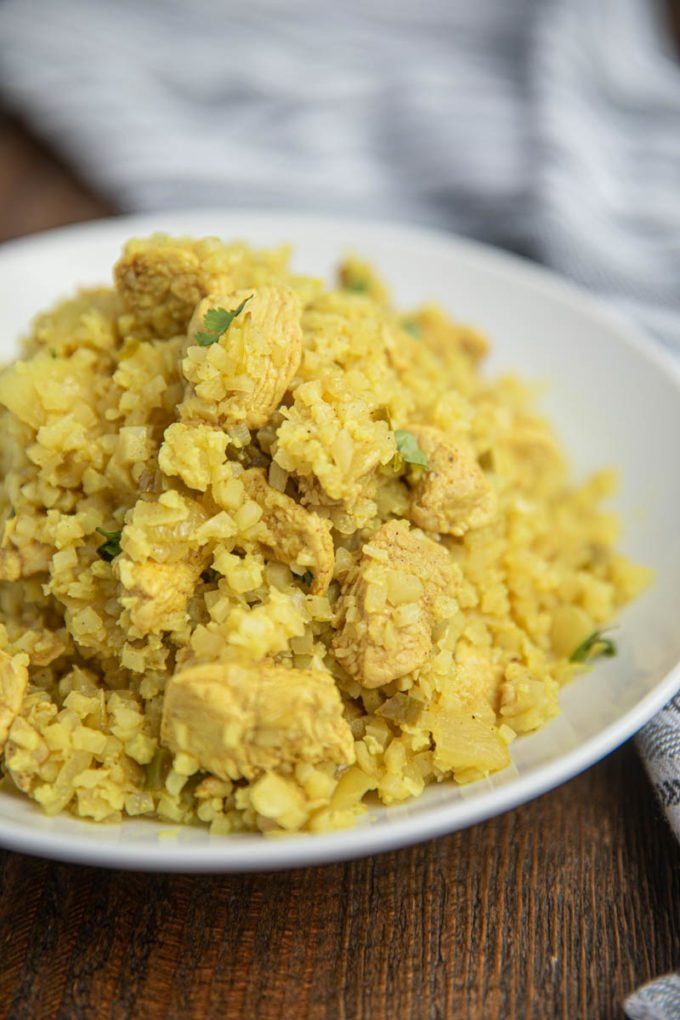 I specifically kept 4 full tablespoons of unsalted butter in this recipe because we cut out all other heavy sources of calories. We're using white meat chicken and we have 0 carbs. So adding in 400 calories of butter for the entire recipe still leaves you at only 213 calories per serving. The spices cooked in a healthy amount of butter really shine.
Long story short, trust me on using the butter, you won't blow your nutritionally sound day on this recipe, it can fit in quite nicely.
You can also serve this recipe with my delicious and easy recipe for Indian Chicken Curry. I like to top them both with a bit of nonfat greek yogurt mixed with shredded cucumber that I squeeze the liquid out of and some chopped garlic. I promise, you won't miss your local Indian restaurant when you've finished this meal.
We also have Curry Chicken Salad, Thai Pineapple Chicken Curry and Mango Curry Chicken Salad on the blog if you're looking for more curry recipes!
More Healthy Sides:
Cut up cucumber, tomatoes, sliced radishes
Cucumber salad
Steamed Vegetables
Roasted Vegetables – Squash or Broccoli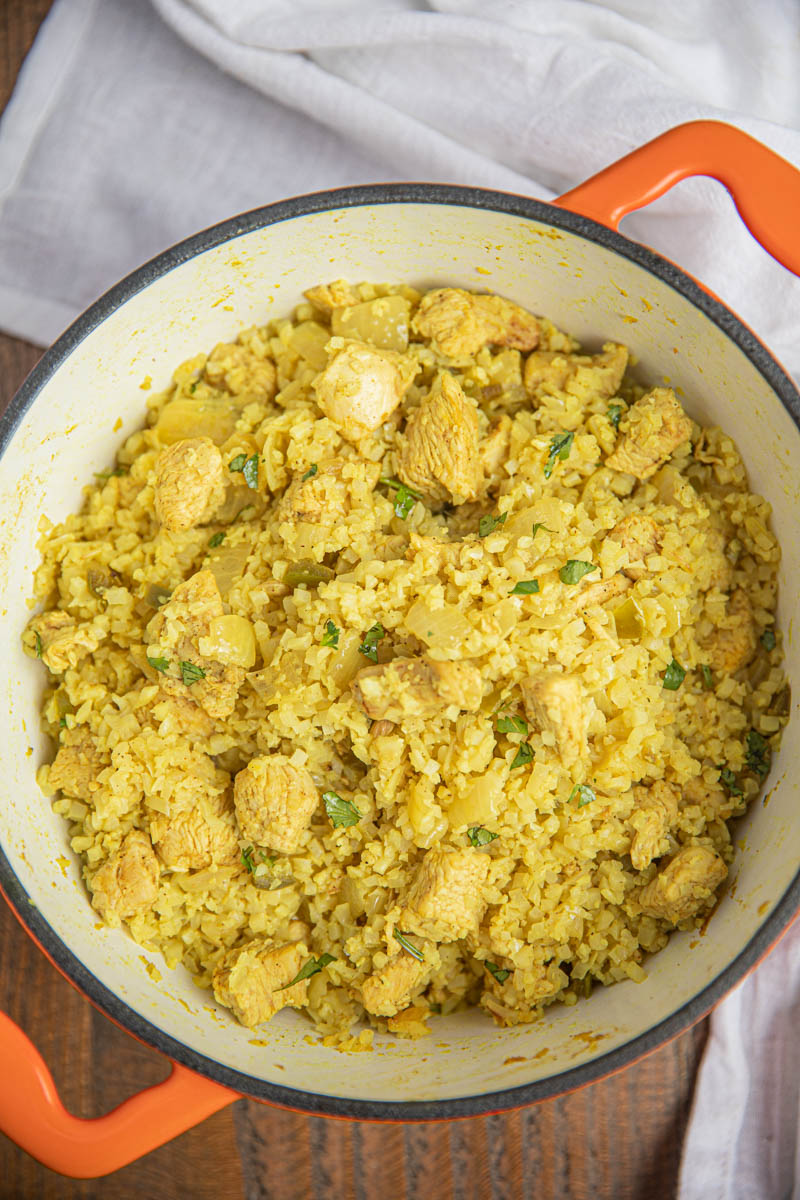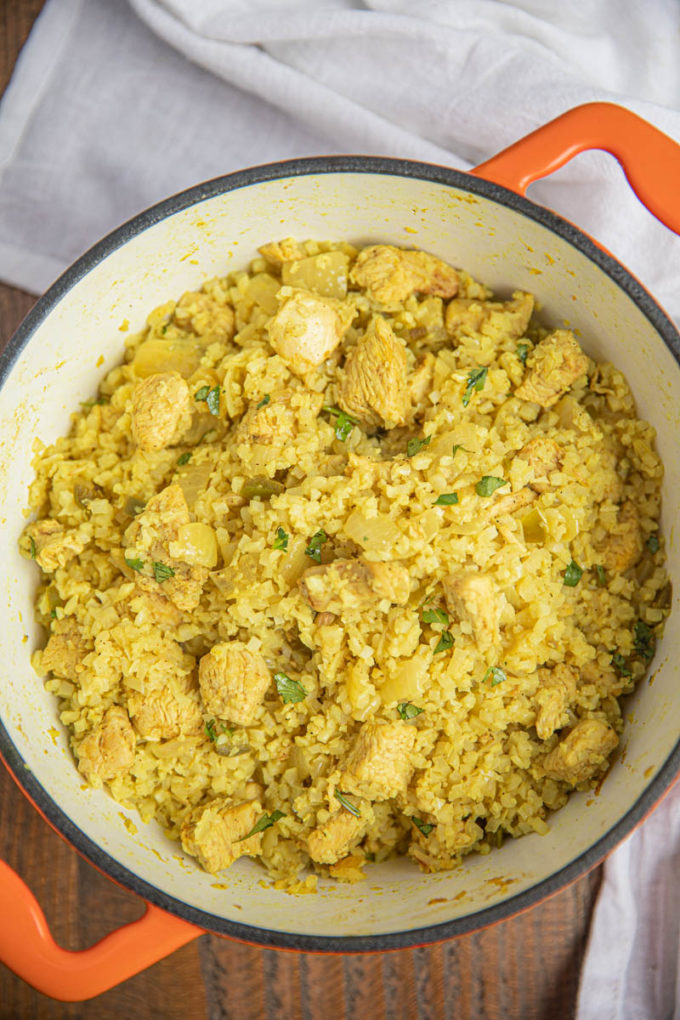 Recipe
Save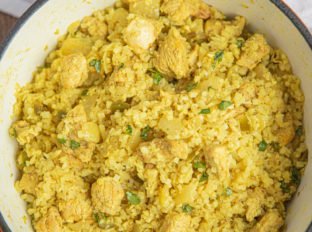 Cauliflower Rice Chicken Biryani
Yield:

6

servings

Prep Time:

15

minutes

Cook Time:

20

minutes

Total Time:

35

minutes

Course: Main Course
Cuisine: Indian
Author: Sabrina
Cauliflower Rice Chicken Biryani takes all the delicious flavors of Classic Chicken Biryani and lightens the recipe up with cauliflower rice and chicken breasts.
Ingredients
2 

chicken breasts

, boneless skinless

1 

teaspoon 

kosher salt

, divided

2 

teaspoons 

garam masala

, divided

1 

teaspoon

turmeric

, divided

1

teaspoon

cumin

, divided

1/2 

teaspoons 

chili powder

4

tablespoons

butter

, divided

1 

yellow onion

, diced

2 

teaspoons 

ginger

, minced

3 

cloves

garlic

, minced

1

jalapeno

, deseeded, deveined and chopped

6

cups

cauliflower rice

1/4 

cup

cilantro

, chopped
Instructions
Note: click on times in the instructions to start a kitchen timer while cooking.
Cut the chicken into 1" chunks.

Season the chicken with 1/2 teaspoon kosher salt, 1 teaspoon garam masala, 1/2 teaspoon turmeric, chili powder and cumin.

Add 2 tablespoons of butter to the pan and cook the chicken on medium-high heat until cooked through.

Reduce the heat to medium, add 2 tablespoons butter to the pan and add the onion, cook until they become golden about 3 to 4 minutes, then stir in the ginger, garlic and jalapeños cooking 1 more minute.

Add the cauliflower rice, remaining salt, garam masala, turmeric and cumin and stir together well.

Cover and let cook for 4-5 minutes until the cauliflower rice is tender.

Stir in the chicken and let it heat back up just for 1 minute then serve garnished with cilantro.
Nutrition Information
Yield: 6 servings, Amount per serving: 213 calories, Calories: 213g, Carbohydrates: 11g, Protein: 19g, Fat: 10g, Saturated Fat: 5g, Cholesterol: 68mg, Sodium: 529mg, Potassium: 819mg, Fiber: 4g, Sugar: 4g, Vitamin A: 450g, Vitamin C: 82.8g, Calcium: 51g, Iron: 1.4g
All images and text © for Cooking Made Healthy.
Keyword:
Cauliflower Rice Chicken Biryani
Save