Crispy Roasted Chickpeas are a crunchy, protein-packed snack. Gluten-free, dairy-free, sugar-free and wonderfully spiced.
Roasted Chickpeas make a great snack on their own or as a topper for your favorite Salad Recipes like Chickpea Sweet Potato Kale Salad.
Crispy Chickpeas or Crispy Roasted Garbanzo Beans are a delicious oven-roasted snack. Flavored with coriander, paprika, chili powder, ground cumin, and even more delicious spices. Roasted Chickpeas are the perfect plant-based treat that you can enjoy on practically any diet. They're also a Keto, low-fat, vegan recipe.
Use Crunchy Roasted Chickpeas as an on-the-go snack, packed in lunches, or as a crunchy topper to your other favorite recipes. Roasted Garbanzo Beans will taste fantastic in Cashew Kale Salad, Curry Chicken Salad, or Chicken Larb. They're sure to bring excellent flavor and texture to any dish.
Let's Talk About Chickpeas! 
There are so many reasons why Roasted Chickpeas are the ultimate snack. Not only are they crispy and tasty, they're also incredibly healthy!
These Crispy Chickpeas or garbanzo beans are packed with health benefits. Garbanzo beans are rich in plant-based protein and vitamins. They can also help with digestion and weight management. Crunchy chickpeas are full of healthy proteins, so they help keep you full longer. Additionally, garbanzo beans are relatively low in calories, and that can lead to weight loss.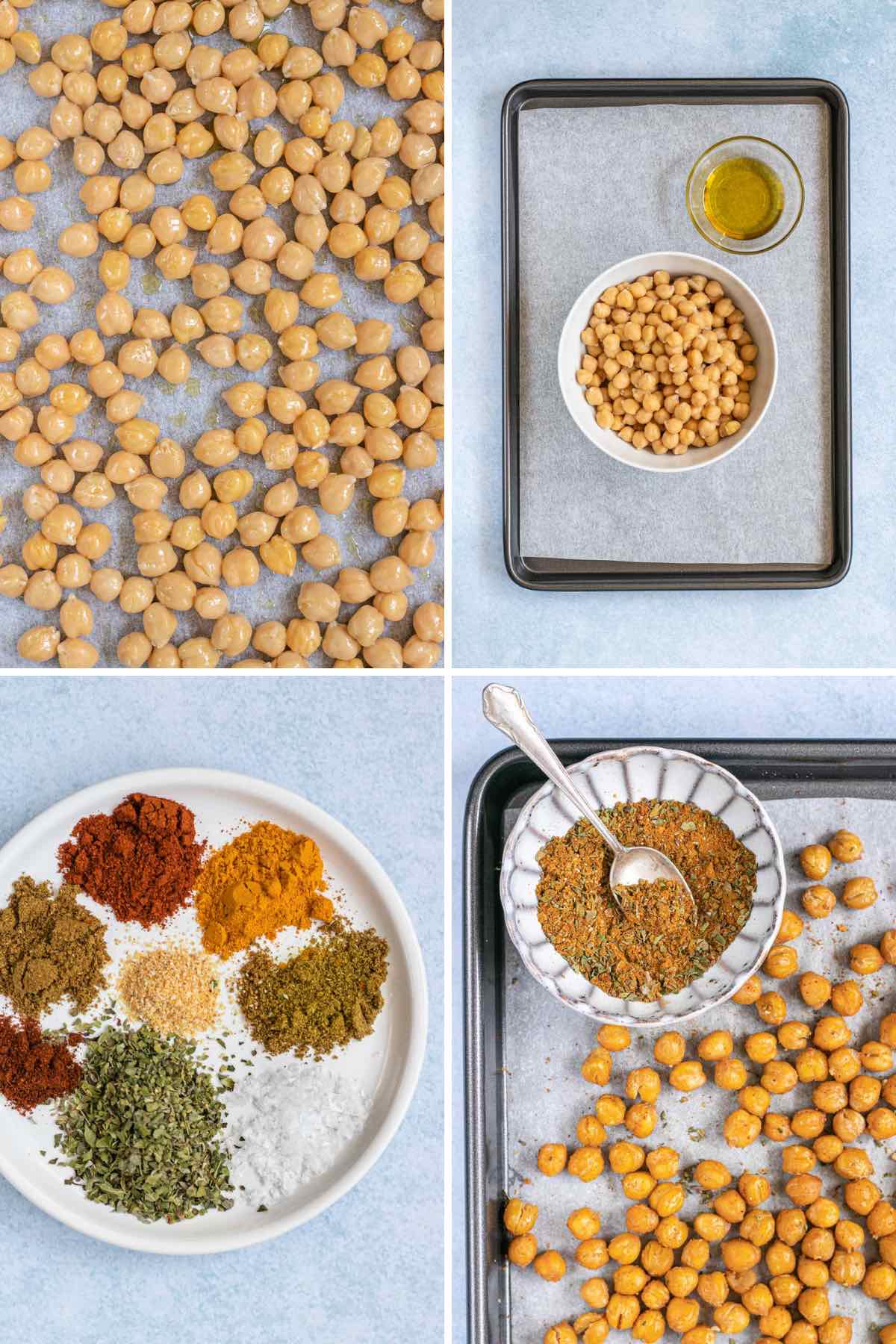 Quick Tips for Making Roasted Chickpeas 
Crunchy Roasted Chickpeas is one of the easiest recipes to make. Here are a few step-by-step tips to make Roasted Garbanzo Beans even easier.
After you pre-heat the oven, drain and rinse the chickpeas. Once they're rinsed, put the chickpeas on a paper towel. The paper towels will soak up some of the extra water and leave you with dried chickpeas for roasting.
Before roasting the chickpeas toss them with vegetable oil or olive oil, and sea salt. Be sure to toss and mix the chickpeas for a while to make sure they get completely coated in seasoning. Coat the chickpeas in oil to ensure they bake to the right crispiness.
Line a baking sheet with parchment paper and lay out the dried chickpeas in a single layer to roast them. Then bake for 40 minutes. You'll know the Roasted Chickpeas are baked when they are golden brown and crispy on the outside.
Seasoning Mix
After you bake the Roasted Chickpeas, all that's left is to add the seasoning. This is the seasoning mix that goes into the chickpea flour for this Falafel Crusted Chicken recipe. It also is perfect for tossing on Crispy Roasted Chickpeas. However, you will skip the chickpea flour in this recipe and just add the seasoning.
Falafel Seasoning 
2 tablespoons dried parsley flakes, rub between fingers to crush
½ teaspoon ground coriander
½ teaspoon turmeric powder
½ teaspoon chili powder
½ teaspoon ground cumin
¼ teaspoon garlic powder
¼ teaspoon paprika
¼ teaspoon kosher salt
More Chickpea Recipes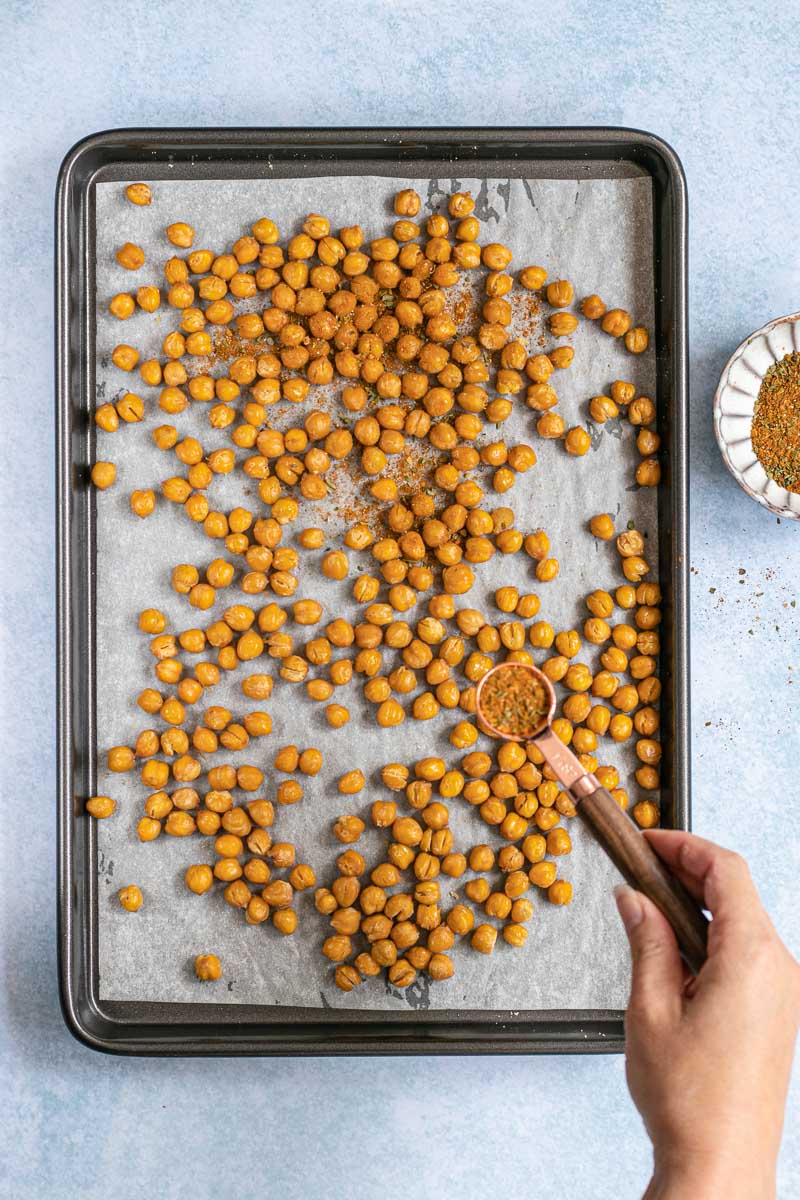 Create a free account to

Save Recipes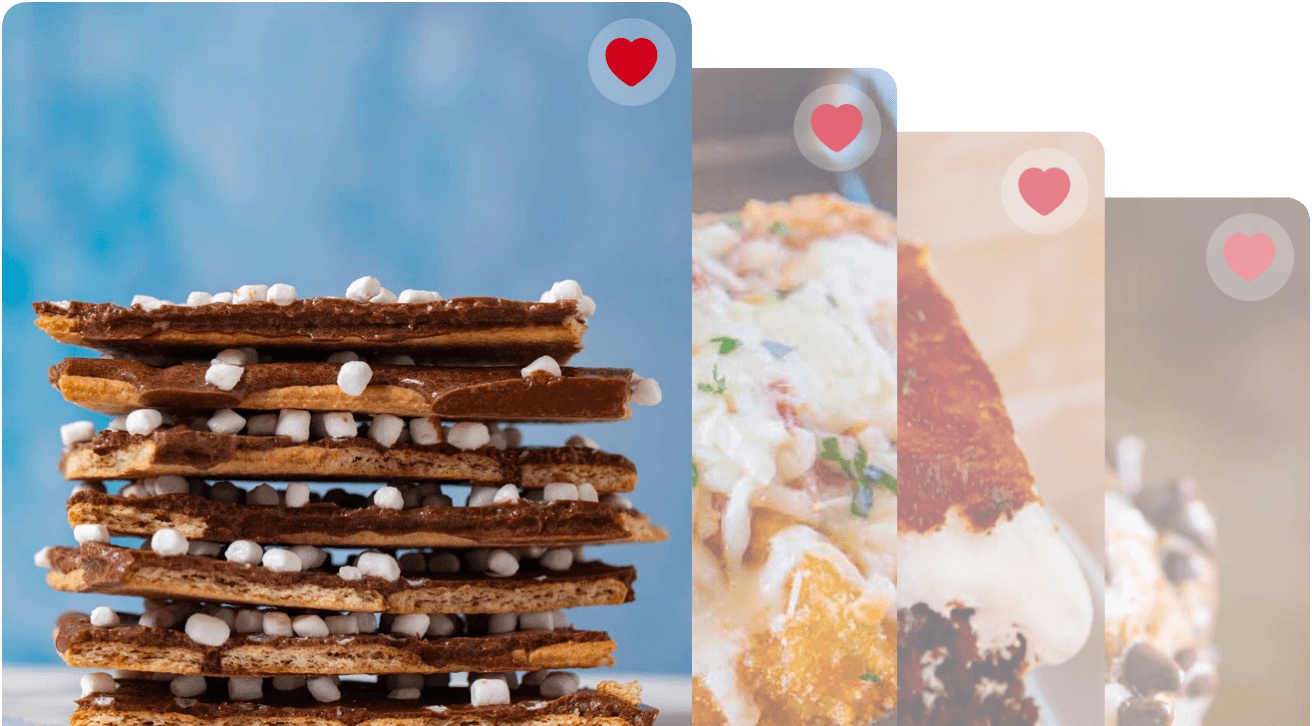 Variations on Crispy Roasted Chickpeas
Spices: One of many advantages to this great recipe is that you can alter the flavors countless ways using combinations of your favorite spices. Some easy seasonings to try on the chickpeas are sea salt, black pepper, curry powder, cinnamon, cayenne pepper, or onion powder.
Extra Spicy Chickpeas: To make extra spicy Roasted Chickpeas add extra paprika, cayenne pepper, cumin, and garlic powder. Only add a little extra at a time to the roasted garbanzo beans. Test the taste and add more as you like, so the chickpeas don't end up too spicy to enjoy.
Oil alternatives: Instead of vegetable oil you can toss the chickpeas with olive oil. Extra virgin olive oil has lower fat content than vegetable oil, so you may prefer to use olive oil. Additionally, instead of olive oil try tossing the chickpeas in sunflower seed oil, or coconut oil.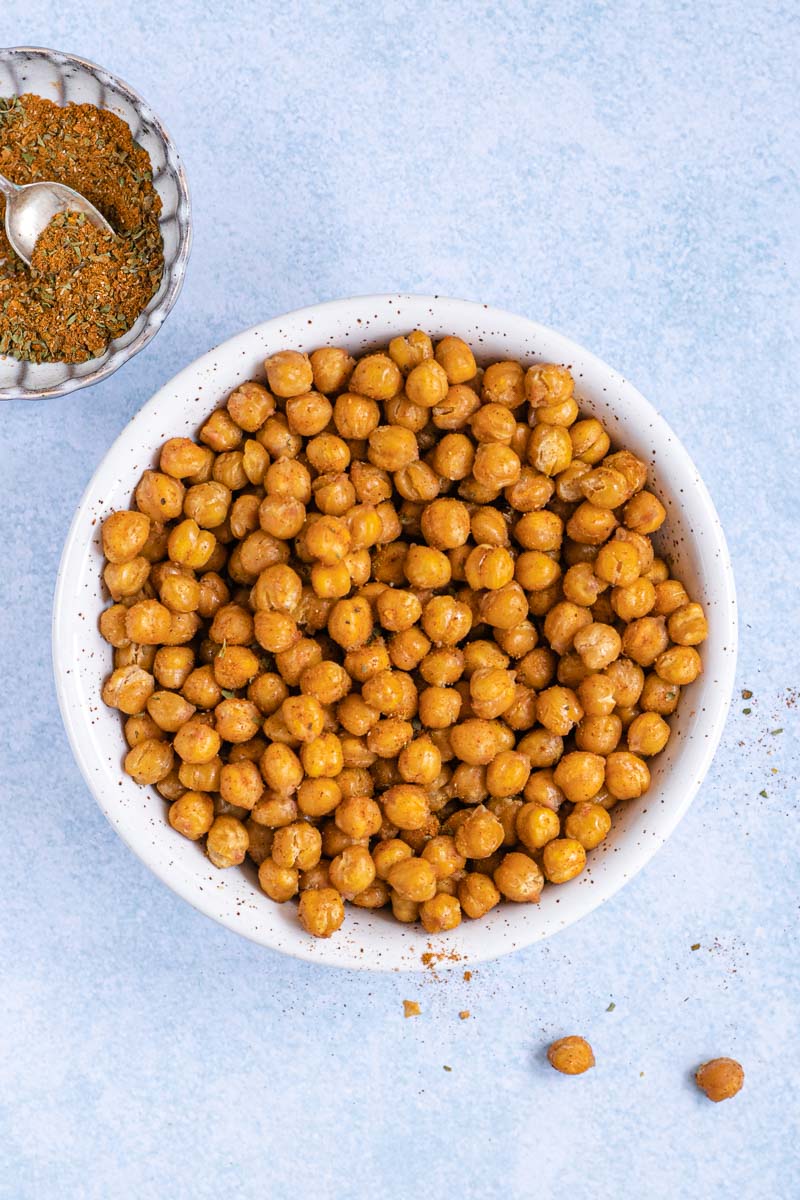 More Healthy Snacks 
How to Store Crispy Roasted Chickpeas 
Serve: After you roast chickpeas, you shouldn't leave them at room temperature for more than 2 hours.
Store: To keep your Roasted Chickpeas longer, put them in an air-tight container and keep them in the fridge for up to 5 days.
Freeze: Roasted Chickpeas can stay good in the freezer for up to 6 months. Put them in an airtight container after the chickpeas cool down. The next time you want to enjoy a Roasted Chickpea snack, let them defrost in the fridge. Lay the chickpeas on a baking sheet and put them in the oven for a few minutes to re-crisp them.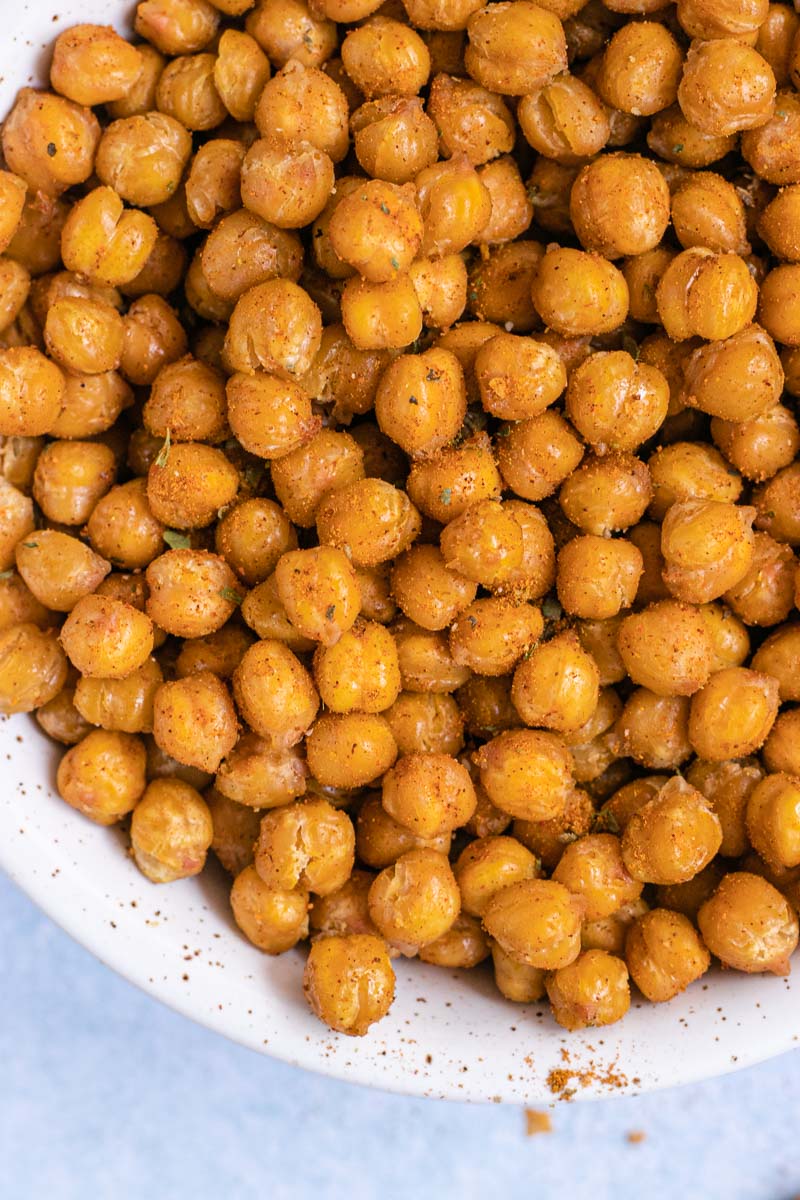 Ingredients
15

ounces

chickpeas

, drained and rinsed

1

tablespoon

vegetable oil

1

teaspoon

falafel seasoning

, recipe above in post
Instructions
Preheat oven to 350 degrees.

Peel skins off chickpeas and dry the beans very well.

Toss chickpeas with oil and salt and spread on baking sheet.

Bake for

40-45 minutes

until golden brown and crispy.

Let cool before seasoning with falafel seasoning.
Notes
Falafel Seasoning:
½ teaspoon kosher salt 
2 tablespoons dried parsley flakes, rub between fingers to crush 
½ teaspoon ground coriander 
½ teaspoon turmeric powder 
½ teaspoon chili powder 
½ teaspoon ground cumin 
¼ teaspoon garlic powder 
¼ teaspoon paprika
Nutrition
Calories:
178
kcal
|
Carbohydrates:
30
g
|
Protein:
10
g
|
Fat:
3
g
|
Saturated Fat:
1
g
|
Polyunsaturated Fat:
1
g
|
Monounsaturated Fat:
1
g
|
Sodium:
8
mg
|
Potassium:
325
mg
|
Fiber:
9
g
|
Sugar:
5
g
|
Vitamin A:
50
IU
|
Vitamin C:
1
mg
|
Calcium:
72
mg
|
Iron:
4
mg