jump to recipe
Easy Hummus
This post may contain affiliate links. Read my disclosure policy here.
Healthy Hummus made with garlic, lemon juice, tahini and olive oil in just five minutes!
We love to serve this Hummus with Middle Eastern Chicken Kebabs (Shish Tawook) and Lemon Greek Chicken Skewers with sides of Tabouli Salad or Baba Ganoush for the perfect Middle Eastern Meal.
 Easy Hummus Recipe
We love a good hummus recipe and with chickpeas being considered healthier we are fully on board with the hummus train.
That being said, especially with recipes like these, remember that you have to use caution in the amount you eat. Yes, it's only 1 point, but its also 200+ calories.  So this isn't like hey eat a big bowl of hummus with some carrot chips for lunch everyday and expect great weight loss. This just makes it more reasonable to enjoy some than it used to be.

MY LATEST VIDEOS
Before the update to the points I remember I used to make a decision between hummus or peanut butter because they were so close to each other in points. Now I reach for hummus in many more ways.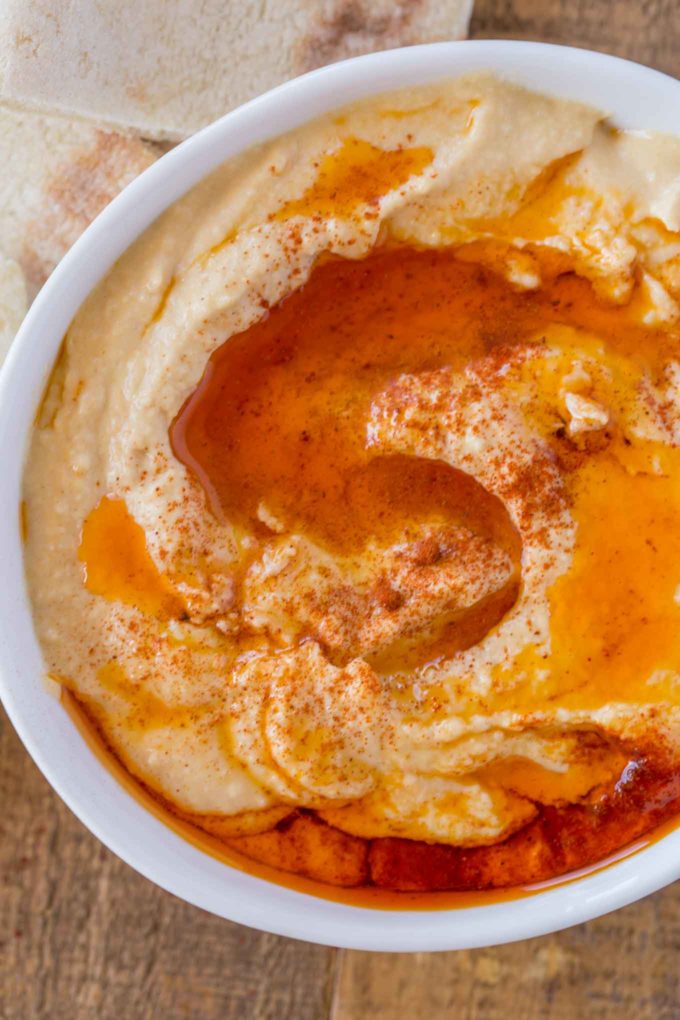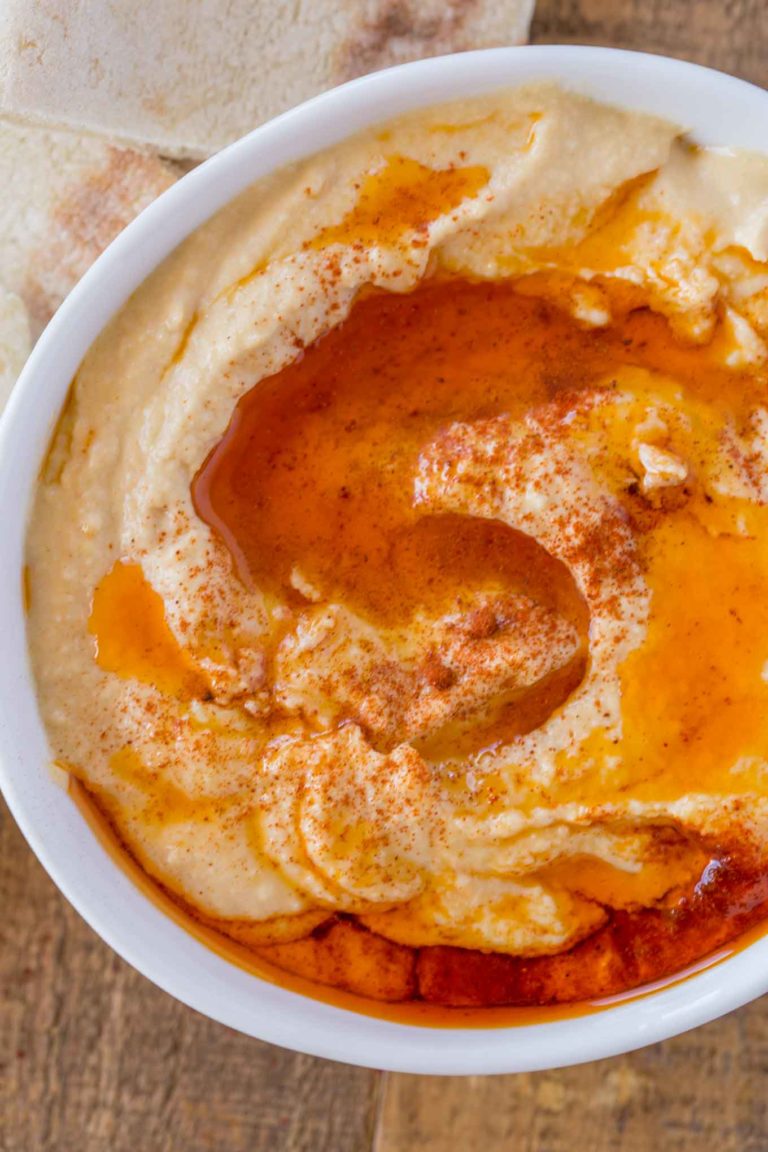 Ways to serve hummus:
Crudite: The most popular way, with pita bread, pita chips or veggies.
Condiment: Using it as a condiment on your sandwiches instead of mayonnaise.
Dipping Sauce: I grill chicken then use the hummus on the side as a sauce instead of making any additional sauces.
How to make hummus:
Making hummus is as easy as combining chickpeas, tahini, lemon juice, garlic and salt in the food processor for 30-45 seconds. Be sure you maintain some texture (like chunky peanut butter) instead of letting it go until it is completely smooth.
I skip adding the olive oil to the hummus in favor of adding it on top with paprika for two reasons. First, its more attractive and second if the oil is mixed in you can miss its existence. By having it on top you get the feeling of the luxury of dipping in something with oil. It's mentally satiating vs just knowing there is some in the hummus.
When serving makes small rivers in the bowl that the oil can sit in and for serving purposes make sure the oil is evenly distributed so each portion gets about the right amount if you are counting points carefully.
Note: I used a smaller bowl for photos so it appears to be more oil than it would be if i pictured the entire recipe.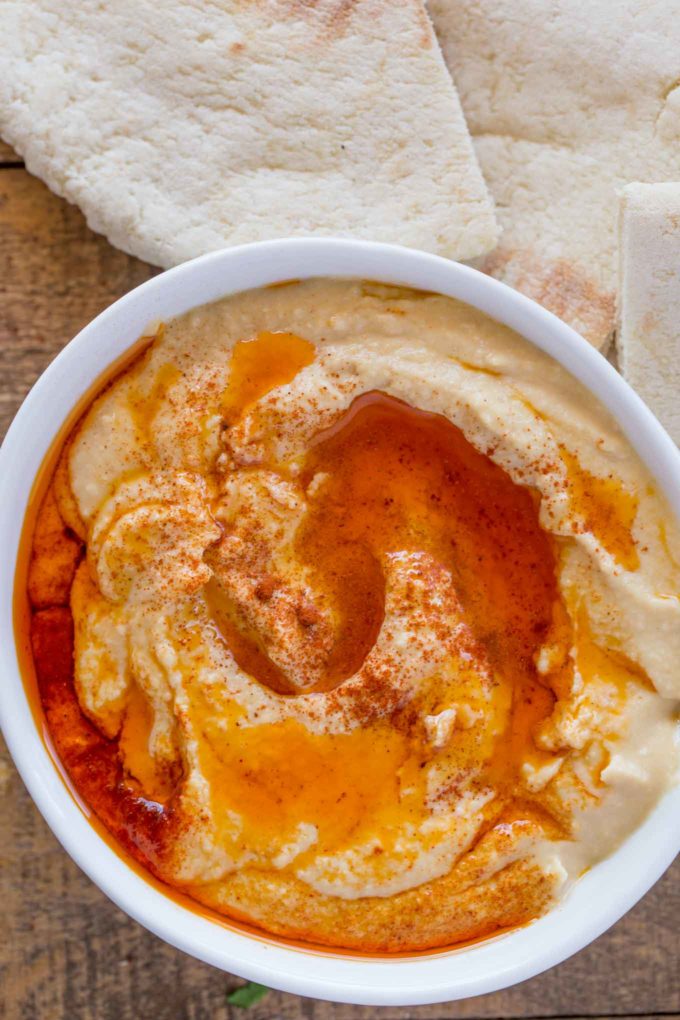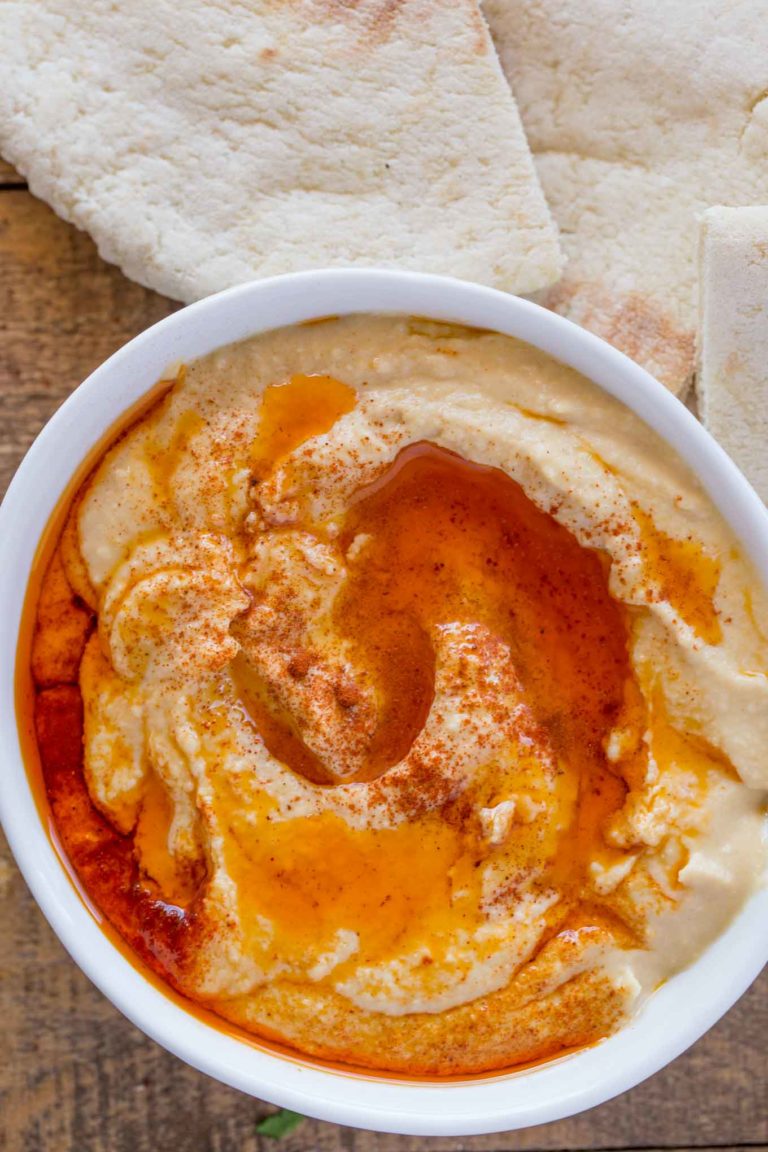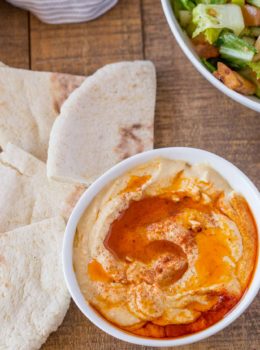 Easy Hummus
Healthier Hummus made with garlic, lemon juice, tahini and olive oil in just five minutes!
Ingredients:
30 ounces chickpeas, drained and rinsed
2 tablespoons lemon juice
1 tablespoon tahini
2 cloves garlic
3-4 tablespoons water
1/4 teaspoon sweet paprika
2 tablespoons extra virgin olive oil
Directions:
Add the chickpeas, lemon juice, tahini, garlic and water to a food processor and process until smooth, for 45-60 seconds.
If you find parts are not processing, scrape down the sides and pulse the mixture until it all starts to become smooth.
Top with the paprika and olive oil before serving.
Nutrition Information
Yield: 3 cups, Serving Size: 1/4 cups
Amount Per Serving:
Calories: 272 Calories
Total Fat: 7.1g
Saturated Fat: 0.9g
Sodium: 18mg
Carbohydrates: 40.9g
Fiber: 11.8g
Sugar: 7.2g
Protein: 13.1g
All images and text ©
Made this recipe?
Show me what you made on Instagram or Facebook and tag me at @Cookingwithpoints or hashtag it at #cookingwithpoints.
Cooking with Points owns the copyright on all images and text and does not allow for its original recipes and pictures to be reproduced anywhere other than at this site unless authorization is given. If you enjoyed the recipe and would like to publish it on your own site, please re-write it in your own words, and link back to my site and recipe page. Read my disclosure and copyright policy. This post may contain affiliate links.