Cashew Kale Salad with a lemony greek yogurt dressing is a fantastic filling lunch option that takes just a few minutes to make!
 Cashew Kale Salad with Lemon Greek Yogurt Dressing
Welcome to Cooking with Points! This site is dedicated to the healthier recipes you're not used to seeing on my main blog, Dinner, then Dessert. Why not just add these recipes there? Read all about it on my FAQs page where I detail all the thoughts and processes behind this blog.
Back to this awesome salad.
Tips for this Cashew Kale Salad:
Massage the Kale! This makes the kale significantly more pleasant to eat by breaking down some of the fibers in the kale.
If you can make the dressing more than 20 minutes before the salad the flavors will be more cohesive too.
Want to add more ingredients? Add tofu, skinless chicken breast or skinless turkey breast – ingredients that are now FREE thanks to the new Freestyle program!
If you don't like cashews, you can also swap in almonds, or macadamia nuts with delicious results. I've even made the dish with chopped brazil nuts before.
How to Massage Kale:
Tear the greens into smaller pieces and knead the leaves like you would a bread dough. Just as you would cream butter sugar together long enough to see a dramatic lightened mixture as you knead the kale leaves you will see the green colors become much more vibrant and noticeably softer.

MY LATEST VIDEOS
Why do you massage Kale?
Kale is a very bitter and fibrous green leafy vegetable. If dressed without massaging it would be unpleasant to eat and the taste would be quite overwhelming. Massaging kale allows some of the fibrous texture to break down and as the kale softens the flavors become more agreeable.
Can I skip massaging the kale?
If you prefer not to massage your kale, toss it in olive oil and let it sit overnight in the refrigerator to allow it to soften naturally over time. Remember to account for the points in the olive oil.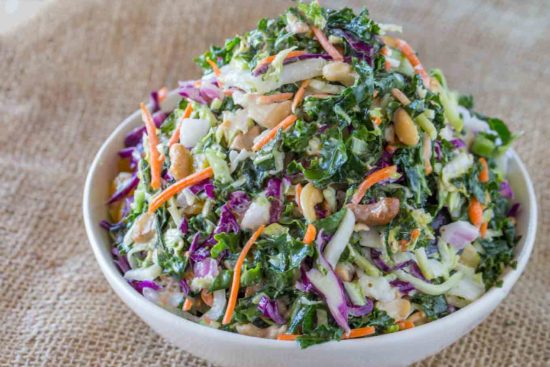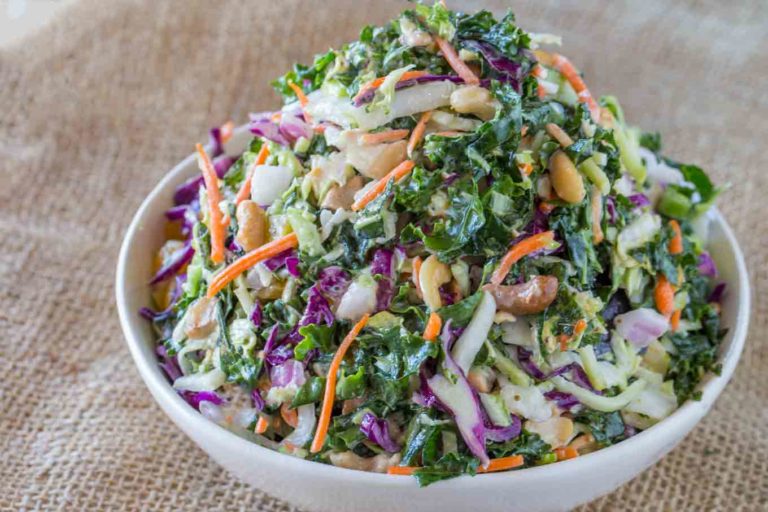 Tools for making this Cashew Kale Salad:
Kale Stripping Tool: I love this tool because it makes a chore easier AND I can make my kids do it without the use of a knife. We live by this tool for kale.
Lemon Juicer: Love this for juicing citrus, it gets all the juice out and easily!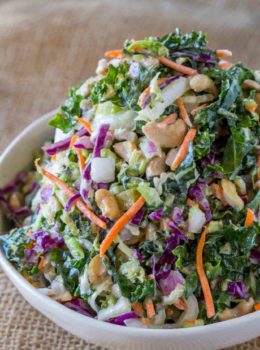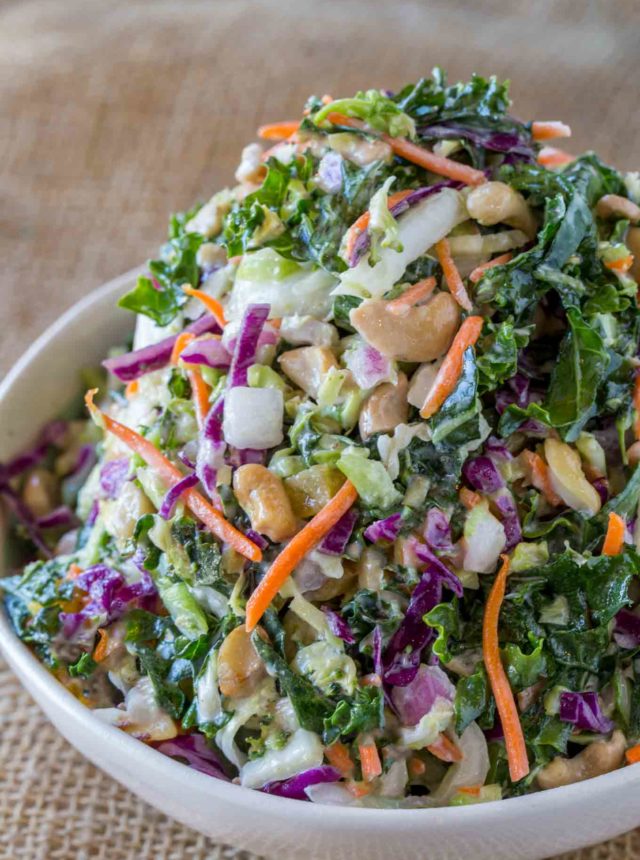 Cashew Kale Salad with Lemon Yogurt Dressing
Cashew Kale Salad with a lemony greek yogurt dressing is a fantastic filling lunch option that takes just a few minutes to make!
Ingredients
Lemon Greek Yogurt Dressing Ingredients:
1/2

cup

plain Fat Free Greek yogurt

2

tablespoons

extra virgin olive oil

1/2

teaspoon

Kosher salt

1/4

teaspoon

coarse ground black pepper

1

lemon

juiced (about 2 tablespoons)

1

tablespoon

white wine vinegar

1/2

teaspoons

sugar

2

cloves

garlic

minced
Kale Salad Ingredients:
1

head of kale

leaves removed from the woodsy stems and shredded

1/2

head of red cabbage

sliced thinly

1/3

cups

cashews

roughly chopped

2

carrots

julienned or shredded

1/4

red onion

minced
Instructions
To make the Dressing:
Mix all the ingredients together in a bowl and let sit while you prepare the rest of the ingredients.
To Assemble the salad:
Preheat the oven to 375 degrees.

Add half of the yogurt dressing to the kale and massage it for 3-4 minutes.

Let sit while you roast the cashews.

Add the cashews to a cookie sheet and put in the oven for 7-9 minutes, or until you can just smell them.

Let the cashews cool.

Add half the cashews to the bowl with the kale and the rest of the salad ingredients.

Toss the ingredients and toss with the rest of the dressing.

Garnish with remaining cashews.
Nutrition Facts
Cashew Kale Salad with Lemon Yogurt Dressing
Amount Per Serving (1 /6th recipe)
Calories 160
Calories from Fat 75
% Daily Value*
Total Fat 8.3g 13%
Sodium 259mg 11%
Total Carbohydrates 17.8g 6%
Protein 6.3g 13%
* Percent Daily Values are based on a 2000 calorie diet.