Strawberries with balsamic vinegar and a secret twist can be served an appetizer or a healthy dessert depending on what you serve them with. 
So you've seen my recipes for healthier desserts like Strawberry Shortcake, Healthy Banana Cake and Oreo Poke Cake, but you're looking for something a little lighter and a lot more versatile.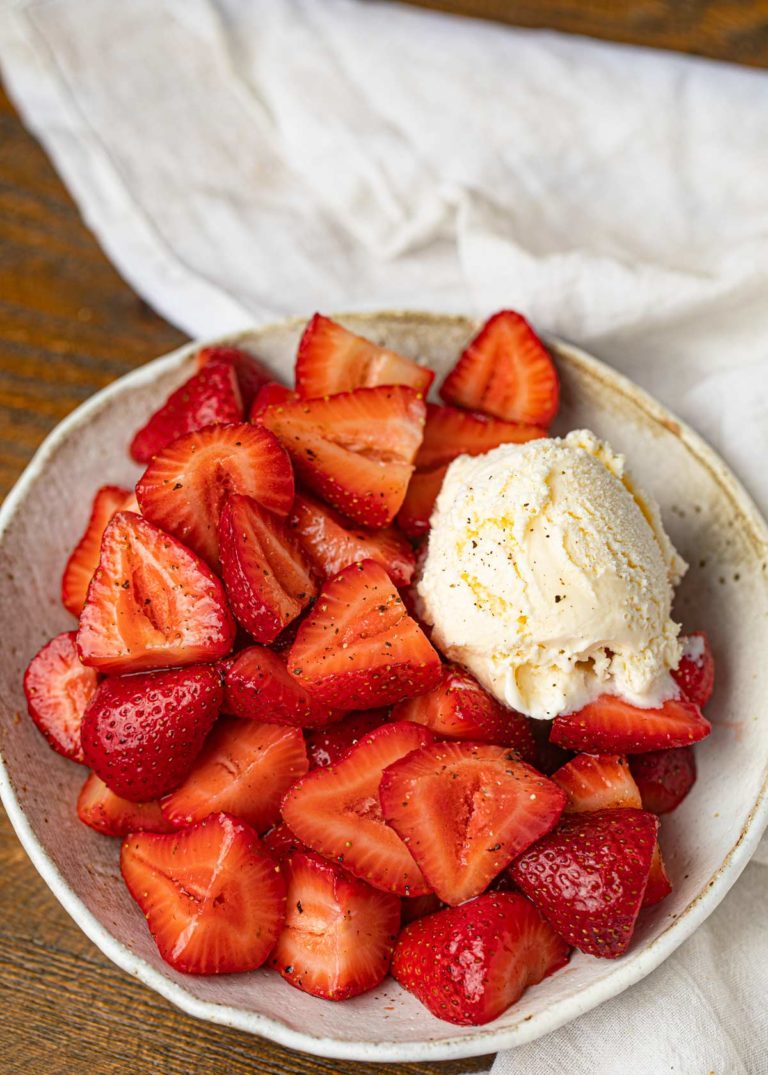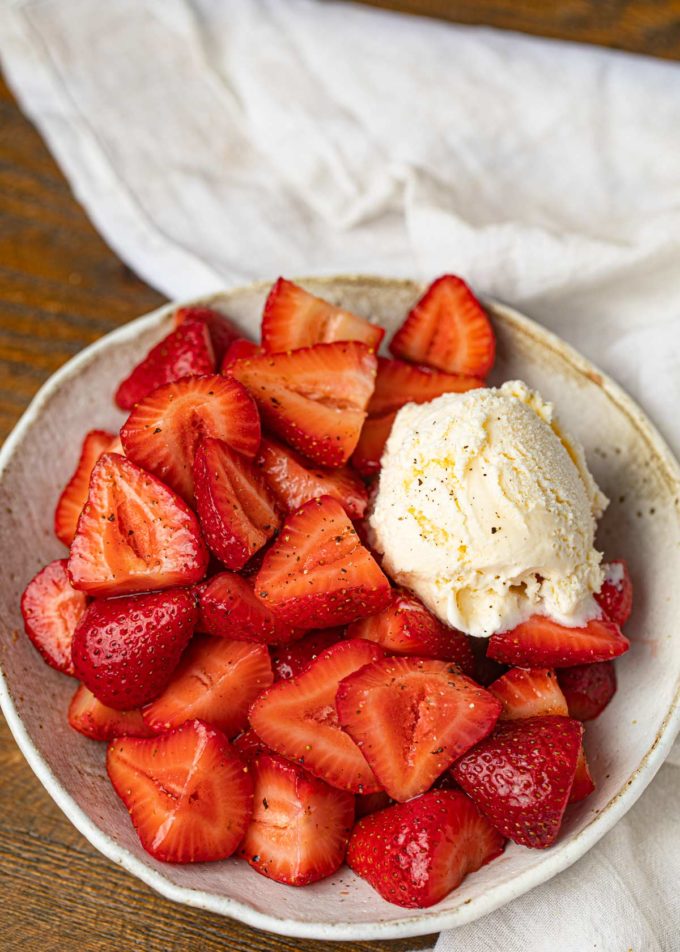 STRAWBERRIES WITH BALSAMIC VINEGAR
Ripe strawberries drizzled with balsamic vinegar and served up with a scoop of ice cream are not only delicious, they're one of the easiest recipes you'll ever make.
This dessert is a vegan recipe that pairs the savory tang of vinegar with the natural sweetness of strawberries. It is also proof that you can make a delicious treat without having to add 500 tablespoons sugar.
If you like the idea, but aren't crazy about serving it as a dessert, you can also dish it up on its own as a delicious side or even an appetizer. The nice thing about this recipe is that you don't need to do very much to it to make it pair well with any main course.
Why add black pepper? Black pepper actually brings out the sweetness of the strawberries even more. It may seem crazy but just a bit of pepper that you let sit intensifies the strawberry flavor. It's similar to how coffee intensifies the flavors of chocolate.
HOW TO MAKE STRAWBERRIES WITH BALSAMIC VINEGAR
Wash the strawberries and set them in a small bowl.
Drizzle balsamic vinegar over them and sprinkle with sugar.
Stir them gently to make sure that they are thoroughly coated.
Cover the small bowl and let it sit at room temperature for at least 1 hour but not more than 4 hours.
Once the strawberries have been thoroughly soaked, grind back pepper over the top.
You can serve them up plain or with a side of ice cream or light pound cake.
VARIATIONS
Lemon Zest: add a little lemon zest for a touch of tartness. The added texture is fantastic and the lemon juice keeps the strawberries fresher for longer. The tang of the lemon zest pairs really well with the savory vinegar.
Fresh Mint or Fresh Basil add a sprig of fresh mint instead of basil to the balsamic strawberries if you want to give them a definite dessert flavor. Remember that a little mint goes a long way, and you don't want to overpower the other flavors.
Chilled: refrigerate your balsamic strawberries before serving to chill them. The result is a crisp, refreshing dessert that's great for hot summer days.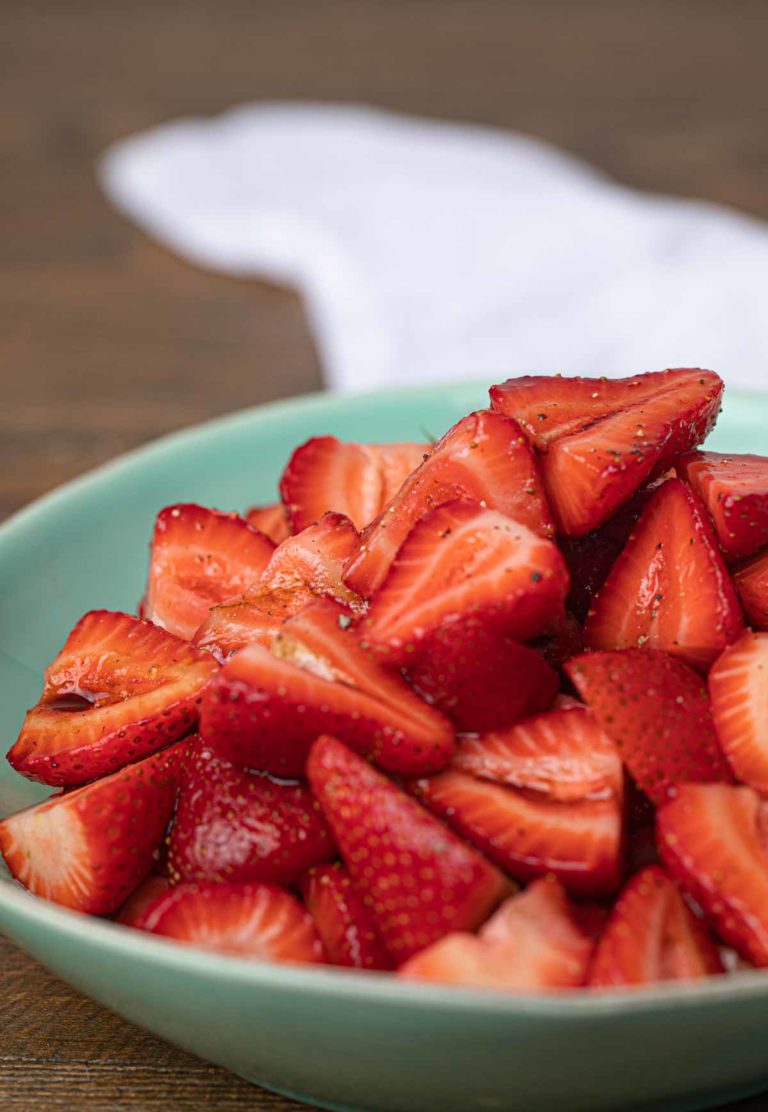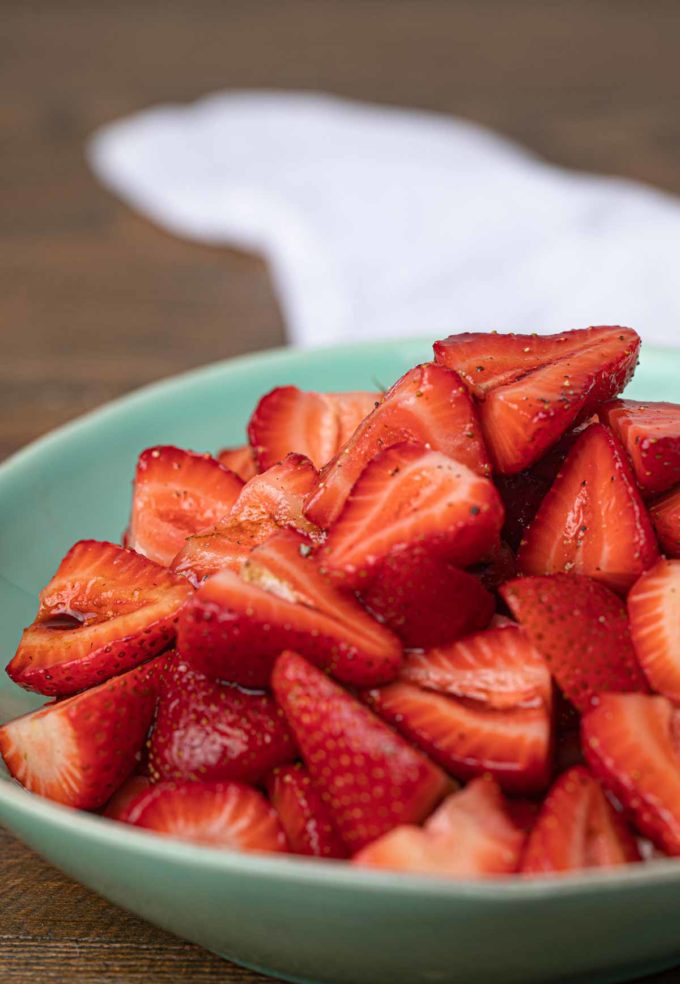 Create a free account to

Save Recipes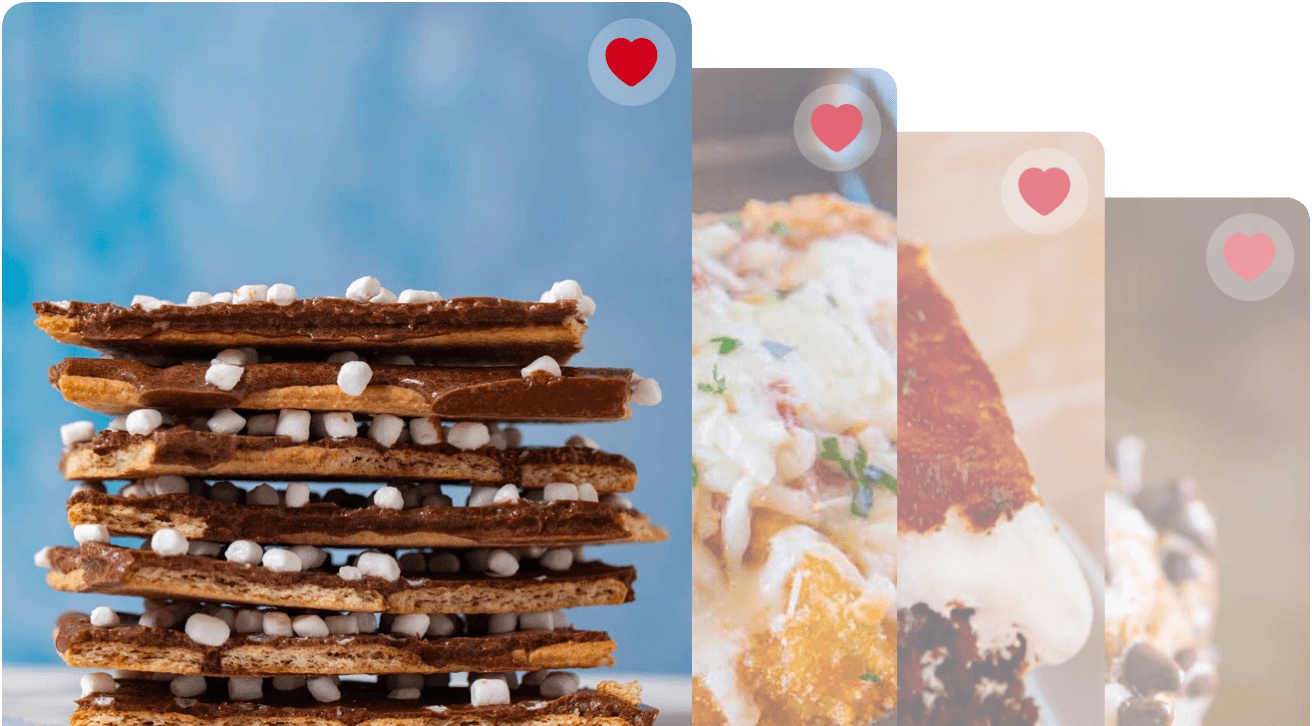 WHY EAT STRAWBERRIES?
Sure they're delicious, but are there any other reasons to eat strawberries? There absolutely are.
Strawberries are high in manganese, vitamins B9 and C, and potassium.
They're a great way to get your sugar fix the natural way.
They're high in antioxidants.
Strawberries are low carb for fruit because of their high water content.
WHY EAT VINEGAR?
Don't go out and down a bottle, but balsamic vinegar has quite a few health benefits.
Good for the skin (some people say you can apply it straight to the skin to help manage acne.)
It is high in acetic acid, which can help with digestive health.
It may help to manage bad cholesterol and promote good cholesterol.
Balsamic vinegar is a natural appetite suppressant, so it keeps you feeling fuller longer.
Vinegar in general has been used as an anti fungal agent.
Vinegar can help you fight colds by reducing congestion.
You should not drink it straight, however, because it can damage your esophagus over time if you drink too much.
How to store Strawberries with Balsamic Vinegar?
Serve: to keep the strawberries from getting bitter, you shouldn't leave them out for longer than two hours at room temperature once you've added the vinegar.
Store: balsamic strawberries are good in the fridge for about 4 days before they start to lose their sweet flavor.
Freeze: you can freeze balsamic strawberries for up to 6 months but, like most fruit dishes, they are much better eaten fresh.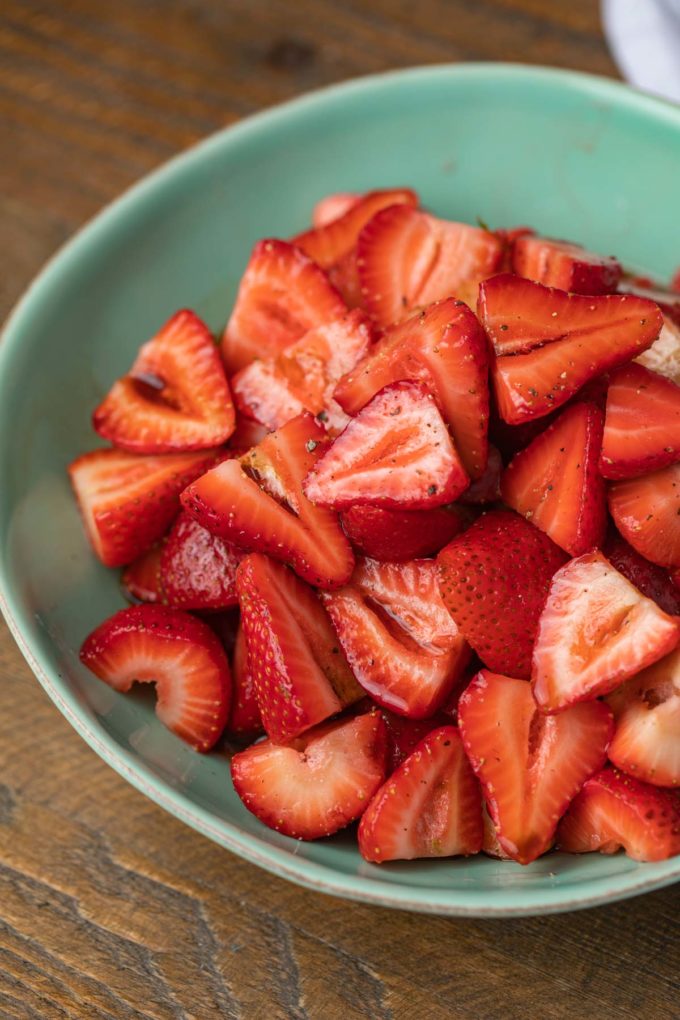 Ingredients
16

ounces

fresh strawberries

hulled and large berries cut in half

2

tablespoons

balsamic vinegar

1/4

cup

white sugar

1/4

teaspoon

freshly ground black pepper

or to taste

2

tablespoons

basil

thinly sliced

vanilla ice cream

for serving
Instructions
Place strawberries in a bowl. Drizzle vinegar over strawberries, and sprinkle with sugar. Stir gently to combine.

Cover, and let sit at room temperature for at least

1 hour

but not more than 4 hours.

Just before serving, grind pepper over berries. Garnish with basil and ice cream.
Nutrition
Calories:
92
kcal
|
Carbohydrates:
23
g
|
Protein:
1
g
|
Fat:
1
g
|
Saturated Fat:
1
g
|
Sodium:
3
mg
|
Potassium:
182
mg
|
Fiber:
2
g
|
Sugar:
19
g
|
Vitamin A:
65
IU
|
Vitamin C:
66.7
mg
|
Calcium:
18
mg
|
Iron:
0.5
mg