Spinach Salad with Red Wine Vinaigrette is quick, easy, and has a light dressing. Made with refreshing ingredients like spinach, apples, feta, and almonds.
If you love dishes like Watermelon Cucumber Feta Salad, then this simple Spinach Salad is the perfect Light Lunch or side dish for you. It's a fresh dish that's packed with nutrients and protein to keep you going.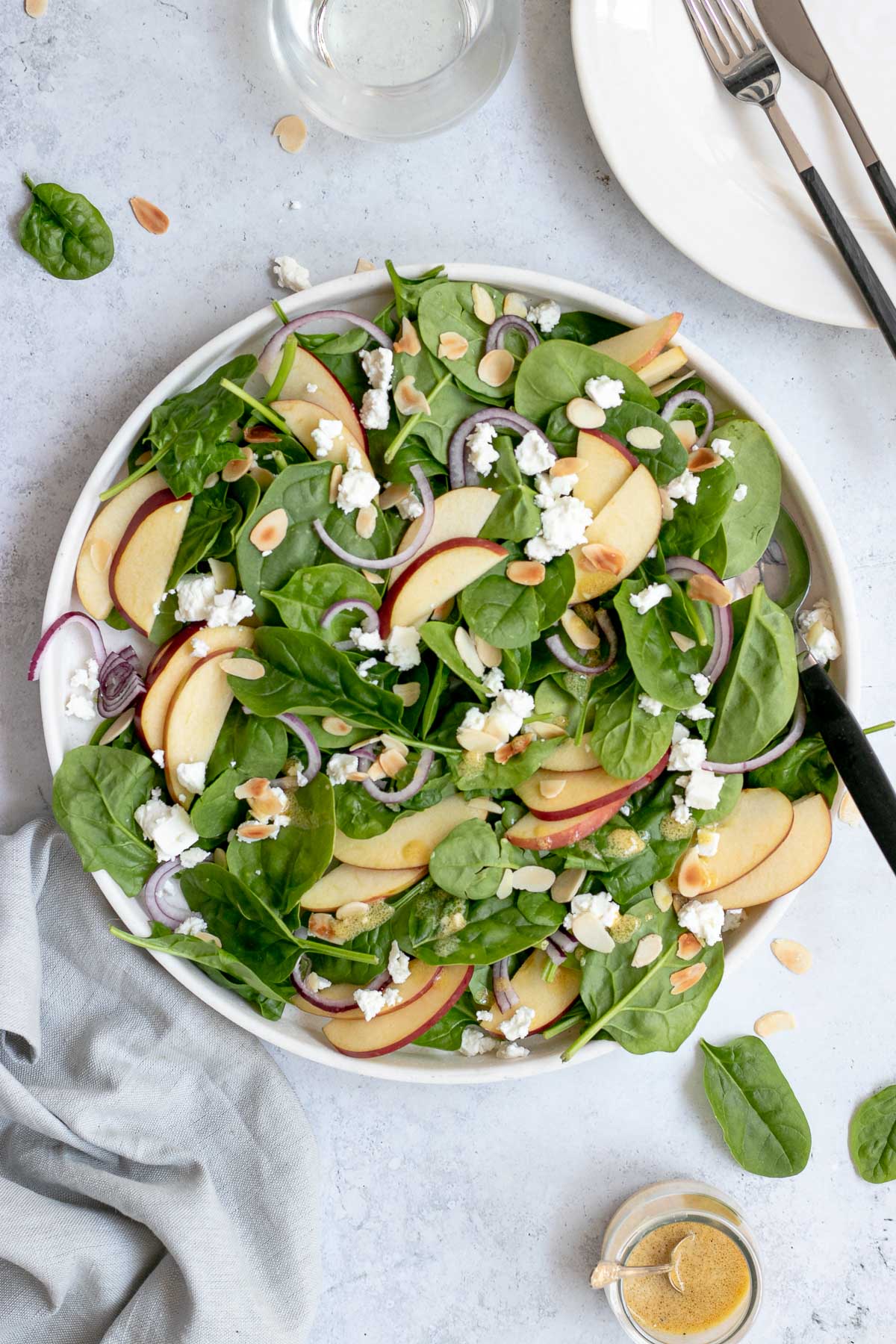 Spinach Salad is a delicious combination of tangy and sweet. The wine vinegar dressing pairs perfectly with the spinach and other ingredients to make a light lunch that everyone will love. Just in case you aren't sold yet, the total time to make it is just 10 minutes!
You can also serve it alongside healthy dinners like Braised Balsamic Chicken and Lemon Greek Chicken Skewers. Whenever you enjoy this salad, you know it will be a gluten-free, low-fat, low-carb, crisp, and refreshing recipe.
More Salad Recipes 
Make it a go-to salad for packed lunches. Once you've made this salad, you can store it in mason jars for easy meals to grab-and-go. This is an excellent way to keep spinach in your diet. Spinach is a rich source of vitamins, omega-3s, and iron. It also helps lower blood pressure. So making an easy recipe that's rich in spinach is perfect for a satisfying, packed lunch.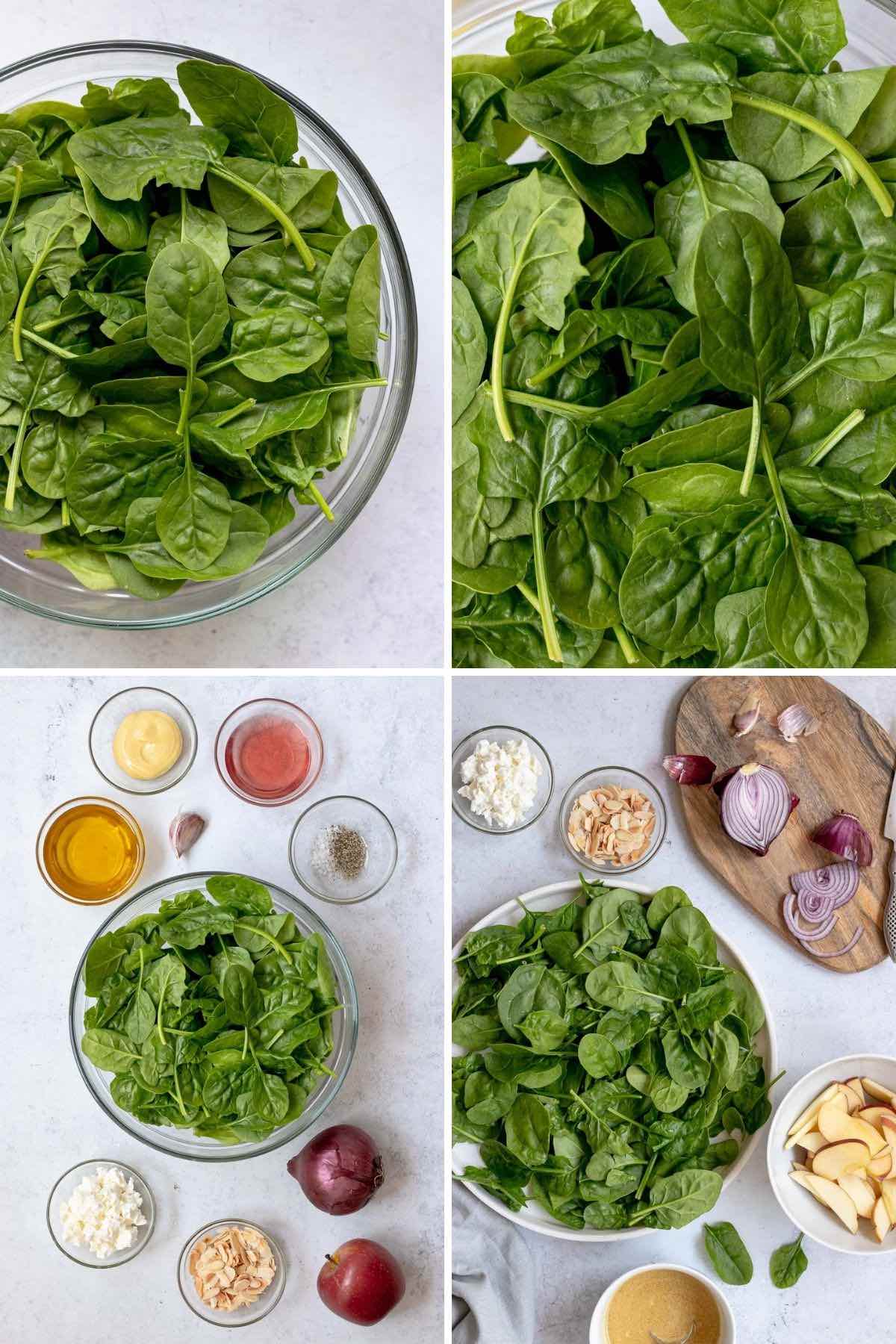 Create a free account to

Save Recipes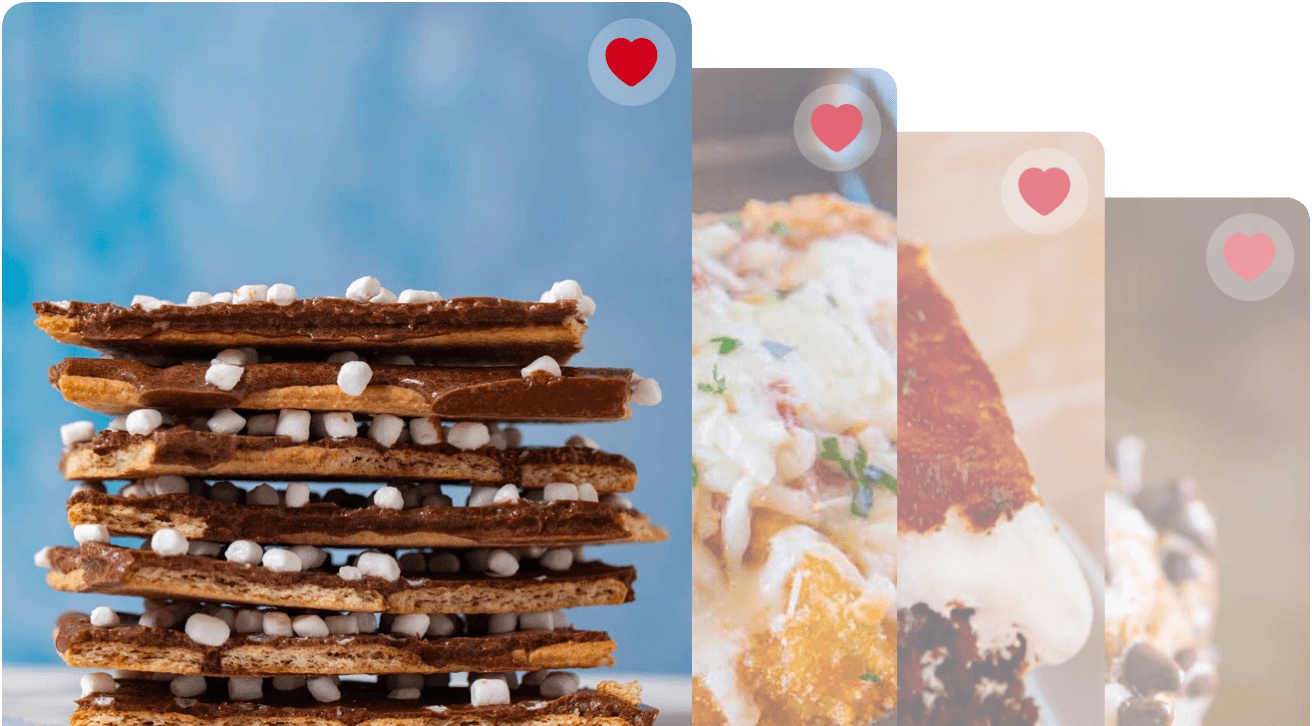 Variations on Spinach Salad with Red Wine Vinaigrette
Add-ins: One of the best things about salad is that you can toss in extra ingredients just depending on what you have around. Try throwing in some sunflower seeds, sun-dried tomato, chopped yellow onion, or arugula. You can also change the ingredients already in this Spinach Salad recipe. Simple changes like using candied almonds instead of regular almonds, or goat cheese instead of feta can make a big difference in taste.
More Protein: There's some protein in this Spinach Salad from the feta and almonds, but you can add even more. To make Spinach Salad a more filling main dish add grilled chicken, hard boiled eggs, blue cheese, or goat cheese. You can also add vegan friendly protein like pecans. There's already almonds in the recipe, but try adding chopped pecans and other nuts to the mix. Pecans will give some extra crunch and make the recipe more filling.
Strawberry Salad: One of the most popular ways to serve spinach is with a Strawberry Spinach Salad. The sweet and tangy strawberries will pair wonderfully with the spinach. Strawberry Spinach Salad will also give a nice contrast to the flavor from the red onion. To make Strawberry Spinach Salad, add a cup of thick-cut strawberries to the mixture and see how you like it.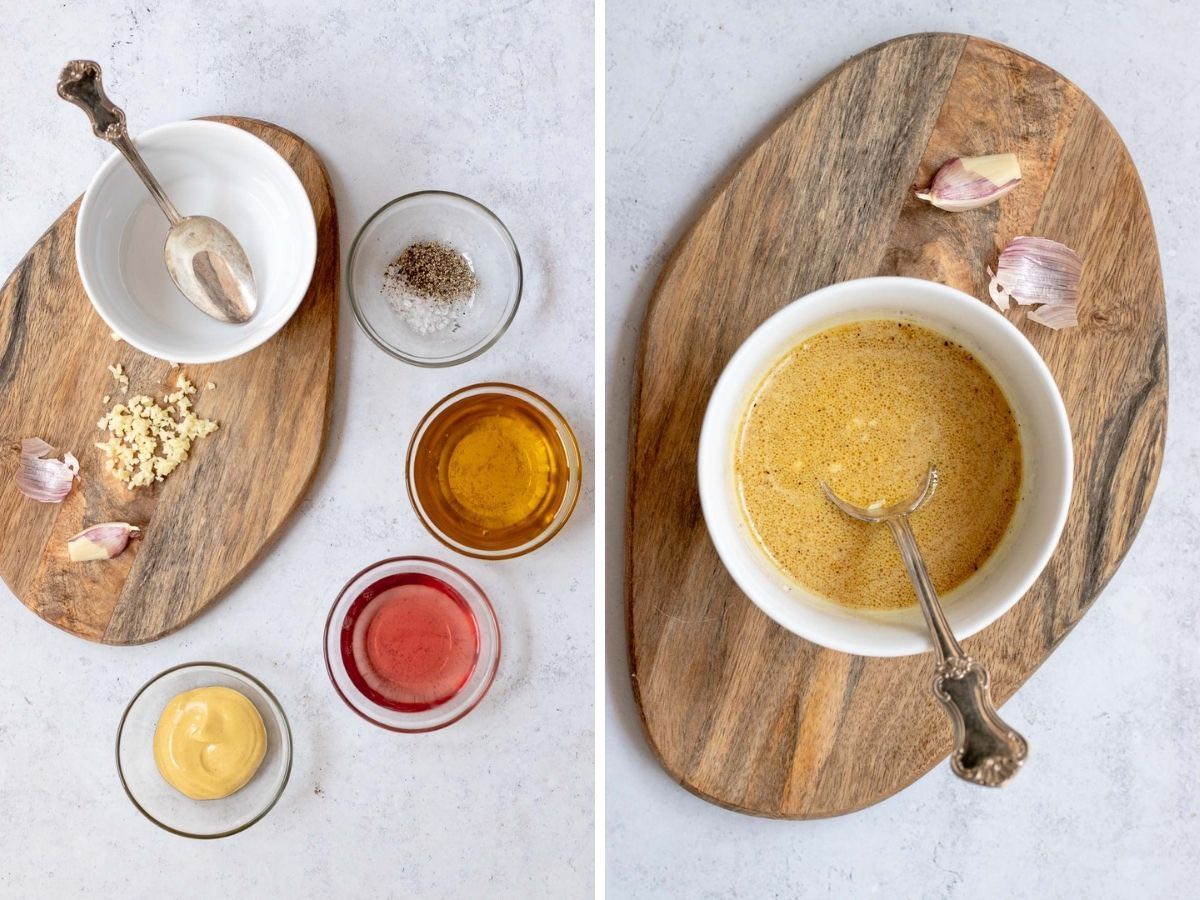 More Dressings 
Apart from changing the salad ingredients, you can also alter the salad recipe by the dressing you use.
Warm Bacon Dressing: this dressing is an excellent option, if you'd like to switch up the Spinach Salad Recipe by adding bacon.
Start by cooking bacon in a nonstick skillet.
While the bacon cooks, whisk together 2 ½ tablespoons cider vinegar, 1 ½ tablespoons honey, 1 ½ teaspoons Dijon mustard, ¼ teaspoon salt, 1 teaspoon black pepper, ½ tablespoon lemon juice in a large bowl.
Transfer the hot bacon to a paper towel once its cooked.
Remove the bacon fat from the skillet, then add 4 tablespoons back in.
Cook ¼ cup finely chopped shallots over medium heat in the bacon fat for 1-2 minutes.
Add the shallots and bacon fat from the skillet to the vinegar bacon dressing mixture.
Tear the bacon and toss it with the salad. Serve warm bacon dressing over the salad.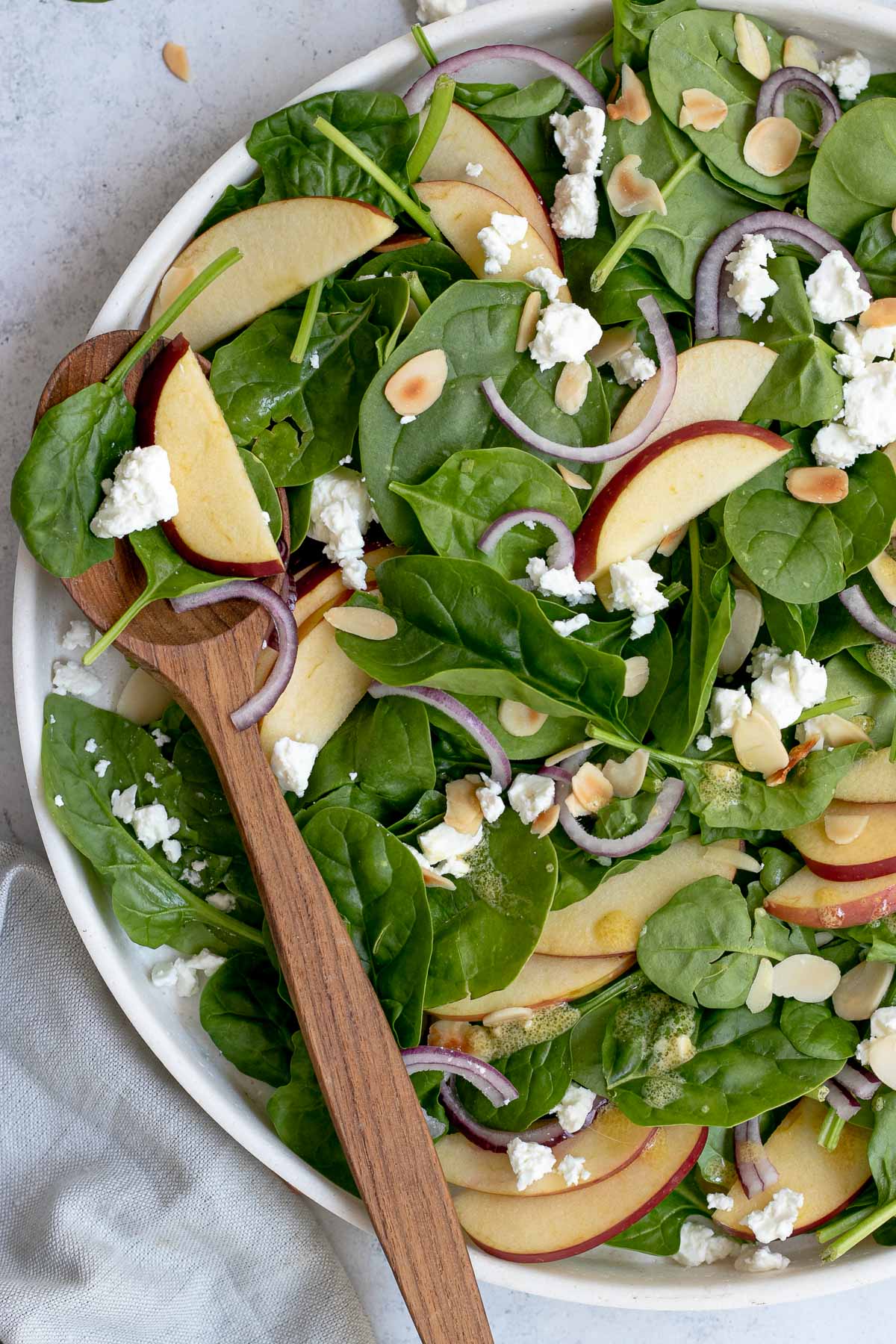 Balsamic Vinaigrette: A balsamic Vinaigrette makes a perfect Spinach Salad Dressing. Here's an easy recipe for one.
Add 2 tablespoons honey, 1 tablespoon dijon mustard, ½ teaspoon fine sea salt, ½ teaspoon freshly crushed black pepper finely ground, 1 large garlic clove, minced, ¼ cup balsamic vinegar, ¾ cup extra virgin olive oil.
To prepare the balsamic dressing simply whisk together the above ingredients. Store in the fridge until you toss it with the salad.
What to Serve with Spinach Salad
How to Store Spinach Salad with Red Wine Vinaigrette
Serve: Don't leave your salad at room temperature for more than a couple hours, or it will start to wilt.
Store: The salad can last up to 5 days in the fridge. However, the spinach and other ingredients will keep best without the dressing. If you don't think you'll finish the salad, only add the dressing to what you're eating. Save the rest separately.
Freeze: You can also freeze spinach salad for up to 10 months. Again, this works if you haven't combined the salad with the dressing. Freeze the salad on its own, and make the dressing fresh before serving.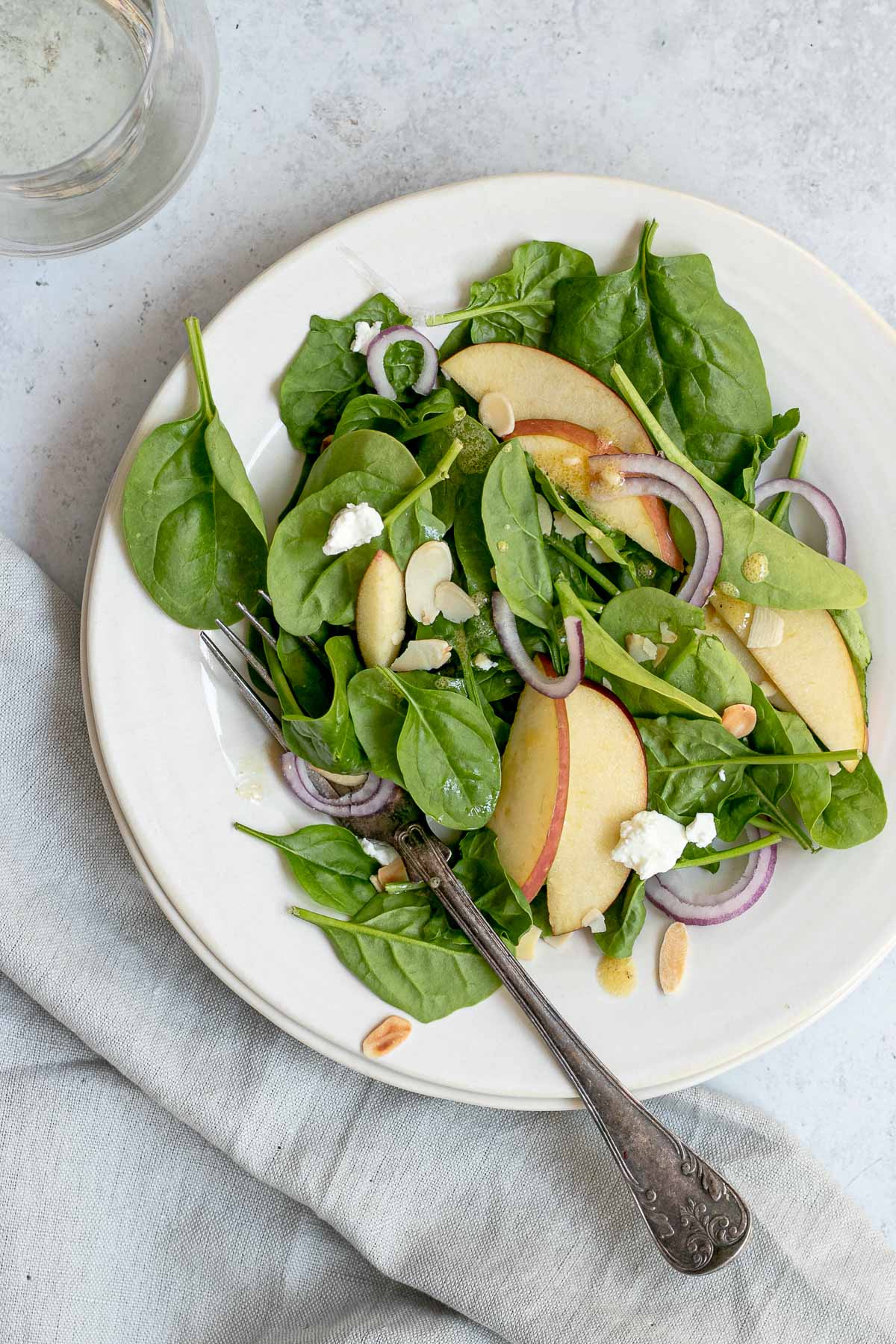 Ingredients
For salad:
5

ounces

fresh spinach

1

apple

, thinly sliced (Fuji or Braeburn work best)

1/3

cup

feta cheese

, crumbled

1/4

red onion

, thinly sliced

1/4

cup

sliced almonds

, toasted
For dressing:
1/3

cup

olive oil

3

tablespoons

red wine vinegar

1

clove

garlic

, minced

2

teaspoons

dijon mustard

1/4

teaspoon

Kosher salt

1/4

teaspoon

coarse ground black pepper
Instructions
In a salad bowl, toss spinach, apple, feta cheese, red onion, and almonds.

Combine dressing ingredients in a mixing bowl. Pour dressing over salad, tossing gently to coat the salad.
Nutrition
Calories:
189
kcal
|
Carbohydrates:
7
g
|
Protein:
3
g
|
Fat:
17
g
|
Saturated Fat:
3
g
|
Polyunsaturated Fat:
2
g
|
Monounsaturated Fat:
11
g
|
Trans Fat:
1
g
|
Cholesterol:
7
mg
|
Sodium:
229
mg
|
Potassium:
227
mg
|
Fiber:
2
g
|
Sugar:
4
g
|
Vitamin A:
2269
IU
|
Vitamin C:
9
mg
|
Calcium:
86
mg
|
Iron:
1
mg