Rosemary Focaccia Bread (2-ingredient dough) is yeast free bread that's perfectly soft and crispy. Topped with olive oil and kosher salt and rosemary.
Just like Greek Yogurt Biscuits this is another simple Bread Recipe where the dough is made with just flour and Greek Yogurt.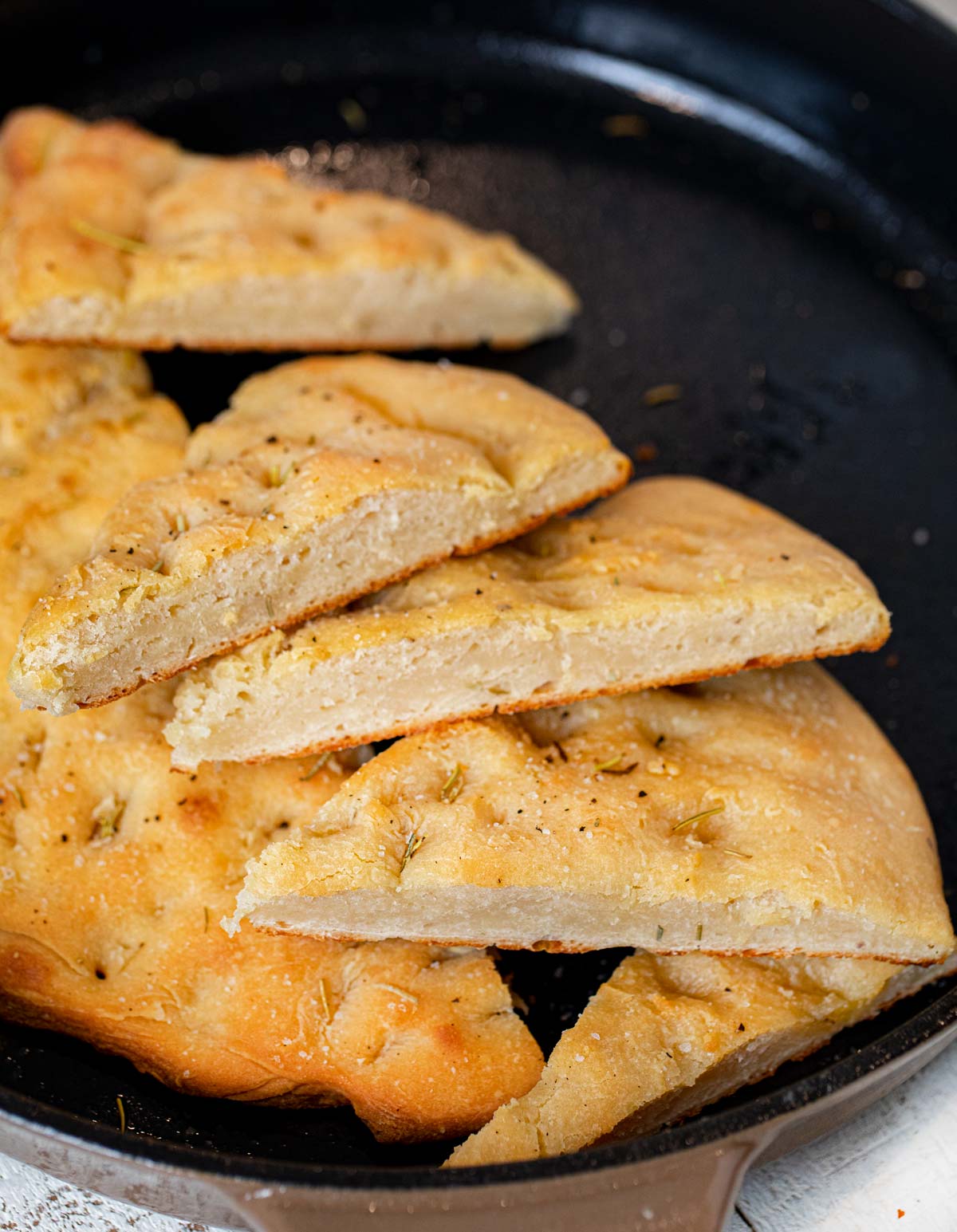 ROSEMARY FOCACCIA BREAD (2-INGREDIENT DOUGH)
Focaccia is classic oven-baked Italian flat bread recipe. It has a similar texture to pizza dough, but is much thicker. Typically, this bread recipe is made with active dry yeast, but this version of Focaccia Bread doesn't require that. Focaccia can be served as a side to many meals or used as a bread for sandwiches.
Serve Focaccia as part of your favorite Italian dinners like Eggplant Lasagna or Healthier Beef Ragu. Focaccia is also excellent served with soup since you can dip the crispy bread in the soup. Some excellent options for this are White Bean Kale Soup, or Beef and Cabbage Soup.
But this Focaccia Bread recipe is so delicious it might become a go-to snack to enjoy on its own. The olive oil makes an amazingly buttery and soft bread, but it also has a wonderful crunch to the crust. Plus, the fresh rosemary gives a subtle, but wonderful taste to the entire bread.
QUICK TIPS TO MAKING FOCACCIA
This 2-ingredient focaccia is also a great recipe for anyone just getting into baking. If this is your first time baking bread, you're in luck You'd never guess when you taste it, but focaccia is unbelievably easy to make. When you use yeast the recipe takes a little more time, but this Focaccia Bread recipe with Greek Yogurt is so much simpler. Here are some easy step-by-step directions to make focaccia perfect every time.
Start by mixing the yogurt and flour. It's important at this point not to over-mix or mix the dough too fast.
After the flour is mixed into the yogurt switch to a using a bread hook on your stand mixer. This will knead the dough for you. This should take about 5 minutes. You'll know it's done when the dough has formed into a ball and is smooth. If you don't have a dough hot you can also knead the focaccia bread by hand. prepare a floured surface and work the dough until it reaches the same smooth consistency.
Prepare a heavy duty cast iron skillet with non-stick spray to make sure your baked focaccia doesn't stick to it.
Press the dough into your skillet. Then use your fingers to add dimples into the top of the dough. This will be what the extra virgin olive oil pools in and seeps into the bread. The dimples also give focaccia its distinctive look.
Once you've prepped the dough all that's left for you to do is drizzle olive oil over the top, add the rosemary, and bake.
MAKE YOUR OWN SELF-RISING FLOUR
You can self-rising all-purpose flour at most grocery stores. But you can also make self-rising flour for this Focaccia recipe on your own. Mix 1 all-purpose flour cup of flour with 1 ½ teaspoons baking powder, and ¼ teaspoon salt.
If you prefer to cook with wheat flour or a gluten-free flour, you can also make that. Just replace the all-purpose bread flour with whole wheat flour. You may need to use slightly more rising agents, if you're using a heavier flour like whole wheat or almond flour in your loaf.
WHAT TO SERVE FOCACCIA BREAD WITH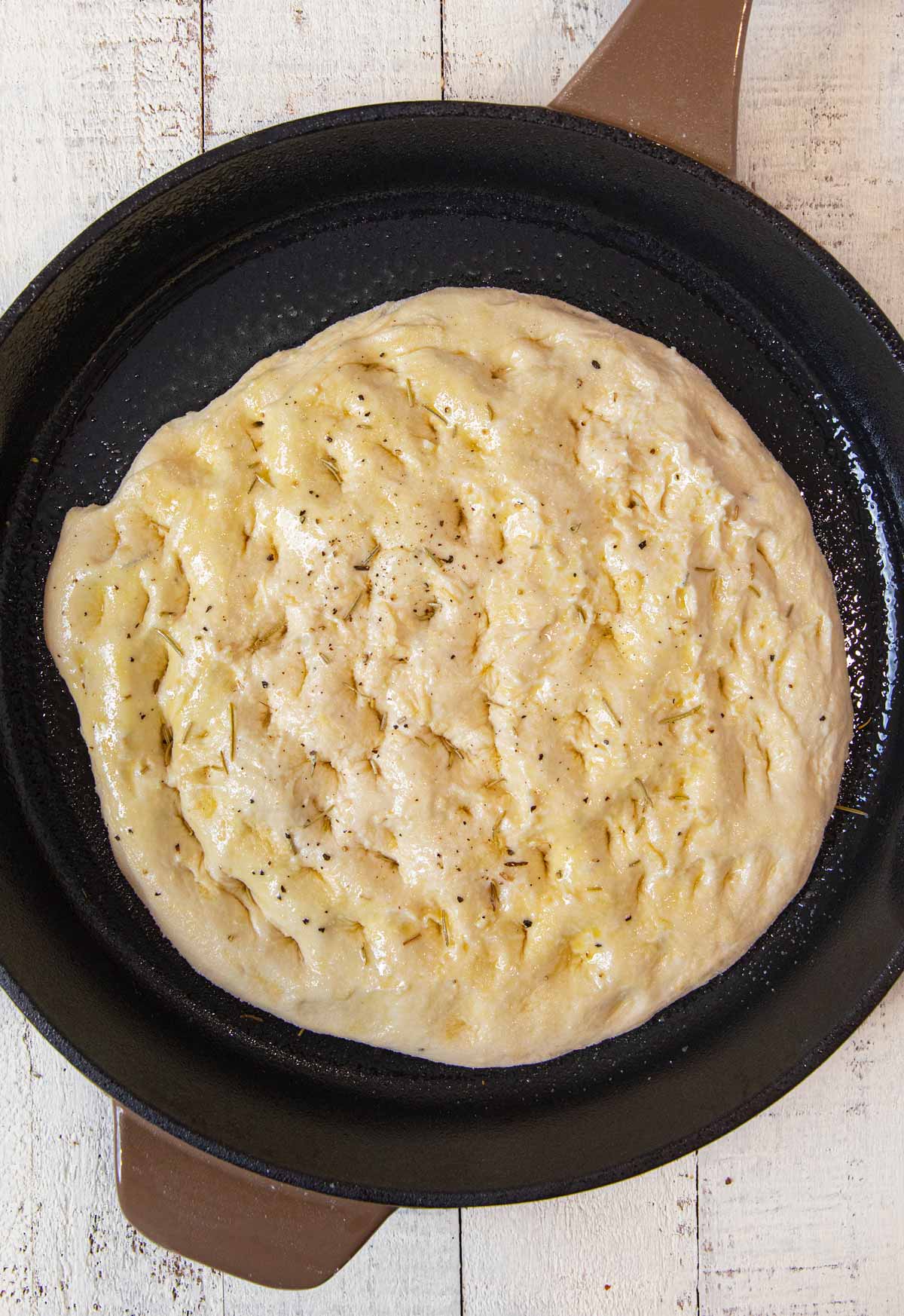 Create a free account to

Save Recipes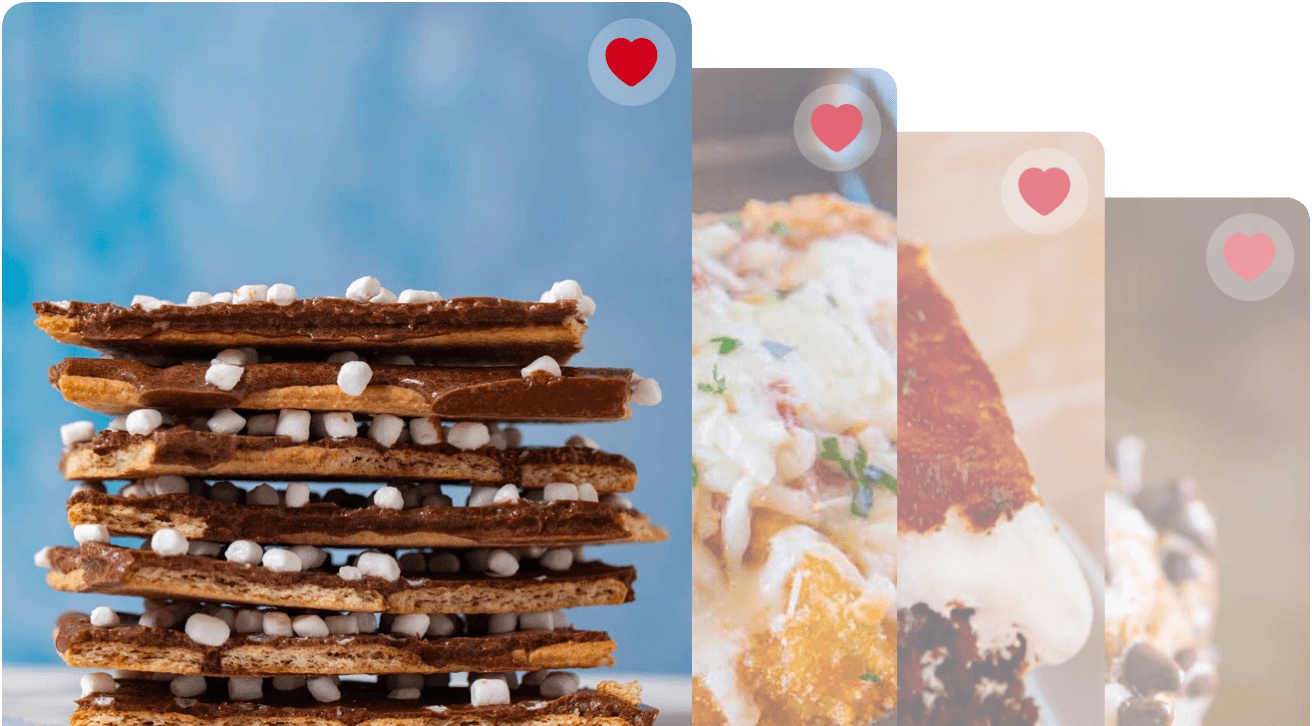 VARIATIONS ON ROSEMARY FOCACCIA BREAD
Toppings: The first time you make focaccia recipe, you may want to stick to the original rosemary seasoning. But the next time you make it, feel free to experiment and see what you like best. Some simple additions to make to the rosemary topping are sea salt, minced roasted garlic, parmesan, and caramelized onion. Add the garlic or onion before baking the focaccia. But you can sprinkle the sea salt and Parmesan Cheese over the top after you bake it.
Pizza-style focaccia recipe: You can make this no yeast bread into an interesting twist on pizza. After you bake the bread add your favorite pizza toppings like shredded cheese, parmesan, or sun-dried tomatoes. You can even spread a few tablespoons of marinara sauce after baking, and before sprinkling on the other toppings. To make the cheese extra melty pop the bread back in the oven to bake for a few more minutes.
Dairy-free: It might sound impossible, but you can make this no yeast bread without dairy. You'll simply have to use a dairy free Greek Yogurt. There are lots of great alternatives made with almond milk. Use this with the bread flour, and you can still make the recipe without active dry yeast.
Herb oil: For an extra flavorful bread you can make herb oil to drizzle over the top before putting it in the oven. To make this oil combine parsley, cilantro, basil, dill, lovage, chives, mint, and tarragon (about a teaspoon of each). Cook the herbs in warm water, then add them to ½ cup of extra virgin olive oil. Puree the olive oil mixture and pour a few tablespoons over the dimples in the bread dough.
MORE BREAD RECIPES
HOW TO STORE ROSEMARY FOCACCIA BREAD
Serve: After baking this easy Focaccia Bread it can stay good at room temperature for 2 days. Just keep the loaf covered in plastic wrap or in an airtight container in a dry and cool place, otherwise it will go stale at room temperature.
Store: Rosemary Focaccia can last up to a week in the fridge. Just make sure to let it cool completely after baking before storing the loaf in an airtight container or covered in plastic wrap.
Freeze: To keep easy Focaccia Bread even longer store it in the freezer. Rosemary Focaccia should be good in the freezer for up to 3 months. When you're reading to enjoy this no yeast bread let it defrost in the fridge and reheat it in the oven. You can add extra rosemary and other seasoning on top for a fresh taste.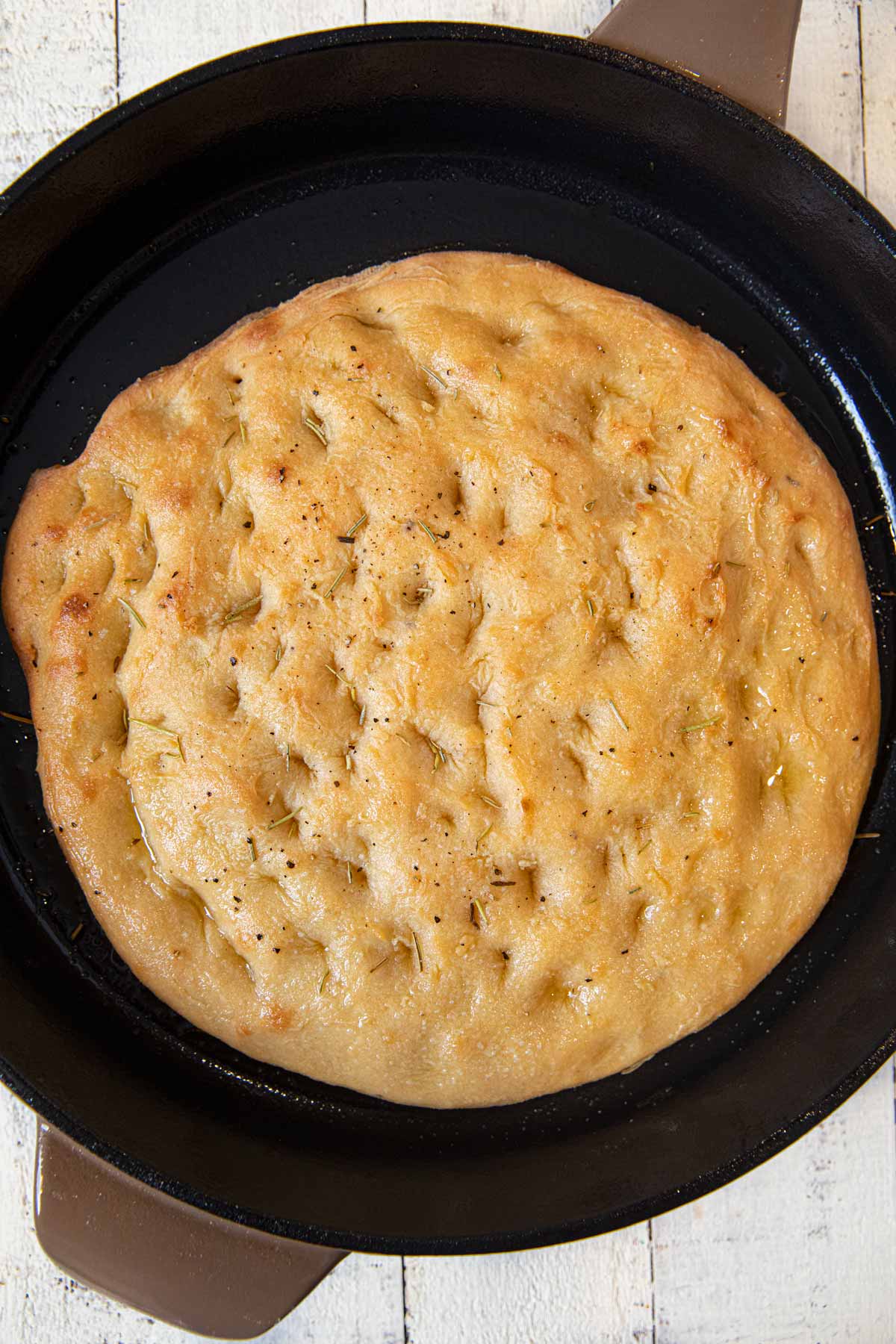 Ingredients
1 1/2

cups

self-rising flour

1 1/4

cups

plain Greek yogurt

2

tablespoons

olive oil

1

teaspoon

dried rosemary

1

teaspoon

kosher salt
Instructions
Preheat oven to 400 degrees.

Add self rising flour and yogurt to stand mixer and combine on medium speed until flour is no longer visible.

Switch to a dough hook and knead for

5 minutes

until the mixture makes a ball that pulls away from the sides and it feels smooth.

Spray an 8" cast iron skillet with olive oil spray.

Press the dough into the skillet and using your fingertips make indentations in the dough (as pictured above) all over the dough.

Drizzle the olive oil all over the dough, sprinkle the rosemary and salt onto the dough.

Bake for

35-40 minutes

until golden brown.
Nutrition
Calories:
107
kcal
|
Carbohydrates:
15
g
|
Protein:
5
g
|
Fat:
3
g
|
Saturated Fat:
1
g
|
Cholesterol:
1
mg
|
Sodium:
242
mg
|
Potassium:
54
mg
|
Fiber:
1
g
|
Sugar:
1
g
|
Calcium:
30
mg
|
Iron:
1
mg