Eggplant Lasagna is a classic Italian American favorite with eggplant slices, marinara sauce and a savory cheese blend. 
If you've tried my Chicken and Mushroom Cream Pasta, Baked Chicken Parmesan or Spaghetti Squash with Meat Sauce, you know that eating healthy doesn't mean going easy on the flavor.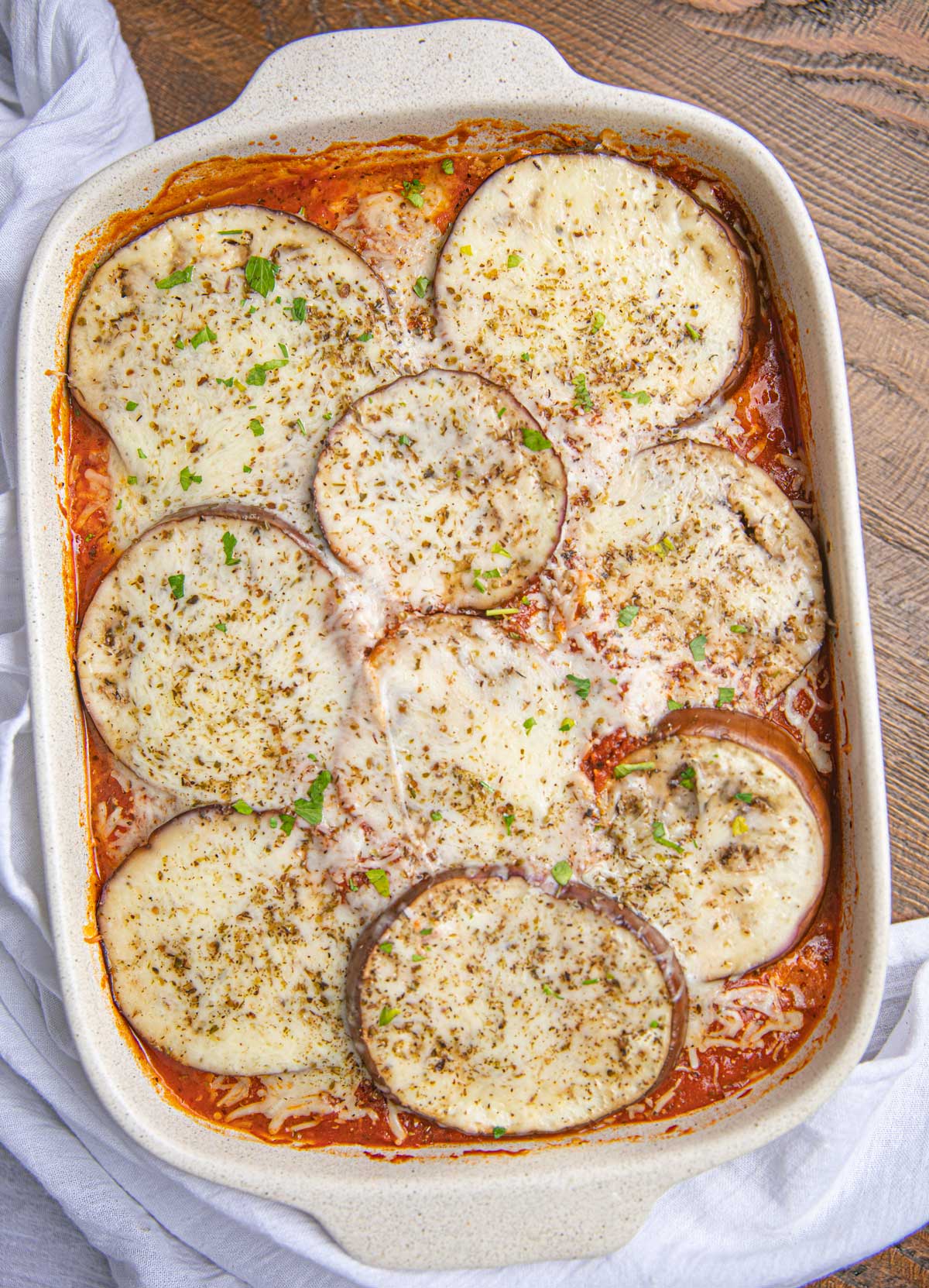 EGGPLANT LASAGNA 
My eggplant lasagna recipe replaces noodles with low carb, high protein eggplant strips that are rich and meaty. The meal prep is easy and the short cook time makes this a great weeknight meal.
Eating healthy doesn't mean giving up your favorite meals, it means finding ways to make your go-tos even tastier and better for you. Since eggplant is really good for you and it keeps you full for longer, it is an excellent choice to pair with a thick tomato sauce and cheese.
This lasagna is hearty and savory enough to replace some of your comfort foods with an easy recipe that will make you feel good on the inside.
HOW TO MAKE EGGPLANT LASAGNA
Start by preheating the oven and thinly slicing up your eggplant.
Lay the slices out on a wire rack and coat them in salt to taste.
Let the salt sit on them for about 20 minutes.
After the eggplant is seasoned on both sides, dry them off with paper towels and set them aside.
Saute onions and garlic in olive oil then add in the marinara sauce.
In a medium bowl, mix together the egg, parsley, ricotta and Parmesan Cheese.
Get out a casserole dish and spread a layer of the marinara sauce onto it.
Lay a single layer of the eggplant down, spread a layer of the cheese mixture, then a layer of mozzarella.
Repeat until done.
Cover the pan with aluminum foil and bake.
What to Serve with Eggplant Lasagna:
Parmesan Roasted Vegetables: crispy, crunchy and great with anything, roasting is an awesome way to cook a veggie. You can also make them fit the theme of your main course by adding just a touch of Italian seasoning to it as well.
Greek Chickpea Salad: this salad is one that you will enjoy making almost as much as eating, it's that easy. Chickpea salad is great for you and gets you almost all of your servings of vegetables for the day in one dish.
Tabouli Salad: if you want something a little more exciting for a side dish, tabouli salad is flavorful and doesn't take all day to make.


Create a free account to

Save Recipes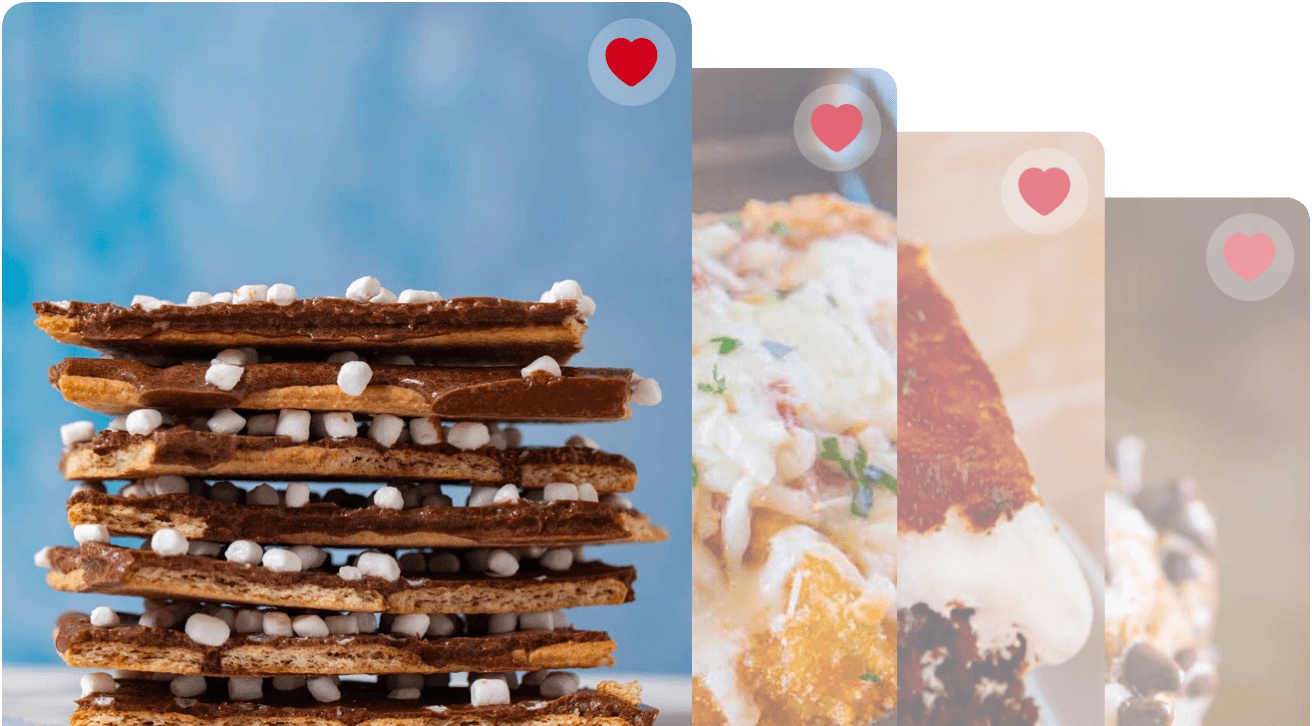 WHY EAT EGGPLANT?
According to an article written by Medical News Today, there are all sorts of reasons to eat eggplant. Here are a few of them:
Eggplant is high in a chemical called nasunin, which may improve blood flow to the brain.
Eggplant is good for your heart and can help with weight loss along with a balanced diet and exercise. Eggplant  can also help lower bad cholesterol.
Eggplant keeps you fuller longer and has chemicals that reduce your appetite.
They are a great source of protein, especially for people on a meat-free diet.
FUN EGGPLANT FACTS
Eggplant is actually a berry!
Eggplant is a member of the nightshade family. The poisonous variety of nightshade is so lethal that eating just two berries can kill you. Tomatoes, potatoes, chili peppers and tobacco are also related to nightshade, which made people wary of eating tomatoes and egg plant for a long time.
Eggplant has one of the highest concentrations of nicotine of any edible plant. However, that amount is so small that you would have to eat over 30 pounds of eggplant at once for it to have any effect, and at that point you would have bigger problems.
During the renaissance, the Italians called eggplants "mala insana," or "crazy apples."
"Crazy apple lasagna" just rolls off the tongue, doesn't it?
HOW to store EGGPLANT LASAGNA?
Serve: don't leave the lasagna out for longer than 2 hours because of the cheese in it.
Store: your leftovers will be good in the fridge for about 4 days before going bad.
Freeze: frozen lasagna is good for about 2 months.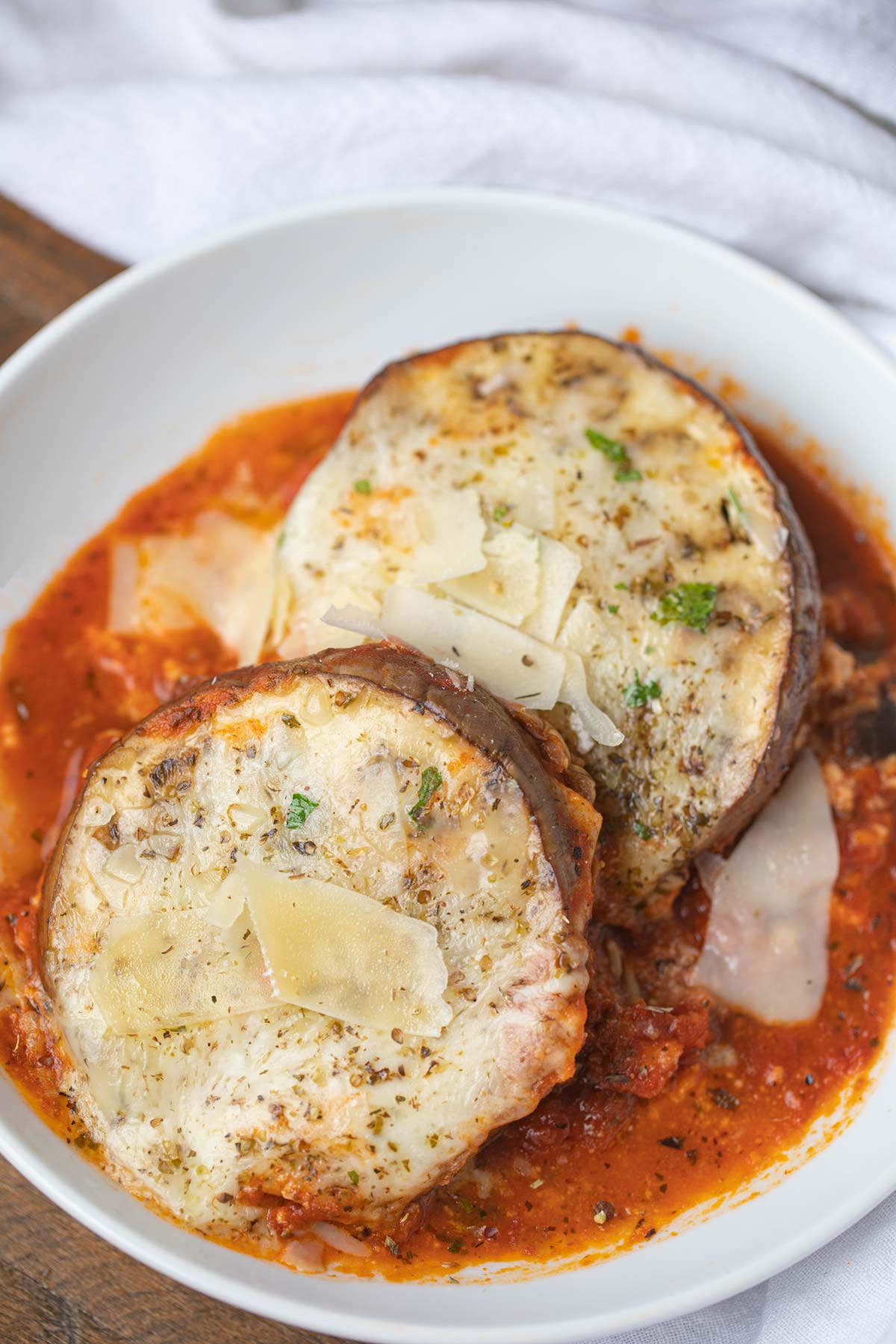 Ingredients
3

medium eggplants

2

teaspoons

kosher salt

1

tablespoon

extra-virgin olive oil

3

cloves

garlic

, minced

1

yellow onion

, diced

2

teaspoons

dried oregano

6

cups

marinara sauce

8

ounces

part skim ricotta

1

large egg

1/4

cup

chopped fresh parsley

, plus more for garnish

1 1/2

cups

light mozzarella

, shredded (trader joes brand)

1/2

cup

freshly grated Parmesan
Instructions
Preheat oven to 375 degrees and get 9x13 baking dish.

Slice eggplant into 1/2" rounds and season with salt on both sides then place on a cooling rack for 20 minutes to let it release moisture.

Pat the eggplant dry with paper towels well.

Add the olive oil to a large pan on medium heat and cook the onions for 3-4 minutes until translucent then add in the garlic and cook an additional 30 seconds.

Add the marinara sauce and mix well.

Mix together the ricotta, egg and parsley.

Add a bit of marinara sauce to the bottom of your baking dish then layer eggplant, ricotta mixture, marinara sauce and mozzarella cheese twice.

Top with the Parmesan cheese (save a bit for garnish) and bake, covered with foil, for

30-40 minutes

.
Nutrition
Calories:
166
kcal
|
Carbohydrates:
21
g
|
Protein:
13
g
|
Fat:
4
g
|
Saturated Fat:
1
g
|
Cholesterol:
29
mg
|
Sodium:
1554
mg
|
Potassium:
975
mg
|
Fiber:
7
g
|
Sugar:
13
g
|
Vitamin A:
965
IU
|
Vitamin C:
16
mg
|
Calcium:
299
mg
|
Iron:
2.5
mg