Whole Wheat Pumpkin Bread is a healthy, moist quick bread with rich and warm Autumn flavors. Made with pumpkin puree, warm pumpkin spices and brown sugar.
If you've tried Super Skinny Pumpkin Muffins, this Pumpkin Bread recipe has the same pumpkin pie spice and wonderfully nutritious ingredients. It's the perfect Breakfast or bread loaf to make as a gift!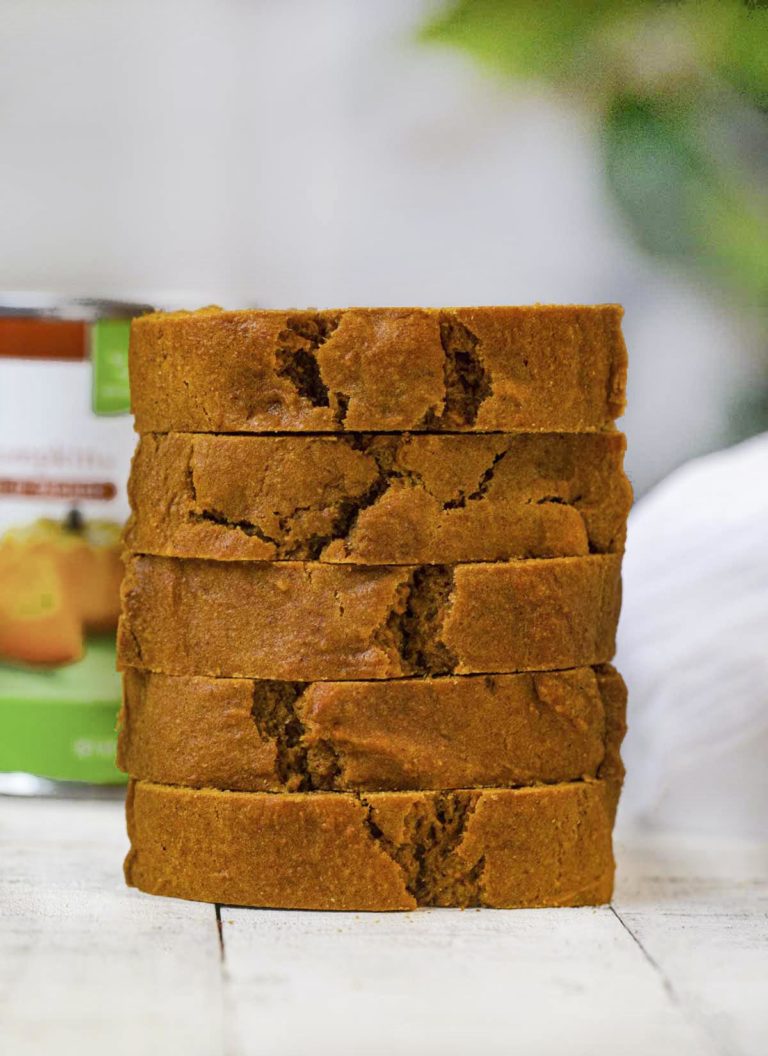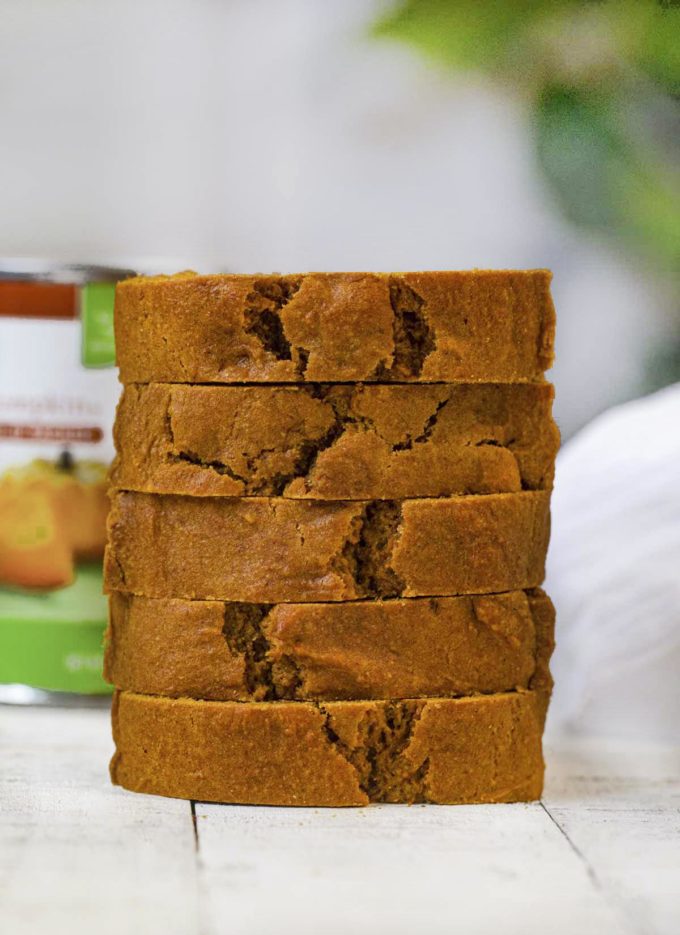 WHOLE WHEAT PUMPKIN BREAD
Healthy Pumpkin Bread is sure to become your new go-to recipe for Fall baking. Pumpkin Bread is the perfect treat for breakfast, to pack in a lunch, for an after-dinner treat, or to bring a loaf along to a Thanksgiving celebration. No matter what you make this Healthy Pumpkin Bread for, it's sure to be a favorite.
Nothing says Autumn quite like pumpkin spice, and that doesn't have to mean a pumpkin spice latte. This unbelievable Pumpkin Bread has all the fresh pumpkin flavor without all the cream, or ever having to go to Starbucks!
If this is your first time baking bread, then this Pumpkin Bread is the perfect place to start. It might just be the easiest pumpkin bread recipe, even for first time bakers!
Start by preparing your 9X5-inch loaf pan with non-stick spray. Then, whisk the wet ingredients in a large bowl, and sift in the dry ingredients. Combine the two being careful not to over-mix. Pour the batter into your loaf pan, and bake for 50 minutes. To make sure your pumpkin bread is done put a toothpick in the center of the loaf. If it the toothpick comes out clean the Healthy Pumpkin Bread is done. You'll love how the pumpkin-y, spicy smell fills the house while it's baking!
Similar to banana bread, this pumpkin recipe makes a soft and delicious quick bread that's full of surprisingly healthy ingredients. Unlike many other Pumpkin Bread recipes, this one uses whole wheat flour. Wheat flour has more fiber and nutrients than all-purpose flour. That makes this Wheat Pumpkin Bread a much more healthy option. This great recipe is also completely dairy-free.
LET'S TALK PUMPKIN!
For something so often found in your favorite Thanksgiving treats, pumpkin has a surprising number of health benefits! Pumpkin and pumpkin puree is rich in Vitamin A, antioxidants, and potassium. You can easily find store-bought pumpkin puree. It will taste delicious, and make this healthy Pumpkin Bread quick and convenient. However, if you have fresh pumpkin and would like to try your hand at making pumpkin puree from scratch, here's the step-by-step guide.
Preheat oven to 400 degrees and line a baking sheet.
After washing the fresh pumpkin cut it from the base up to the stem. Don't try to cut through the stem. Then grab both sides of the pumpkin and pull it apart.
Scoop out the seeds and stringy parts, and lightly season with salt. (You can sprinkle it with a little bit of pumpkin pie spice for even stronger pumpkin flavor.) Put the pumpkin on your baking sheet with the cut side facing down, and bake for about 50 minutes.
Let the pumpkin cool enough that you can touch it, then scoop the insides into your food processor. Turn the food processor on until it smooths out the pumpkin mixture.
You can store your puree in the freezer for up to 3 months.
This will of course this make baking Pumpkin Bread a much longer process. Instead, of taking about an hour, using fresh pumpkin means it will take about 3 hours before you get to taste the bread. But it can be a fun Fall activity, especially if you have kids who enjoy helping in the kitchen. And if you have fresh pumpkin turning it into bread is a much better option than throwing it out.
MORE BREAD RECIPES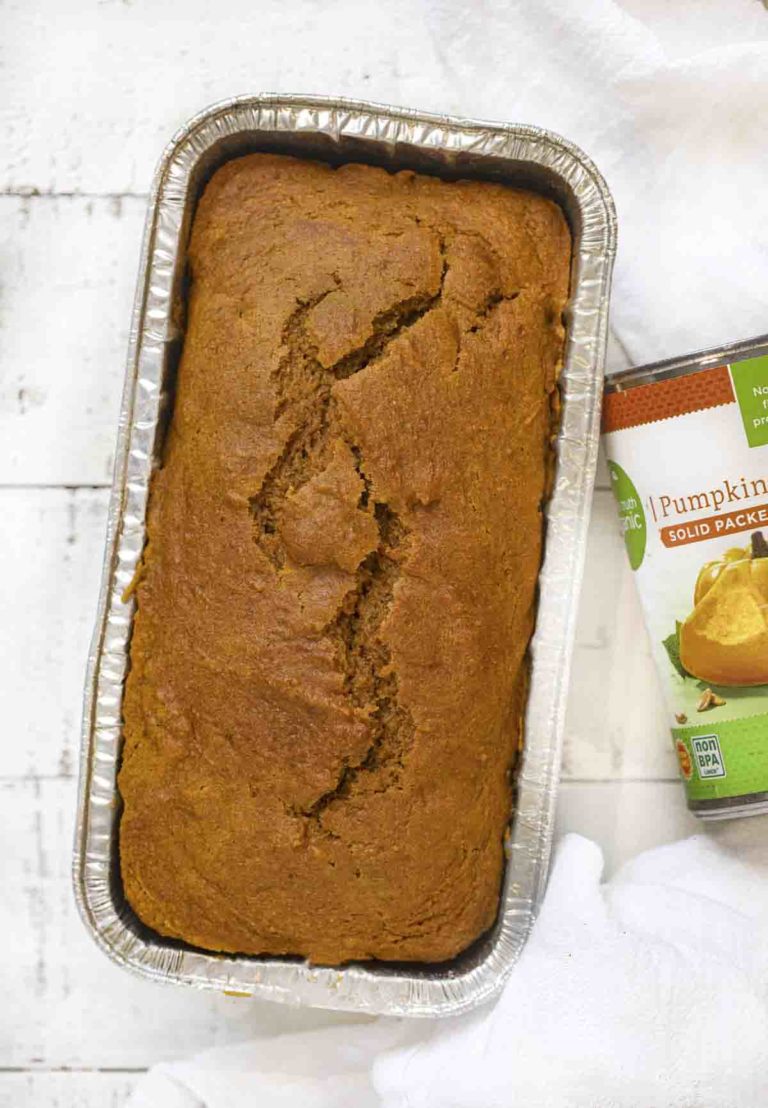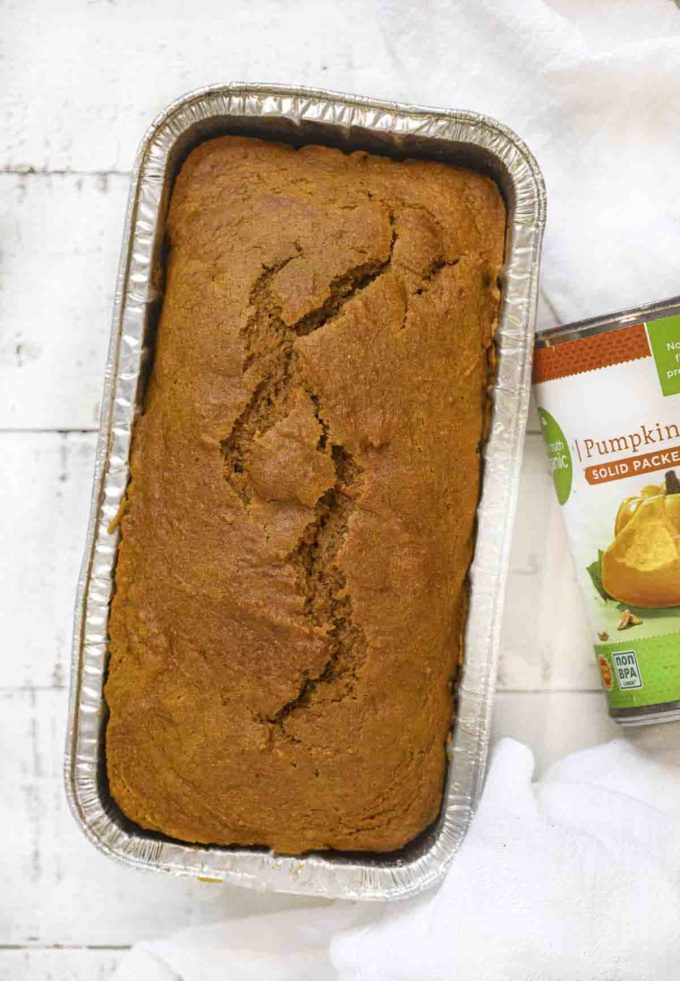 Create a free account to

Save Recipes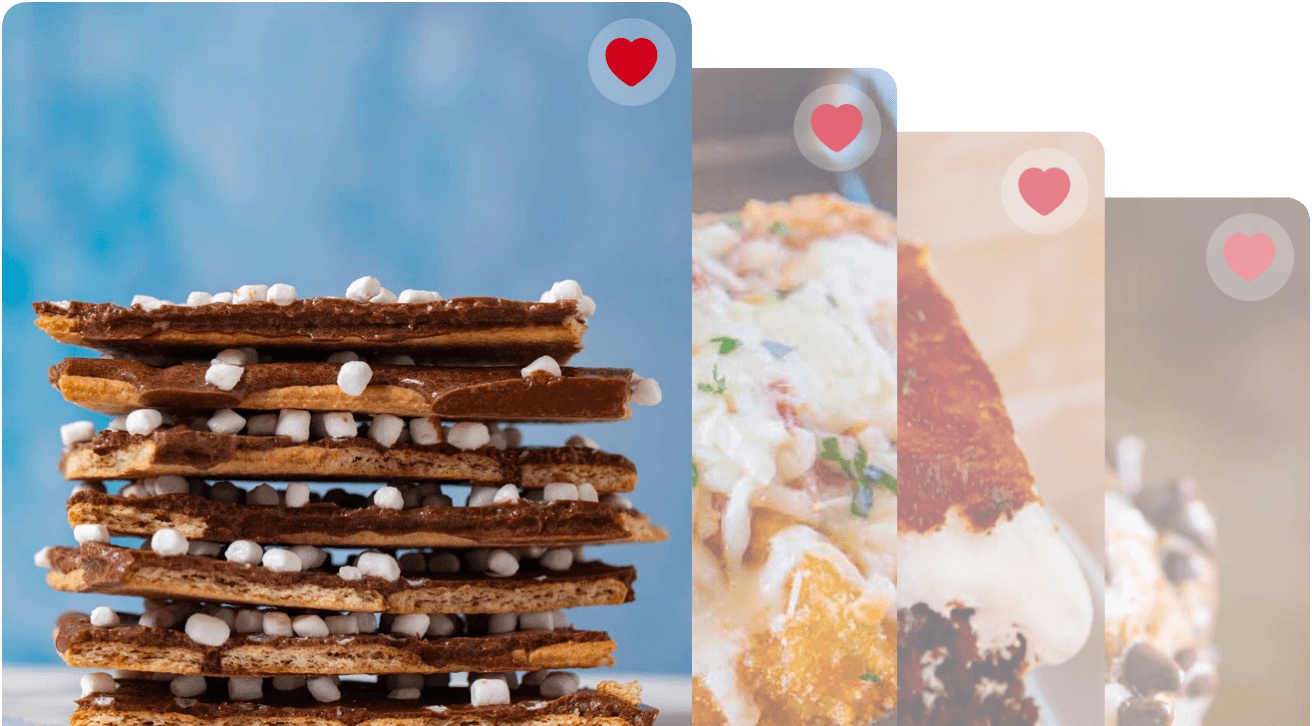 VARIATIONS ON WHOLE WHEAT PUMPKIN BREAD
Add-ins: There are plenty of delicious mix-ins to choose from if you'd like to change things up the next time you make Healthy Pumpkin Bread. Try adding in some old-fashioned oats, pecans, walnuts, or pepitas. Pepitas are also perfect to top the loaf once it's baked. Or add a little allspice to the dry ingredients along with the nutmeg and cinnamon.
Chocolate Chips: The most classic add-in for Pumpkin Bread is chocolate chips. Add melty chocolate chips to your loaf to make it more of a dessert bread. Feel free to use dark chocolate chips, milk chocolate chips, semisweet chocolate chips, or even white chocolate chips in your Pumpkin Bread.
Sweetener alternatives: You can change the sugar in this Healthy Pumpkin Bread recipe. Replace the sugar with white sugar, or use pure maple syrup. White sugar won't be as healthy, but you can use it if you don't have other ingredients. Maple syrup is a great sweetener to use in Pumpkin Bread or any baked good. That's because maple syrup has more nutrients than regular sugar. Alternatively to maple syrup, if you want your Pumpkin Bread to be completely sugar-free use a granulated sugar replacement like Swerve sugar replacement.
Flour options: Instead of using whole wheat flour try all-purpose flour, or white whole wheat flour. White flour just won't make as healthy of a Pumpkin Bread, but if you don't have whole wheat flour it will do nicely. You can also make your Pumpkin Bread gluten-free by using plant-based flour alternatives like almond or oat flour.
Oil alternatives: If you'd prefer not to use vegetable oil in your quick bread exchange it for extra virgin olive oil, coconut oil, applesauce, or low-fat Greek yogurt. Olive oil, coconut oil, or applesauce are all a 1 to 1 exchange. But you'll only use half the amount of Greek Yogurt as you do oil.
Muffins: This great recipe can also make amazing breakfast muffins. Mix the ingredients together like you normally would for this Healthy Pumpkin Bread recipe. Then instead putting it in a loaf pan divide the batter into lined muffin tins. You'll have easy, on-the-go whole wheat pumpkin muffins. You can also make similar changes and additions to the muffins the next time you make them. Try adding allspice, oats, maple syrup or any other changes you want to make to this pumpkin recipe.
MORE BREAKFAST RECIPES
HOW TO STORE WHOLE WHEAT PUMPKIN BREAD
Serve: This is a great recipe to make ahead for a grab-and-go breakfast. If stored in a sealed bag or container, Pumpkin Bread can last at room temperature for 3 days.
Store: To keep the bread longer, seal it in the fridge for up to a week.
Freeze: Whole Wheat Pumpkin Bread is completely freezer-safe and will last up to 3 months. Slice the loaf before storing them in a freezer bag separated by parchment paper. When you're ready to eat the Pumpkin Bread, let it defrost in the fridge overnight before bringing it back to room temperature or reheating.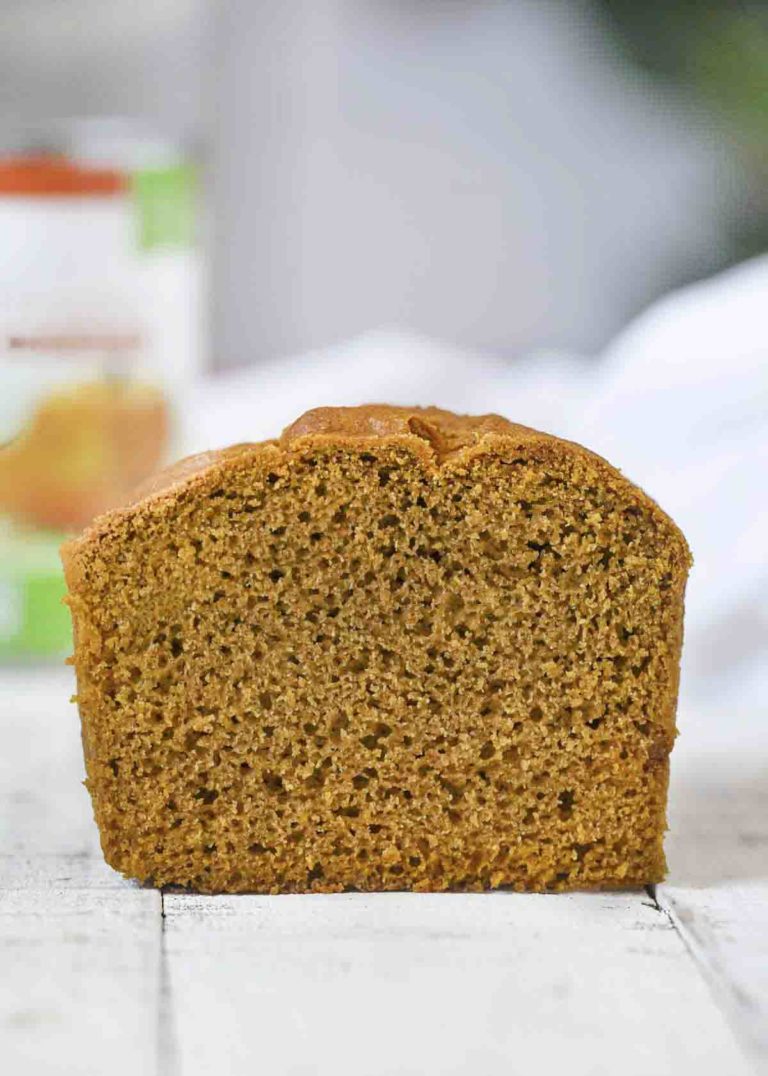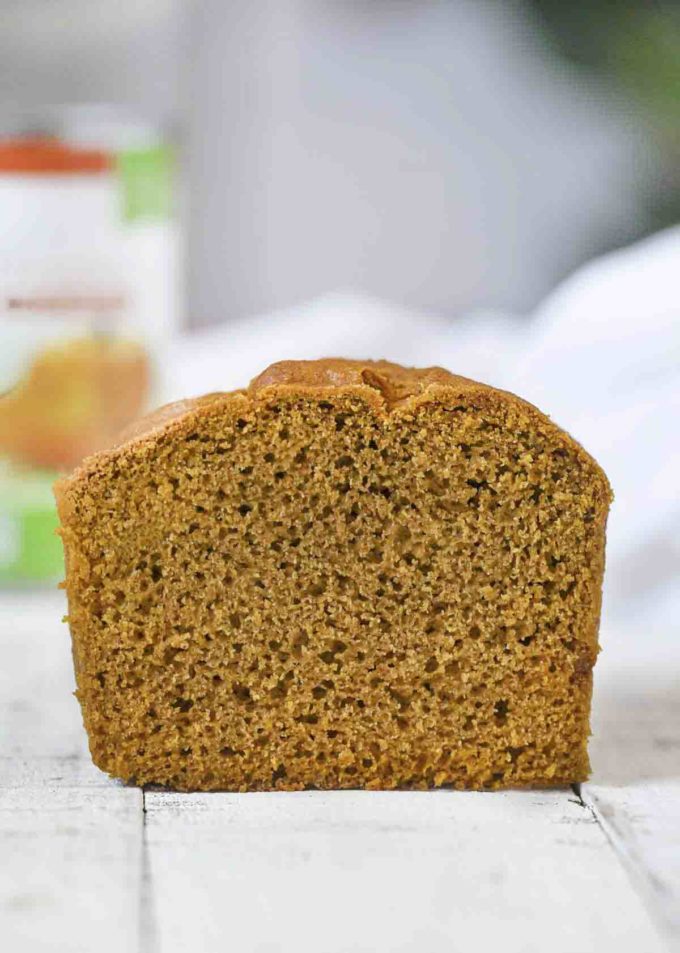 Ingredients
2

eggs

½

cup

vegetable oil

½

cup

light brown sugar

, packed

½

teaspoon

vanilla extract

1

cup

pumpkin puree

1 ½

cups

whole wheat flour

1 ½

teaspoons

cinnamon

1

teaspoon

ginger

, ground

½

teaspoon

nutmeg

1/8

teaspoon

cloves

1

teaspoon

baking soda

¼

teaspoon

baking powder

½

teaspoon

salt
Instructions
Preheat oven to 350 degrees and spray a 9x5 loaf pan with baking spray.

In a large bowl whisk together eggs, vegetable oil, brown sugar, vanilla, and pumpkin puree.

Sift together flour, cinnamon, ginger, nutmeg, cloves, baking soda, baking powder and salt and add it into the wet ingredients, whisking until just combined.

Pour mixture into loaf pan and spread evenly.

Bake for

50-55 minutes

then let cool before removing.
Nutrition
Calories:
183
kcal
|
Carbohydrates:
22
g
|
Protein:
3
g
|
Fat:
10
g
|
Saturated Fat:
8
g
|
Cholesterol:
27
mg
|
Sodium:
203
mg
|
Potassium:
127
mg
|
Fiber:
2
g
|
Sugar:
10
g
|
Vitamin A:
3217
IU
|
Vitamin C:
1
mg
|
Calcium:
28
mg
|
Iron:
1
mg