Healthier Beef Ragu is a comforting, make ahead slow cooker dinner with rich Italian flavors and fall-apart tender meat and slow simmered vegetables.
Healthy Beef Recipes like Beef Ragu and Easy Healthy Meatloaf are classic comfort food dishes, perfect for family dinners, especially on colder nights. This Ragu is made with pappardelle, tomato sauce, garlic, and more traditional Italian ingredients.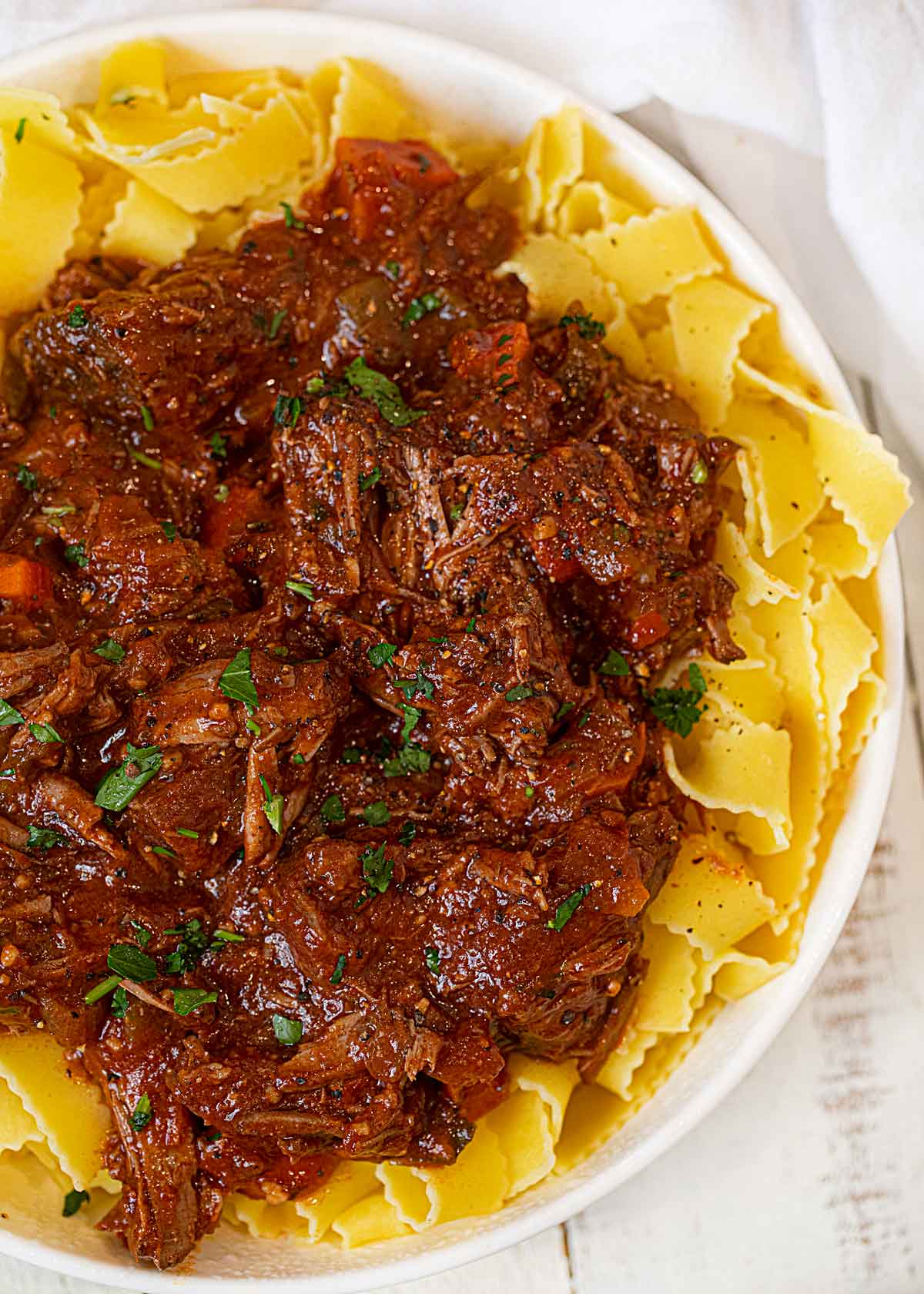 HEALTHIER BEEF RAGU
This Beef Ragu Recipe is surprisingly easy. Although it has a long cooking time, the majority of that is just letting the slow cooker do its job. Once it's finished you'll have an unbelievable melt-in-your mouth Ragu, fit for any occasion. Serve it over pappardelle topped with Parmesan Cheese and you'll impress any guests (and yourself!) with just how delicious it is.
This Beef Ragu Recipe uses common pantry ingredients like onion, oregano, basil, and tomato sauce. The meat used is also a lean Top Round Roast which is much leaner than chuck roast but still super flavorful and tender.
The recipe also calls for red wine, which enhances the flavor of the dish, but if you prefer not to use wine you can add extra beef stock instead.
If you're trying to eat healthier, you've probably heard people saying you shouldn't eat red meat. But like most things beef is just fine, and even a healthy addition to your diet, in moderation. If you're only eating it once or twice a week, beef is a great source of healthy vitamins and minerals. It is also full of protein and very filling, so you won't still be hungry after you eat it.
HEALTHY SIDE DISHES FOR SLOW COOKER BEEF RAGU
VARIATIONS ON HEALTHIER BEEF RAGU
Spices: Make slight flavor variations to the sauce depending on your taste. You can add more of the already present flavors like garlic, onion, basil or oregano to your preferences. You can also introduce new spices to the recipe like fresh thyme, parsley, a sprig of sage, or crushed red pepper for a bit of a kick.
Pastas: This recipe calls is for the sauce but you know you're going to be adding pasta to the mix. There are plenty of bases you can use for your Italian Beef Ragu depending on what pasta you have on hand. Try penne, rotini, orecchiette, or whatever pasta you prefer. You can also use whole grain pastas to add more fiber to your roast dinner. There are also gluten-free pasta options, like soba noodles, brown rice pasta, or even cauliflower and chickpea pasta.
Tomatoes: A lot of the classic Italian flavors in this slow cooker dinner come from the tomato. The recipe already calls for crushed tomatoes and tomato paste. If you'd like to add more to that, you can top the finished recipe with sun-dried tomatoes, or add chopped tomatoes to the recipe when you add the celery and carrots.
Slow Cooker Beef Ragu Stew: Rather than thickening the sauce with the pasta, you can leave your Beef Ragu with a thinner consistency and eat it as a stew. You can still choose to add pasta to it or not. You can also exchange the pasta for brown rice. Add more beef stock as necessary to thin it out and feel free to add extra carrots and vegetables for variety.
MORE HEALTHY BEEF RECIPES
HOW TO STORE HEALTHIER BEEF RAGU
Serve: Don't leave your ragu at room temperature for longer than two hours.
Store: To keep leftover ragu, separate the sauce from the pappardelle pasta. You can keep the sauce in an airtight container or sealed bag and it can last in the fridge for 3-4 days. Make sure it's cooled to room temperature before you seal it.
Freeze: To keep your leftover ragu for up to 4 months, you can store it in the freezer. When you're ready to eat your leftovers, let the beef and sauce defrost in the refrigerator overnight. Then reheat it in your crock pot on low.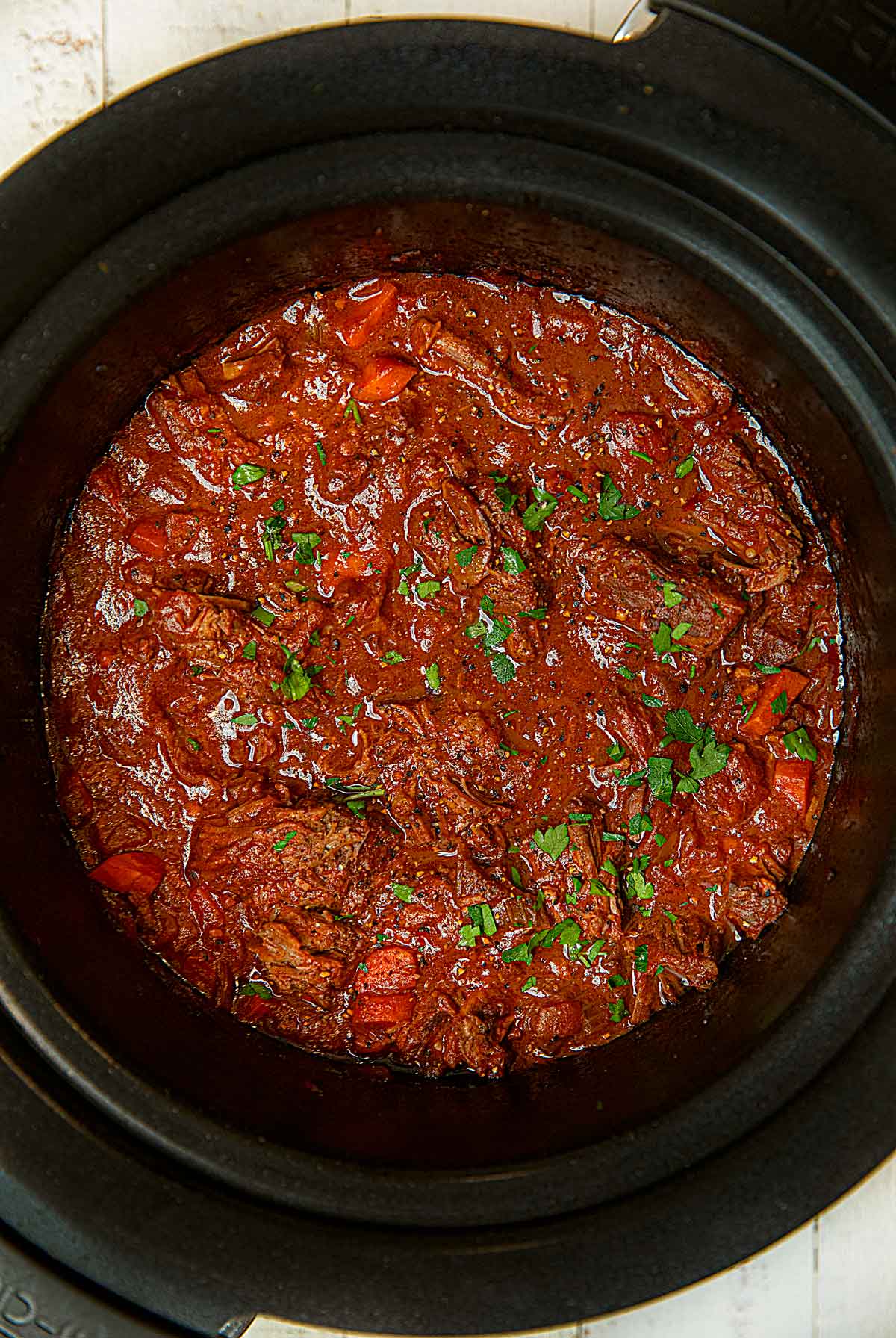 Ingredients
2

teaspoons

olive oil

, divided

3

pound

top round roast

1

teaspoon

Kosher salt

1/2

teaspoon

coarse ground black pepper

1

yellow onion

, diced

3

medium

carrots

, chopped

3

stalks

celery

, chopped

3

cloves

garlic

, minced

1

teaspoon

dried thyme

1

teaspoon

dried basil

1/2

teaspoon

fennel seeds

1/4

teaspoon

crushed red pepper flakes

1

cup

red wine

1

cup

beef broth

28

ounce

can crushed tomatoes

1/2

cup

tomato paste

1

tablespoon

balsamic vinegar

1/4

cup

parsley

, chopped

3

bay leaves
Instructions
Heat a large pot on medium-high heat and add the olive oil.

Season the top round roast with salt and pepper.

Sear the roast for

4-5 minutes

on each side then remove from the dutch oven and add to the slow cooker.

Add in the onion, carrots, celery, garlic, dried thyme, dried basil, fennel seeds, crushed red pepper flakes and stir.

Whisk together the wine, beef broth, crushed tomatoes, tomato paste and balsamic vinegar then pour it gently into the slow cooker.

Add in the parsley and bay leaves and stir well to combine.

Cook on low heat for

8 hours

or on high heat for

4 hours

.
Nutrition
Calories:
343
kcal
|
Carbohydrates:
16
g
|
Protein:
41
g
|
Fat:
10
g
|
Saturated Fat:
3
g
|
Cholesterol:
105
mg
|
Sodium:
789
mg
|
Potassium:
1238
mg
|
Fiber:
4
g
|
Sugar:
9
g
|
Vitamin A:
4510
IU
|
Vitamin C:
18.4
mg
|
Calcium:
104
mg
|
Iron:
6
mg