White Bean Kale Soup made with tomatoes, onions, celery and garlic is a one pot dish that is diet friendly.
 White Bean Kale Soup
White beans and kale are a great pairing of a sturdy green that holds it's texture in soups while the cannelini beans offer a creamy alternative that adds protein and is filling at the same time.
Since the start of the freestyle points system the biggest game changers have been the point free lean poultry and the point free beans. Beans were notoriously hard for people on Weight Watchers to enjoy even with the high fiber and protein content you couldn't enjoy more than a ¼ cup of them without blowing through more points than a donut. (Priorities people, you know you used to choose the donuts, haha).
Now that beans are point free I've been adding them to a lot of recipes because they are so filling and full of fiber. Sometimes in this recipe I actually also add a second can of beans that I puree before adding so the texture is creamier.
My group leader is trying to figure out and get back to me how it would alter the points of the beans if pureed, so I didn't add them to the recipe here, but if you have any concrete information on this I would love to know it! Let me know in the comments below if your group leader has given any information to you about this.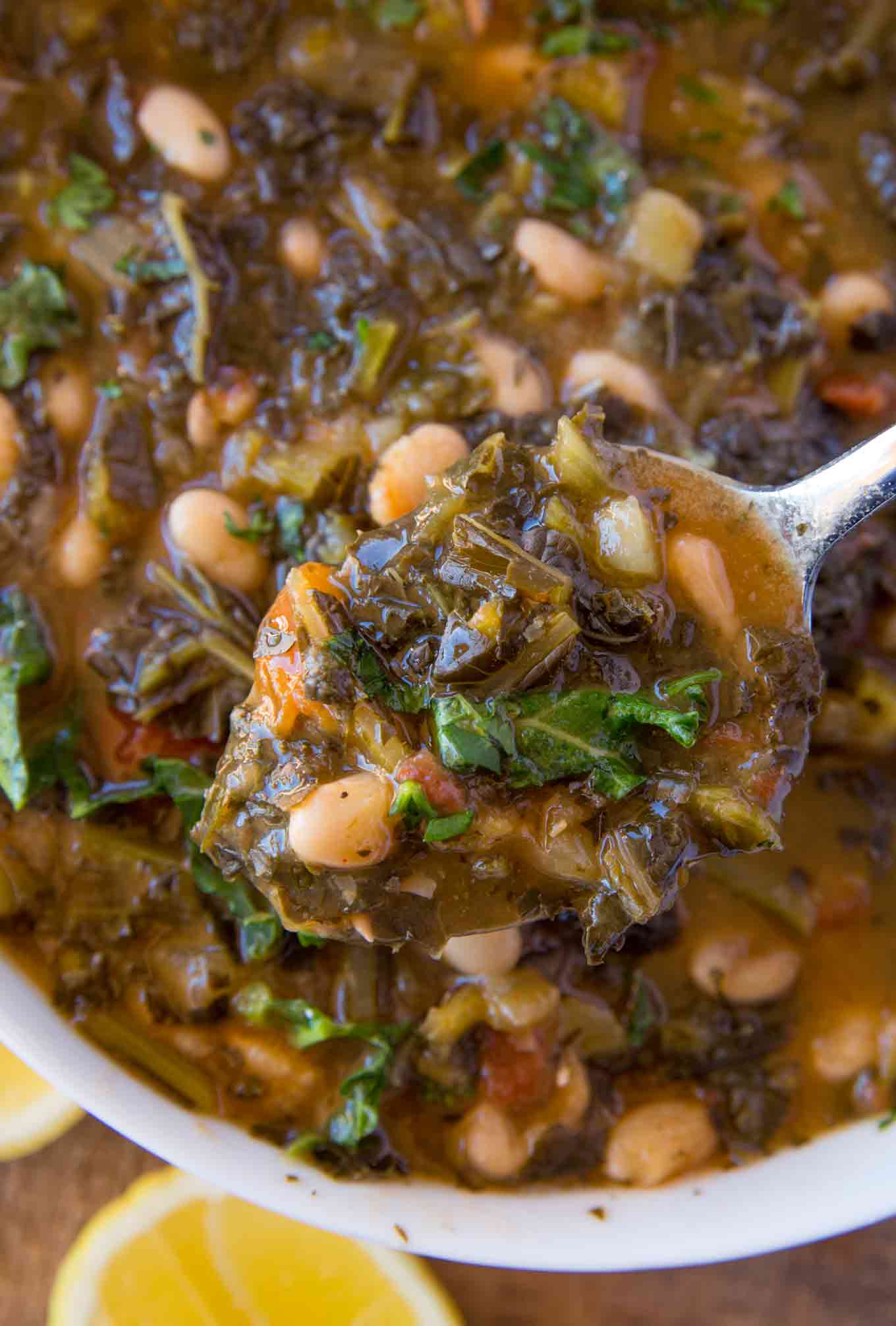 How to make Kale and White Bean Soup:
Add in the chopped kale 5-7 minutes before serving. If you prefer a firmer bite reserve the last cup of kale and cook it just 2 minutes before serving (shown above, brighter kale leaves).
Lemon juice is a great punch of bright flavors even if not classically added to the recipe, I serve it in bowls with wedges of lemons on the side.
To thicken you can puree an additional can of white beans and add it to the soup or use bread that you've chopped. Add the bread in with the vegetable broth.
Instead of vegetable broth use a double strong serving of better than bouillon vegetable base for additional flavor (may add 1 point).
Using fresh tomatoes allows for a lighter, brighter flavor. Alternately use one can of diced tomatoes.
Slow Cooker White Bean Kale Soup:
Add all the ingredients except the kale (you can skip the oil for this version) into the slow cooker and cook on low heat for 3-4 hours. Add in the kale in the last hour.
Vegetarian Kale and White Bean Soup:
This soup also benefits from being delicious as a vegetarian option or great with any added proteins. You can certainly add heartier vegetarian ingredients as well, such as zucchini, carrots, bell peppers or butternut squash.
To add deeper flavors to vegetarian soups the easiest way it to deeply caramelize the vegetables. This normally requires a bit more olive oil. If you find the flavors are not as bold as you'd prefer, try to caramelize the vegetables more.
Classically people add sausage to kale and white bean soup. I find pork sausage is great, but chicken and turkey sausage are also delicious.
Additional non-vegetarian Kale and White Bean Soup options:
For a point free variation you can add chopped turkey or chicken breast into the soup, just add in an additional ¼ teaspoon of Kosher salt with it to be sure it is seasoned appropriately.
Tools used in the making of this Kale and White Bean Soup:
Vegetable Base: I almost never buy boxes of broth because I keep the beef, chicken and vegetable version of this Better Than Bouillon.
Dutch Oven: I love this cast iron dutch oven and the top of it doubles as a pan.


Ingredients
2

teaspoons

extra-virgin olive oil

1

yellow onion

diced

2

stalks celery

thinly sliced

4

cloves

garlic

minced

1/2

teaspoon

Kosher salt

1/4

teaspoon

coarse ground black pepper

1/2

teaspoon

Italian seasoning

4

cups

vegetable broth

4

cups

kale

chopped

2

vine tomatoes

chopped

14.5-

ounces

cannellini beans

drained and rinsed
Instructions
Add the olive oil to a large dutch oven over medium high heat.

Add in the onions and celery and cook for 4-5 minutes until softened.

Add in the garlic and cook for 30 seconds.

Add in the salt, pepper and Italian seasonings and stir an additional 15 seconds.

Add in the broth, kale, tomatoes and beans and cook for 5-7 minutes or until kale is tender.
Nutrition
Serving:
1
/6th recipe
|
Calories:
307
kcal
|
Carbohydrates:
49.9
g
|
Protein:
21.1
g
|
Fat:
3.2
g
|
Saturated Fat:
0.6
g
|
Sodium:
744
mg
|
Fiber:
18.3
g
|
Sugar:
2.9
g