Turkey Bacon Brussels Sprouts are an easy, crispy side dish that's still HEALTHY, perfect for the holidays and ready in under 30 minutes.
Roasted Brussels Sprouts are the perfect flavorful Side Dish to pair with all your favorite meals. Just like Whole Wheat Chicken Sausage Stuffing, these shaved Brussels sprouts are a healthy alternative to a traditional holiday dish.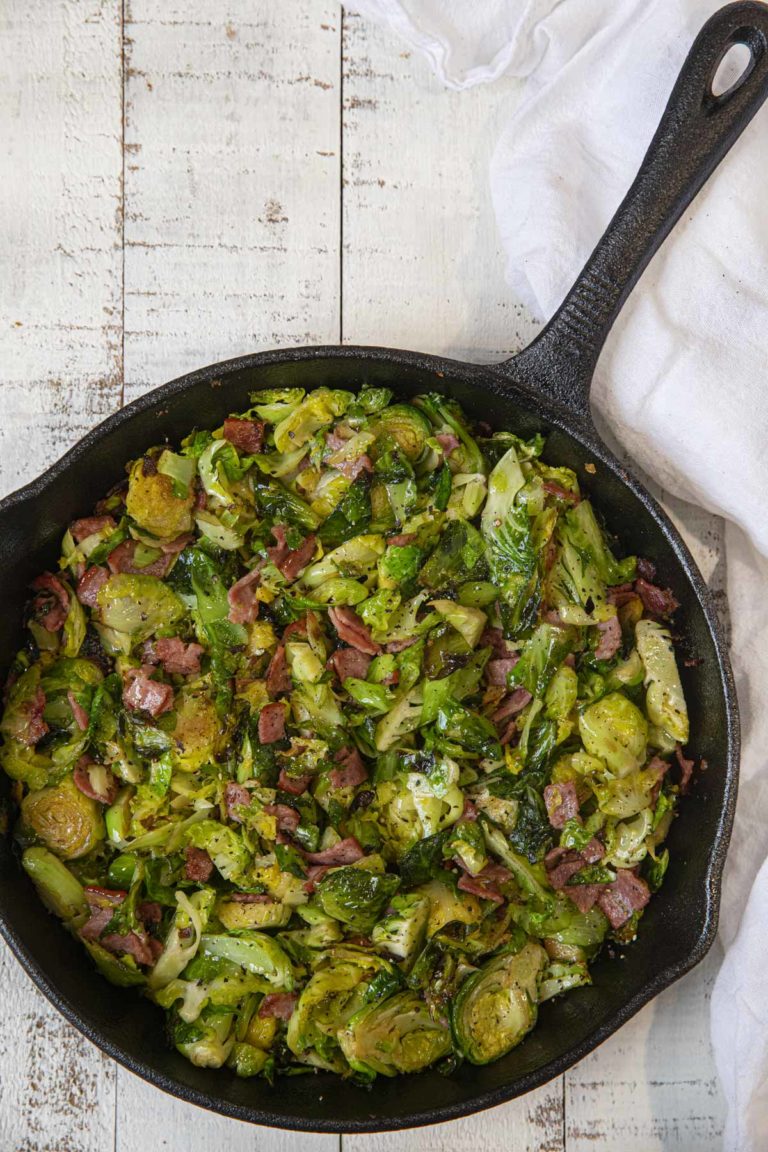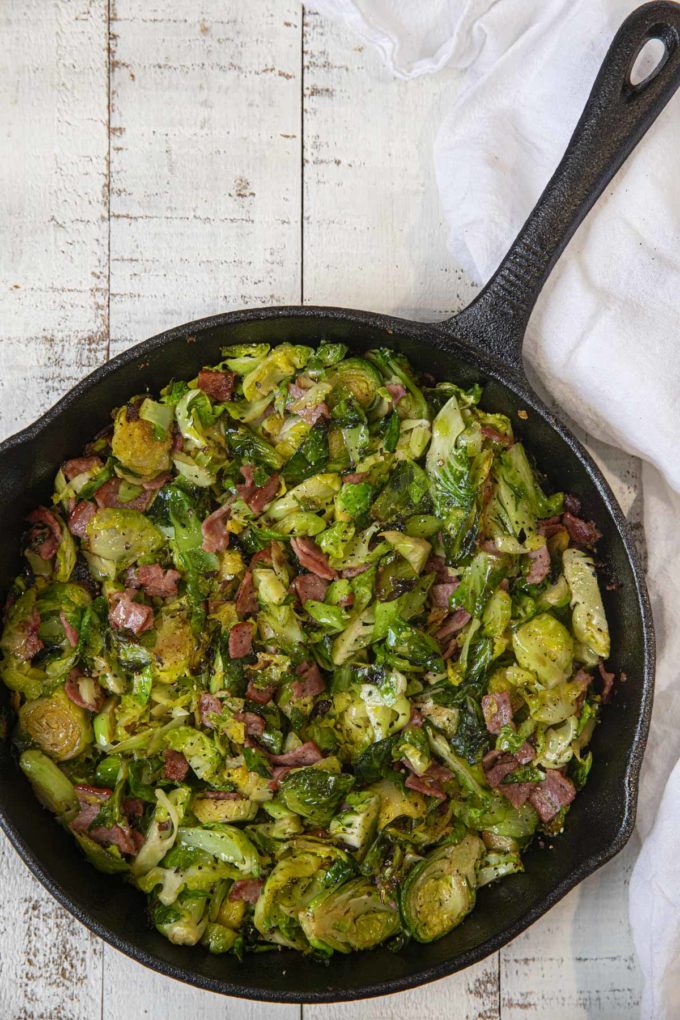 TURKEY BACON BRUSSELS SPROUTS
Turkey Bacon Brussels Sprouts are gluten-free, amazingly kid-friendly, and sure to become your new go-to veggie recipe!
These Sautéed Brussels sprouts are an excellent new recipe to add to your weekly rotation and holiday traditions. Sautéed Brussels Sprouts are the perfect healthy dish to serve along with your Thanksgiving dinner. They are low in carbohydrates, crisp-tender, take just a few minutes to make and are a great alternative to Brussels sprouts gratin.
Unlike Brussels sprouts gratin, this Brussel sprouts recipe doesn't have lots of Parmesan Cheese or other heavy and creamy ingredients. Instead, the rich flavor in these Sautéed Brussels sprouts come from the turkey bacon and garlic. The garlic cloves, turkey bacon and sprouts give this dish distinct and classic taste that even picky eaters will love.
Using turkey bacon, instead of a traditional pork bacon means there is less bacon grease and less saturated fat. The Sautéed Brussels Sprouts themselves, also make this recipe wonderfully nutritious. Sauteed Brussel Sprouts are rich in Vitamin K, fiber, and antioxidants. This Roasted Brussels Sprouts recipe is also low in calories and filling, which makes a great addition to any diet.
MORE SIDE DISHES
HOW DO YOU SHRED BRUSSELS SPROUTS?
There are plenty of ways to make shredded Brussels sprouts. Here are a few of the easiest methods.
Knife:
Start by pealing the outer leaves off the sprout.
With a sharp knife halve the sprout lengthwise.
Place it cut-side down and thinly chop then loosen the pieces into shredded Brussels sprouts. You can do more thick-cut depending on your preference.
Mandolin
Don't trim the root end of the sprout. Instead, put a fork in it and use that to more easily control the small vegetable as you slice it.
Use the mandoline to shave paper thin Brussel sprouts ready to toss in this great recipe.
Throw the root away and repeat on the next Brussel sprout.
Food Processor:
Put the slicing attachment on your food processor.
Turn the food processor on and drop the Brussel sprouts in.
Continue in batches putting the shaved Brussel sprouts in a large bowl.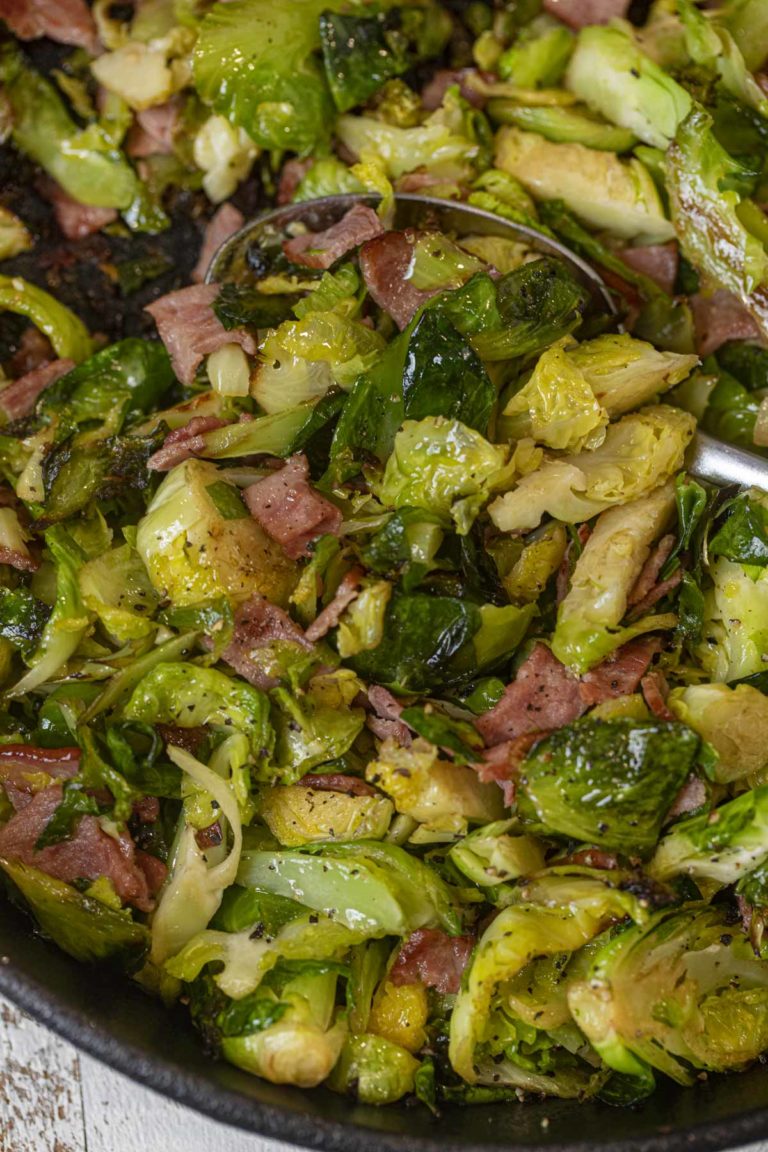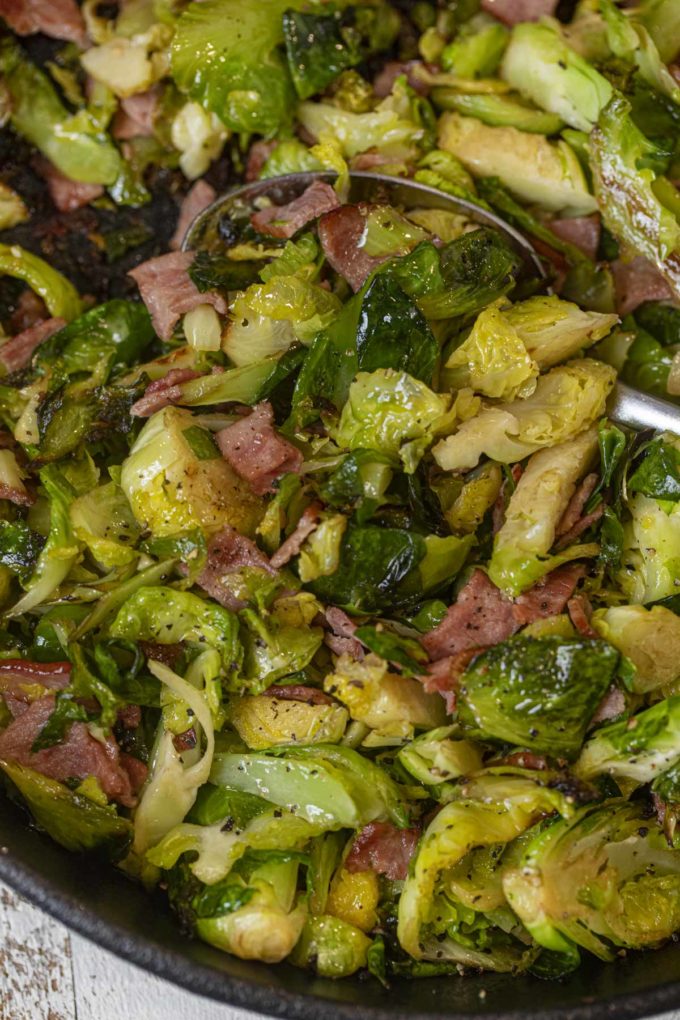 Create a free account to

Save Recipes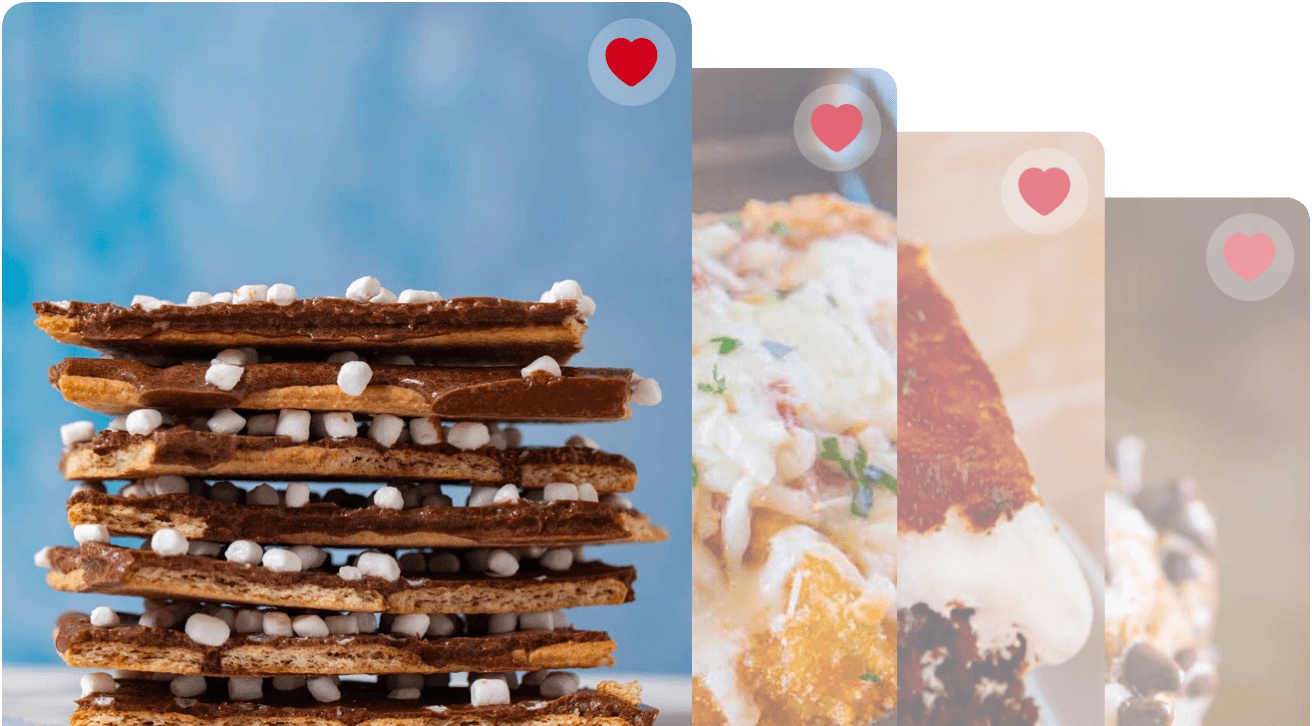 VARIATIONS ON TURKEY BACON BRUSSELS SPROUTS
Brussels Sprouts Salad: Use the same ingredients to make a great recipe for Brussels sprouts salad. Instead of sauteing the Brussel sprout salad, simply top the ingredients with a light dressing before stirring it together. This Light Brussel Sprout Salad will pair nicely with any balsamic vinegar, or extra-virgin olive oil based dressing. You can make a simple lemon juice vinaigrette dressing with ¼ cup balsamic vinegar, 2 tablespoons mustard, ½ cup olive oil, and one lemon worth of fresh lemon juice.
Add-ins: There are plenty of other ingredients you can add this Brussels sprouts recipe along with the garlic. Try slicing some shallots, red onion, or peppers. Then toss them in the pan with the shaved Brussels and garlic and saute. Once the shaved sprouts and veggies are cooked you can also add toasted nuts, dried cranberries, or lemon zest.
Vegetarian: You can make this Roasted Brussels sprouts recipe vegetarian by simply removing the bacon from the ingredients. You'll probably want to add onion and some other ingredients so there is more variety and flavor once the bacon is gone.
Types of Bacon: You can replace the turkey bacon with regular pork bacon in this recipe. You can also use this Candied Turkey Bacon recipe to add some more sweetness to your shaved Brussels sprouts.
OVEN BAKED ROASTED BRUSSELS SPROUTS
Instead of making sautéed Brussels sprouts you can roast the sprouts in the oven.
Preheat your oven to 400 degrees.
Toss the shaved sprouts with oil, garlic, salt and pepper.
Place them on a baking sheet and cook for 30 minutes. The sprouts should be tender, caramelized, and slightly browned.
Cook the bacon bits separate and mix them with the shaved sprouts in a large bowl before serving.
MAIN DISHES TO SERVE WITH TURKEY BACON BRUSSELS SPROUTS
HOW TO STORE TURKEY BACON BRUSSELS SPROUTS
Serve: Don't leave your Bacon Brussels Sprouts at room temperature for more than two hours.
Store: Once they've cooled, put your cooked Brussels sprouts in an airtight container. They'll last in the fridge for up to 4 days.
Freeze: Stored properly they can last in the freezer for up to 2 months. To reheat let them defrost in the fridge overnight. Then cook put them in a lightly oiled pan over medium-low heat until warmed through.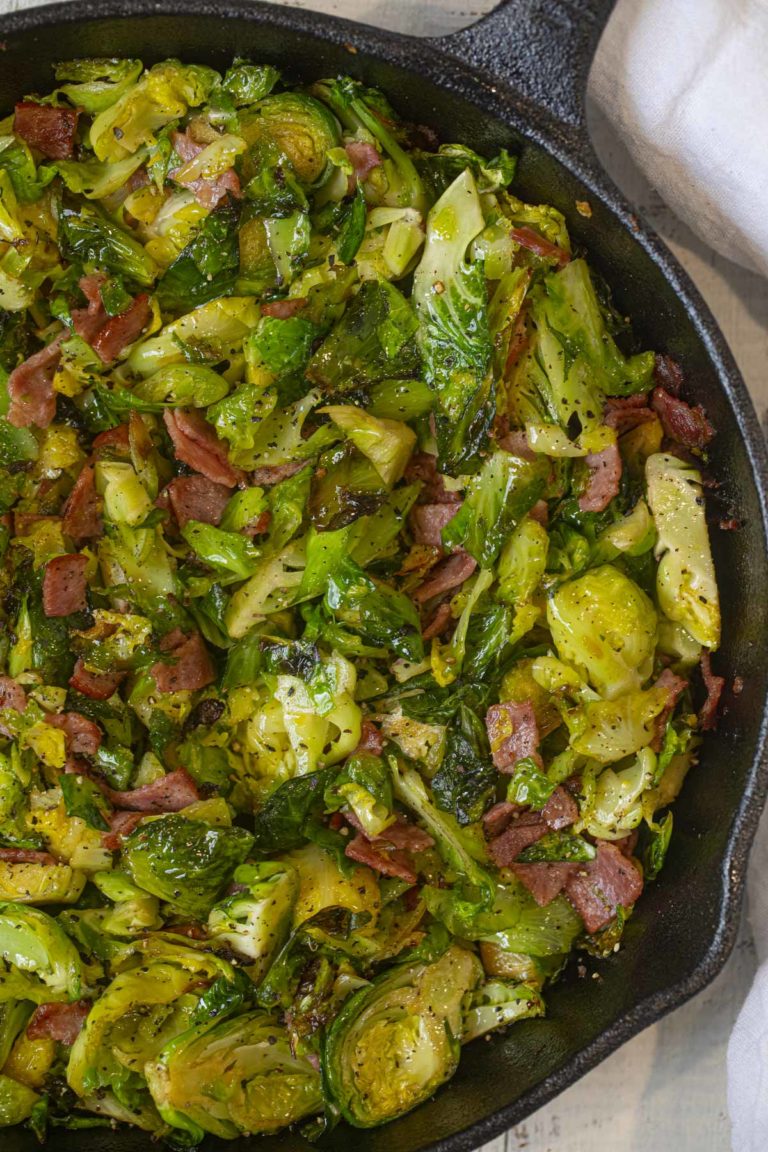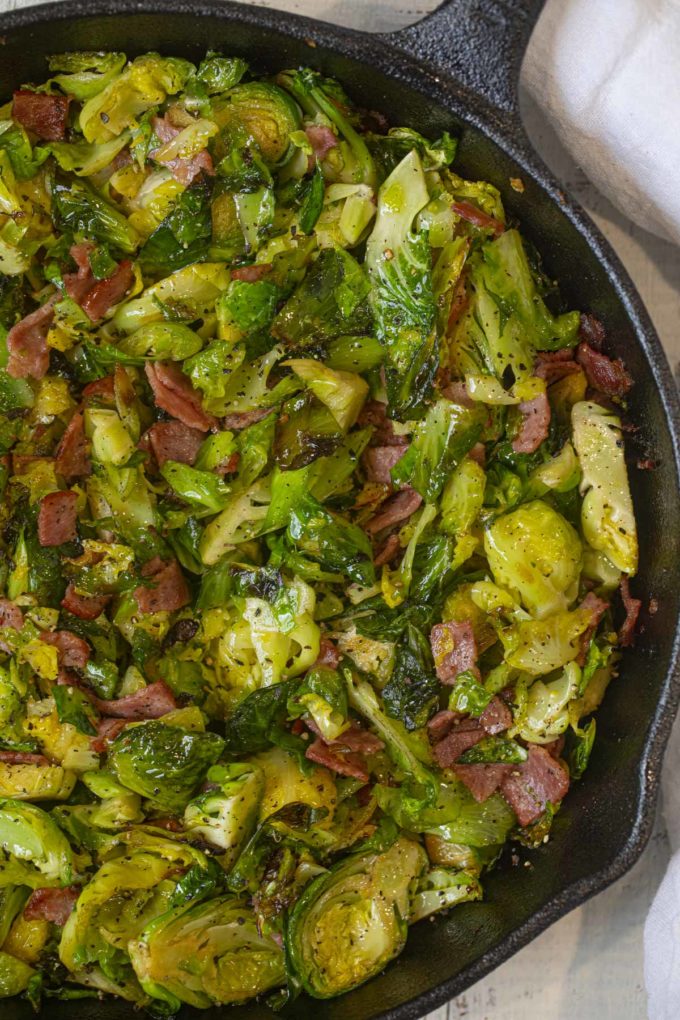 Ingredients
1

pound

Brussels sprouts

, shaved

1

tablespoon

vegetable oil

6

slices

turkey bacon

, diced

3

cloves

garlic

, minced

1/2

teaspoon

kosher salt

1/4

teaspoon

coarse ground black pepper
Instructions
Rinse Brussels Sprouts and add them to a large microwave safe bowl and cover with a wet paper towel.

Microwave for

4-5 minutes

or until crisp and tender.

To a large skillet add the oil on medium-high heat.

Add the bacon and cook until crisp.

Add the garlic and Brussels sprouts and stir well.

Season with salt and pepper and cook for

5-6 minutes

until Brussels Sprouts are browned and crispy.
Nutrition
Calories:
81
kcal
|
Carbohydrates:
6
g
|
Protein:
5
g
|
Fat:
5
g
|
Saturated Fat:
2
g
|
Cholesterol:
10
mg
|
Sodium:
400
mg
|
Potassium:
267
mg
|
Fiber:
2
g
|
Sugar:
1
g
|
Vitamin A:
428
IU
|
Vitamin C:
49
mg
|
Calcium:
26
mg
|
Iron:
1
mg