Roasted Garlic Chicken has the most delicious crispy skin and juicy, flavorful meat ever! Easily made with brown sugar, garlic, and soy sauce.
Simple Chicken Recipes are a great way to make easy and healthy weeknight meals that the whole family will enjoy. For more baked chicken dishes, like this one, try our Healthy BBQ Chicken, Pretzel Crusted Chicken, and Chicken Parmesan.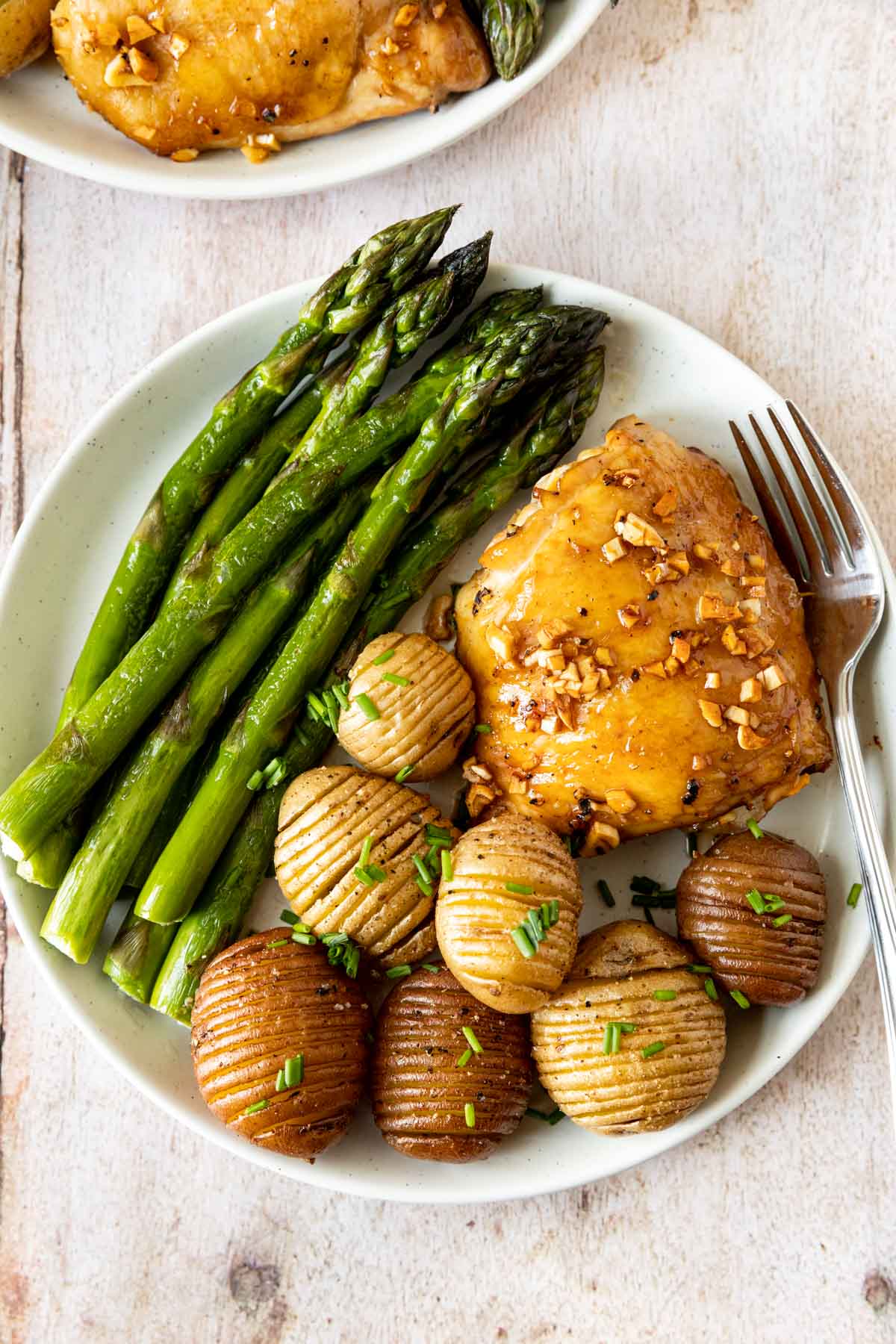 ROASTED GARLIC CHICKEN
Roasted chicken recipes are the perfect way to prepare crispy chicken legs. The high oven temperature gets the skin nice and crunchy but leaves the thigh meat tender and juicy. It's a healthy way to enjoy the tastiest chicken ever!
This isn't your average chicken dinner. It's prepped in a matter of minutes, but each piece of chicken tastes restaurant-worthy by the time it's done. By just whisking together soy sauce, brown sugar, and minced garlic cloves, you get a flavored sauce that perfectly seasons the chicken while it cooks. It's the most juiciest meat with the perfect savory and sweet flavors that the whole family is sure to love.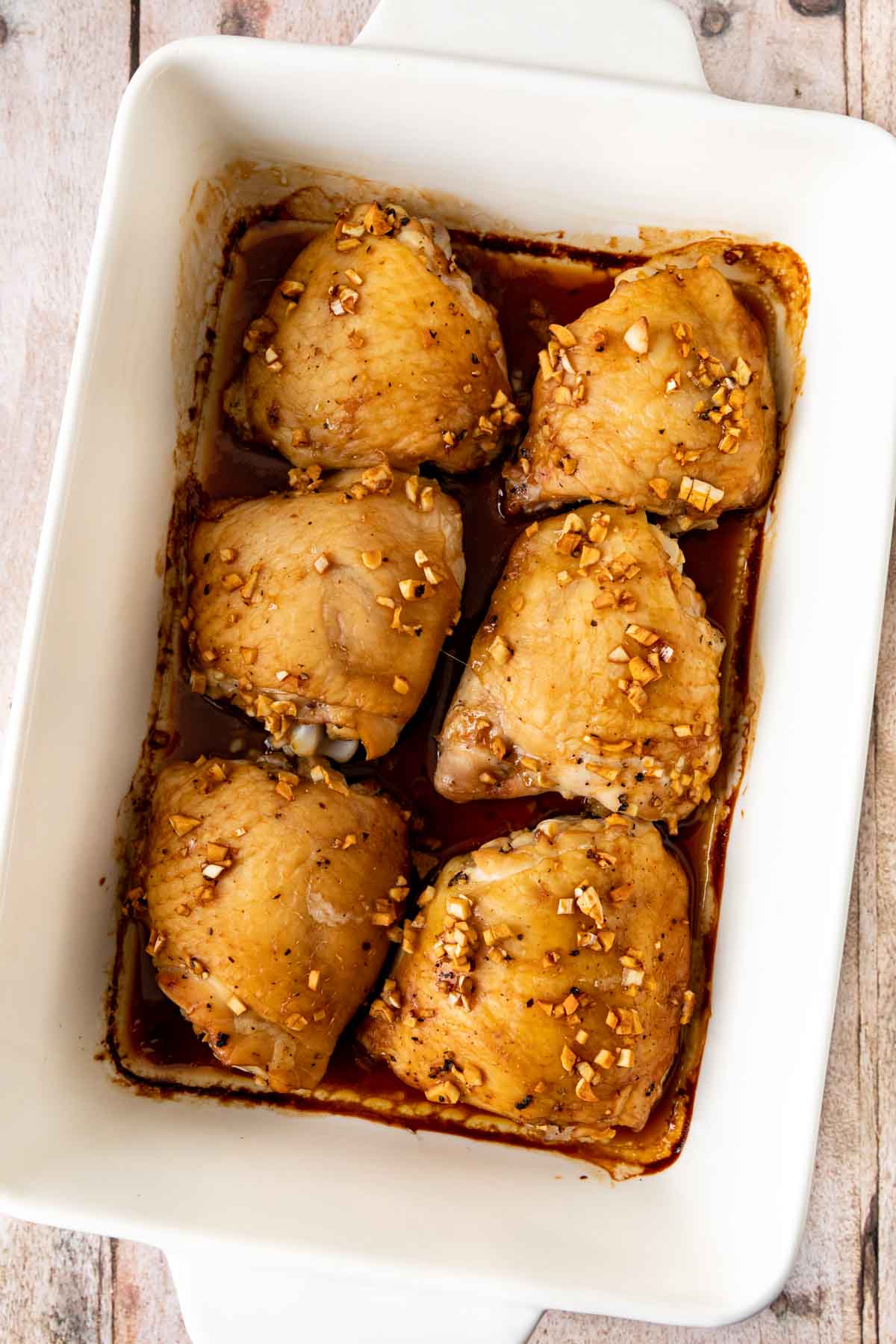 For an all-around great meal serve the garlic-seasoned chicken up with some easy and healthy sides. For a low-carb option, try out cauliflower rice. It's quick and simple, plus it does a great job absorbing the flavor from the smooth sauce. You could also serve the Roast Chicken up with Rotisserie Chicken Roasted Potatoes or Green Bean Casserole.
MORE CHICKEN DISHES
TIPS FOR MAKING GARLIC CHICKEN
Prep time: If you have frozen chickens, take them from the freezer in advance so that they have time to thaw before starting the recipe. Then, preheat the oven temperature to 375 degrees. When using fresh garlic cloves that aren't already minced, you'll also want to get them ready at this stage. If you don't have a specific tool for this, you can crush the garlic cloves, and then finely chop them with a sharp knife.
Sauce: In a medium bowl whisk together the garlic, soy sauce, brown sugar, and ground pepper. Mix for 1-2 minutes until sauce is smooth.
Cooking time: For easy cleanup, you can line your baking tray with foil. Then place the bone-in chicken thighs down in a single layer. Make sure to put the chicken skin-side up so that it gets nice and crispy. Spoon sauce over the top. Then pop it in the oven to bake for 35-40 minutes. You can use an instant-read thermometer to check if it's done after 35 minutes. If the internal temperature is at least 165 degrees it's safe to eat. If it's less than that, return to oven for another few minutes roasting.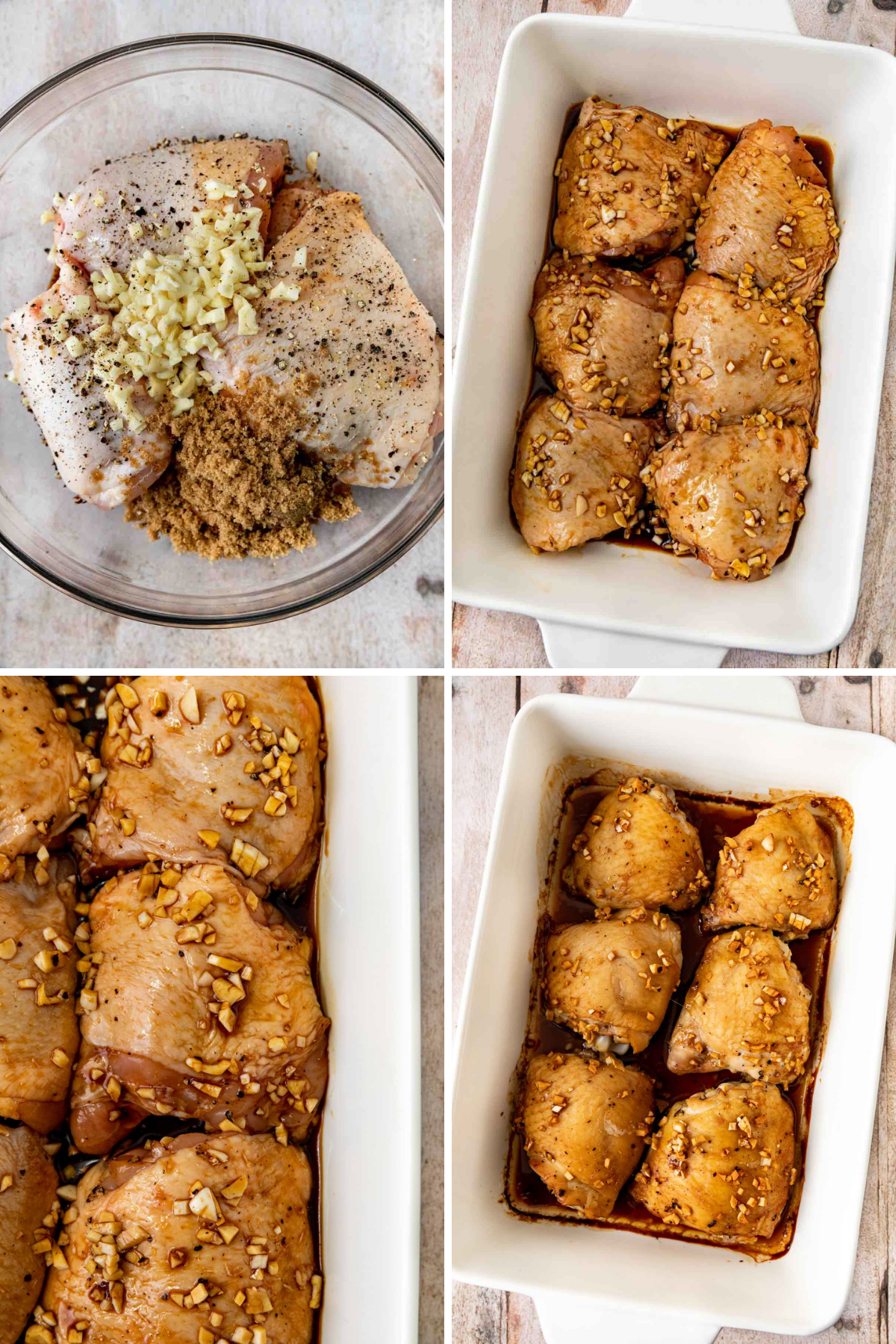 Create a free account to

Save Recipes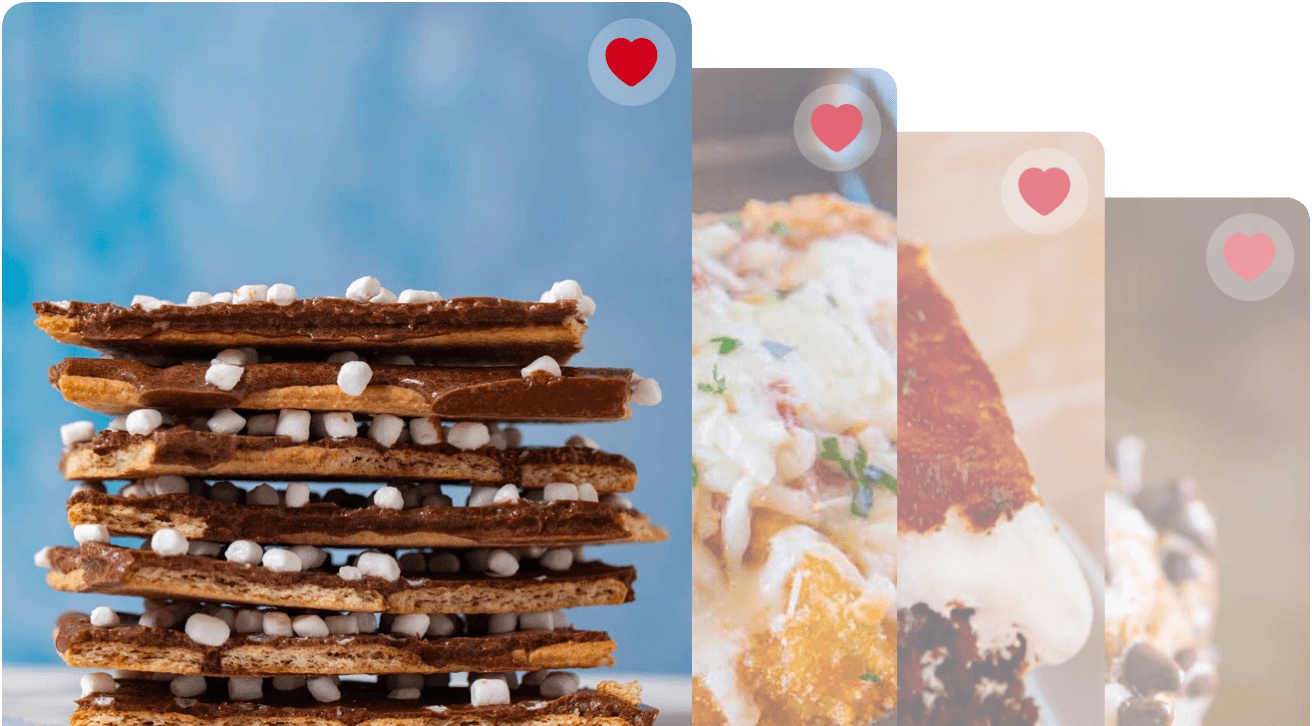 VARIATIONS ON ROASTED GARLIC CHICKEN
Seasonings: Try adding your favorite spices and fresh herbs to the recipe. You can keep it really simple and season with salt. Kosher salt is usually best. You can also add oregano, rosemary, fresh parsley, paprika, onion powder, or cumin. If you want some extra garlic taste try using an entire garlic head. 6 garlic cloves are about half a head of garlic. So, if you really like the garlicky flavor just use an entire head to punch it up a notch.
Skinless chicken thighs: If you don't want the extra calories from the skin, you can enjoy this recipe with skinless chicken thighs. However, roasting the chicken with the skin is a great way to keep the moisture in so you don't have dry chicken. You can always, roast the chicken with the skin and then remove it before serving.
Spicy: For a hit of heat in your chicken, add a touch of spicy seasonings like red pepper flakes, cayenne pepper, or cajun seasoning. Only add a little at a time and continue adding according to your taste.
Lemon: If you want a refreshing citrusy taste add a touch of lemon to the garlic mixture. Just squeeze 1-2 tablespoons of fresh lemon juice into the sauce mixture.
Roasted Garlic Cream Sauce: To make a creamy white sauce for the chicken, combine 6 minced garlic cloves, with 5 tablespoons olive oil, 2 tablespoons melted butter, 1 ¼ cup chicken stock, 1 ¼ cup evaporated milk, ½ cup parmesan cheese or creamy goat cheese, and 2 tablespoons fresh parsley. Whisk the creamy sauce together in a separate saucepan over medium heat and pour it over the chicken before serving. You could also add a splash of white wine to the sauce for some extra flavor.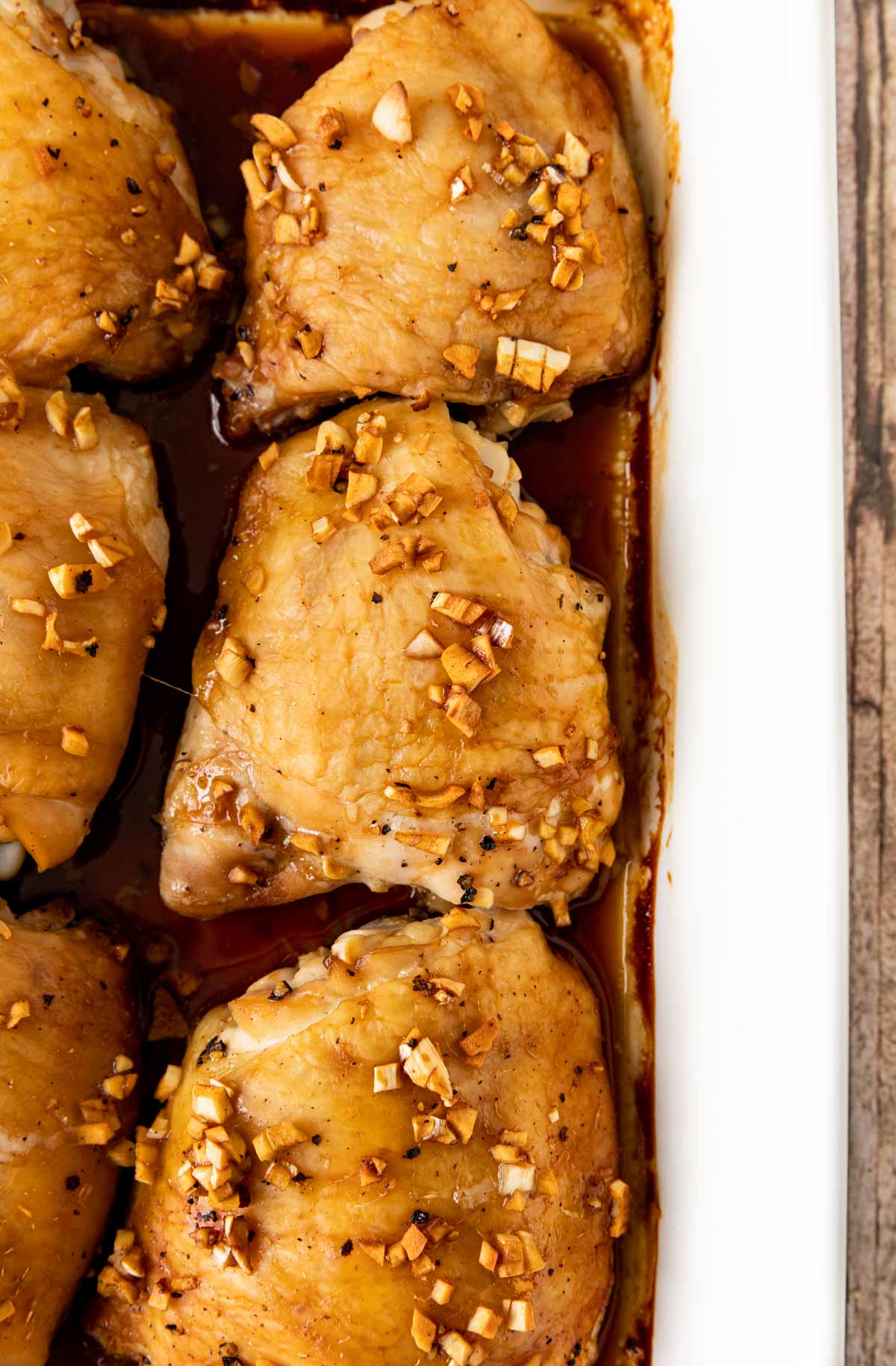 WHAT TO SERVE WITH ROASTED GARLIC CHICKEN
HOW TO STORE ROASTED GARLIC CHICKEN
Serve: After roasting chicken, you don't want to leave it at room temperature for more than 2 hours.
Store: Let the meat completely cool before you cover it tightly in aluminum foil or put it in an airtight container to store in the fridge. The leftovers will keep well for 3-4 days.
Freeze: To keep them longer, you can seal and freeze the chicken for up to 4 months.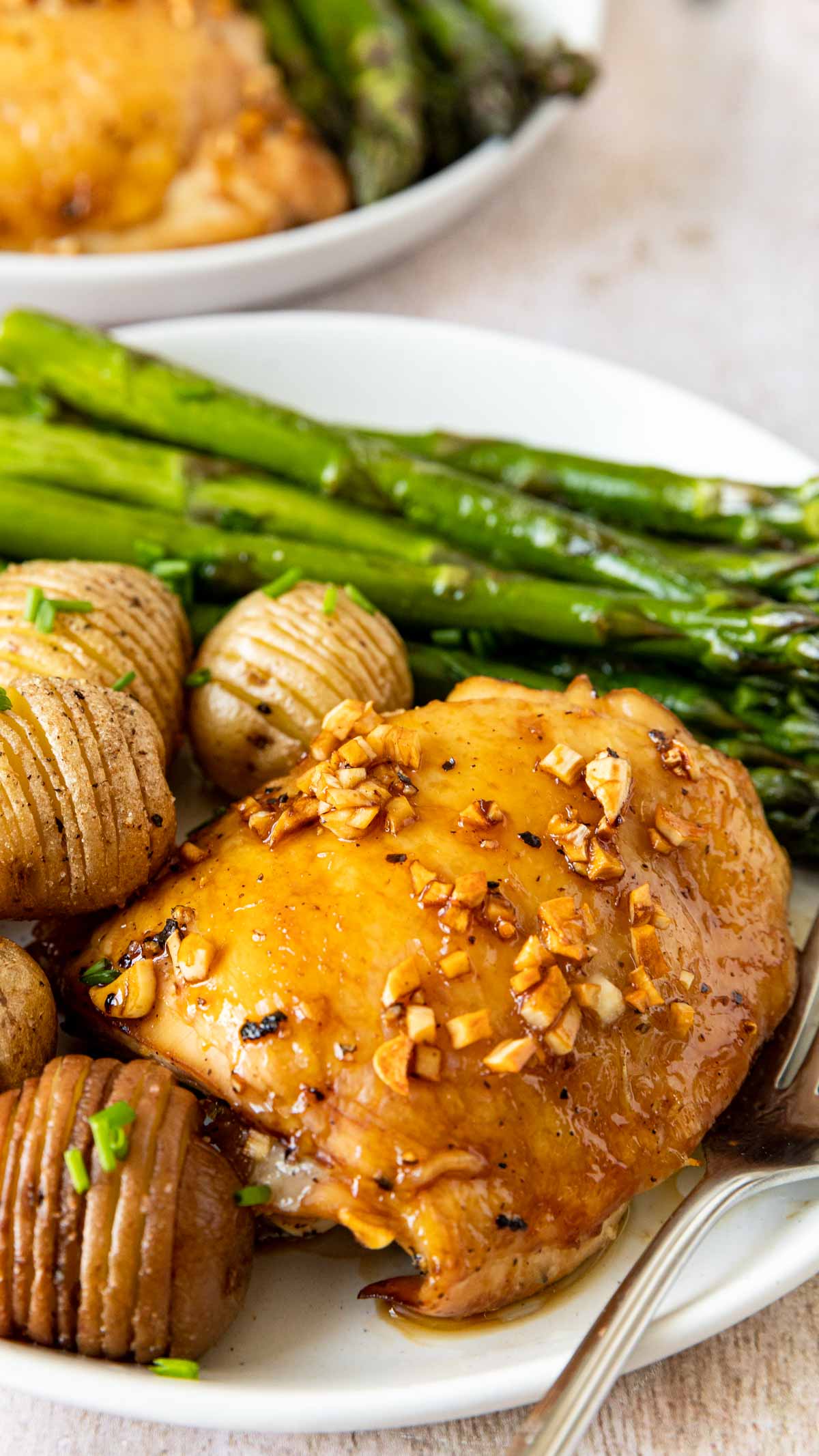 Ingredients
1

tablespoon

brown sugar

6

cloves

garlic

, minced

2

tablespoons

low sodium soy sauce

1/4

teaspoon

coarse ground black pepper

6

chicken thighs

, bone-in, and skin on
Instructions
Preheat the oven to 375 degrees.

Mix the ingredients in a large bowl then place on a baking sheet, skin side up.
Nutrition
Calories:
263
kcal
|
Carbohydrates:
4
g
|
Protein:
19
g
|
Fat:
19
g
|
Saturated Fat:
5
g
|
Trans Fat:
1
g
|
Cholesterol:
111
mg
|
Sodium:
266
mg
|
Potassium:
257
mg
|
Fiber:
1
g
|
Sugar:
2
g
|
Vitamin A:
89
IU
|
Vitamin C:
1
mg
|
Calcium:
17
mg
|
Iron:
1
mg