Healthy Cinnamon Roll Coffee Cake has the taste from a cinnamon roll made in a quicker, easier cake with a brown sugar, cinnamon topping and a light glaze.
Just like Healthy Sour Cream Coffee Cake, this is a healthier take on a sweet and indulgent Breakfast Recipe. Even with the healthy exchanges it still comes out moist, crumbly, and delicious.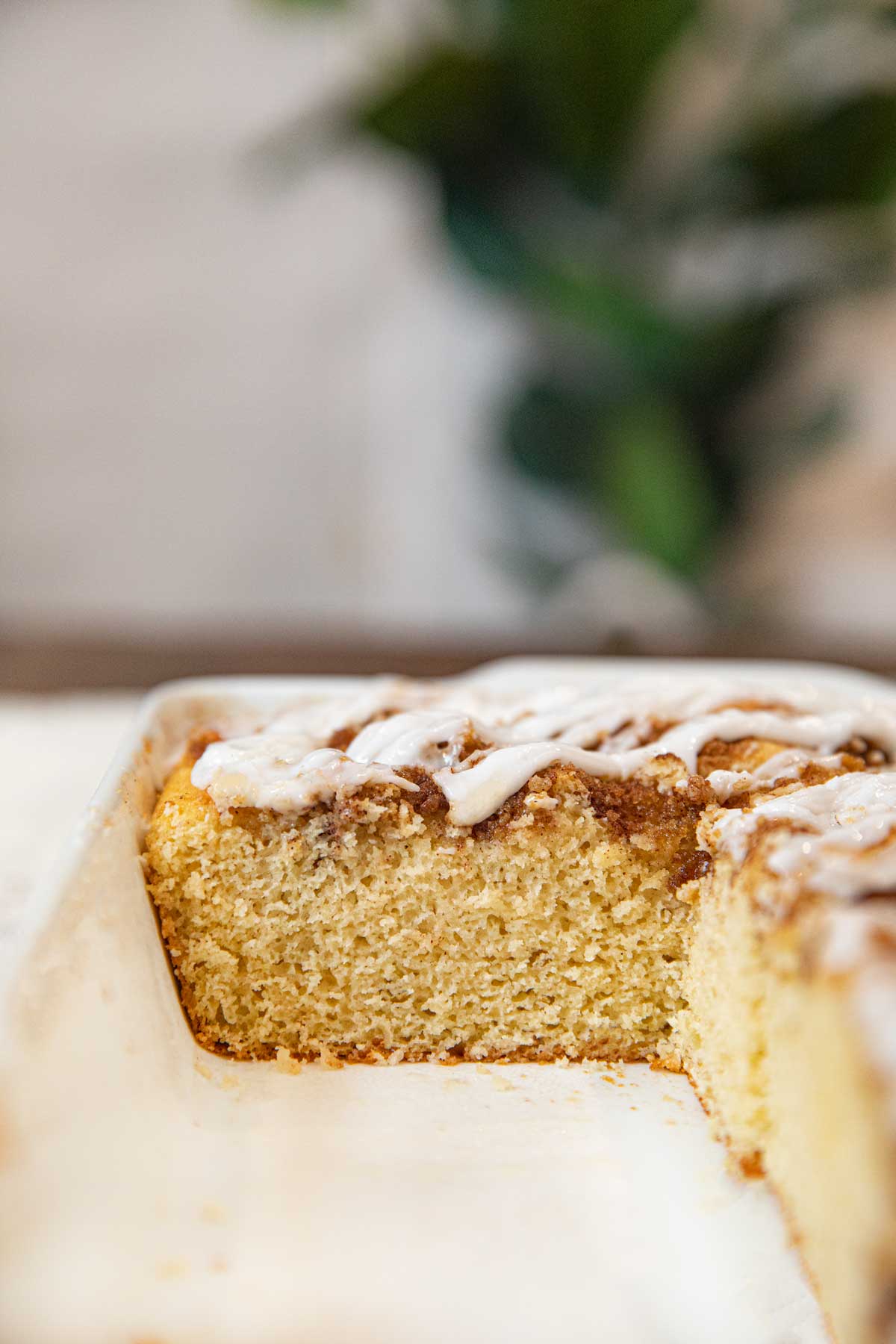 HEALTHY CINNAMON ROLL COFFEE CAKE
If you love cinnamon rolls, but are trying to eat more healthy then this coffee cake is the breakfast for you. It has all the brown sugar streusel topping and icing that you'd get from Cinnabon cinnamon rolls, but baked in a healthy coffee cake recipe. It's also a much easier recipe than homemade cinnamon rolls. There's no rising time, and the baking time is only 30 minutes.
Healthy Cinnamon Roll Coffee Cake is perfect to serve for a holiday breakfast or as a delicious treat for brunch. You can serve it along with other classic brunch recipes like Blueberry Banana Baked Oatmeal Muffins and Oven Baked Turkey Bacon. This coffee cake recipe also stores well so you can enjoy leftovers the next day with a hot cup of coffee.
HEALTHY EXCHANGES
To make coffee cake into a healthy coffee cake this recipe just makes a few changes to what you'd find in a typical coffee cake recipe. Firstly, this great recipe uses whole wheat flour instead of all purpose flour. Using whole wheat flour adds more fiber, vitamins, minerals and protein to the cake batter mixture.
To make the streusel topping more healthy this cake only uses one fourth of the sugar and butter that other coffee cakes do. This will mean that there's a slightly less thick layer of streusel, but what streusel is there still adds plenty of cinnamon flavor to the cake.
The cake's icing is also made lighter in this recipe. There's less powdered sugar, and it uses a low fat milk. Making some changes to the flour, sugar, and other ingredients in this cake make it a healthy coffee cake that you don't have to feel guilty indulging in. Plus, these simple changes don't sacrifice the sweet, buttery, cinnamon taste. It's sure to become a go-to for a sweet breakfast or dessert that's relatively low carb.
TIPS FOR MAKING THE BEST COFFEE CAKE
To make sure the cake doesn't stick to the pan, line the baking dish with parchment paper and spray it with vegetable oil.
Whisk together the wet ingredients and dry ingredients in two separate bowls. Once you've whisked together the vanilla, eggs, and sugar start to slowly add the dry cake mix. Be sure to mix it together gradually and don't try to add too much at once. Once you've combined the cake batter pour it into your baking dish a springform pan.
Next, mix together the melted butter, sugar, flour, and cinnamon for the streusel. You'll know you're done mixing when the streusel starts to form into small pebble shapes. Take spoonfuls of the streusel and sprinkle it over the batter.
Bake the cake for 30-35 minutes. You'll know the coffee cake is done when you put a toothpick in the center, and it comes out without any wet batter on it.
Let the cake cool before you drizzle the cinnamon roll icing on. Be sure to add the milk slowly to the vanilla and powdered sugar. Once the glaze has the right consistency drizzle it in swirls over the Cinnamon Roll Cake.
MORE BRUNCH RECIPE IDEAS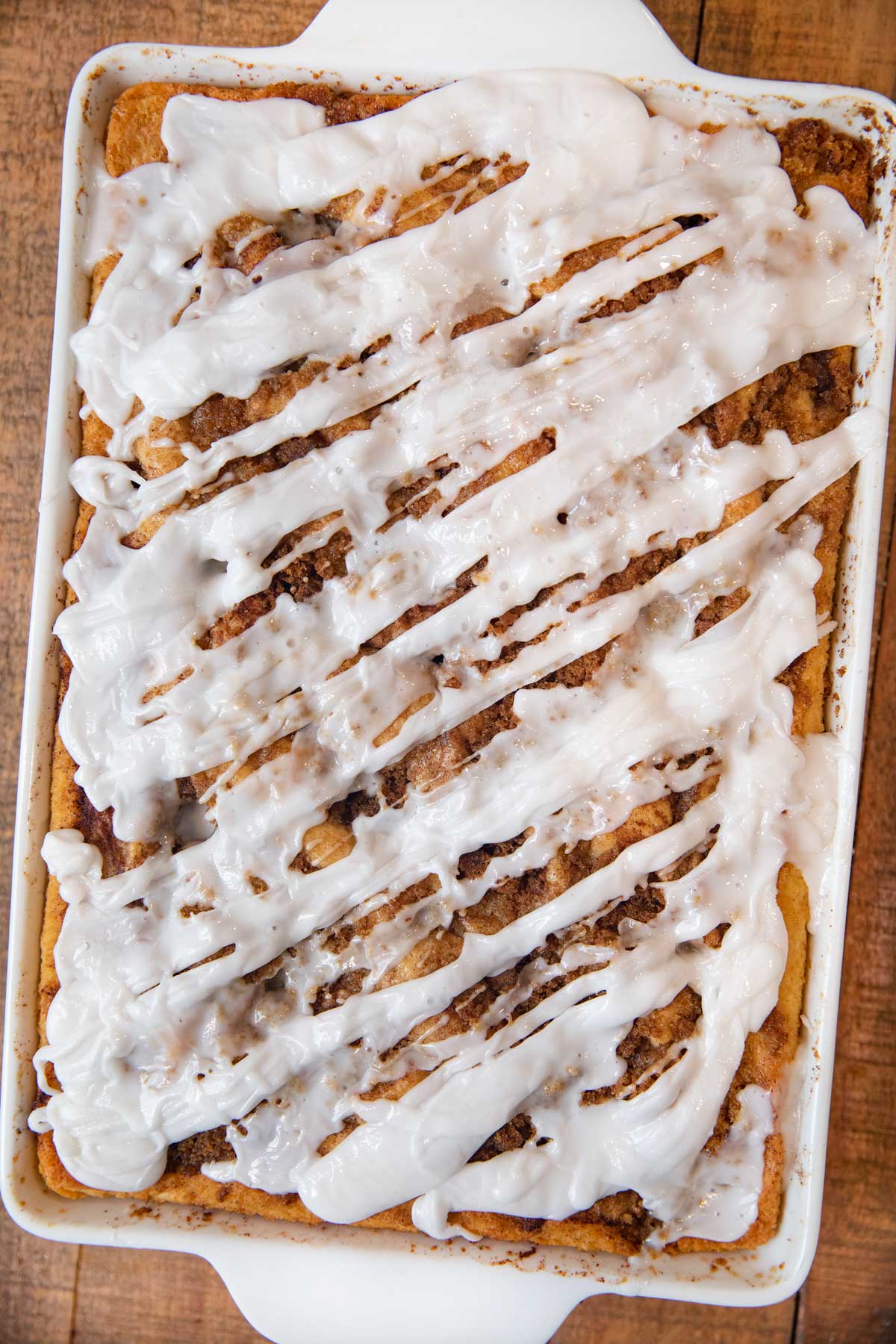 Create a free account to

Save Recipes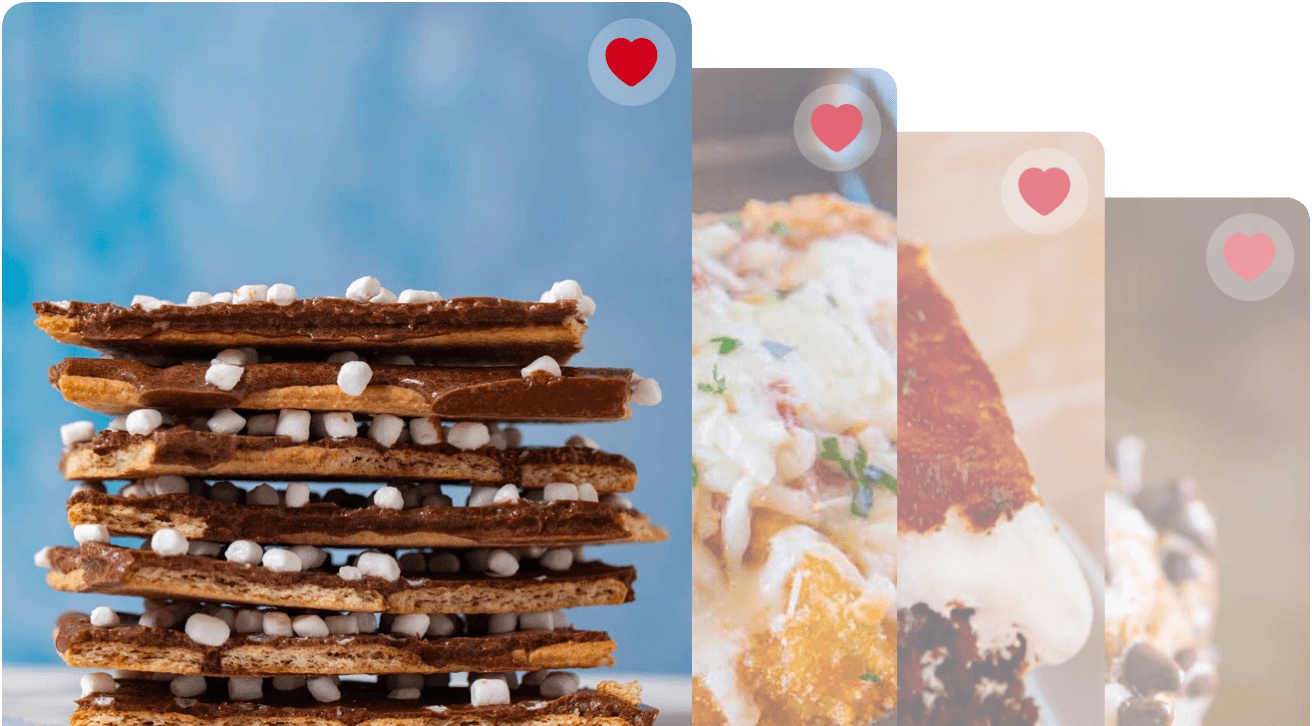 VARIATIONS ON HEALTHY CINNAMON ROLL COFFEE CAKE
Coffee Cake Muffins: To make this recipe more portable turn it into Coffee Cake Muffins. Combine the ingredients as usual. Then pour the batter into a lined muffin tin. About 3 tablespoons of batter should be enough to make a muffin, then add the streusel over each muffin and bake. Let the muffins cool before you take them out of the tins and add the icing.
Blueberry Coffee Cake: Blueberry Coffee Cake is a classic variation on coffee cake. Instead of making the cinnamon topping mix frozen blueberries in with the ingredients. You can still swirl the cinnamon roll icing over the top for some extra sweetness.
Gluten-free: To make your coffee cake gluten-free exchange the flour in the recipe. Try using almond flour or oat flour. Almond flour has many nutrients which make it a great option for gluten-free recipes.
Cream Cheese Frosting: Many people like cream cheese frosting on their cinnamon rolls. If you'd prefer cream cheese frosting, you can make it instead of the glaze for this cake recipe. Combine a teaspoon of vanilla, 1 cup powdered sugar, and 8 ounces of reduced fat cream cheese. Mix the ingredients together and swirl them over the top of the crumbly coffee cake.
MORE BREAKFAST RECIPES
HOW TO STORE CINNAMON ROLL CAKE
Serve: Once you've made this cake recipe you can keep it at room temperature for 1-2 days. Be sure to cover or store the cake in an airtight container.
Store: This great recipe should be good for a week in the fridge. Let it cool to room temperature before sealing it.
Freeze: Freeze your coffee cake for up to 3 months. For easy storage cut the cake into serving size squares and store them in a freezer bag separated by parchment paper. The next time you want an easy breakfast or dessert take them out to defrost.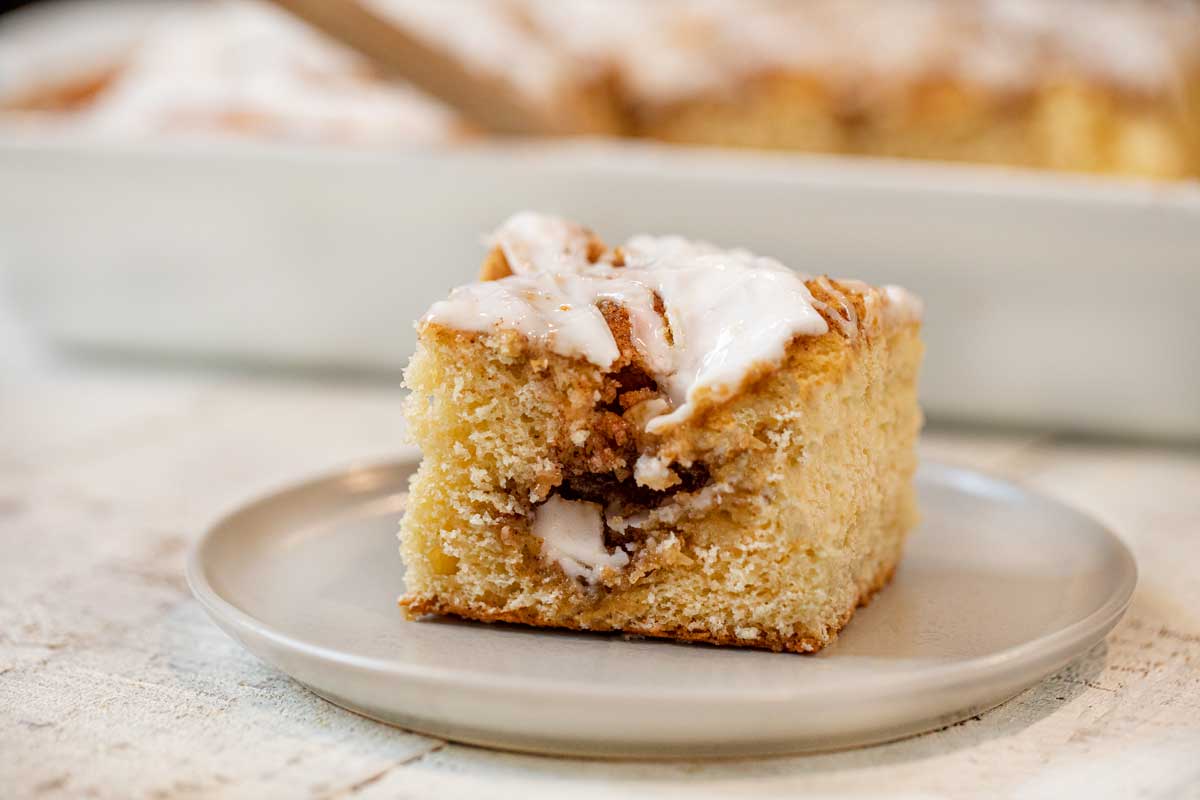 Ingredients
For the Cake:
1 1/2

cups

1% milk

2

large

eggs

2

teaspoons

pure vanilla extract

1

cup

sugar

3

cups

whole wheat flour

1/4

teaspoon

salt

4

teaspoons

baking powder
For Topping:
1/4

cup

butter

, softened

1/4

cup

light brown sugar

, packed

2

teaspoons

flour

1

teaspoon

ground cinnamon
For Icing:
1/2

cup

powdered sugar

1 1/2

tablespoons

low-fat milk

1/4

teaspoon

vanilla extract
Instructions
Preheat oven to 350 degrees. Line a 9×13 baking dish with parchment paper, spray with baking spray, and set aside.

Mix the milk, eggs, vanilla extract, and sugar in a medium mixing bowl.

In a separate bowl, sift together the flour, salt, and baking powder.

Gradually mix the flour mixture into the egg mixture. Pour batter into prepared baking pan.

In a bowl, mix together all the topping ingredients, until small pebbles form. Sprinkle the pebbles over the top of the batter.

Bake in oven for

30-35 minutes

. Remove from oven and place on a cooling rack.

In a small bowl, mix the powdered sugar, milk, and vanilla extract. Add milk in ½ teaspoon increments until icing is liquidy and pourable. After coffee cake has cooled, pour the icing evenly over the top of the coffee cake.
Nutrition
Calories:
267
kcal
|
Carbohydrates:
50
g
|
Protein:
6
g
|
Fat:
6
g
|
Saturated Fat:
3
g
|
Cholesterol:
43
mg
|
Sodium:
111
mg
|
Potassium:
305
mg
|
Fiber:
3
g
|
Sugar:
28
g
|
Vitamin A:
221
IU
|
Calcium:
118
mg
|
Iron:
1
mg