Candied Turkey Bacon blends sweet and savory flavors in one crispy bacon recipe with brown sugar and black pepper ready in just 20 minutes!
If you love turkey bacon, Candied Turkey Bacon takes it to the next level with an irresistible sugar coating. You can serve it as a side with other Breakfast Recipes, as an appetizer at parties, or even as part of a grilled sandwich.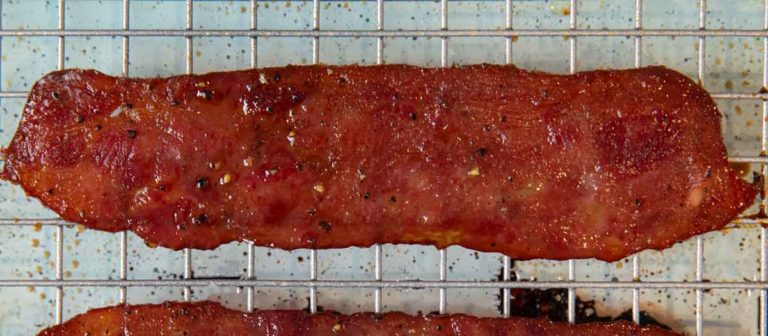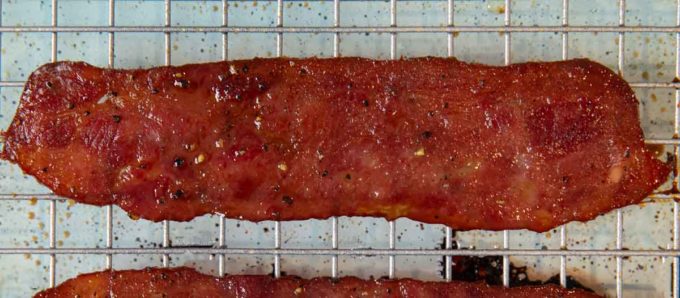 CANDIED TURKEY BACON
This easy Candied Bacon recipe is as simple as tossing slices of bacon in a sugar mixture, putting them on a wire rack over a cookie sheet and baking. Including prep time and cooking the whole recipe only takes 25 minutes! The brown sugar should caramelize in the oven leaving you with a sweet and salty.
Cooking Turkey Bacon in the oven is a more heart healthy option than frying pork bacon, that allows you to indulge in it more often. This recipe gives you the same crispiness with less fat.
Cooking with turkey bacon is an excellent option for anyone who doesn't eat pork. Oven Baked Candied Turkey Bacon is also healthier alternative than frying pork bacon. It contains less fat, and less calories than regular pork bacon. So, it's a great recipe to bake if you want to avoid foods high in fat.
MORE HEALTHY BREAKFAST RECIPES
Candied bacon is the perfect side to serve with any breakfast meal from simple egg whites to fluffy pancakes. They'll also be a hit at any brunch or party. You might even want to make a double batch, since they'll be gobbled up in minutes.
If you are serving Candied Bacon at a party try rolling the slices up and sticking a toothpick through both sides to make a cocktail snack. Serve them on a tray with other party snacks like cheese and veggies.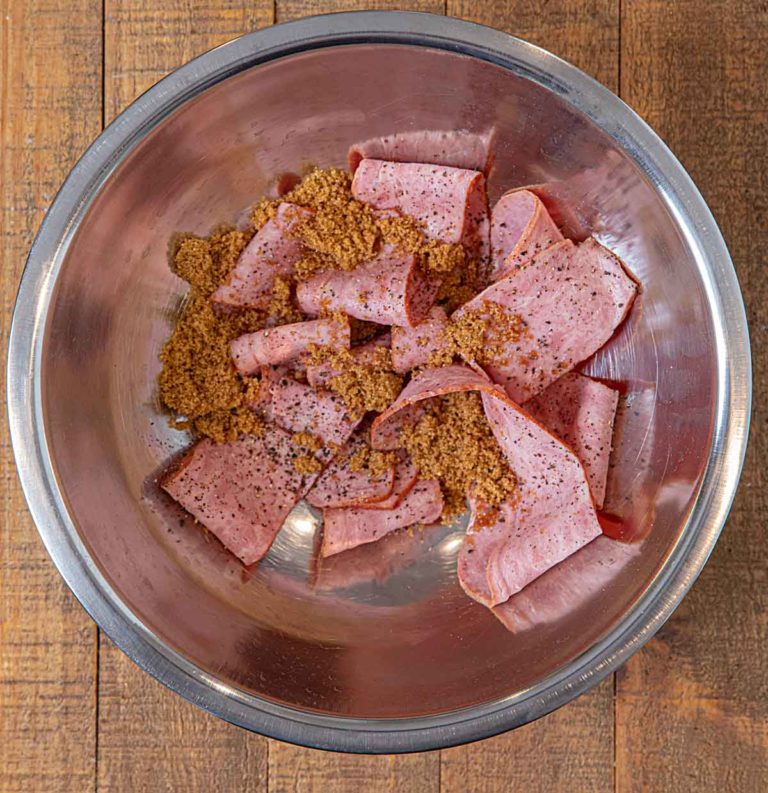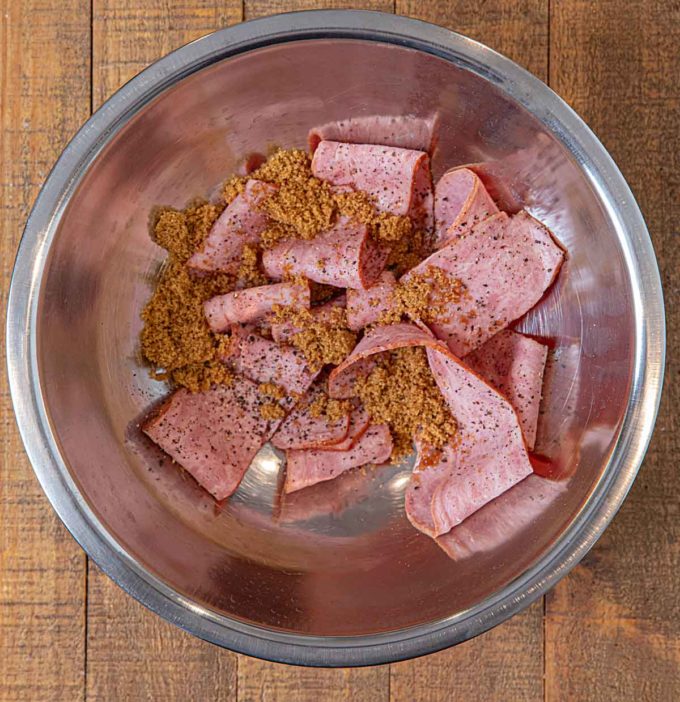 Create a free account to

Save Recipes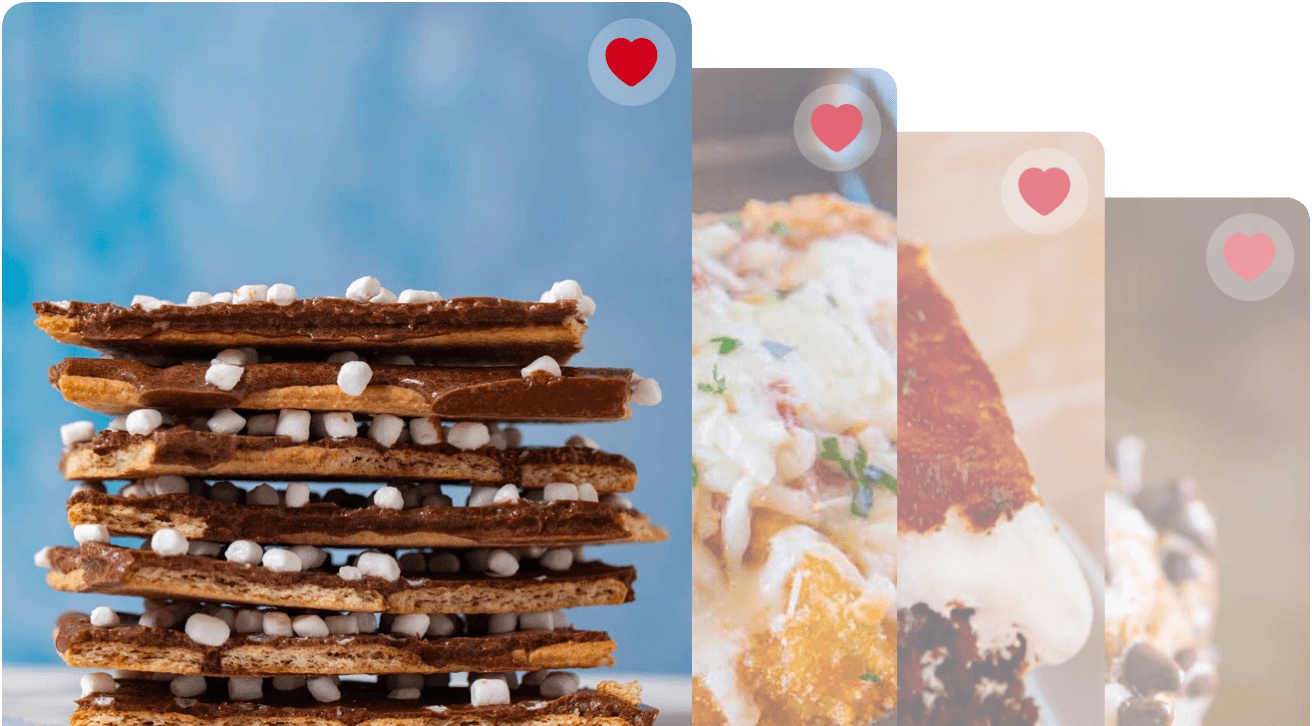 VARIATIONS ON CANDIED TURKEY BACON
Sriracha Candied Bacon: For a bold and spicy flavor in your turkey bacon recipe, add a little bit of sriracha at the same time you sprinkle the extra black pepper over the bacon strips. Careful not to put too much, just a small amount on each piece will do the trick. Or you could also add cayenne pepper for a similar effect.
Maple Syrup: Add the rich flavor of maple syrup to the ingredients for this Candied Bacon recipe. Add 3 tablespoons pure maple syrup to the sugar and pepper mixture. The sugar and maple syrup will caramelize in the oven making a delicious breakfast snack.
Other Protein Options: You can use the same cooking method and sugar coating to prepare different kinds of bacon. If you prefer regular pork bacon, use a sheet pan and cooling rack to cook them in the oven, rather than frying them in a pan. You can also try baking salmon rashers, or vegetarian bacon, depending on your dietary restrictions.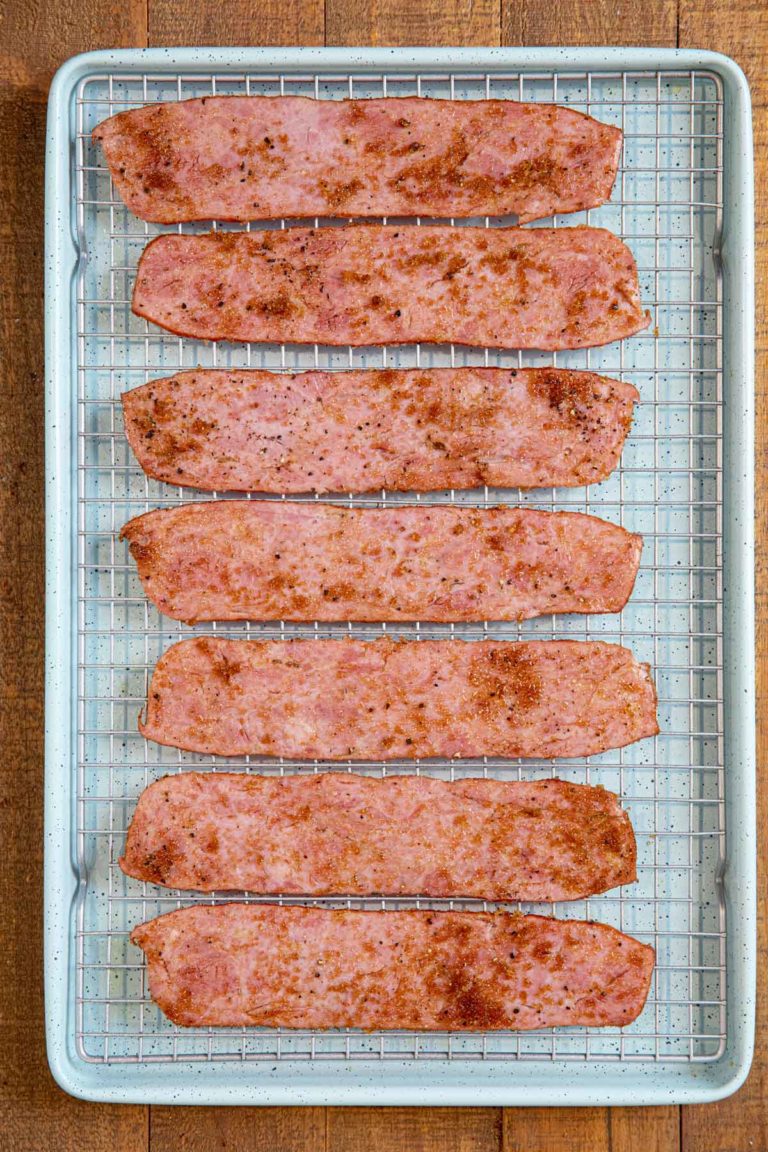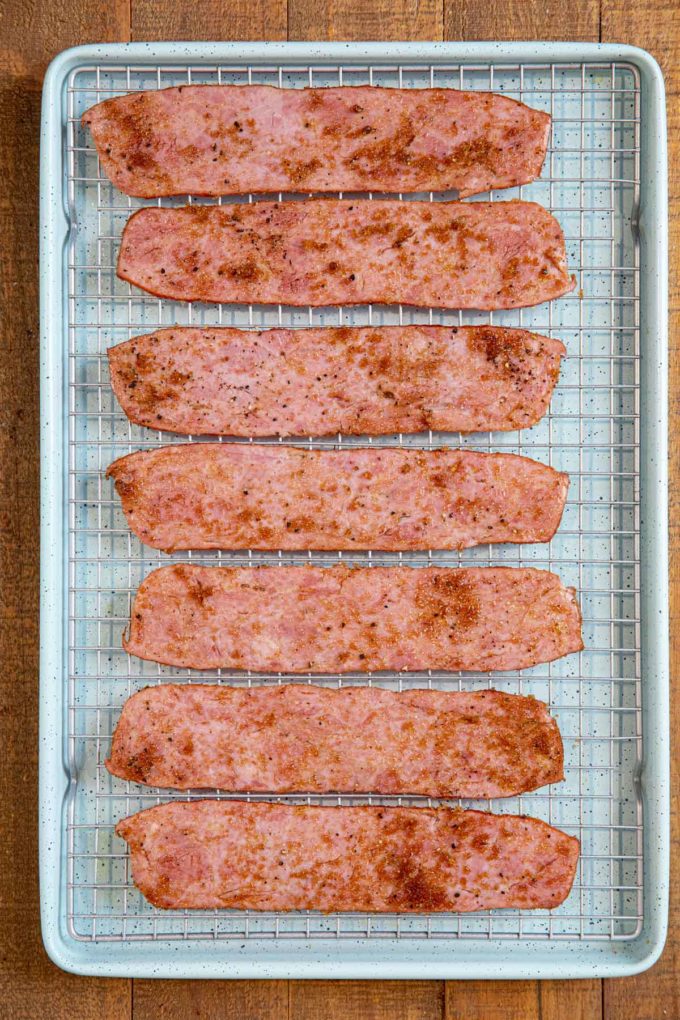 Ways to use:
Healthy Candied Bacon Grilled Cheese: There are lots of healthy recipes you can include this in to make a full meal. Try making a comforting grilled cheese sandwich with your favorite healthy bread like 100% whole wheat, flax bread, or gluten-free bread. Then put your choice of cheese in the middle and top with candied bacon before grilling.
Candied Bacon Bits: Chop your candied bacon into small pieces for salty and sweet bacon bits. Toss them in a salad with candied almonds and chopped apples for a healthy side or main dish.
MORE HEALTHY TURKEY RECIPES
HOW TO STORE CANDIED TURKEY BACON
Serve: Once this recipe is done cooking, you shouldn't leave Candied Bacon at room temperature for longer than an hour, the longer it sits the more stale and drier it will become too.
Store: After it's cooled, you can store leftover Candied Bacon in the fridge for up to a week in a freezer bag or airtight container.
Freeze: After baking you can store leftover bacon in the freezer for up to 6 months. Keep the bacon slices separated with paper towels, or aluminum foil in a freezer bag. When you're ready to reheat let them defrost in the fridge overnight, and put them in the oven to cook until warm and crispy again. You can sprinkle extra brown sugar and pepper to freshen the taste for the perfect make-ahead breakfast side dish.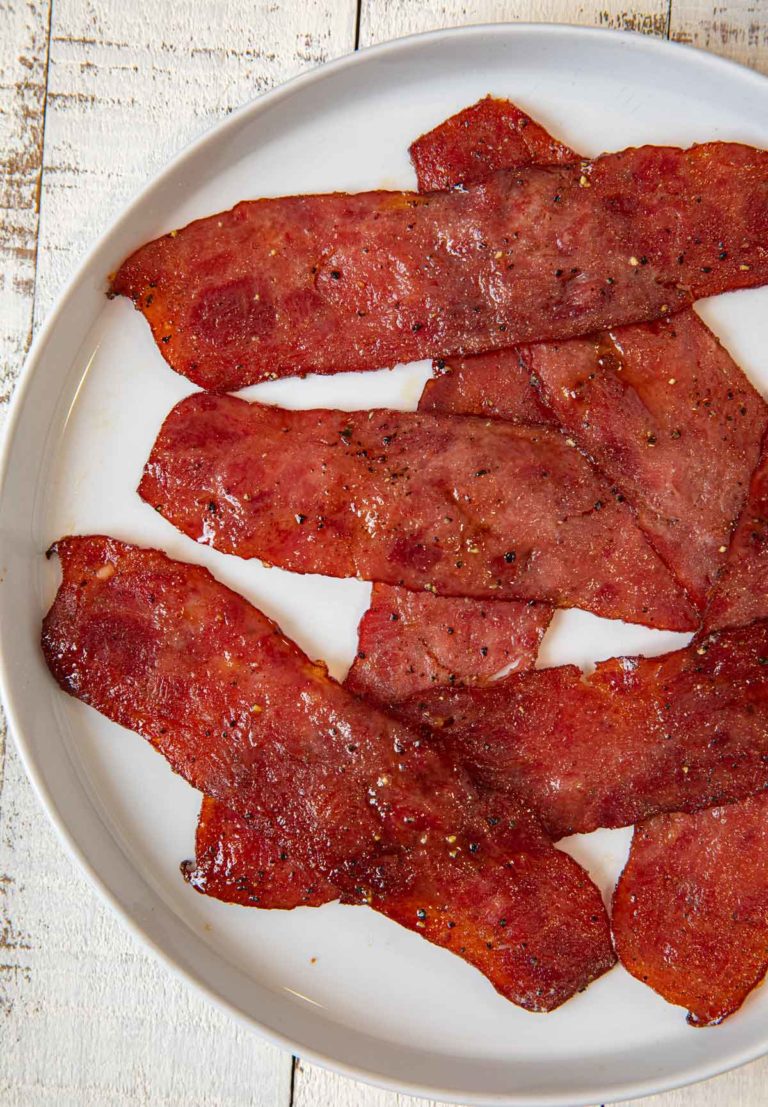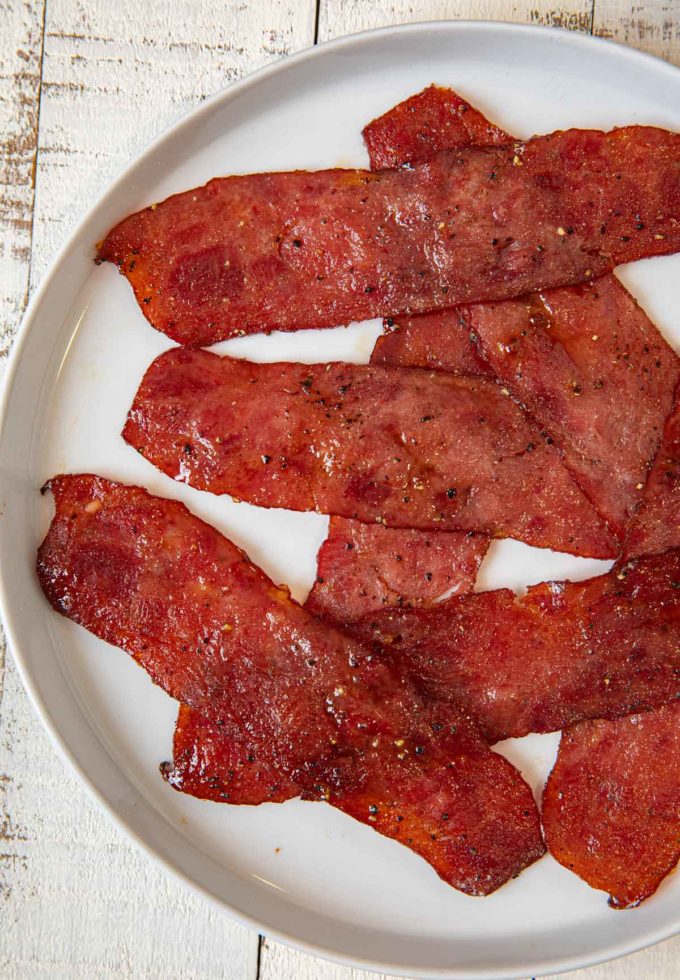 Ingredients
1

pound

turkey bacon

1/4

cup

light brown sugar

, packed

1/4

teaspoon

coarse ground black pepper
Instructions
Preheat oven to 375 degrees and line a baking pan with parchment paper and top with a metal cooling rack.

In a medium bowl toss the bacon with brown sugar and black pepper.

Lay the bacon over the cooling rack in a single layer and sprinkle with black pepper.

Bake for

20-22 minutes

until crispy and browned.
Nutrition
Calories:
194
kcal
|
Carbohydrates:
7
g
|
Protein:
13
g
|
Fat:
13
g
|
Saturated Fat:
4
g
|
Cholesterol:
44
mg
|
Sodium:
1038
mg
|
Potassium:
186
mg
|
Fiber:
1
g
|
Sugar:
5
g
|
Calcium:
9
mg
|
Iron:
1
mg