Blueberry Baked Oatmeal Muffins are a healthy on-the-go breakfast with bananas, blueberries, cinnamon, and oats ready in just 30 minutes!
If you loved our Healthy Blueberry Muffins this oatmeal version is the perfect Breakfast Recipe for you. It's simple, hearty, full of flavor, and freezer-friendly!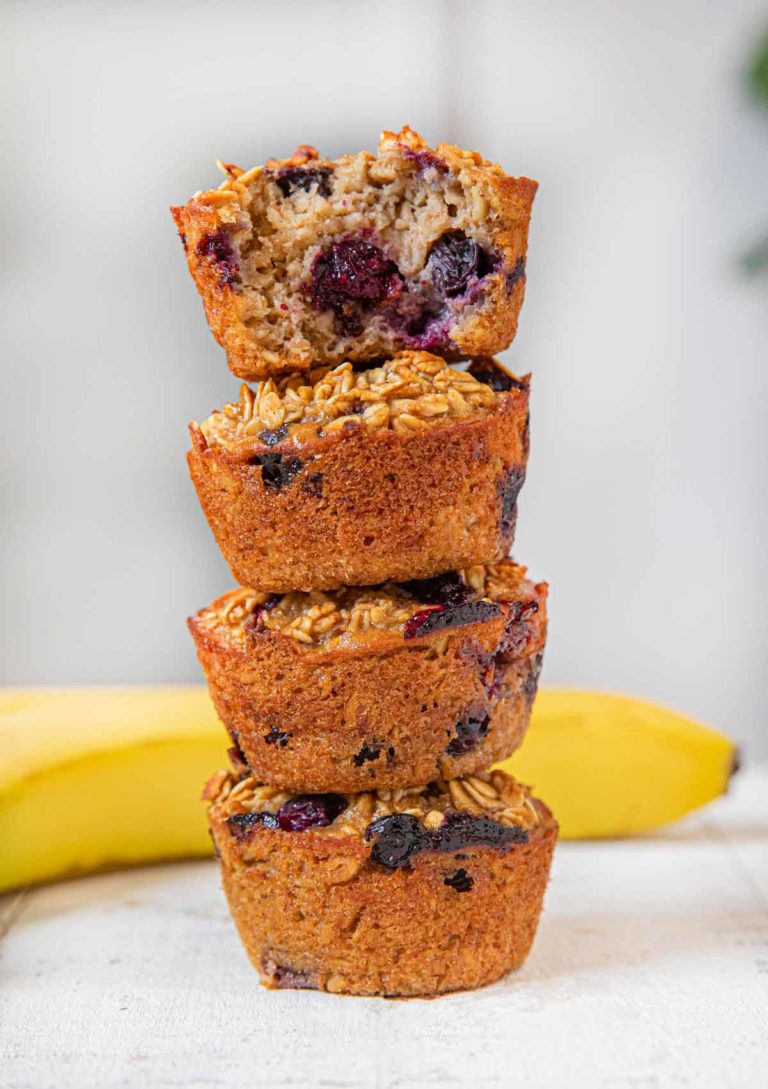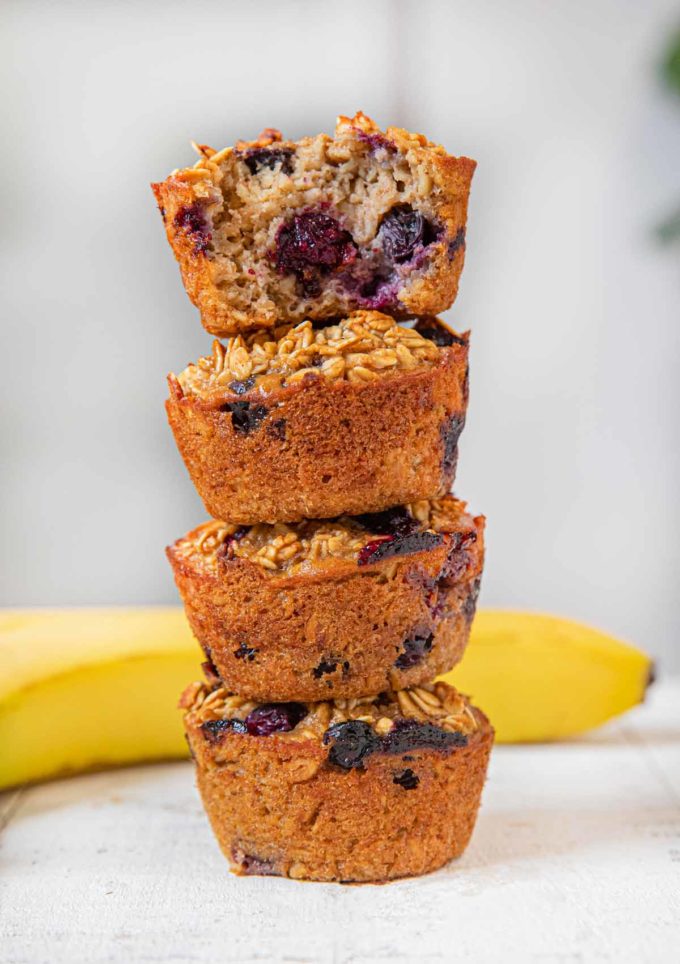 BLUEBERRY BAKED OATMEAL MUFFINS
There's nothing better than a classic blueberry muffin, and while we love the classic tender crumbly muffins we know we can't indulge in them often. These oatmeal muffins have the same warm spices and flavors with the heart healthy oatmeal filling. Instead of cake you're going to have a well balanced breakfast that will keep you full for longer, made with rolled oats and bananas, this is the perfect healthy option with the hint of dessert flavors.
These hearty breakfast bites are packed full of flavors you'll love like vanilla, blueberry, old-fashioned oats, and honey. The oats, blueberries, and other ingredients pack the muffins full of fiber, quality protein, and antioxidants to get you going in the morning!
Easy muffin cups are the perfect make-ahead breakfast! They only take a half-hour to make so you can easily make it a double batch, and freeze the second one to have ready for busy mornings.
If you'd rather use steel-cut oats instead of the rolled oats we have in the recipe you can. Steel-cut oats have even more fiber and are slightly lower in calories. However, they take longer to absorb water, so your baking time will be longer.
Dietary Restrictions
Easily adjust this oatmeal recipe to match your dietary needs.
Gluten Free: Fortunately, these blueberry muffins are already essentially gluten-free. The oatmeal recipe doesn't include any all-purpose flour, whole wheat flour, or any other grains that would typically cause a problem. Pure oats are already gluten-free. Just check the label on the oats you buy to make sure they aren't cross-contaminated.
Vegan: Make your blueberry oatmeal vegan by substituting for the milk and egg. Use any dairy-free milk like almond milk, oat milk, or soy milk in the oatmeal. You can use ¼ cup unsweetened apple sauce to substitute for the egg. Or if you don't like the idea of applesauce with blueberry, add another mashed banana to replace the egg.
Tips for the best Blueberry Oatmeal Muffin Recipe
1. Don't over-mix your ingredients. When you start to mix your oats and other dry ingredients with the wet ingredients in this recipe, you might be tempted use an electric mixer to go faster. There's no need for that. Just stir the baked oatmeal ingredients by hand until just combined, and then it evenly into muffin cups.
2. Rinse frozen blueberries. You can use either fresh blueberries or frozen blueberries for this recipe. If you use frozen blueberries they might turn your blueberry muffins blue. To stop this rinse the blueberries in water before putting them in the oatmeal.
3. Test if your Baked Blueberry Muffins are done with a toothpick. This muffin recipe should only take 20 minutes to bake. To make sure they're done baking when your timer goes off, insert a toothpick into the center of a muffin. If the toothpick comes out with wet oatmeal on it let the blueberry oat muffins bake a little longer.
MORE HEALTHY BREAKFAST OPTIONS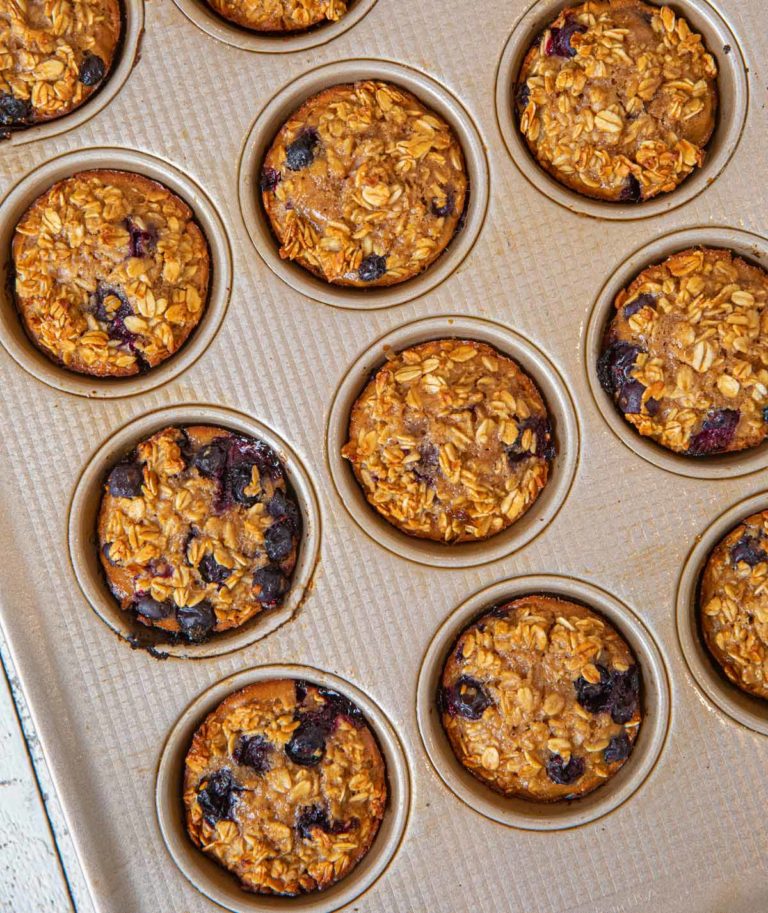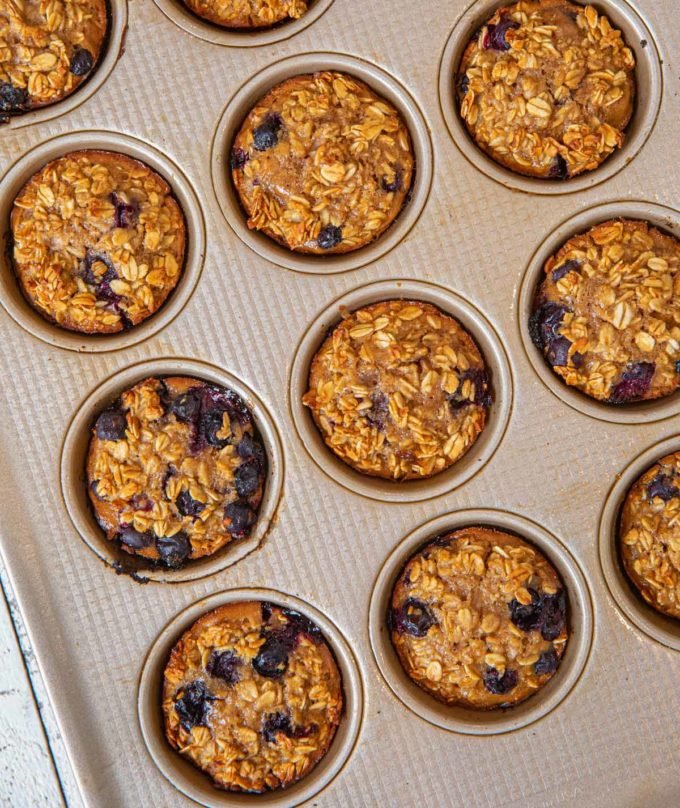 Create a free account to

Save Recipes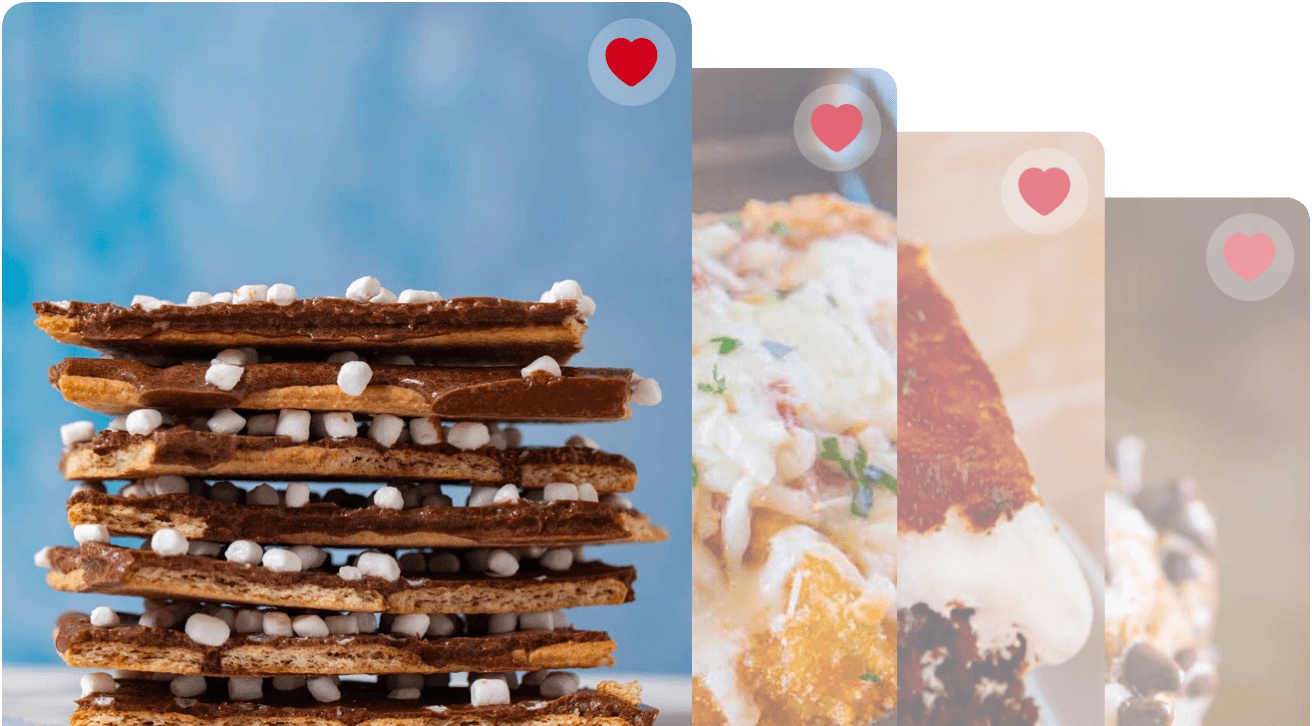 VARIATIONS ON BLUEBERRY BAKED OATMEAL MUFFINS
Add-ins: There are a variety of mix-ins you can add to this baked oatmeal recipe to change the flavor and texture of the muffins. Some easy ones to try are raisins and almonds. You can mix the raisins or almonds with the blueberries or exchange them. You could also try adding different berries to your muffin recipe like sliced strawberries or raspberries.
Maple Syrup: The flavors of baked blueberry oatmeal and maple syrup are breakfast classics that pair wonderfully. Many recipes for oatmeal muffins use maple syrup as the sweetener. To exchange the honey in this recipe for maple syrup, you'll need to mix 3 tablespoons of maple syrup with 2 tablespoons of sugar. Add that to the dry ingredients when you would normally add the honey.
Greek Yogurt Bowl: If you have leftover blueberry Baked Blueberry Oatmeal Muffins you need to eat, but you aren't in the mood for muffins, you can crumble one over a bowl of low-fat or fat-free Greek yogurt for a whole new breakfast. It's similar to eating granola and Greek yogurt. Feel free to add more fresh blueberries and honey to your taste.
Chocolate Chip Muffins: Blueberry muffins might be the most popular muffin recipe, but chocolate chip muffins are a close second. Switch out the blueberries in your muffins for chocolate chips to make oatmeal chocolate chip muffins. You can even make a double batch of oatmeal, and divide it in half for one batch of blueberry muffins and one of chocolate chip. Then have the perfect breakfast with one chocolate and one blueberry muffin.
MORE SWEET HEALTHY RECIPES
Flourless Chocolate Walnut Cake
Strawberry Shortcake Poke Cake
HOW TO STORE BLUEBERRY BAKED OATMEAL MUFFINS
Serve: Kept covered in a cool, dry place Blueberry Baked Oatmeal Muffins should stay good for up to two days.
Store: If you have leftovers you can store muffins in the refrigerator for 2-3 days. Just be sure to let the blueberry oatmeal muffins cool to room temperature, and store them in an airtight container.
Freeze: This easy blueberry oatmeal muffin recipe is a perfect meal-prep breakfast. You can easily make a double batch and freeze one after they bake. To freeze your oatmeal muffins put them in an airtight container or freezer bag, and separate them with parchment paper, so the muffins don't stick together. Your oatmeal muffins will stay good for up to 4 months. When you're ready to eat them, first let them defrost in the fridge overnight. You can eat the muffins chilled or let them bake in the oven for a few minutes until they are warm.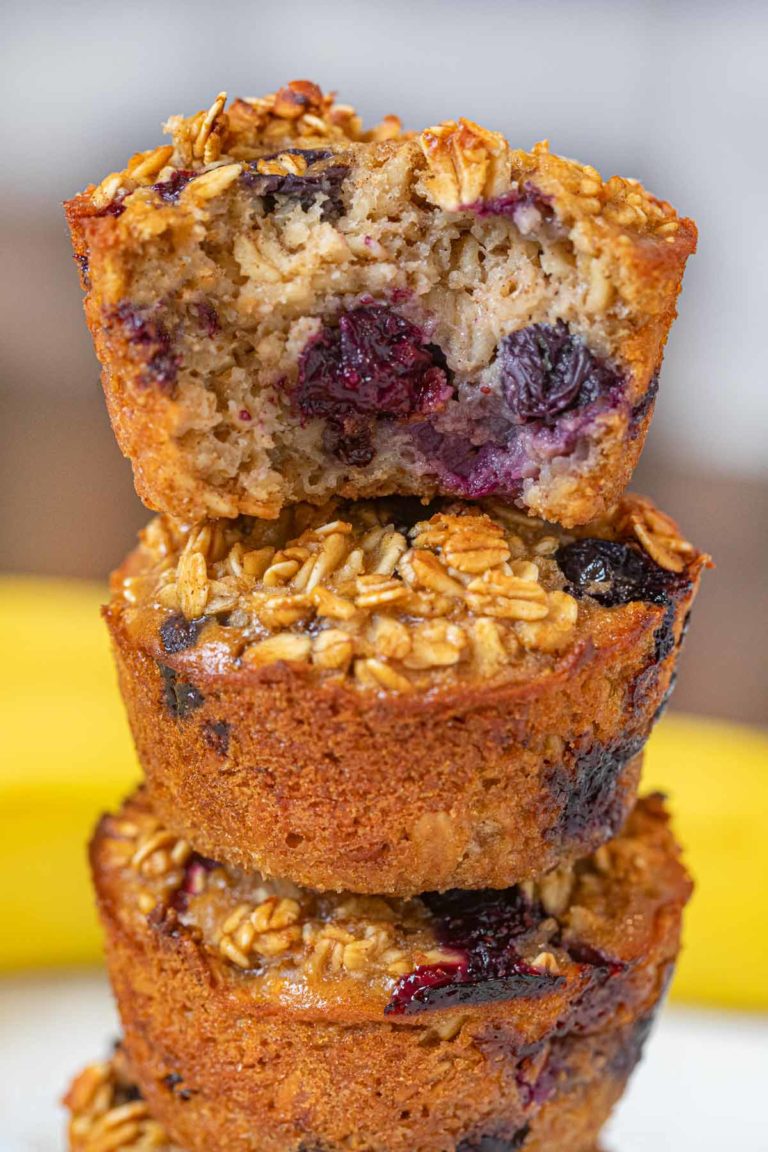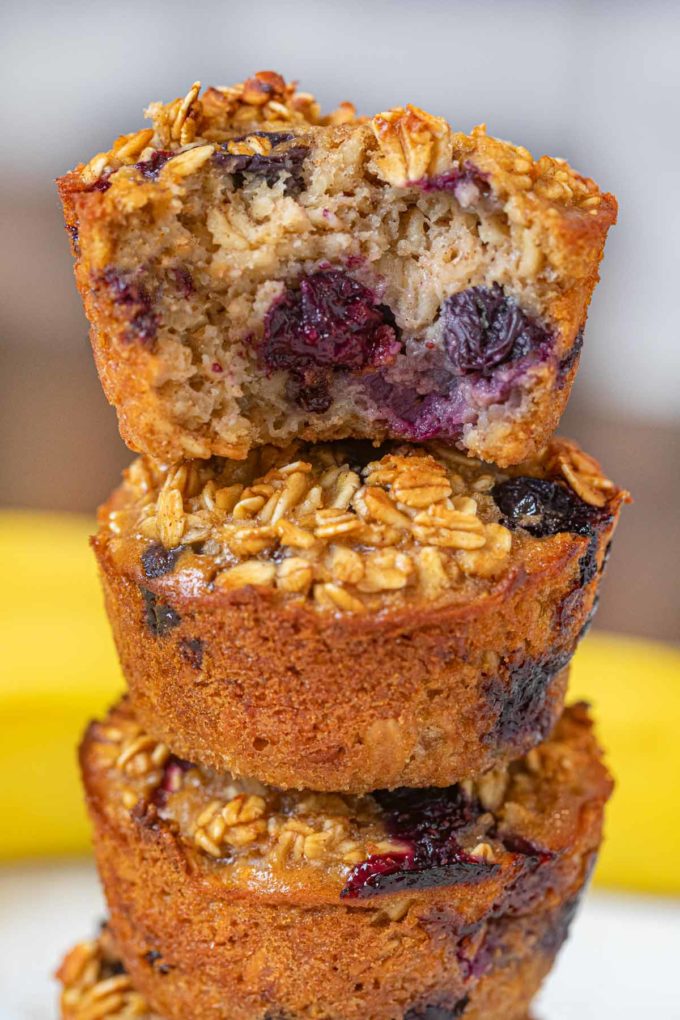 Ingredients
1

cup

rolled oats

1/2

teaspoon

baking powder

1/2

teaspoon

cinnamon

1/8

teaspoon

salt

1

cup

1% milk

, or oat milk

1

large

egg

1/4

cup

honey

1

teaspoon

vanilla extract

2

medium

bananas

, very ripe and chopped

1

cup

blueberries
Instructions
Preheat oven to 375 degrees.

Lightly spray a 12-cup muffin tin with baking spray.

In a large bowl mix together the rolled oats, baking powder, cinnamon, salt, milk, egg, honey and vanilla extract until well combined.

Gently fold in bananas and blueberries.

Using a ¼ cup measure scoop the mixture into the muffin tin.

Bake for

20-25 minutes

until golden brown.
Nutrition
Calories:
87
kcal
|
Carbohydrates:
18
g
|
Protein:
2
g
|
Fat:
1
g
|
Saturated Fat:
1
g
|
Cholesterol:
16
mg
|
Sodium:
40
mg
|
Potassium:
160
mg
|
Fiber:
2
g
|
Sugar:
11
g
|
Vitamin A:
80
IU
|
Vitamin C:
2.9
mg
|
Calcium:
39
mg
|
Iron:
0.5
mg