Easy Sautéed Spinach is the best way to make delicious buttery spinach. Made with fresh spinach, olive oil, garlic salt, and Parmesan Cheese.
Easy vegetable dishes make the best Side Dishes for weeknight dinners. Recipes like this one and Parmesan Roasted Vegetables, are the perfect way to make veggies kid-friendly.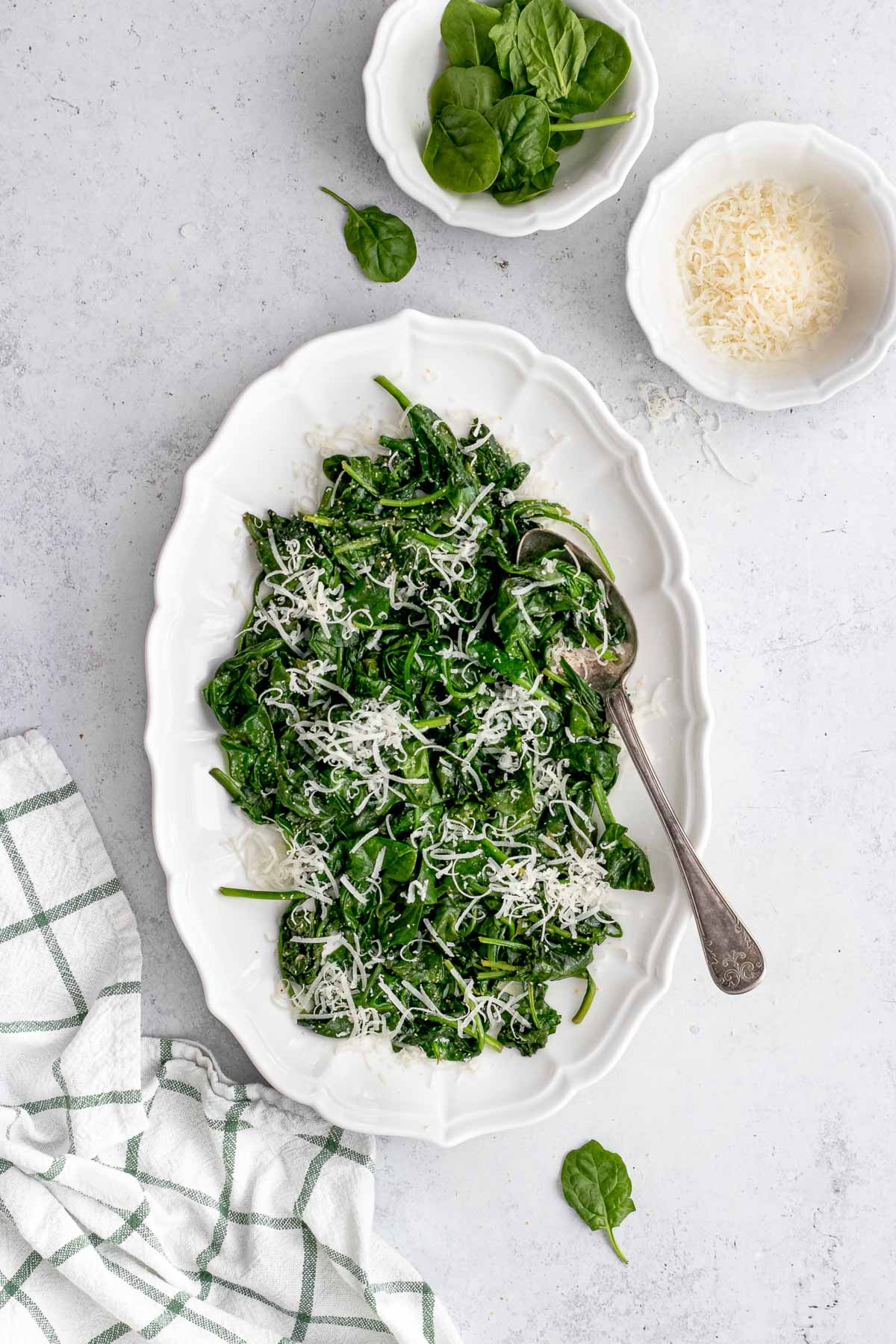 EASY SAUTÉED SPINACH
This Easy Sauteed Spinach is the perfect easy side dish to prepare with weeknight dinners. If you have any picky eaters in your household, this is the perfect way to cook spinach. The spinach is sautéed in extra-virgin olive oil, kosher salt, and garlic and comes out slightly wilted and packed with flavor.
You can serve this Easy Sautéed Spinach recipe with a variety of healthy weeknight dinners. Some great recipes for spinach to pair with are Creamy White Bean Pasta, Healthier Italian Pot Roast, or Eggplant Lasagna. You'll be shocked at how quickly this spinach recipe gets gobbled up along with the main dish.
Making this Easy Sautéed Spinach is very easy. Just saute the spinach in a large skillet or dutch oven over high heat. When you sauté the spinach be careful not to overcook it. It will start to wilt slightly as you cook it. Once it is sautéed, sprinkle the spinach with Parmesan Cheese, pepper, and anything else you'd like before serving.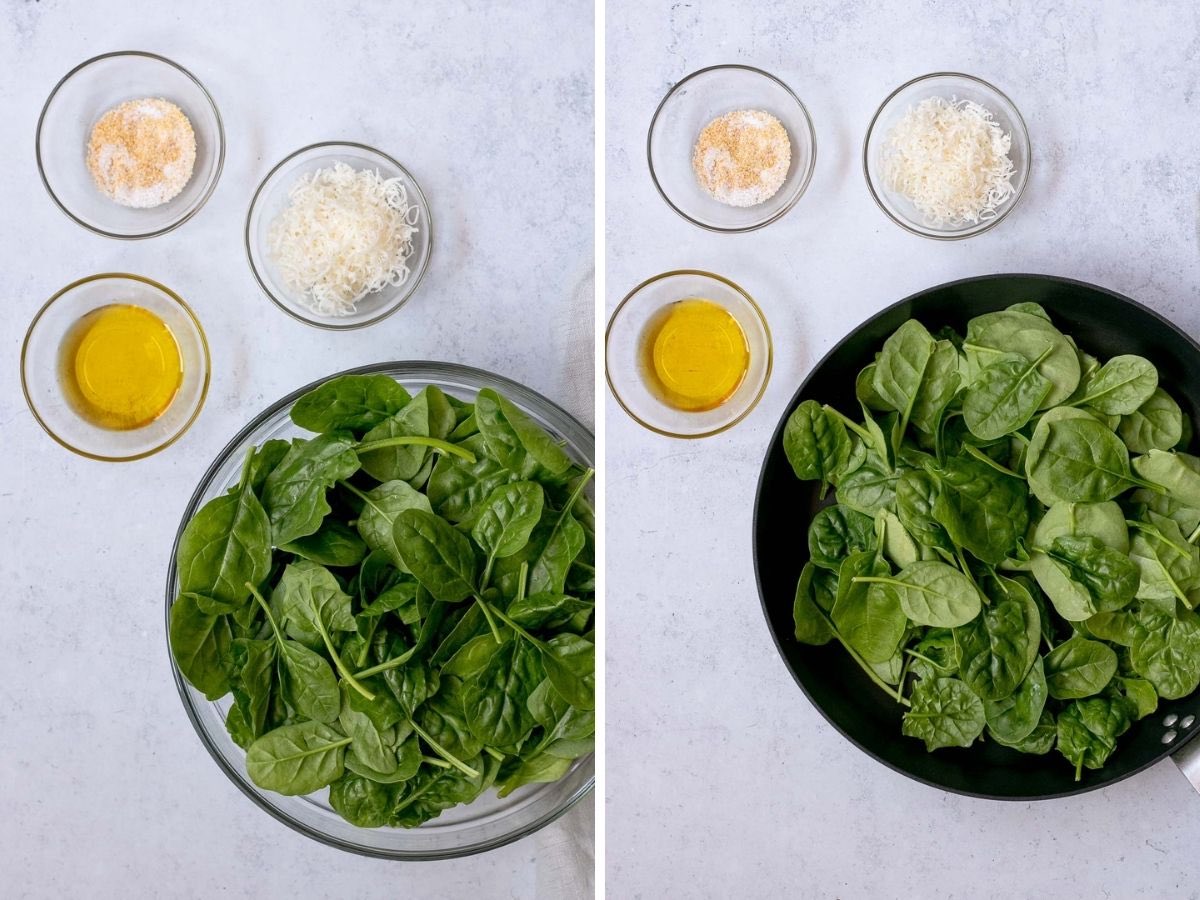 Why is spinach good for you?
If you're trying to eat low-carb or gluten free this Easy Sauteed Spinach is a perfect vitamin packed recipe to enjoy. Spinach is full of so many health benefits. It's a great source of iron, manganese, and magnesium, which makes spinach so important to your diet. Spinach is also full of important vitamins like Vitamin A, Vitamin C, Vitamin K, and Vitamin B2.
You can also get a lot of energy from spinach, and it's good for bone health. So, whether you're following a specific diet or just trying to be a little healthier spinach is a great addition to your diet.
MORE HEALTHY SIDE DISH RECIPES

Create a free account to

Save Recipes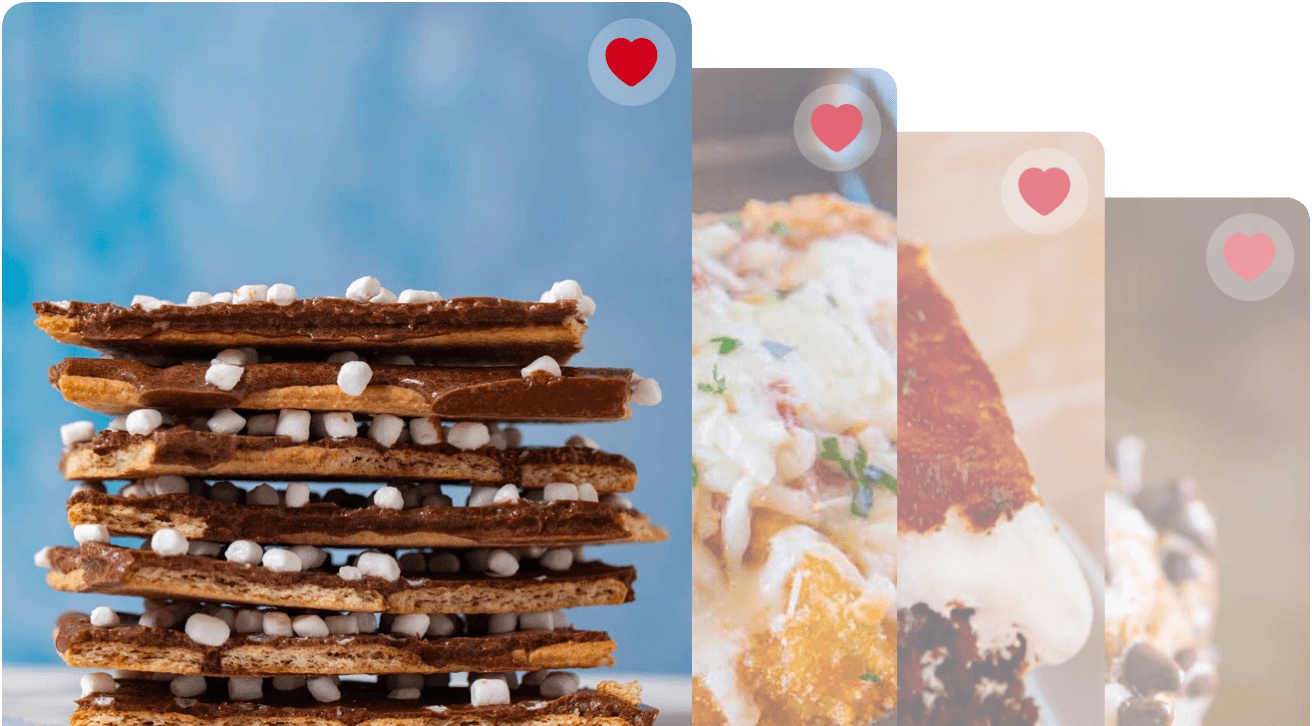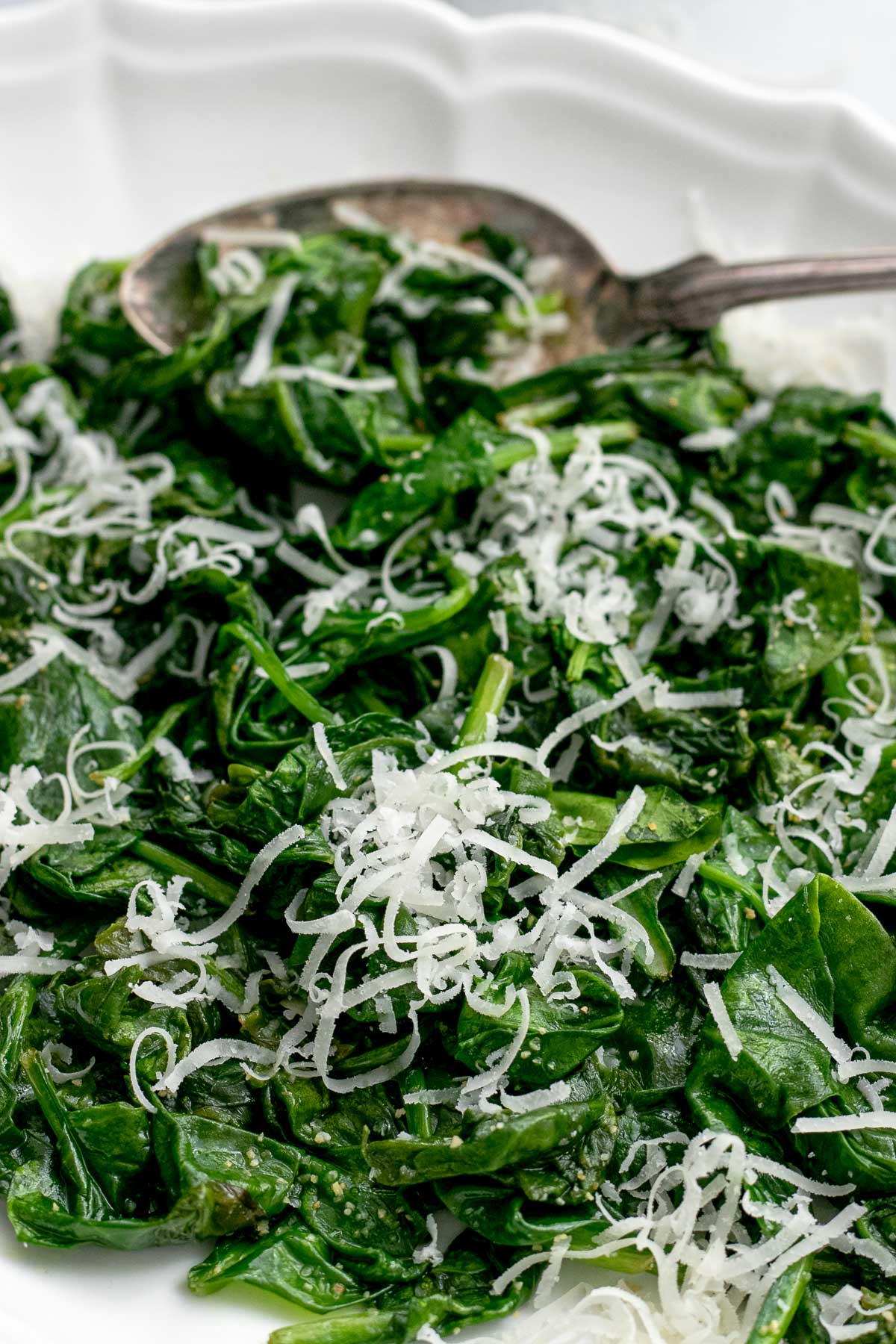 VARIATIONS EASY SAUTÉED SPINACH
Lemon Sautéed Spinach: This garlic and spinach side dish will taste amazing with a bit of lemon flavor. After you saute the spinach add 1 to 2 tablespoons lemon juice. Toss the spinach salad until the the lemon juice has coated the spinach. You can also top the spinach with some lemon zest from a lemon peel.
Spicy Sautéed Spinach: If you'd like to add some more kick to this Easy Sautéed Spinach, add in some red pepper flakes for some spice. Add ½ teaspoon pepper flakes or 2 dried chiles de árbol to the spinach. Add these in along with the fresh garlic, saute, and enjoy.
Add-ins: There are so many wonderful flavor additions you can make to this Easy Sauteed Spinach. Add low-calorie ingredients like black pepper, soy sauce, or shallots. You can cut the shallots and they will caramelize while sautéing with the spinach. If you don't have garlic salt, you can just use a minced garlic clove to achieve the same garlicky taste.
More sautéed veggies: Apart from spinach, you can add other vegetables to this Easy Sautéed Spinach recipe. Try adding minced onion, chopped red bell pepper, chopped green bell pepper, kale, or zucchini.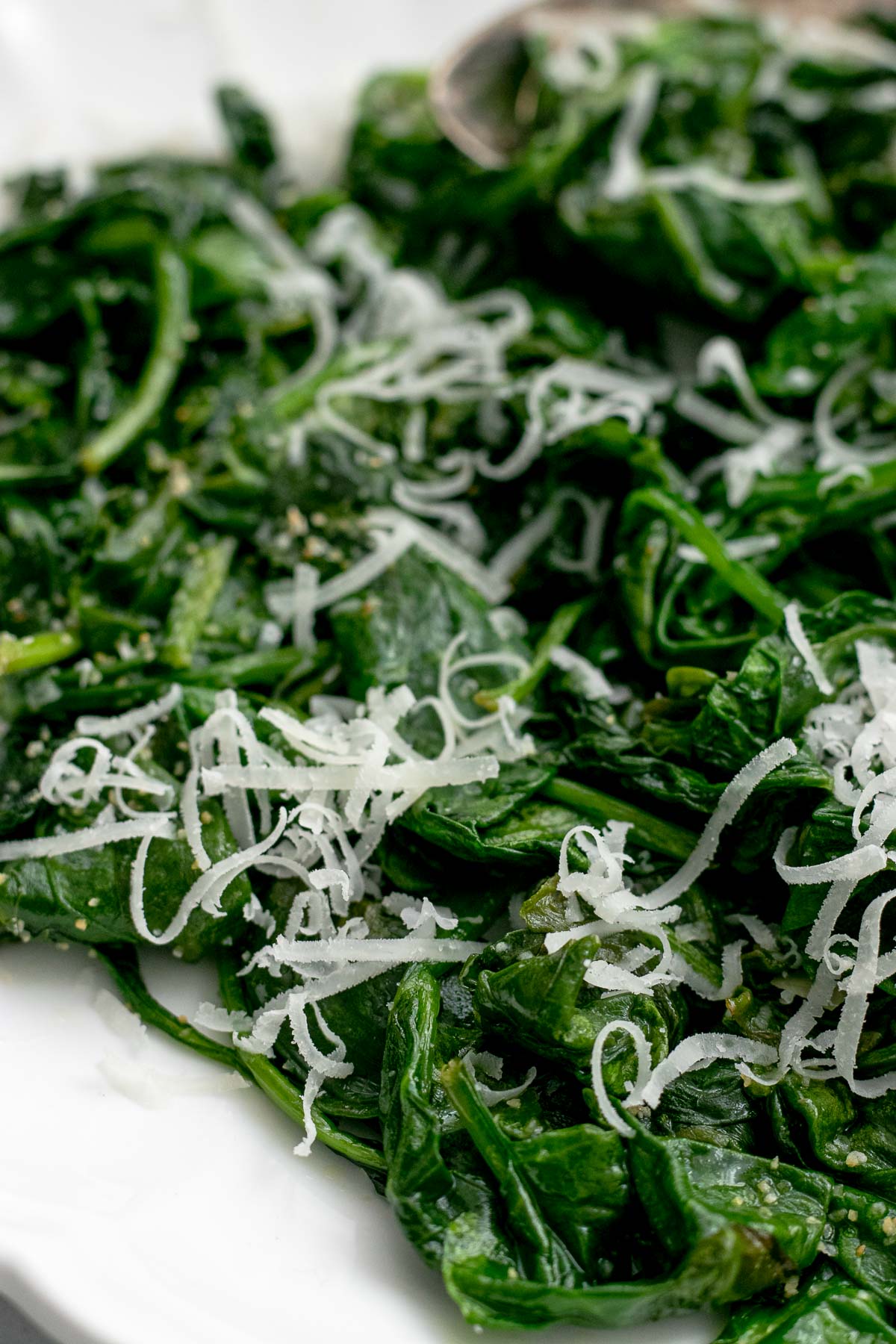 WHAT TO SERVE WITH SAUTÉED SPINACH
HOW TO STORE SAUTÉED SPINACH
Serve: After you sauté spinach do not leave it at room temperature for too long. Leaving cooked spinach out for longer than about 2 hours will only lead to it getting too wilted.
Store: You can keep cooked spinach in the fridge for 3-4 days. Put the spinach in a freezer bag or other airtight container to seal it well.
Freeze: To keep this Easy Sauteed Spinach longer store it in the freezer. This recipe will be good in the freezer for up to 10 months.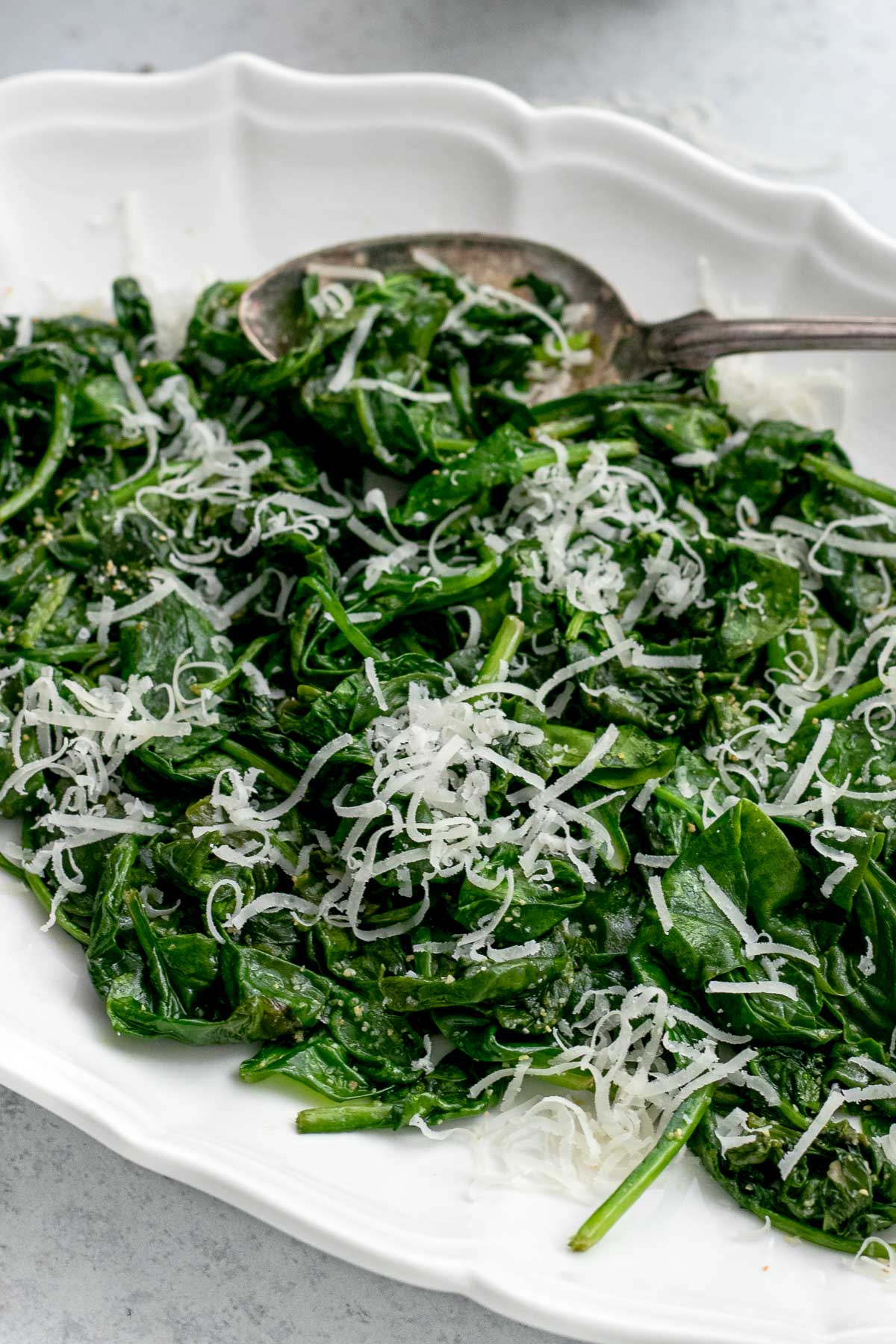 Ingredients
1

tablespoon

olive oil

10

ounces

fresh spinach

1 1/2

teaspoons

garlic salt

1/4

cup

grated Parmesan cheese
Instructions
Add olive oil to a large skillet and heat to medium heat.

Spread spinach evenly in the skillet and cover, then cook for

10 minutes

.

Remove from heat and mix in the garlic salt.

Transfer to a serving bowl and scatter Parmesan cheese evenly over the spinach before serving.
Nutrition
Calories:
74
kcal
|
Carbohydrates:
3
g
|
Protein:
4
g
|
Fat:
6
g
|
Saturated Fat:
2
g
|
Cholesterol:
6
mg
|
Sodium:
442
mg
|
Potassium:
395
mg
|
Fiber:
2
g
|
Sugar:
1
g
|
Vitamin A:
6700
IU
|
Vitamin C:
20
mg
|
Calcium:
139
mg
|
Iron:
2
mg