Carrot Soup is a creamy and flavorful dish that's sure to be your new favorite soup. With pureed carrots, chicken broth, onion, garlic, and celery.
Just like Easy Lasagna Soup or White Bean Kale Soup, Carrot Soup is the perfect warming dish to serve on cold days. It's a creamy soup that's perfect for Weeknight Dinners.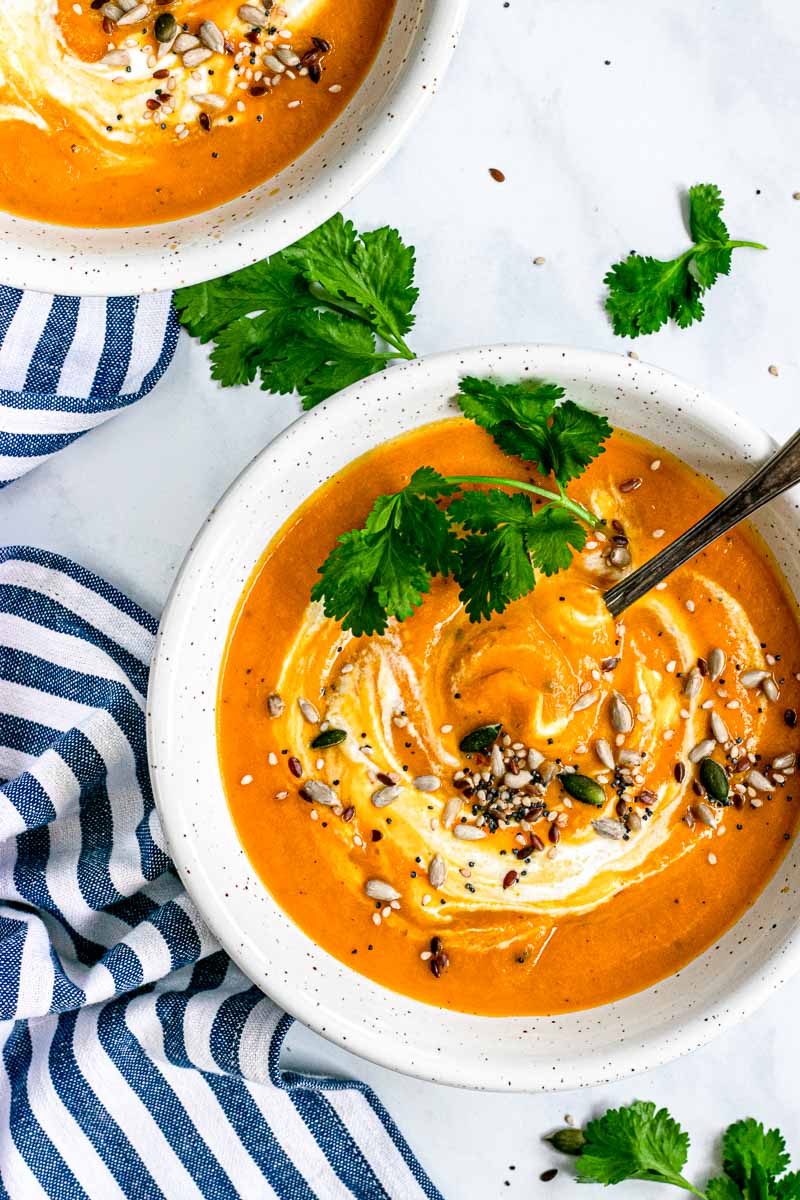 CARROT SOUP
This Creamy Carrot Soup Recipe is the perfect blend of flavor and texture. You'll love the rich flavors created by the carrots and spices in an unbelievably creamy soup. Create the silky-smooth texture by putting the soup through a blender, or using an immersion blender. Either way it will puree the soup into one delicious and colorful consistency. This veggie soup is surprisingly kid friendly because all the vegetables are combined in the blender.
Serve this gluten-free soup with your choice of toppings for garnish, and sides. Try adding a dollop of sour cream or a little coconut milk to add a white highlight in the middle of the soup. You can sprinkle some cilantro or parsley over the top for more color and flavor. This soup is also great for dipping your favorite soft and crusty breads. It would taste great with Rosemary Focaccia Bread or Greek Yogurt Biscuits.
HEALTH BENEFITS OF CARROTS
Carrots make a great base for this soup. Not only do they have a sweet and nutty taste, additionally they're low-calorie and rich in pectin. Carrots make an impressive source of biotin, potassium, and many vitamins.
You've probably heard that carrots are good for eyesight. While that's mostly a myth they are rich in Vitamin A, which can decrease the risk of night blindness. Additionally, they're also great for weight loss, and lowering cholesterol.
MORE HEALTHY SOUP RECIPES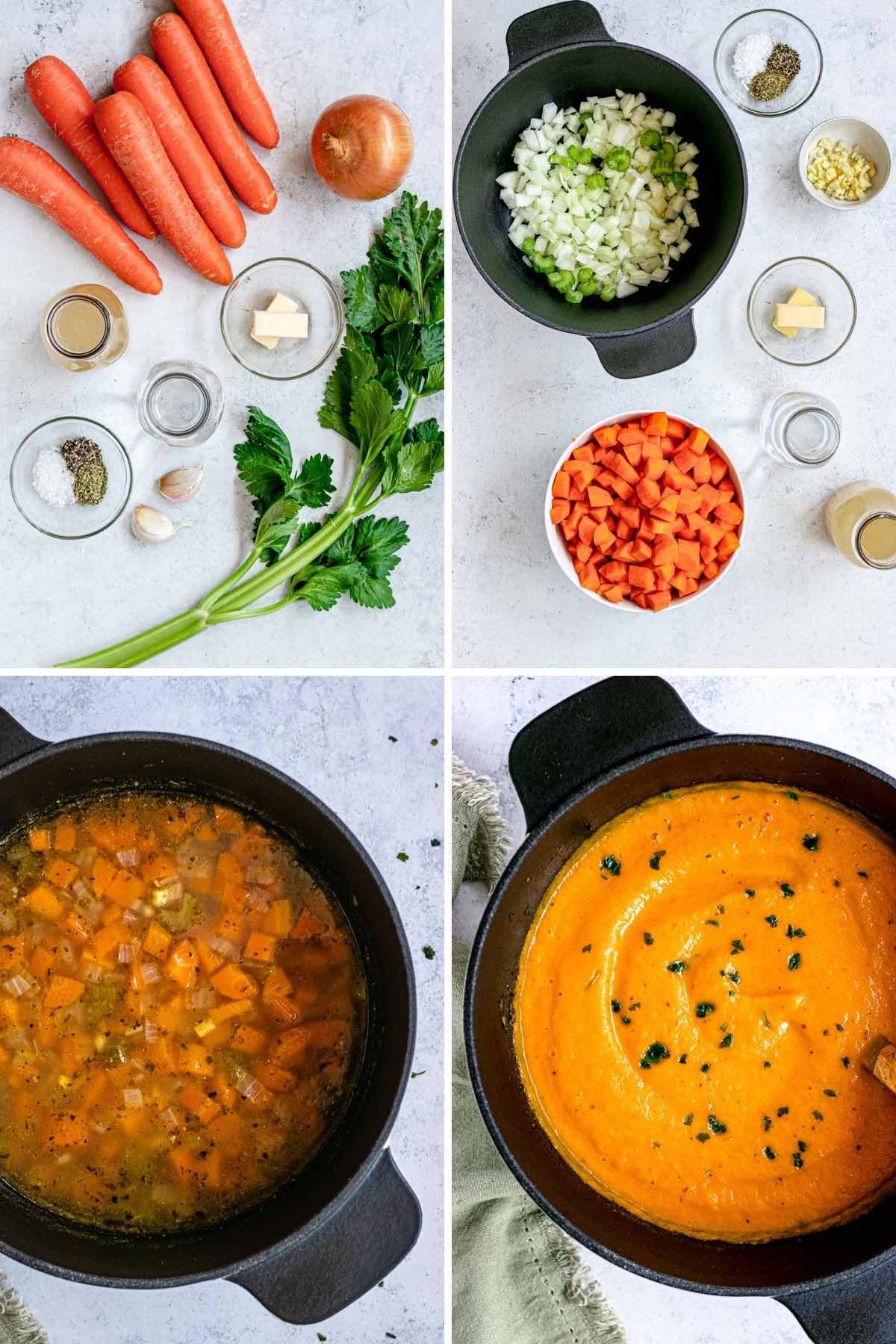 Create a free account to

Save Recipes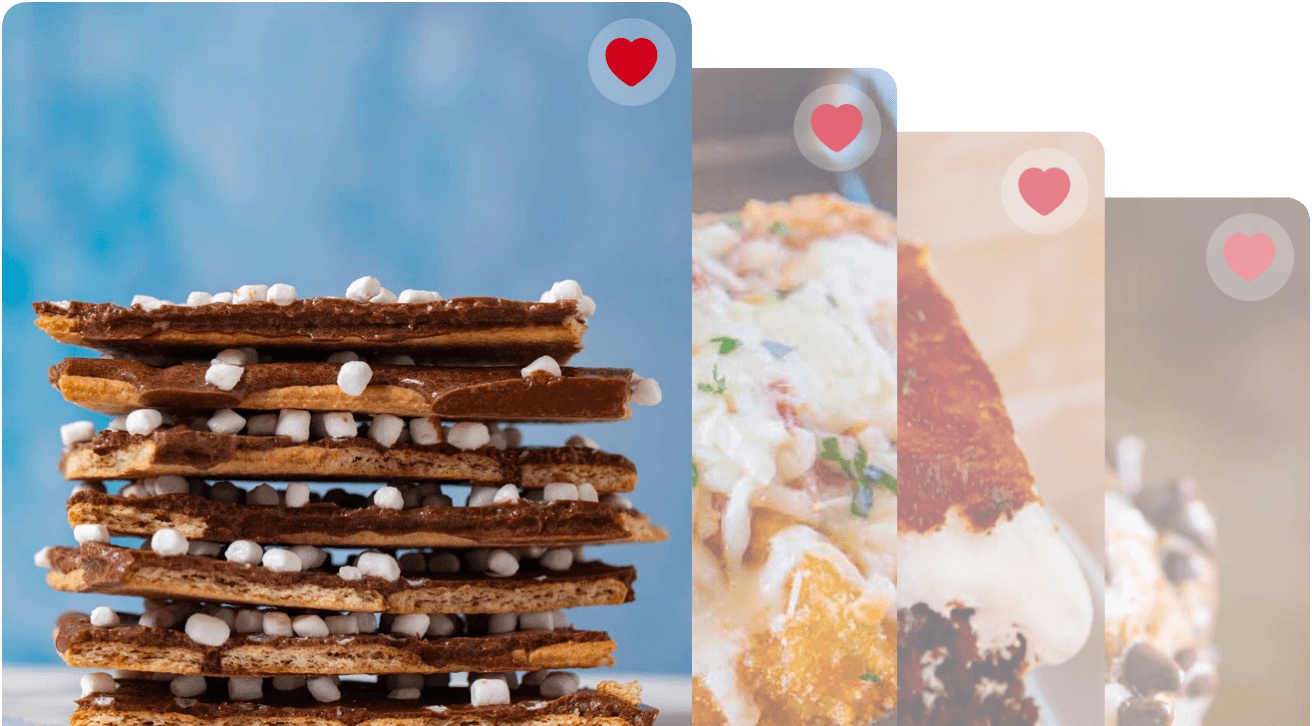 VARIATIONS ON CARROT SOUP
Add-ins: There are so many flavorful mix-ins to try in this Carrot Soup recipe. Try adding herbs and spices like onion powder, fresh basil, pepper flakes, or red curry. You can certainly add other vegetables the next time you make this soup like cauliflower, bell peppers, or green onions. You can even add peanut butter for an entirely new take on this soup. Many people love blending this creamy soup with peanut butter because of its rich flavors. If you add peanut butter, you can even add some chopped peanuts to the top to garnish the soup.
Ginger: Add some ginger to this soup to make Carrot Ginger Soup. However, ginger has a strong flavor, so just a little bit of ginger will go a long way in your soup. For example, try adding just 1 teaspoon or 1 ½ teaspoons fresh ginger. Be sure to start with less ginger and work your way up according to taste. Carrot Ginger Soup is a classic recipe that has a wonderfully warm spiced taste.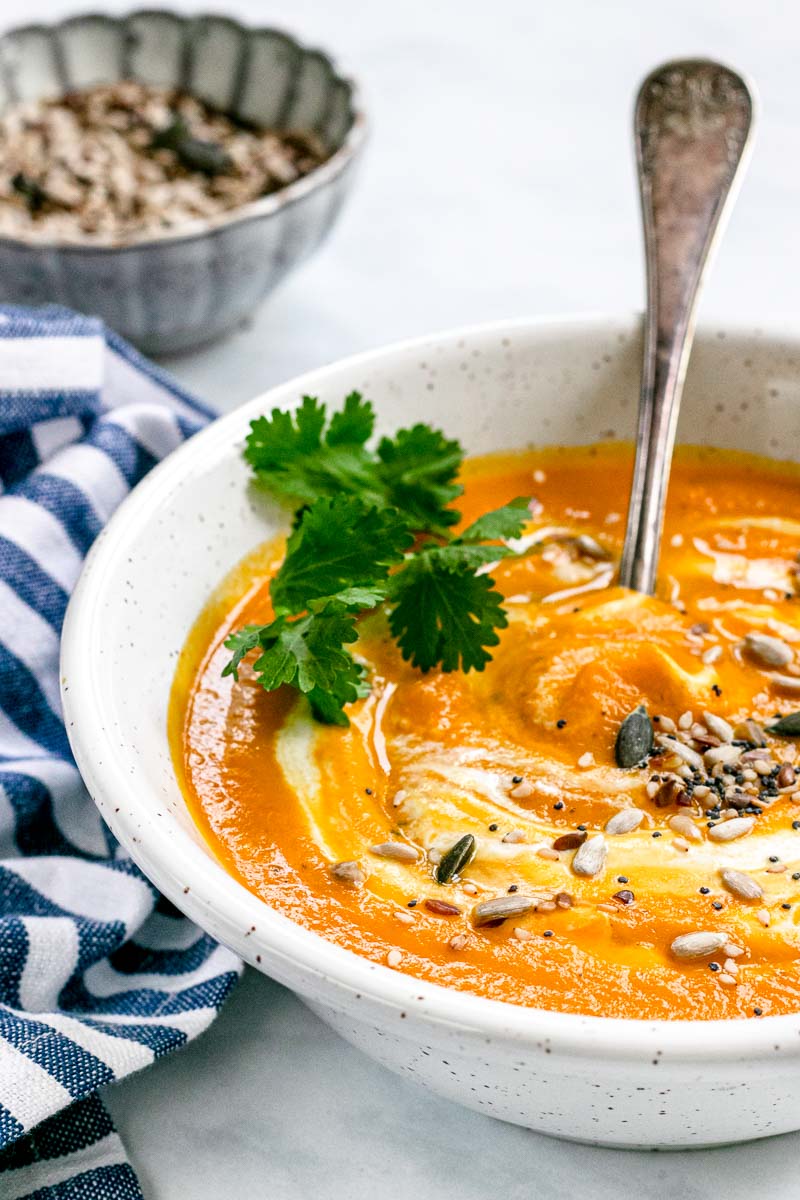 Extra Creamy Carrot Soup: To make this Easy Carrot Soup even more creamy try adding Greek Yogurt or coconut milk. Coconut milk is a great option if you want to keep the Carrot Soup recipe dairy-free. Add about half a cup of Greek Yogurt, or less if you don't want the soup that thick. If you're using coconut milk, try adding one can and see how you like the consistency.
Roasted Carrot Soup: To make Roasted Carrot Soup prepare the carrots first. First, line a baking sheet with aluminum foil. Next, peel your carrots and cut them in half. Then, arrange the carrots on the baking sheet coated in extra virgin olive oil, salt and pepper. Roast them in an oven at 400 degrees until caramelized. Once the carrots are roasted prepare the Carrot Soup recipe as usual. The roasted carrots give the soup a slightly smoky flavor.
Vegetarian Carrot Soup: The only change you need to make for this soup to be vegetarian is to replace the chicken stock with vegetable broth.  Similarly, you can make this recipe vegan by using vegan butter, or olive oil to cook the onions and celery. If you want to add a little more flavor to the broth try adding some lemon juice to it.
INSTANT POT CARROT SOUP
It's very easy to make Creamy Carrot Soup in an Instapot. The total time is under 20 minutes and it couldn't be easier.
To start, set your instant pot to sauté and simmer the onion and celery in butter.
Once they've cooked, add the carrots, broth, and other ingredients.
Pressure cook for 15 minutes, then quick release.
Put the soup in a blender or use an immersion blender to puree the carrots.
VEGETABLE SIDE DISHES
HOW TO STORE CARROT SOUP
Serve: Don't leave Carrot Soup at room temperature for more than 2 hours.
Store: Cover your soup or seal it in an airtight container to store it in the fridge for 3-4 days. However, be sure to let the soup cool to room temperature before storing it.
Freeze: You can freeze this low-fat soup for 4-6 months. The next time you're ready to enjoy it, let the soup defrost in the fridge. Once it has thawed, reheat it on the stovetop.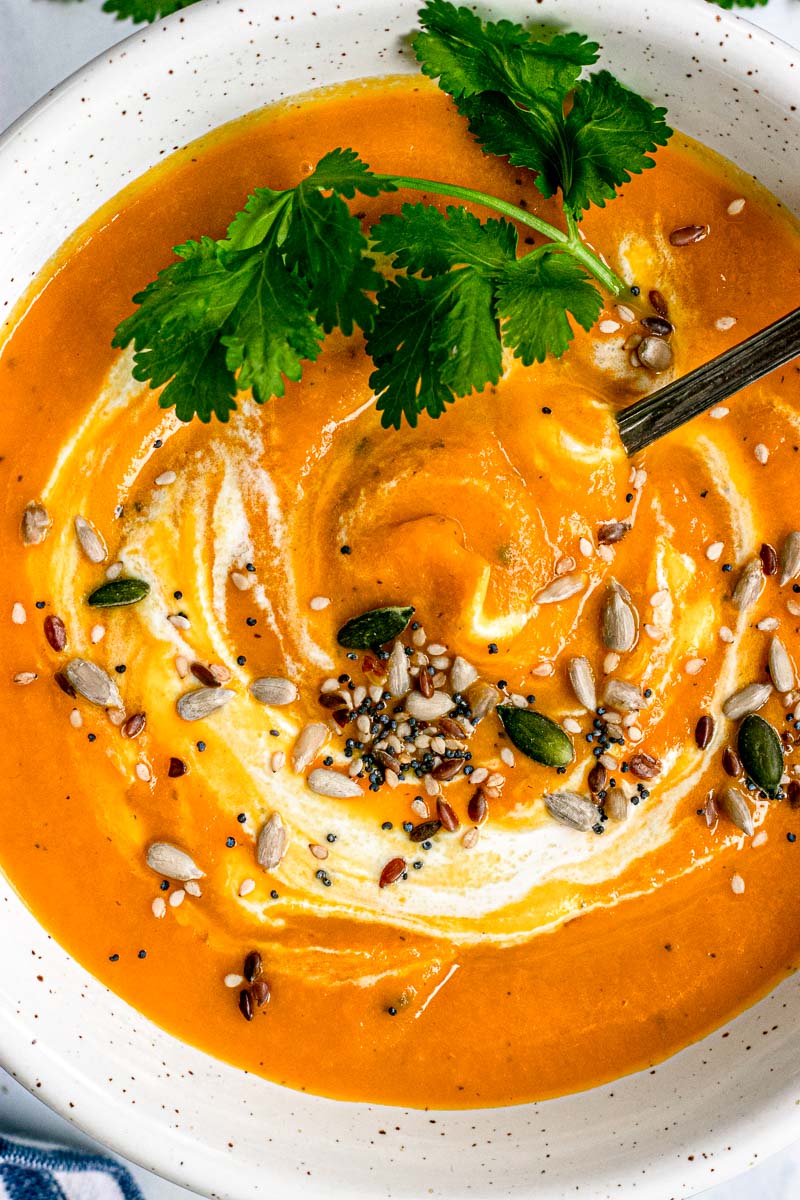 Ingredients
2

tablespoons

butter

, divided

1

medium

onion

, chopped

1

stalk

celery

, chopped

2

cloves

garlic

, chopped

1/2

teaspoon

dried thyme

5

cups

carrots

, chopped

2

cups

water

4

cups

chicken broth

1

teaspoon

Kosher salt

1/2

teaspoon

coarse ground black pepper
Instructions
In a dutch oven, melt 1 tablespoon butter over medium heat. Add onion and celery and cook, stirring occasionally, for

5-6 minutes

until onions are translucent.

Add garlic and thyme, then stir well.

Add carrots, water and broth to a large dutch oven and bring to a boil. Reduce the heat to a simmer and cook

25-30 minutes

until carrots are tender.

Use an immersion blender to puree the soup, or blend in a food processor or blender in batches.

Stir in 1 tablespoon butter, salt and pepper.
Nutrition
Calories:
115
kcal
|
Carbohydrates:
16
g
|
Protein:
2
g
|
Fat:
5
g
|
Saturated Fat:
3
g
|
Cholesterol:
12
mg
|
Sodium:
1294
mg
|
Potassium:
613
mg
|
Fiber:
4
g
|
Sugar:
7
g
|
Vitamin A:
21560
IU
|
Vitamin C:
23
mg
|
Calcium:
67
mg
|
Iron:
1
mg