Carrot Rice is an easy mixture of basmati rice mixed with ginger, onion and grated carrots that have been sautéed in just a bit of butter.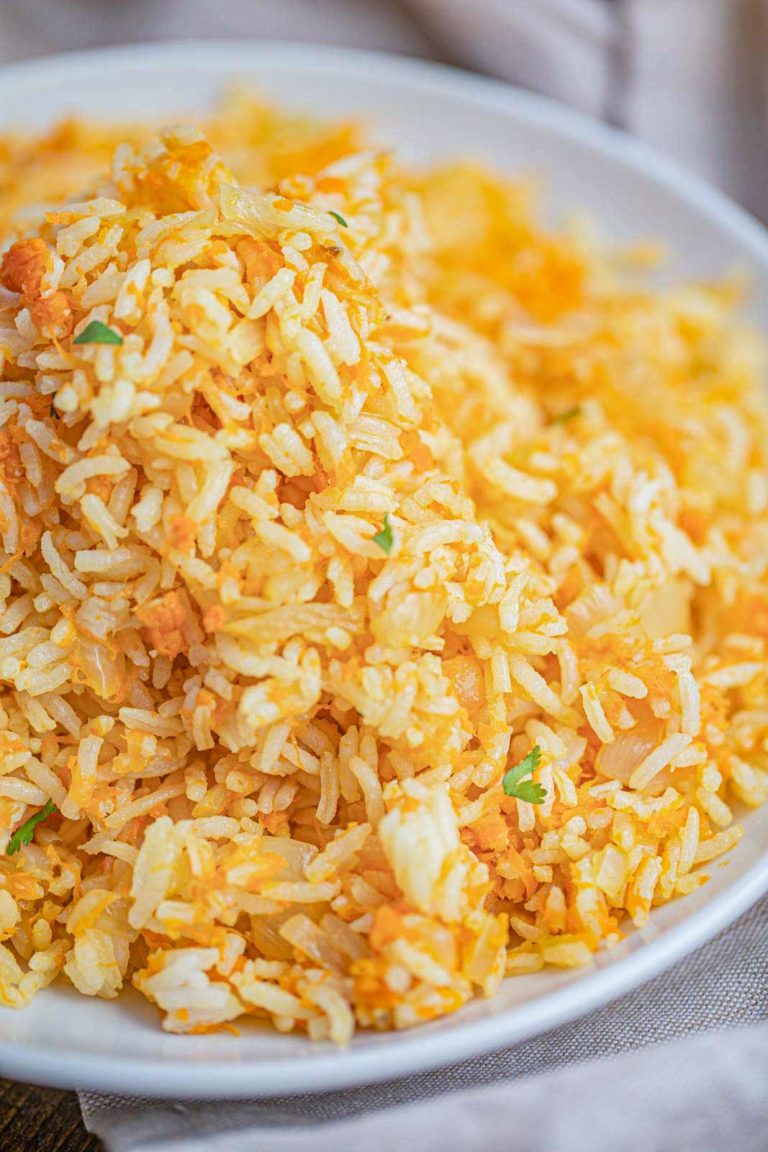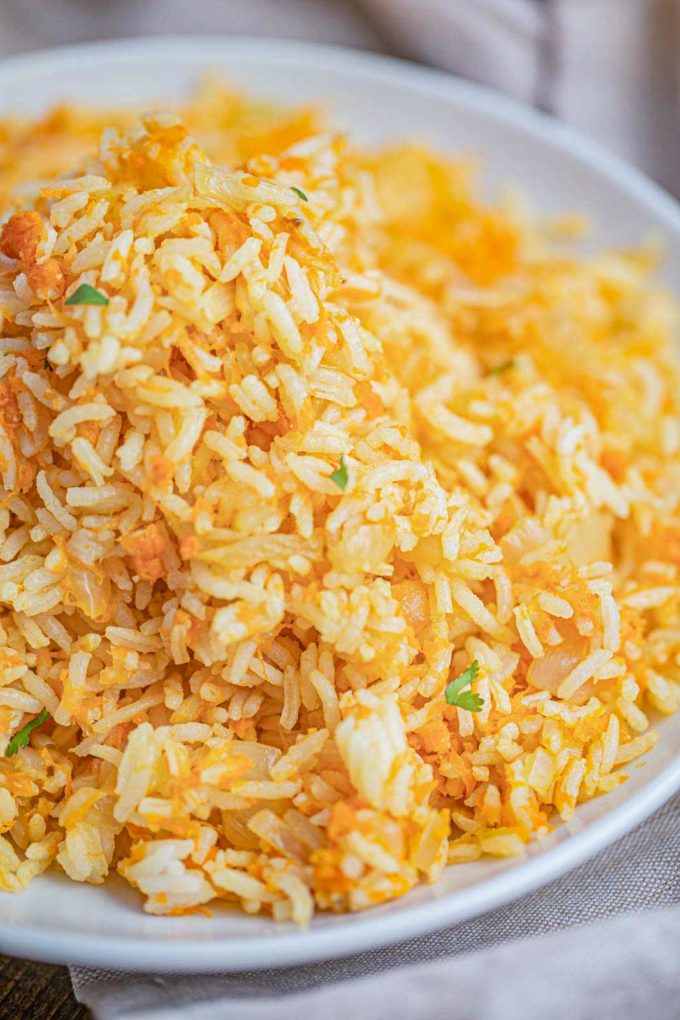 BASMATI CARROT RICE
Carrot rice may not be the first dish that jumps to mind when you're planning your meals, but it is delicious, filling and will keep you comfortably full for hours. Enjoy it with a nice Indian Chicken Curry for a great weeknight dinner.
CARROT RICE
The carrot is the unsung hero of the veggie world. It's sweet, crunchy and good for you, but you may not realize just how well carrots go with rice. When you think of carrot rice, fried rice may come to mind, but the flavor and texture of our carrot rice is all its own. Our rice recipe is fantastic as its own thing or served under a curry dish. The nice thing about rice is that it keeps well, so you can eat it the night of or save it to pack in a lunch box later.
HOW TO MAKE CARROT RICE
Pour basmati rice and water into a pan over high heat. Once it starts to boil, lower the temperature and cover it with a lid. Set your timer for 20 minutes and start preparing the carrots.
Grate the carrots with a microplane, and watch your fingers!
Add butter to a skillet and heat it up until it melts.
Stir in the onion and stir it for about 10 minutes, until it is golden brown. Don't over do it.
Add the ginger, carrots and salt and stir is all together, then lower the heat and cover the skillet.
Steam the carrot mixture for five minutes.
When the rice is done cooking, spoon it into the skillet and stir everything together.
Serve it up and enjoy!
What to serve with Carrot Rice:
Korean BBQ Chicken Drumsticks – A perfect addition, with a bit of heat from the chicken this carrot rice is a perfect complement to the recipe.
Ginger Chicken Stir Fry: if eating curry leaves you with a stomach ache, try this recipe. This is an easy recipe that goes really well with carrot rice and is hearty enough to keep you full.
Beef Teriyaki Skewers: for beef lovers out there, this dish is rich and filling but is perfect to eat on a diet.
Mix-In Ideas: 
Coriander leaves: coriander is a spice that is commonly used in curry dishes, and it is a great way to try a little something different with your rice.
Mustard seeds: adding a dash of mustard seeds can give your rice a bold flavor. Just be aware that a little can go a long way.
What is Basmati Rice?
Basmati rice is long grain rice that originally came from India, and India still grows about 70% of the world's supply. It has a mild but distinct flavor and goes really well with all sorts of food, from curries to soups. The word "basmati" is Hindustani and means "fragrant," which makes sense since this particular kind of rice is an aromatic rice. Aromatic rices tend to have a richer, nuttier flavor, which is what gives them their name. Basmati rice also is lower on the glycemic index than white or jasmine rice, which makes it better for people who have to count carbs.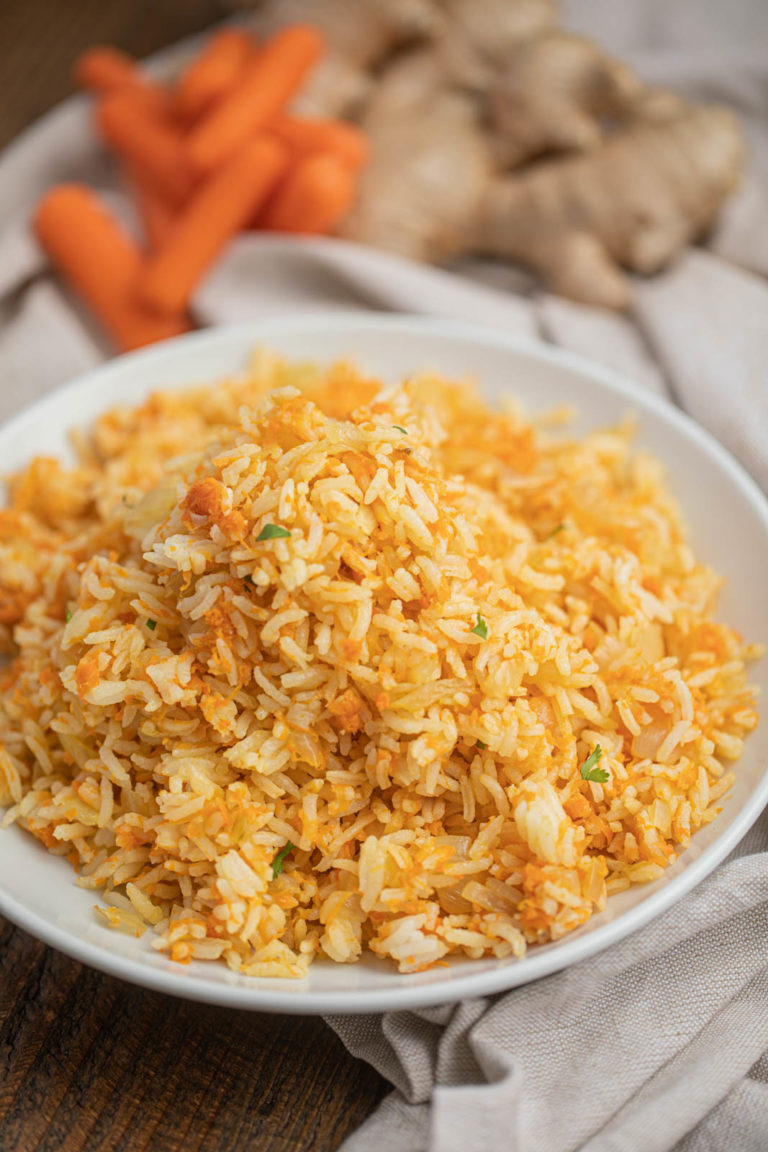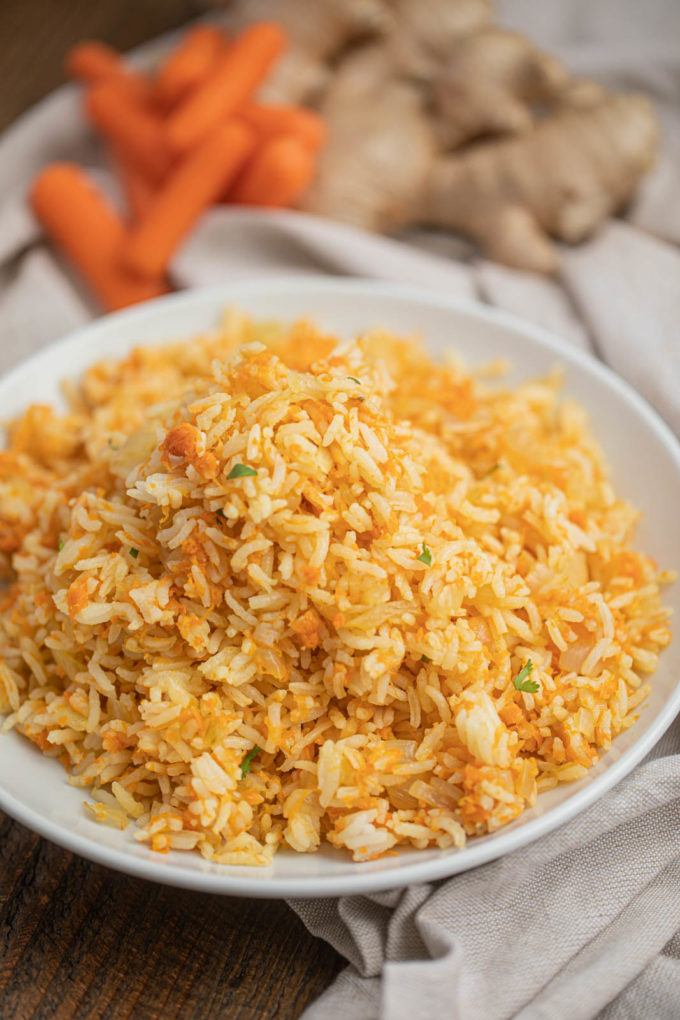 Create a free account to

Save Recipes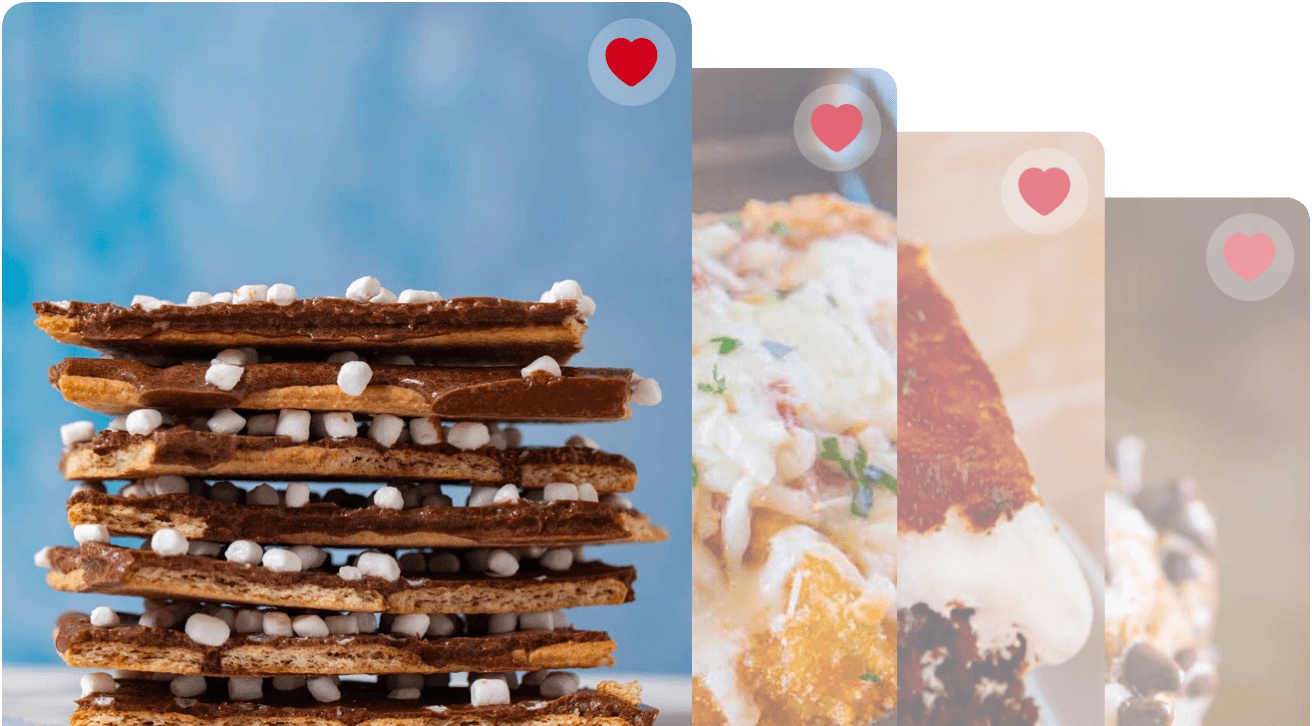 Why do you Rinse Rice?
There are many reasons to rinse your rice before cooking it. Rinsing it helps to keep the grains moist, as well as cleaning off anything that could have gotten on them between the time they were harvested to the time they got to you. Just like washing vegetables, it's better to take a few extra seconds to make sure your food is clean.
RICE QUICK TIPS
Getting the perfect pot of rice each time is more of an art than a science, so here are some helpful tips for getting it right.
Presoak rice: you know to rinse your rice before cooking it, but did you know that you should soak it? With aromatic grains like basmati rice, its important to soak it in a water for 30 minutes before cooking. This makes the rice fluffy and helps keep it from burning.
Leave it alone: it seems like a good idea to lift the lid to check to see if the rice is cooking correctly, or to stir it while it heats to boiling. Don't do either of these things! Lifting the lid lets out steam and makes the temperature inside uneven, which is a good way to burn your rice. Stirring activates the starch in the rice and makes the grains stick together. If you enjoy eating the rice version of rubber cement, go ahead.
Let it sit: just like the step above, leave your rice alone after it has finished cooking. Remove it from the burner and leave the lid on after steaming for about 10 minutes. Trust us, your rice will love this.
Storing Carrot Rice:
Serve: you shouldn't leave rice dishes out at room temperature for longer than 2 hours. Your insides will thank you for putting it in the fridge.
Store: in an airtight container, rice is good in the fridge for about 4 days.
Freeze: you can keep rice frozen for about a month. After that, you could probably still eat it but it would taste horrible.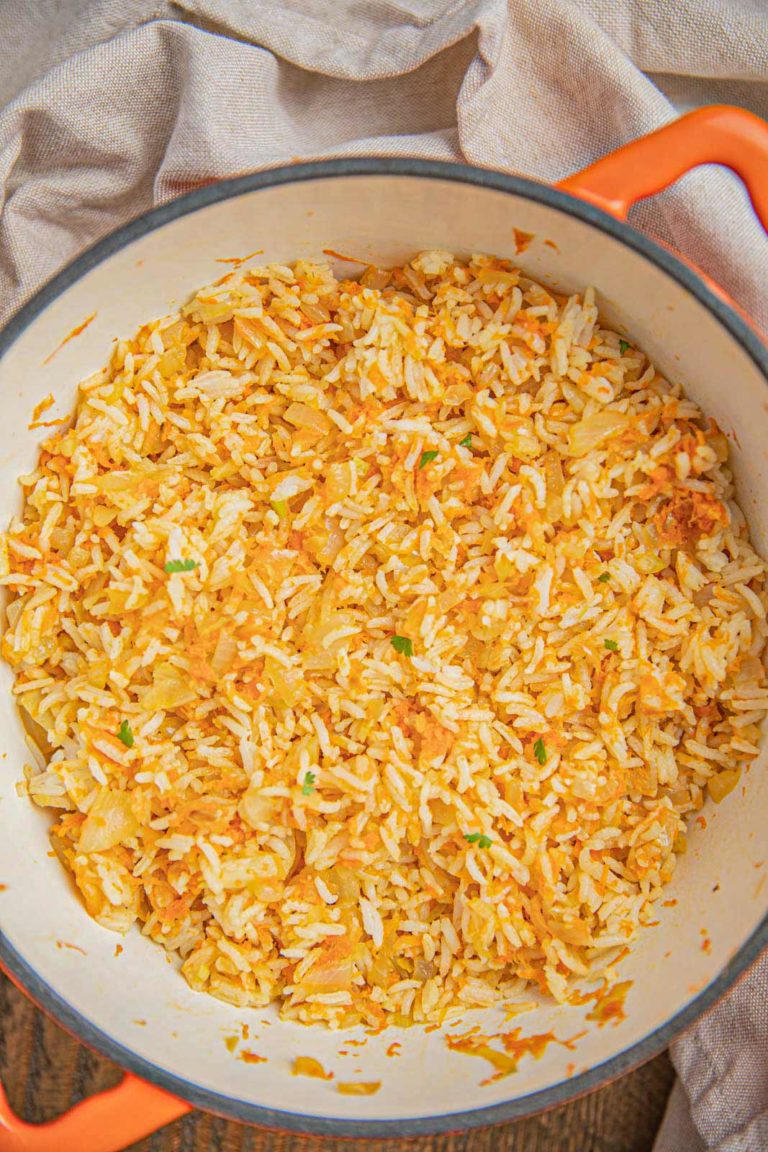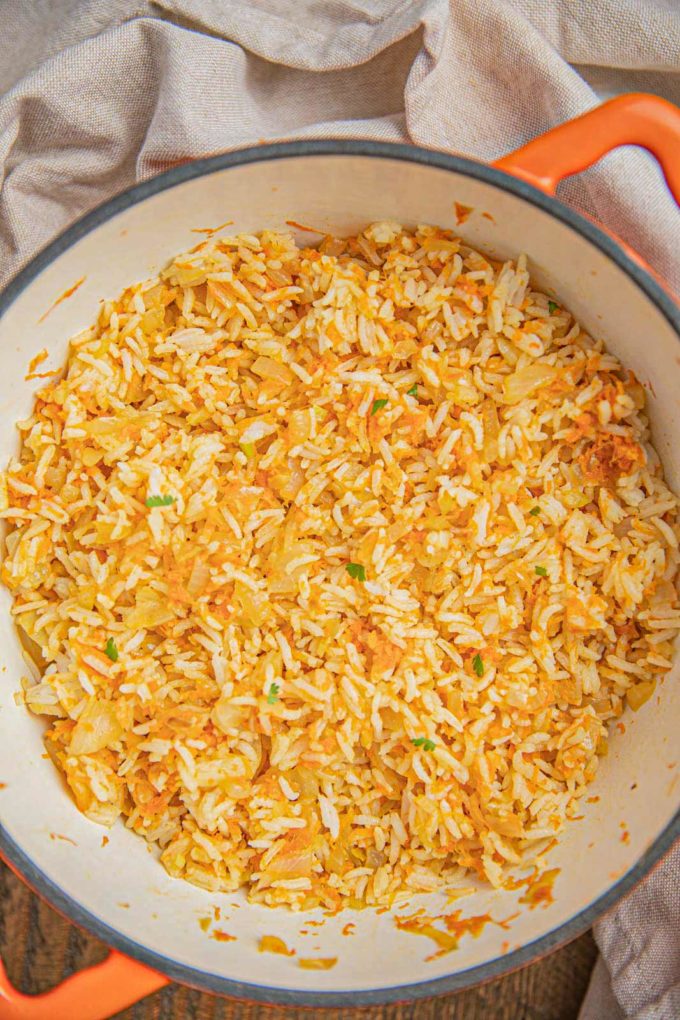 Ingredients
1

cup

basmati rice

2

cups

water

1/2

teaspoon

kosher salt

2

tablespoons

unsalted butter

1

onion

diced

2

teaspoons

ginger

minced

3/4

cup

finely grated carrots

use handheld microplane
Instructions
Combine rice and water in a medium saucepan. Bring to a boil over high heat. Reduce heat to low, cover with lid, and allow to steam until tender, about

20 minutes

.

Heat butter in a skillet over medium heat.

Stir in the onion; cook and stir until the onion has softened and turned golden brown, about

10 minutes

. Stir in ginger, carrots, and salt.

Reduce heat to low and cover to steam

5 minutes

.

When rice is done, add it to skillet and stir gently to combine with other ingredients. Garnish with chopped cilantro.
Nutrition
Calories:
153
kcal
|
Carbohydrates:
26
g
|
Protein:
2
g
|
Fat:
4
g
|
Saturated Fat:
2
g
|
Cholesterol:
10
mg
|
Sodium:
200
mg
|
Potassium:
62
mg
|
Vitamin A:
115
IU
|
Vitamin C:
1.3
mg
|
Calcium:
15
mg
|
Iron:
0.3
mg